Acrylic nails are becoming more and more popular. And this is not surprising! They look natural and give a unique elegance and grace. These nails are highly durable, allowing women of fashion to lead a normal life without any fear. In addition, the huge advantage of acrylic extensions is that such material can be easily removed without injuring the nail plate. Isn't it good?
We have collected interesting Acrylic Nail ideas for a DIY Mani that will be popular this year!
1. The floral look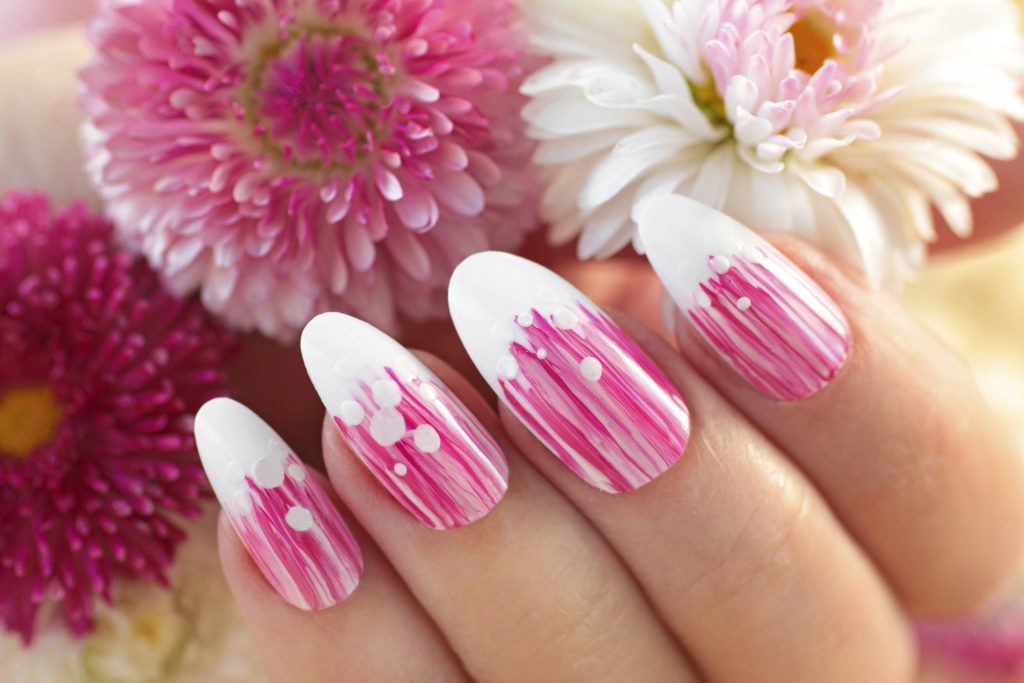 Fashion does not stand still; it is constantly changing, and we are changing along with it. And if earlier abstract nail art was in trend, now women increasingly prefer beautiful drawings of flowers and oriental patterns. At any time of the year, each woman wants to smell like a flower of paradise. Even if it's bad weather outside, you can decorate your life, and at the same time your look, with a manicure with a floral print.
Nowadays, the technique of performing such drawings has reached its perfection, and it seems that real flowers of incredible beauty are blooming on the nails. Floral patterns are always such charming and feminine tandems in looks, both for every day and for a special occasion.
Using pleasant pastel palettes, you can achieve the most delicate design of a spring manicure with flowers. But do not limit yourself to a fashionable manicure with flowers only in the spring because by correctly choosing the shades, you can decorate any manicure design with a floral pattern – whether in winter, autumn or summer.
Manicure Nail Art Polish Tool
2. Two-tone design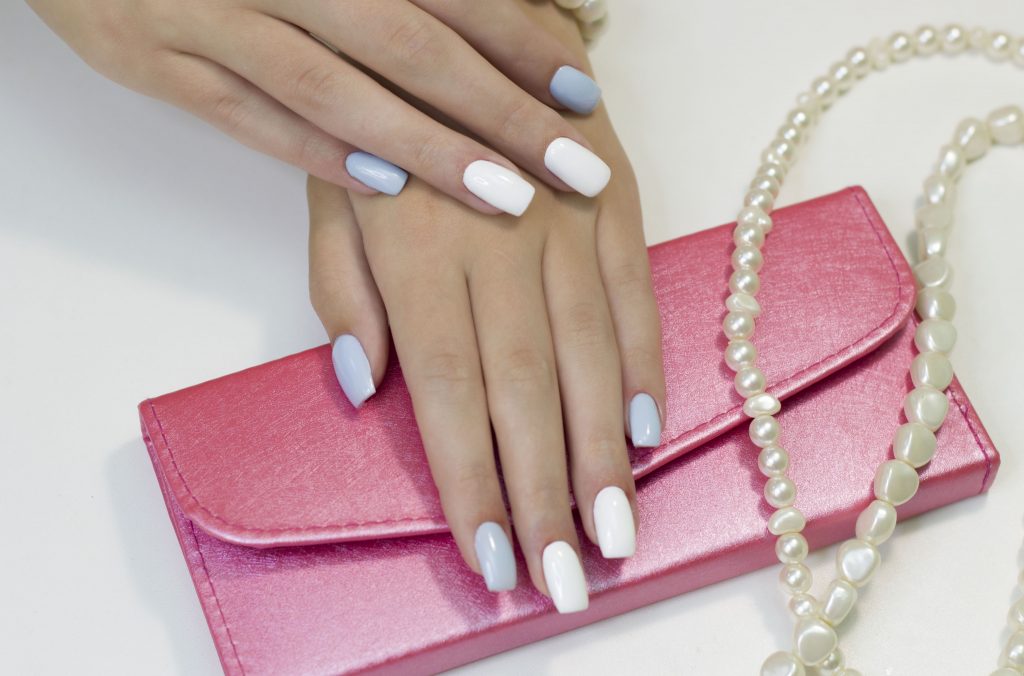 Dual-tone nails are in fashion now, and they look absolutely stunning. Two different colors, if used rightly, can make you stand out in a crowd. There are multiple creative ideas for two-tone nails that you can apply to your hands and toes. We know that this is a very bold step; many people are afraid to try it. But we will suggest you to try it in a well-organized way. With regular practice, you can be a master in this art.
The process of applying two-tone nail paint is simple. You can select any of the two colors of your choice because there is no hard and fast rule for it. Use your imaginations, come up with unique ideas, and look different.
3. Glitter accent nail polish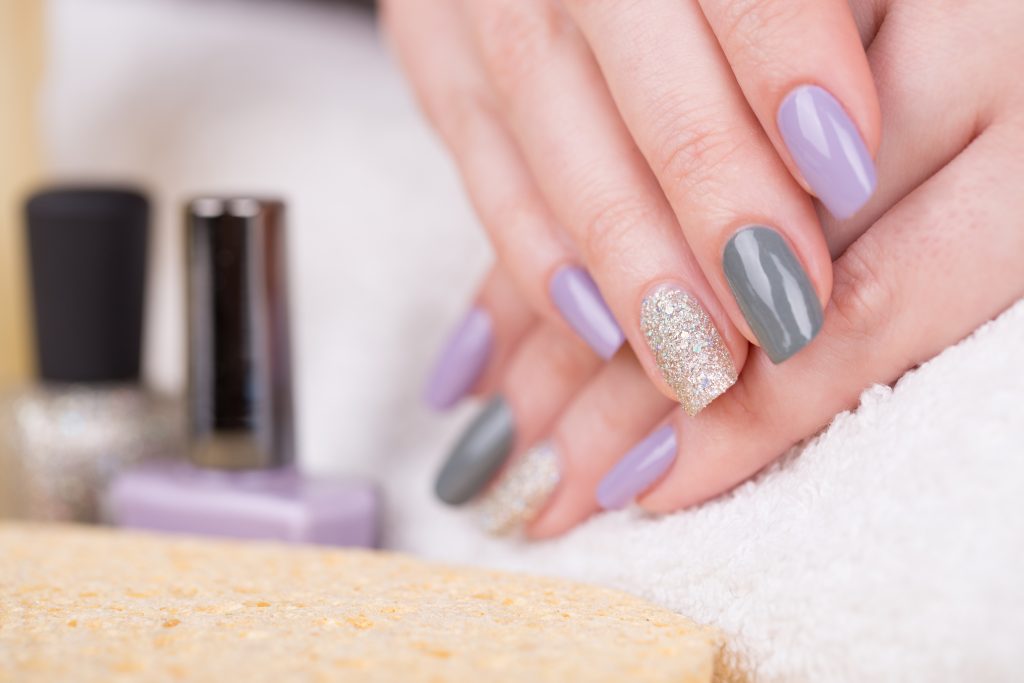 Glitter accent nail polish can be a great source of inspiration for your next nail art project. You can recreate this art in your colors or just use one of the accent nails. With this kind of nail art, you will get an elegant look that will be in trend.
A manicure with glitter nail polish does not have to be saturated with a variety of colors, textures, and patterns. Sometimes an emphasis on one nail gives the desired effect without overloading the image as a whole.
The most common way to accentuate is to highlight one nail with a contrasting color or sparkles. This look can be perfect for some big event or a party. In this way, your nails, along with your dress, will gleam and grab all the attention.
Glitter Gel Nail Polish Set
4. Mirror acrylic nails using tape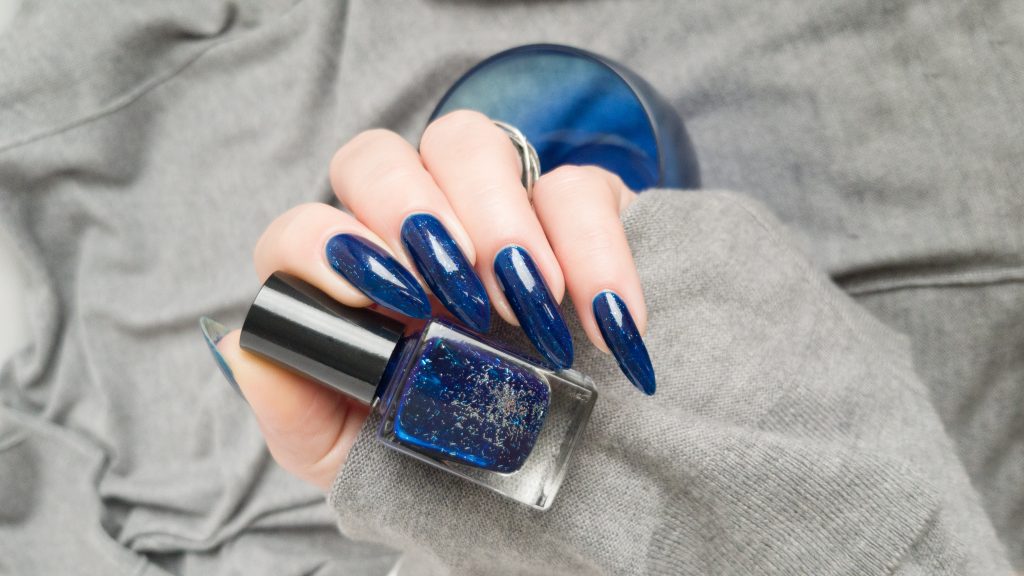 Mirror coating on nails using rubbing (shiny powder of different shades and density) is still one of the most fashionable trends in manicure. Now you can make Mirror acrylic nails using tape very easily at home.
Decorate your nails with this stylish design of matte polish and mirror triangles. The trickiest part will be getting all the same size triangles. Use tape to get perfect triangle shapes and even lines. After applying tape rub shiny powder to get a mirror effect.
5. Stamping design with acrylic nail stamping kit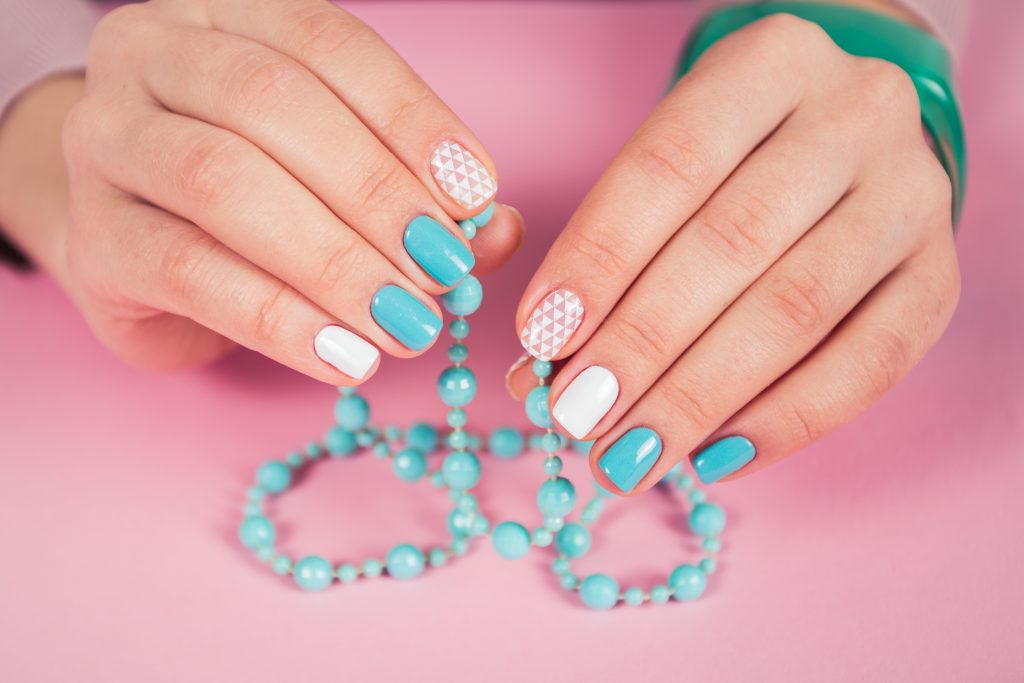 Last on our list is this trendy Stamping design with an acrylic nail stamping kit. Stamping is a godsend for nail design fans. With the help of a convenient beauty tool, you can now create even the most intricate patterns on nails not only in beauty salons but also at home. The special kits contain a device that resembles a stamping and printing tool and special laser-engraved discs with various patterns. Choose stamps made of silicone – they are the most convenient for stamping.
The process of creating a pattern is very simple. First, you need to apply a special varnish designed for stamping on the disc with drawings and then use a stamp tool to transfer the drawing from the disc to the nail.
The most important advantage of acrylic in the variety of colors and designs of nails; there is always plenty to choose from. It can be a design for every day or for a nightclub party. Acrylic nails can look amazing even when covered with just one color. But don't be afraid to try combinations of colors, glitter, and mirror effects.
Teenitor Stamp Nail Art Tool