Normally people never mind it, but nails do play a vital role in the outlook of someone. These Almond Nail Design Ideas will sure inspire you. Once someone starts having chips in the nails, the next moment, the one starts brainstorming how to get rid of it, or what should be the next manicure. To solve this problem, many solutions are now available in the market, but the almond nail design perfectly fits in. Describing its design, it's wide shaped in the base, slowly turning oval with the growing length, and totally pointed at the peak. Once after the completion of the design, it looks like the silhouette of an almond. 
Sometimes, the almond nails can be a little long, but it is considered the best for the modest in-between ones. The ones who also like to have short nails can also enjoy the almond nails, specially designed for them. However, out of a bunch of almond nail designs available in the store to design the nails, we have shortlisted the best 30 for you to choose from. Don't you want to try some coloring and painting with your nails? Let's explore.
1. Negative Space Squiggle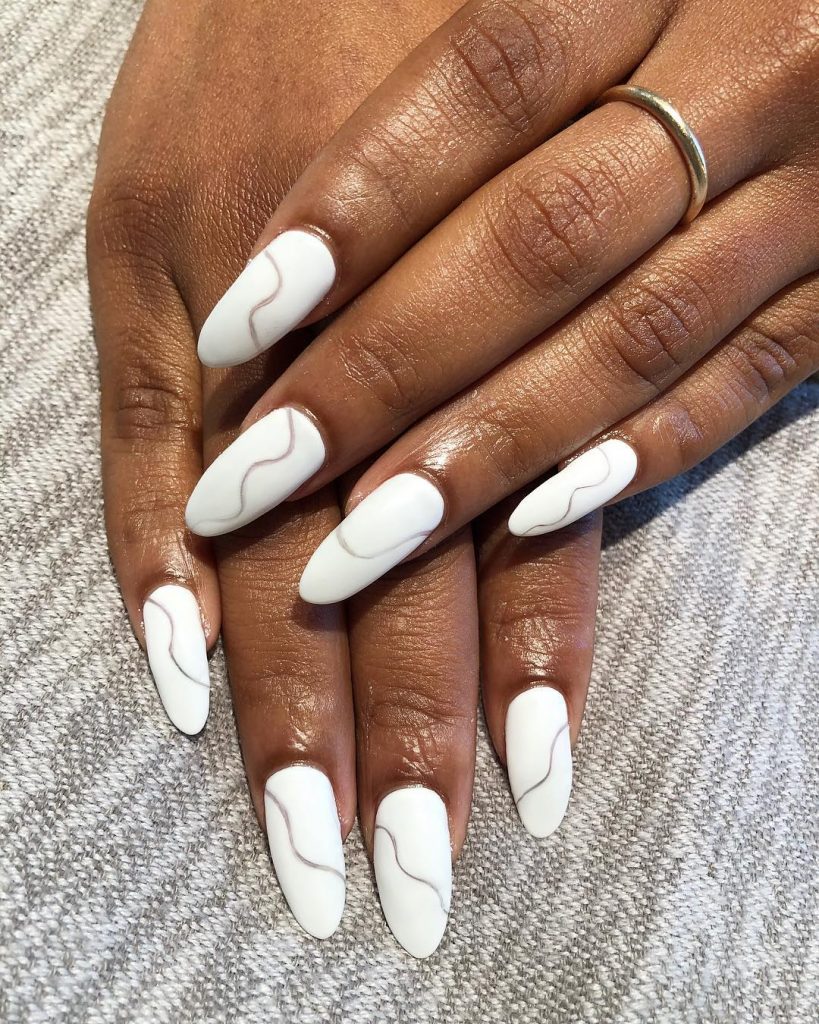 The white paint inversely designed on the acrylic nails gives a terrific look for the whole hand. After painting it on the nails, this almond nail design can be strictly done with a toothpick and a finished matter topcoat.
---
2. Pastel Rainbow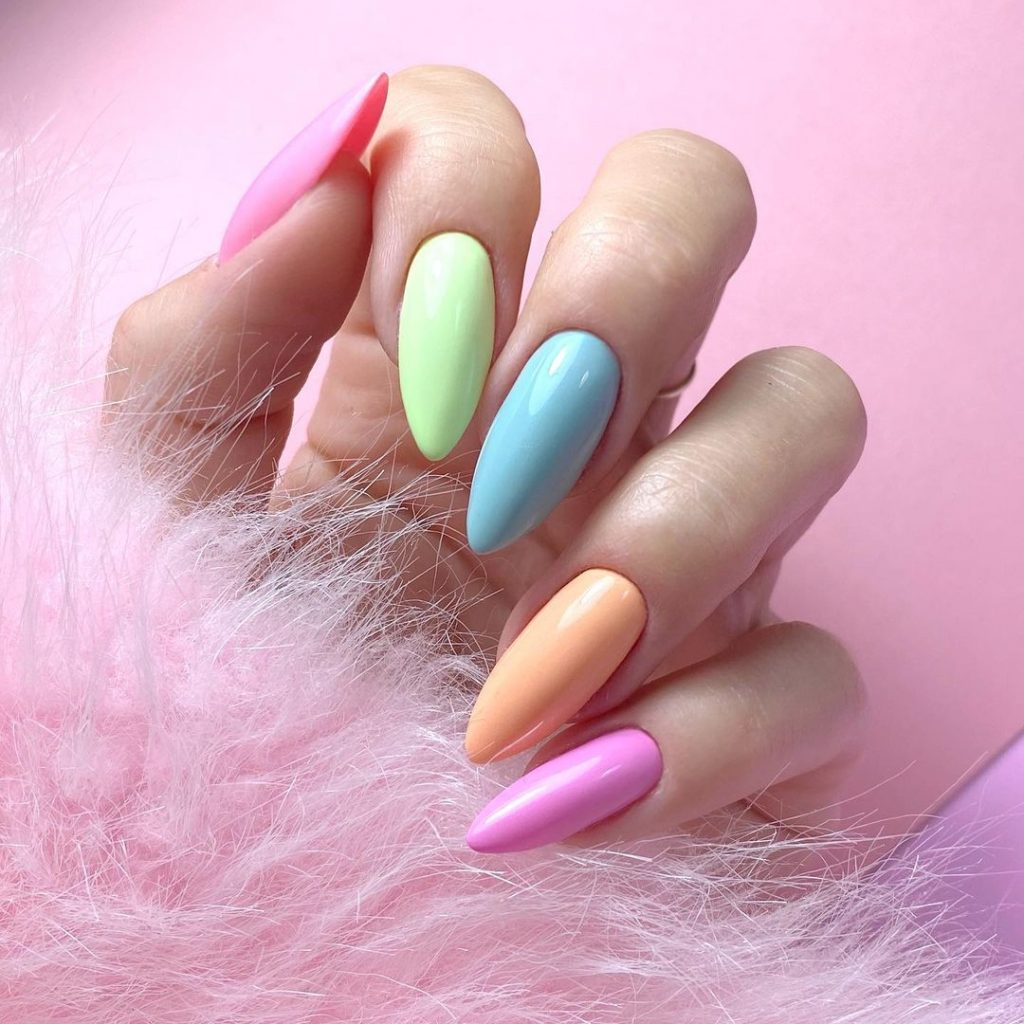 The different colors on the almond nails with a glowing shine give a perfect texture. One can also choose brighter or darker shades according to his or her choice.
---
3. Pink and Blue Clouds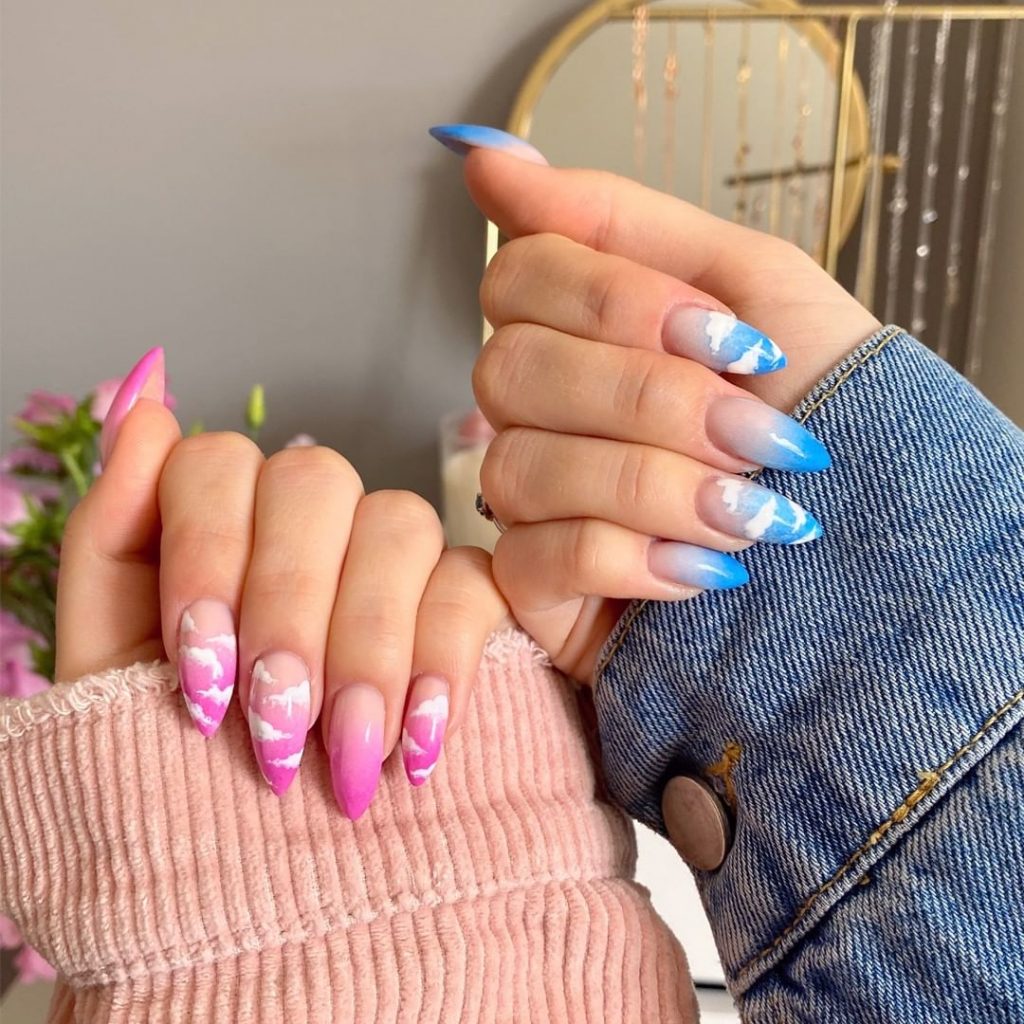 With different layered and different colors on each hand, the pink and blue clouds design makes it perfectly fit with the modern texture. This all gives a cohesive element to a mismatched almond nail look.
---
4. Snow Fall Nails
This almond-shaped snow fall nails design gives a perfect fairy, mermaid, and unicorn vibe without exaggerating. But the best part is when this looks cool on the almond nails of girls of every age.
---
5. Mermaid Inspired Teal Nails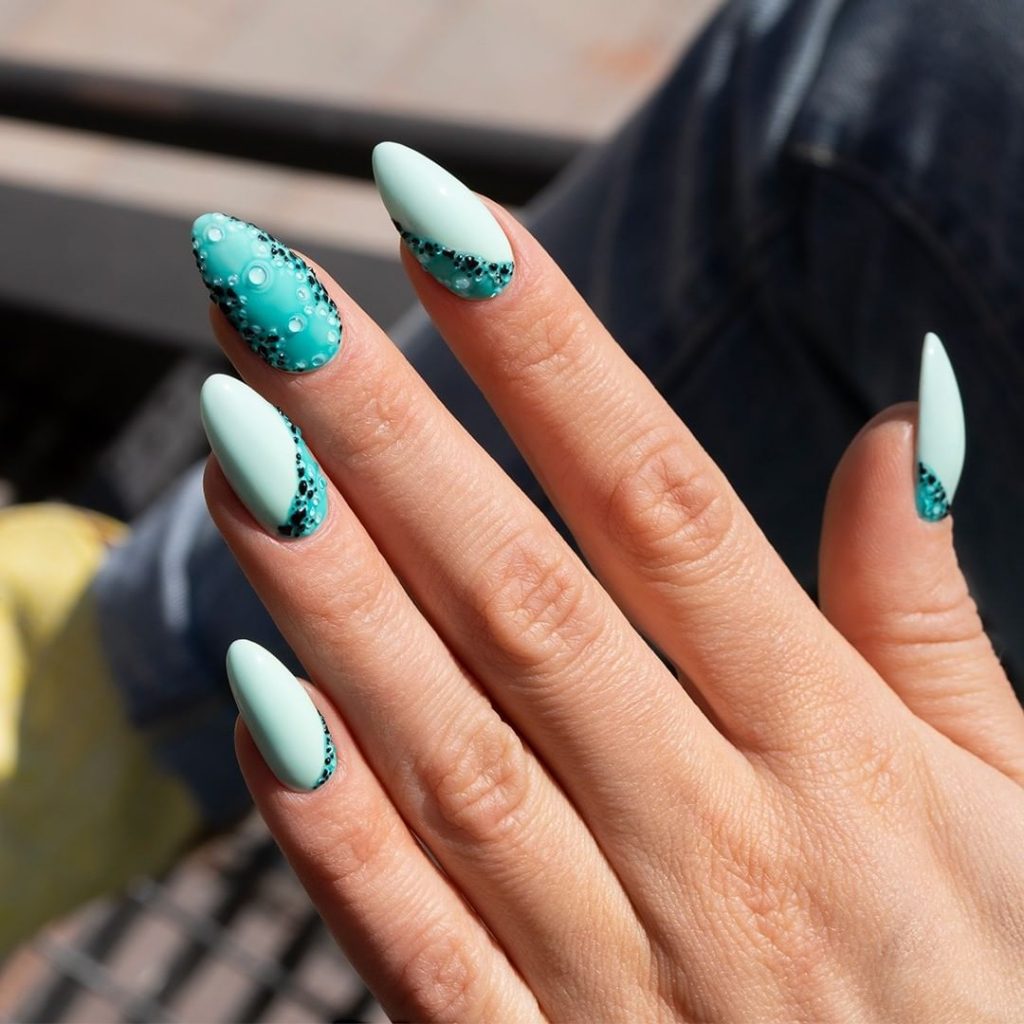 Painted with coral blue design and textured with the mermaid vibes, it gives us the aura of Mermaid and warm times spent within seas.
---
6. Hot and Cold Nails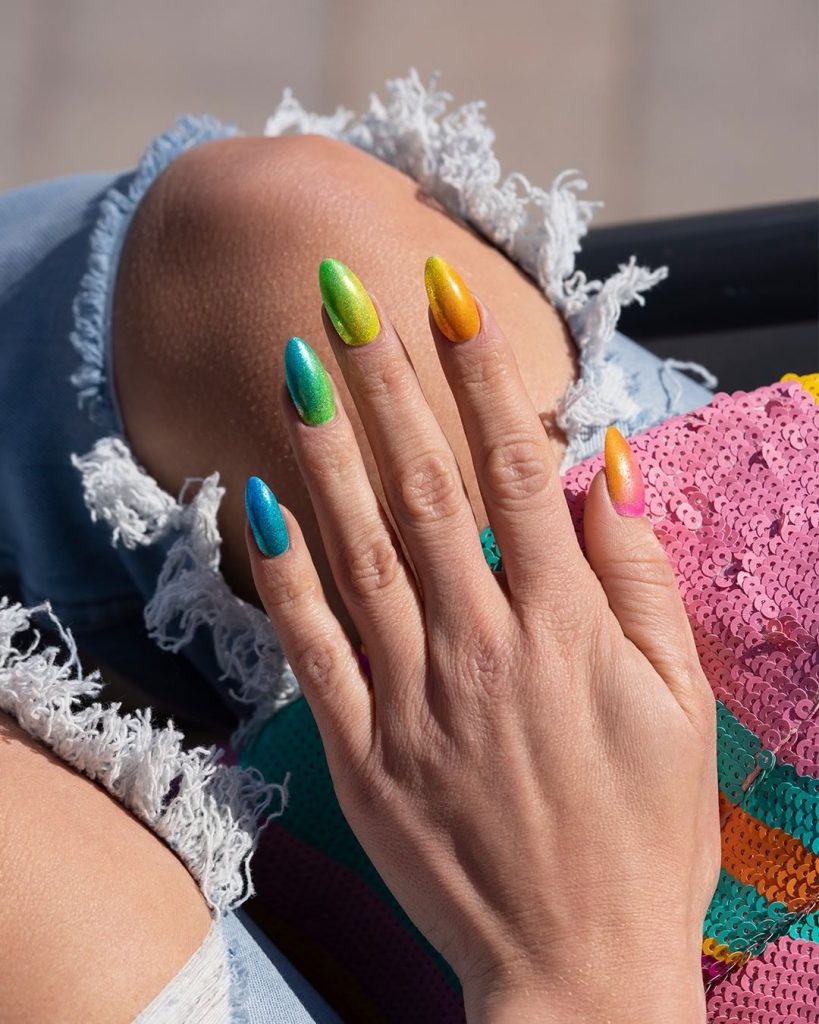 Just like the journey of turning something from hot fire to ice-cold, the color platelet changes with each almond nail. From Orange to Pink, to Blue, to Green, it can make you fall in love with it.
---
7. Negative Space Red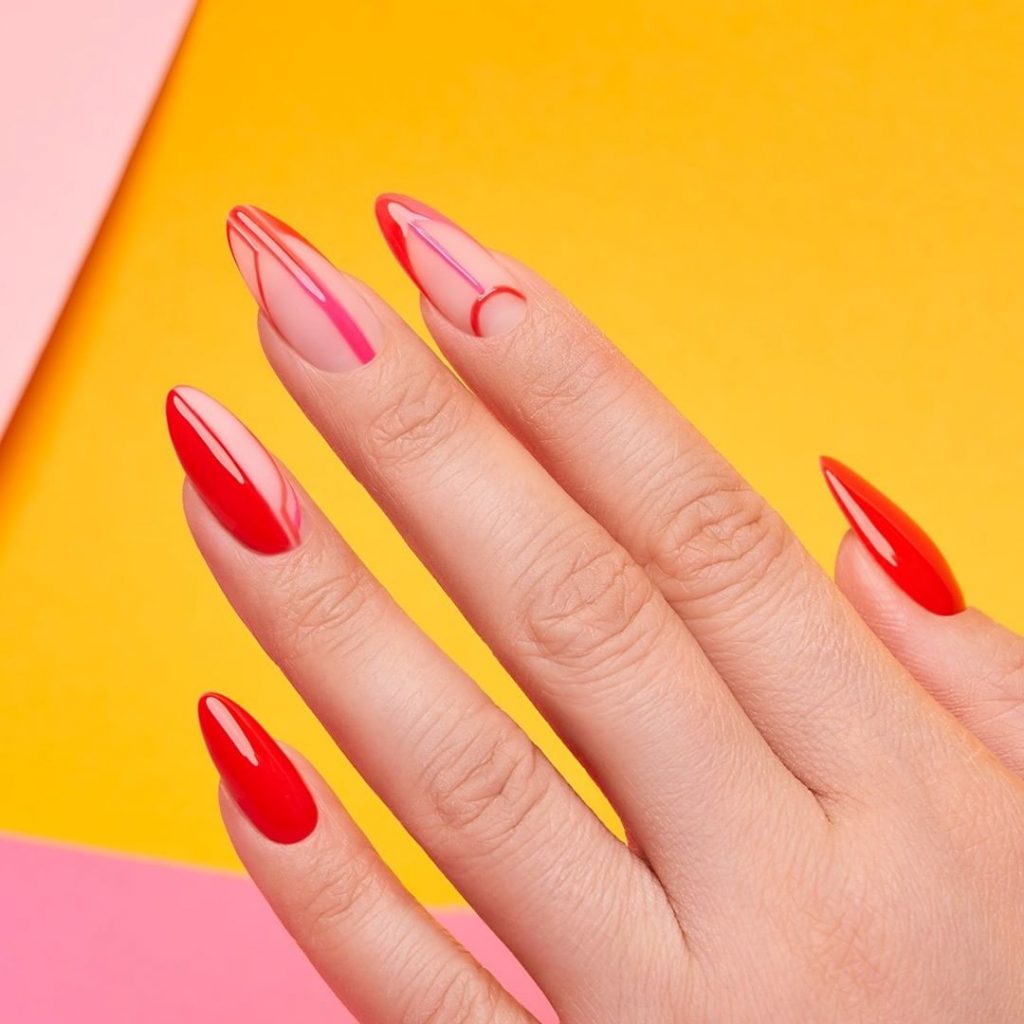 The cherry red on the almond-shaped nails feels cool in the summer. The newest color shades perfectly fit the texture fitting with any skin color and any nail size.
---
8. Metallic Silver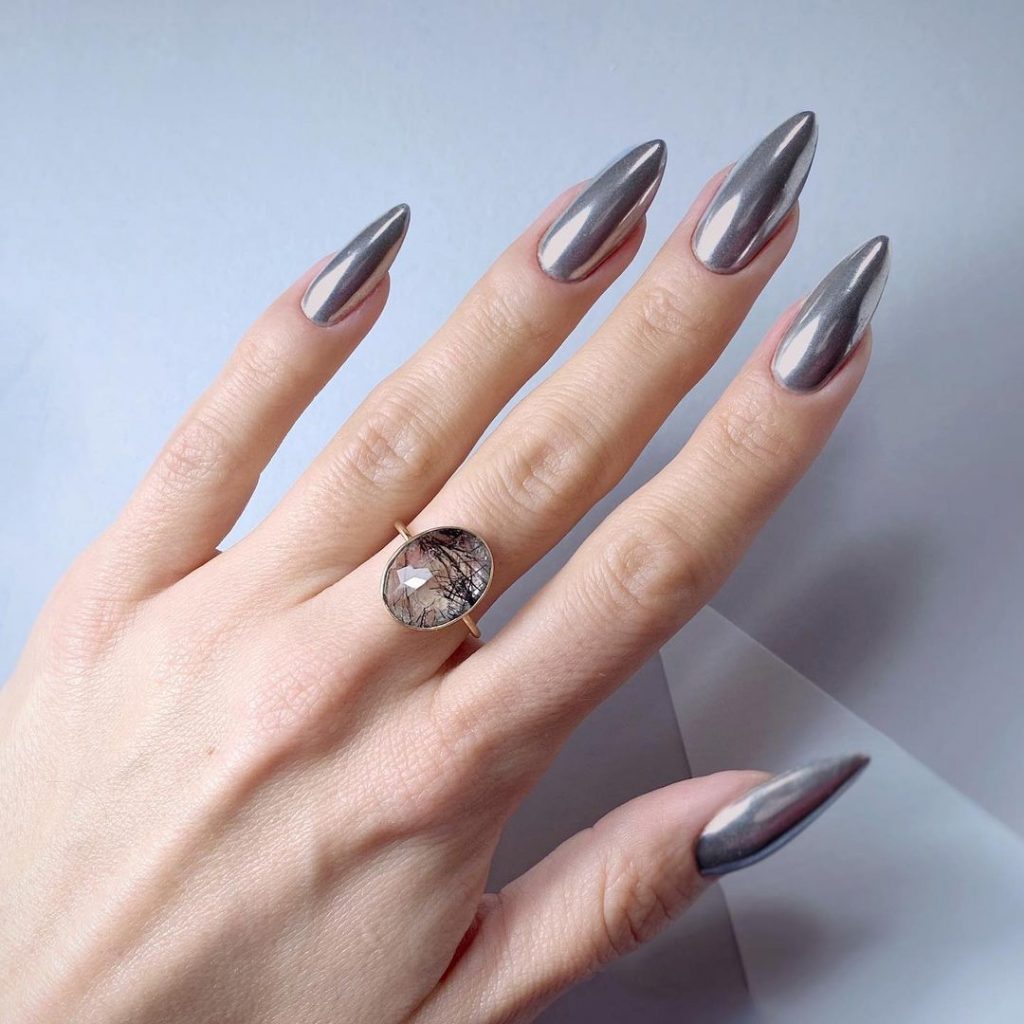 The metallic silver paint makes the almond nails swoon over time. This glow and shine are totally unmatchable and give a perfect shade with every shape and size.
---
9. Accent Nails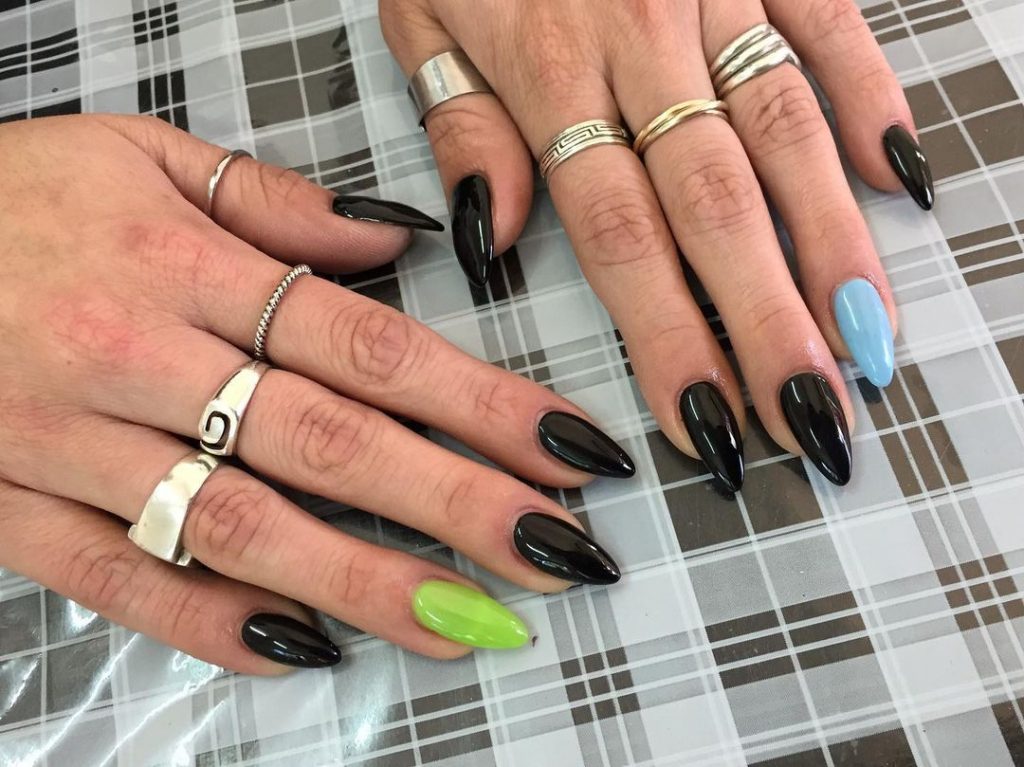 Without sticking to one single uniform color, one can get a bold look through this design. This design allows the nails to be painted with different colors without harassing the shade design.
---
10. Pale Pink Fade
Honestly, the nails' pretty pink color never goes out of fashion. Degrading colors with every successive length in the nail looks too lavishing.
---
11. Tortoiseshell Nails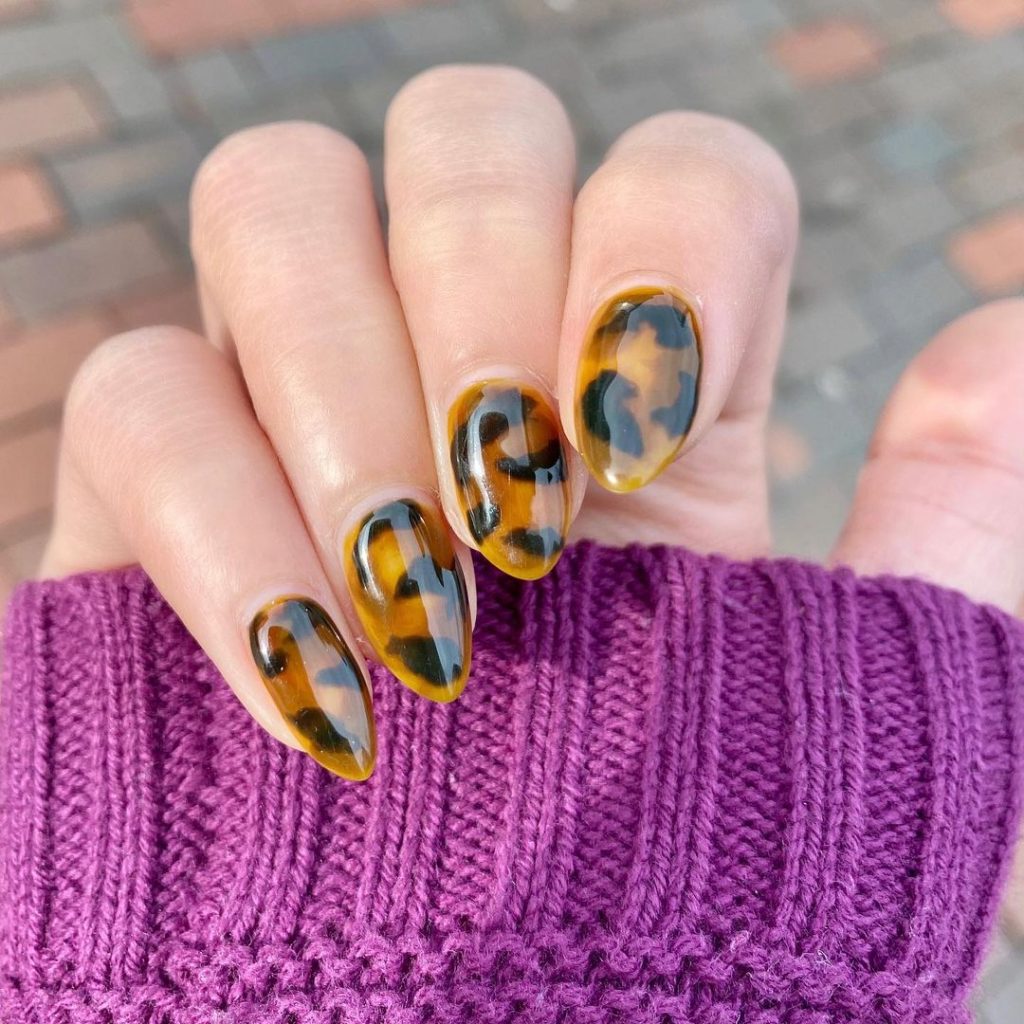 With the perfect design of this tortoiseshell design, it looks like the nails are shelved with the glasses and the colors floating within. This gives a new tone and texture to the nails.
---
12. Butterfly Beauties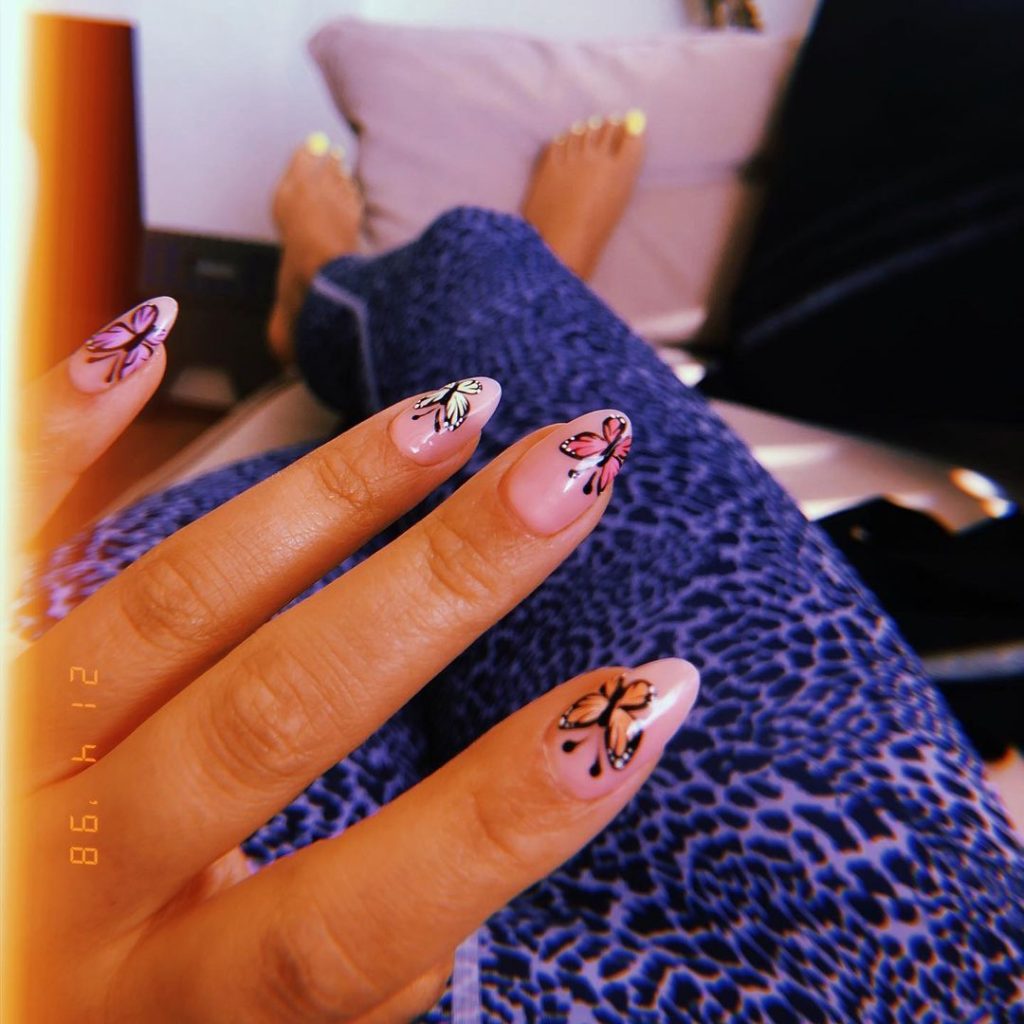 The butterfly beauty design gives an authentic aura to the nails. It looks classy and fits perfectly with the classic looks.
---
13. Bold Abstract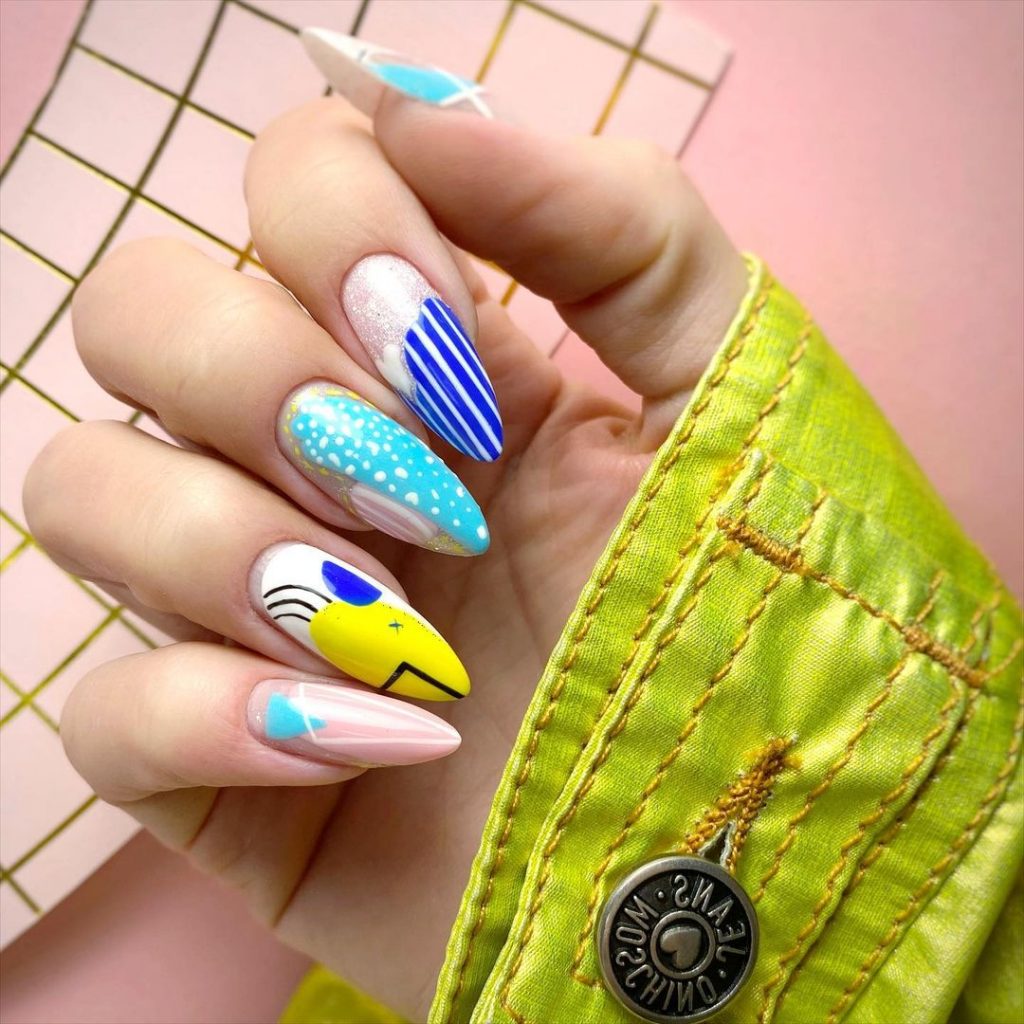 This design feels like a handful of colors, shapes, and designs.
---
14. Warm Water Marble Nails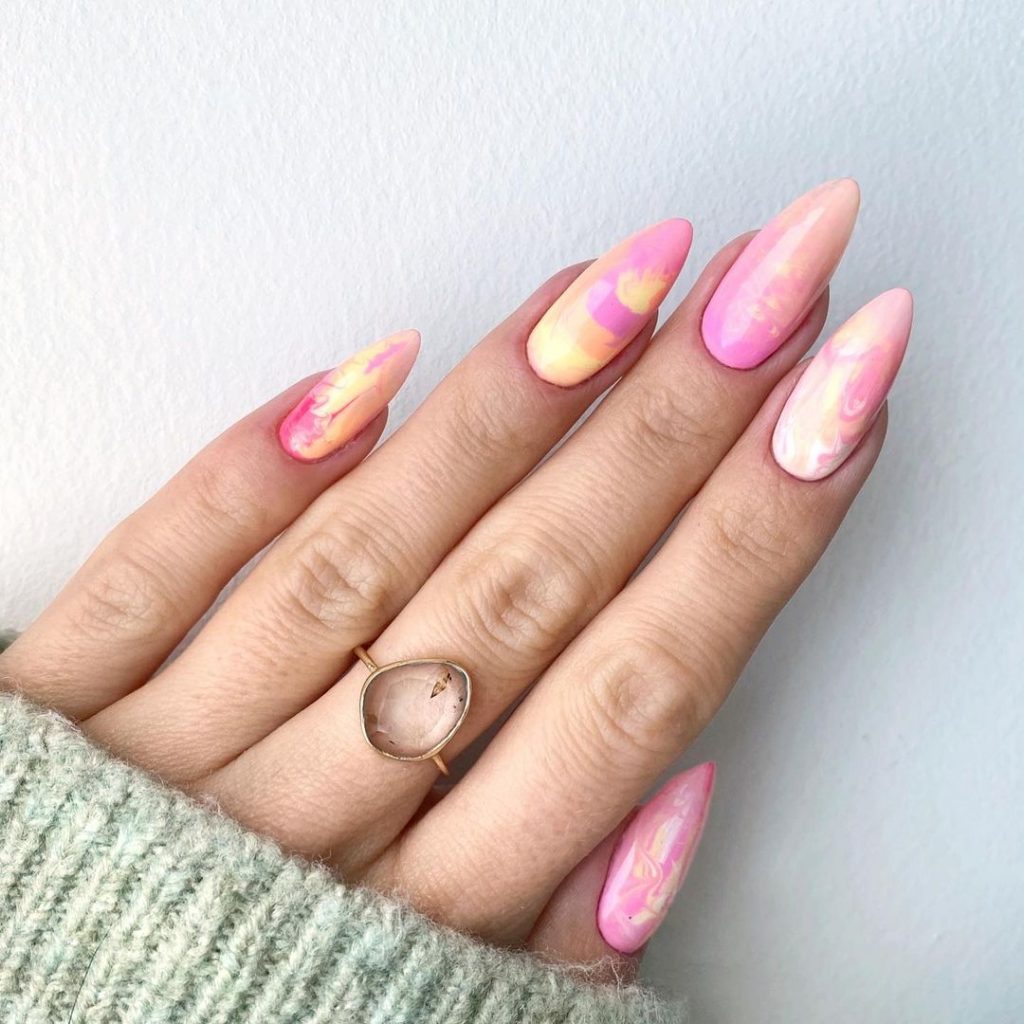 A salad of colors like pink, yellow, orange, and white makes it superfluous to look.
---
15. Glitter Jelly Nails
With jelly and shining nature, this design reminds you of the 90s.
---
16. Sage French Tips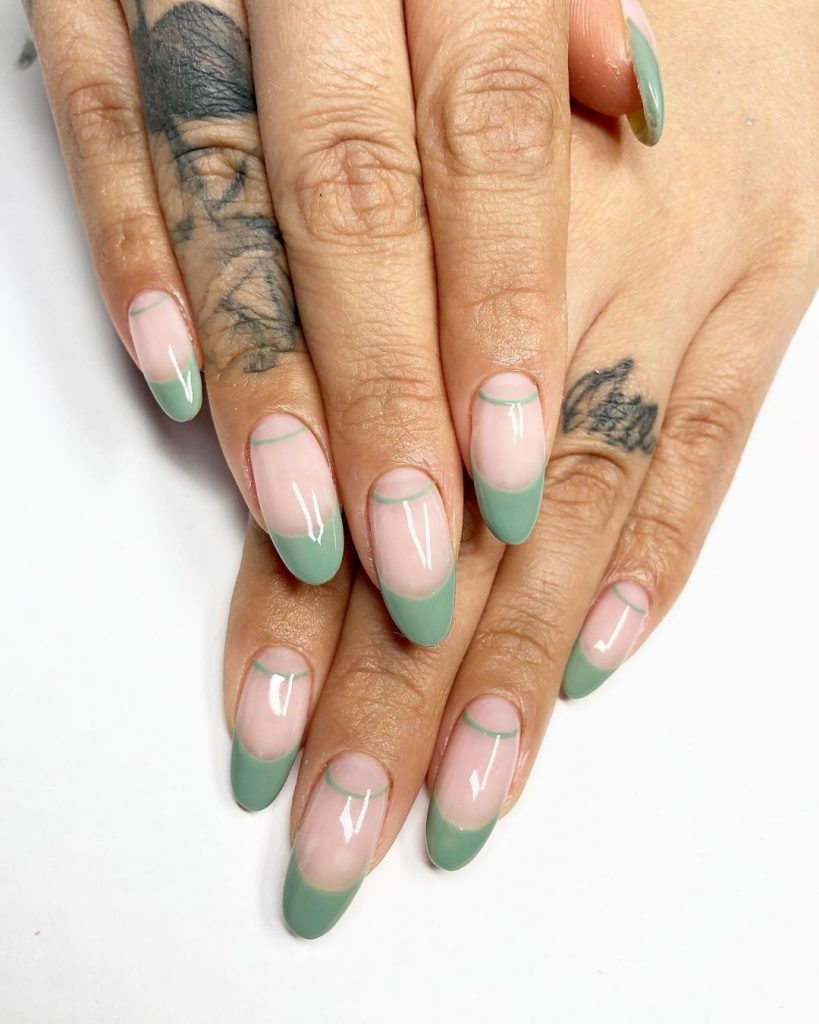 Manicured in a French love style, this saga gives a creative look with classy colors.
---
17. Groovy Accents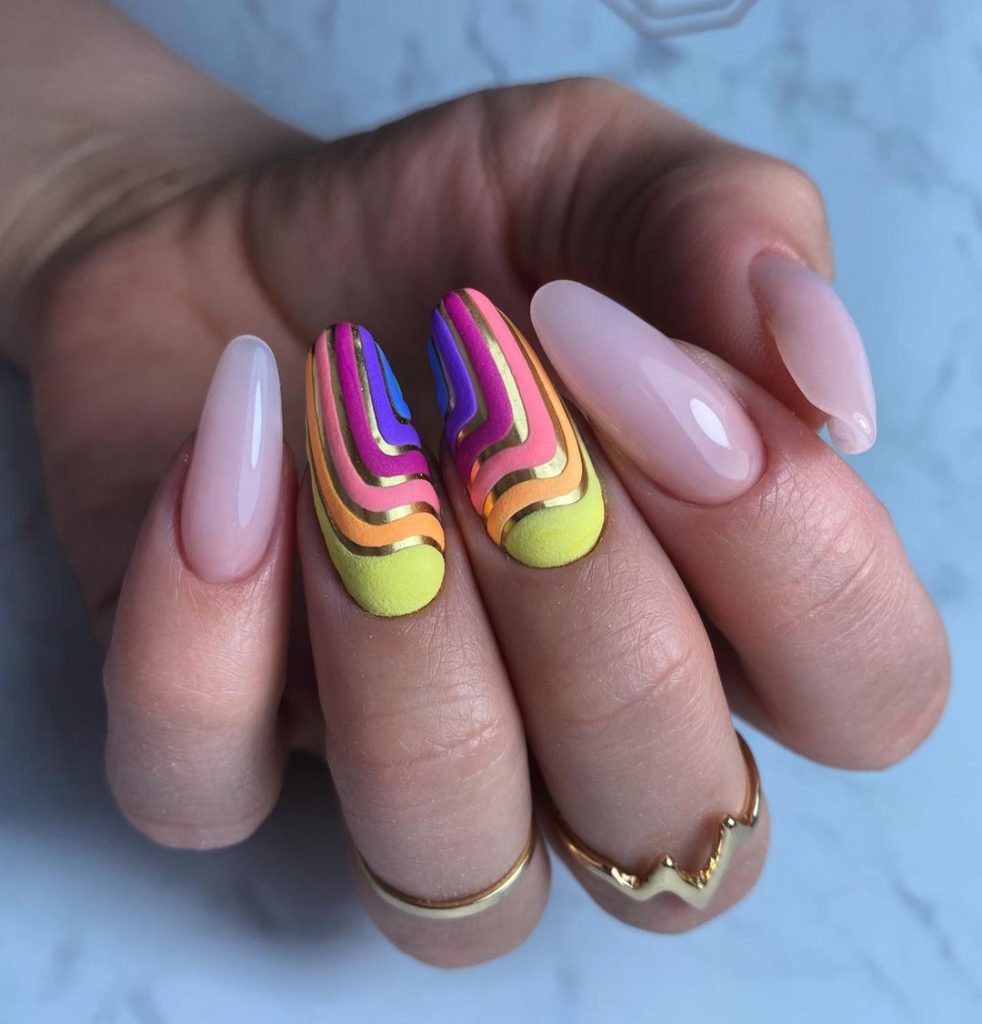 The best two out of five fingers give a touchy and classy look through this modern design and provide a 90s look.
---
18. Cow Print Contrast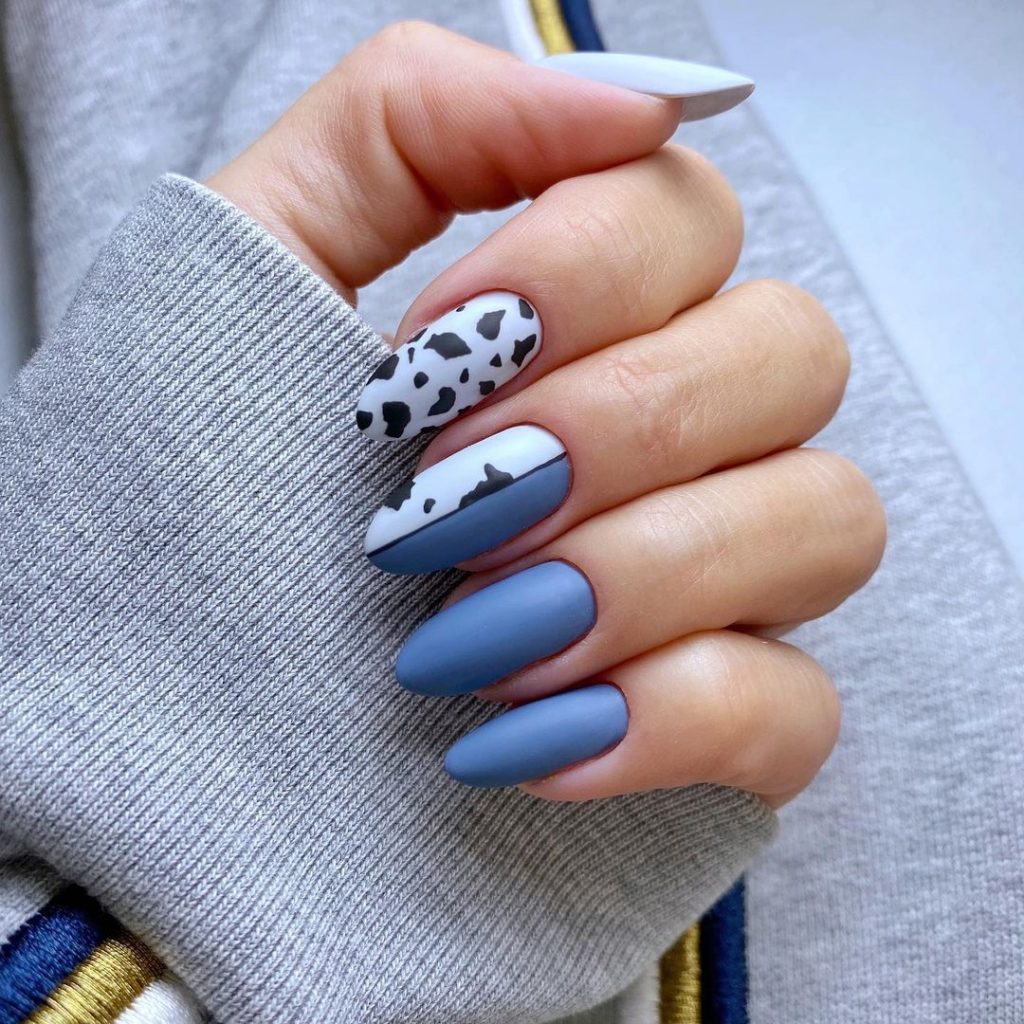 Justifying the true animal print trend, it stands out as the ultimate one and provides a high contrast layer to any nail type.
---
19. Gilded Gold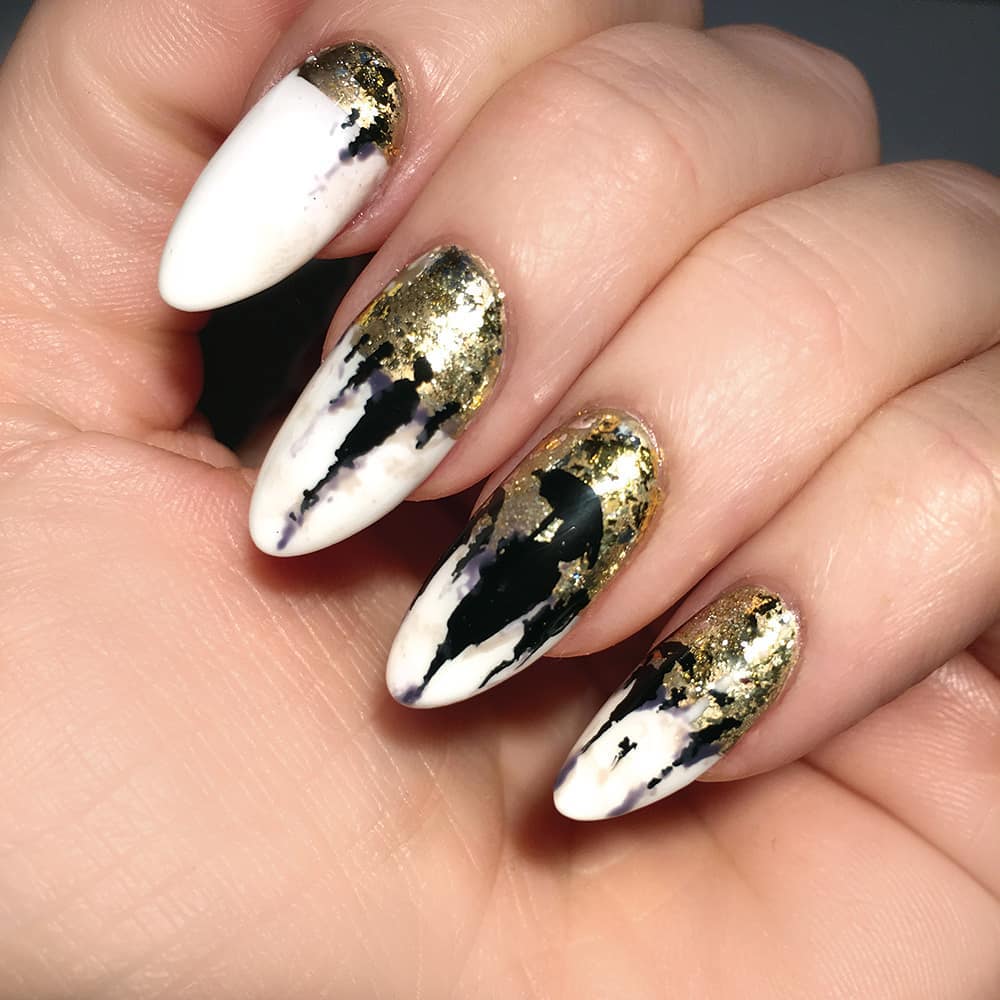 Getting out of the classy touches, the Gilded Gold gives a star contrast black and white look out of nowhere.
---
20. Matte Pastels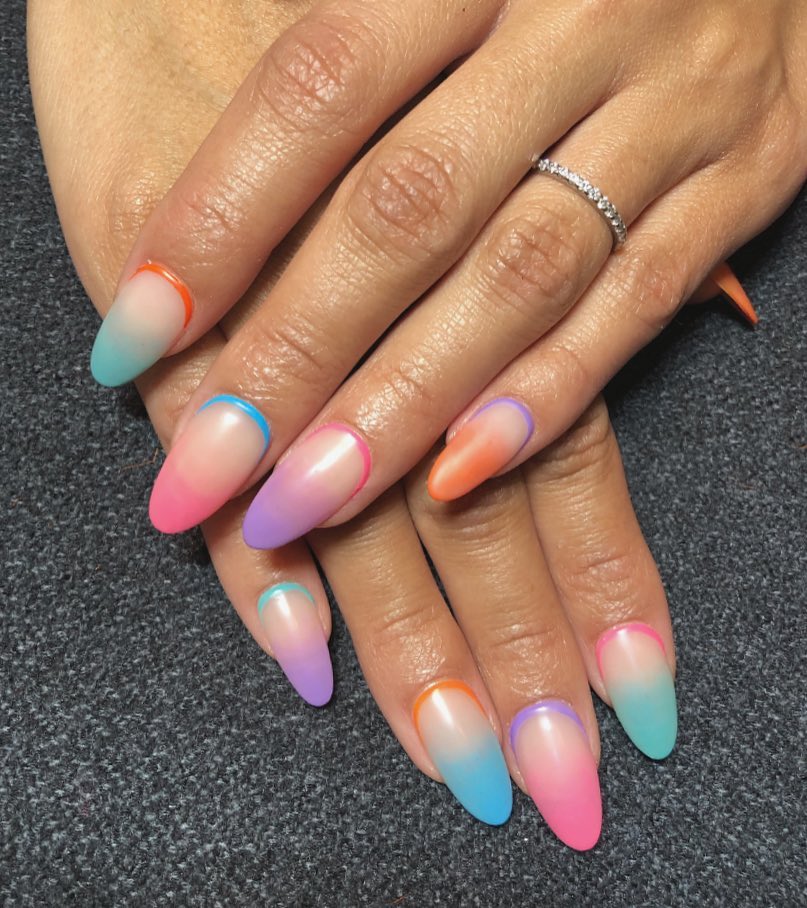 A photogenic textured nail look that provides a major Miami vibe is the matte pastels one.
---
21. Opal Shell
The opal shell look is a versatile one and looks perfectly naked but still provides a light and magically reflective tone.
---
22. Rainbow Tips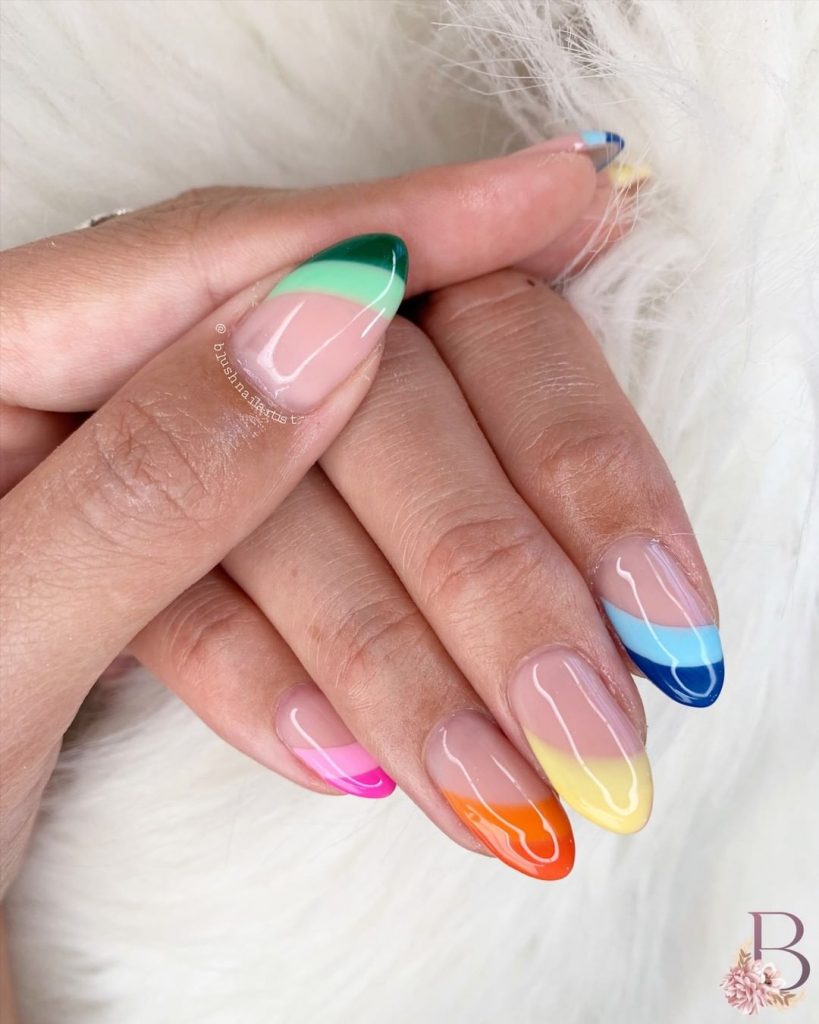 Zero color tone from the bottom and jargon of colors at the top justify the rainbow tips design exactly.
---
23. Dainty Florals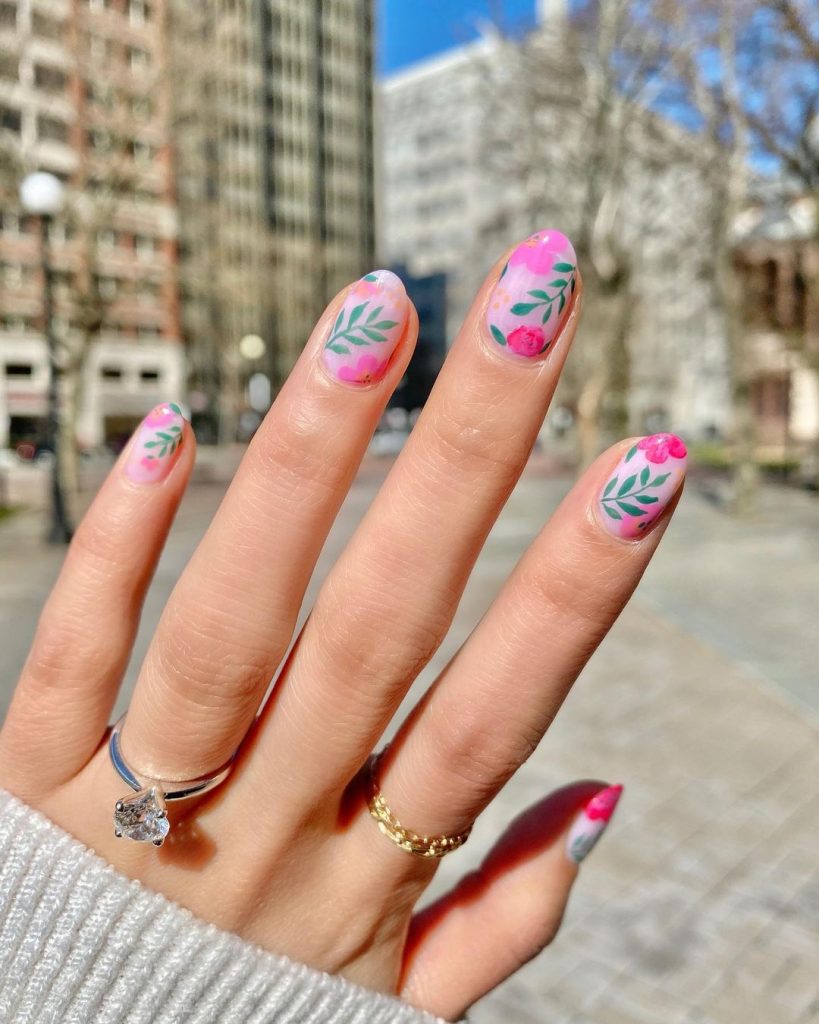 The milky white color texture on which floral leaves are painted embraces the base of the nail and outcomes every other design.
---
24. Pink and Blue Dreams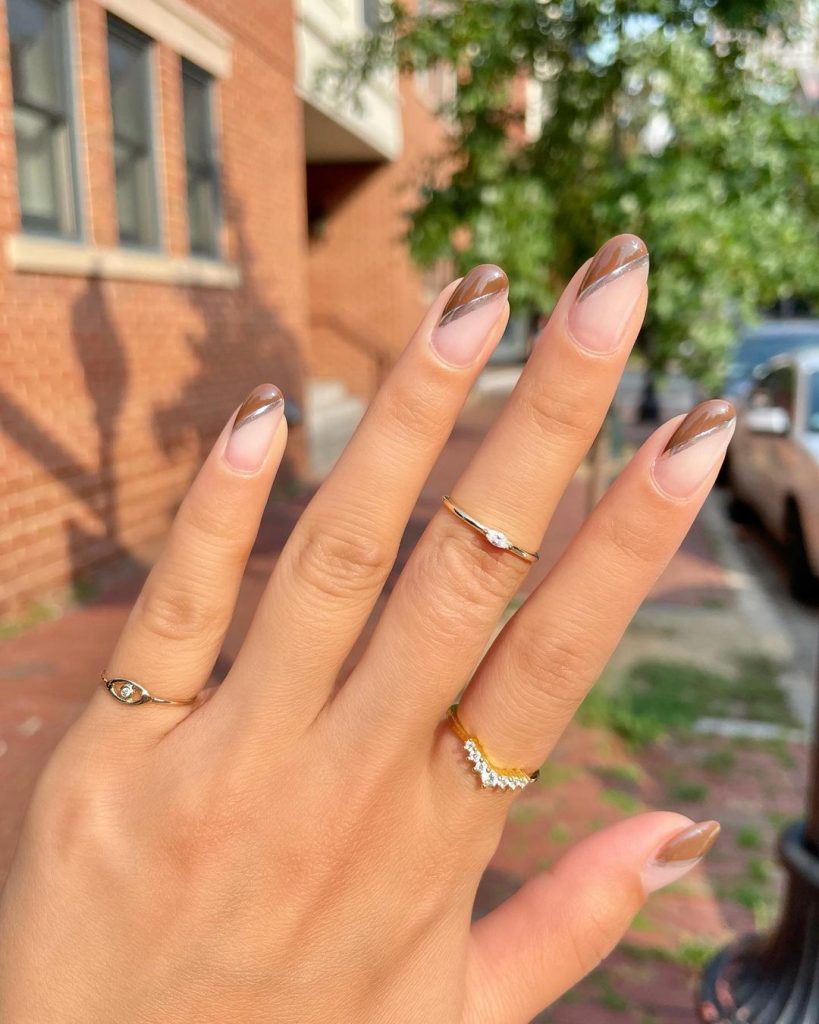 Just like its name, the whole brown and grey design is a dreamy one and looks topped off with bright glitters.
---
25. Gold Glitter Tips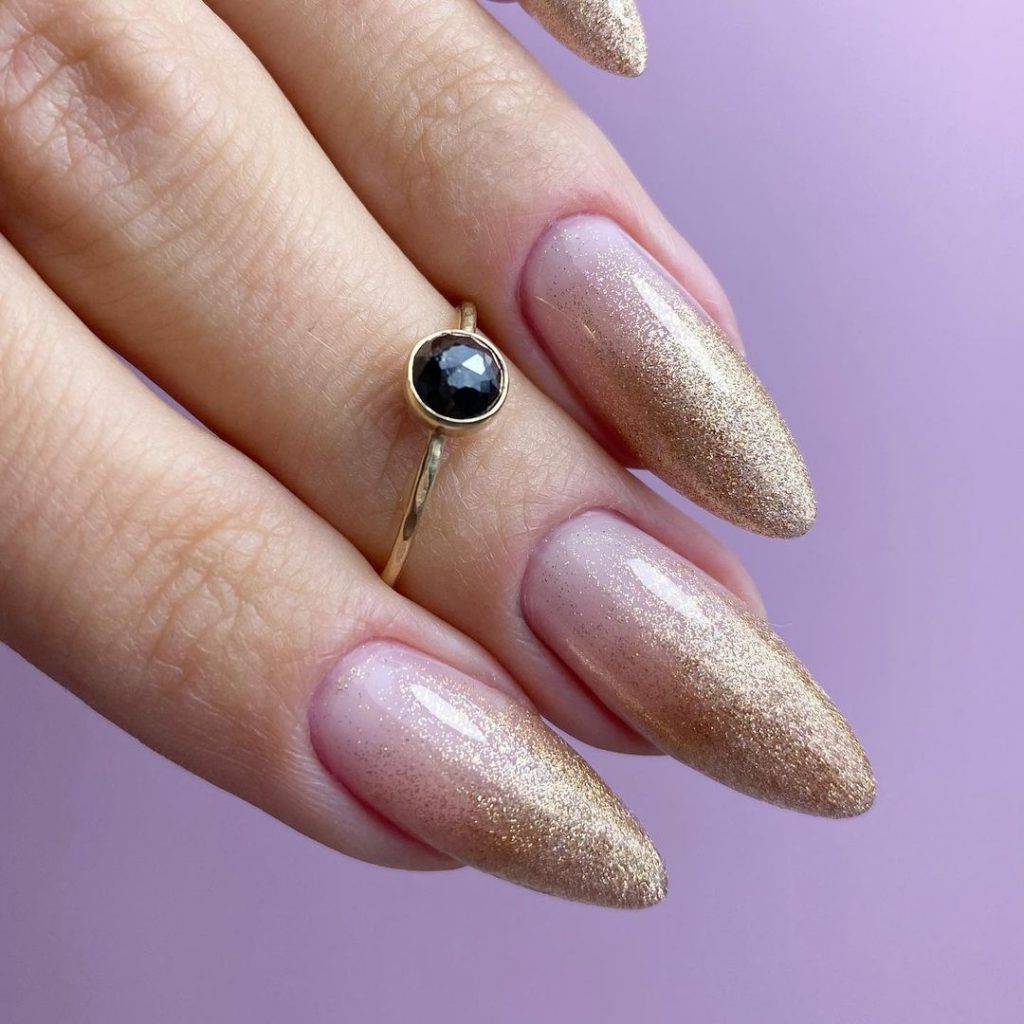 A neutral nail looks glittery topped, looks super fascinating, and has no reason to back off.
---
26. Simple Dots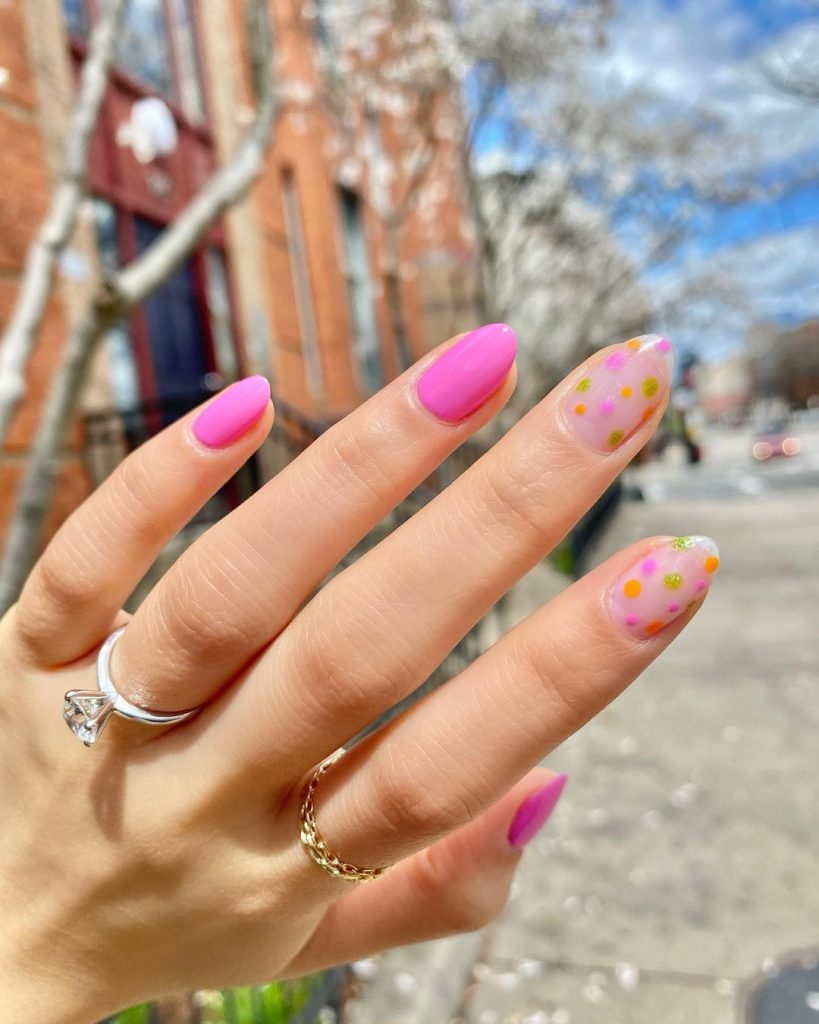 Creating a beautiful and clear coat design within less space can be done with this simple dots design.
---
27. Geometric White Nails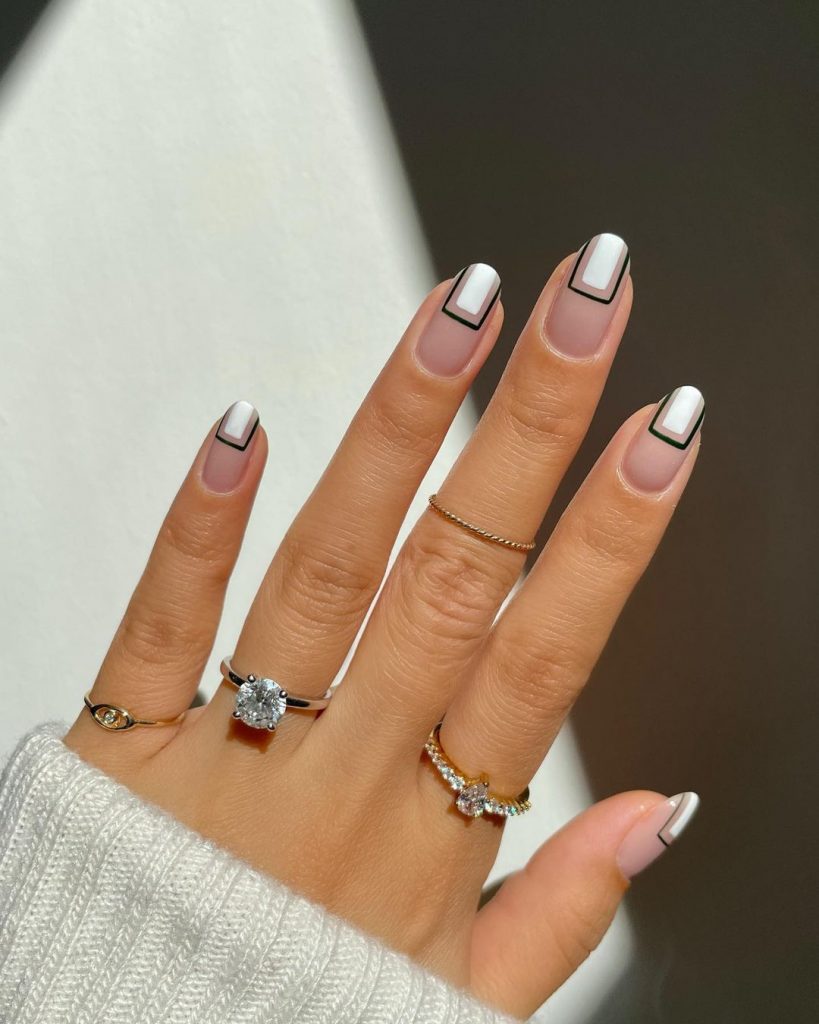 With some simply required efforts and some perfect color coating, this provides an abstract yet beautiful design.
---
28. Negative Space Details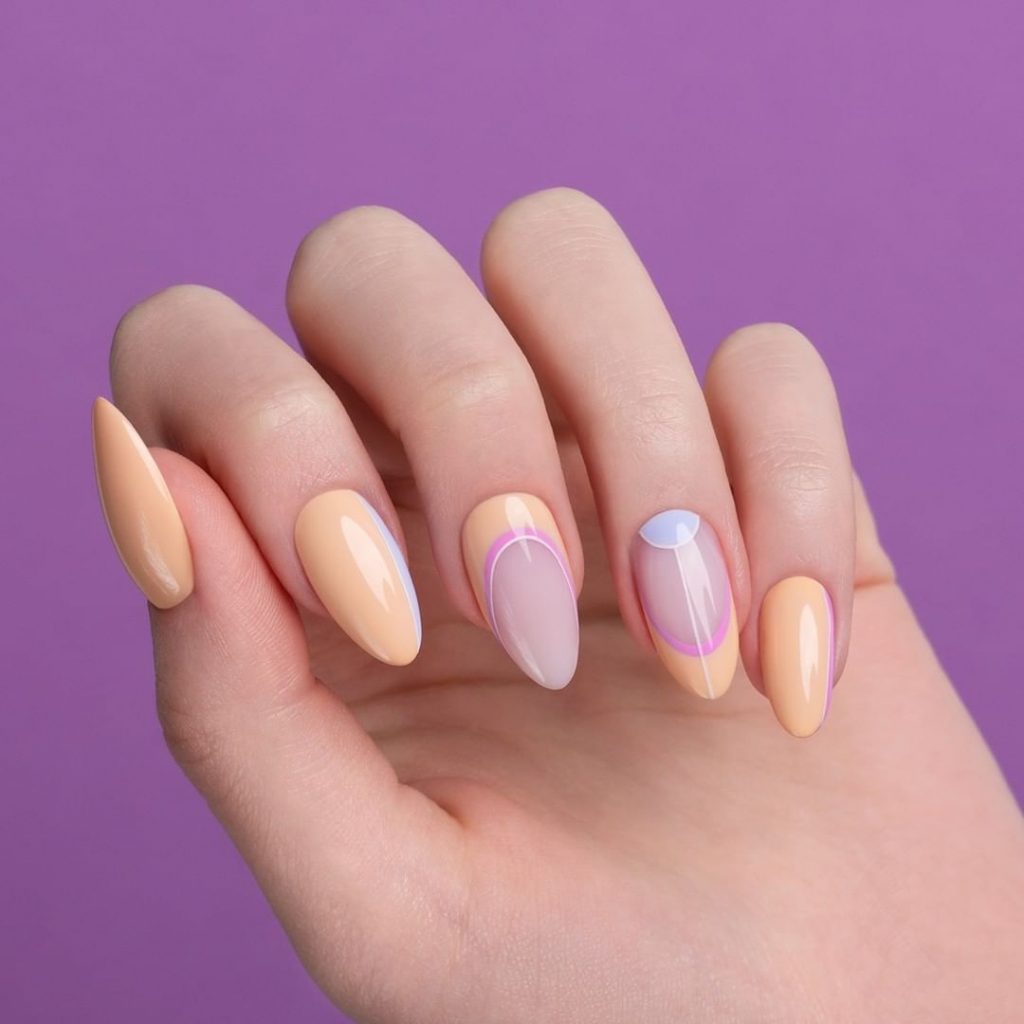 The peach, periwinkle, and pink combine together to bring the best negative space details.
---
29. Geometric French Tips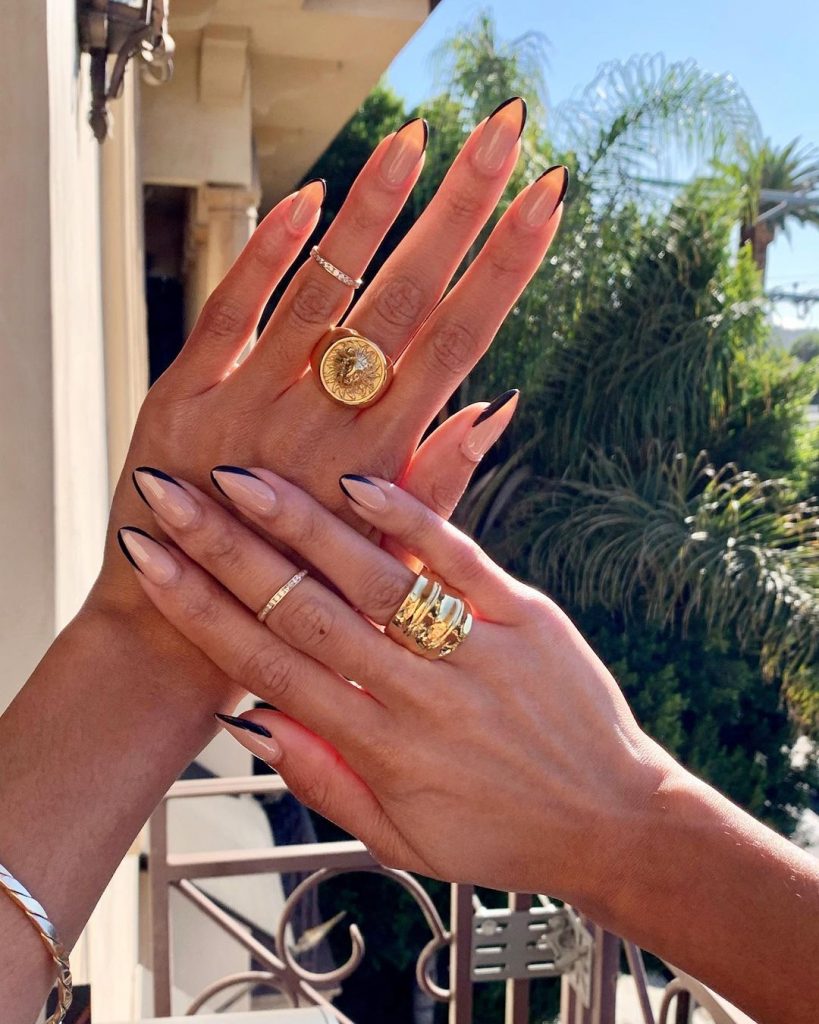 This minimalistic manicure looks like the stilettos, and all tricked with dark lines and dark black polish.
---
30. Smaller Almonds
With enough free edge to space, this provides a noir and authentic look.