Nowadays, it has become normal to get inked, and behind the ear tattoos are now the trend in the market in recent times. Behind the ear is a sensitive area and a better spot for cute little tattoos. These tattoos symbolize some deep and essential things in your personal life. It's entirely upon you to choose whether you want them as a fashion or something that has a meaning. So many behind the ear tattoo can be used.
Anyone may like a rose, music not, or any art that looks great and cool. Behind the ears tattoo are sort of easy to hide. So with many great designs out there, it will be quite difficult to choose the right tattoo behind your ear.
1. Butterfly Tattoo
Butterfly tattoos have become the most popular ones recently, especially among women. They are quite beautiful and also carry some deep meaning. Commonly, butterflies imply change, transformation, and freedom.
2. Scissor Tattoo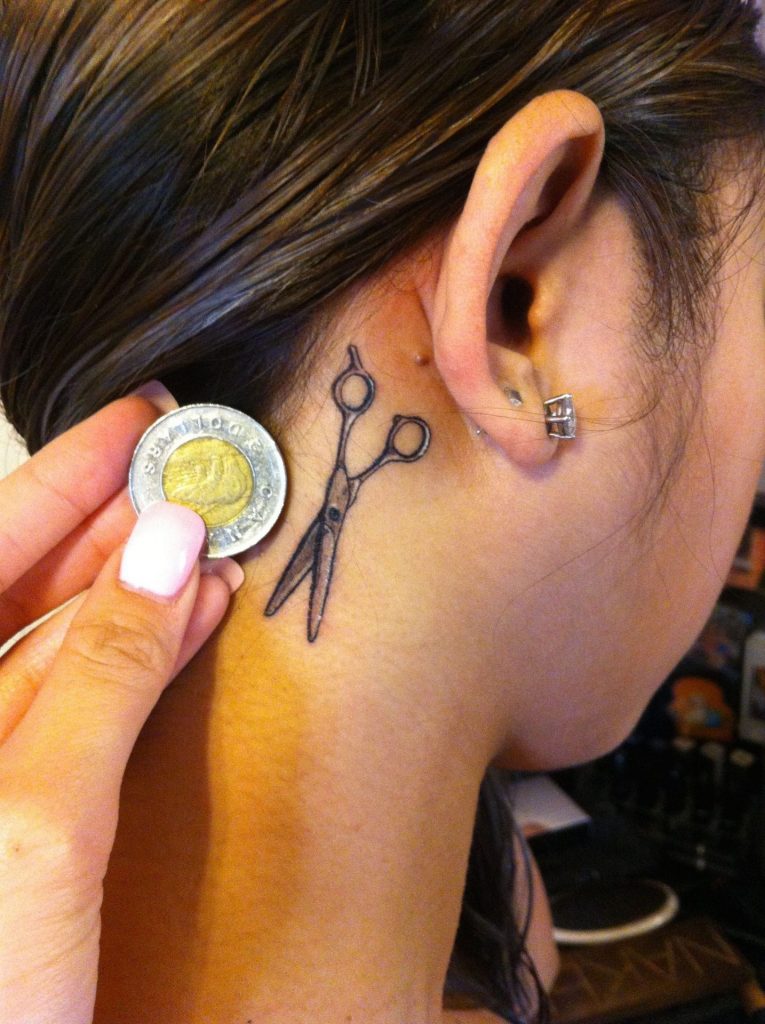 So tattoo lovers out there, if you want a unique, cool, and meaningful tattoo, you can consider a Scissor tattoo. A Scissor tattoo represents thoughts like sharpening your instincts by making independent decisions.
3. Words Tattoo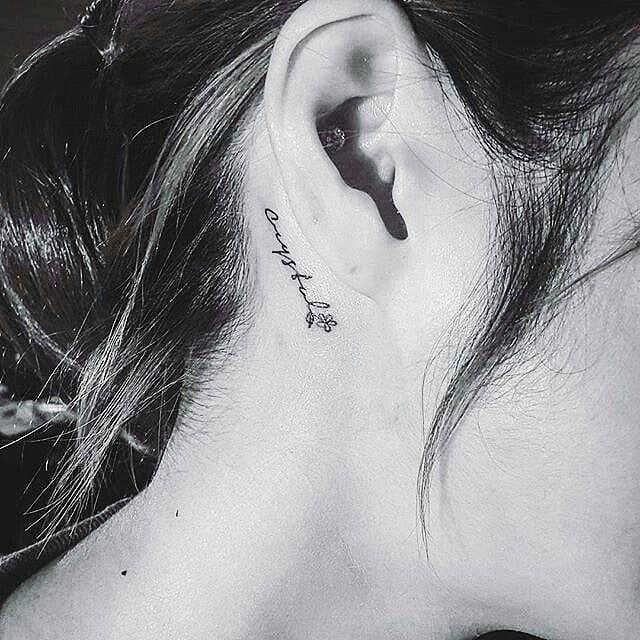 A word tattoo is such an elegant behind the ear tattoo design that will look beautiful by the message it would carry. As the imprinting zone will not have enough space, you need a short and impactful word.
4. Flower Tattoo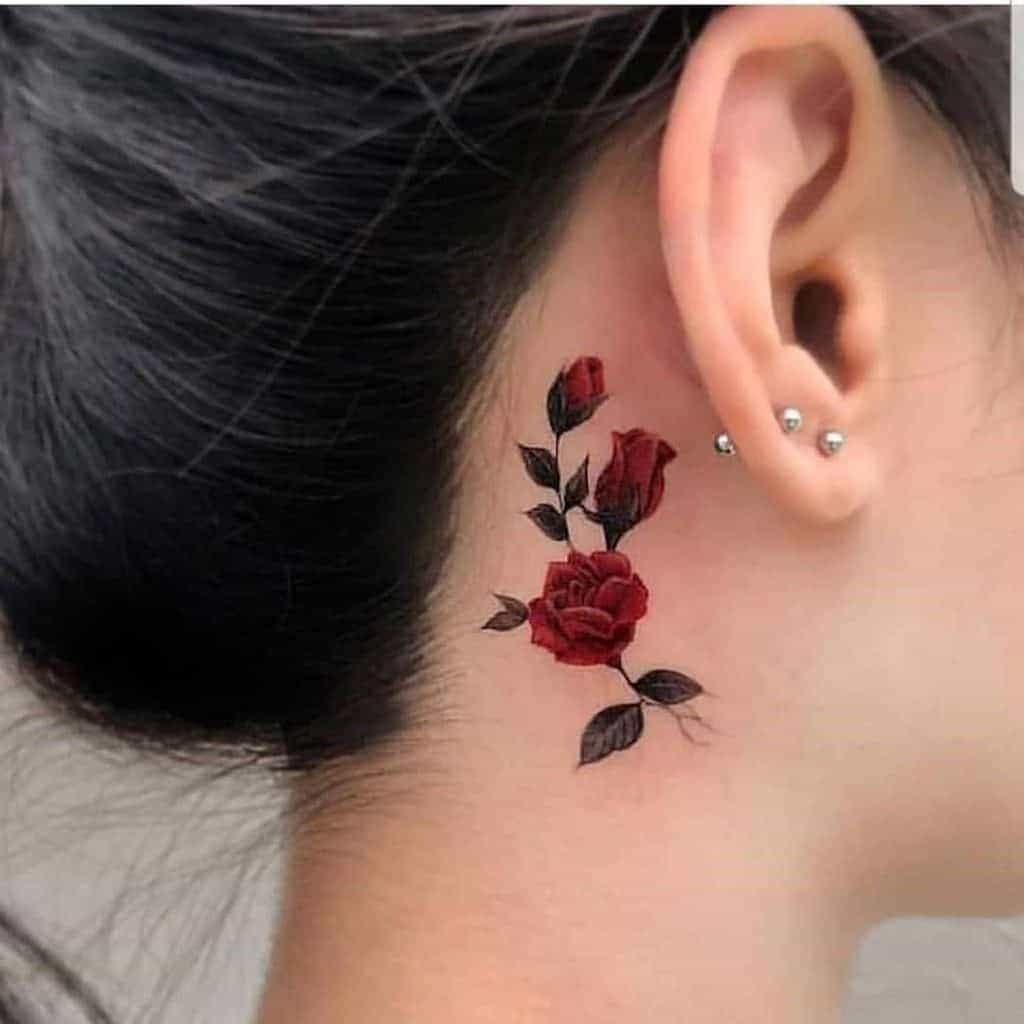 A Flower tattoo that will bloom behind your ear will always look pleasant. A flower represents everything possible, from beauty to courage, and this tattoo implies a quite meaningful design.
5. Star Tattoo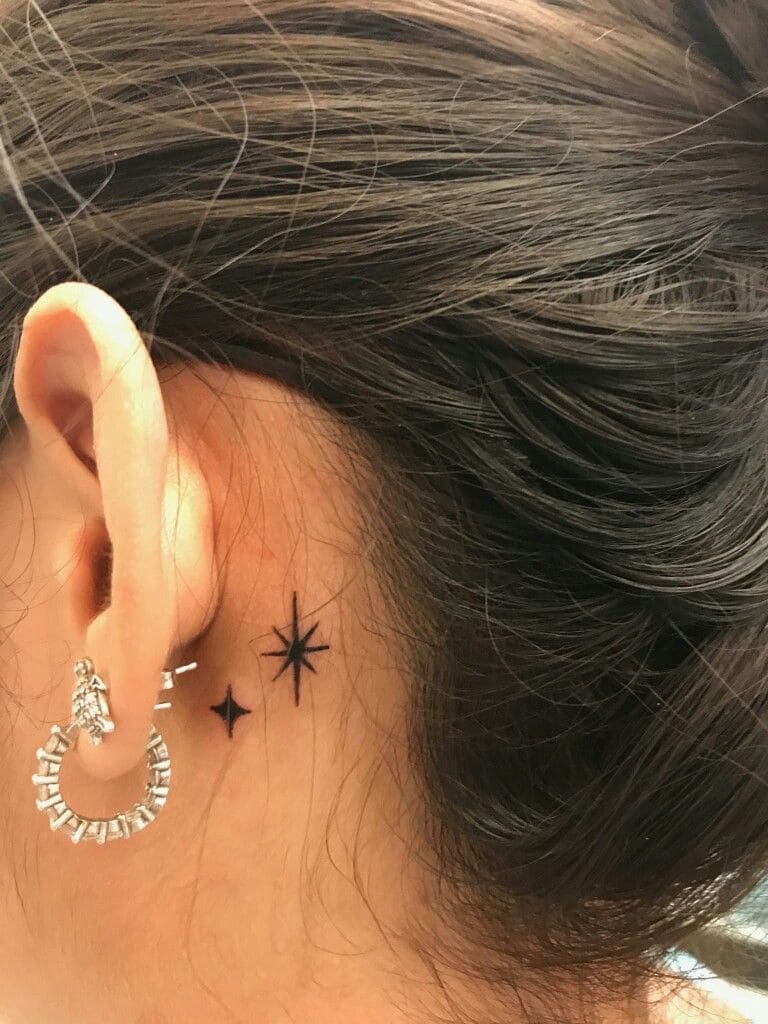 It must be universally declared that a Star Tattoo won't go out of fashion. It represents guidance, light, and love, making them so famous among teenagers.
6. Dove Tattoo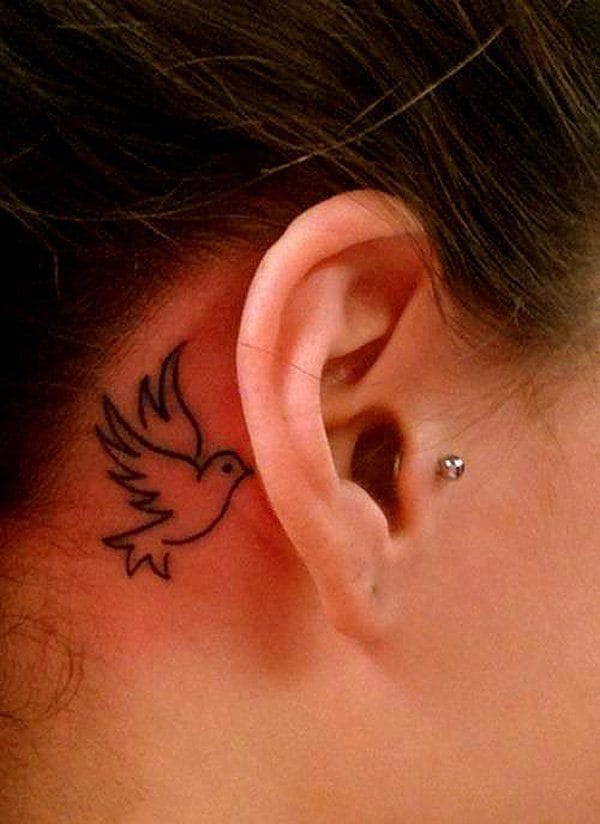 Dove Tattoo often symbolizes peace, unity, and freedom. This makes it the perfect concept for women who want a tattoo behind their ears. It also represents hope, love, and forgiveness and thus is worn by women for such a cause.
7. Angel Tattoo Behind The Ear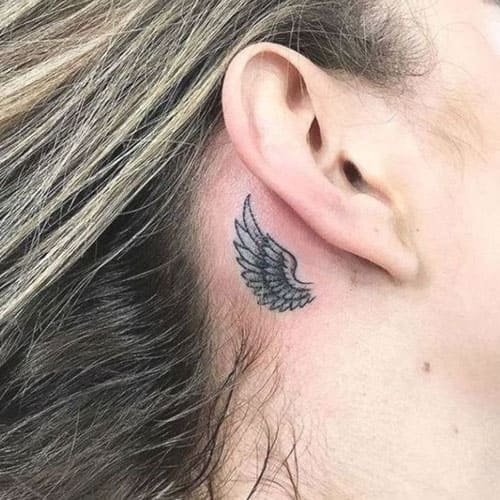 An Angel Tattoo is a highly symbolic behind the ear tattoo and represents cosmic energy and divinity. People with spiritual beliefs find it relatable and cool to have it behind their ears. Those angel wings tattoos look pretty cute and sexy as well.
8. Sun And Moon Tattoo Behind The Ear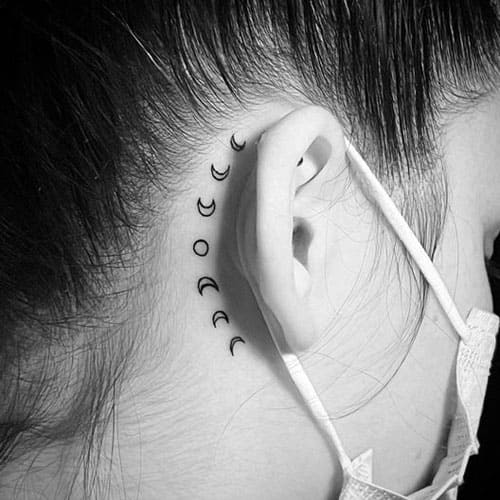 A tiny tattoo can be anything that is a great way to be designed beautifully behind the ear. It gives you some left space for an expansive piece. And if you want to make it impactful, then explore ideas that can be meaningful and aesthetic.
9. Dreamcatcher Tattoo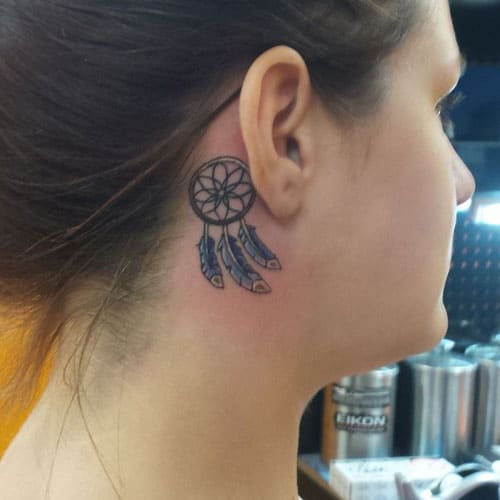 Dreamcatcher Tattoos are stunningly designed and seem quite fashionable. They also have some deep meaning imprinted with bold designs.
10. Heart Tattoo Behind The Ear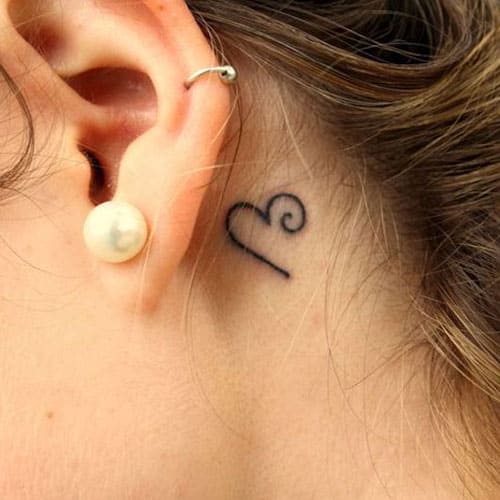 A heart is what a heart desires. And what can be more heart-warming and cute is to see a Heart tattoo behind an ear. This behind the ear tattoo is a traditional symbol of love, care, and adoration. It is one of the most popular behind the ear tattoos among women.
11. Tribal Tattoo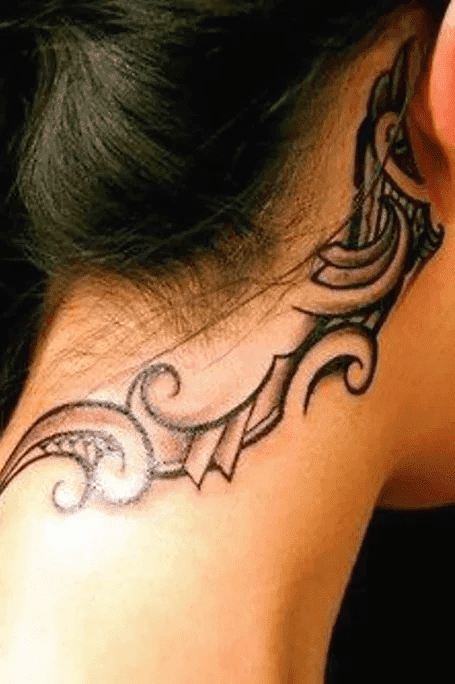 Black ink and traditional patterns create some bold and cool Tribal tattoos. These tattoos are versatile and can be placed anywhere apart from the ear.
12. Cross Tattoo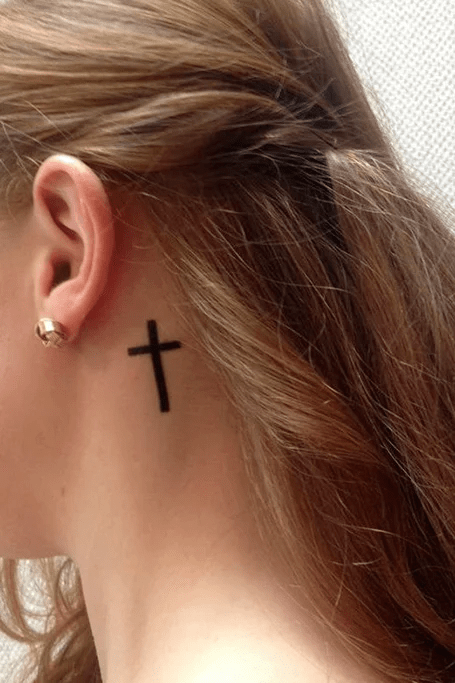 Cross Tattoo is a bold and beautiful way of showing your faith. This tattoo also versatile if placed anywhere but suit best behind your ears. It wholly represents the belief in God.
13. Moon Tattoo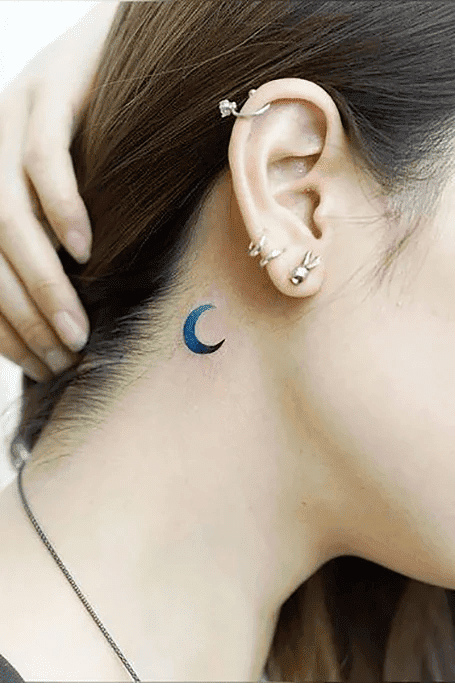 An elegant, beautiful and meaningful behind the ear tattoo design concept is a Moon. This is due to the waxing and waning of the moon. It represents the times of change and transition in your life.
14. Initial Tattoo Behind The Ear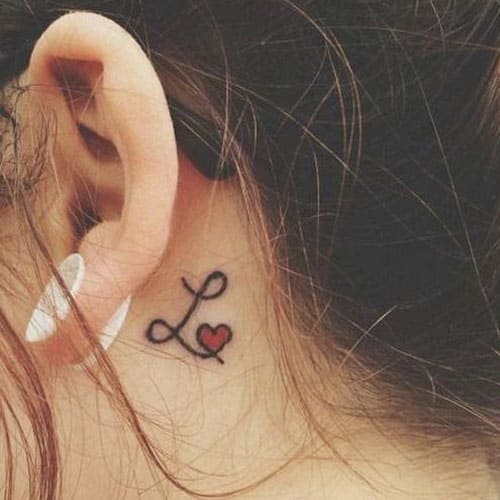 Initial tattoos are close to the heart as they start with the letter of your loved one's name. Initial tattoos do look cool with the great design of the first letters.
15. Feather Tattoo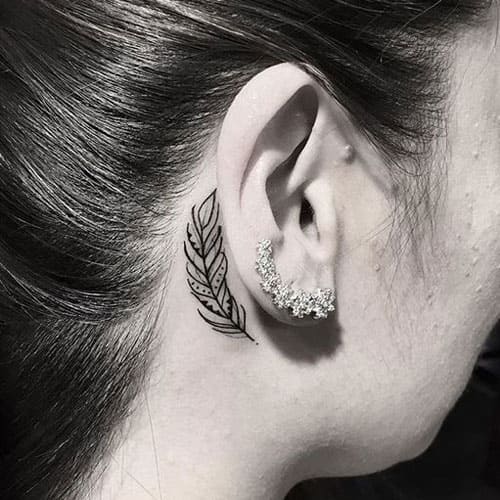 Feather Tattoos are very versatile and inspirational kinds of behind the ear tattoos. These behind the ear tattoos can be made more or less detailed just as you desire. Feathers often represent spirit, courage, and significant freedom.
16. Tree Tattoo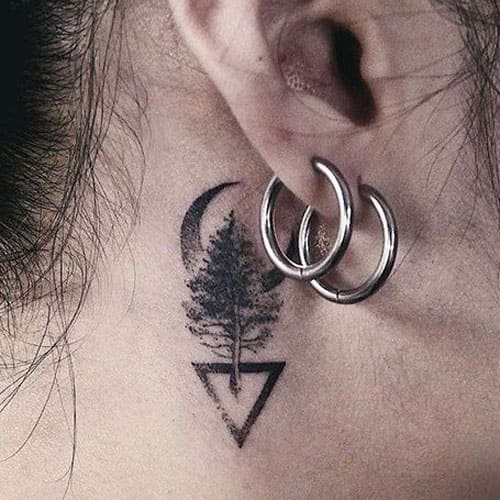 Tree Tattoo is for those women who fought hard in their lives to make it better for tomorrow. Trees symbolize knowledge, resilience, and longevity.
17. Music Note Tattoo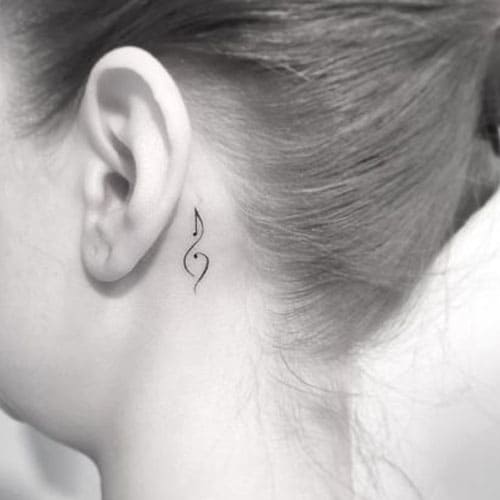 Any art fan or true artist would fall for these musical note tattoos. This simple and beautiful design creates a great impact on society by showing the beauty of music.
18. Crown Tattoo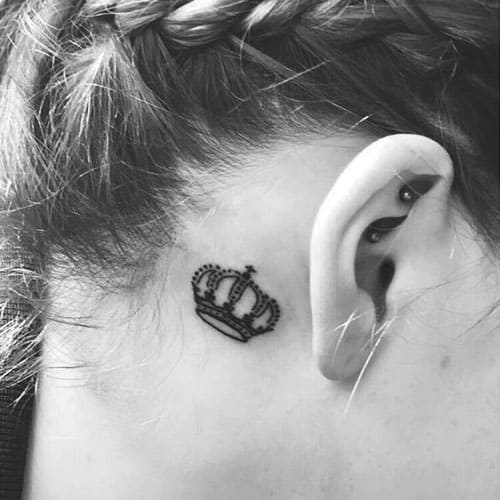 A crown Tattoo is one of the most stylish behind the ear tattoo designs. It represents power, royalty, wealth, luxury, etc. This Tattoo can make any woman feel like a queen or princess.
19. Lightning Tattoo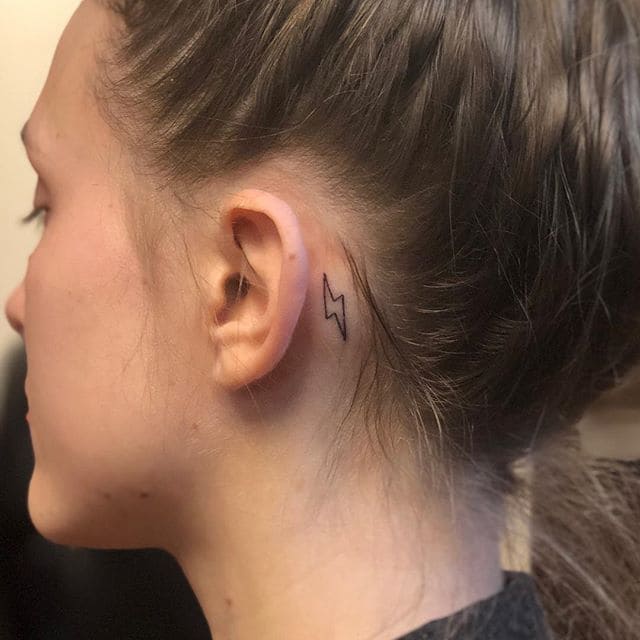 Lighting tattoos are stunning. They represent power, energy, and courage; They will glow differently behind your ear.
20. Dragon Tattoo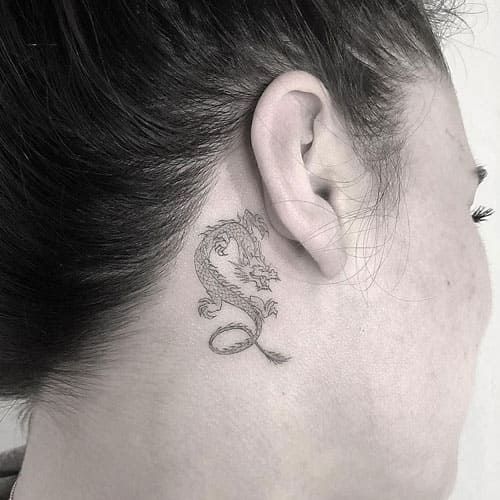 Dragon Tattoo is bold and one of the coolest behind the ear tattoo designs in recent times. It symbolizes unmatched strength and ferocity. This makes it so versatile for any woman to choose.
21. Simple Behind The Ear Tattoo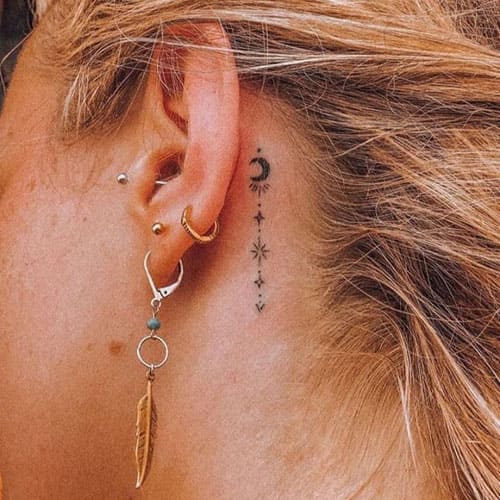 If you want to go with something not so big or bold, you can go with simple Tattoo designs that are also beautiful. Behind the ear, tattoos are fine artwork that looks great.
22. Anchor Tattoo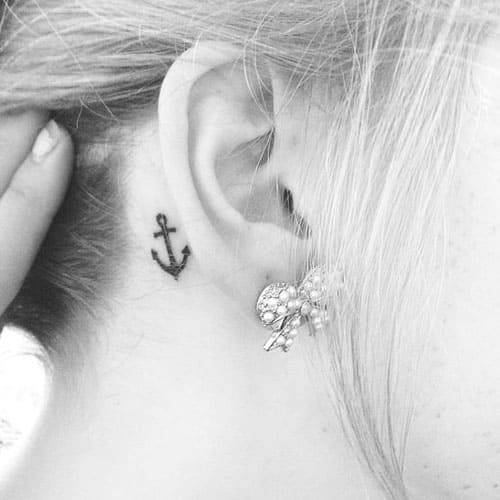 For me, a determined woman everywhere, a design for you is known as Anchor Tattoo. It is one of the beautiful behind the ear tattoo designs which represents passion, stability, and safety in women. The anchor may sound weird, but when placed behind the ear.
23. Cover-up Tattoo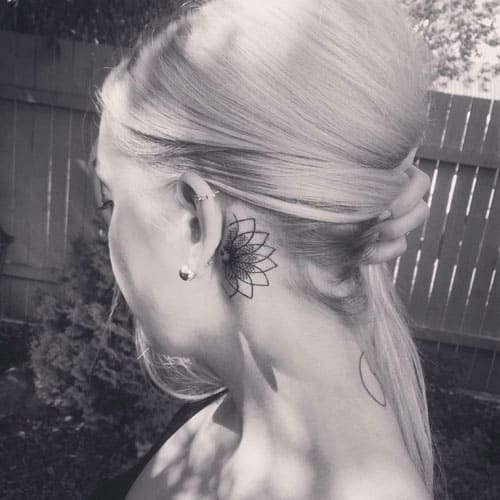 Cover up tattoo may be a solution to the painful removal of a previous tattoo; you can say it is a necessary evil. The smaller these cover-up tattoos will be, the easier it will become to mask old memories and mistakes.
24. Under-ear Dreams Tattoos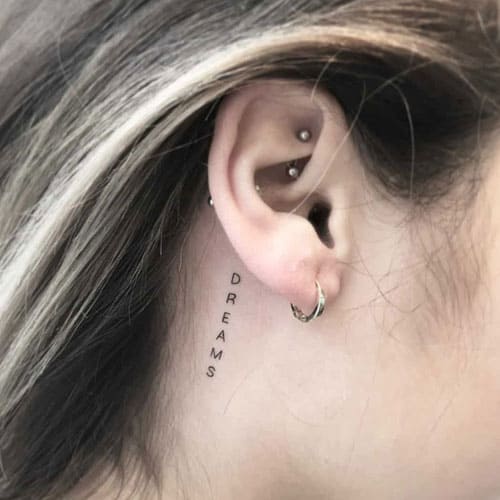 Under-ear tattoos may not be a fashion, but it is for those who want to clarify their thoughts. These tattoos give extra space, which increases the visibility of the artwork.
25. Elephant Tattoo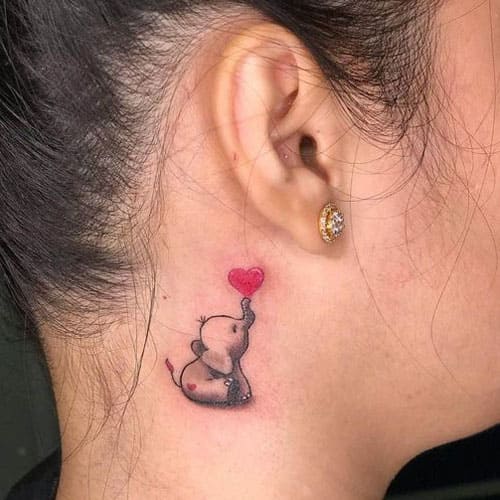 An elephant tattoo is a new trend rising in the market. It looks very cute and elegant behind the ear. Elephants represent compassion, strength, and wisdom; These tattoos look beautiful on new mothers.