Oily skin comes with many skincare concerns, and you will need to find the best sunscreens for oily skin. However, you will not apply any beauty product you come across. As much as most people get oily skin hereditary, it might also be caused by stress, diet, weather conditions, or hormones. These causes explain why you will not apply any skincare product to oily skin.
If you make a mistake and the products cause severe reactions, it may turn chaotic. For example, most people with oily skin develop severe acne or painful pimples upon using the wrong product. In addition, sunscreen helps protect people with oily skin and other skin types from adverse sun radiation.
If you find the best sunscreens for oily skin, it makes all the difference. However, since oily skin requires a unique line of makeup and skincare products, you will need to take caution while buying skincare products.
Dermatologists prefer that you go for dermatology-tested skincare products if you have oily skin. This article goes into detail to help you find the best sunscreens for oily skin on the market. You will enjoy knowing that as the sunscreen keeps your skin safe from UVA and UVB rays, it also takes care of your oily skin condition.
1. Paula's Choice Face & Body Sunscreen
This sunscreen suits people of all skin types. It suits oily skin types because it will help eliminate excess oil that causes most acne conditions. It gives a smooth and matte finish while guaranteeing protection from a broad spectrum of UV radiation. It also enriches your skin with the best antioxidants hence preventing skin aging.
Benefits
Lightweight
Easy to apply
Offers protection against UVA and UVB protection
Boost the skin's antioxidant qualities
Skin-friendly
Non-greasy
Sweat and water-resistant
Long-lasting
---
2. Biossance Squalane Sunscreen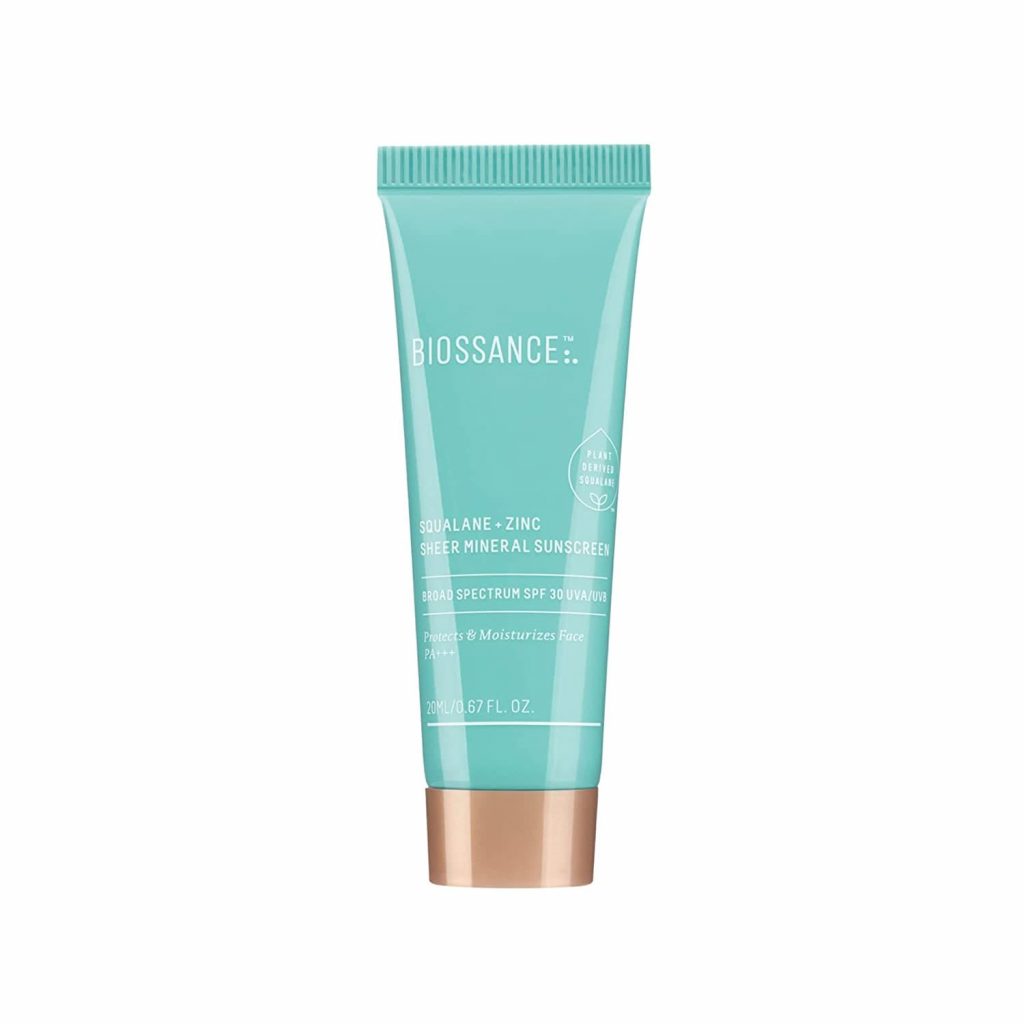 Biossance Squalane protects sensitive, oily skin from UV radiation. Oily skin fits the sensitive category since it gets irritated by most skincare products. If you take care of sensitivity by using the best products, you stand a chance to enjoy acne and pimple-free face. This sunscreen will protect your skin while making it possible to travel with and use it anywhere.
Benefits
Lightweight and travel-friendly
It protects the skin against the widest UV spectrum
Grease-free
Has an SPF of 30
Contains zinc
Hydrates the skin
Penetrates deep into the skin
Comes made of safe skin ingredients
Cruelty-free
---
3. EltaMD UV Clear Facial Sunscreen
With an SPF of 46, EltaMD facial sunscreen gives maximum UV radiation protection. This broad-spectrum guarantees you the results you have looked for. It suits acne and sensitive-prone oily skin. In addition, the mineral-based zinc oxide formula will help hydrate and nourish the skin.
Benefits
Lightweight
Protects against a wide spectrum of UV rays
Contains zinc oxide
Cruelty-free
Portable
---
4. DIFFERIN Sunscreen
Do you need sunscreen to help absorb excess oil from your skin while keeping it safe from the damaging sun rays? Worry no more because DIFFERIN sunscreen gets you covered. It absorbs any extra oil from your face leaving you looking and feeling marvelous.
Benefits
Hydrates the skin
Protects your skin from harmful sun rays
Uses micropearl technology hence guarantees amazing results
Developed with dermatologists' approval for people with oily skin
You may use this product with DIFFERIN gel for better results
Cruelty-free
Portable
---
5. Cetaphil Mineral Liquid Sunscreen
Oily skin comes with all matters of sensitivity. Cetaphil mineral liquid sunscreen has a wide SPF spectrum and will cater to these sensitivities. Therefore, most dermatologists will recommend using this sunscreen to protect people with oily skin.
Benefits
It protects your delicate skin from harmful sun rays
Keeps the skin hydrated
Does not irritate the skin
Prevents flare-ups
Portable
---
6. Two Peas Organic Sunscreen
If you find organic skincare products, then you find a good thing. Two Peas guarantee your skin protection from the sun's harmful rays. It contains no chemicals but minerals that help achieve smooth facial skin with an even tone all day long.
Benefits
Organic and contains no minerals
Portable
It contains skin-friendly natural ingredients
Keeps your skin sheltered from the harmful rays of the sun
It helps keep the skin hydrated
Prevents sunburns and skin damage
Contains zero fragrances and chemicals
It contains important skin minerals
Waterproof
---
7. Neutrogena Clear Face Liquid Sunscreen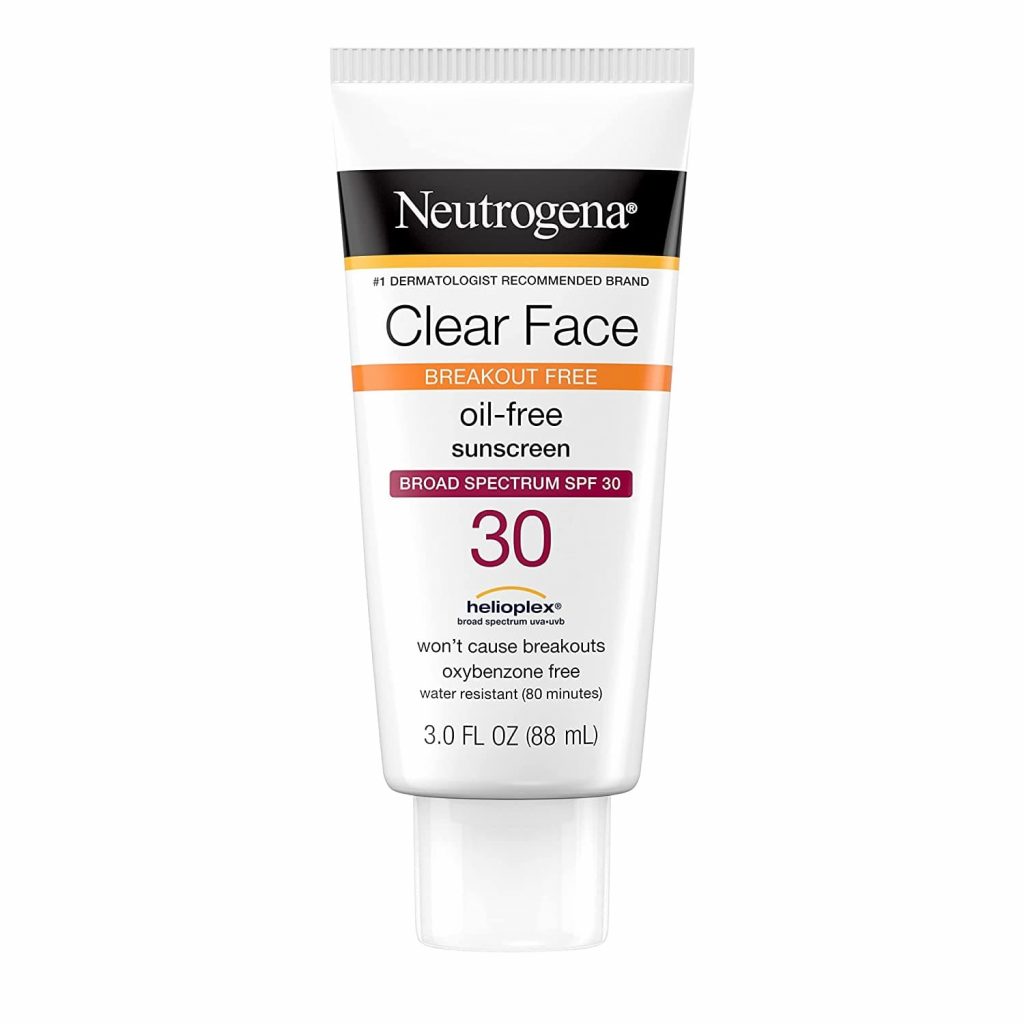 Do you need sunscreen for your oily, acne-prone skin? If so, Neutrogena brings you the ultimate product. It has an SPF of 30 and guarantees a gentle touch to your skin. It also keeps away a broad UV rays spectrum from your skin, ensuring an even-toned skin.
Benefits
The sunscreen comes oil-free
It absorbs excess oil from your skin
It gives a smooth acne-free facial skin
It has dermatologists' approval
Fragrance-free and so suits everybody
It comes formulated in Helioplex technology
---
8. Blue Lizard
How sensitive is your oily skin? If you feel it's on the high end, Blue lizard sunscreen will help you make the sunscreen choice. It will guarantee you zero flare-ups, irritations, or acne emergence. The hydrating hyaluronic acids work to retain the skin's moisture and give you smooth skin results. In addition, with an SPF of 30+, you don't have to worry about the effects of UVA and UVB sun rays.
Benefits
Contains hydrating hyaluronic acid
Portable
Keeps your skin evenly toned
It keeps away harmful UVA and UVB rays
Lightweight and doesn't clog pores
Most dermatologists recommend its use by people with oily, sensitive skin
Paraben and fragrance-free
Mineral-based
Contains natural antioxidants to slow down the aging process
---
9. DRMTLGY Anti-aging Sunscreen
You will love that this sunscreen protects your skin against harmful rays and gives anti-aging benefits. In addition, it improves the skin's appearance with its hyaluronic and Niacinamide ingredients. DRMTLGY serves people of all skin types; hence very ideal for oily skin types. The more diverse a product proves when it comes to skincare, the more gentle it will prove to your skin.
Benefits
Ideal for all skin types
Contains anti-aging properties
It has skin-friendly ingredients
Portable
Keeps harmful UV rays from hurting your skin
Satisfactory guaranteed
Affordable
It offers vale four of your money
---
10. Innisfree Daily UV Defense Sunscreen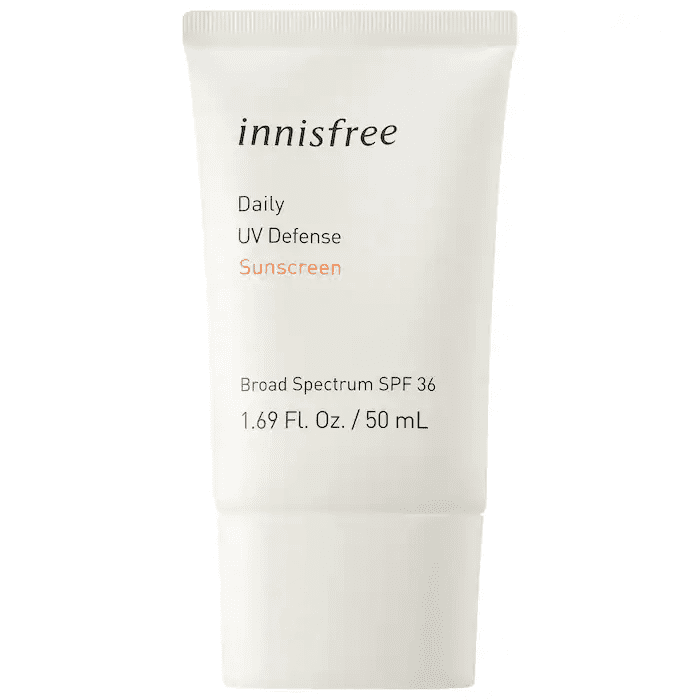 Innisfree sunscreen provides invisible protection against UV radiation with an SPF of over 36. It also smoothens and hydrates the skin adding to your glow. In addition, it guarantees a balance between skin dryness and excess skin oil. The sunscreen will hydrate the skin to prevent excessive dryness while absorbing extra oil for oily skin types.
Benefits
Keeps the skin surface safe from UVB and UVA rays
This product has gentle qualities to suit all skin types
Avoids excessive dryness
Avoids oil accumulation in the skin
It lowers the chances of pore-clogging
Lightweight sunscreen cream
Portable
---
11. Play Sunscreen Lotion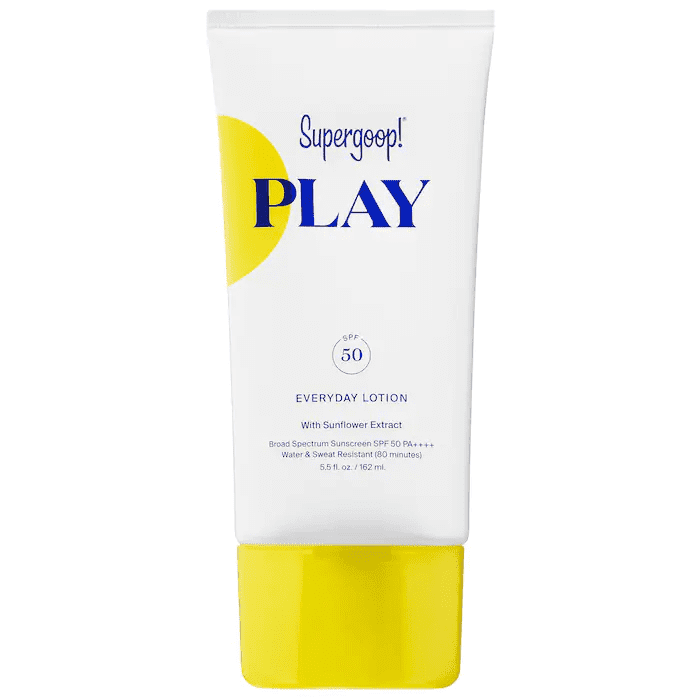 This sunscreen lotion will answer all your skin's sunscreen needs. You will not have to use different lotion and sunscreen products. Play from Supergoop doubles as a skin lotion and sunscreen. It absorbs excess oil produced by oily skin to keep your skin flare-ups free.
Benefits
You may use it for the whole family since it has a broad usage spectrum by people of various skin types.
It contains skin-friendly ingredients
Hydrates the skin
Cruelty-free
Absorbs excess oil quickly to give a grease-free feel
Sweat and water-resistant
It comes with an SPF of 50 to guarantee maximum protection from the broad UV spectrum.
Vegan
---
12. Shiseido sunscreen lotion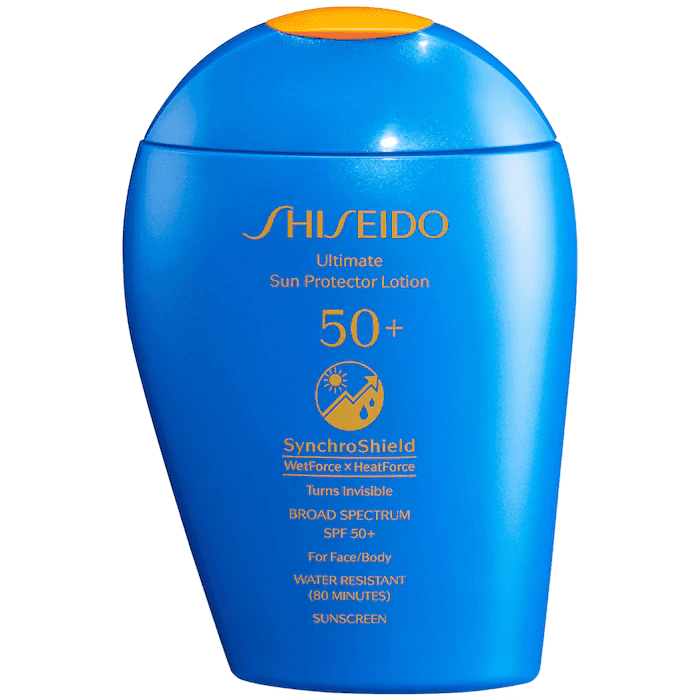 When performing our skincare routine, we normally wear sunscreen before applying makeup. You have to have used your moisturizing lotion before applying sunscreen. It may prove not easy to carry all these products if you travel a lot. Shiseido sunscreen lotion combines your moisturizing lotion with your sunscreen. Since it comes with unique qualities and serves a broad spectrum of skin types, you will carry one for the whole family.
Benefits
Travel-friendly
It has a high SPF value
Serves as both lotion and sunscreen
It contains skin-friendly ingredients
It doesn't contain Oxybenzone
Invisible
Water, heat, and sweat resistant
---
13. Supergoop Unseen Sunscreen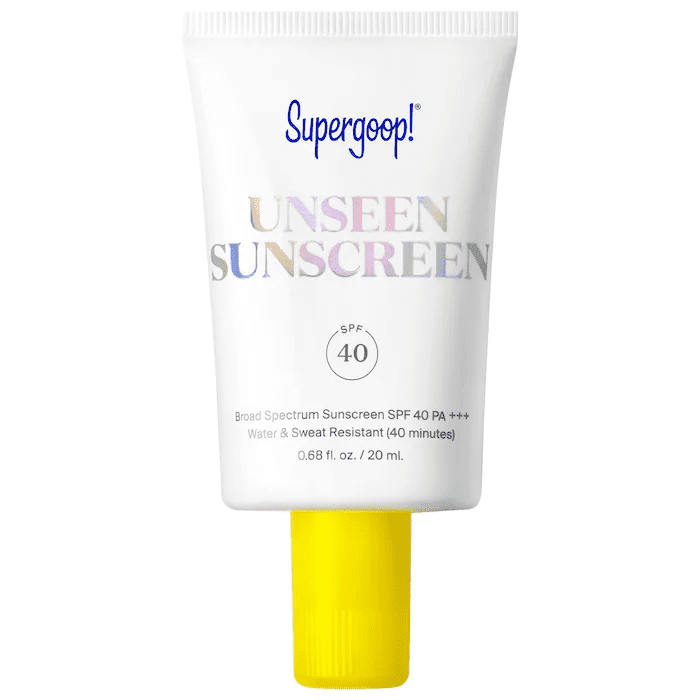 As the name goes, this product will provide unseen protection against harmful rays from the sun. In addition, it will give you a natural oil-free finish without flare-ups. It also serves to grip makeup and give you a long-lasting makeup look.
Benefits
Invisible
Weightless
It absorbs excess oil from the skin
It sorts out fine lines and wrinkles
It contains a 40+ SPF
Unclogs pores
It keeps your skin tone even
Prevents skin dullness
---
14. Clinique Super Defense Sunscreen
It would be best to have the super defense against harmful sun rays to oily skin. Clinique provides this defense to guarantee healthy, young-looking skin. It also catches and corrects early signs of aging, and you will remain younger and more beautiful.
Benefits
Long-lasting with up to 12 hours of protection from UVA and UVB rays
It comes from the best skincare technology
It equips the skin with antioxidants to fight against aging
Contains skin-friendly ingredients
Cruelty-free
Free from allergens
Approved by most dermatologists for use on oily skin
---
15. Block Star Invisible Sunscreen
The perfect sunscreen will prevent you from having a shiny skin appearance and clogged pores. Block star guarantees you these outcomes, and it will also prevent harmful UV from the sun from penetrating your skin. In addition, it blends easily with your makeup and has anti-aging properties.
Benefits
Doesn't clog pores
Has no chemicals
It doesn't lead to irritations
The antioxidant ingredients boost the skin's youthfulness.
Parabens-free
Doesn't lead to a greasy sheen
Long-lasting
---
What to Look for When Buying Sunscreens
For effective UV radiation prevention, the perfect sunscreen has to contain an SPF value above 30. You should also check and ensure that the sunscreen suits your skin type requirements.
Lotion-based sunscreens also make great sunscreen products. Water resistance should make another factor in making a good sunscreen.
A good sunscreen should also last longer. A period of up to 12 hours gives ideal time coverage.
What is the Right Method to Apply Sunscreen?
Cleanse, tone, and moisturize your skin accordingly
Apply sunscreen to your palms
Evenly distribute the sunscreen on your face before wearing makeup
You should apply it before exposure to the sun
Conclusion
Protecting your skin from harmful UV radiation before sun exposure makes the best skincare move. These sunscreen products will keep your oily skin protected, hydrated, and looking youthful. If you find your perfect match, let's know about your experience. We commit to bringing great products for your skin to glow and guarantee your everyday beauty.
Frequently Asked Questions
SPF 30 protects you against up to 97 % of UV radiation, while 50 protects against 98 %. Both SPF will be good for your sunscreen protection.
What makes a good sunscreen?
The ingredients in sunscreen products dictate the effectiveness of those sunscreens. So it would be best if you look for ingredients like avobenzone, Oxybenzone, ecamsule, titanium dioxide, or zinc oxide.
What level of sunscreen is best?
SPF levels above 30 guarantees that you have the best sunscreen product.