Do you own one of these Ulta makeup bags? Over time, I have accepted that makeup might be the most challenging item to store. Small makeup items like lipsticks, eye pencils, and eyeliners get lost every time.
Not once or twice have I had to buy some new set of small makeup since I couldn't find where I had kept mine.
I know I am not alone, and you could be struggling with the same. If so, walk with me as we discover what these ULTA makeup bags offers. ULTA has proven the perfect brand that provides exemplary makeup and beauty products for modern-day women.
These Ulta makeup bags have functionalities for any size beauty essential tool. You will find the best makeup bag to keep your few bulky makeup products. Ranging from professional makeup artists, these Ulta makeup bags will keep your makeup safe. They also make traveling easy and enjoyable.
1. Caboodles Ulta Makeup Bag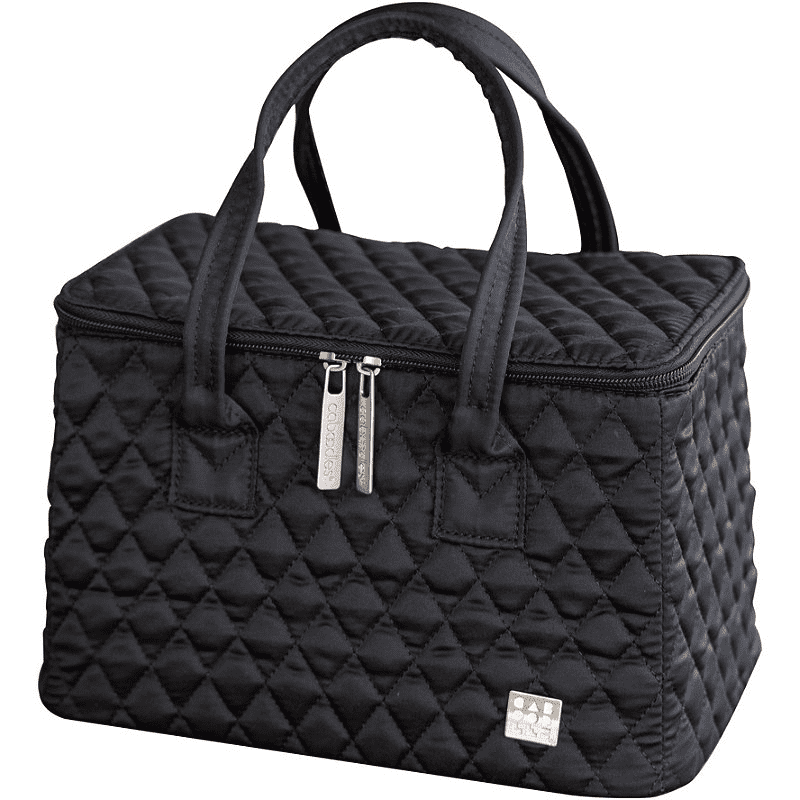 Do you enjoy having small sizeable bags for your essential beauty items? If so, the CABOODLES bag from ULTA will provide you with sufficient space to store all your makeup. The color and handles make it ideal for traveling. In addition, it has an open interior to provide you with makeup-holding spaces.
Pros
Professional
Has interior side pockets
Comes with deep brush holders
Portable and easy to carry
Easy to clean
Holds most of your home use makeup
Easy to travel with
Cons
The price might be costly to some people
---
2. Tartan+ Twine Pink Makeup Bag
Is pink your favorite color, and do you need a medium-sized makeup bag to complement your theme color? If yes, consider the Tartan + Twine makeup bag your perfect choice. It has a beautiful design, and it will hang in your closet or wall, allowing you to organize your makeup. You will make your room neat by organizing your essential makeup in this fashion-centered bag.
Pros
Lightweight
Has beautiful interior and exterior pockets
Comes in an attractive pink color
Portable and easy to travel with
Keeps your makeup safe and organized
The lining proves easy to clean
Cons
It will not organize bulky makeup products
---
3. Vintage Pink Floral Cosmetic Bag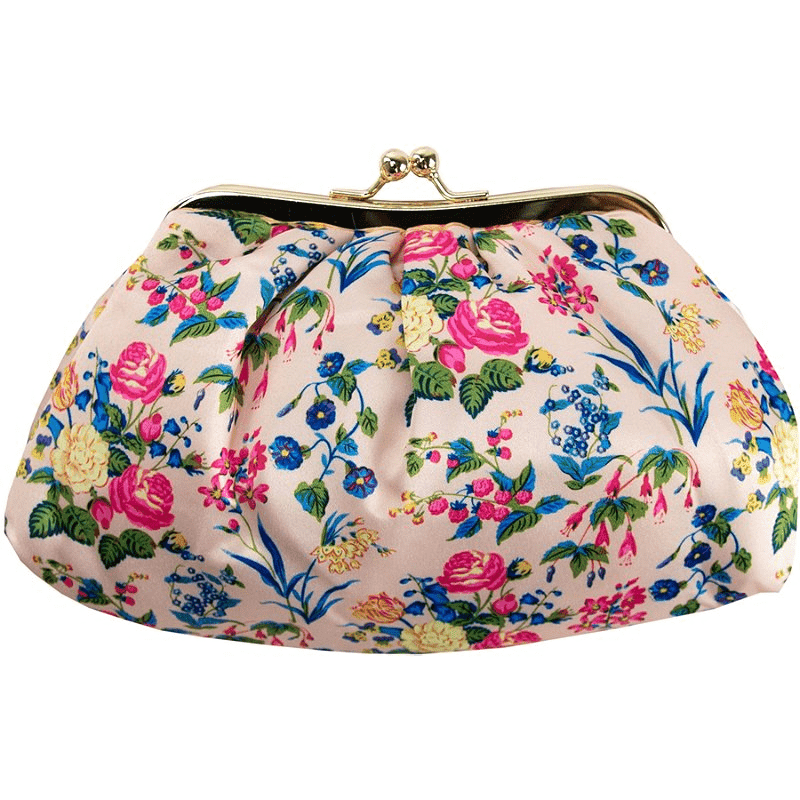 For the on-the-go professionals or those people who travel a lot on work-related trips, this bag provides the opportunity to keep looking beautiful. It has enough space and interior pockets to accommodate your makeup brush and other makeup items. In addition, this satin makeup bag proves easy to clean and offers a classy option for carrying your makeup around.
Pros
Colorful
Fashionable
Portable
Has enough storage space
Contributes to a neat makeup table
Affordable
Easy to clean
Lightweight
Cons
It will suit the floral lovers only
---
4. TARTAN Clear Makeup bag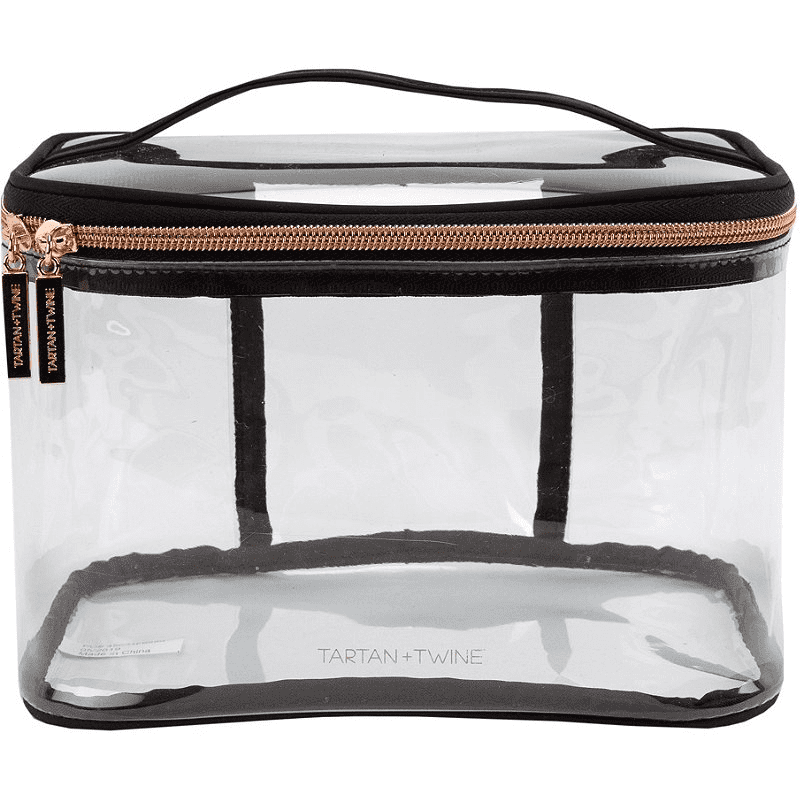 Sometimes we need to see what makeup we have in our makeup bags. This bag sorts that since you will see everything you store through its clear material. It also serves as a train case for most professional makeup artists.
Pros
Clear
Lightweight
Has PVC material that proves easy to clean
Has a top handle for easy carrying
The main compartment comes with a lot of space
affordable
Cons
---
5. Professional Deluxe Bag
Do you like looking professional even with your makeup? With Deluxe's professional makeup bag, you will achieve precisely that. It comes with storage pods and comfortable top handles. In addition, this makeup bag will sort your cluster problem by reaching an organized makeup area. As a result, you will look professional, carrying it around like a professional briefcase.
Pros
Gives a professional stand
The black color matches almost everything
Easy to carry and clean
Has two top handles
The crossbody strap adjusts to suit anybody
Comes with six clear storage pods
Cons
It might be expensive for some people
---
6. Real Techniques Makeup Bag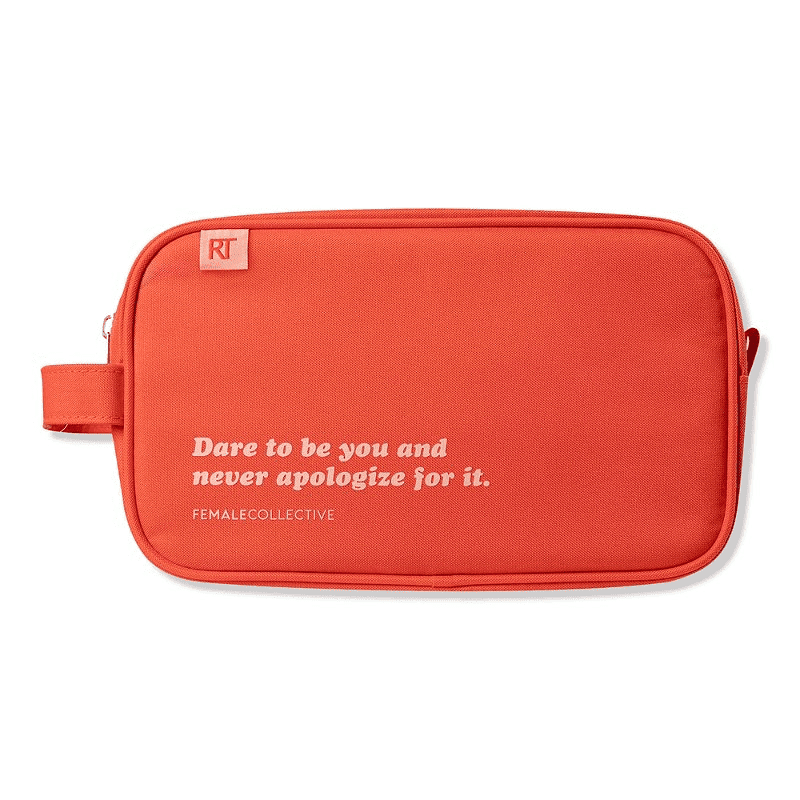 A small makeup bag will make mascara and lipsticks more portable. I carry my makeup brush, a small mirror, and some eye makeup every day. With no makeup bag that will fit in my handbag, my makeup gets lost easily. If you have a similar struggle, this makeup bag from ULTA makes the problem disappear.
Pros
Small and fits in handbags perfectly
Affordable
Has storage spaces to store your makeup safely
It provides easy cleaning
Durable
Unique and authentic material
The color proves stylish and bold
Cons
The interior pockets could be deeper
---
7. TARTAN + TWINE Unique Blue Makeup Bag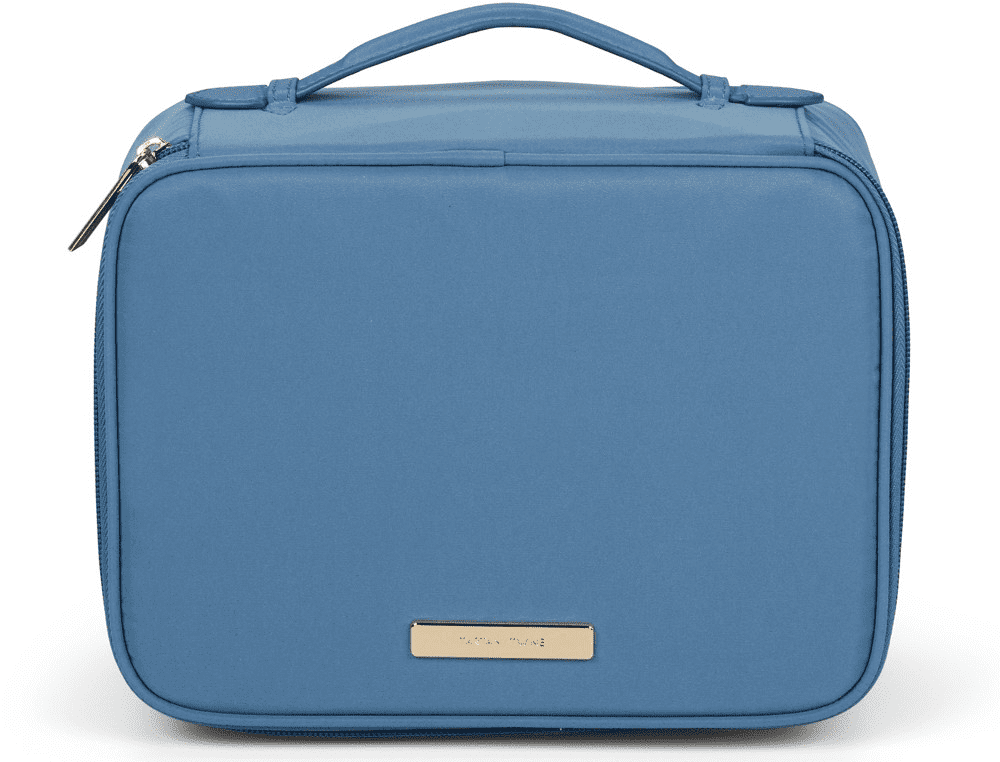 With this stylish makeup bag, no one will guess the contents therein. You will get a neatly organized makeup space by storing your makeup here. The makeup bag will accommodate most of your makeup and leaves none lying around. The main compartment has a thick lining, and it will appear neat even when traveling.
Pros
The best makeup holder bag
It has authentic material
Long-lasting
Lightweight
Easy to clean
Portable
The blue color gives it an attractive color
Comes with removable PVC and mesh compartments
Cons
The blue color gets dirty quickly
---
8. Envy "It" Bag Makeup Bag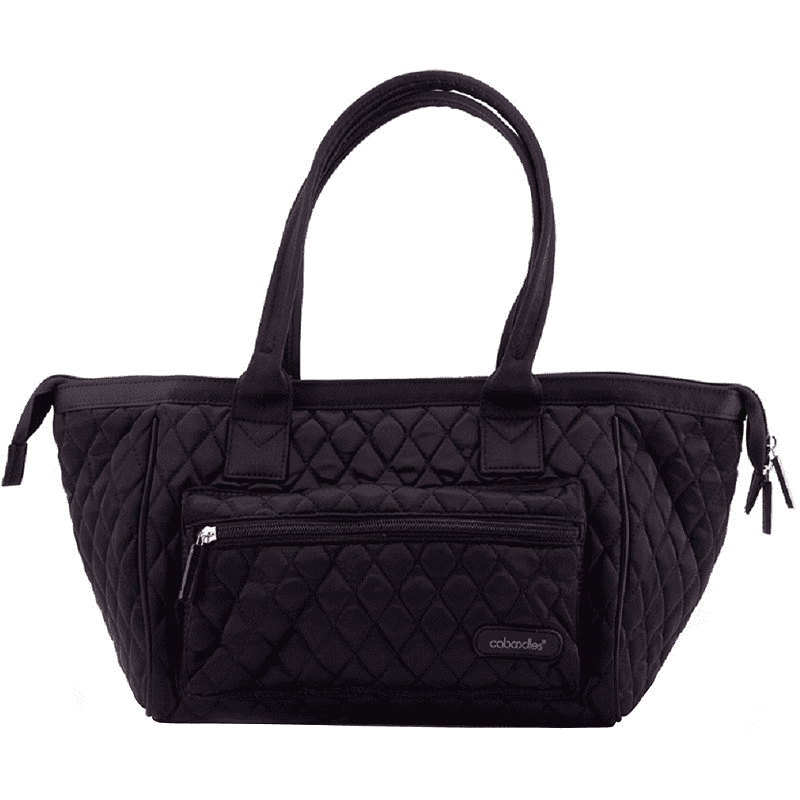 This makeup bag will double as a small handbag. Imagine having a small purse that sorts your makeup cluster problem? The makeup bag provides easy carrying, and you will carry your makeup for professional purposes. In addition, the bag has an elastic interior hence keeping more items.
Pros
Easy to carry and clean
Has internal elastic pockets
The exterior zippered pocket allows for more storage space
It comes with external brush holders
The handles prove comfortable
Affordable
Provides value for your money
Stylish
Cons
It will hold a few makeup items
---
9. Blue Floral Makeup Bag
Do you need a girlish makeup bag to compliment your room? This blue floral design will add color to your room as it contains your makeup. The double zipper design adds to the uniqueness of the bag. It has the main compartment and other side pockets that provide sufficient spacing for all cosmetics and brushes.
Pros
Colorful
Has enough storage space
It has quality faux leather and polyester material
Easy to clean
Lightweight
Affordable
Cons
It might not be enough for a person with too much makeup.
---
10. Tortoise Cosmetic Bag Design
The tortoise remains a loved animal even by major brands. We have seen most tortoiseshell-themed prints in fashion clothes, shoes, and bags sell big in the market. As a result, you will own a tortoise-themed collection for your makeup. This cosmetic bag will provide a unique opportunity to keep your makeup cluster organized.
Pros
It proves beautiful
Lightweight
It has the best material
Has several makeup-holding compartments
Has zipped bags to keep makeup safe
Easy to clean
The single handle proves easy to carry
Affordable
Cons
The single central handle might break easily
---
11. The Cheater 3-piece Makeup Bag Set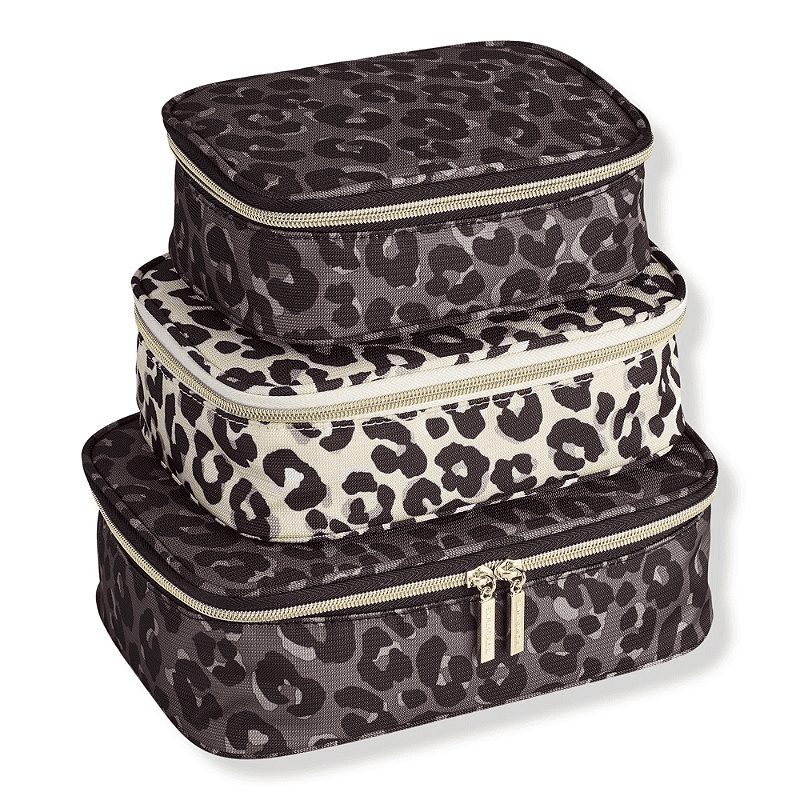 Do you know that a 3-piece makeup box collection will be enough to store all your makeup, manicure, and other beauty products? This set of makeup bags will make the perfect gift to your loved ones. If you need to travel organized, consider making your purchase with ULTA.
Pros
Three pieces hence enough space
They come with beautiful cheater prints
Every bag has a single big compartment
Lightweight
Quality
They offer a good gifting idea
They come with an easy cleaning interior
Cons
You can't buy a single bag from the set
---
12. Rock and Roll Makeup Bag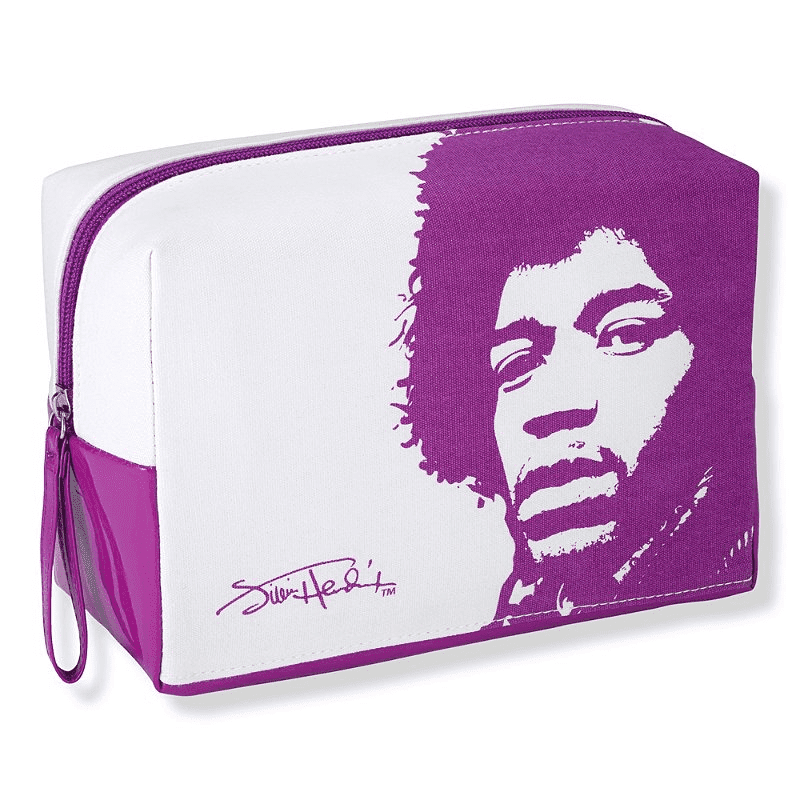 Do you need a more custom-made makeup bag? Although the face reminds you of Jimi Hendrix, you will get more comfortable having a person print on your makeup bag. The quality proves the best, and I bet you will have it for longer. This bag will be your chance if you need your space organized and cluster-free.
Pros
Spacious
Lightweight
Quality
Serves as the best clutch bag
Perfect size
Will fit your makeup and travel essentials
Affordable
Cons
---
13. Colorblock round pouch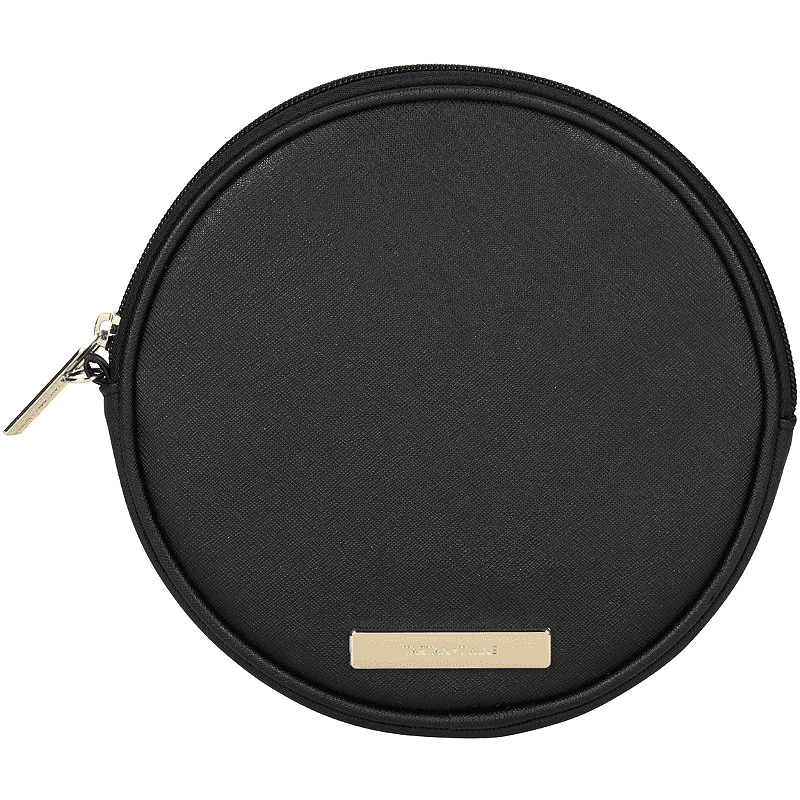 I loved round pouches for many years until my love was doubled when I found this round makeup bag. It will magically fit so many of your makeup items it leaves you amazed. The color suits most fashionable outfits, and finding the perfect match wouldn't be a struggle. If you love round handbags, here's a chance to add some more for your makeup cluster needs.
Pros
Quality material
Stylish
Durable
Affordable
Ideal traveling size
It has a spacious main compartment
Lightweight
Cons
You will not have all your makeup sorted
---
14. Cloud Makeup Bag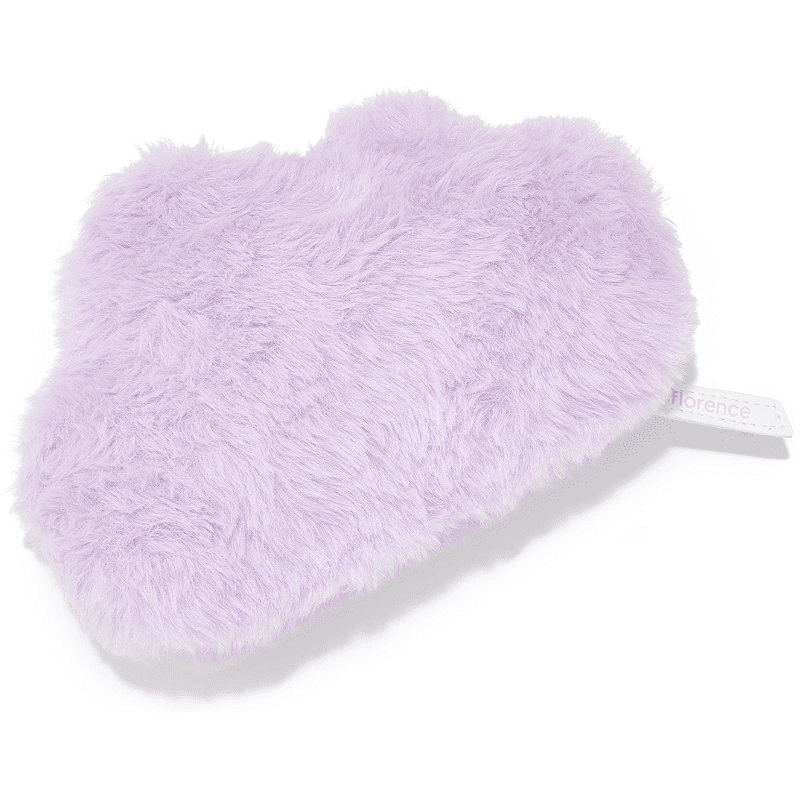 You might have seen many fashionable bags. But, have you had a cloud fashion bag? You will have the cloud in your hands in no time. This bag proves that creativity has not stopped in our modern world. So, if you need to look unique when carrying your makeup around, be my guest.
Pros
It presents a creative stand-in makeup bags
Perfect quality
It has a smooth fuzzy finishing
Suits all your on-the-go makeup for fun times
Affordable
Comes at the best quality and price
Ideal for gifting
Cons
Not made for bulky makeup
---
15. SKINNYDIP Peachy Makeup Bag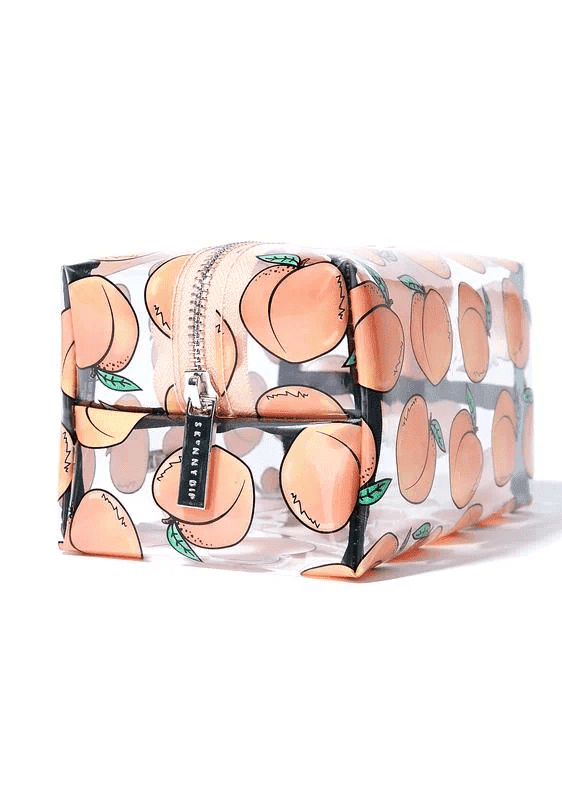 Peach proves a great color for most home décor purposes. However, if you found it fantastic and did some décor work with it, this makeup bag will make the ultimate compliment. It will suit your space while keeping most of your makeup arranged neatly. The new makeup area look will be worth noticing and appreciating.
Pros
It forms a perfect color
You will sort your makeup mess
It has sufficient storage space
The zip makes it the safest makeup zone
Easy to clean
Quality and durability guaranteed
Affordable
Cons
---
16. Simpsons Heart Makeup Design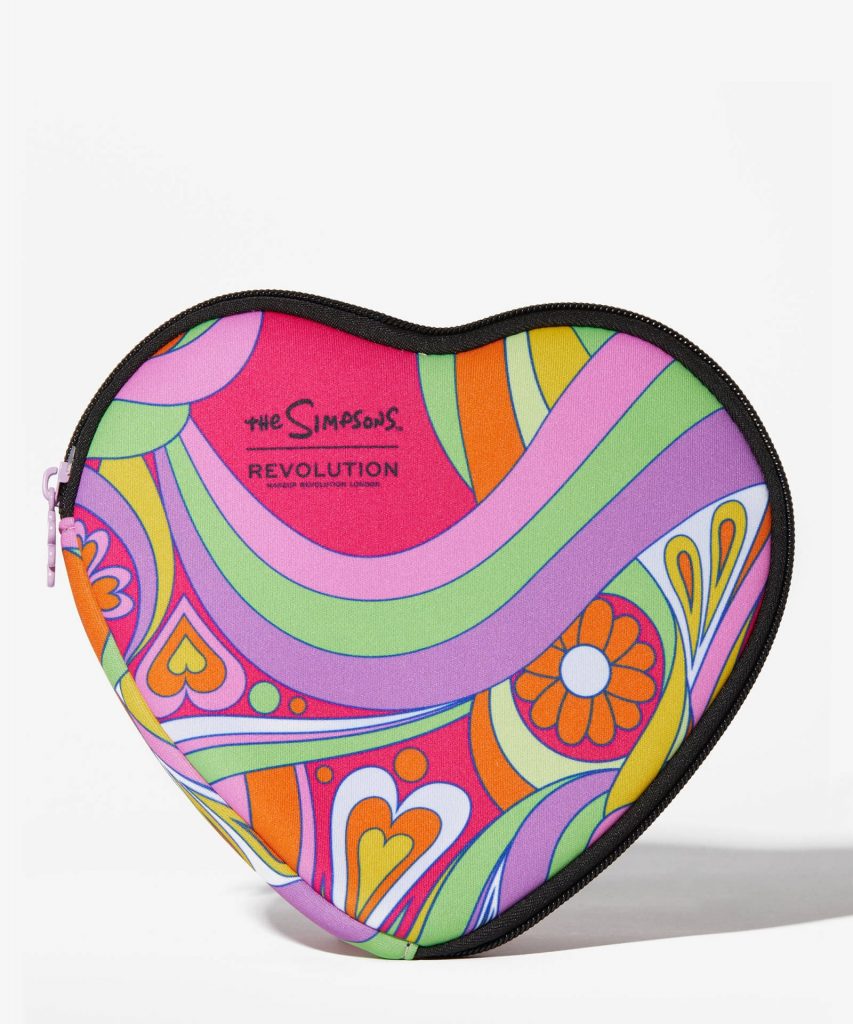 We all want love or heart-shaped asset in our homes. But, if you still haven't got any, it's your time to shine. We present you with this amazing heart-shaped makeup bag from ULTA. So, you will do it in style whether you choose to keep your makeup or carry them around. Imagine getting your lipstick from this Simpson's designer bag while visiting the beach in summer. It will be extremely beautiful.
Pros
Colorful cluster solution
It gives a perfect solution to your makeup cluster problem
It keeps makeup safe
Affordable
Portable
Lightweight
Cruelty-free
It presents a stylish way to carry makeup around
Cons
It needs regular cleaning
---
17. Leopard Print Makeup Bag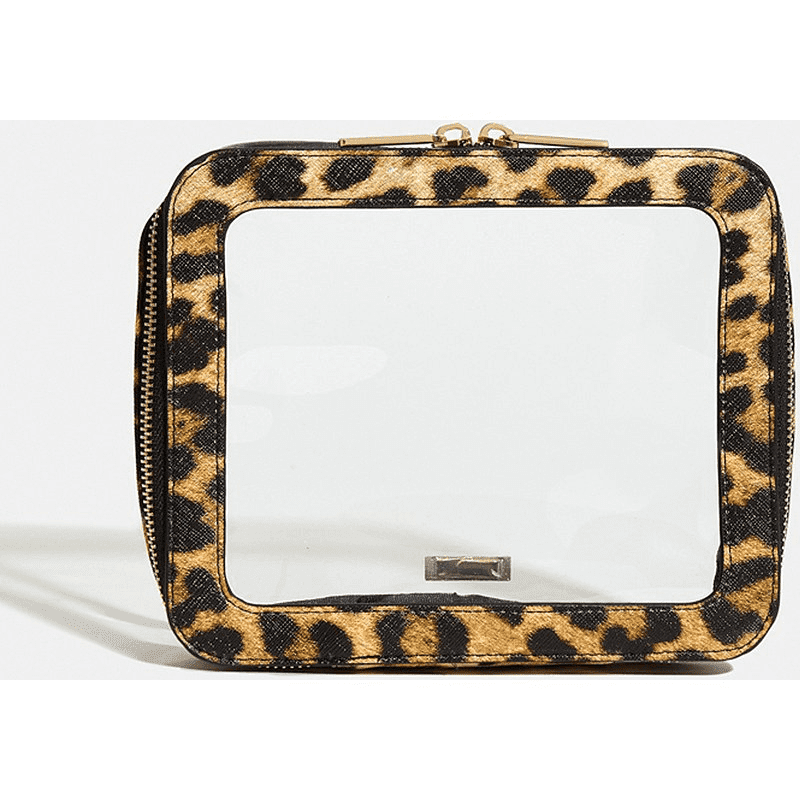 Is your makeup all over your apartment? Don't stress it. This Leopard print makeup bag will help you sort the clustering problem and provide a unique makeup bag for your travels. The makeup bag also has transparent panels to let you know what you have with you. Therefore, you will not lose your makeup easily since any change in the bag's contents becomes noticeable.
Pros
It comes with stylish leopard prints.
The clear panels help monitor your bag's makeup contents
Easy to travel with
It offers an easy cleaning experience
The zip closure guarantees makeup safety
Affordable
Cons
Not ideal for people with bulky makeup
---
18. CABOODLES Baby Train Case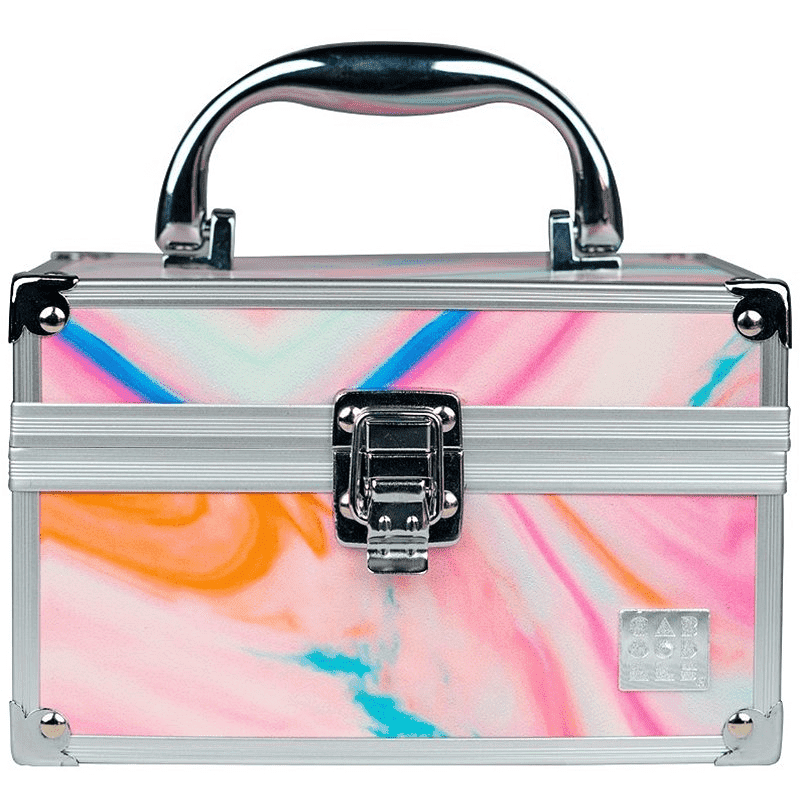 If you love train cases, this baby train case comes in small size and will work best as a makeup bag. It has attractive colors that make it fit perfectly with your house décor. It will perfectly fit your small beauty essentials while giving you a fashionable classic look. CABOODLES have you at heart with this makeup train case if you love a bossy look.
Pros
Lightweight
Fashionable
Easy to clean
The open compartment fits most of your essential makeup
It comes with a secure latch
Travel-friendly
Cons
It has only one compartment
---
19. Chevron Beauty Makeup Clutch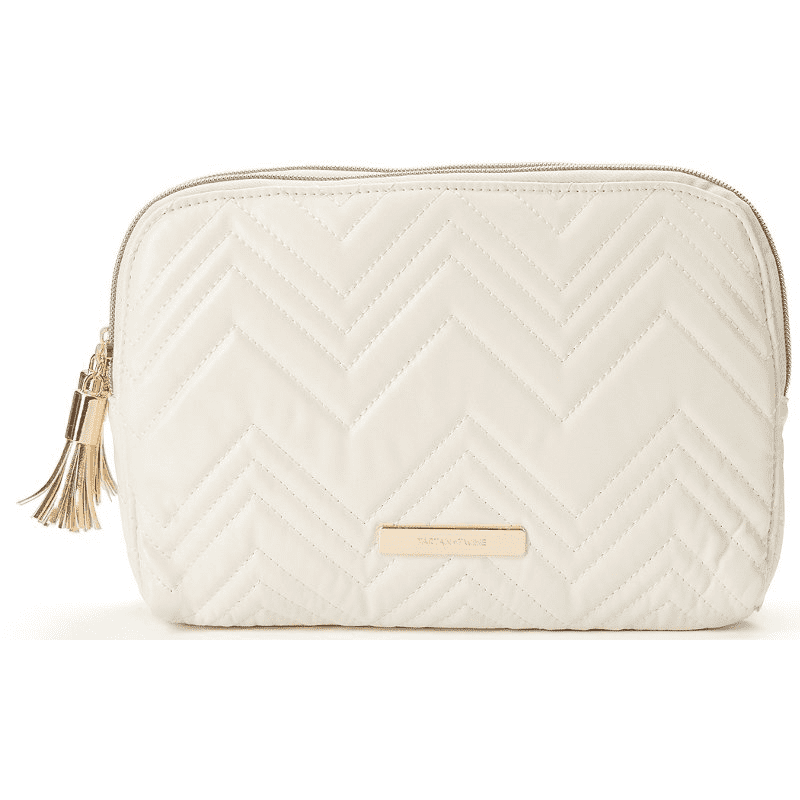 Nobody will differentiate this classy makeup bag from your ordinary clutch bags. The clutch will fit the essential makeup that you always carry with you. The faux leather material guarantees you long service. Chevron stitches guarantee a stylish finish. It also comes with three inside pockets for effective makeup storage.
Pros
Comes in attractive cream color
The interior pockets have zip locks too
It has an embossed metallic logo making it fashionable
The interior lining makes it easy to clean
Portable
Travel-friendly
Cons
The cream color gets dirty quickly
---
20. Purple Weekender Makeup Bag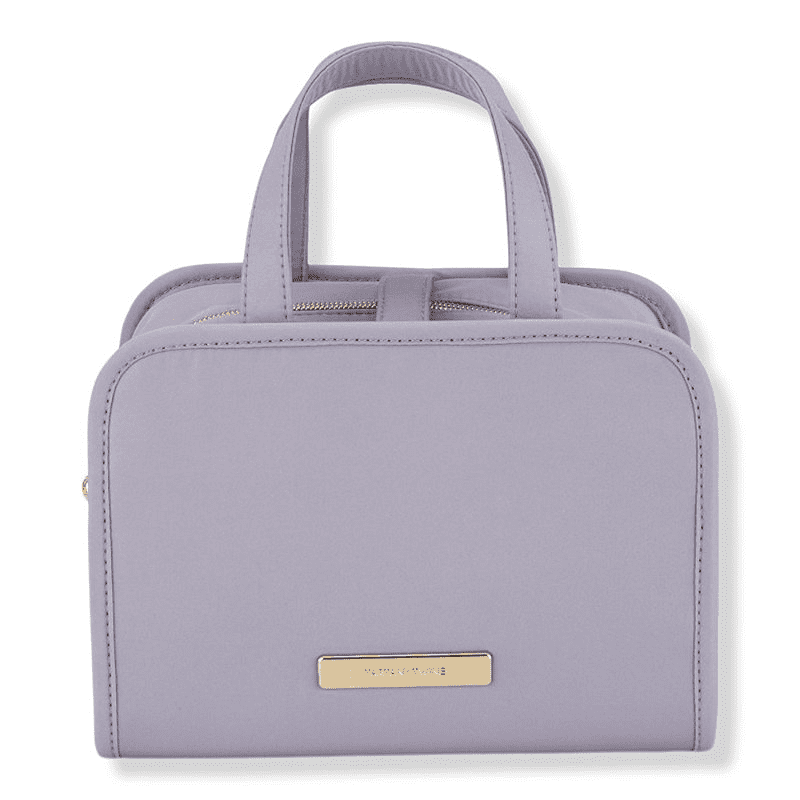 This makeup bag will make the perfect professional handbag for most beauty professionals. It gives a stylish solution to your makeup cluster. With this bag, you will not have a messy room or travel with your makeup essentials everywhere.
Pros
Stylish and fashionable
Travel-size
It comes with a removable organizer case
The coil zippers keep your makeup safe
Easy to clean
Has a trendy metallic logo
Cons
Some people find it costly