Can you put mascara in eyelash extensions? In the world of glamour, the long, rich eyelashes women have, not all of them are real. Eyelash extension is a very vital part of a woman's beauty. Mascara is the thing women are most obsessed with.
They cannot keep mascara out of their cosmetic list. But here, women get confused with extended eyelashes. Can they apply mascara? Let us find out.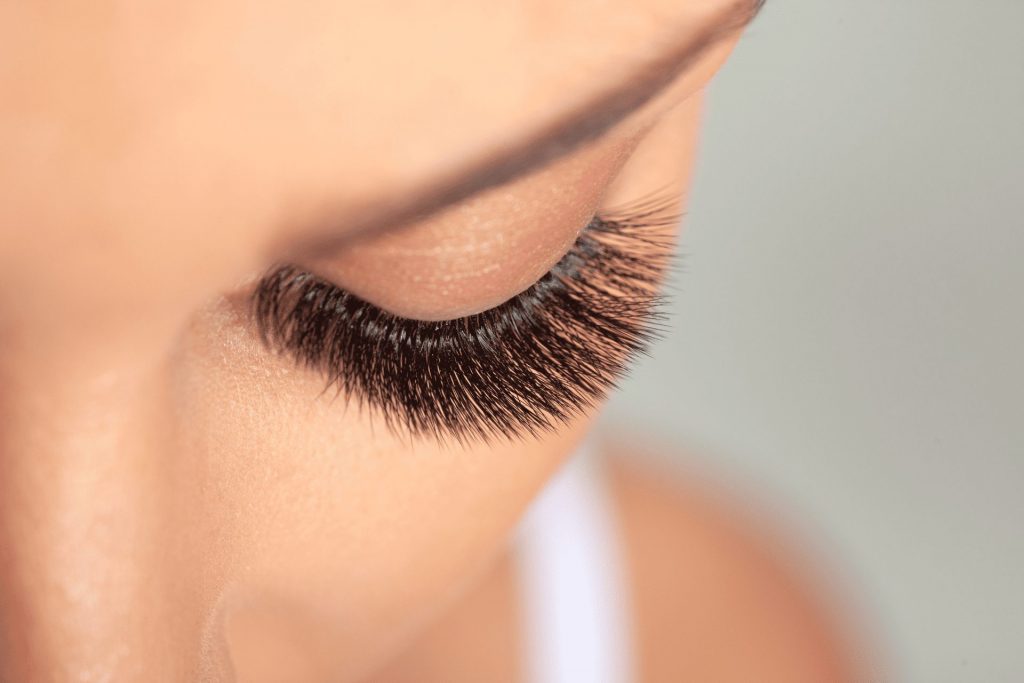 What Are Eyelash Extensions?
Eyelash extension is a cosmetic product for ladies. It enhances the length of the lashes, curl of the eyelashes, and fullness or thickness of the natural eyelashes to look more beautiful. It is made of many things, including mink, silk, synthetic, human, or horsehair.
It is a fake eyelash applied on the base of the natural ones by some adhesive which helps to stick the fake eyelashes in the correct position so that they won't come in contact with the eyelids.
Types Of Eyelashes Extensions
Ladies can use different types of eyelash extensions according to their look, preference, etc. They are:-
Classic eyelashes extension: Classic eyelashes extension is the most natural-looking eyelashes extension. It follows a 1:1 ratio; it coincides with one natural eyelash that will have one extension. It helps to achieve length and volume that will look more eye-catching and natural at the same time.
Volume eyelashes extension: Volume eyelashes extension is to give a more glamorous and dramatic look on your face. While classic follows a 1:1 ratio, volume follows 1:3 or 1:5 according to your requirement, which means one natural eyelash will have 3 or 5 extensions. It looks more glamorous, attractive, and dramatic.
Hybrid eyelashes extension: As per its name, hybrid eyelashes extension is a combination of both classic and volume eyelashes extension. It is a 70 % classic and 30% volume eyelashes extension, so it looks natural and also provides volume to the eyelashes. It is the best one.
Can You Put Mascara On Eyelash Extensions?
Yes. We can apply mascara on eyelash extensions but not with all kinds of extensions. It is only possible with the classic eyelashes extension. Classic eyelashes extension gives you long and thick eyelashes.
It has a 1:1 ratio, so the mascara can be applied easily to enhance your beauty. With the volume and hybrid eyelashes extensions that have multiple lash strands from one natural eyelash, if you apply mascara will hurt your lash extensions.
Benefits Of Applying Mascara To Lash Extensions
Extensions give a thick and rich look to natural eyelashes. After adding mascara, it looks like a cherry on the cake.
It makes the extension thicker.
It also increases the length of your fake lashes.
It gives a darker and shiny color to your fake lashes, which makes them look more lively
Mascara on the lash extensions helps use the lash extensions for some more time before they usually get damaged.
All these benefits give a bold and bright look to your face and make your face more lively.
Problems With Applying Mascara On Lash Extensions
Beauty products contain many chemicals that may or may not harm you. Applying mascara on the eyelashes extension also comes with some cons with it.
When applied for prolonged hours, most of the mascara content oil in it can slowly break the joint between the extension and natural eyelashes. Oil can permanently make your eyelashes fall out.
Mascara feels heavy on natural eyelashes. When it is applied to eyelash extensions, the long, thicker, and rich eyelashes turn out to be way heavier than natural eyelashes. It affects new growing natural eyelashes. They break down due to weight or lose their shape.
Applying mascara on lash extensions gives you a more dramatic look, but it takes the natural look of your face. It makes it prominent to the viewer that you have enhanced your eyelashes.
Types Of Mascara To Avoid On The Eyelashes Extensions
All mascara is not suitable for eyelash extension regardless of the eyelash extension material.
Waterproof mascara: Women always like waterproof mascara as it remains for a longer period. It is unharmed from water. But as we are applying it to extended eyelashes, it becomes very difficult to clean the eyelashes extensions
Mascara With Oils: Mascara with oils provides a shiny look, but it is the biggest drawback of the eyelashes extension. Oils are not good for the eyelash extension's glue, and it eventually breaks the bond between the fake eyelashes and the real ones.
Tube Mascara: Tube mascara works on each lash by courting every lash-forming tube. In the case of natural eyelashes, it is easier to remove, but it sticks to the extended eyelashes like tar, which eventually damages the lash extensions.
Fiber Mascara: Fiber Mascara contains dry fibers like silk, rayon, or nylon, which adds volume to your natural lashes, but it makes it very difficult to clean when applied to fake extensions. Applying dry fibers on the extension also increases the weight of the eyelashes extension, due to which it may fall permanently.
Types Of Mascara To Use On The Eyelashes Extensions
Of all kinds of mascaras, water-based mascara is most suitable for eyelash extensions. Water-based mascara maintains a natural pH level where maximum products contain oil, wax, and additives. It is chemical-free, so it is good for sensitive areas near the eyes.
Removing it from the fake eyelashes is way too easy with water-based mascara. We only need to wash it with warm water, and we are done with cleaning the eyelashes extension.
Conclusion
Mascara makes your eyelashes thick and bold, but it is not normally necessary when you have eyelash extensions. Make sure that the extension is classic if you still want to use mascara on the eyelash extensions. Do not apply mascara on volume or hybrid eyelash extensions as it becomes heavy, and both your eyelash extension and natural eyelashes can damage.
Some mascara can damage the glue of eyelash extensions. Oil-based mascara is also not fit for eyelash extensions. Never use waterproof mascara as they are very difficult to clean. So try to avoid all of this while applying mascara on eyelash extensions.
Use water-based mascara as it is chemical-free, maintains natural pH, is easy to clean, etc. It fits all requirements of eyelash extensions.
Finally, it is a very vital part of women's beauty. If it is used properly, it can take your style to great heights, but if it is not done properly, it can look overdramatic and ruin your style game.