We will need to have our nails looking extremely beautiful during the Christmas festive season. You may choose to decorate your natural nails or have artificial nails with beautiful decorations. Whether gel, acrylic or natural nails with beautiful polish, you need the best Christmas nail art designs to enjoy this Christmas in stylish fingernails/toenails.
You will find various designs of nail art out there. Sometimes this variety of nail designs may confuse you, and you find it challenging to settle on a specific art design. Worry no more. We have gone out of our way and found the best 30 Christmas nail art designs for you this 2021 Christmas. You don't have to feel ordinary like the other days. Step out this festive season with the confidence of wearing the perfect nails.
1. This Grinch Christmas Nail Art Designs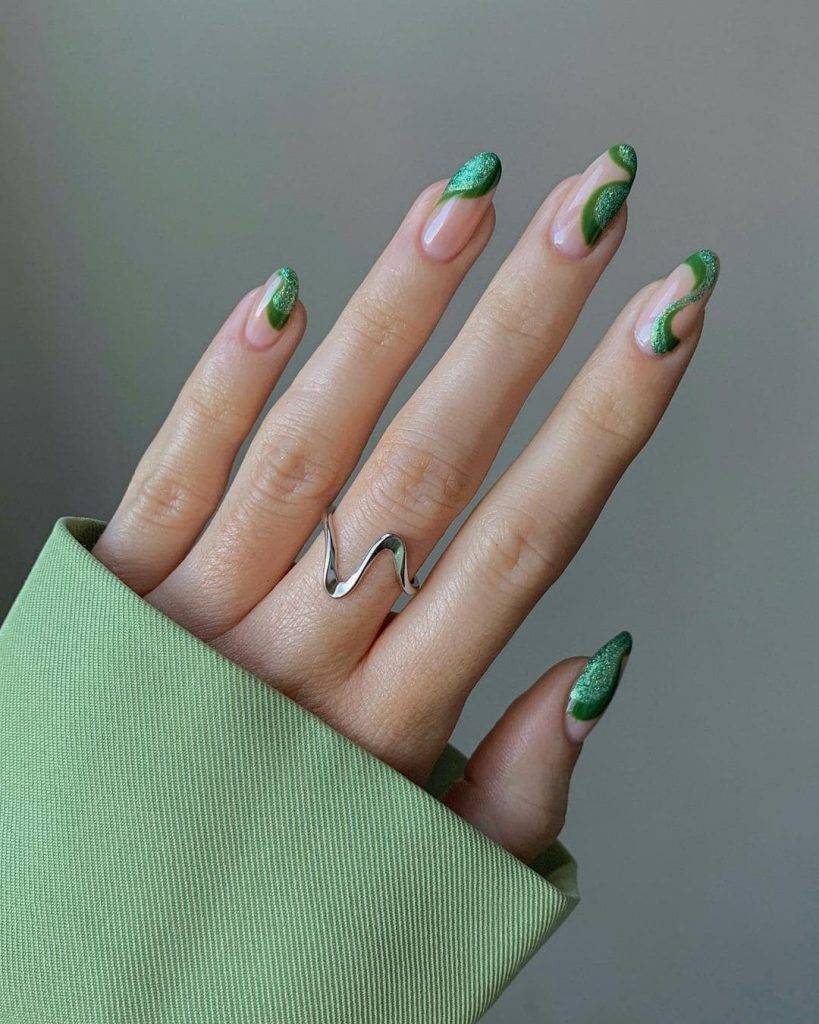 The Grinch nail art design by amberjhnails will automatically attract those looking for a simple yet elegant design. The design retains your nail's natural appearance while bringing a beautiful green glow.
---
2. This Blue-long nails' winter nail art designs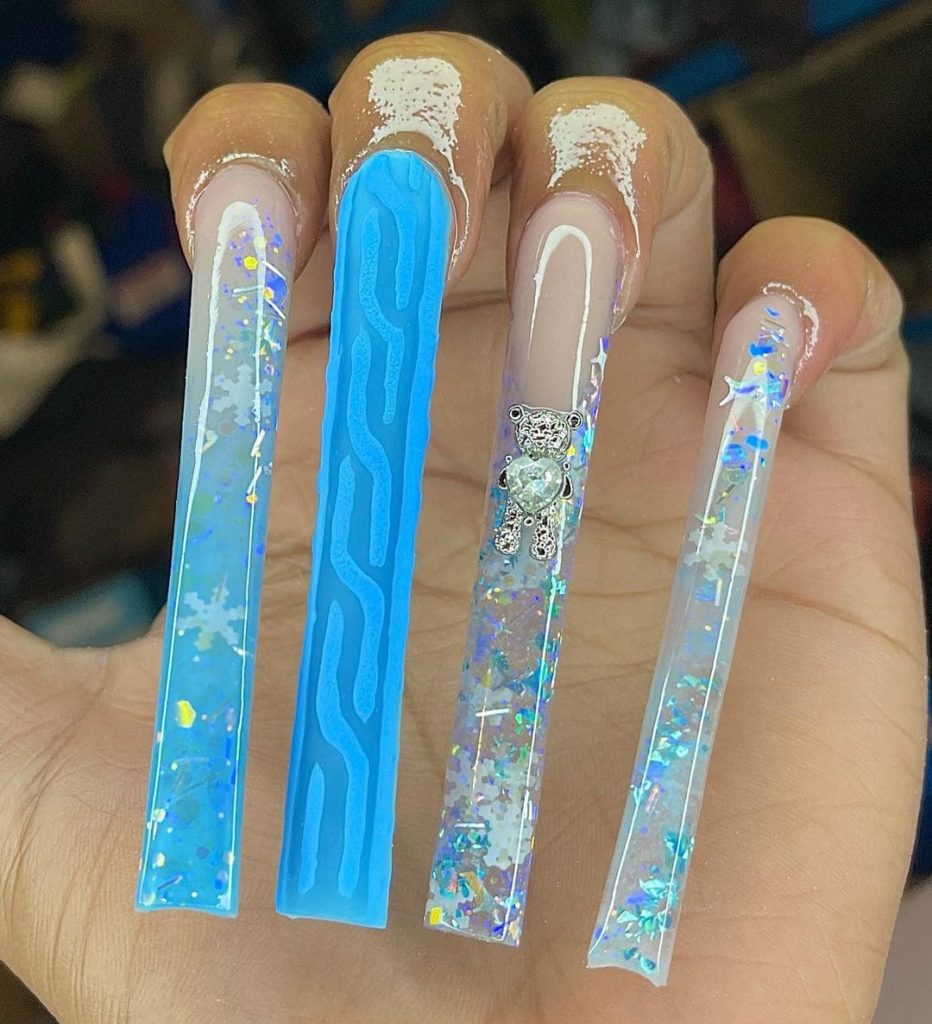 Do you love what you are seeing? This nail design will automatically make your nails unique and outstanding. Find all the necessary polish at kekenailedit-lv on Instagram to bring out this look.
---
3. This Red and White Peppermint Holiday Nail Art Designs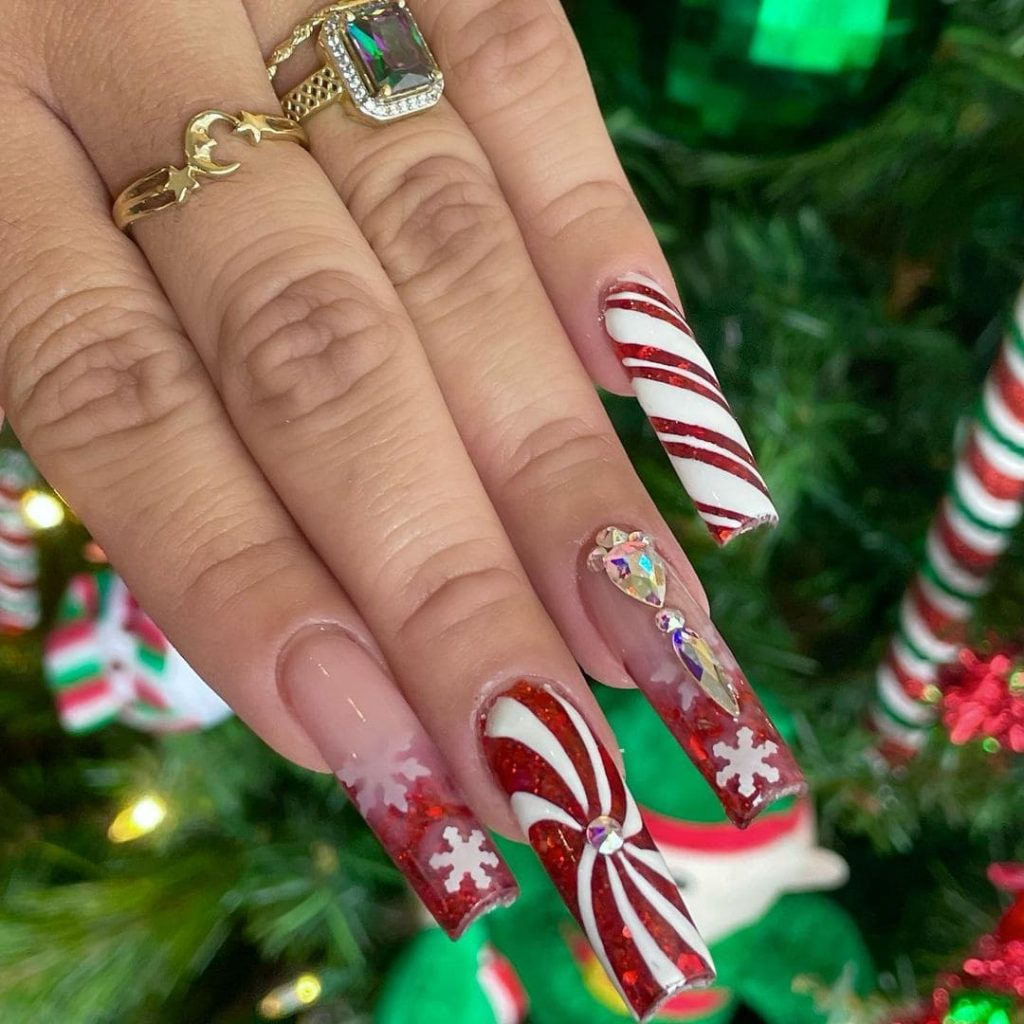 This nail design comes in Christmas colors already. The art design by nailsbykhristy will suit all your Christmas outfits. Visit the page and learn more on how to get it.
---
4. These Classy Pink for Christmas Nail Inspo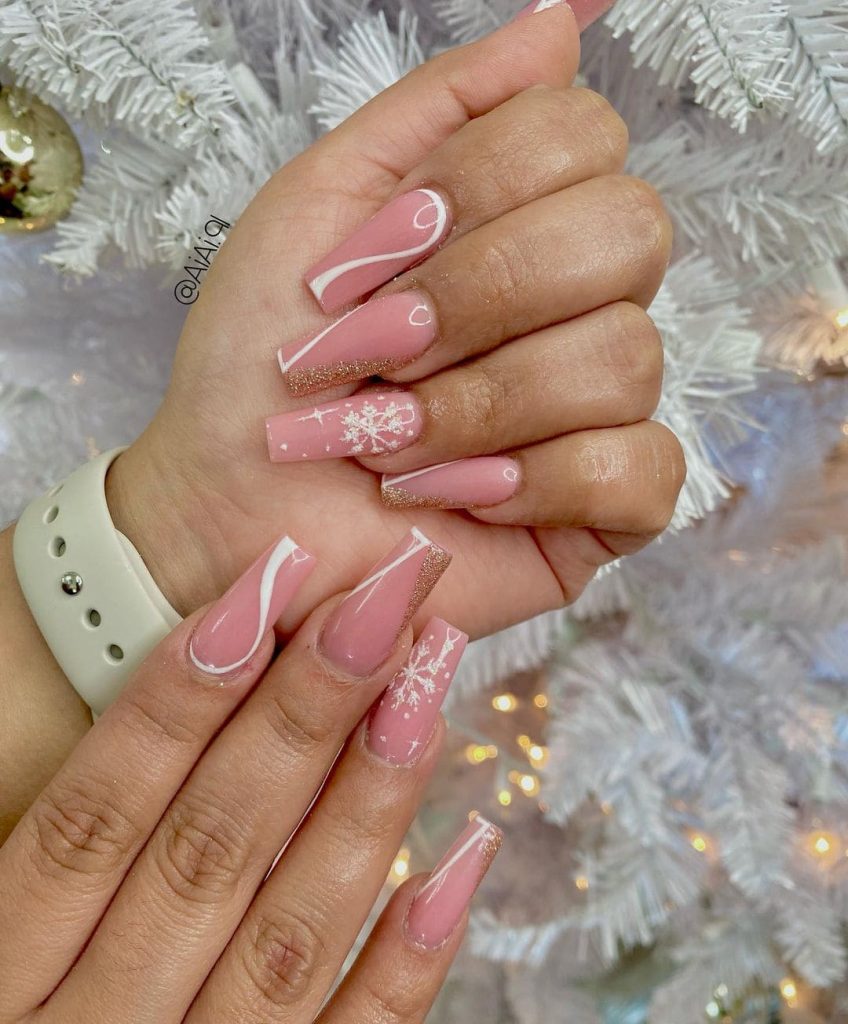 Alai.91 on Instagram has impressive nail designs that will wow you this Christmas. These nails look not only classy, but also very attractive. The mix of colors will be a deal-breaker this festive season.
---
5. This Pink Peppermint Christmas Nail Art Design Will Inspire You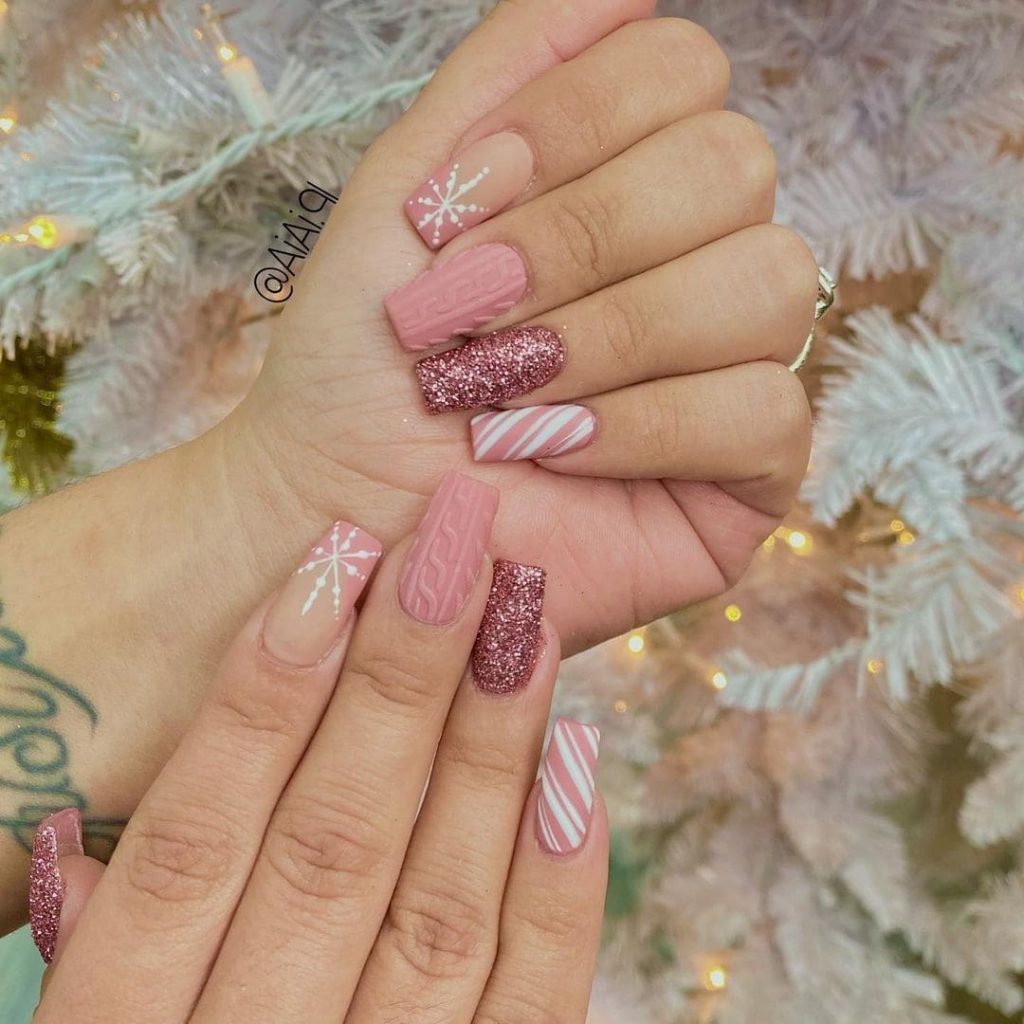 This nail art design happens to be on alai.91 nails too on Instagram. I love the fact that each fingernail has its unique design. The overall look becomes breathtakingly beautiful.
---
6. This Simple Winter nail art design will instantly show you out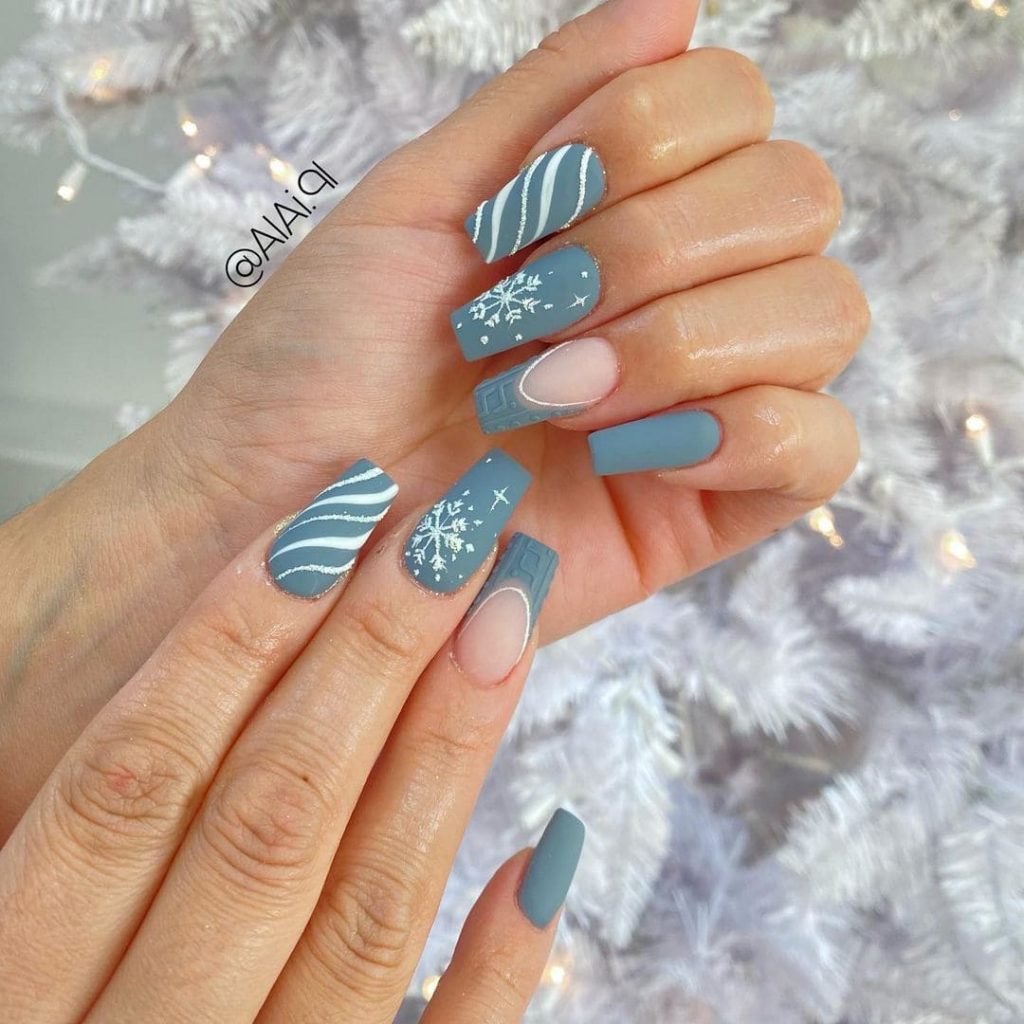 A little blue will not do you any harm this Christmas. The beautiful nail polish will give your nails an incredible blue, white, and pink touch in a unique design. Get the design details here.
---
7. Christmas vibe nail theme to try this season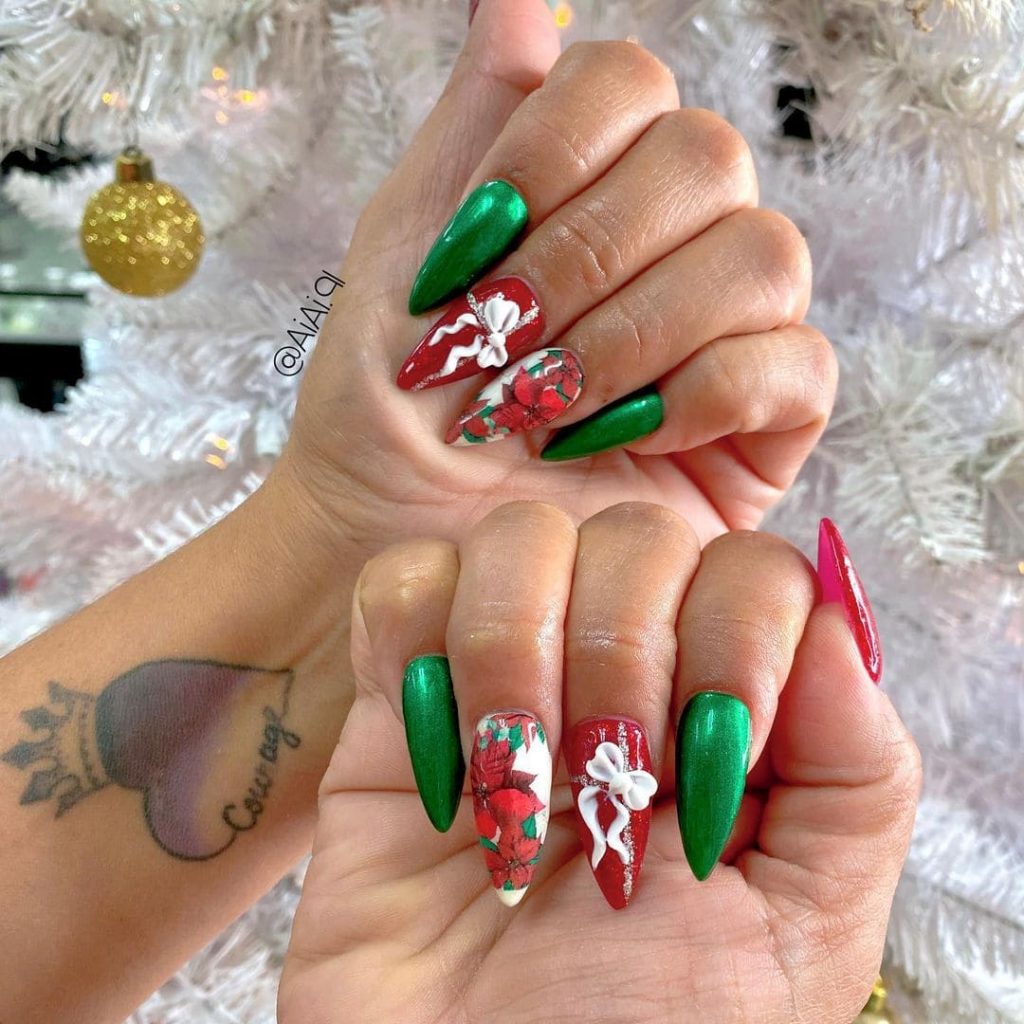 Do you love Santa Clause? These Christmas nail art designs are perfect for your Christmas idea. From the first to the last day of Christmas, these nails will help you rock the season.
---
8. This Green-Pink is the perfect look for classy Christmas nail Inspo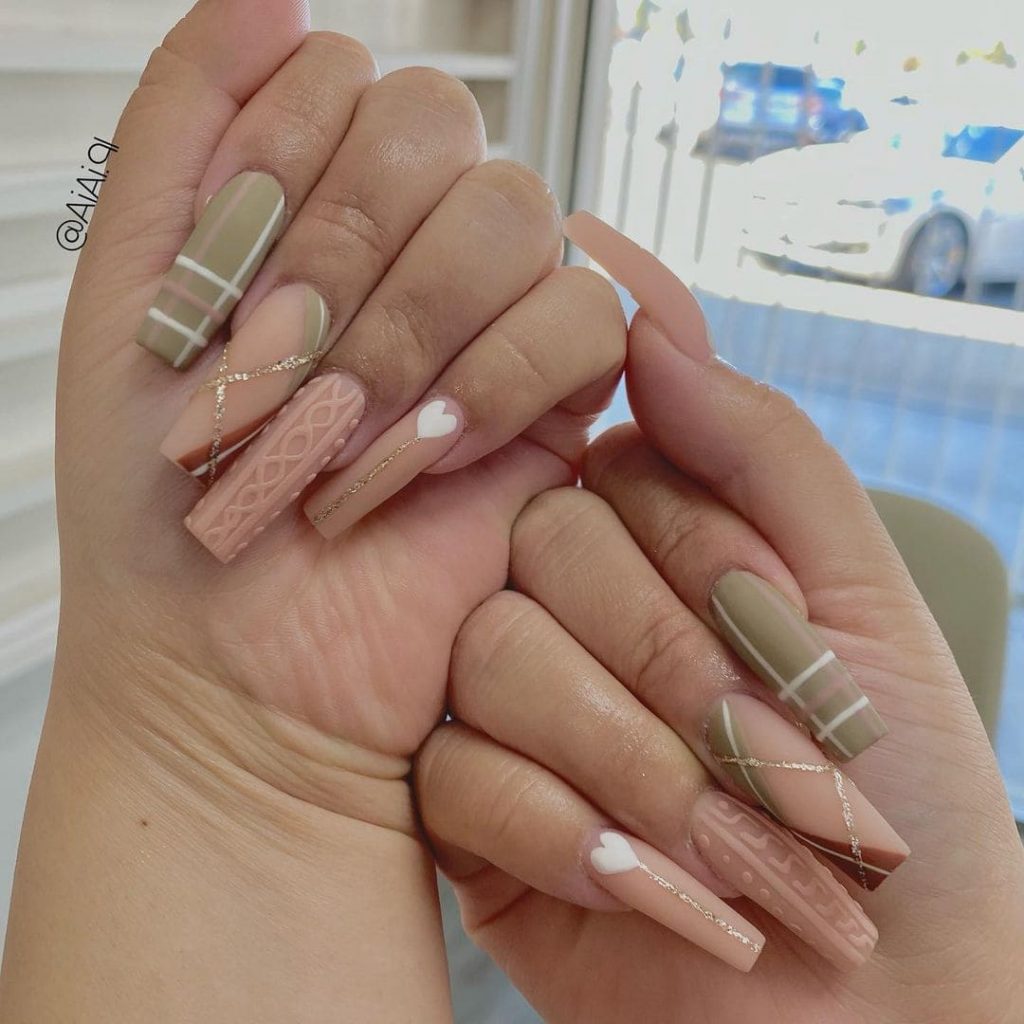 You may mix different nail polish colors to bring you this fantastic look. Do you know that the green, pink, and white colors form the perfect festive look? You may do them long or short and achieve an extraordinary appearance.
---
9. These matte red and white festive nails for Christmas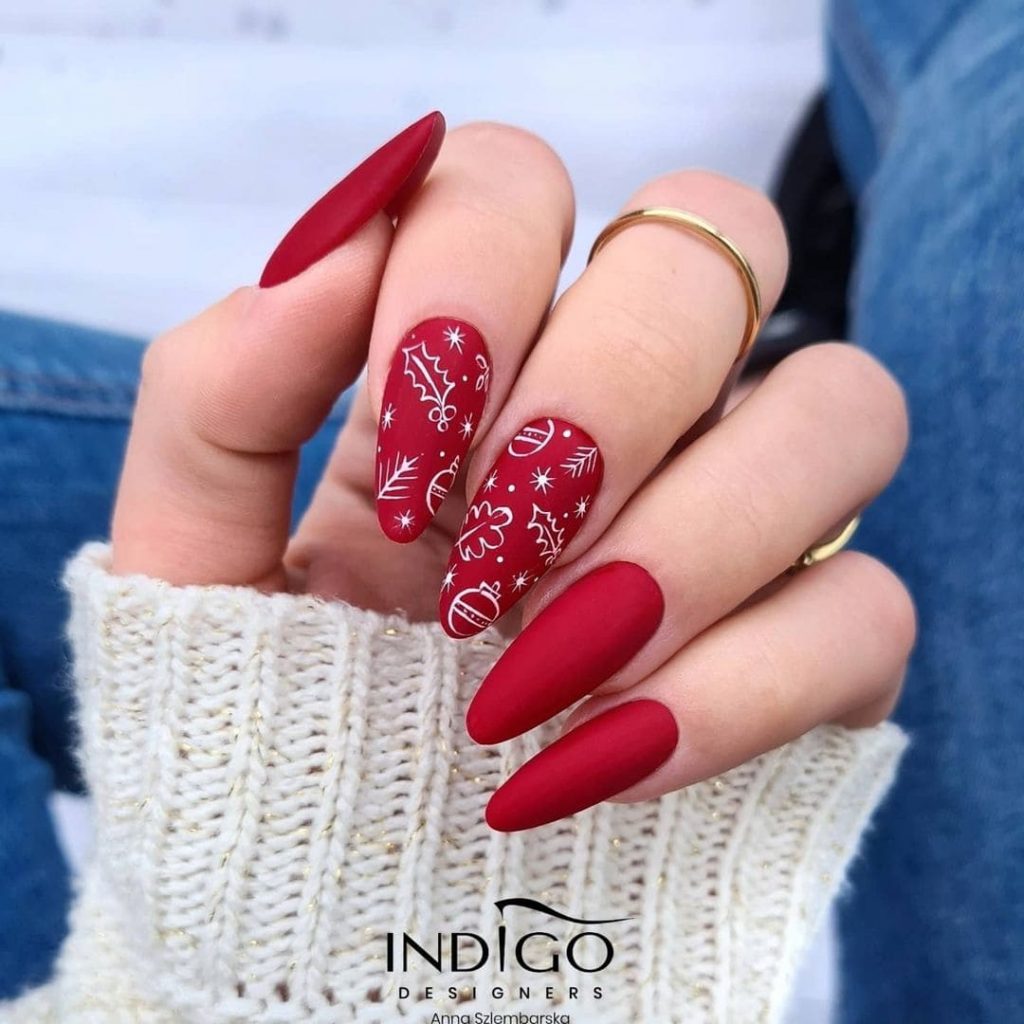 Imagine getting your nails looking precisely like Christmas itself. Indigo designs have come up with this outstanding Christmas nail designs with two fingers that have Christmas trees imprints.
---
10. The red, white and green lining simple festive nails for Christmas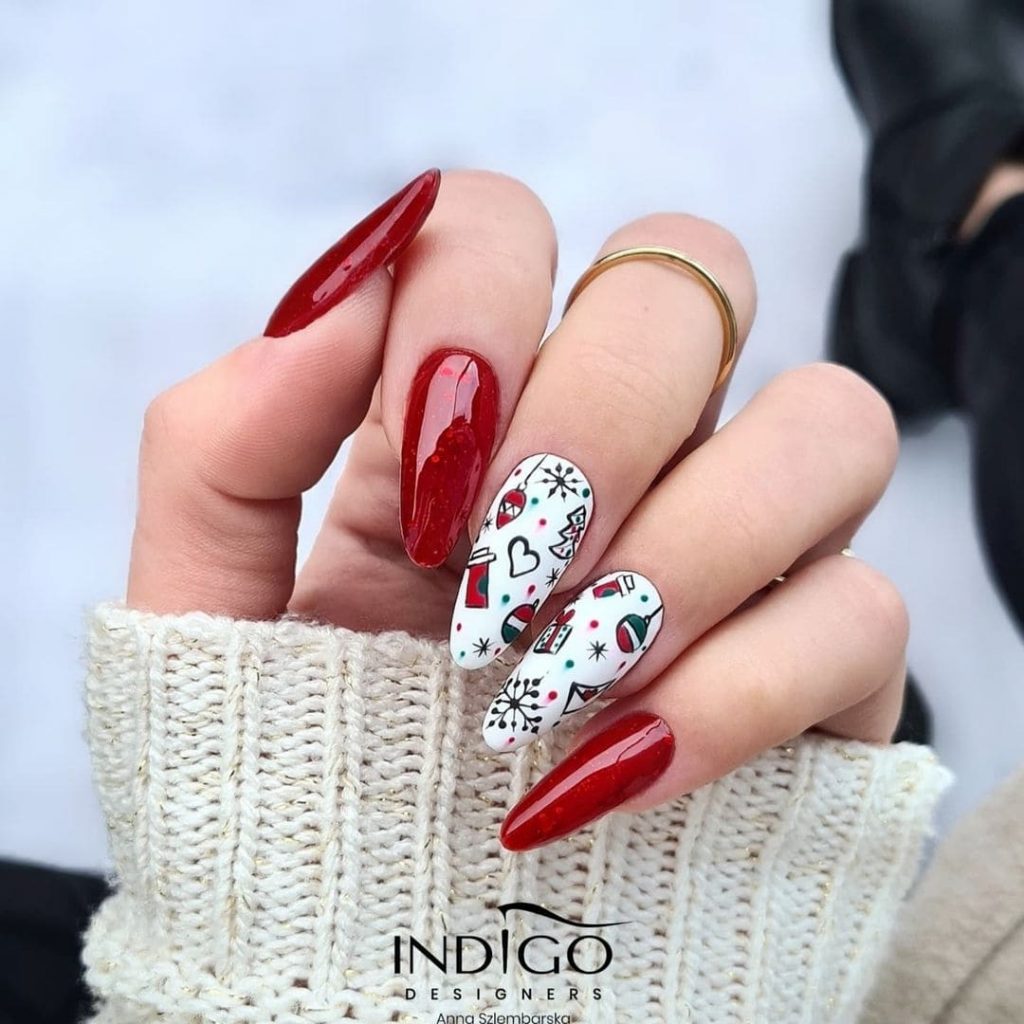 Did you know that by mixing a few colors you may end up with a unique and fantastic nail design? Combining white and red allows you to make Christmas tree artistic designs to give you the best Christmas nails.
---
11. These red glitter nails for Beautiful Christmas nails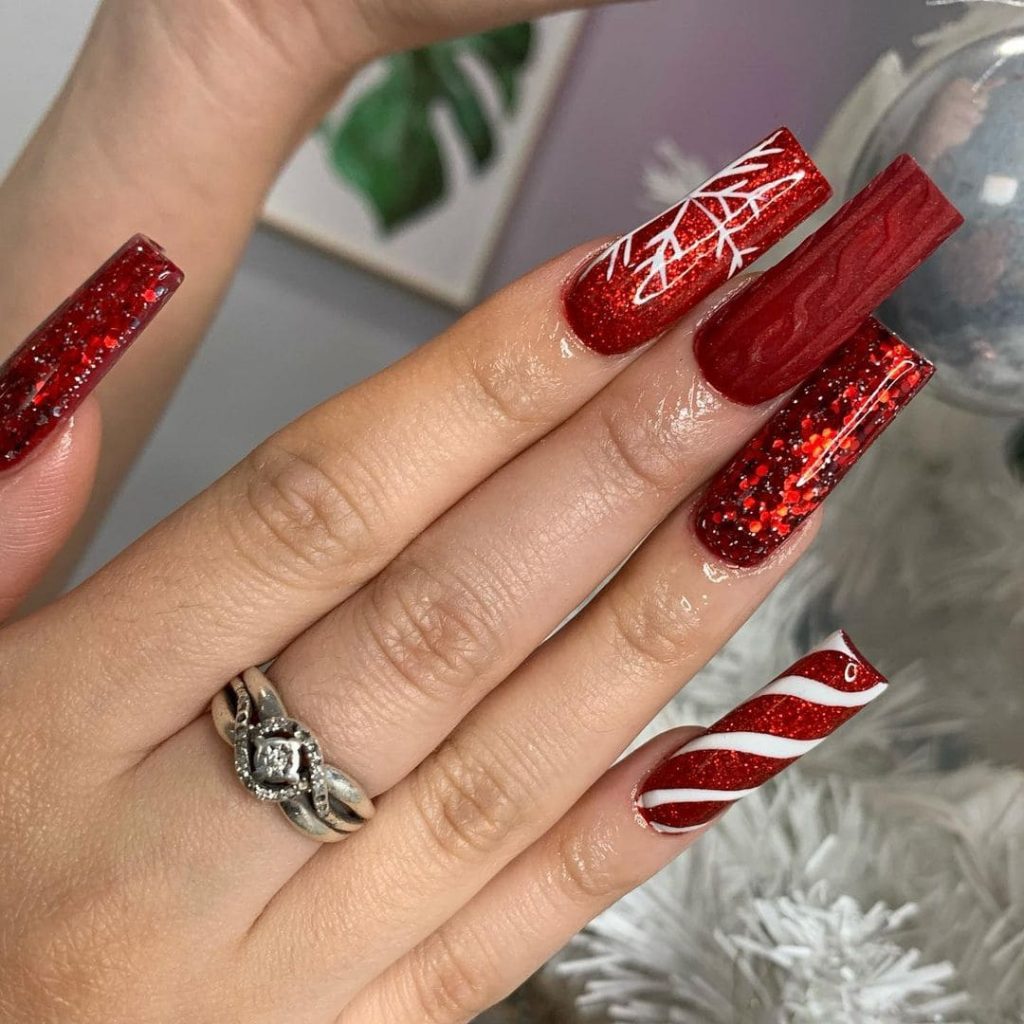 This design brings together a unique nail art style for every finger. When you mix these colors and choose to do every nail like in the picture, you will end up with the perfect design for your nails on Christmas.
---
12. This festive snowflake red nails for Christmas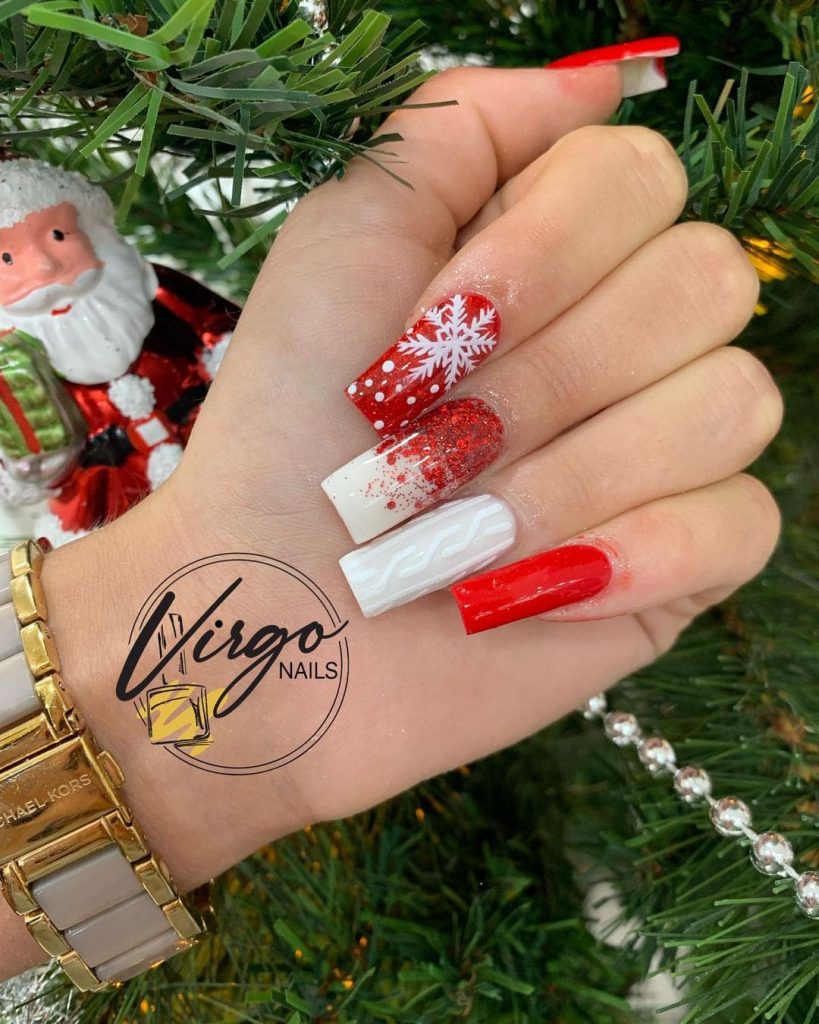 The color balance in this design makes me love the nails already. This design will look good on both long and short nails. Don't miss out on this amazing design.
---
13. This Simple nail design for Christmas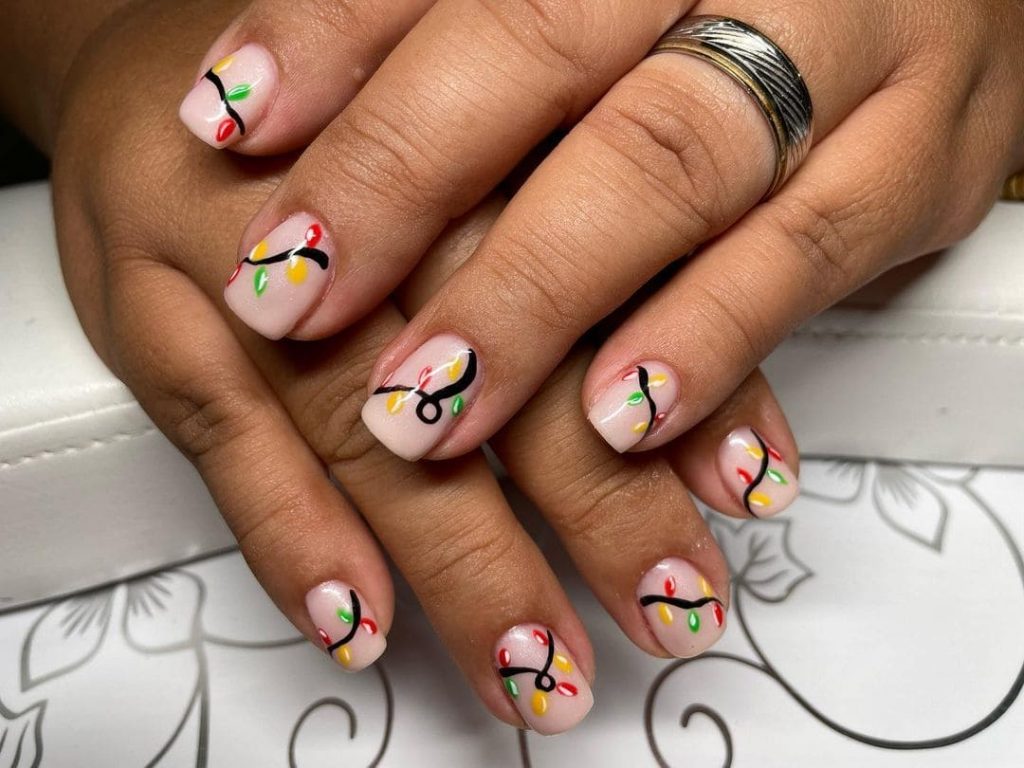 Do you love keeping it simple? This nail design will help you bring the Christmas design alive simply yet uniquely. This look will suit short nails and help you enjoy your Christmas better.
---
14. Two-color design festive Christmas nail design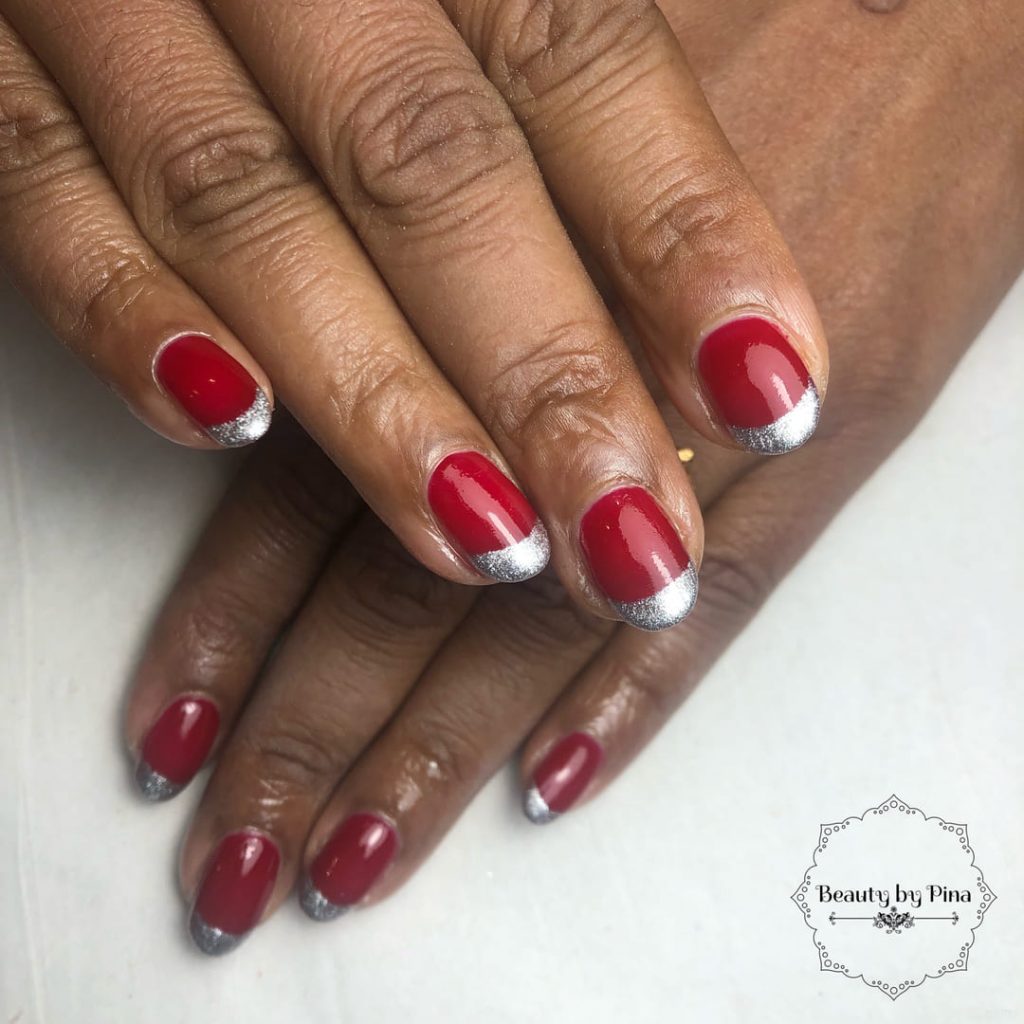 This nail design brings alive only two colors to embrace your Christmas look. The red and silver will come together to make your nails colorful this festive season.
---
15. This beautiful Royal nail art design for Christmas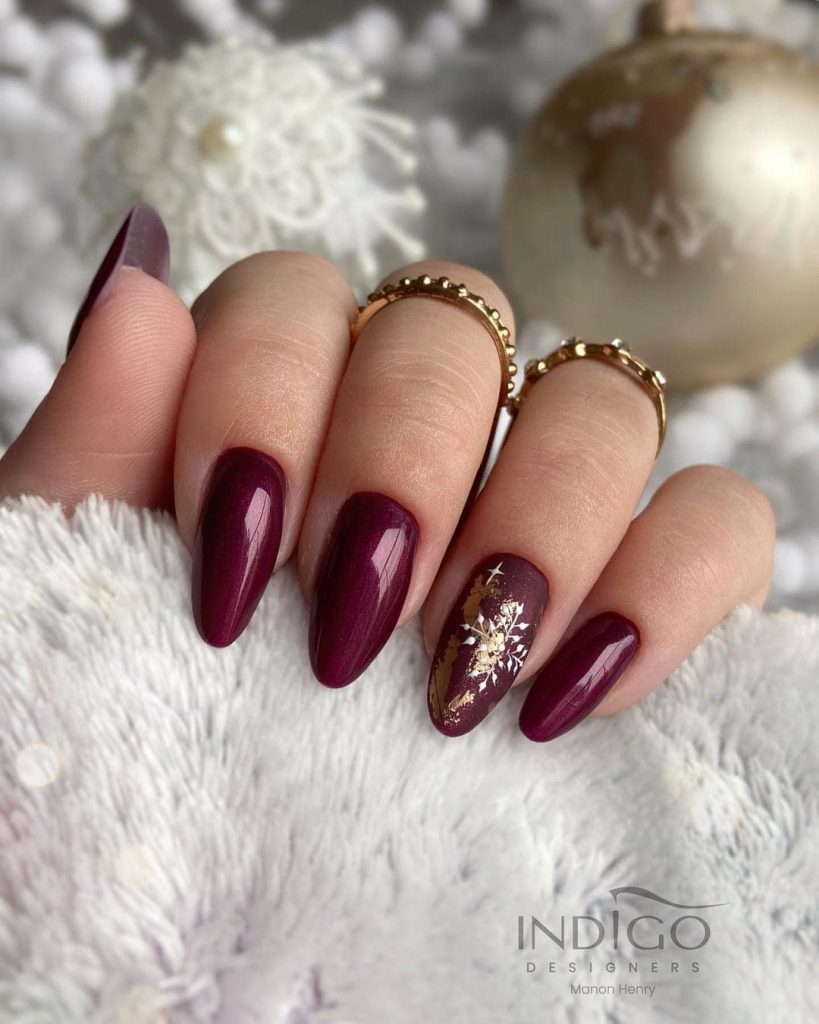 Do you fancy dull colors on your fingernails? Indigo designers have come together and designed this nail design that makes your fingers glow in a Christmas way.
---
16. These Teddy Nail designs for festive Holiday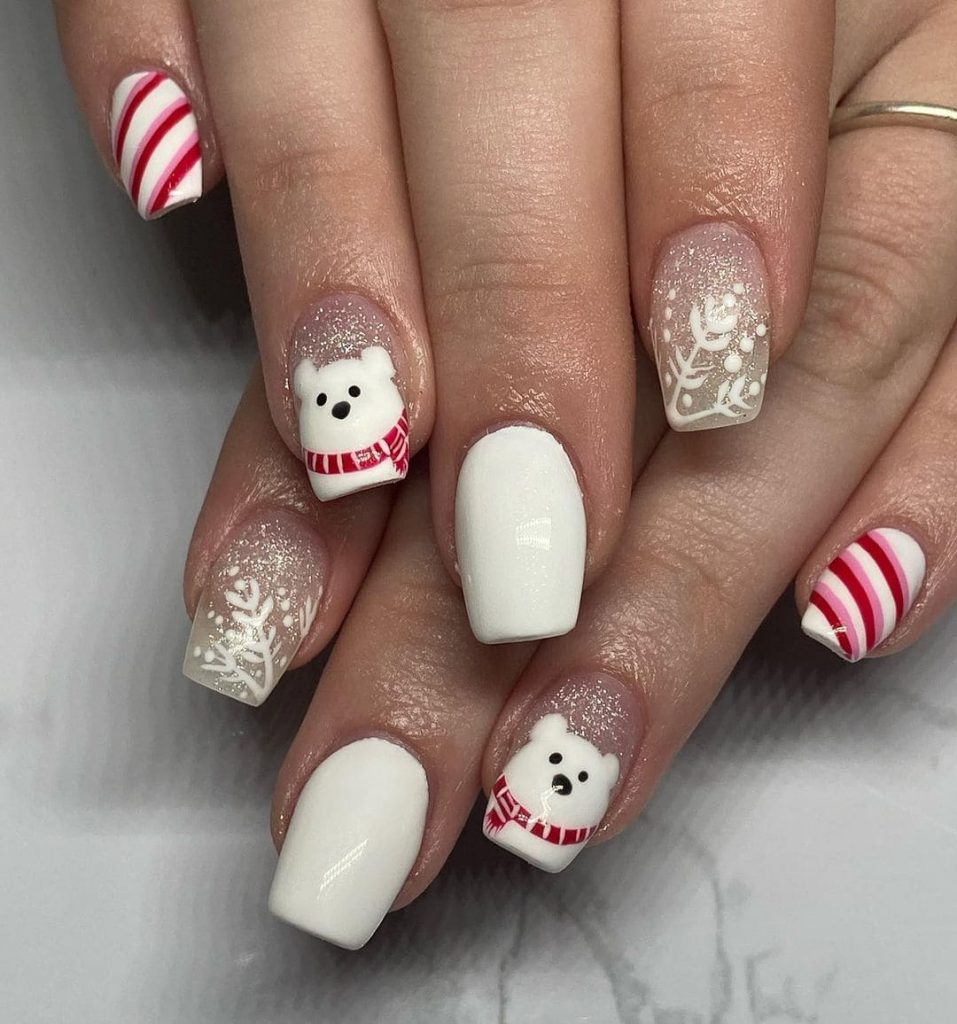 Isn't this design excellent to embrace your Christmas season this year? This gel nail design will allow you to celebrate your festive season in style.
---
17. Father Christmas nail art design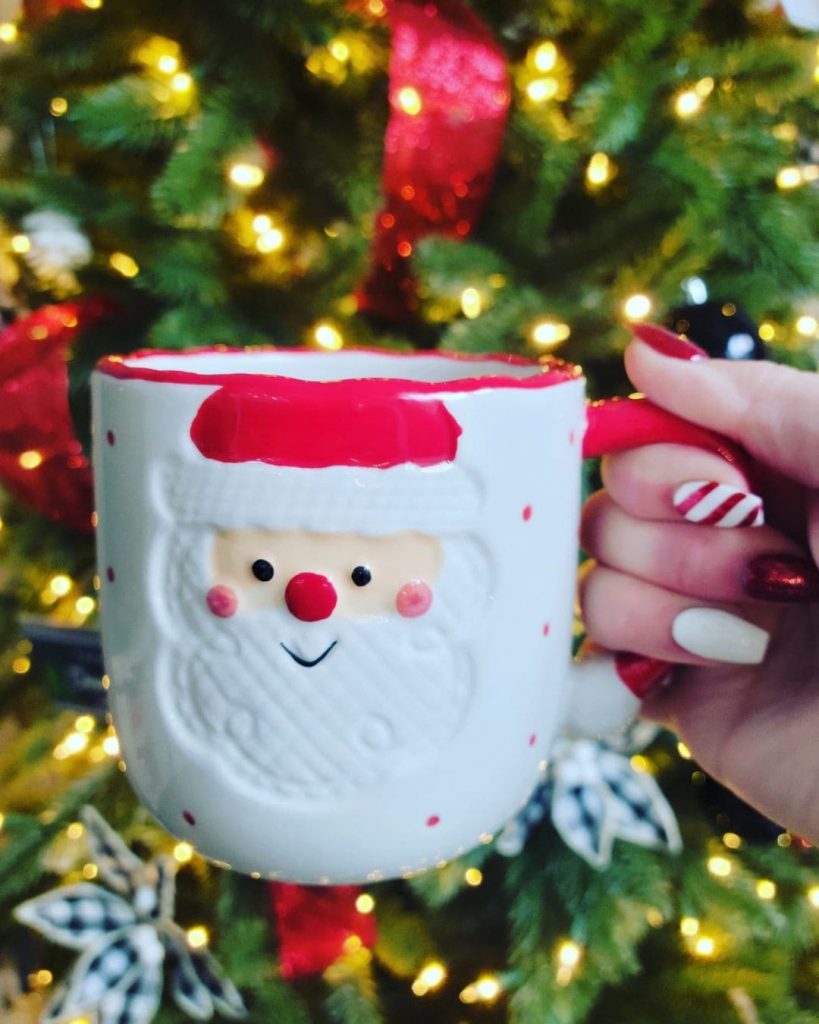 As you hold your Christmas cup this festive season, match it with a Christmas nail art design that will leave you outstanding. This festive season, the red and white colors blend to make the most stylish design.
---
18. This bright red base for Christmas nail art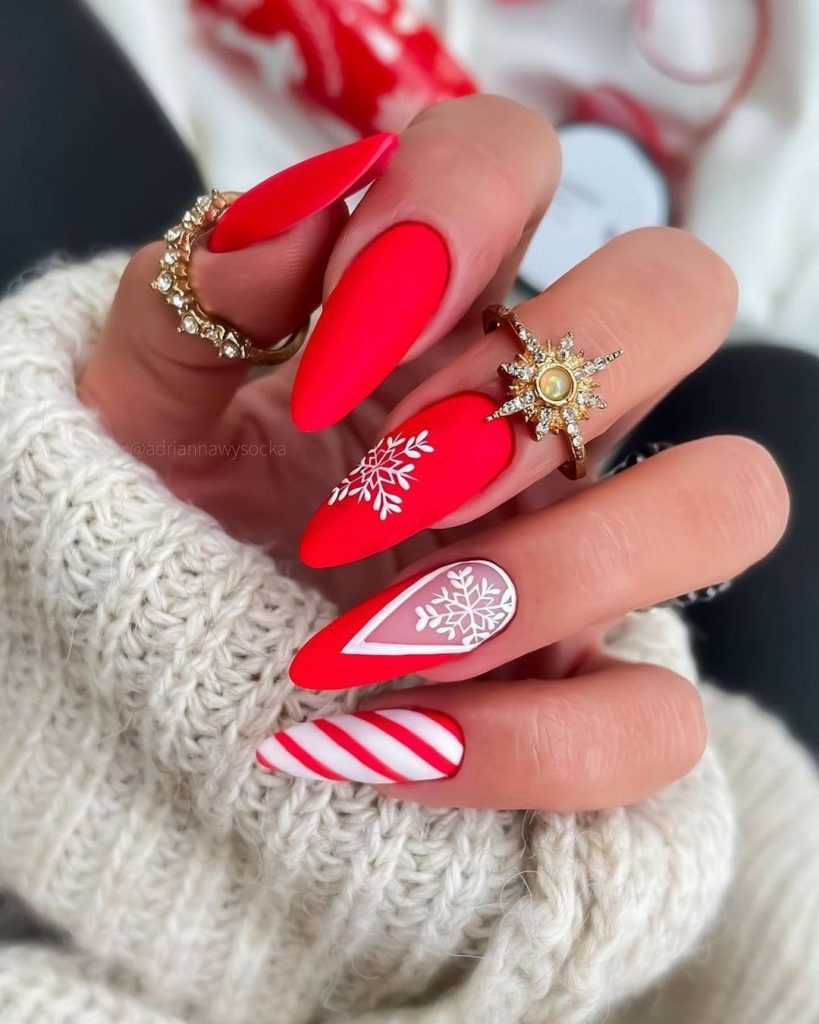 This nail design will make your nails look unique as you go for dinner and hold those classy Christmas wine glasses. You may find this designed on edunails.official and hack a few helpful tips on making your nails this amazing.
---
19. This cartoon-themed nail art design for Christmas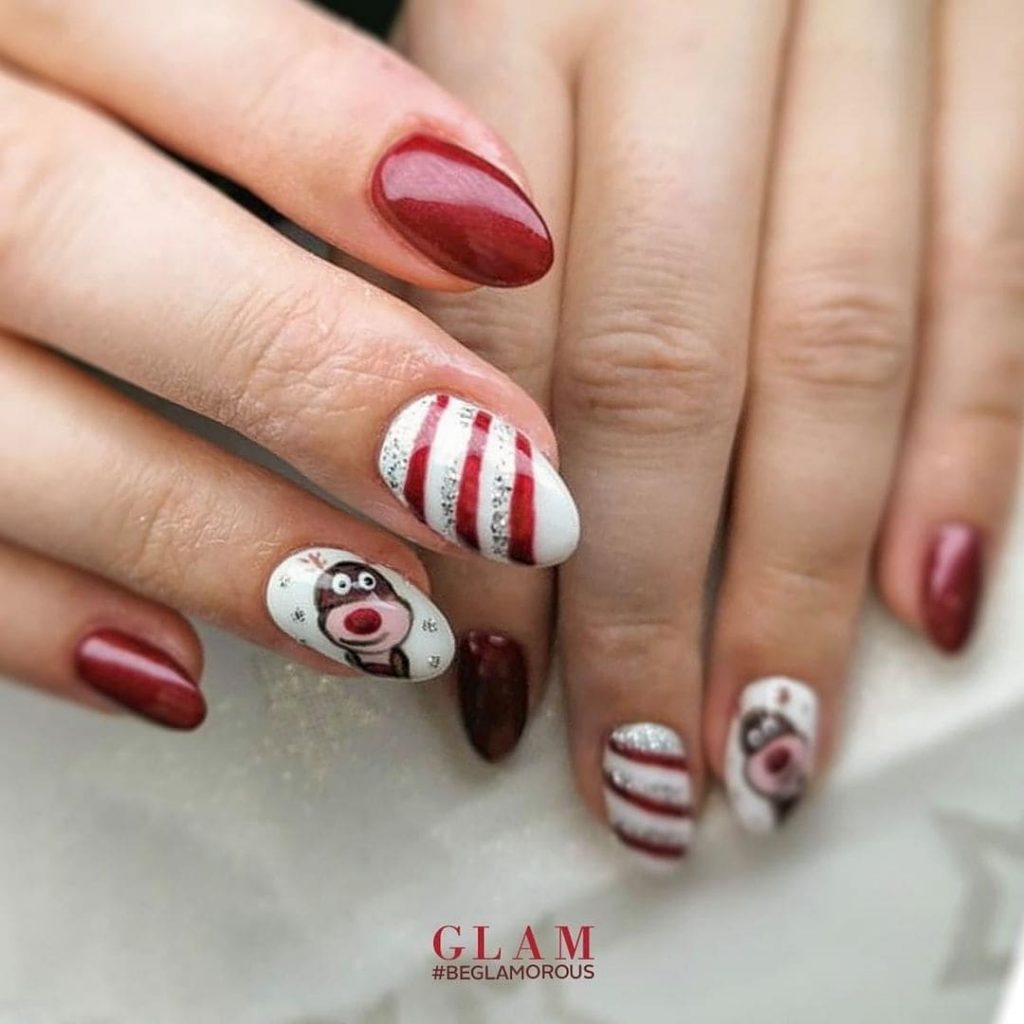 This design brings together the Christmas colors while using funny happy faces. If you love making people all smiley in the festive season, this nail design will perfectly do that.
---
20. Festive vibe Long nails for Christmas
Do you enjoy doing long nails? This Christmas period, try this design out. It brings alive the festive moon, and everyone who sees it will be excited to try it too. Follow nailz byliyah today, and you will learn some tips to make your nails this beautiful.
---
21. Santa Clause colored Christmas nail designs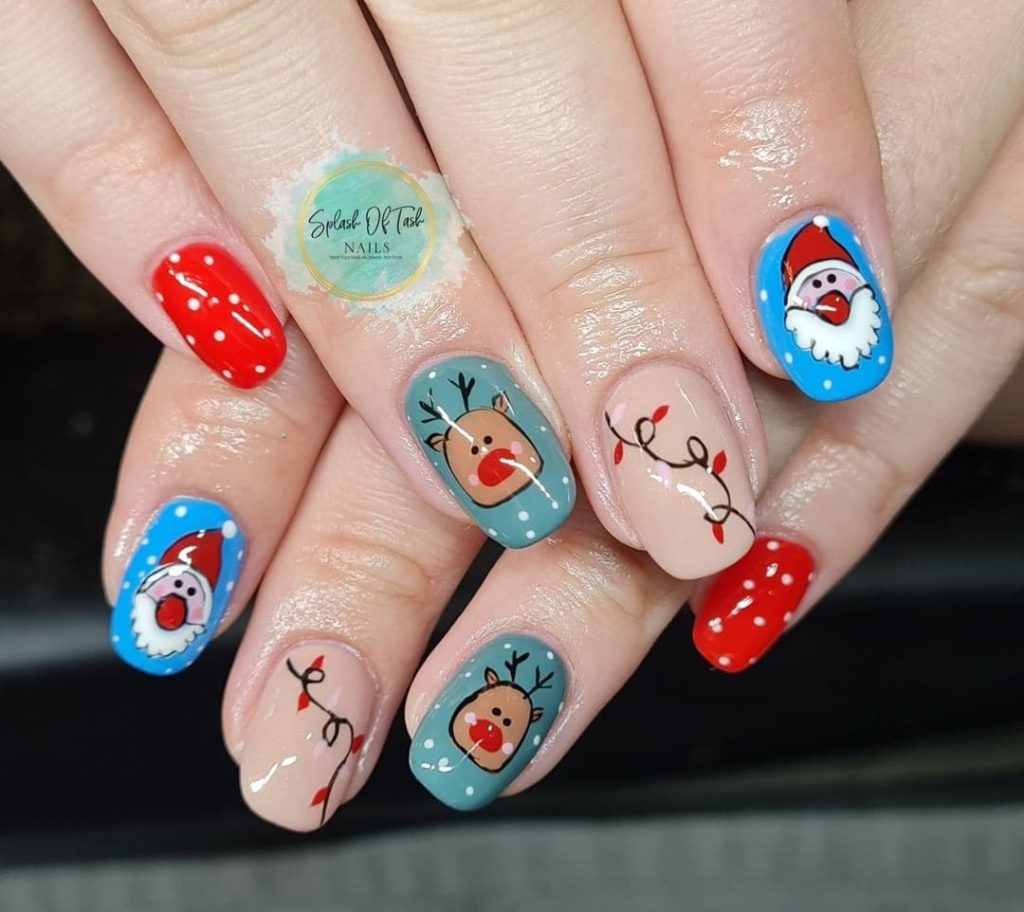 Do you enjoy Santa Clause in your festivities? This design will let you have Santa on your fingernails and make merry. Splashoftasnails will let you learn how to do it, what you need, and from where.
---
22. This simple-elegant Christmas nail art
Do you love the stars and the fireworks on Christmas? With some red polish and some stickers, you may end up creating all the fireworks in your fingers. The pink and clear polish will help you achieve a unique Christmas nail art.
---
23. Red Sterling snowflake Christmas nail art designs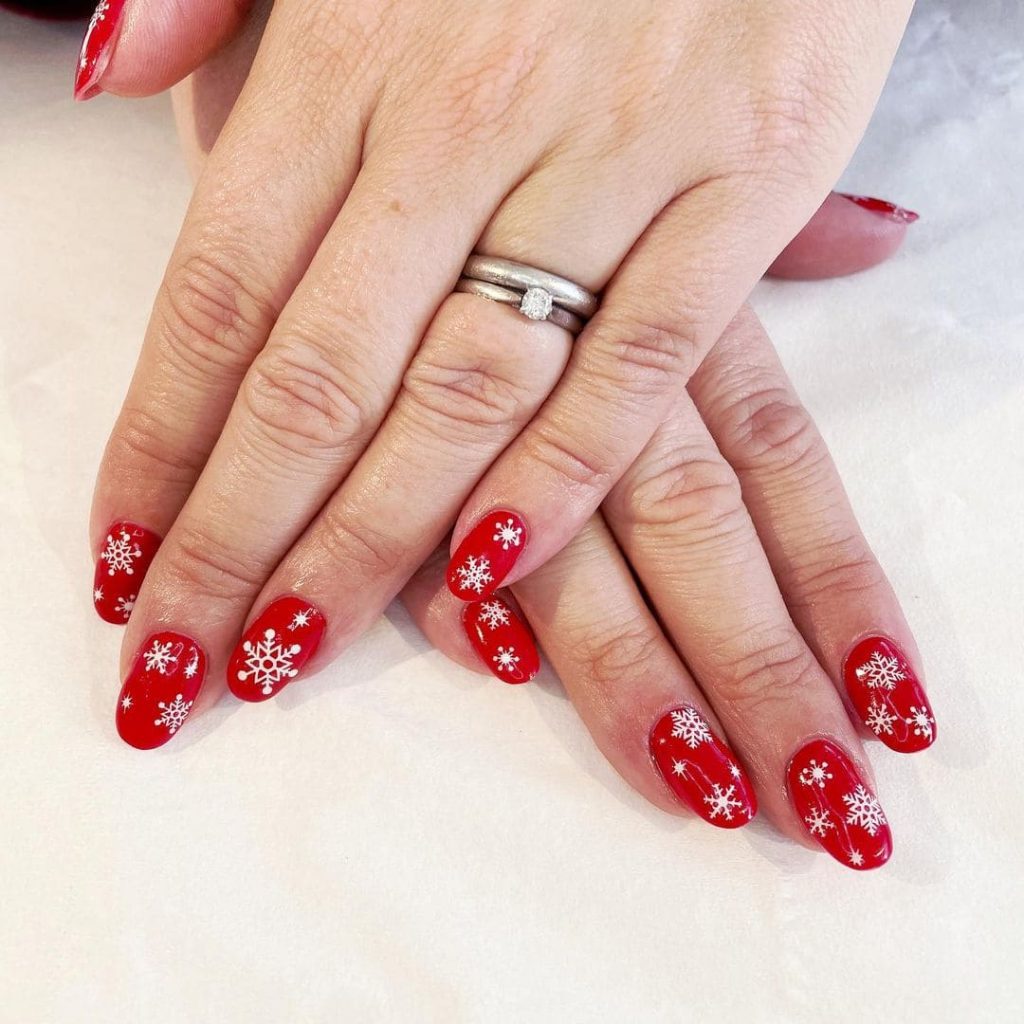 Check out how Clairs Liverpool has designed these nails. The red color with white stars makes this design so much Christmas-like. So if you need to embrace your December in style, consider having this nail design.
---
24. Royalty blue glitter nail art design for Christmas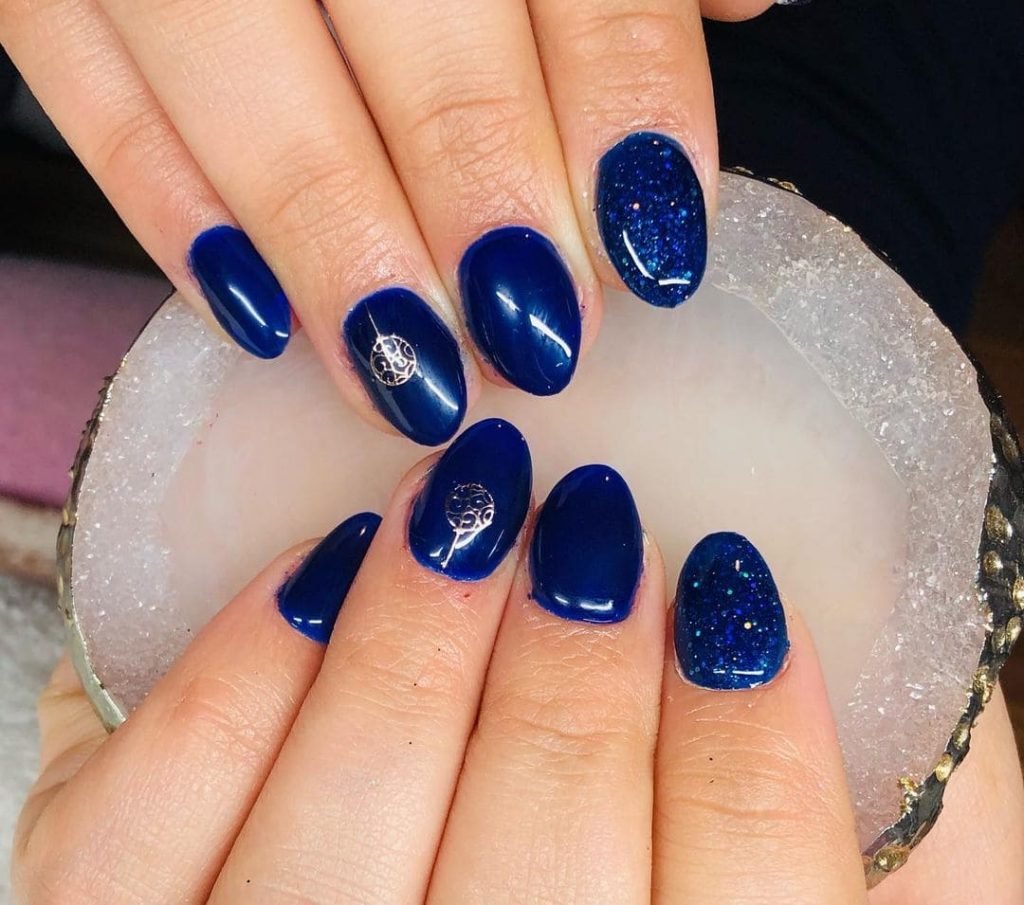 Most light skin people prefer doing darker colors on their fingernails. This December, this deep blue with glitters will be perfect for your nails. The design will add some royalty touch to your festive season. Check out how Muzsa nails do it perfectly.
---
25. This Sparkling red holiday color nail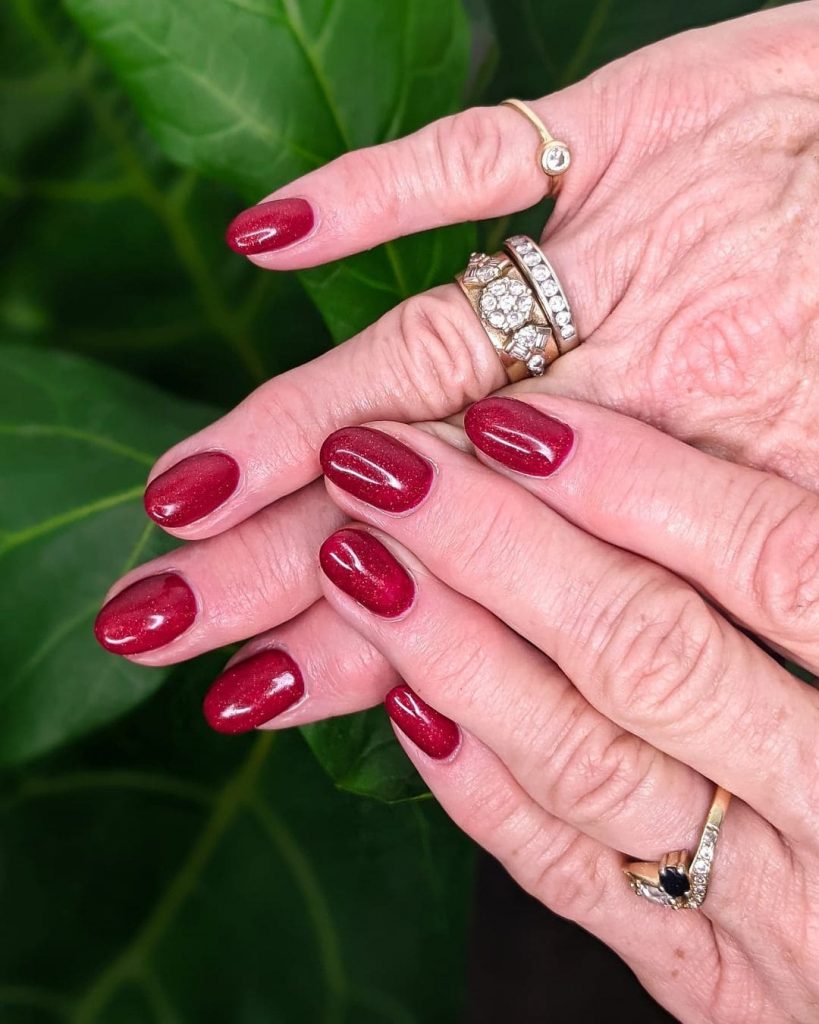 Do you keep short nails? This December, if you choose to do pure red on your nails, you may end up with a glowing Christmas look. This design proves simple and comes with an automatic celebratory mood, perfect for Christmas.
---
26. Simple Elegant Floral nail art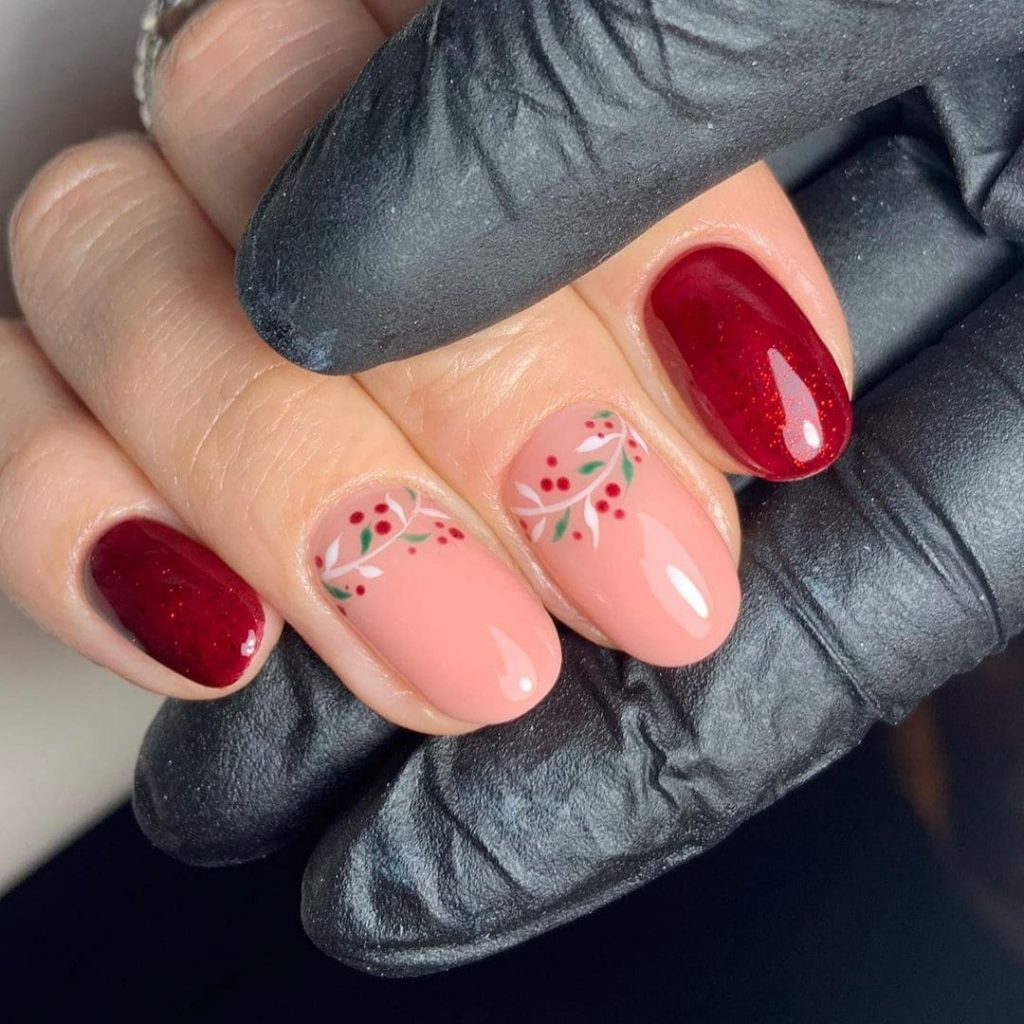 This nail art proves very simple yet elegant. Botanical beauty has perfected the art of doing nails, and they bring out this design perfectly. You may visit them and gather a few tips, and you may end up making it perfectly at home.
---
27. This balanced purple and mauve blend festive nail art design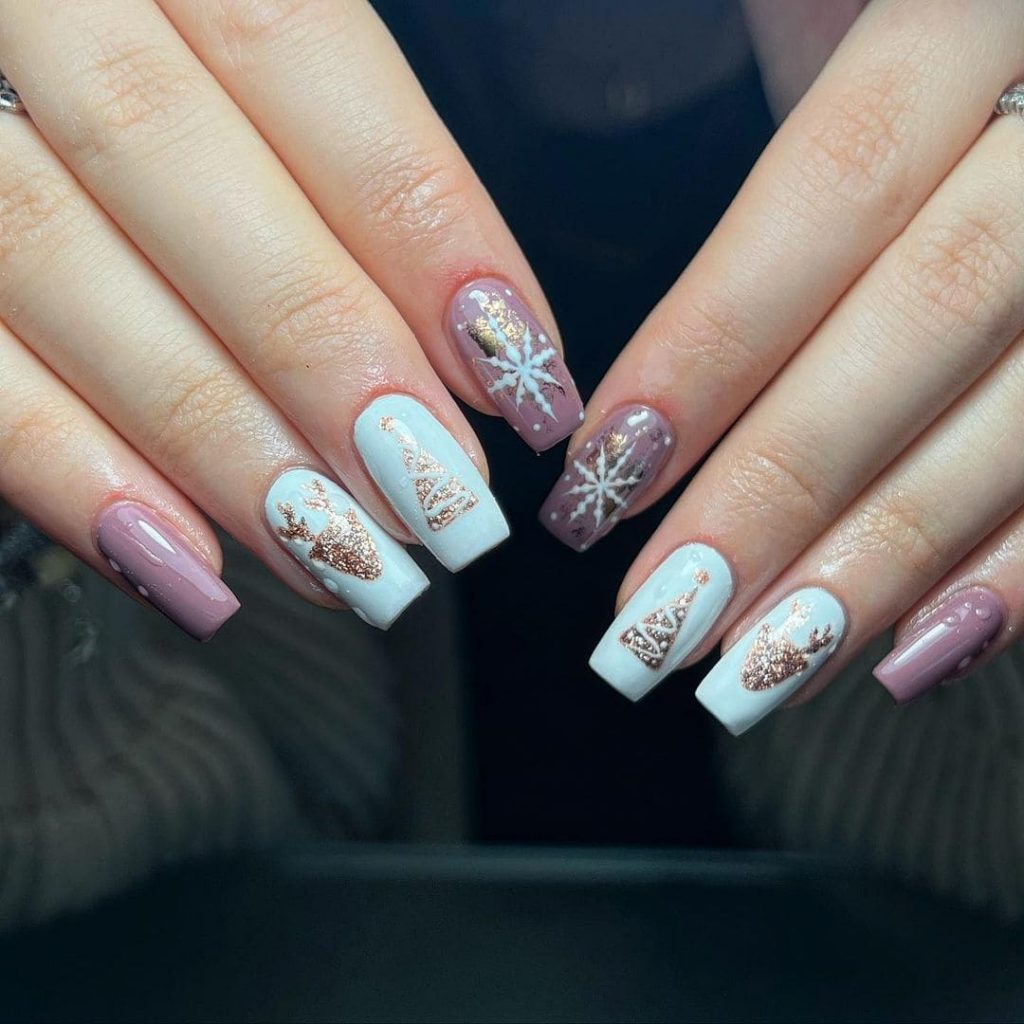 I love how elegant this nail art design comes out. The decorations make the two colors look spectacular, and this will look great for Christmas. Nailsbybeff proves a talented nail artist who may help you gather some exciting insights on how to get it done.
---
28. Snowman Violet Christmas nail designs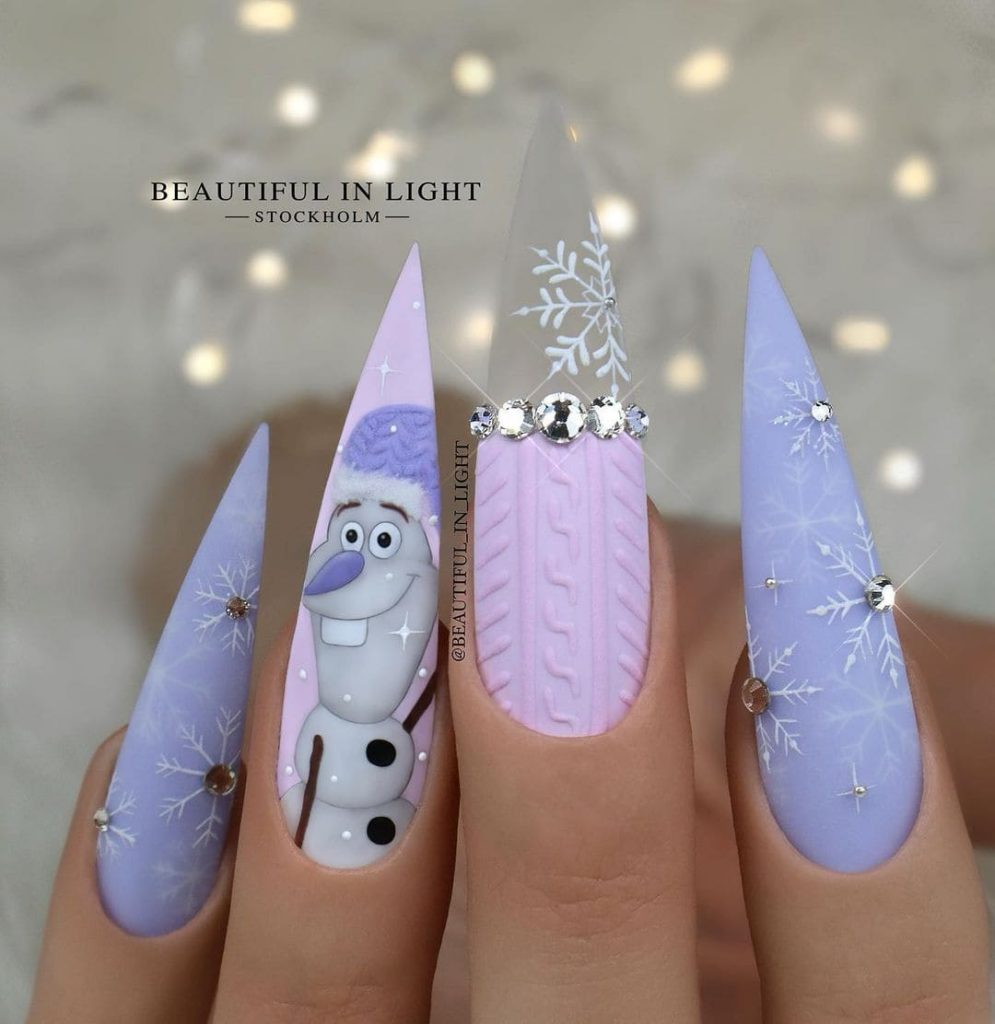 Doesn't this nail design make it feel like Christmas already? I marvel at the pointed ends, which bring some excitement to the beautiful Santa and fireworks decorations. How else would you wish your Christmas to come by if not with this nail art?
---
29. This Winter nail design for Christmas festive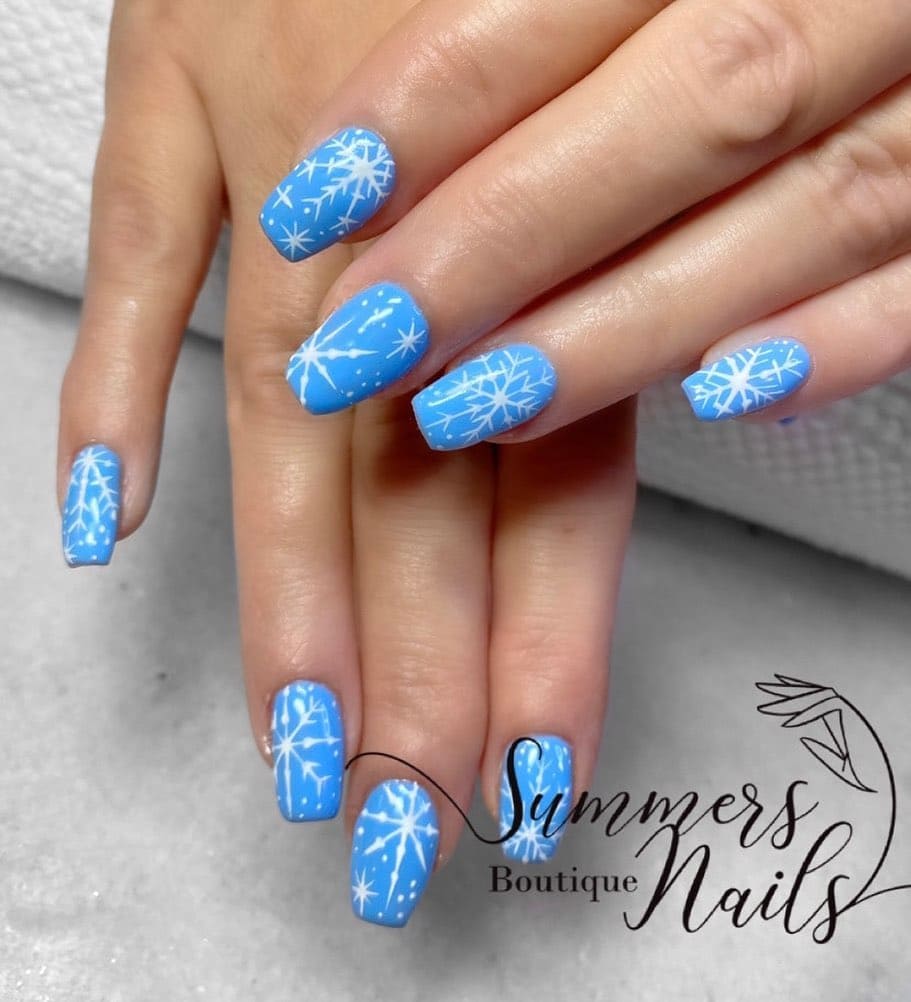 Don't worry about a Christmas nail art design if you love blue. With this nail art design, you get a chance to embrace your favorite blue color with white glowing imprints. Check out here on Summers Boutique nails and get some insights on how to do your nails this Christmas.
---
30. This green glitter for Holiday nail designs inspo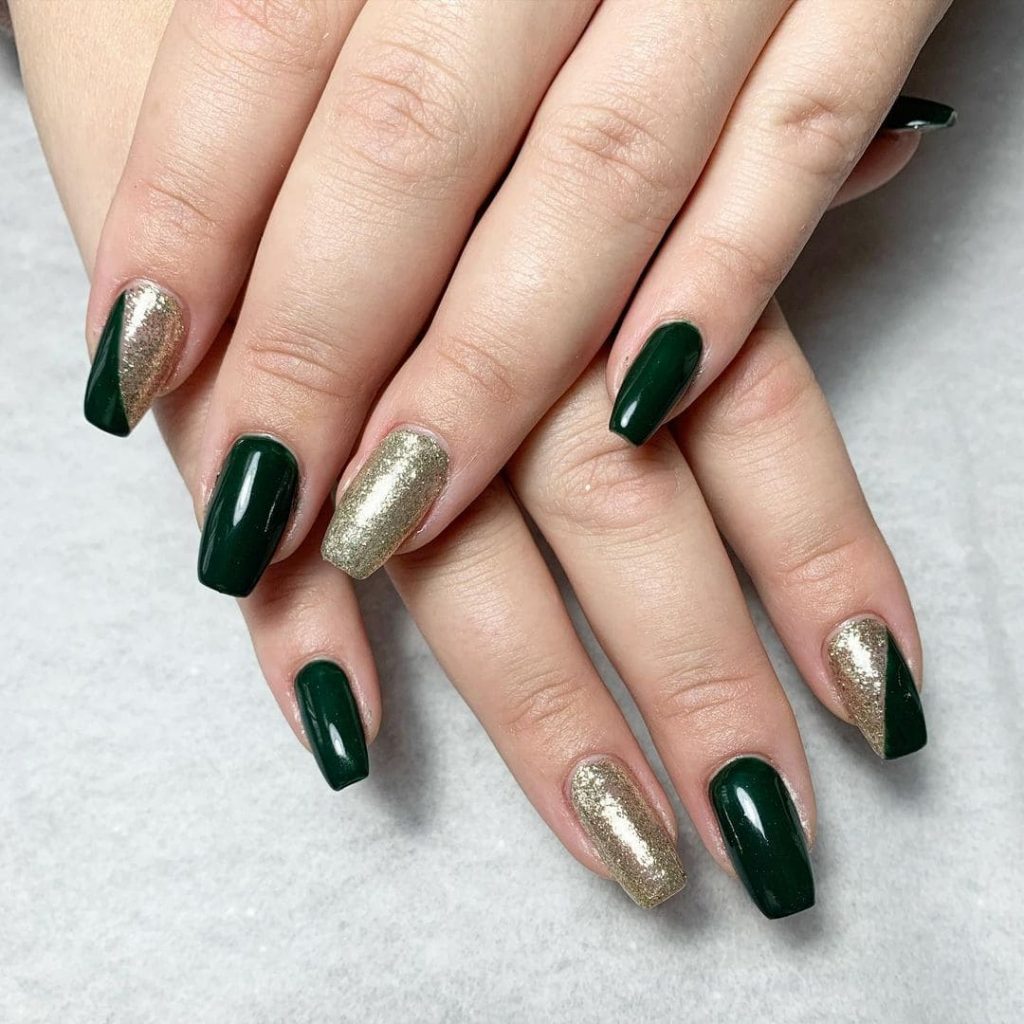 This design uniquely incorporates two colors. The green and gold come together, with some fingers having single colors and some having both colors. Jolie.nana has found a way to do the nails perfectly for a great Christmas look.