While you might spend your extra time indoors this winter looking for them, we decided to do the legwork for you and compiled a list of every single save-worthy nail trend that has crossed our feeds in the last several months.
If you enjoy animal prints on your nails, such as leopard, lion, zebra, snake, and so on, this is the collection for you. Then it would help if you also tried nail designs with cow prints. It sounds strange, doesn't it, but it's fantastic.
All nail shapes look amazing with cow print nails. This pattern will look excellent on you, whether you have almond-shaped artificial nails or coffin nails. If you're seeking cow-print nail design ideas, you'll discover something lovely to show your nail technician.
One can transform the classic cow pattern manicure in a variety of ways. The significant part about cow nails is that you can use them for nails of any length. This nail art would be best for you, even if you have short nails. Here are a few cow nail print designs for you to choose from.
1. Cow Print Nails With Coral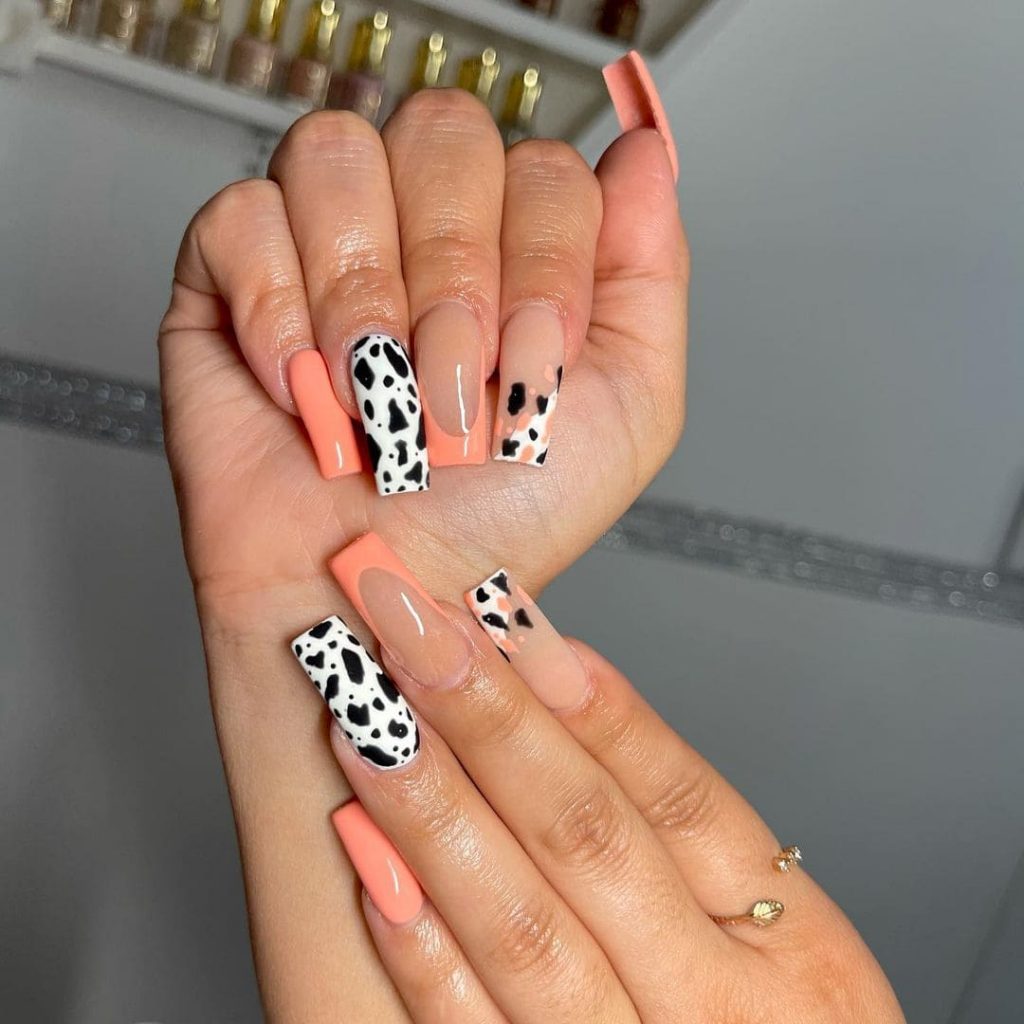 This basic cow pattern design looks great with coral nail polish. These nails are ideal for the summer as well as the fall.
2. Almond Shape Matte Brown Cow Print Nails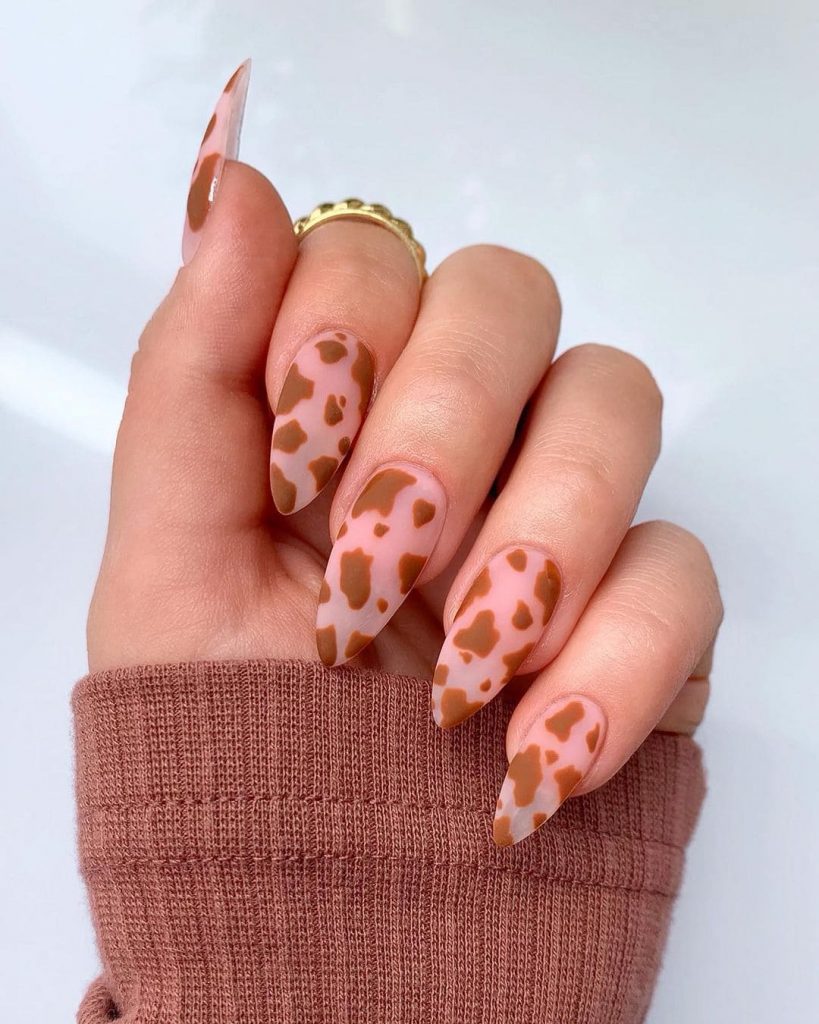 Who knew matte nail polish could make a cow print seem so good? These nails are stunning, and they would suit anyone.
3. Natural With Gold Cow Print Nail Patches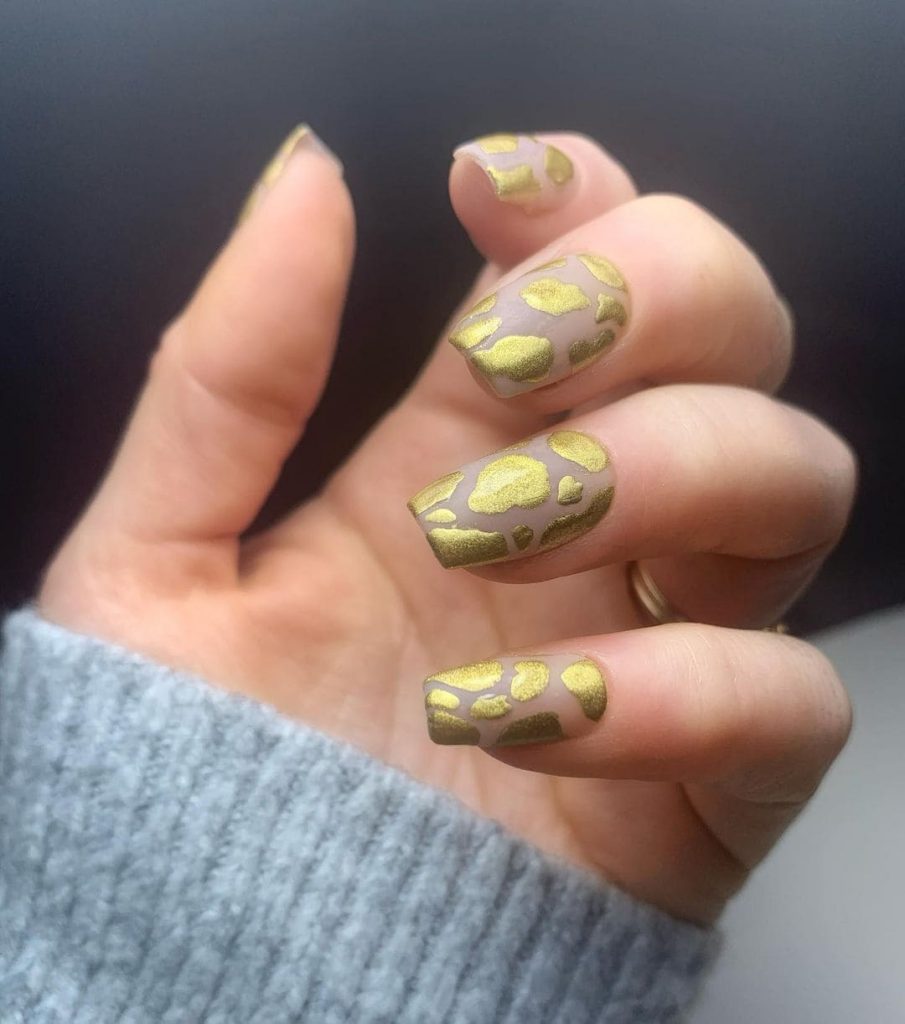 The natural look with a shade of gold will give your hand an elegant look. Gold cow nail patches are the new trend.
4. Chocolate And White Cow Nail Accents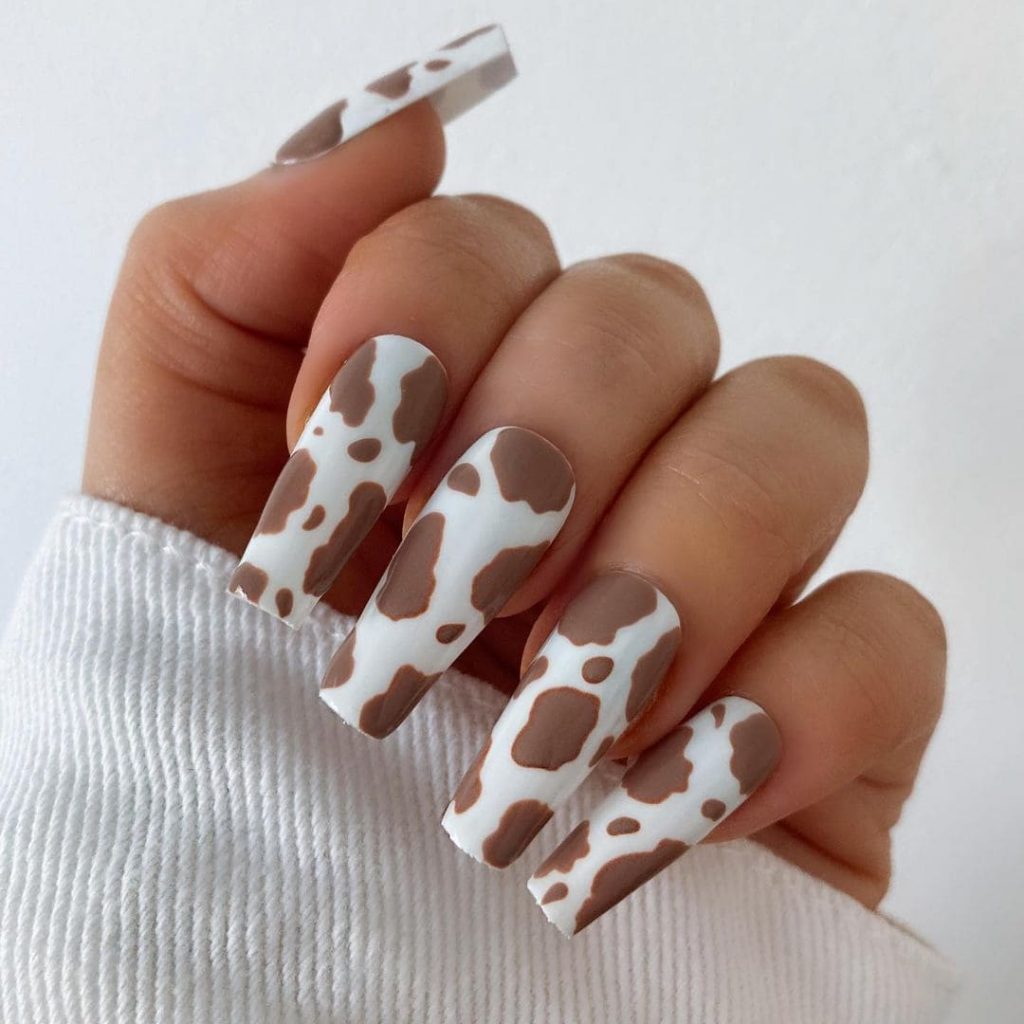 Isn't dark and white chocolate everyone's crush? These chocolate and white cow nail designs will equally fascinate you and give your personality the best look.
5. Cow Print Nails With A Twist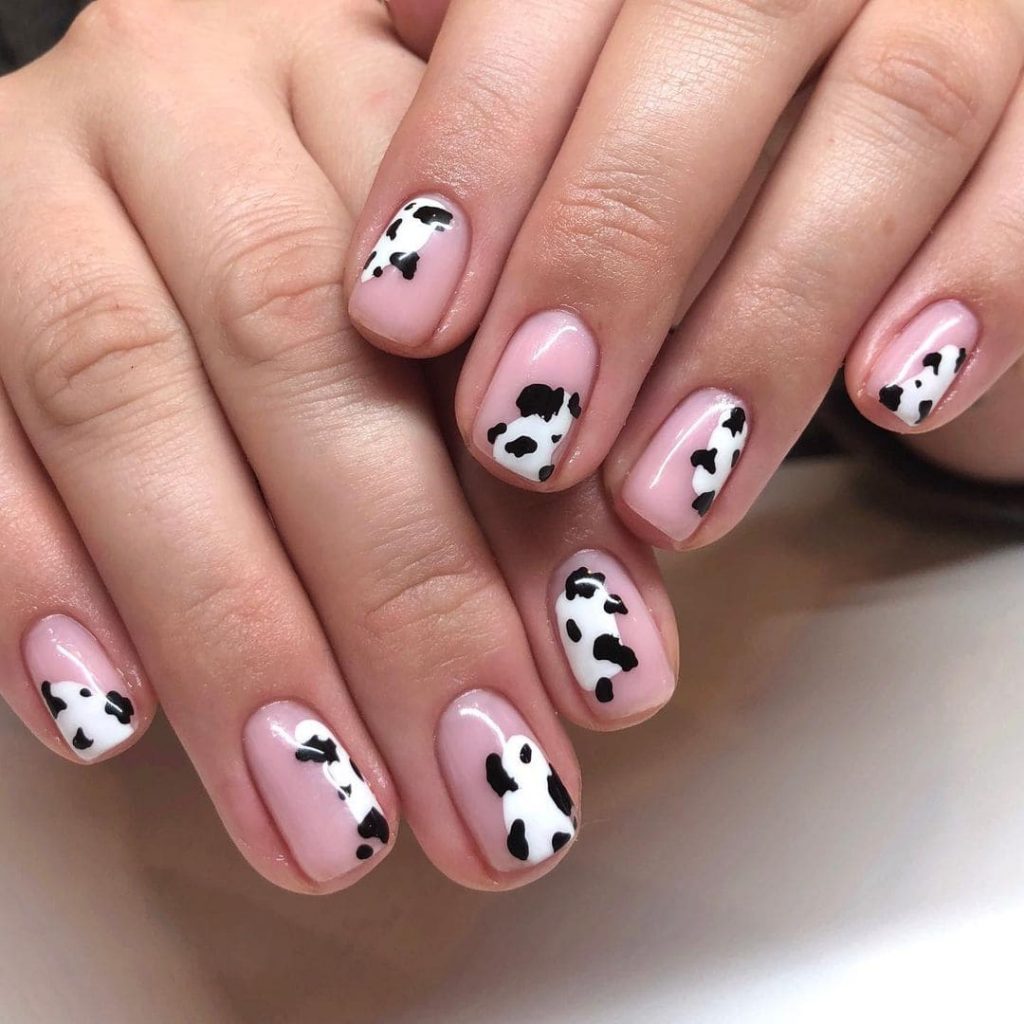 On the index finger, the print pattern has a slight twist. Some of the specks are black, while others are brightly colored pastels. These would look great if you keep long nails for your fashion.
6. Hide and Roses Cow Print Nails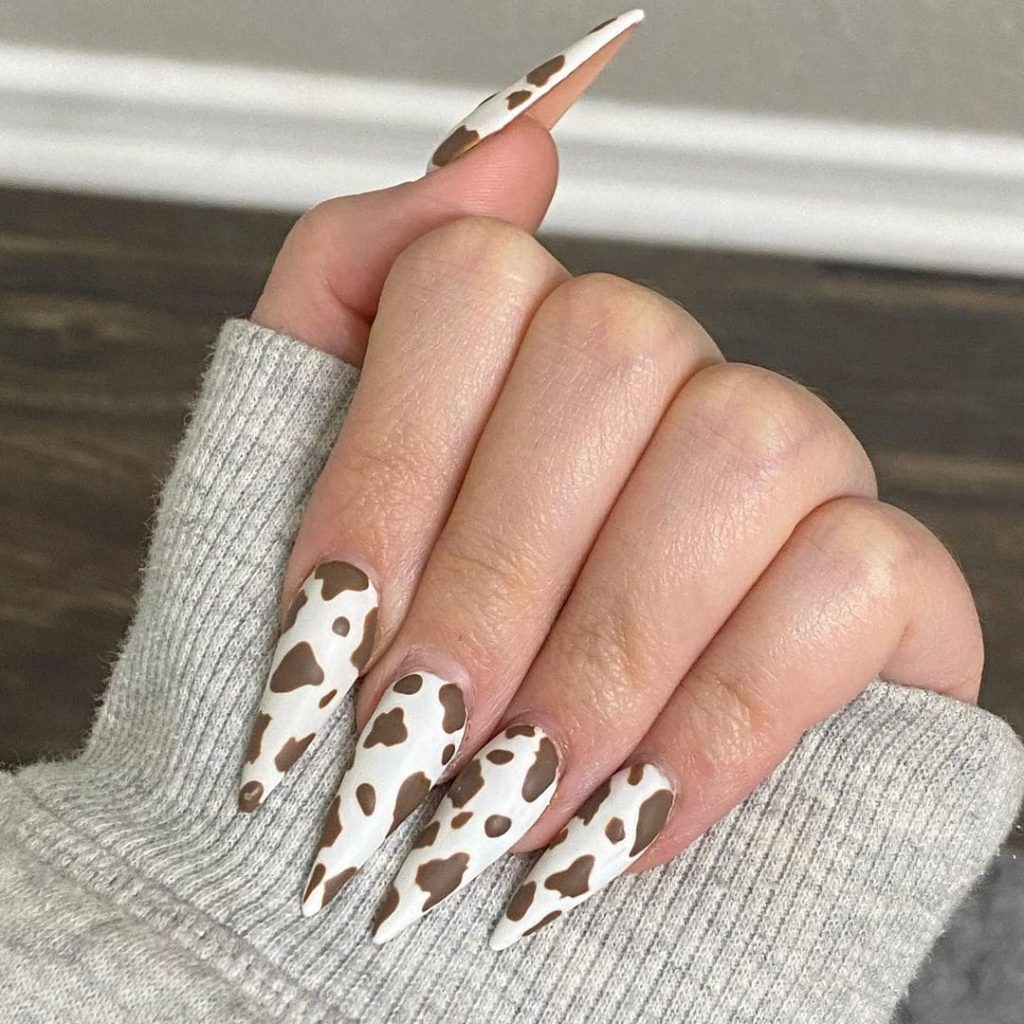 Adding a rose patch, especially red, would give your cow print nail design a glamorous look. You can even get one whole nail painted in red.
7. Cow Print Nail Tips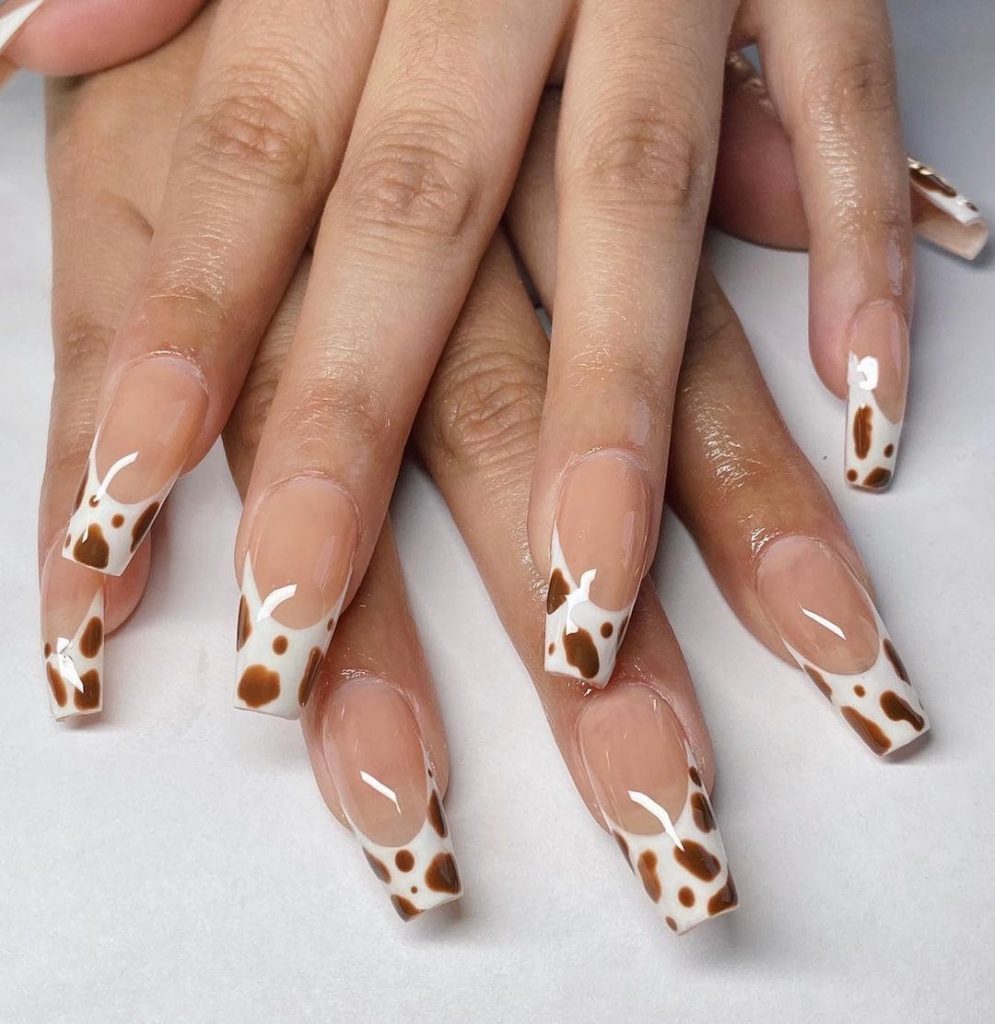 Consider putting your cow print on your fingernail tips. A solid white color is paired with a black-spotted motif in this style.
8. Glitter and Purple Cow Print Nails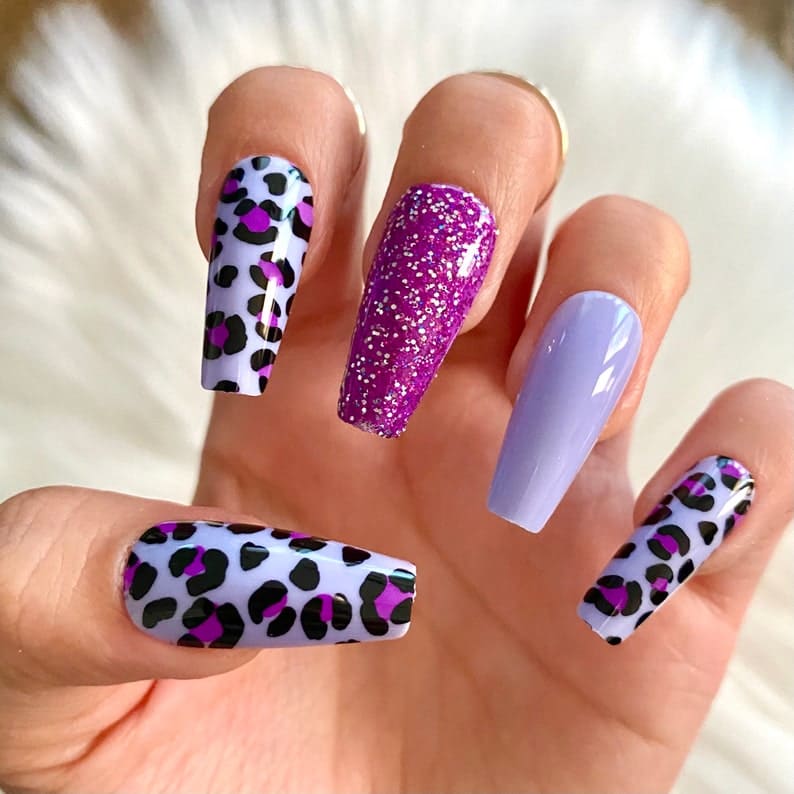 If you are someone who likes glitter and dark colors on your nails, then Glitter and Purple Cow Nails is a perfect choice for you. Keep your nails long when you get this design.
9. Half Cow Print And Half Pink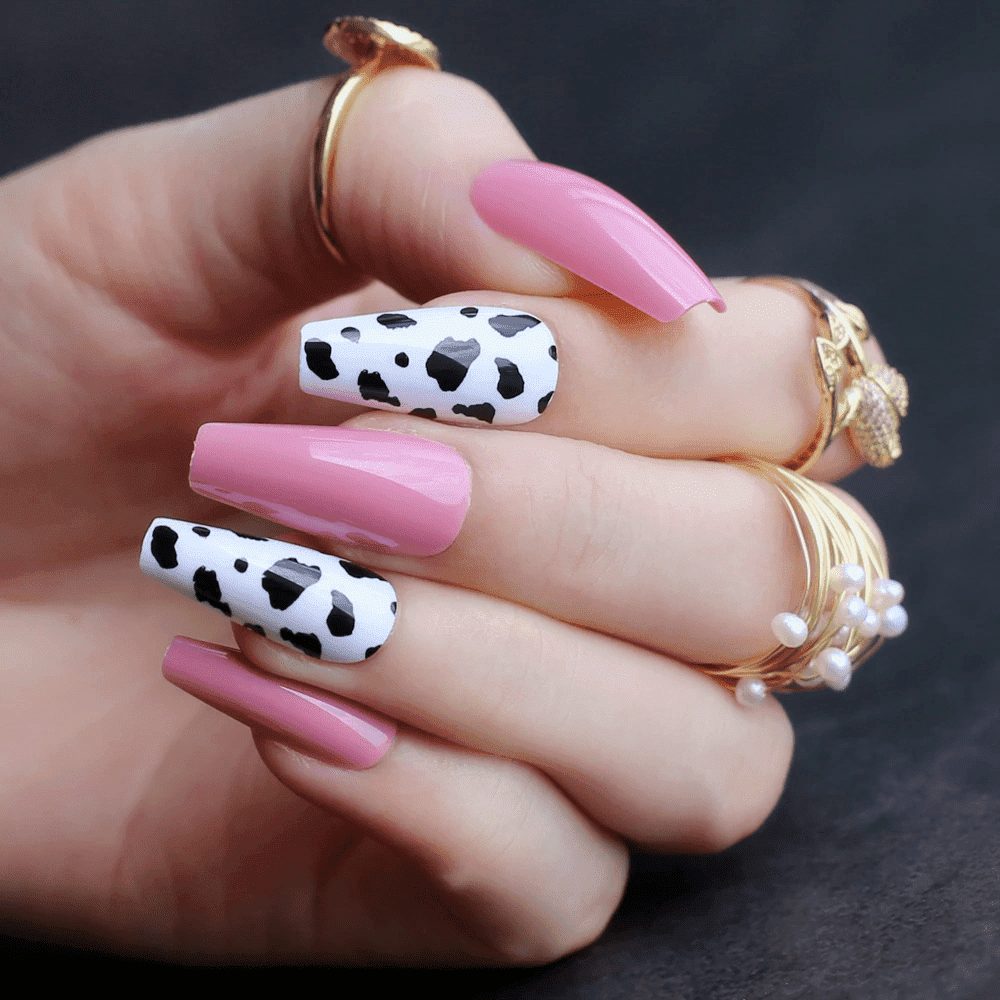 This pattern has a whimsical half-and-half design, some baby pink nails, and others with a cow print pattern. It even looks good on short nails.
10. Nude And Black Cow Print Nails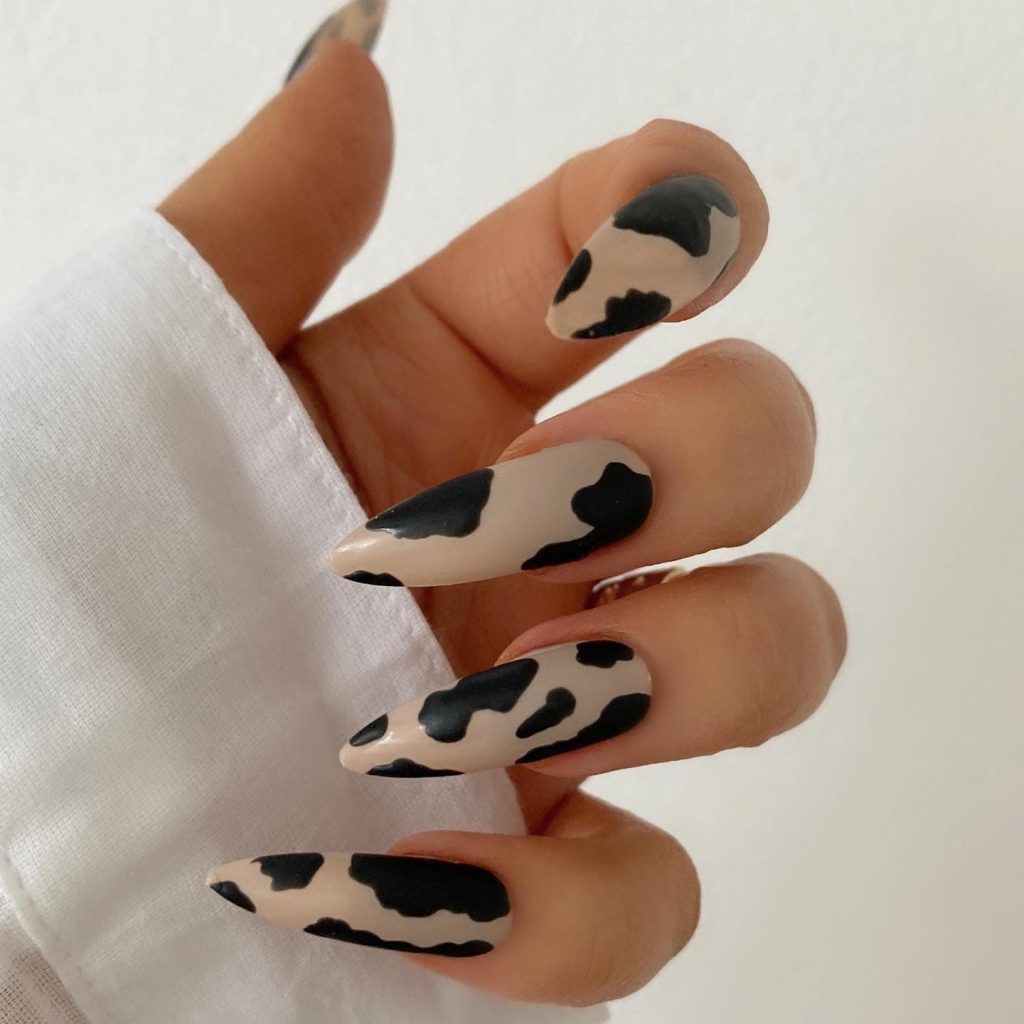 Nude and Black are both trendsetters of today's world and bringing them together as your nail design will be the best choice you will ever make.
11. Black And Gold Design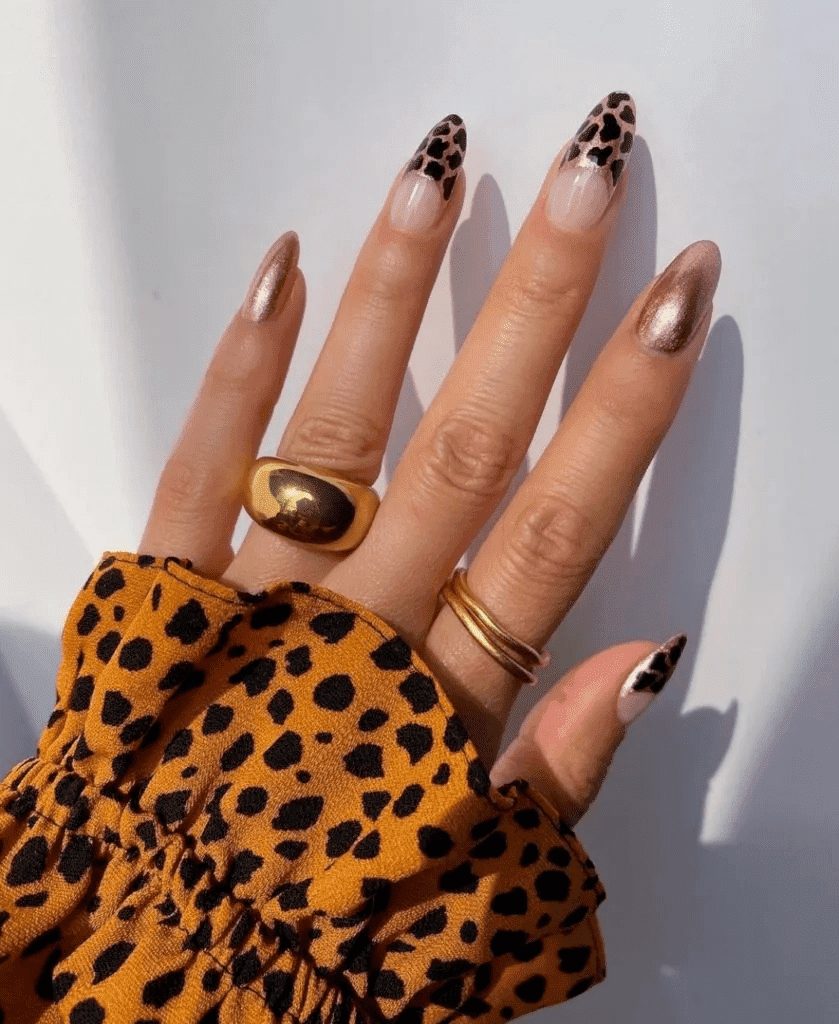 The gold and black design on nails will look stunning. If you genuinely like gold and black, you might have the design go all the way over your nail.
12. Black And Pink Cow Print Nails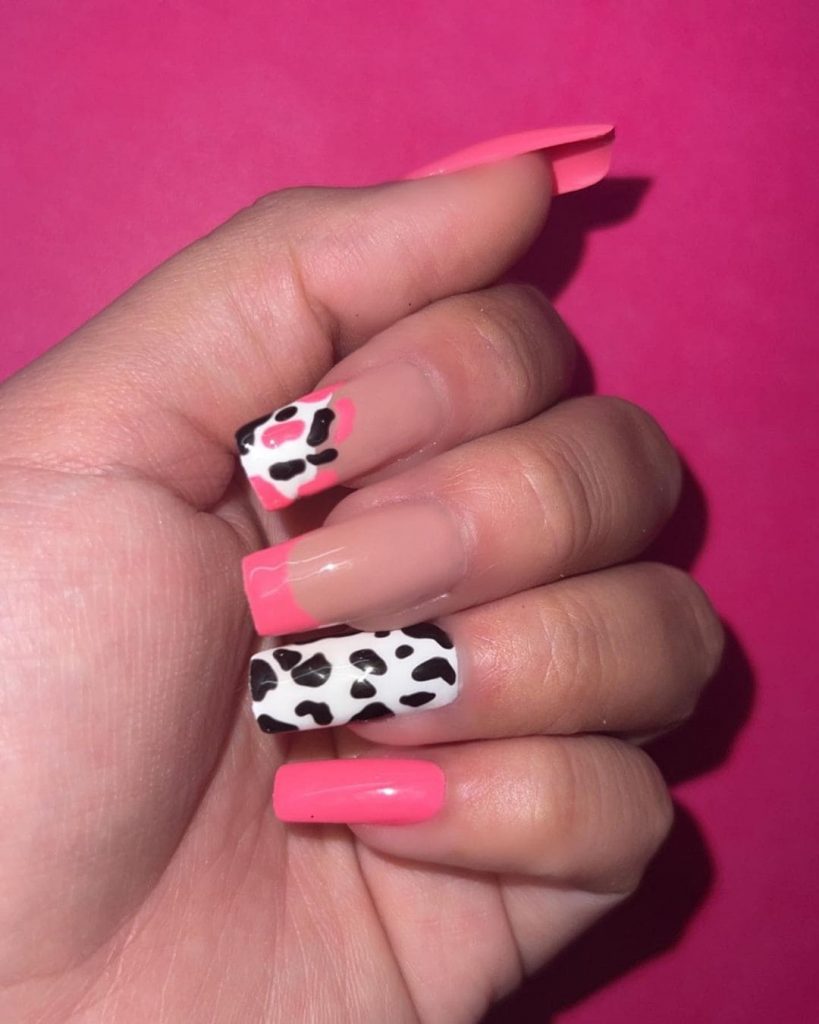 Another beautiful combination to print on nails is Black and Pink. From light pink to dark pink, both the colors will look good with black.
13. French Tips With A Twist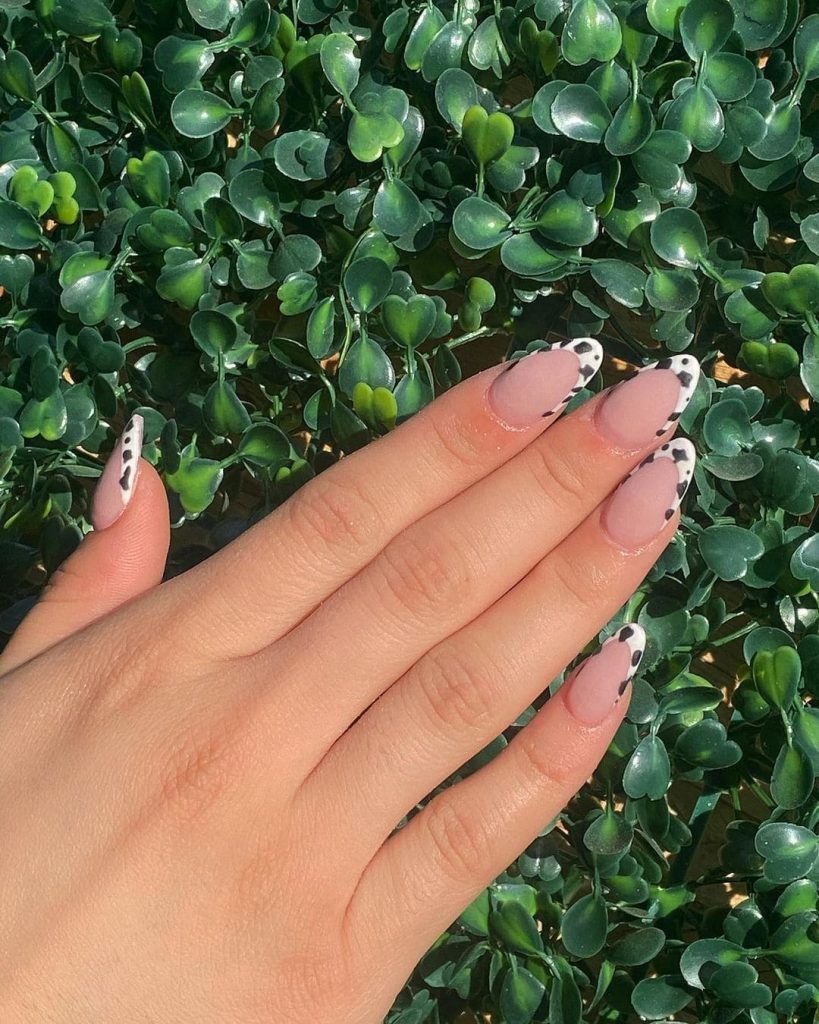 The pattern design appears on the tip of some of these nails, while it appears on the bottom of others. What a clever and fun outfit.
14. Brown French Tips Cow Print Nails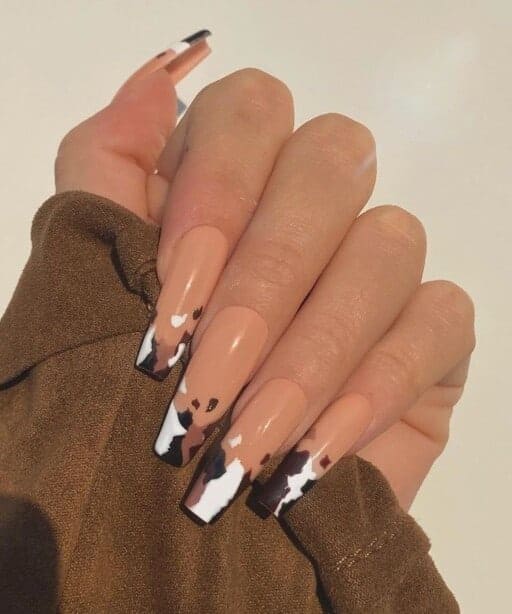 For a unique look, give your nails a touch of yellow and brown color with French tips. The cow design will look amazing on your long nails.
15. Use Colors And Make It Fun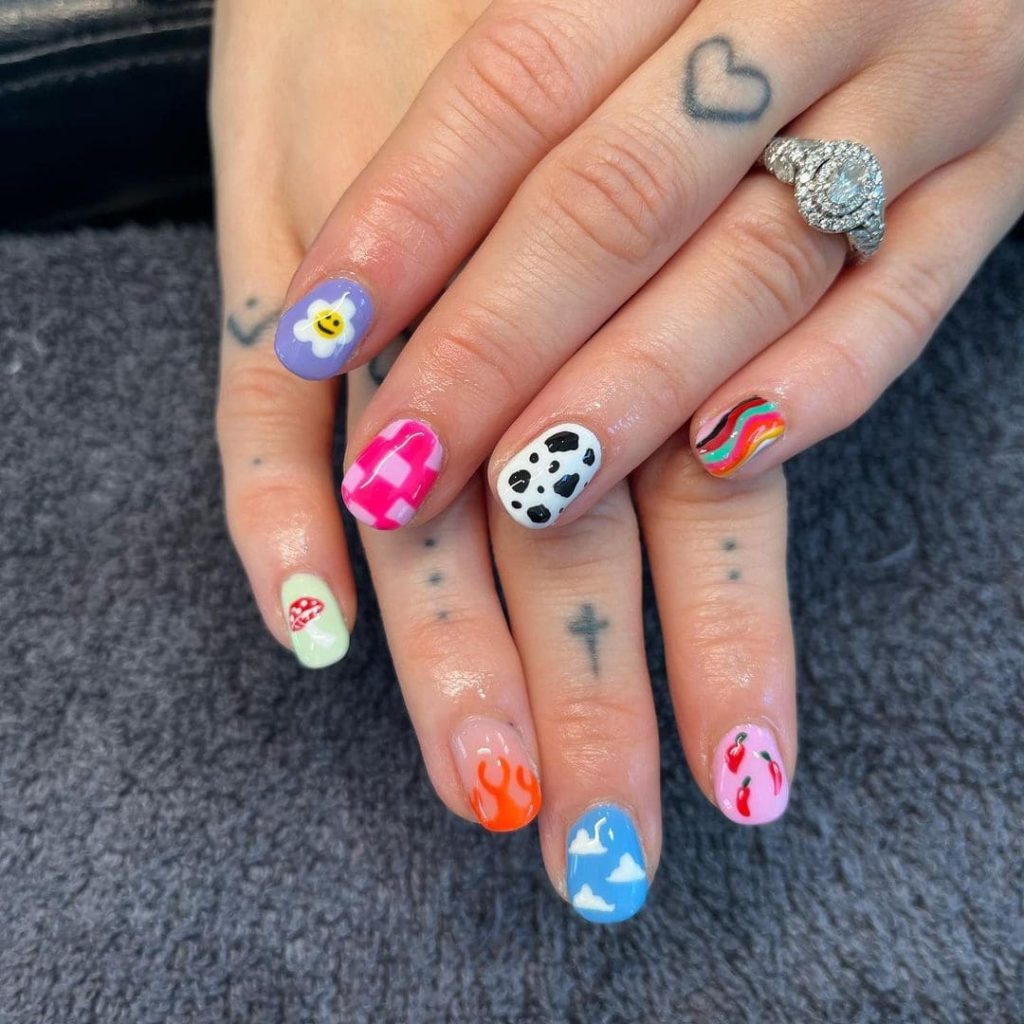 This colorful and imaginative cow print pattern will make you stand out. The addition of pink, blue, and orange to the color palette is fantastic.
16. Checkered Brown Cow Print Nails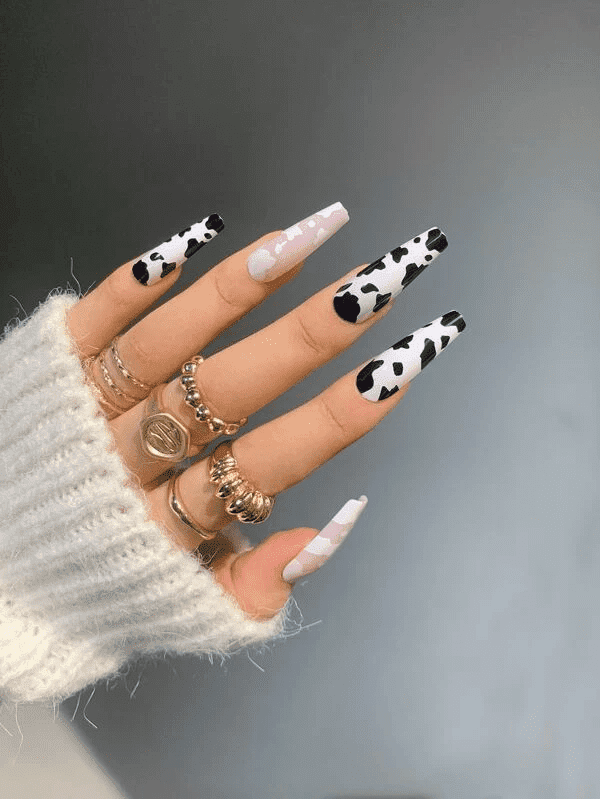 The checkered brown nails are the new fashion, and it looks fantastic on every hand.
17. Blue Cow Print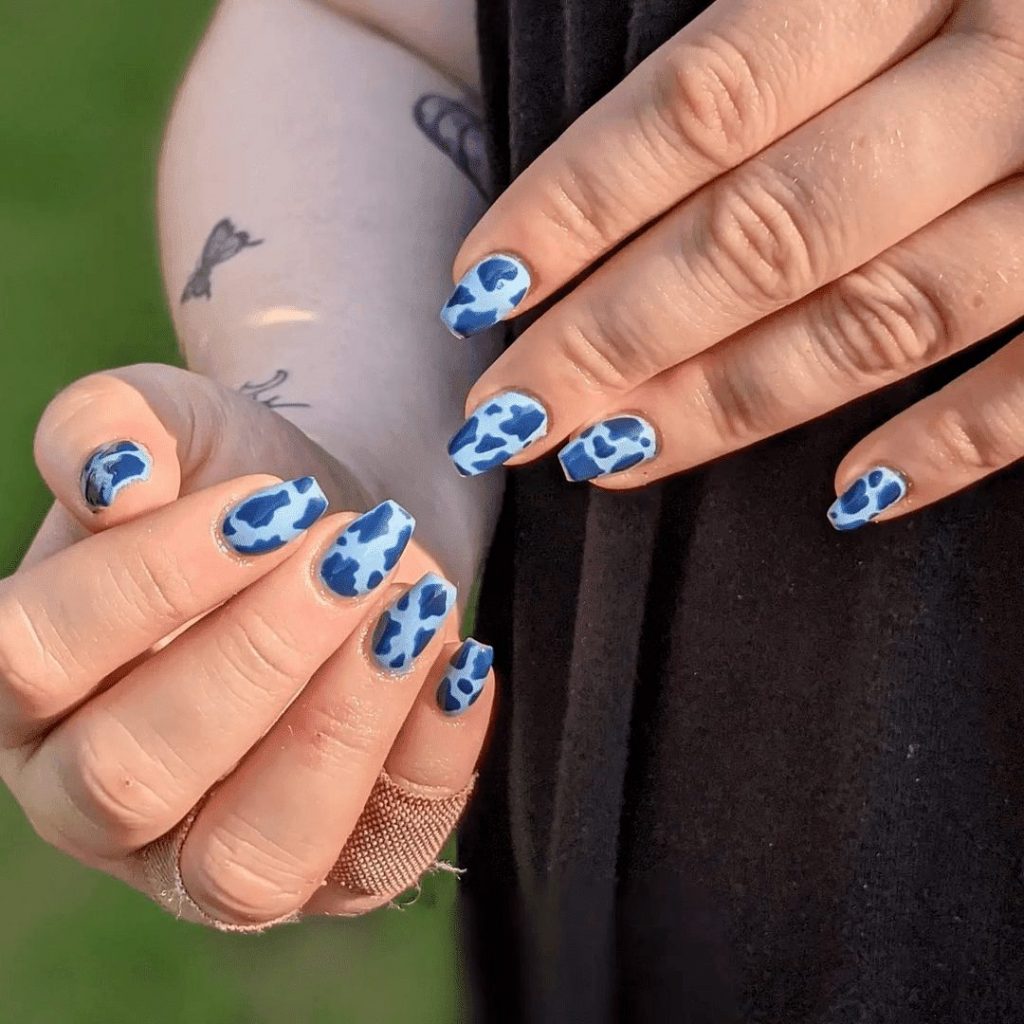 Add a twist by replacing the black color in the cow print nails with blue. It will look fabulous, promise.
18. Stiletto Design Cow Print Nails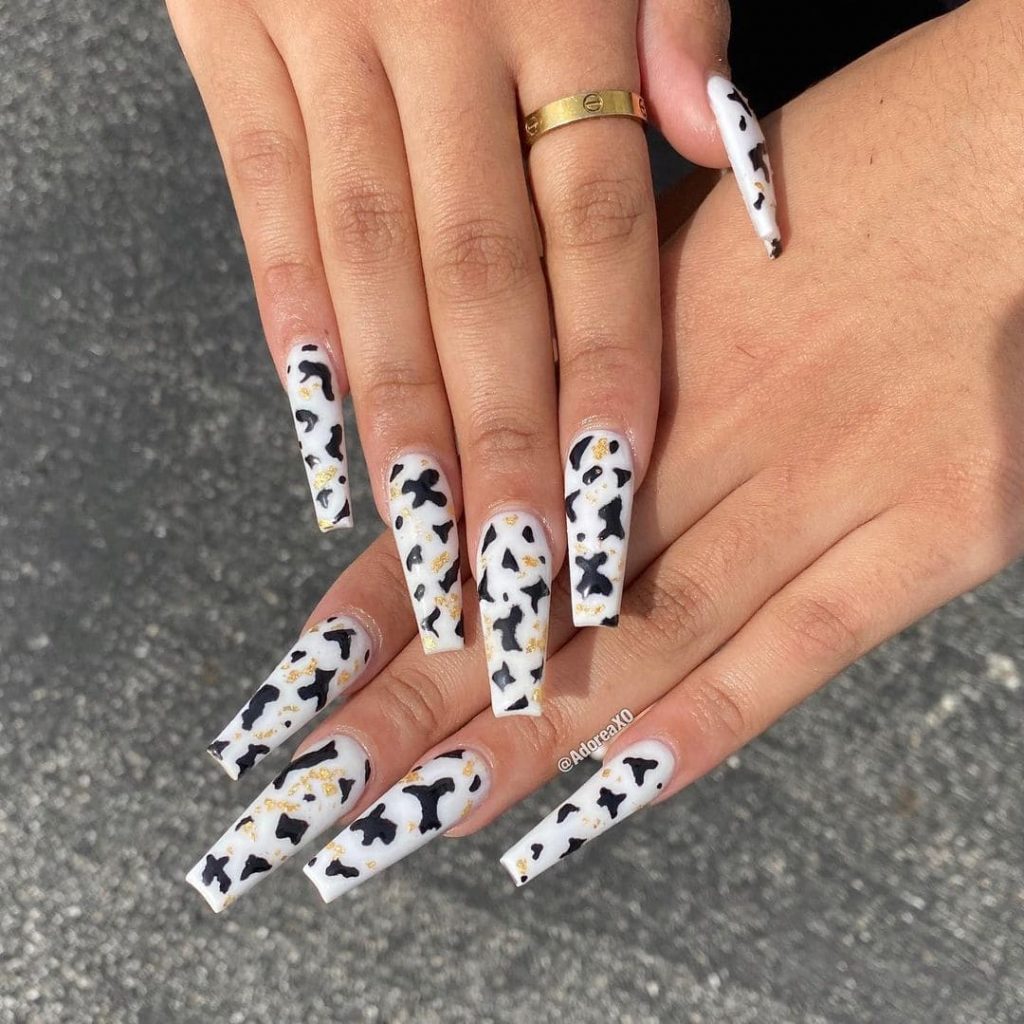 A great stiletto design will enhance the look of your hands. You can make your mind and get stiletto designs printed on your nails.
19. Cow Print Nails With Rhinestones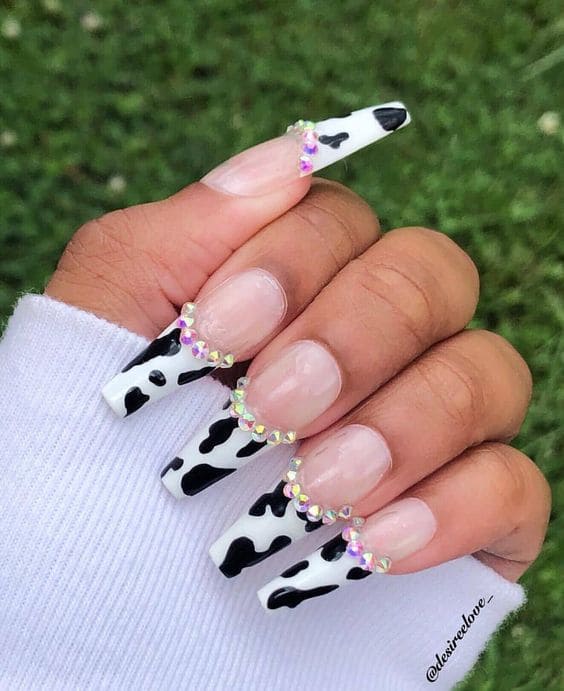 Add rhinestones and glitter to your nails to make a statement. With this lovely pair of nails, you're sure to attract compliments.
20. Rainbow Cow Print Nails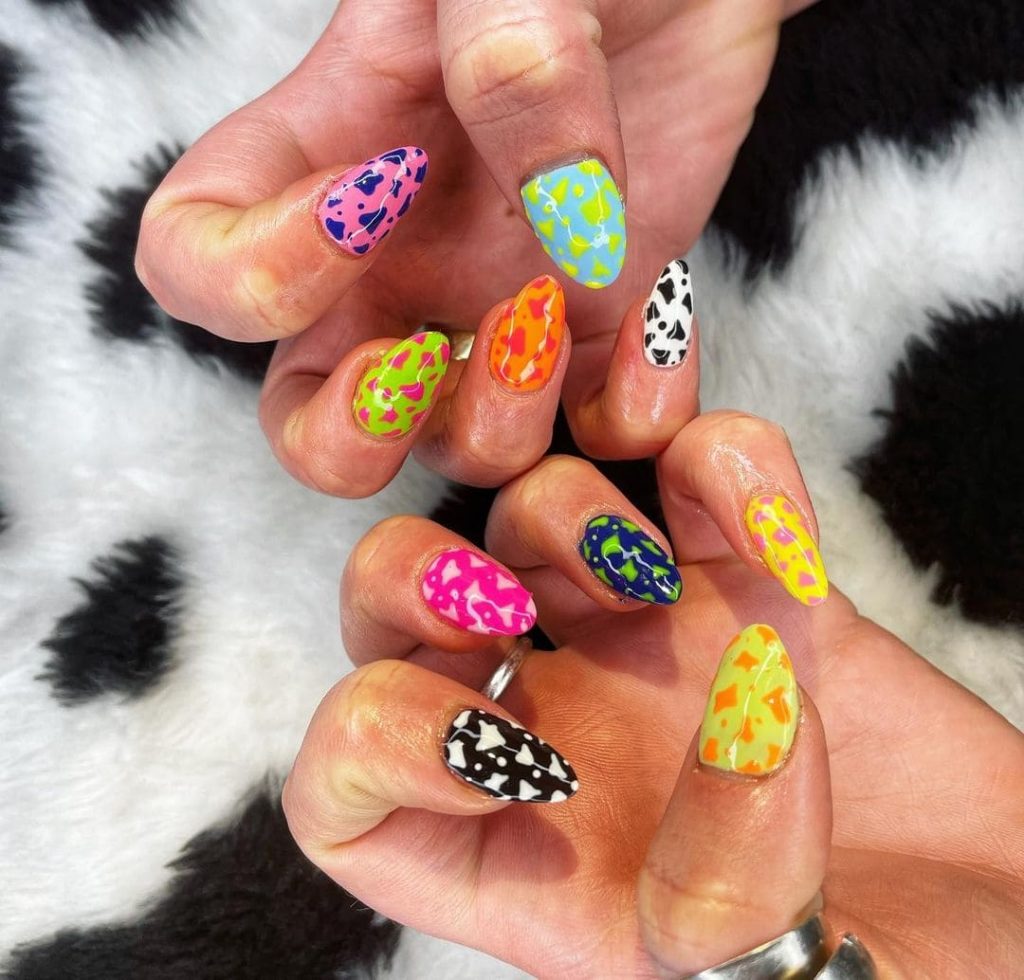 Rainbow Cow Nails will give a jolly touch to your personality. It comes in various patterns, and you can choose all your favorite colors to go with it.
21. Matte Cow Print Nails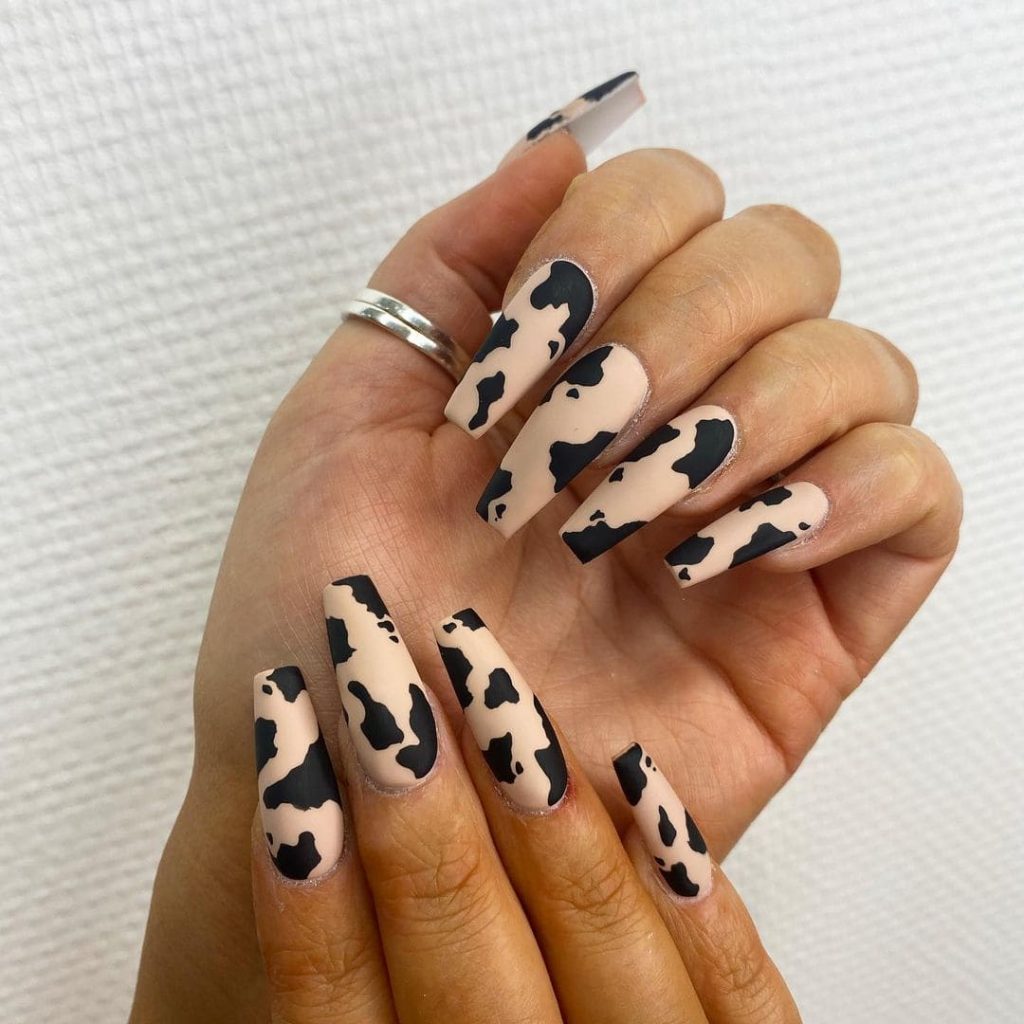 Consider a matte effect for your next cow print design. The design would look great on any length or shape of the nail. One used coffin acrylic nails to create this effect.
22. Fun Colors And Designs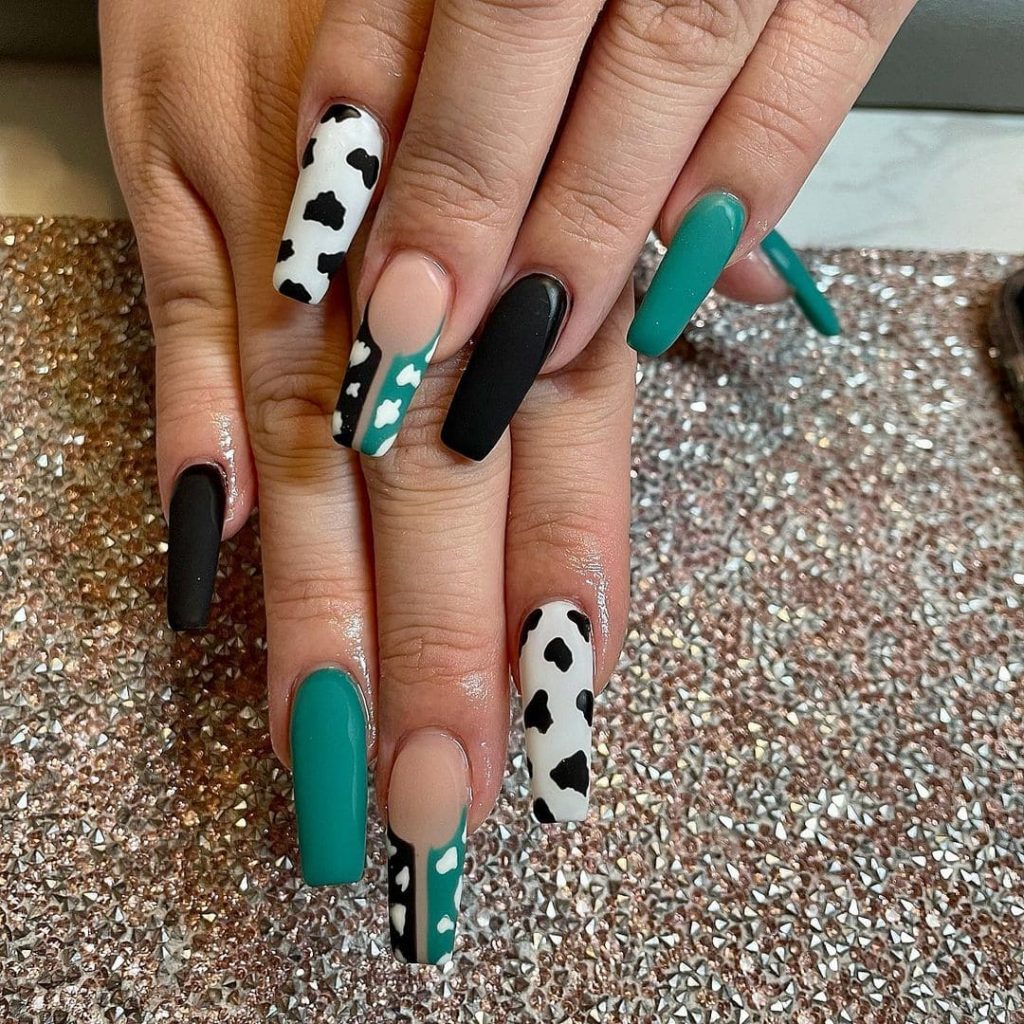 You'll enjoy this cow print manicure design if you like a look with vibrant colors and interesting patterns. To make your nails even more noticeable, add glitter.
23. Multiple Animal Print Nail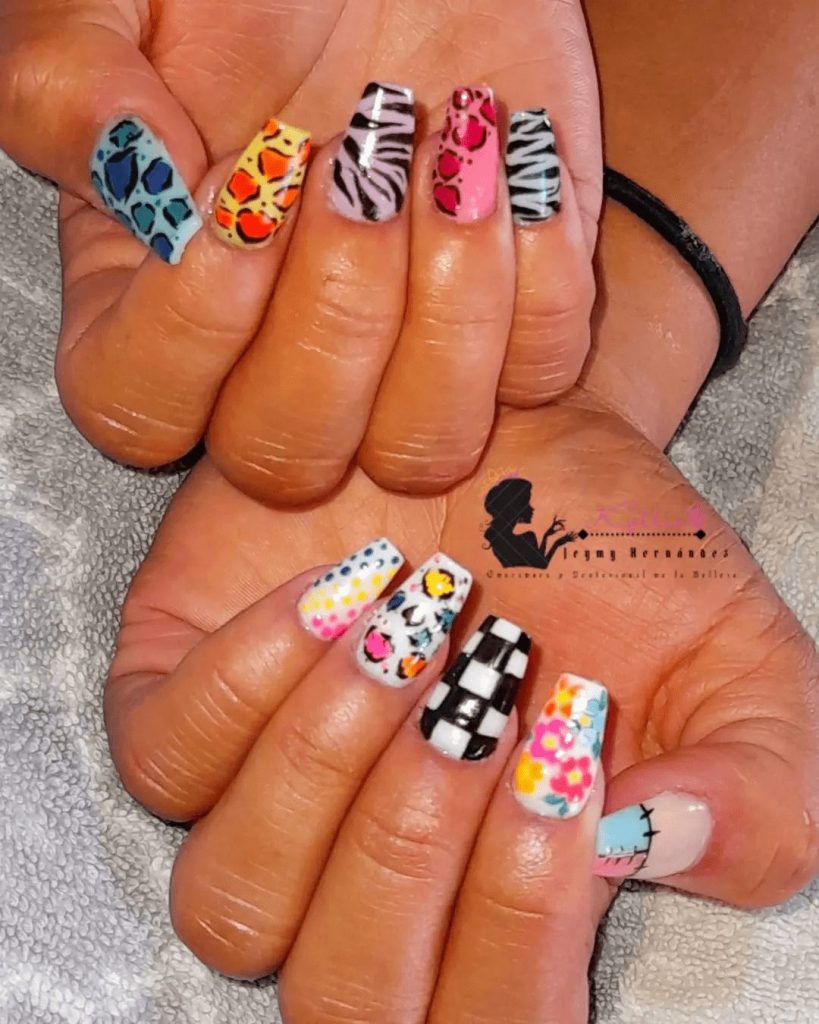 One can find cow prints, zebra prints, and other animal prints on these nails. Choose between a separate design for each nail or a single animal print for all of your nails.
24. Long Acrylic Cow Print Nails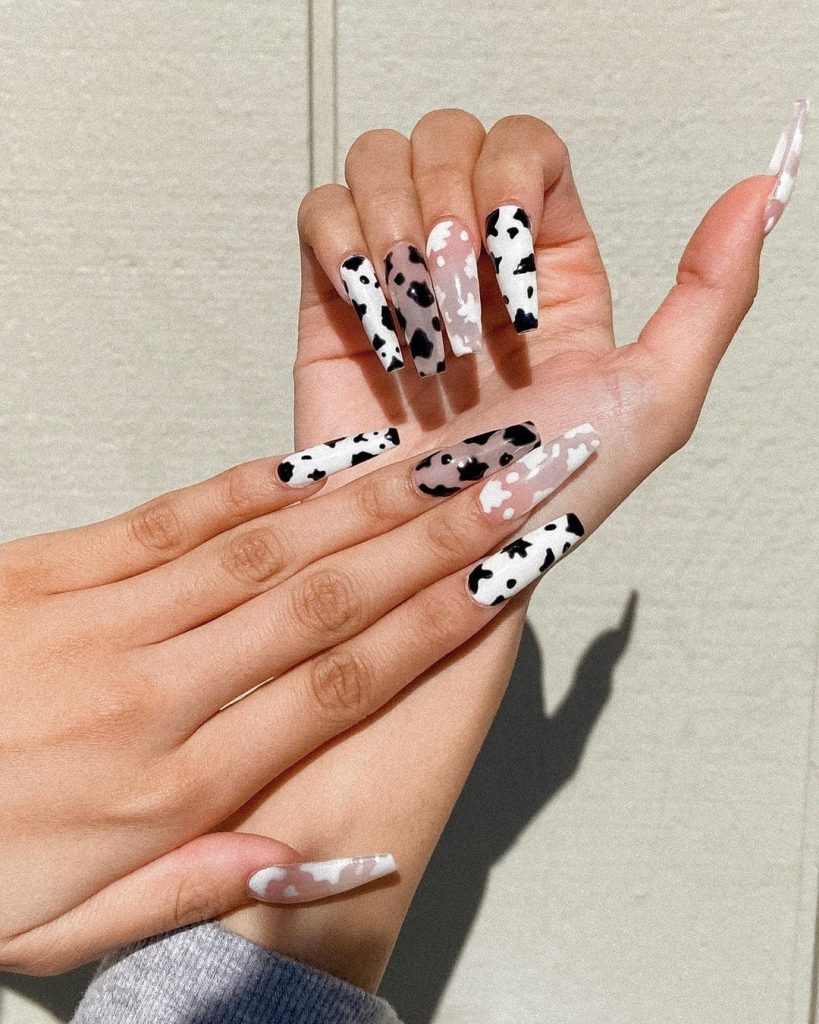 Long nails with Acrylic cow print are the best choice as it goes easily with any type of dress. Choose one for yourself too.
25. Blue Animal Print Nails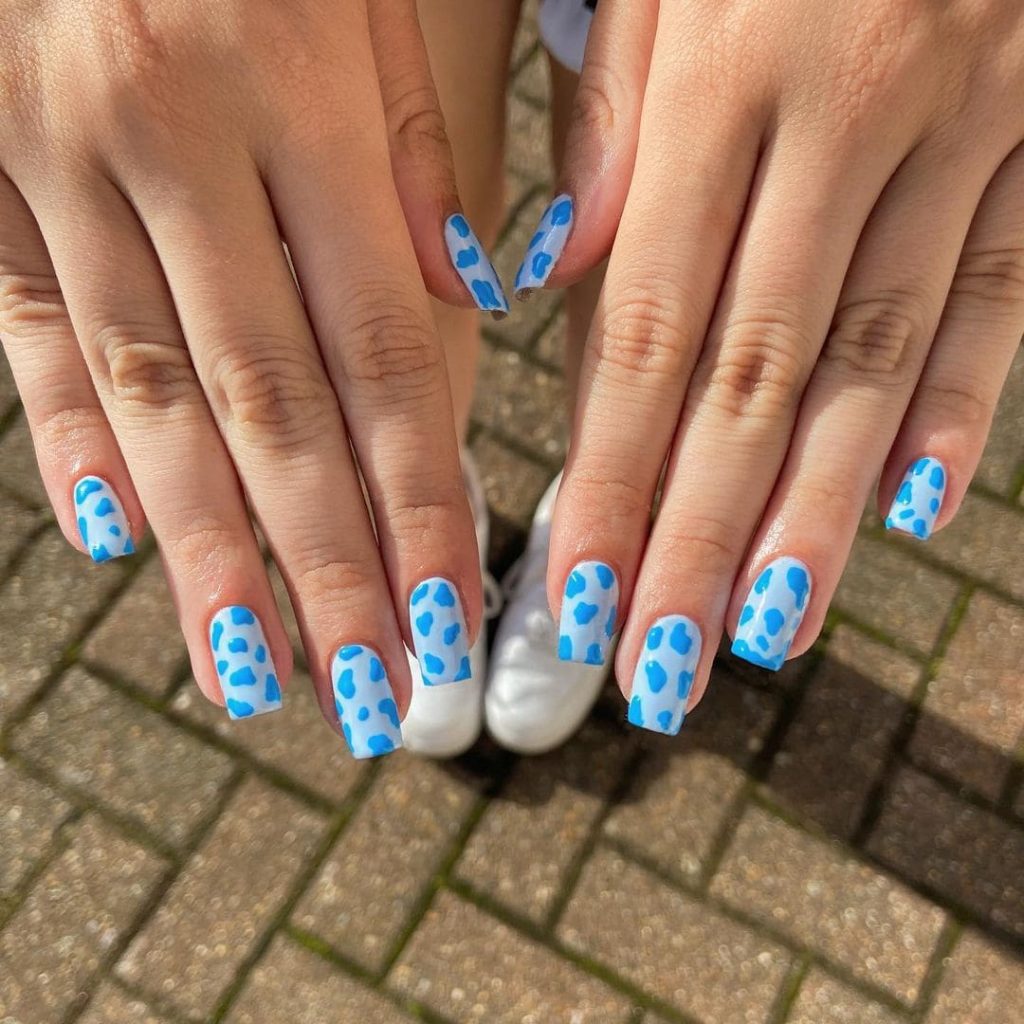 Have you considered making your cow print a different color? The design on these nails is a cute blue animal print.
26. Cow Print Coffin Nails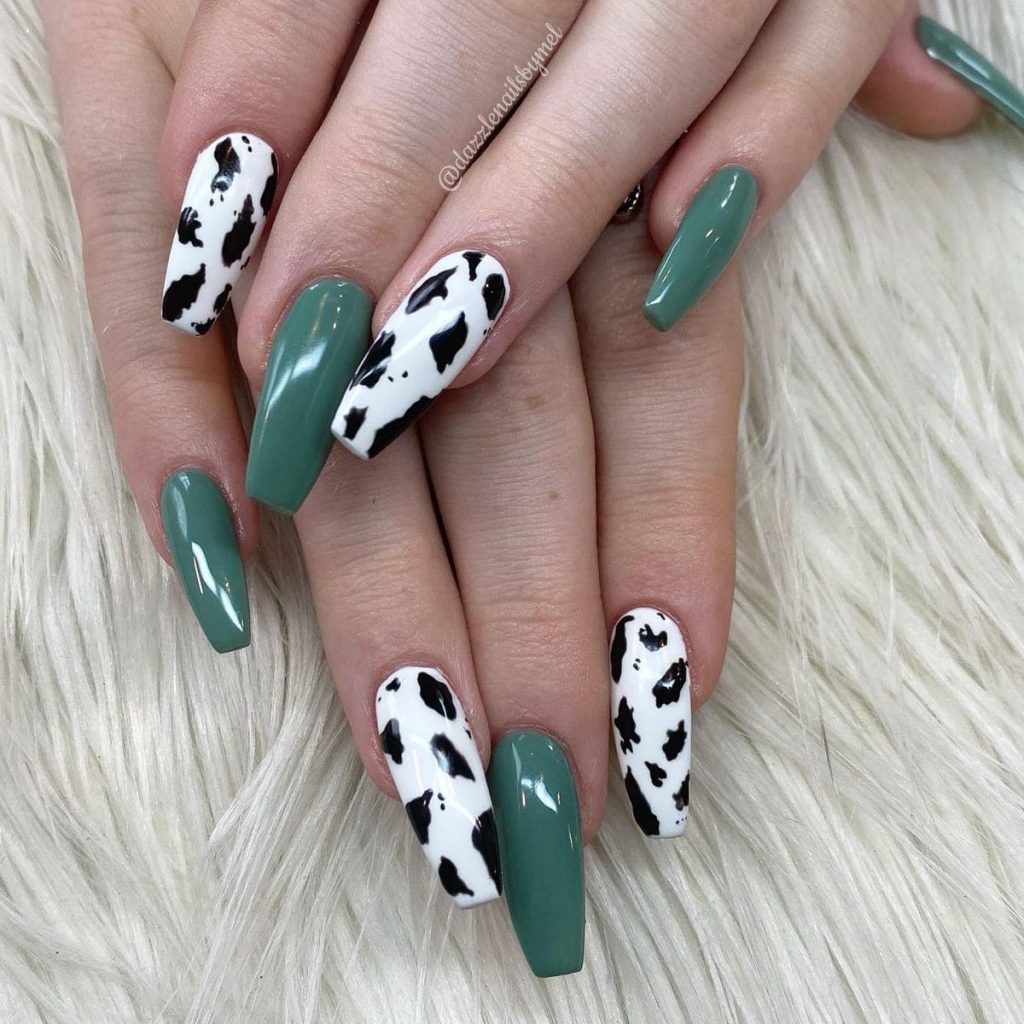 Your Cow Print coffin nails are perfectly suited if you love wearing types of denim or western. This nail design is perfect for everyone.
27. Acrylic Cloud And Cow Print Nails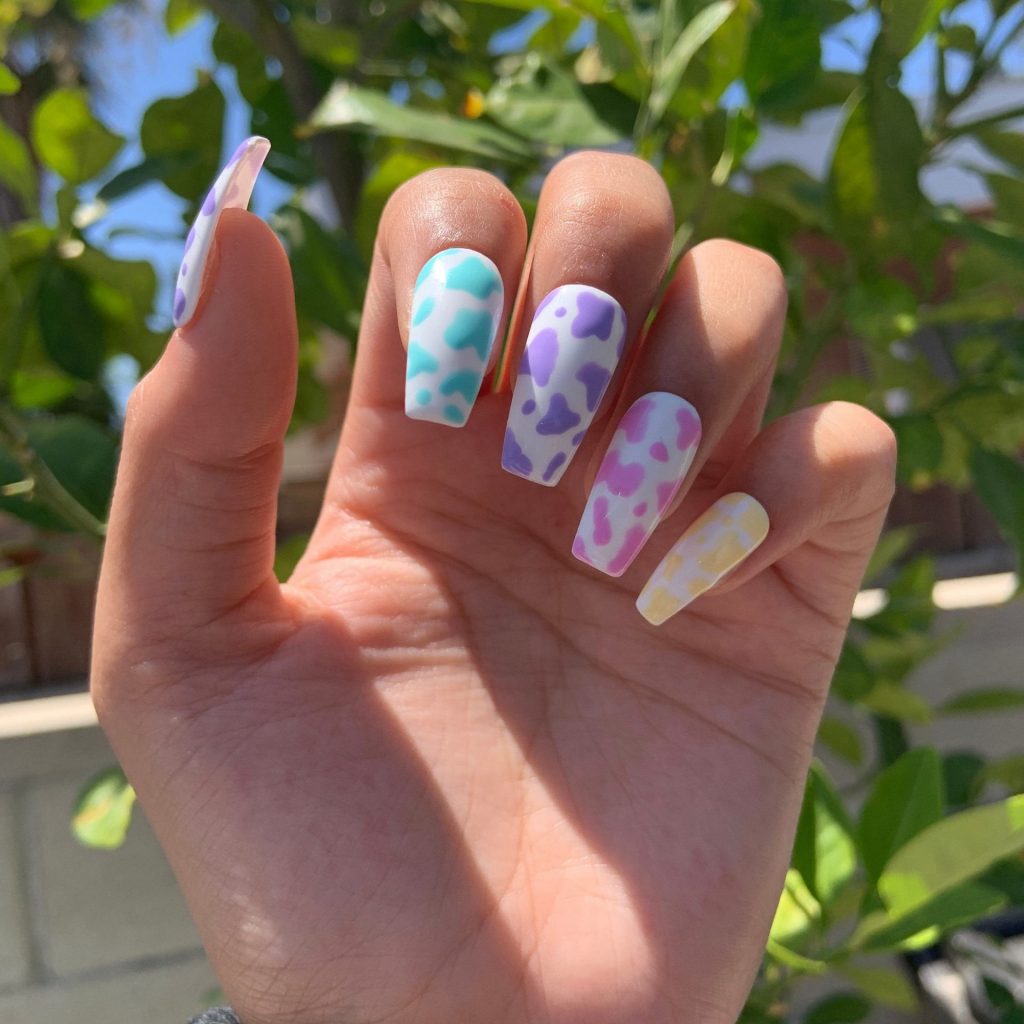 Acrylic clouds and Cow nails will surely attract attention. It looks peaceful and brings a lot of positive vibes.
28. Light Print Cow Nails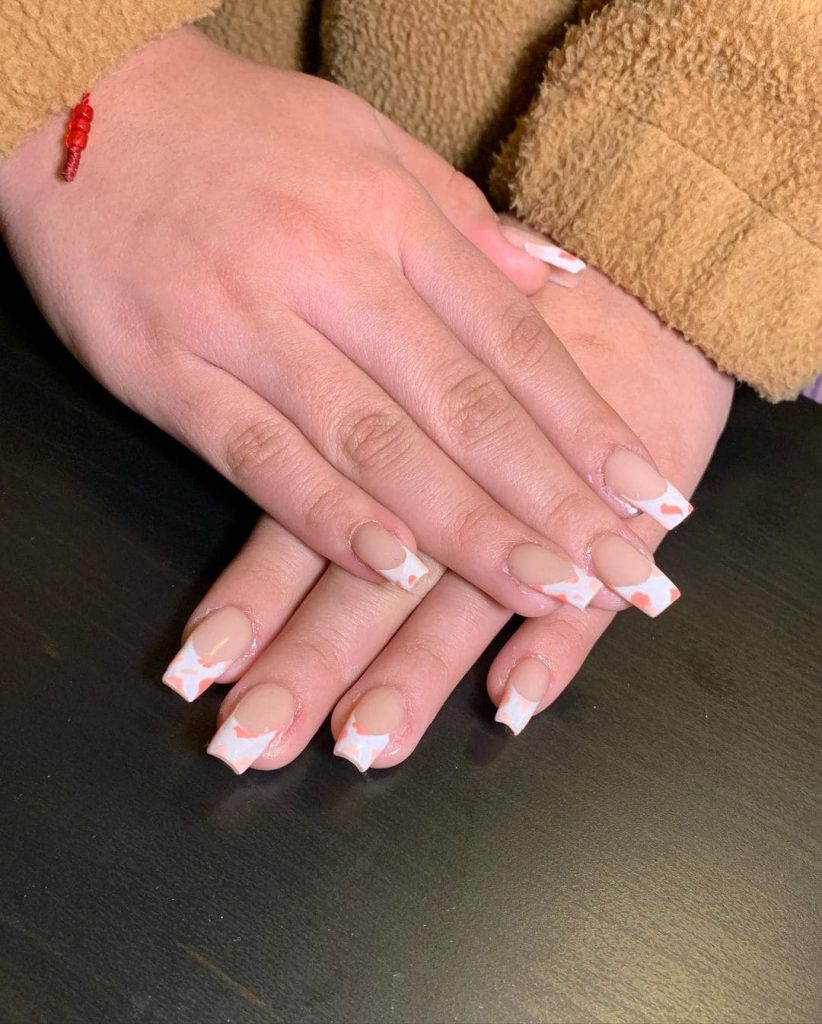 Try the simple cow-print nail polish trend, consisting of a white base with black spots. You can also experiment with the cow print nails by enlarging the black patches.
29. Colorful Cow Nails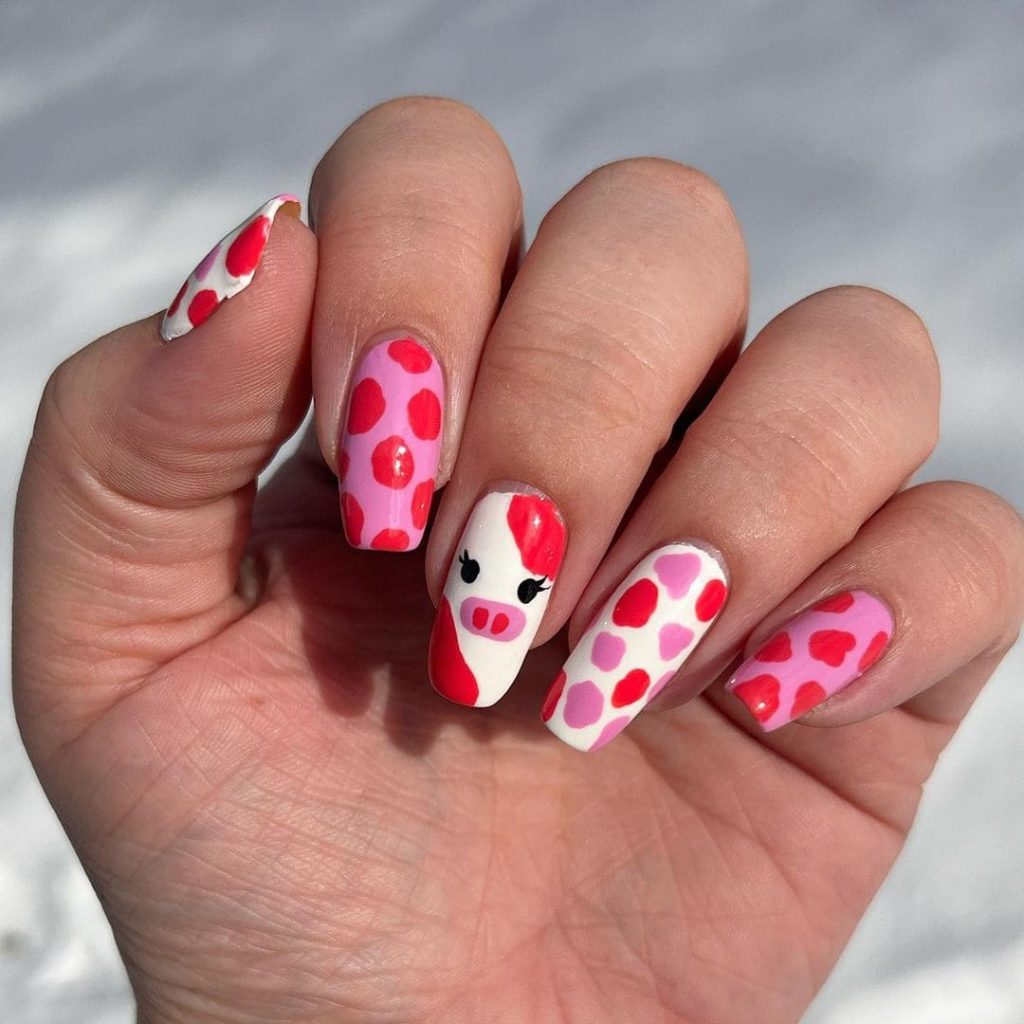 Get a design made over the Cow print with beautiful colours and give your nails a dazzling look.
30. Strawberry And Cloud Cow Print Nails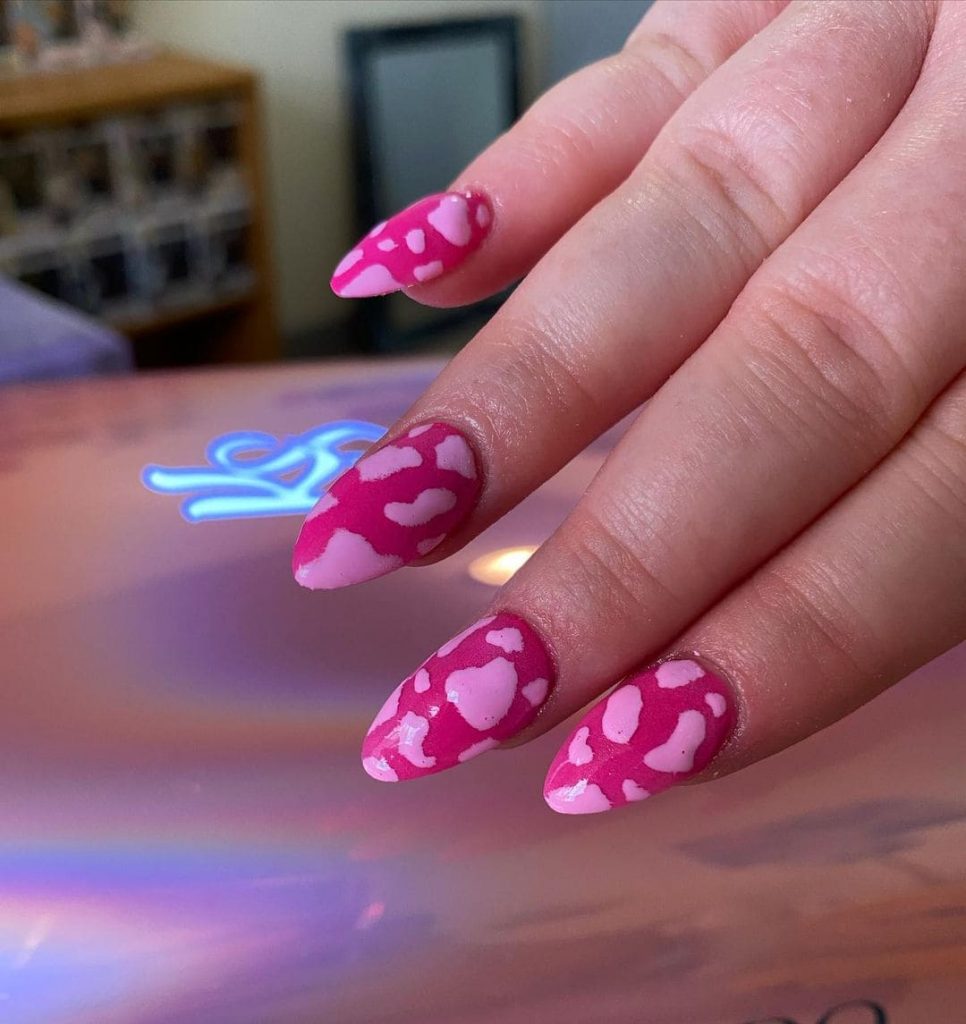 The combination of strawberry and cloud on your cow printed nails will be new and fresh. Try it out!