Recently, due to the complete effect of social distancing, it has become much more difficult to book a salon appointment. And the reason behind booking an appointment is to remove the gel nail polish, which can only be done if it is safe amid recent situations. But with such a problem at your doorstep, give hints to start taking the matter into your hands. Knowing how to remove gel nail polish is now or never.
Generally, the first idea which comes to our mind is the temptation to bite or rip off the polish. It may sound dumb at first, but honestly, this is the first thing to come to our mind.
It's quite a tempting and weirdly satisfying idea to get the Gel Nail Polish off but strictly avoid it. You need to avoid it because peeling off your Gel Nail Polish also takes off the layers of your Nail bed. And this leads them from being susceptible to peeling and then ultimately breaking. 
So, it's better to avoid salons for removing your gel nail polish due to the current situation. You can try the DIY (Doing It Yourself) nail route instead, but you must know how to do it yourself. This is because any unconventional method can cause permanent damage to your nails. 
But by some important steps, you can easily remove those Gel Nail Polish off that too with the items which are already present at home. A simple Gel Nail Removal guide can also help in getting a great start by keeping your nails healthy.
Tool Kits Needed
Acetone
Acetone is the primary element of this tool kit. This is because Acetone works with all its strength to remove the Gel Nail polish off. Acetone is generally stronger and more effective than non-acetone nail polish remover. And particularly, this makes it exactly what you need to remove those Gel Nail Polish off. Acetone helps in trapping the heat to help the Gel break down faster.
---
Cotton Balls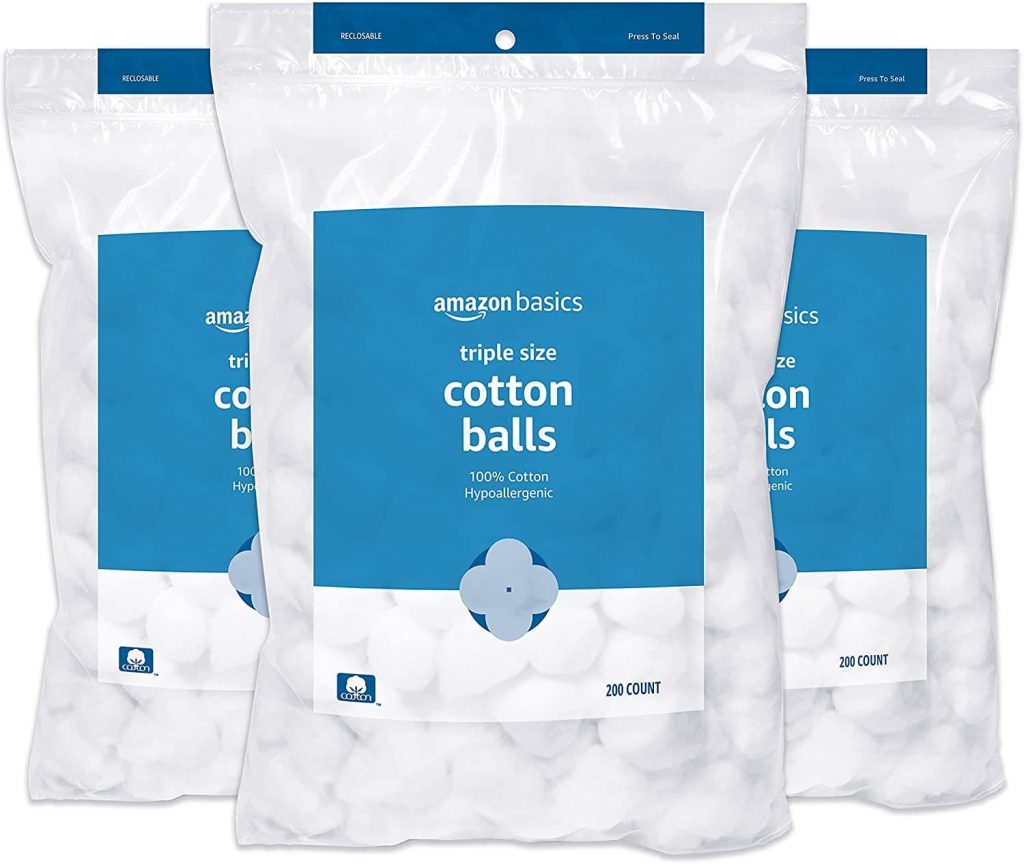 The next essential item in the list to remove Gel Nail Polish off is cotton balls. Cotton balls are hypoallergenic, biodegradable, and are quite gentle for all types of skin. These cotton balls can be of use at any time and are mainly used for soaking, applying, or wiping anything off. As acetone could be tough on skin, these cotton balls can be used for soaking and applying them.
---
Manicure Sticks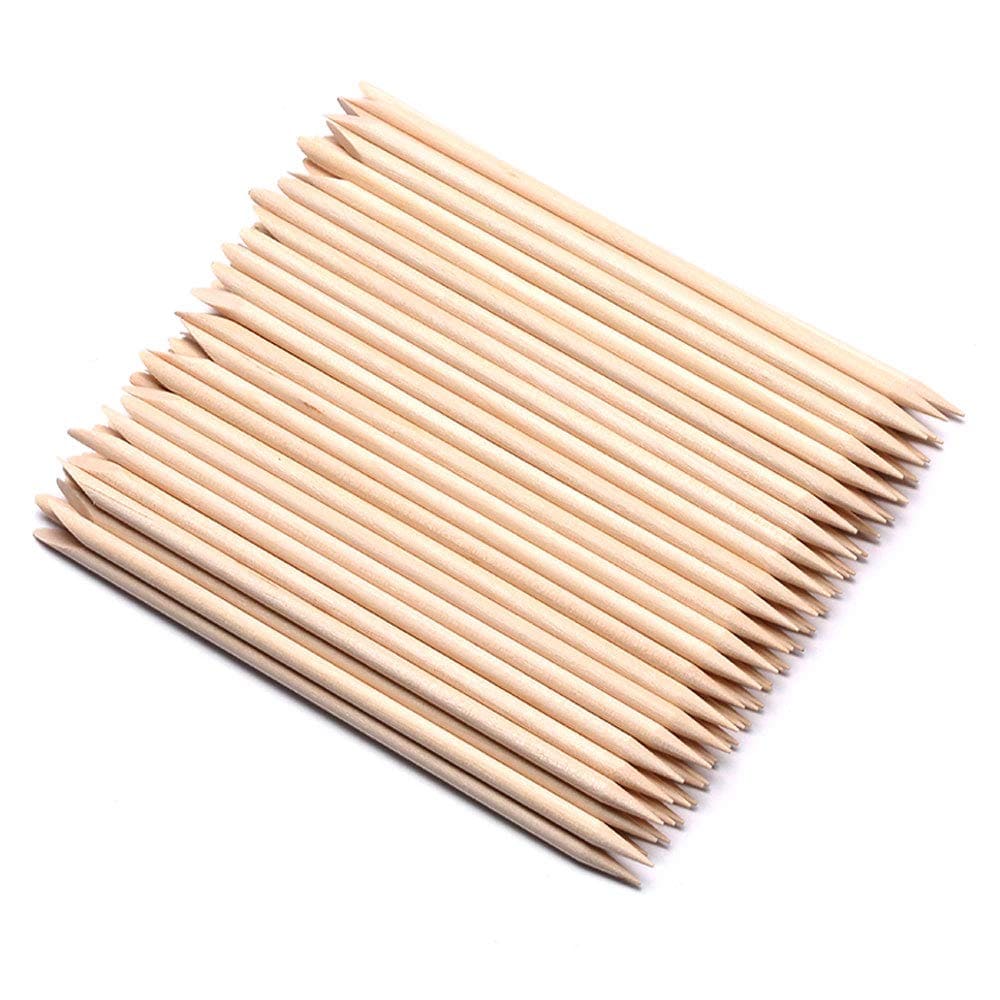 The next item on the list for removing Gel Nail Polish Off is manicure sticks. These sticks help you to scrape any Gel Nail Polish residue off gently. And this can get done without peeling the Nail Polish off. It further helps in loosening the Gel over the nails.
---
Nail File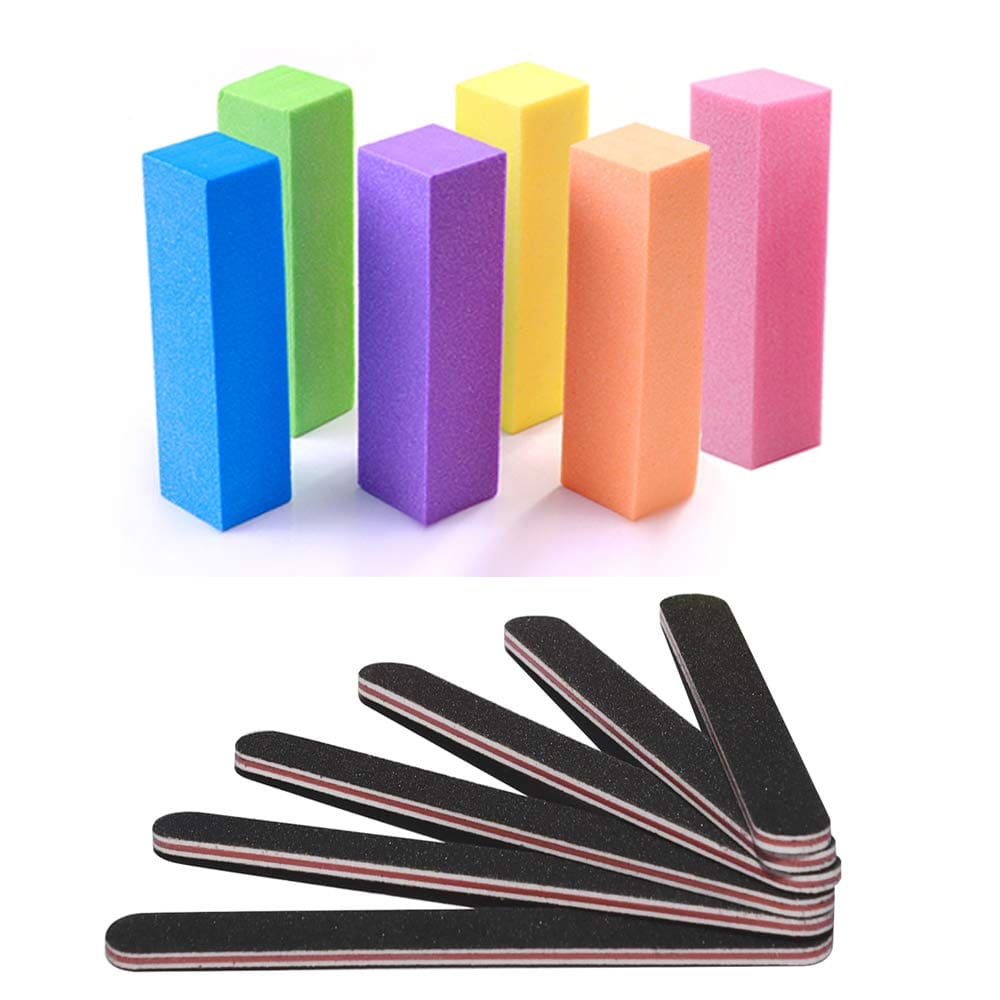 Nail File is another important item on the list for removing Gel Nail Polish off. This is a short strip of rough metal or emery board that is used to shape and make the finger and toenails smooth. It is used gently and slowly to sand down the top layer of the Nails.
---
Aluminum Foil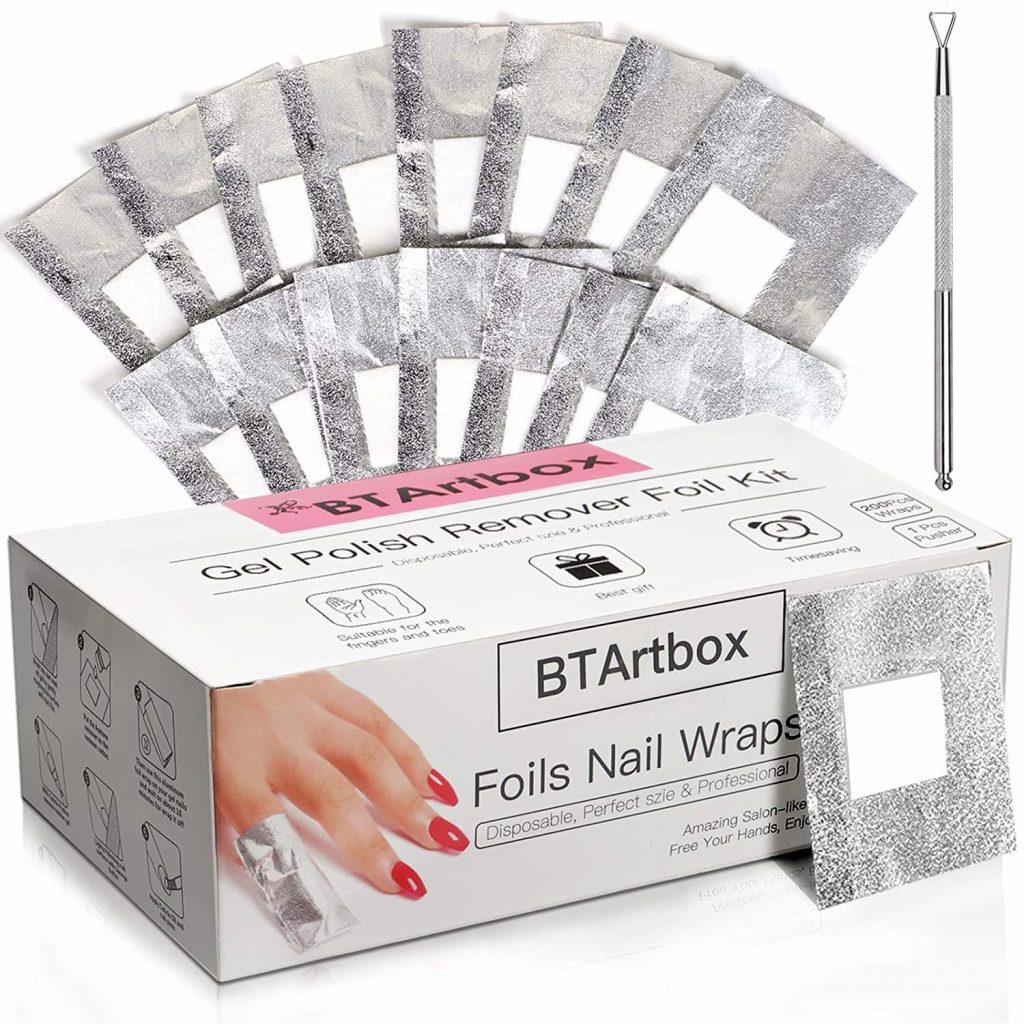 The essential item to be kept in this cart is Aluminium Foil. It is said to be quite essential in removing the Gel Nail Polish. These foils are wrapped around the acetone-soaked nails to be kept under the process of removal. It sticks out the necessary things to get the Gel removal done.
---
Dual Sided Nail Brush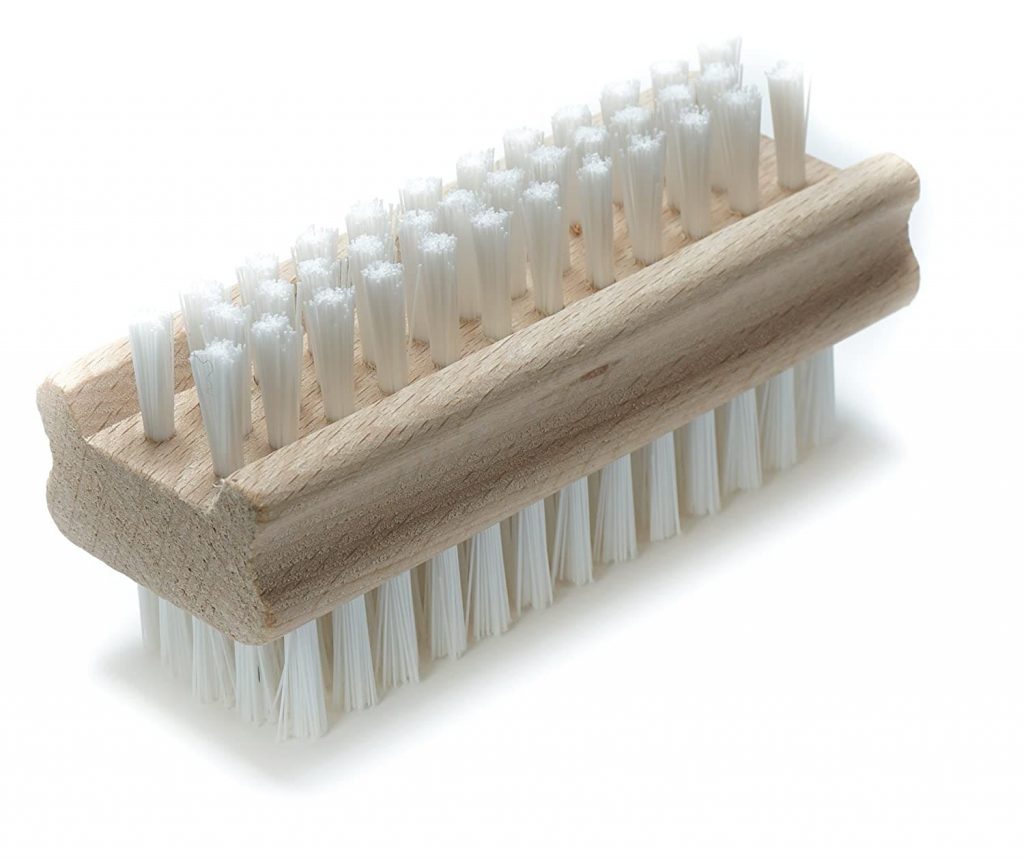 The last essential in our list of items to be used to remove Gel Nail Polish is a dual-sided Nail Brush. This Nail brush helps in cleaning your fingers and nails with its soft bristles.
This is used for removing the remaining residue. Its stiff and angled bristles give an accurate cleaning beneath your nails. It can be used dry and wet.
---
Steps To Be Done Before Removing Gel Nail Polish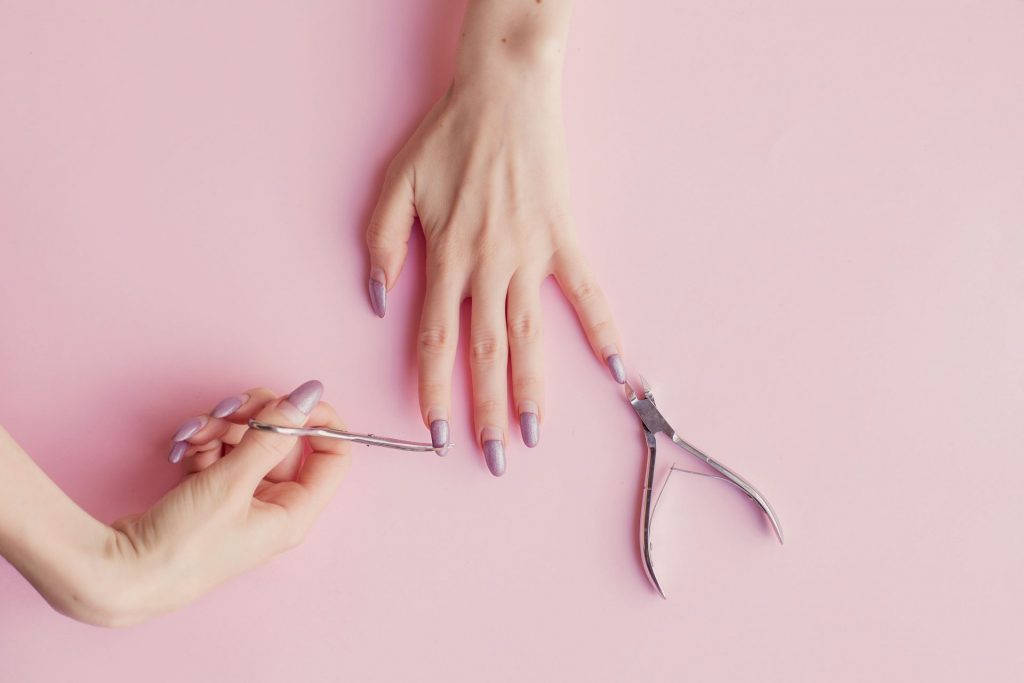 Take Your Time
Being patient with time is the most important part of this process of removing Gel Nail Polish at home. You should give it at least 30 to 40 minutes to remove the Gel Nail Polish appropriately. The wait for getting this done is quite long, so stay prepared to invest your time this way by just sitting and relaxing. Avoid any rush during this time, and if you perform this in a rush, you may end up damaging your nails. You may polish off instead of waiting for the acetone to soak it off properly.
Cut Your Nails
To remove the Gel Nail Paint, make your nails short by cutting them down. It will make the process easier and more comfortable. The releasing body heat helps in the removal process. It's really hard to remove the Gel from the free edge (the grown Nail which goes past the fingertip). This is because there is no release of body heat behind it. So cut your nails till the fingertip, so you don't have to face difficulties in removing Polish.
File The Topcoat
For breaking the seal, the topcoat must be filled with a Nail filer. It is suggested to file the topcoat before removing the Gel Nail Polish. It is used to remove the topcoats like Nail arts over the nails. The use of 100 grit sides would break the thicker Polish down. This is the key step before removing Gel Nail Paint, as it will enable the acetone to get in the lacquer.
Methods To Remove Gel Nail Polish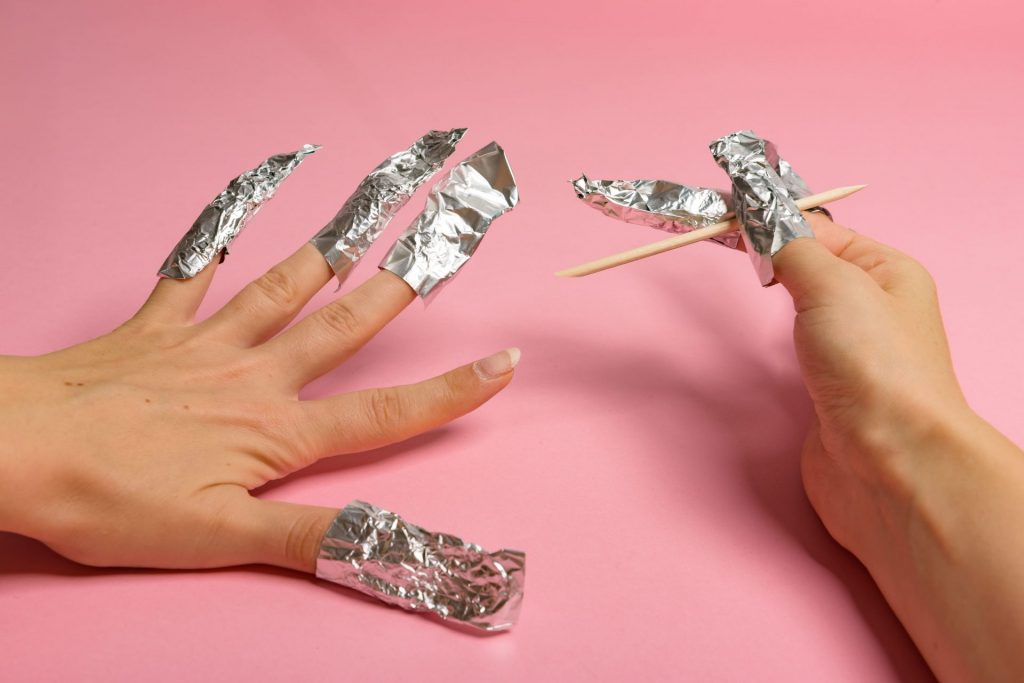 Protection Of Cuticles
To remove the Gel Nail Polish, acetone will be needed, which may damage the skin around your nails. So for that, you need to protect your rough cuticles. Protect the areas behind nails with cuticle oil before soaking it in acetone. Unless cuticle oil is needed, please don't get it any for fancy. Vaseline can be a quick remedy for it. The petroleum jelly will act as a barrier between Acetone's damage and your cuticles.
Loosen Up The Top Layer Using A Nail File
The topcoat of the Gel is an impermeable layer that seals the color in the nails. That's the reason behind the long durability of Gel Nail Paint. Scratching the top layers helps the acetone to fill in easily.
Soak The Nails In Acetone
Acetone is a much more effective nail polish remover. It is exactly that thing that you need to remove the Gel Nail polish. Soak the nails with cotton balls dipped in Acetone. Then wrap each finger in aluminum Foil respectively.
Scrape The Layers And Soak Again If Needed
While the acetone gets on work to show its magic, you take Manicure sticks and keep scraping the layers to remove the Gel polish from the nails safely and gently. If the Gel polish had been long soaked, then it wouldn't take much time and would peel off easily. But if any difficulty arises, then loosen the foil and soak it with acetone again. Keep repeating it until you safely remove all the colors off.
Complete It By Washing Up And Moisturize
Wash it thoroughly once you are done soaking in Acetone. Try putting another layer of cuticle oil. You can be a little fancy by using any petroleum jelly or any moisturizer to prevent acetone harm. Continue the moisturization for some days.
How To Remove Gel Nail Polish Off Without Acetone?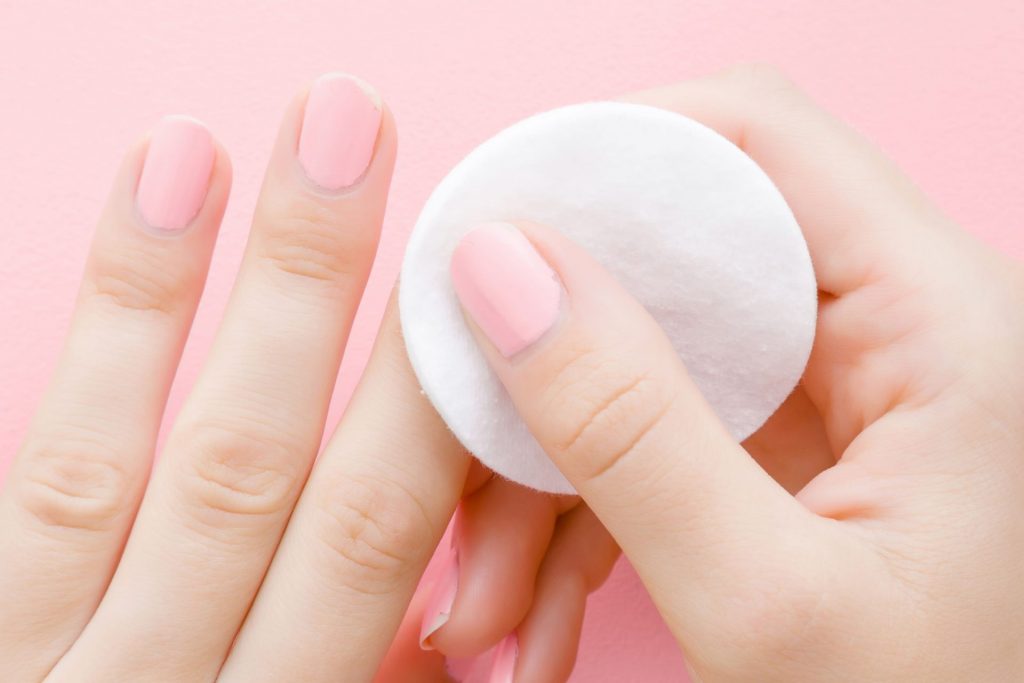 It's always a beauty to wear gel nail polish, but after every time, you also need to get rid of it. There are a lot of ways of removing gel nail polish from the nail, and among all those ways, acetone is undoubtedly the best one. But what can you do when you don't have acetone in your hand?
Well, there are a few other steps with which one can get rid of the gel nail polish easily, without the use of acetone. These methods include the chipping method, cutting the nail method, or soaking method! Although all of the above-said methods do work accordingly, the best one goes with the soaking method.
Soaking Method
The soaking method removes gel nail polish from the nails without using any type of hard chemical. This method needs certain ingredients like a bowl of warm water, a teaspoon of salt, a few drops of dish soap, and moisturizer. And then, the steps follow:
Step 1: Take a bowl of lukewarm water and add a teaspoon of salt and a few drops of dish soap within it.
Step 2: Without crunching your gel nail polish from the nails, just apply some drops of dish soap on it also. This will make the process even faster and easier.
Step 3: After this, put the nail inside the bowl and just leave it without putting in much effort. The salt and dish soap added water would make the gel nail polish smoother, and then it will slowly get rid of the nail.
Step 4: Once this process is executed, apply some available moisturizer that will make your nails feel much better.
Tips For Uneven Nail Surfaces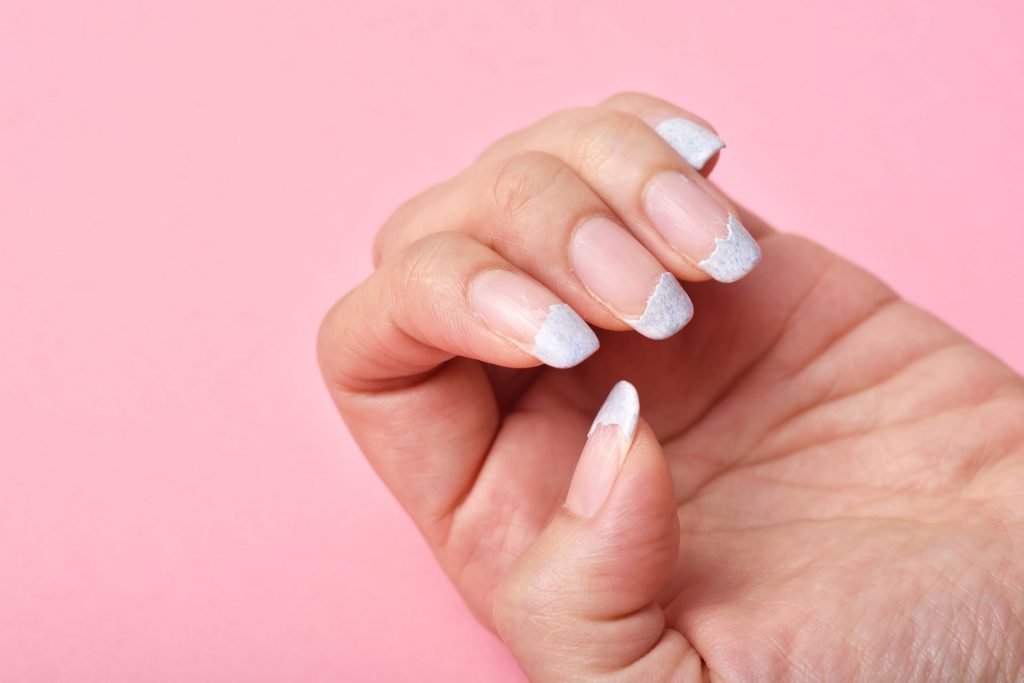 Although it's always great to have some better nails to flourish, what if the natural nail surfaces are not that healthy, it becomes quite important here to get some even nail surfaces, which some proper execution can attain.
Moisture Your Nails
Moisturizing nails is quite a normal way to keep the nails in a better form. Even when your nails are uneven, moisturizing nails can help them get into better shapes. Following this process, it can be better to moisturize the nails before going to bed at night. This can let the skin and the nails absorb the maximum amount of moisture within, which can be really fruitful.
Keeping Nails Neat and Clean
Shortening nails can really help in reducing the range it can get through. But it also is in your mind that the nails should also not get over-trimmed. Over-trimming the nails can cause them to look more uneven. But getting a regular trim of the nails can give them a better look with time.
Stop Picking and Biting the Nails
Picking or biting the nails while thinking or watching something is a regular habit of most people. This makes the nails lose their shape, which subsequently makes the nails worse. Hence, most doctors ask people to avoid this habit as much as possible.
Using Prescribed Nail Hardener
Once you start experiencing nail breakage or splitting along with their edges, visiting a dermatologist helps. A dermatologist can prescribe you to use which gel nail polish for the nails according to its requirement.
Not Messing Up With The Cuticle
Not picking or shoving off the cuticle or the ridges off can really help in getting the situation worse. It's not only the infection caused by picking up the cuticle but also pushing it back can also bang it on. This small mistake can make a permanent ridge template for all future nail growths.
Is It Hard To Remove Gel Nail Polish? Why?
It sometimes becomes a little tougher to get rid of the Gel Nail Polish at home. This problem is faced by a lot of people when you don't follow the proper process of removing. This is because the gel nail polish contains the gel topcoat, which is the nearly tough impermeable layer, which locks the color within itself. This makes the gel nail polish stick to the nails for a long time in return. And for which also the gel nail polish manicures last week's long and not just for some days.
But while removing them, this sticky nature makes it hard to get rid of them. Hence, you can use acetone or some other mentioned methods to clear them out. The proper execution of these methods can make it a lot easier than it seems to remove the gel nail polish off the nails.