Having quality makeup and skincare products is one thing, but keeping them organized happens to be an entirely different struggle. So while you acquire your choice's cosmetics and other skincare products, you also need an effective organization plan. There is no need to worry about leaving your makeup products in the open with IKEA makeup organizers.
IKEA Company was founded in 1943 by Ingvar Kamprad and started as a mail-order catalog doing business in Sweden. Over the years, IKEA  has grown and become a leading supplier of furnishing products worldwide. So if you need to furnish your home with excellent products, IKEA will make it happen.
For this reason, we will bring you great storage spaces with the IKEA brand. IKEA invests in producing unique makeup organizers that will make arranging your makeup an easy task. If you don't know, if you get your beauty products appropriately organized, you tend to use them often. Therefore, you will succeed in creating a skincare routine that most people struggle with.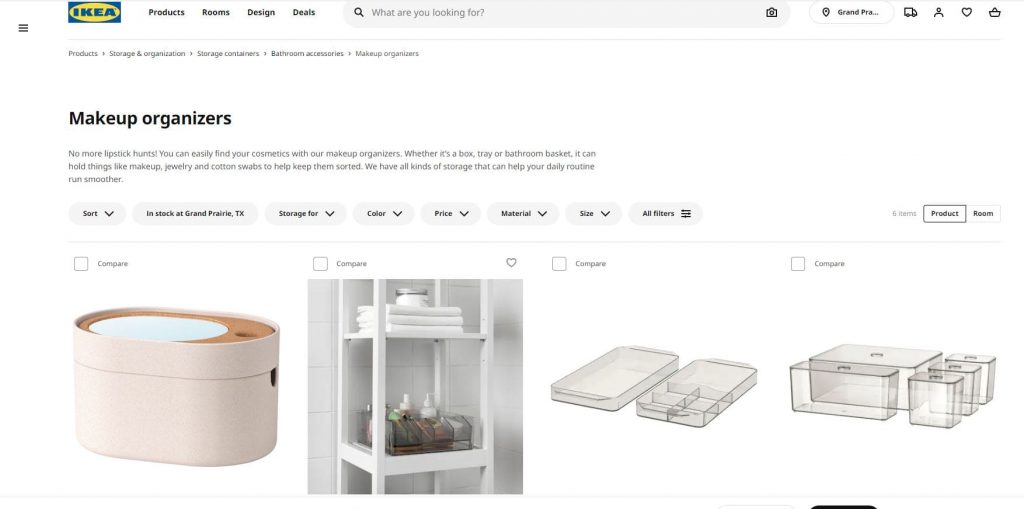 ---
1. The MOJAN Rotatable Makeup Organizer Storage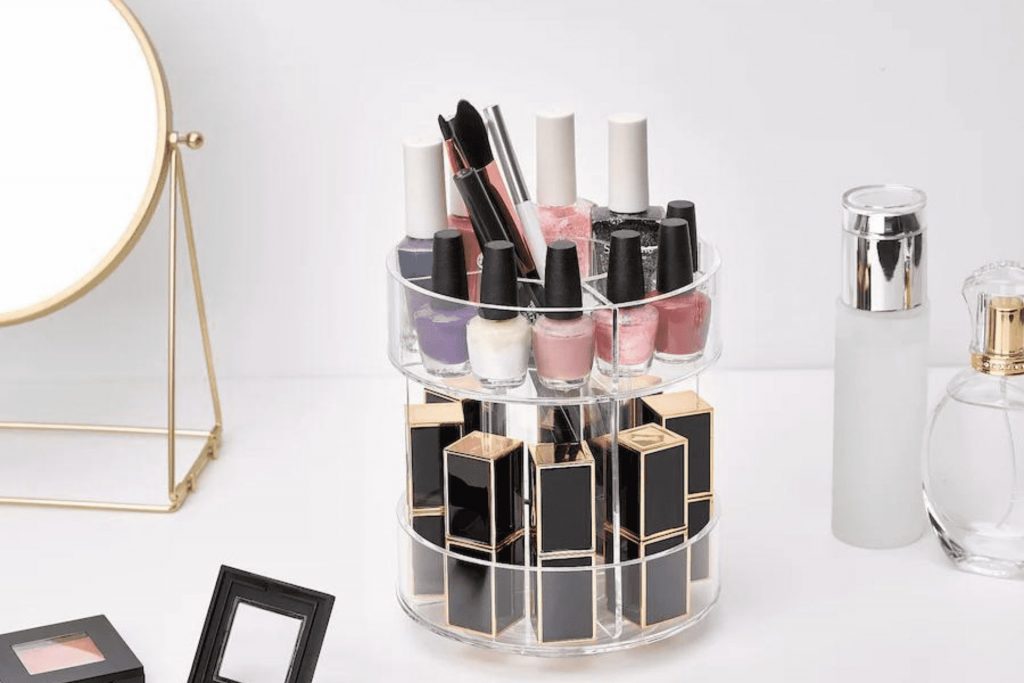 This makeup organizer will allow you to arrange your various makeups uniquely. Your eyeliner pencils, lipsticks, brushes, and nail polish will have plenty of space for storage. Since you will rotate the makeup organizer, you will find it easy to pick whatever you need.
You may still keep this item on your desk and have your pens and paper clips organized. With a height of 15 cm and a diameter of 13 cm, this organizer will sit comfortably on your dressing table or desk.
Features
It has a clear appearance. You will find your makeup with ease from the outside.
It has a two-story design. The two-story structure allows more space for your makeup.
It proves easily rotatable. You don't have to carry the entire organizer and replace it when you need to reach your makeup. You simply need to rotate it and get whatever you need.
Pros
Cons
Some people find it expensive
---
2. The KUGGIS box IKEA Makeup Organizer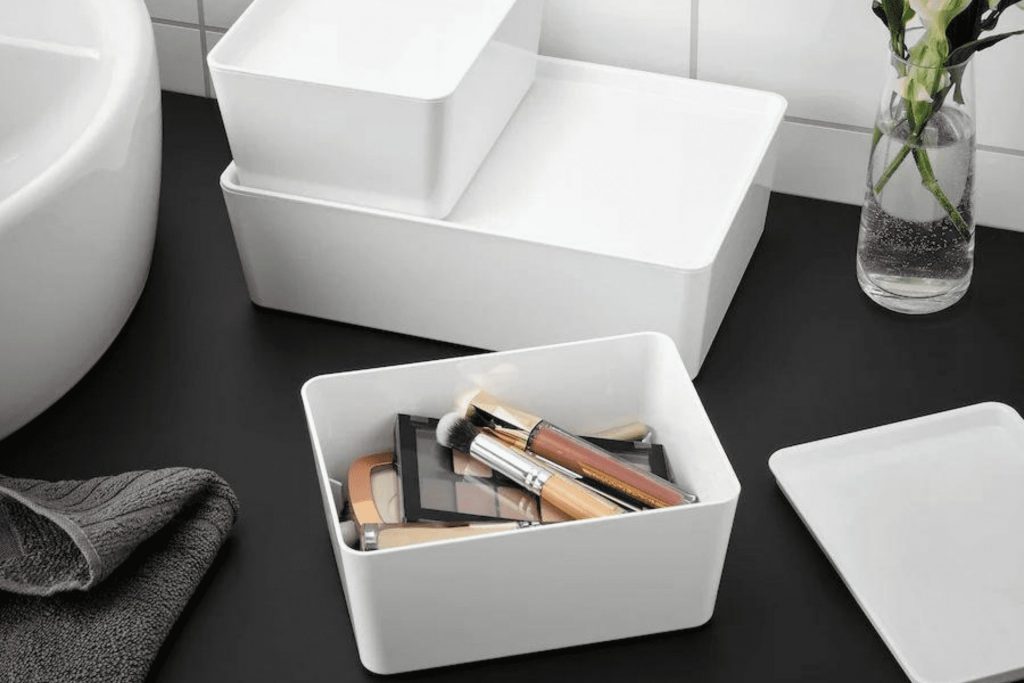 This small KUGGIS box will function as a perfect makeup box. Have you realized that the small makeup tends to disappear and quickly get lost? This makeup box will allow you to keep these small items safe even from dumbness. They will fit perfectly in the bathroom, dressing table, or on your office desk.
These makeup boxes come with a lid, and they make your makeup area well organized. You may purchase several of them and manage them on top of each other. I find them very effective in arranging your bathroom shelves by keeping small makeup items and even jewelry. The items inside will be moisture-free and safe.
Features
It has a lid that helps keep your makeup moisture-free
The white color helps in reflecting light. For this reason, the temperatures inside the box don't go high, and your makeup will be safe.
The small size allows this makeup box to take up little of your space.
Pros
Portable
Affordable
It takes up little space
Cons
Fit small-sized makeup only
---
3. MOJAN Makeup Storage with Handle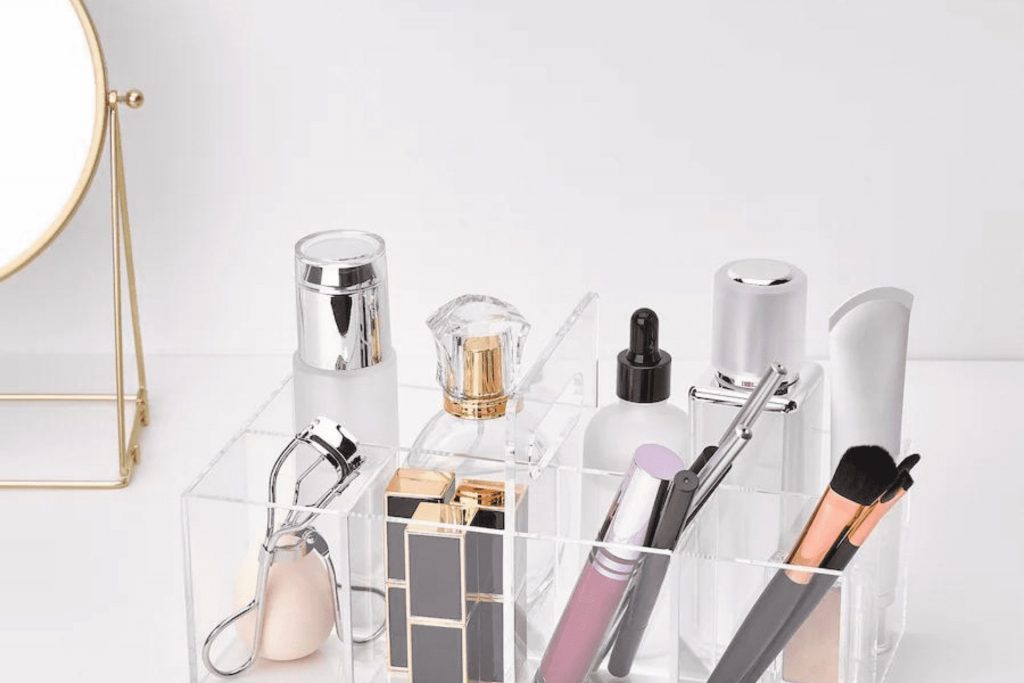 The MOJAN makeup storage with handles makes it easy for people who love having organized things in their space. The compartments ensure that you have enough room for your brushes, makeup, beauty products, soaps, cleansers, toners, moisturizers, and even facial masks. You will get to arrange your items in the order that you love. The handles in these makeup containers allow you to carry them around easily. You may as well carry them up to pick whatever you intend on using. When purchasing your makeup organizer, you will need to consider space and portability. This makeup organizer passes the test.
You may remove the small dividers to create more space for larger makeup containers. The sturdy handle in the middle will allow you to lift and carry the makeup organizer easily. The size will enable you to put most of your makeup and beauty products in order compared to when you have no makeup holder.
Features
Movable compartments. The dividers will allow you to create larger or small compartments to hold up your makeup.
The handle facilitates easy lifting and movement.
The transparent color allows you to see your makeup with ease
The average size allows this makeup organizer to fit in most makeup cabinets in our houses.
Pros
Portable
Has sizeable compartments
Transparent and easy to see through
Cons
Some people find it expensive
---
4. IKEA Drawer unit Makeup Organizer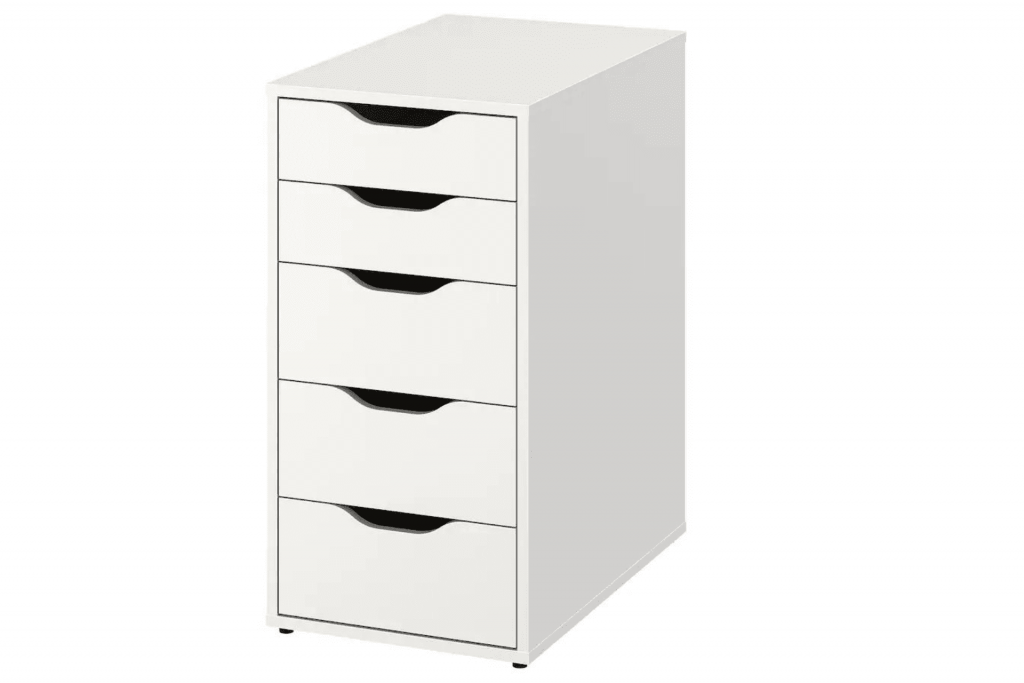 This makeup drawer unit provides enough space to keep your makeup and cosmetic products in order. Drawers offer enough space to hold anything you have in mind hence perfect for your beauty products and cosmetics.
This makeup drawer unit has beautifully furnished sides, and you may keep it anywhere in the room. If you place it near your dressing table, it will fit perfectly. You may also use it in your office since it has a great top that may also function as a desktop.
The drawer stops will prevent the shelves from pulling too far, thus safeguarding your makeup. You may have each drawer for your different makeup sets and cosmetic products. This drawer unit will be a perfect choice for those working in the beauty industry, especially in spars, salons, or massage parlors.
You will have every drawer carrying your specific makeup and beauty items. It will also save you space.
Features
Has drawers that add up to storage space
The white color helps keep heat away
The size allows this makeup drawer unit to function as a desk too
It comes with plastic bumpers to hold the tabletop in place
Pros
Beautifully furnished
The white color allows for quick cleaning
Cons
Some people find it costly
---
5. IKEA Floating Wall Lack Shelf Makeup Organizer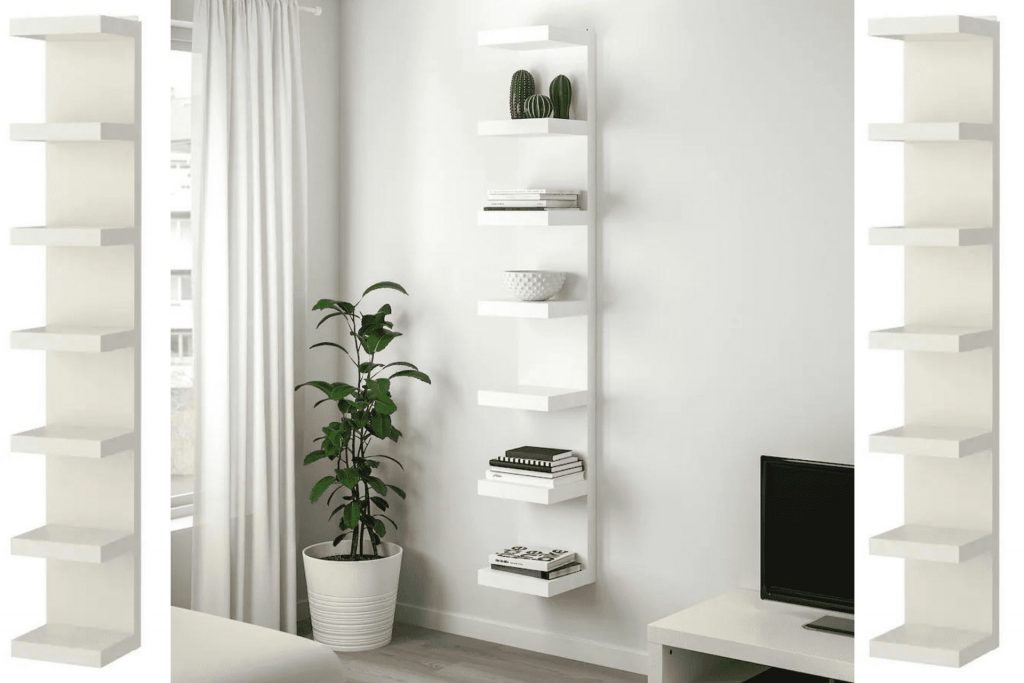 Do you love shelves for storage space? These IKEA shelves will give a floating look for your home décor. The mounting technique will give this makeup storage a floating look for your living room, bedroom, or bathroom.
The three shelves will provide you with adequate space for your makeup. You will get the chance to arrange all your beauty products in style.
With the concealing mounting hardware, the shelf becomes one with the wall. With 30 cm in length and five centimeters in height, you get the perfect floating wall lack shelf.
Features
Floating design that makes this makeup organizer the perfect home décor
Perfect shelves give you excellent spacing
The white color helps this organizer suit many household spaces
Pros
Perfect design
The white color makes an ideal décor color
Affordable
Perfect size to hold all your makeup
Cons
The screws for wall mounting don't get included
---
6. IKEA Dragan Bamboo Boxes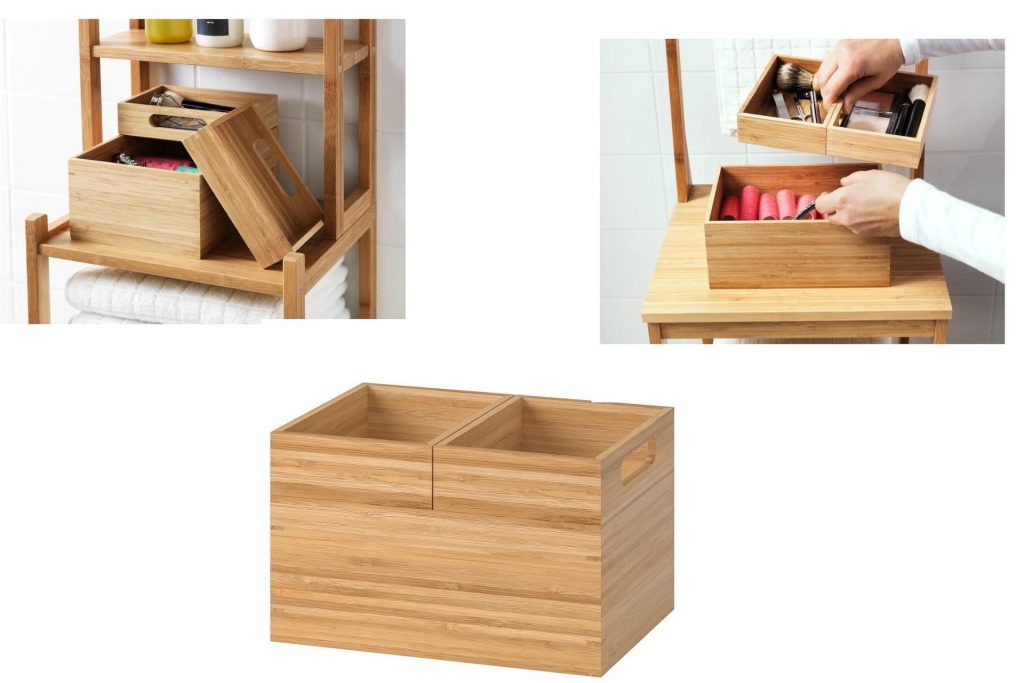 Do you love wooden design even for your makeup? The IKEA Dragan boxes will provide you with unique space for your small makeup pieces. The brown color will boost your home décor to give it an authentic touch. These beautiful boxes will allow you to store your lipsticks, your lip balms, makeup brushes, and eyeliner pencils orderly. These small makeup pieces get easily misplaced, but you will get a safe holding place with the Dragan boxes.
The rectangular shape will allow these boxes to fit in your wardrobe, dressing room, or bathroom space perfectly. The bamboo wood material guarantees durability and excellent service. You will have these boxes for longer than the plastic material makeup organizers. The boxes have lids, and this allows for safety and order.
Features
Unique and long-lasting material
Small size occupies less space
The lid makes these boxes a safekeeping space
The bamboo wood grain color makes the boxes great for home décor purposes
Pros
Portable and easy to carry
The boxes will accommodate much small-sized makeup
The makeup boxes guarantee you an organized space
Cons
These boxes hold only small-sized makeup
---
7. MOJAN Lipstick Stand with 24 Compartments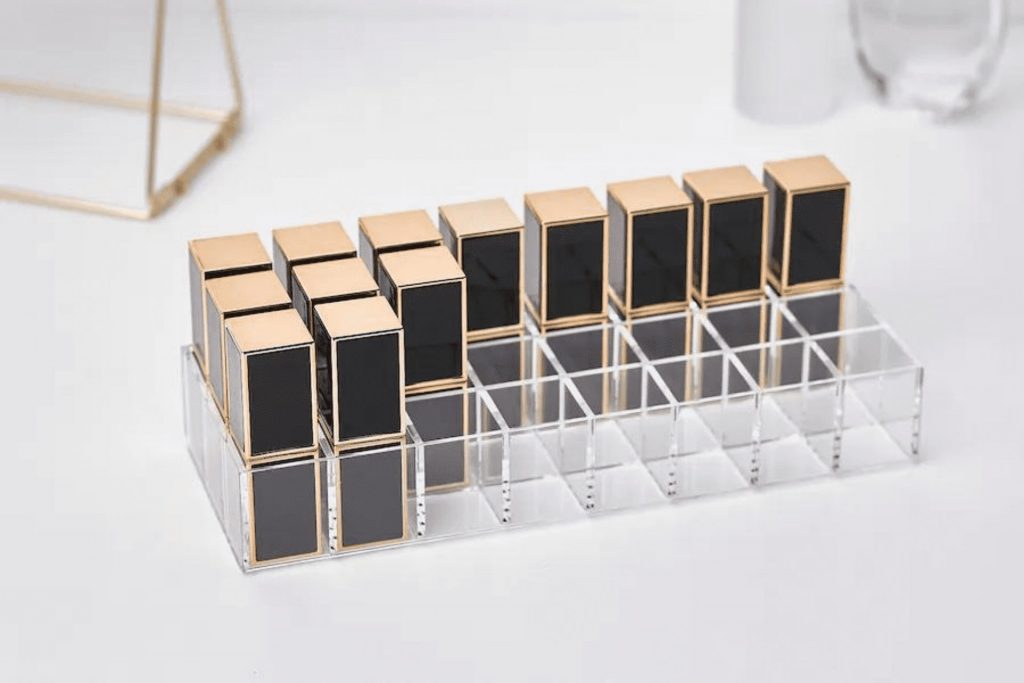 Where do you keep your lipsticks? IKEA offers the best lipstick organizer for those people who handle a lot of lipsticks. If you operate in a lipstick business, this lipstick organizer will be the perfect display organizer. The transparent design will allow people to see the lipstick codes and colors directly.
You may choose to keep other small makeup items that would otherwise get lost when stored inappropriately. The makeup organizer measures 22.5 cm in length and 8.5 cm in width. These measurements allow for small to averagely sized makeup containers. With this makeup storage organizer, you will keep your things as orderly as possible. Also, if you want to start a lipstick business, this would be a great product to invest in.
Features
This makeup organizer comes in a transparent design. For this reason, you get a good and clear view of what the organizer holds.
The 24 compartments guarantee you the perfect arrangement space for your various makeup items.
The rectangular shape will allow this organizer to fit your bedroom cabinet, dressing table, or workplace.
Pros
Excellent shape and design
It will hold most of your makeup
Easy to carry and move
Keeps your makeup safe and well displayed
Cons
Some people find it expensive
---
8. Makeup Storage with Both Compartments and Drawers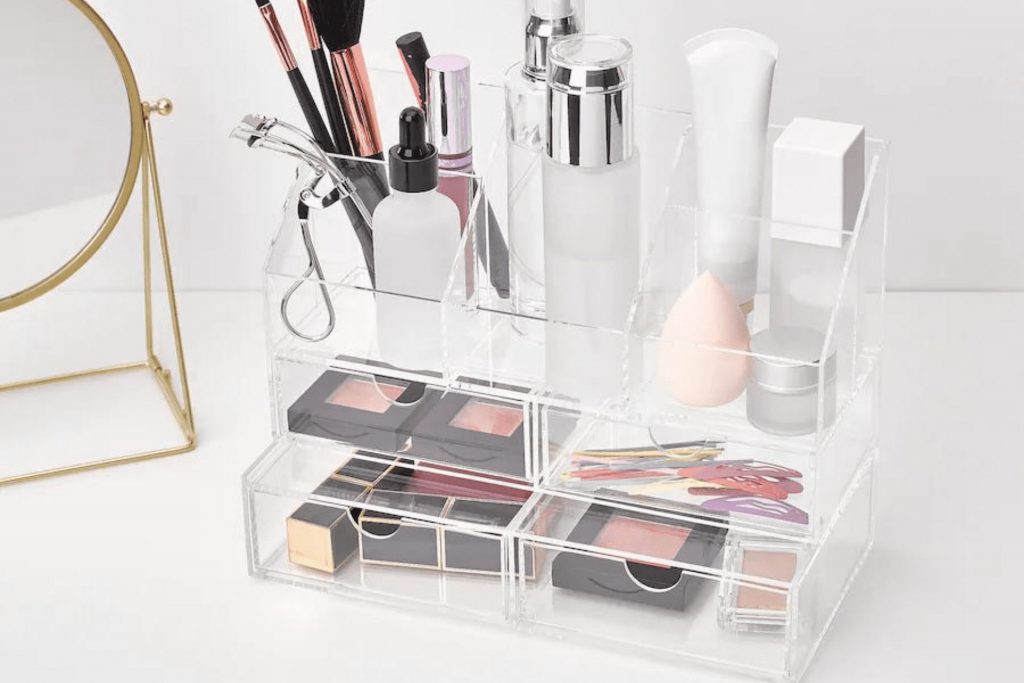 The combination of drawers and compartments gives this makeup organizer a unique design. This design will allow you to keep the brushes and eyeliner pencils at the top, with lipstick and other makeup like foundation and ponds at the bottom drawers.
The secret will be to keep the tall makeup items in the top compartments and the short ones in the drawers. The material comes in transparent acrylic plastic, giving you a good view of the contents in the makeup organizer.
Features
It comes in a transparent design. You will get to choose the makeup you need with ease.
The drawers and compartments give extra space to accommodate all your makeup.
The rectangular base offers stability even with the top compartments
The drawers have a fantastic design with easy to open spaces
The open upper chamber makes it easy to store brushes and tall makeup containers
Pros
Easy to use
A unique design
Has extra storage space for your makeup
Transparent and accessible to see through
Cons
Some people find it costly
---
9. IKEA Hanging Makeup Organizer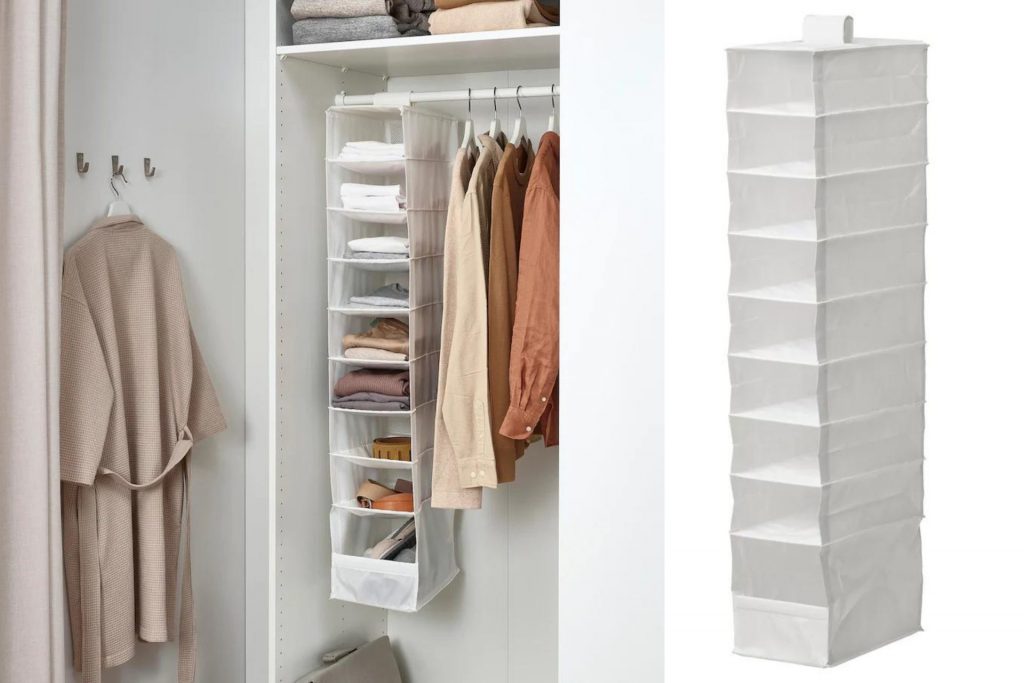 Did you know you could store your makeup in a closet using the IKEA hanging organizer? This organizer allows you to get creative and innovate a hanging makeup organizer. You will have easy access to your makeup when you get to dress. This organizer also provides you with enough space to store all your makeup without dispersing them everywhere in your room.
The nine compartments offer enough space for everything you need organized. The cubical shape makes this makeup organizer fit in the smallest space, thus saving your closet space. It would help if you mounted it in a free-standing position for better access.
The polyester material proves durable, and it will serve you for a long time. It also makes it portable and easy to carry by folding it to fit in small spaces. The white color suits the color of most closets and offers a great temporary makeup organizer before you get more permanent ones in your house.
Features
The polyester material makes it easy to carry and clean
It has nine compartments hence enough storage space
The white color allows this organizer to match most house décor colors
It comes fully assembled and thus very easy to use
Pros
You may choose to store makeup, shoes, innerwear, and other personal items.
Transparent and easy to locate your stored items
The white color suits most décor options
Proves affordable
It saves a lot of space
Cons
It does not offer a permanent storage option.
---
10. IKEA Detolf Glass Makeup Display Organizer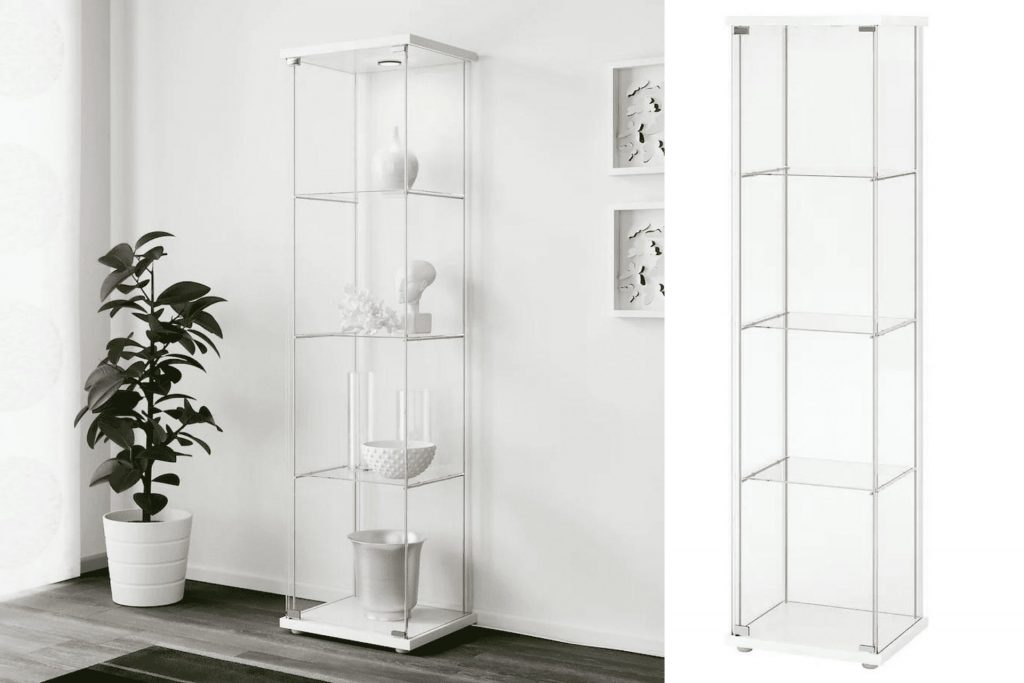 Do you need a classy and elegant makeup display for your business or house use? When we store our makeup in sleek spaces, they appear more attractive in our room. Having a fantastic display option gives the business a more serious touch and feel. You will appear more confident in what you do once you invest in a tremendous makeup display like the IKEA Detolf glass display.
What makes this storage design more beautiful is a lighting design on the glass doors to allow for beautiful illumination into your makeup. The makeup units have various materials, including particleboard top, plastic support shelves, steel connections, and glass doors and sides. For this reason, all these materials come together to form robust makeup storage.
The white furnishing makes cleaning easy. It also serves to compliment your interior décor.
Features
The glass material and white color makes cleaning an easy task
The four compartments provide enough storage space
The base has strong rubber stands to enhance support and firm ground touch
The lighting features add to the decorative nature of the makeup storage units
Pros
Easy to use
Easy to clean
It offers a beautiful makeup storage option
It comes from a reputable brand
Cons
The glass material proves vulnerable
Requires gentle care
---
11. KALLAX-Shelving Unit Makeup Organizer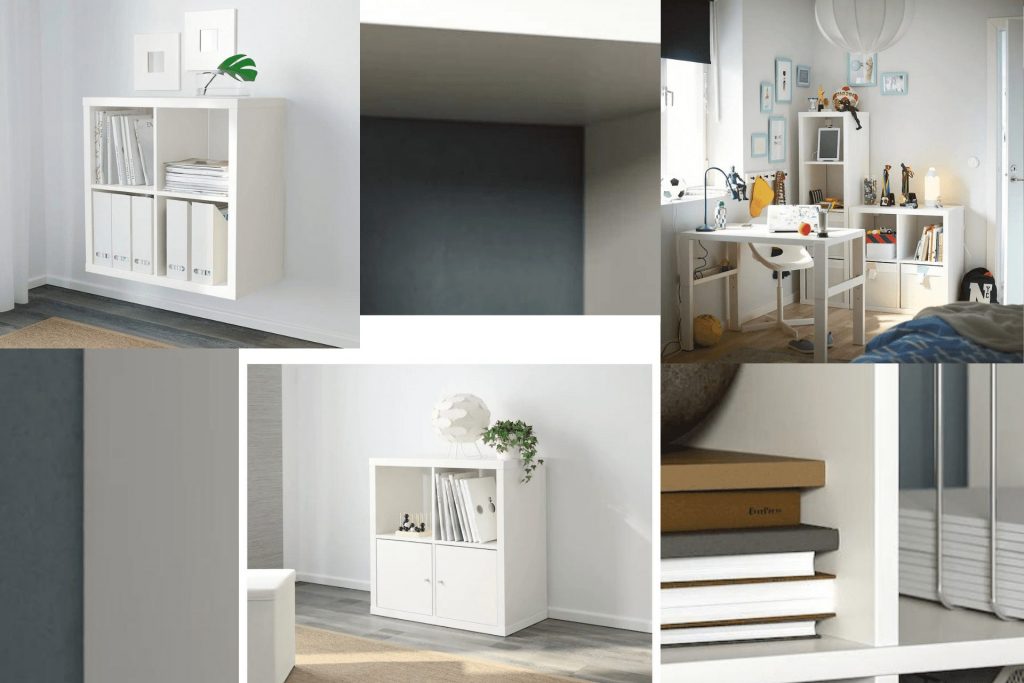 Do you need permanent makeup storage for your home? This IKEA KALLAX-shelving unit comes to offer you a more permanent solution. The shelves will be great to store your makeup and beauty products. The wooden material will also last longer and provide you with a long-lasting storage service.
IKEA brand invests in the best furnishing, and you will find this shelving unit ideal for your bedroom, living room, or your dressing area. It will match perfectly with other furniture and complement your interior décor. The top has wooden material and is strong enough to hold other decorative stuff.
The rectangular shape allows this storage space to fit in any area in your house. The eight shelves provide compartments to accommodate many makeup products and skincare products.
Features
The wooden material will provide a long-lasting and durable storage solution to your makeup and skincare products.
The shelving unit has many compartments to provide adequate storage space
The furnishing makes the shelving unit moisture resistant and may be stored in the bathroom space
Has the rectangular shape hence will fit even the most limited space in an apartment
The white furnished color proves easy to clean and maintain
Pros
Easy to clean
Has a beautiful white color
It will offer a durable storage option
Compliments the interior décor of your home
Cons
Some people find it expensive
---
12. Four-Drawer IKEA Makeup Organizer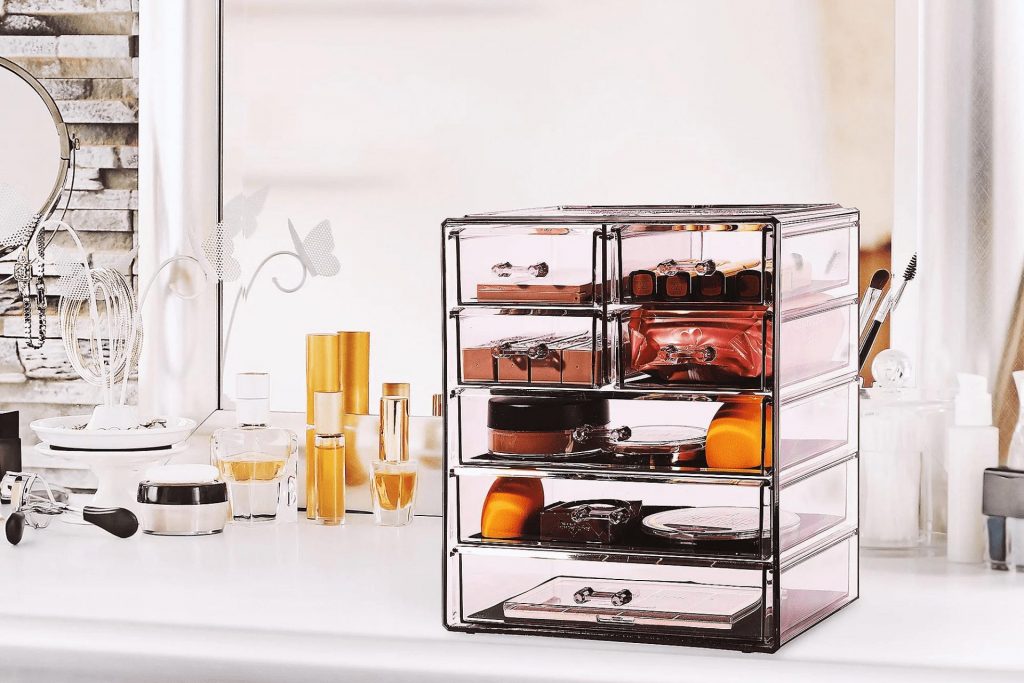 IKEA four-drawer makeup storage provides you with a fantastic space experience. If you wish your makeup to display a beautiful look, this makeup storage will be the best option. All four draws offer spacious compartments to provide your makeup with enough storage space.
The colorless nature of the makeup storage will offer a clear view of your makeup contents for easy access. You may choose to have every drawer store similar makeup items for a more beautiful display opportunity.
You also get to store other skincare products and get quick and satisfying storage.
This acrylic plastic material making up the storage container does not penetrate moisture or water. You may find it safe to store your makeup in your bathroom cabinets. You may also place it on your dressing table or any other convenient place of choice.
This makeup storage will be ideal for keeping your jewelry too.
Features
Made with clear acrylic plastic for easy viewing
Has manageable and easy-to-carry size
The four drawers offer enough storage space for your makeup
The drawer compartments have easy-to-open areas allowing you to store your makeup conveniently
Pros
Easy to use
Easy to clear
Provides enough storage space
Easy to carry and maintain
Cons
Some people find it costly
The acrylic material offers semi-permanent makeup storage services
---
Why should you purchase IKEA makeup storage options?
IKEA Company has produced quality items since 1943. When looking for a company to get your products from, time of expertise matters. IKEA brand has all it takes to assure quality and genuine business transactions.
IKEA Company supplies its products worldwide. Don't mind about your location. If you place an order with IKEA, they will deliver the products to your region.
All IKEA products have excellent furnishing and finishing. You will enjoy keeping these products anywhere in your house.
The great furnishing makes these items great décor items for your house's beauty.
IKEA may provide you with discounts during the offers season. You may also negotiate a lower price if you purchase many products with them.
The customer service team provides you with an easy purchase time. The customer care team may also arrange for custom-made products depending on the customer's request.
IKEA  guarantees you secure payment options. You may find other products on their website.
Final Thoughts
If you need a reputable brand to purchase your makeup organizing storage from, IKEA will be that brand. You will not only get great products but those that may match your house's interior décor. If you have your furniture from IKEA, then getting makeup storage options from them will be a great thing to do. You will get quality, durable and beautiful makeup storage options with IKEA.
Purchase any of the above products and transform Your Makeup Essentials. For more information regarding makeup, visit Your Beauty Essentials and subscribe.
Frequently Asked Questions
What type of company is IKEA?
IKEA is a retail company that deals with various household and business products with excellent furnishing.
Is IKEA a Chinese company?
No, IKEA is a Swedish company that designs products in Asia, with more than 28 stores in China.
IKEA Company consists of one of the most renowned home furniture Companies worldwide.