Beauty has proven an essential aspect of the human race from ages immemorial. Nails form a significant part of beauty, especially for women and recently for men. When you get your nails a fantastic look, your confidence level rises to the roof, and it might even boost your day's success.
Pink almond shaped nails will therefore be an excellent manicure choice this summer. The almond shape suits most nails, and the pink color adds some warmth to your summer events. Pink also guarantees you a joyful mood that will go a long way into making this year's summer memorable. Pink almond shaped nails will be the perfect nail choice to make this year's summer unique and spectacular.
This nail design has many artistic designs out there. Finding the best one for your manicure will be a plus. In this article, we combine and bring you the 30 best pink almond shaped nail art designs that will make your summer a great memory.
1. Abstract Pink Almond Nails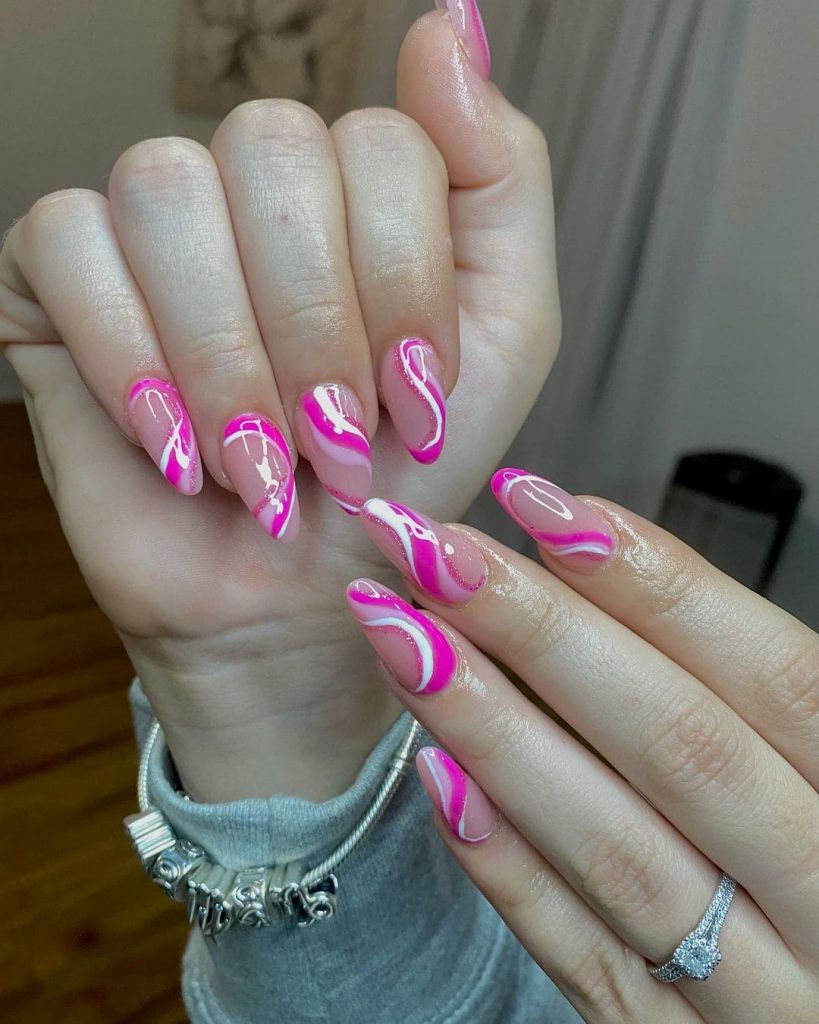 With pink, white and clear nail polish, you will get set to recreate this look. Just create the colorful spiral design keeping some parts colorless, and the design will be perfect in no time.
---
2. The Long-Pink Almond Nails' Design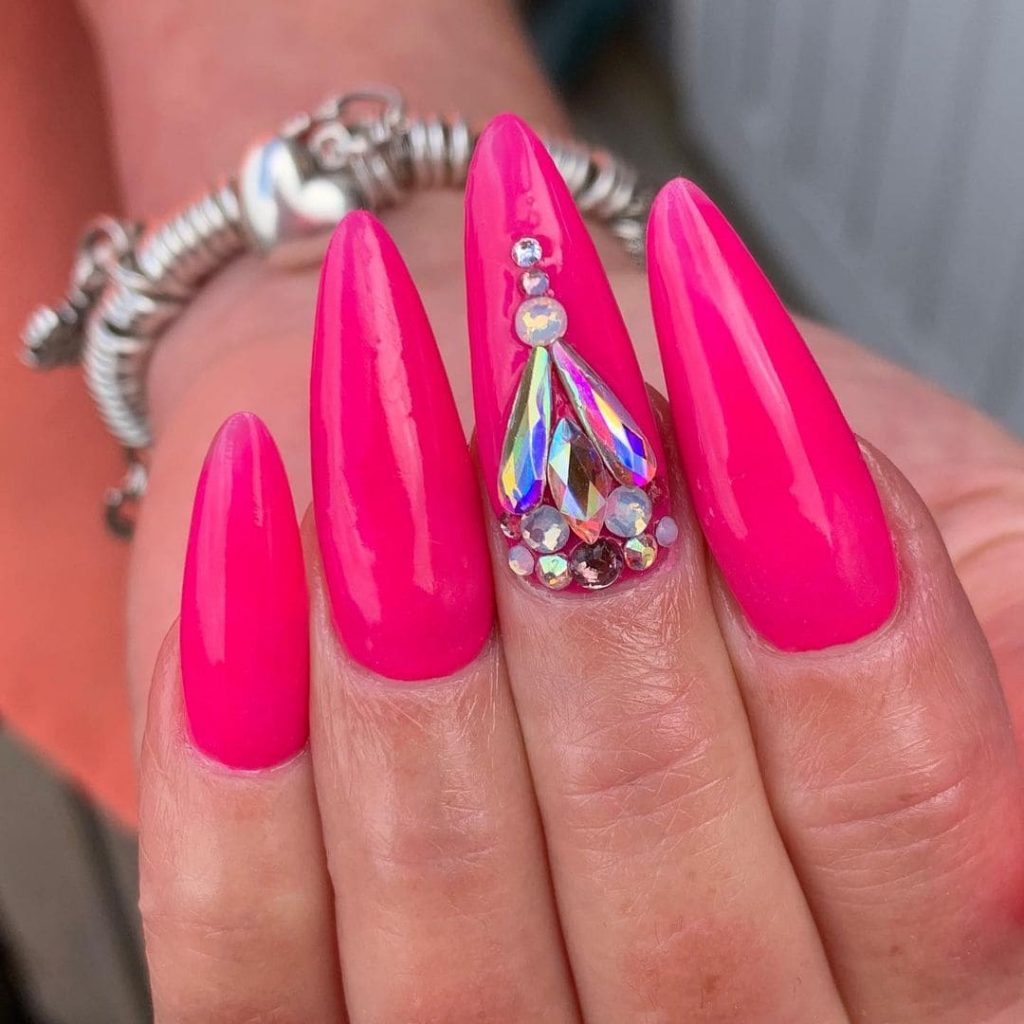 If you love long nails, then this design will be spectacular. The artistically designed stickers make it more beautiful.
---
3. This Simple Heart Almond Pink Design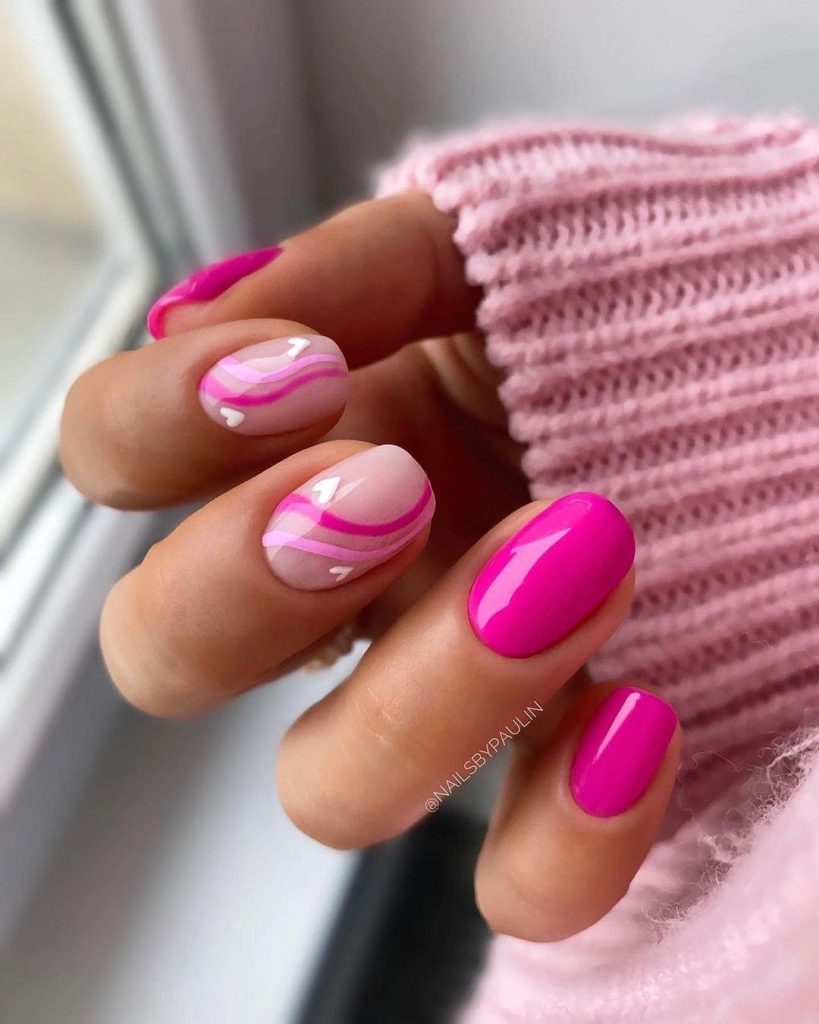 To recreate this look, you need to make a French manicure look with the pink nail polish acting as the band. The rest of the nails should have clear nail polish.
---
4. Light Pink Shaded Almond Nails
You may choose to make your pink almond shaped nails with different shades of pink nail polish. This way, you recreate a unique and memorable nail design for summer.
---
5. Pink With Purple Almond Nails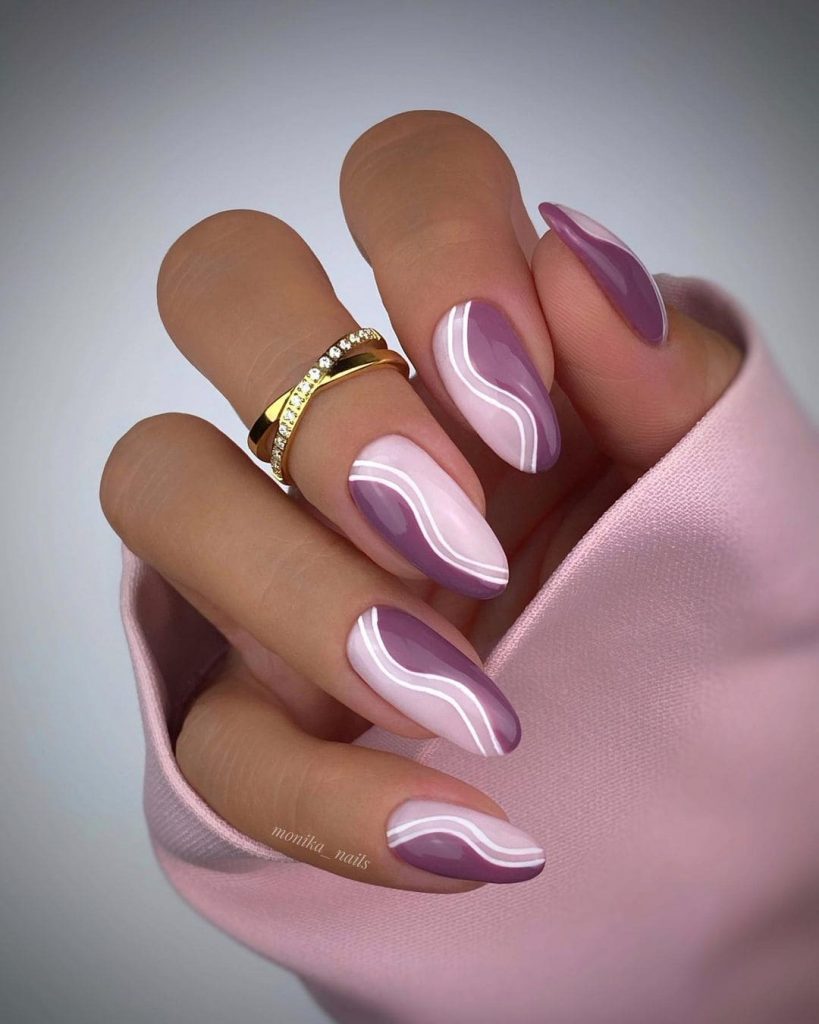 This design will involve one nail containing a black polka dot design with some shades of gold nail polish.
---
6. The Light Almond Pink Floral Nails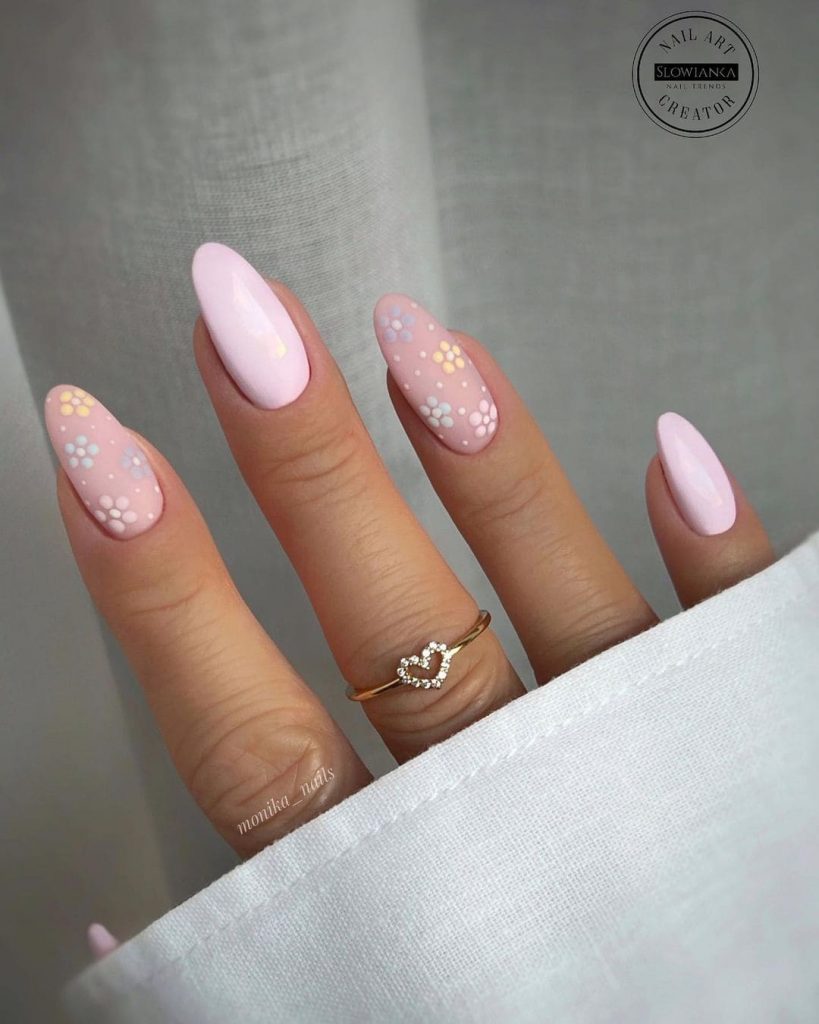 Almond nails with a light shade of pink appear spectacular. If you love long nails, this design will be perfect.
---
7. The Glittering Almond Heart Design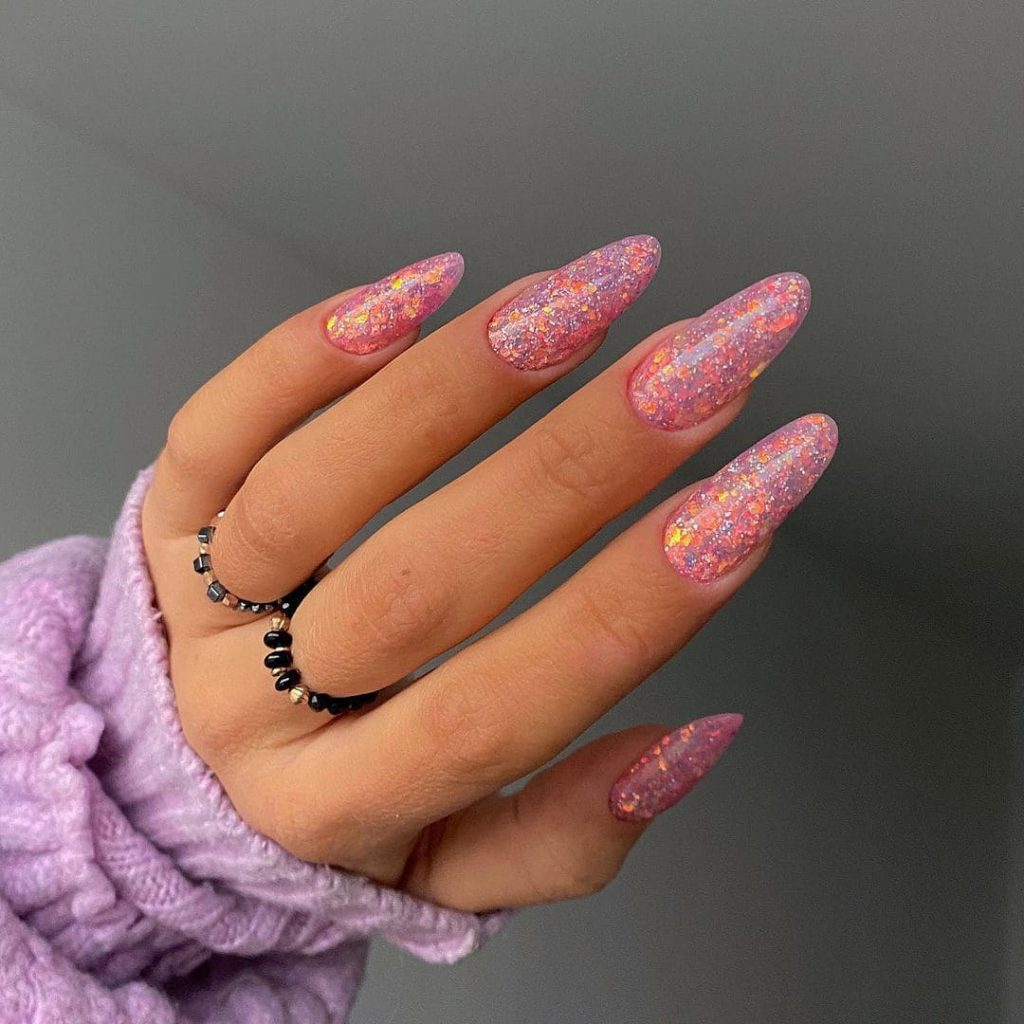 This glittering nail polish will leave your nails looking beautiful for the summer season.
---
8. Unique Almond Red Heart Design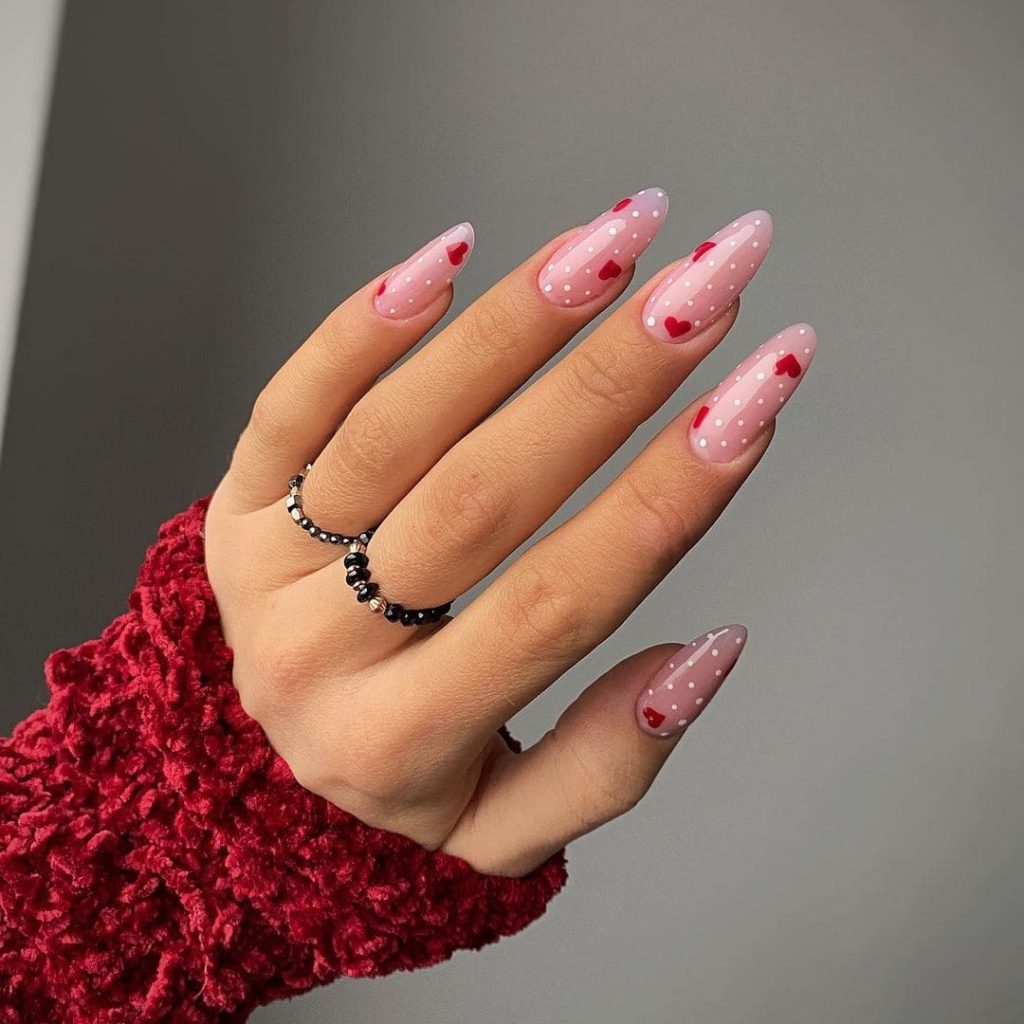 This design incorporates hearts and the French manicure design to create a spectacular nail design. You will enjoy your summer if you give your nails this look.
---
9. This Beautiful Pink Almond Design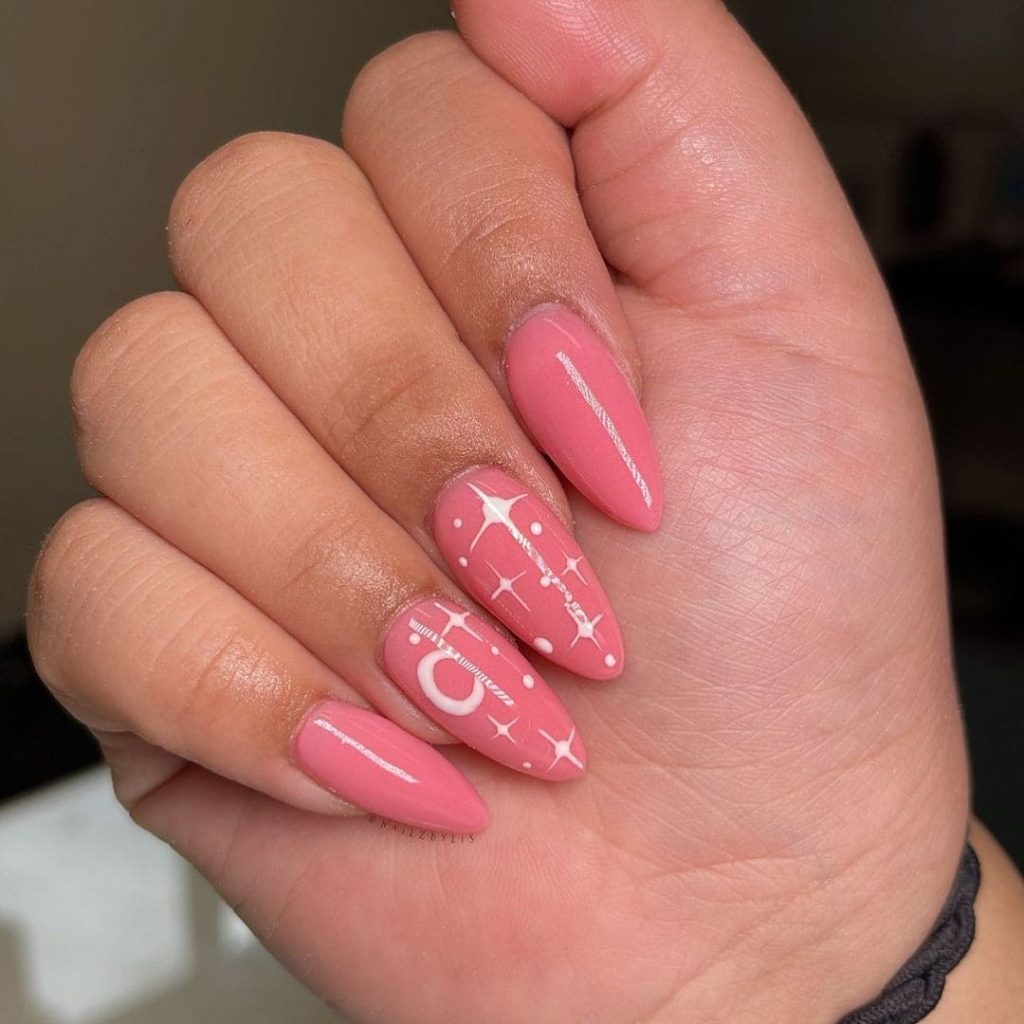 This nail design will bring along the warmth that comes with summer events. You will face your days with the confidence you deserve.
---
10. Class Nude Swirl Almond Pink Nails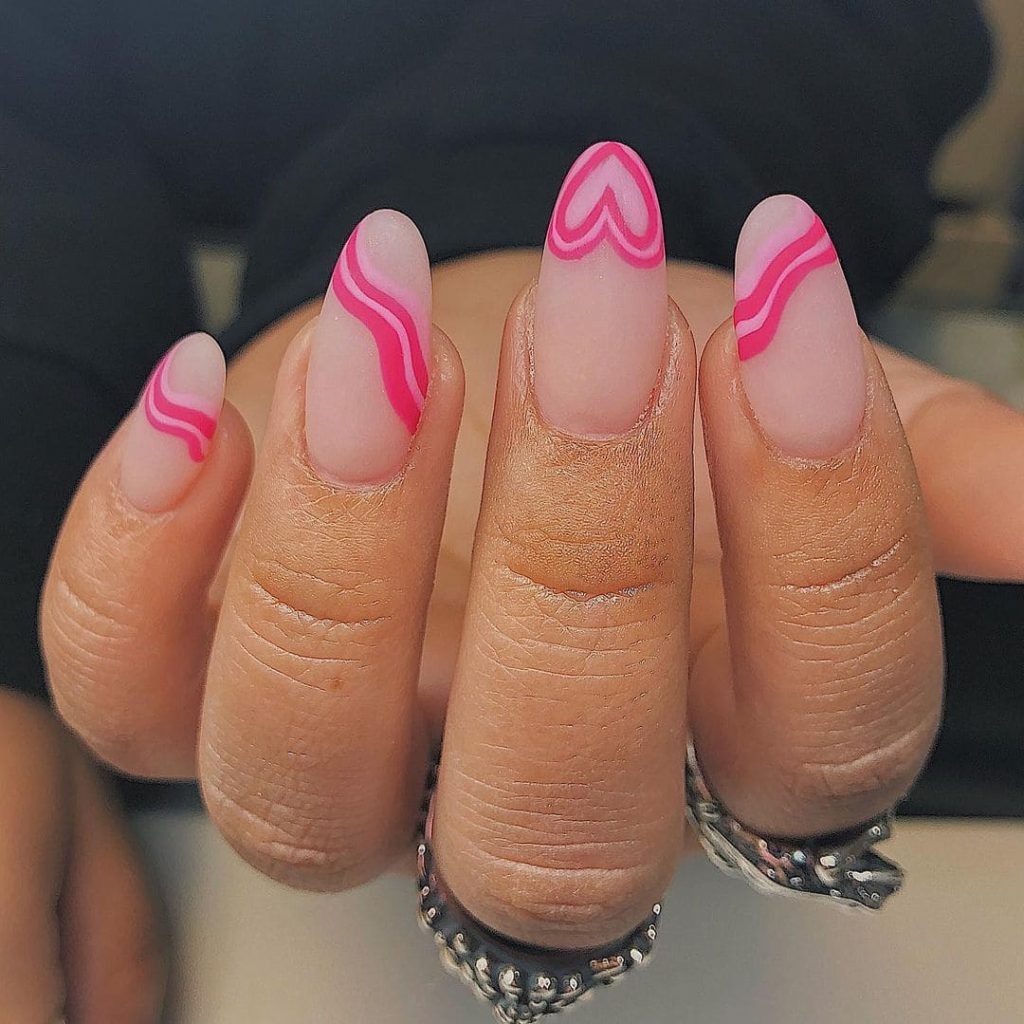 This simple design will be easy to recreate. With pink nail polish, your almond shaped nails will be spectacular in no time.
---
11. Sleek Pink Almond Shaped Nails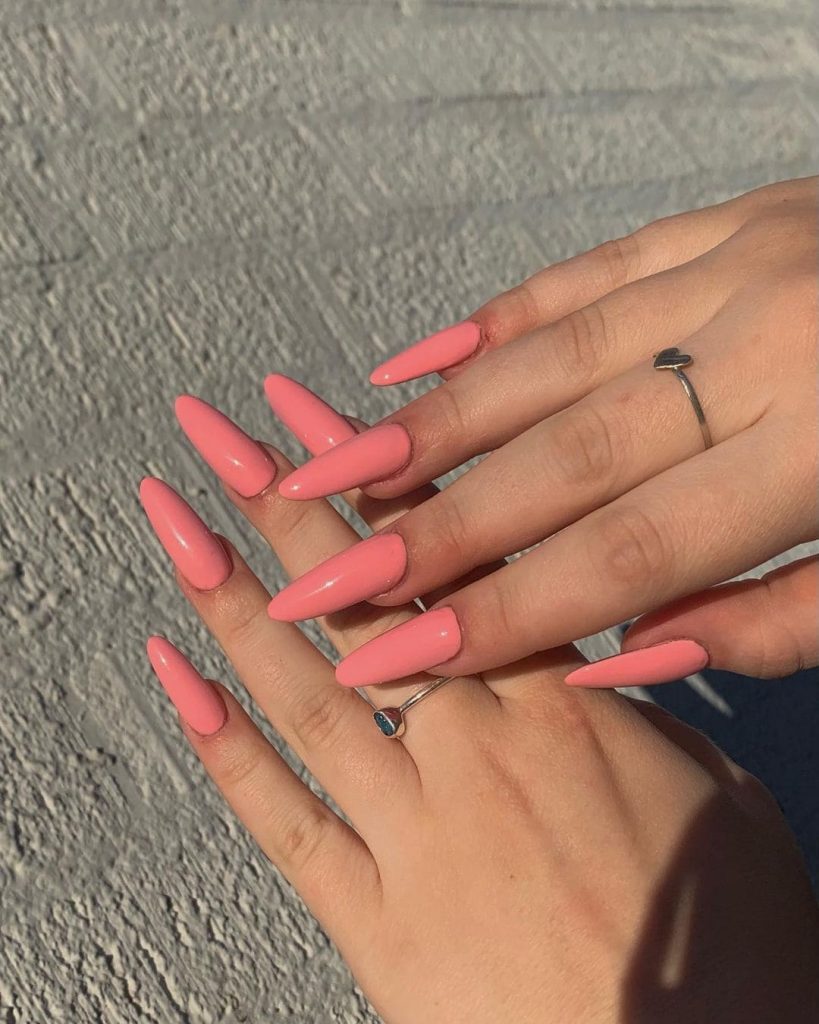 Long almond shaped nails will be attractive with this shade of pink that brings out a simple nail look.
---
12. Unique Pink Cherry Almond Nail Design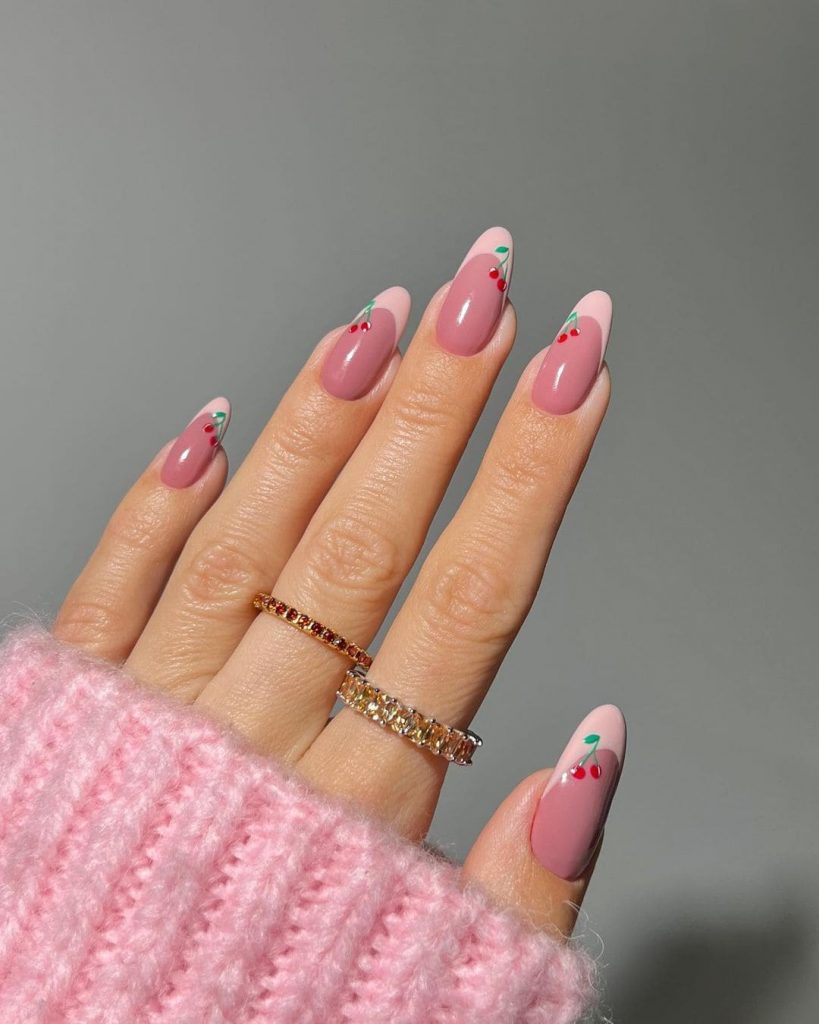 You will need a clear pink nail polish with red heart stickers to recreate this look. @heygreatnails1 will give you insights into creating this spectacular nail design.
---
13. Pink and Black Heart Almond Nails Design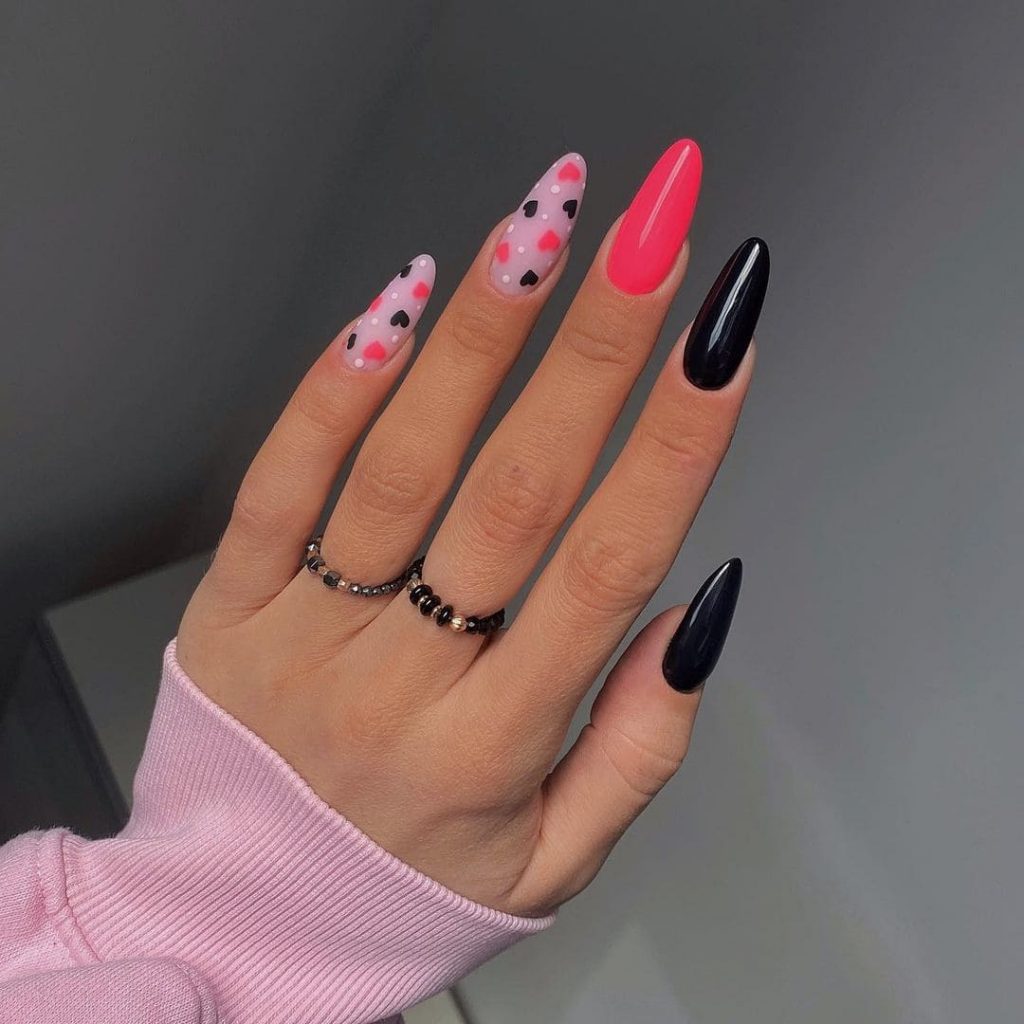 Different shades of pink have the potential to make your summer unforgettable. You will need two shades of pink nail polish and some beautiful nail stickers.
---
14. Beautiful Hearts With Pink Swirls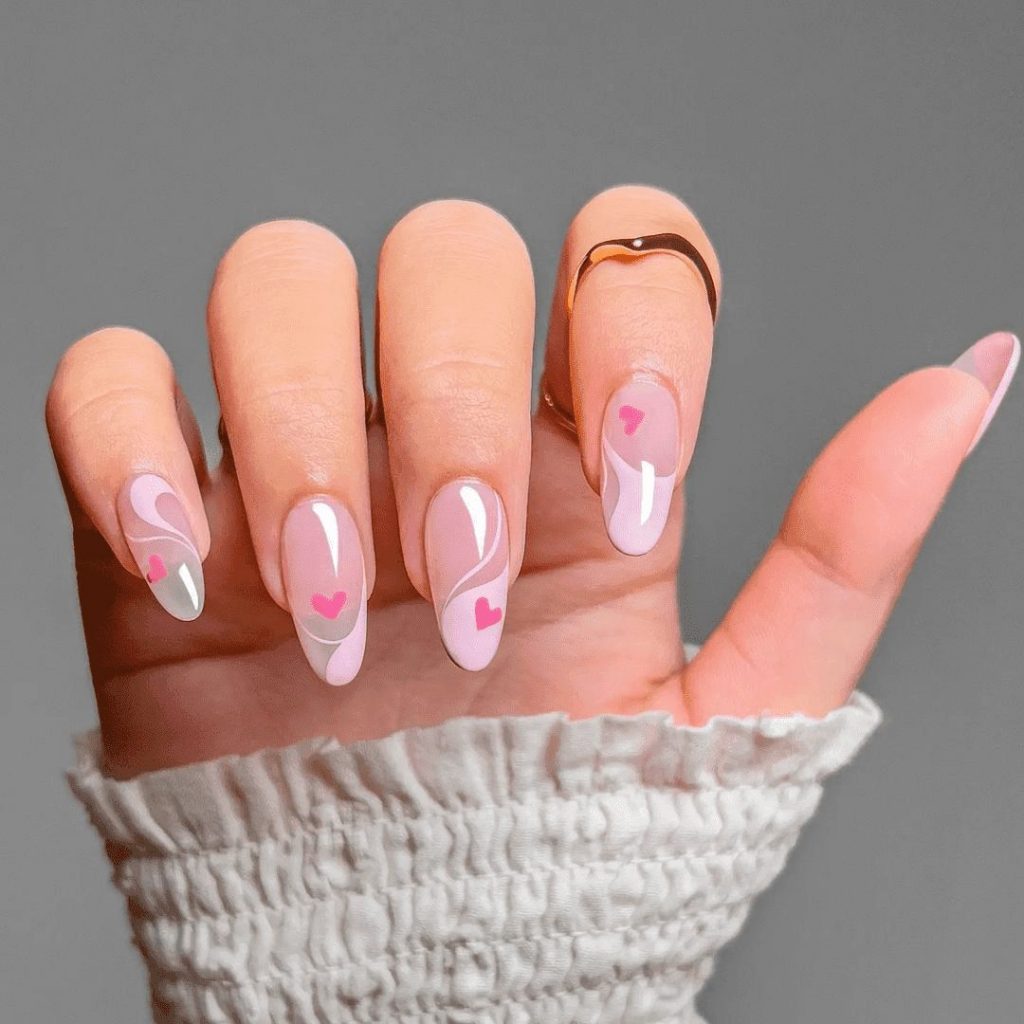 Most people have seen French manicures on coffin nail designs. But with, French manicure on almond shaped nails using pink and white nail polish will be iconic.
---
15. Pink Almond Shaped Nails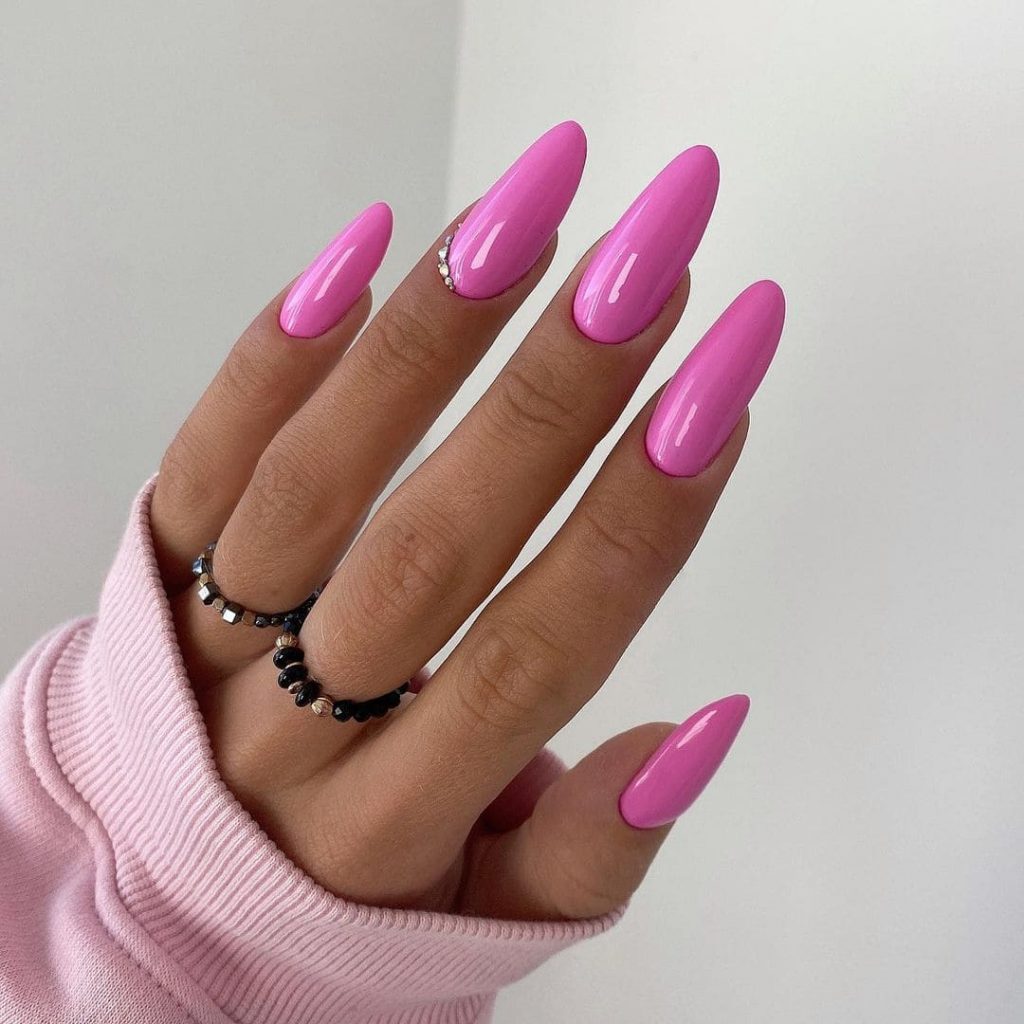 This pink shade will give you a simple yet attractive nail look for summer. If you fancy simple, elegant designs, then this one will do.
---
16. Pink Almond Nails With Green Smiley Face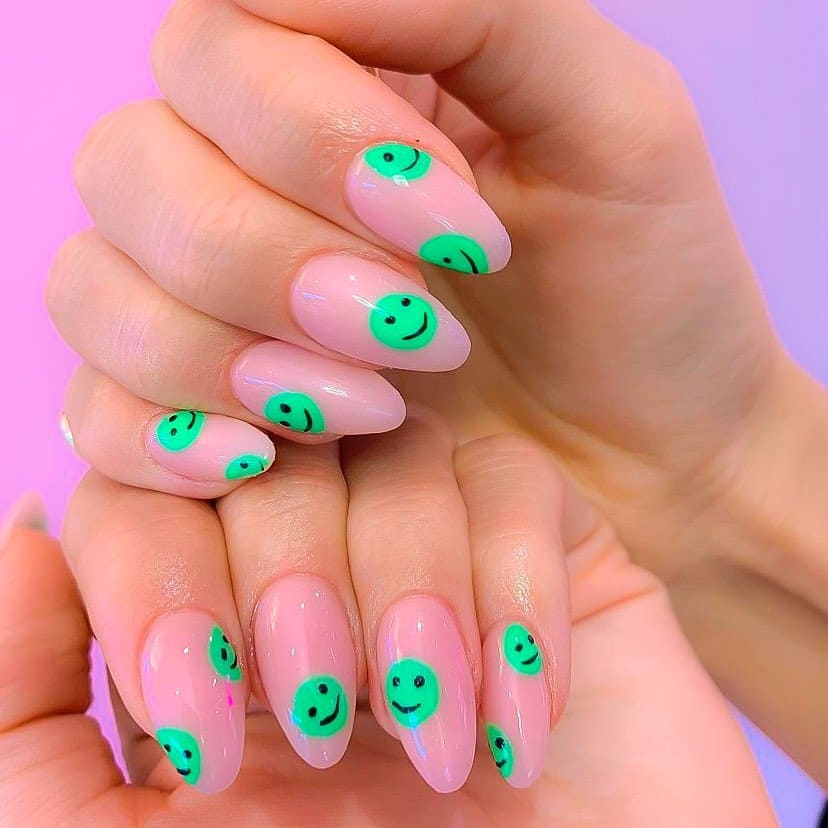 Did you know you could make custom-made almond nails? You will need two contrasting pink nail polish designs and let the darker shade make custom-made symbols or names.
---
17. Glossy Gel Pink Almond Nails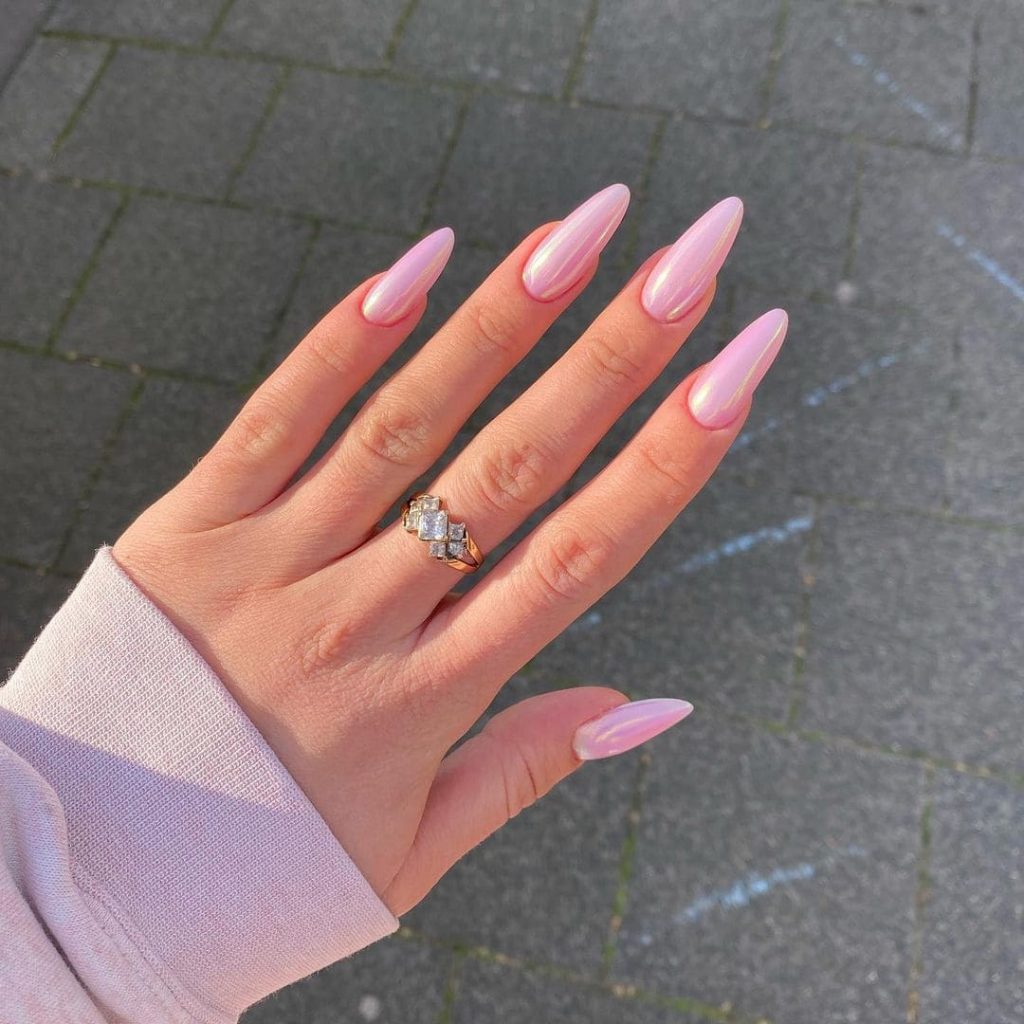 Hot pink will be the best choice if you wish to have a pure pink nail look. Just like in this flower, you will get the best summer vibes.
---
18. French Tip Almond Nails Design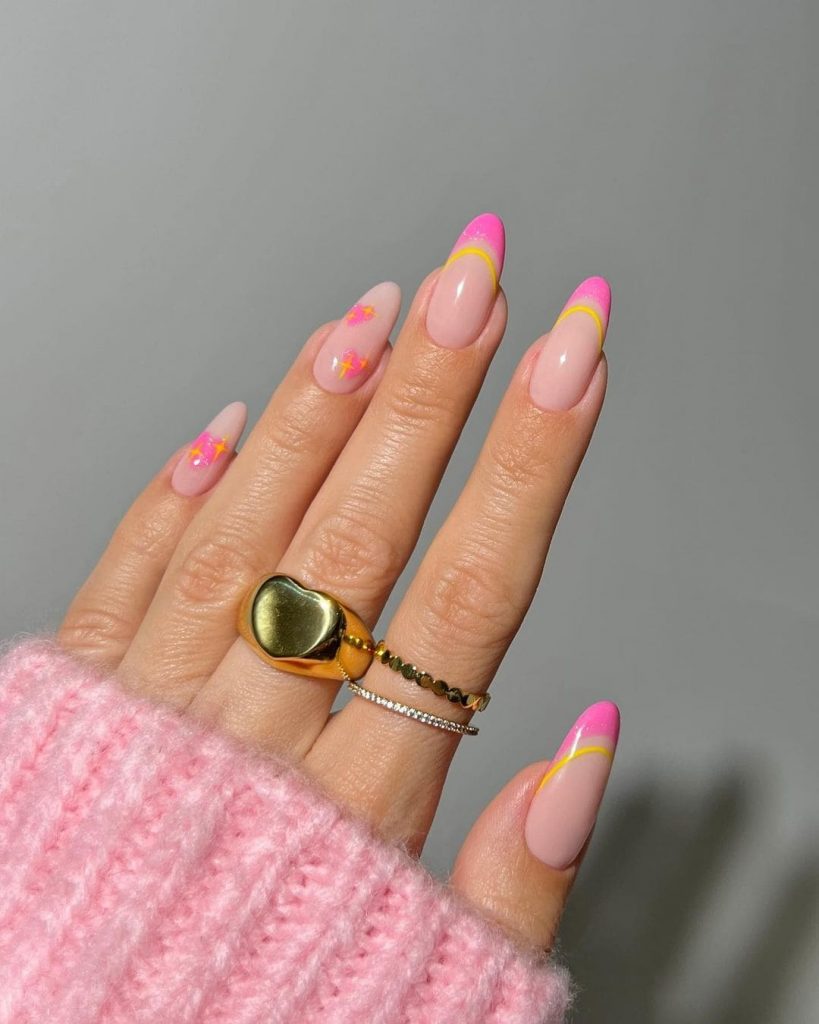 The deep pink shade will make your nails the most spectacular this summer. To recreate this look, you will need a dark pink shade of nail polish and a lighter colored nail polish to work as a base coat.
---
19. Light Pink Almond Nails With Flakes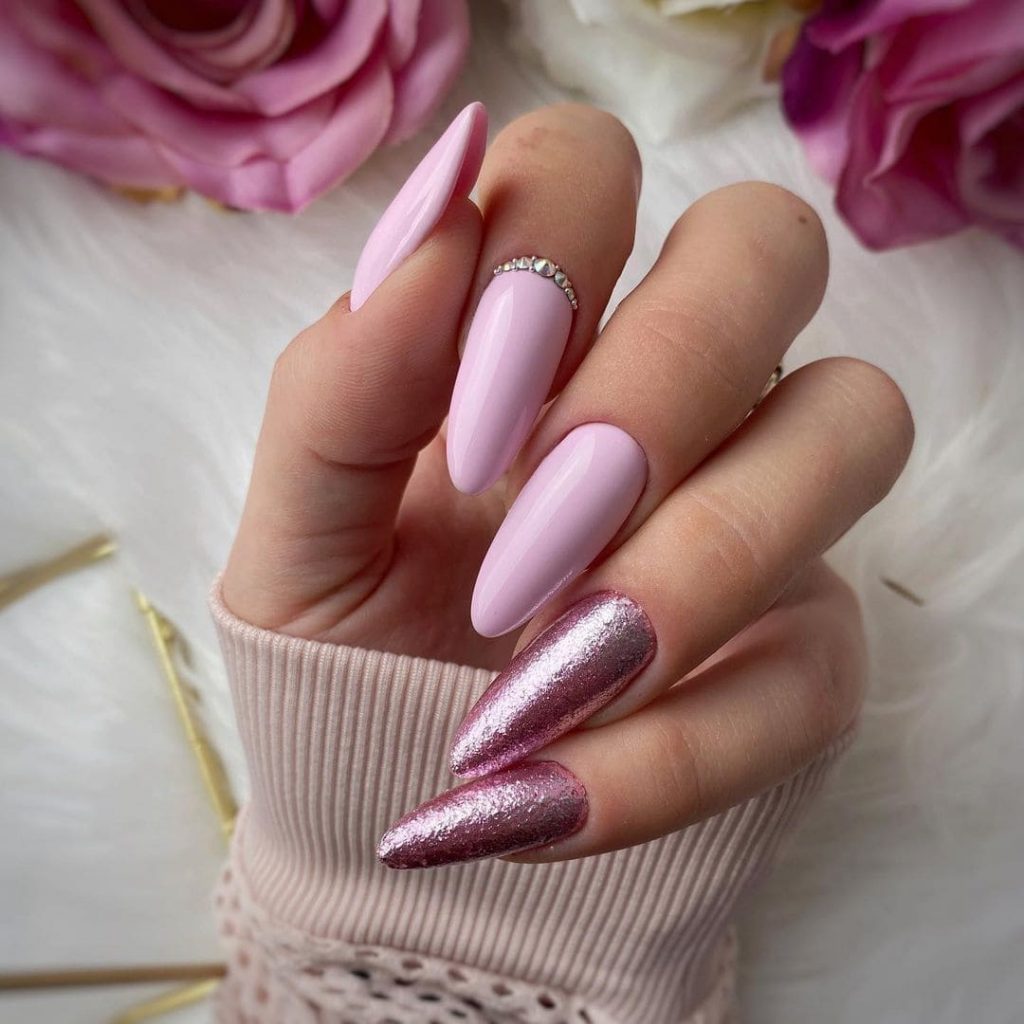 Some pink shades would surprise you if they existed. This color will give your nails an almost natural shade, perfect for summer.
---
20. Pink Cloud Almond Nails Design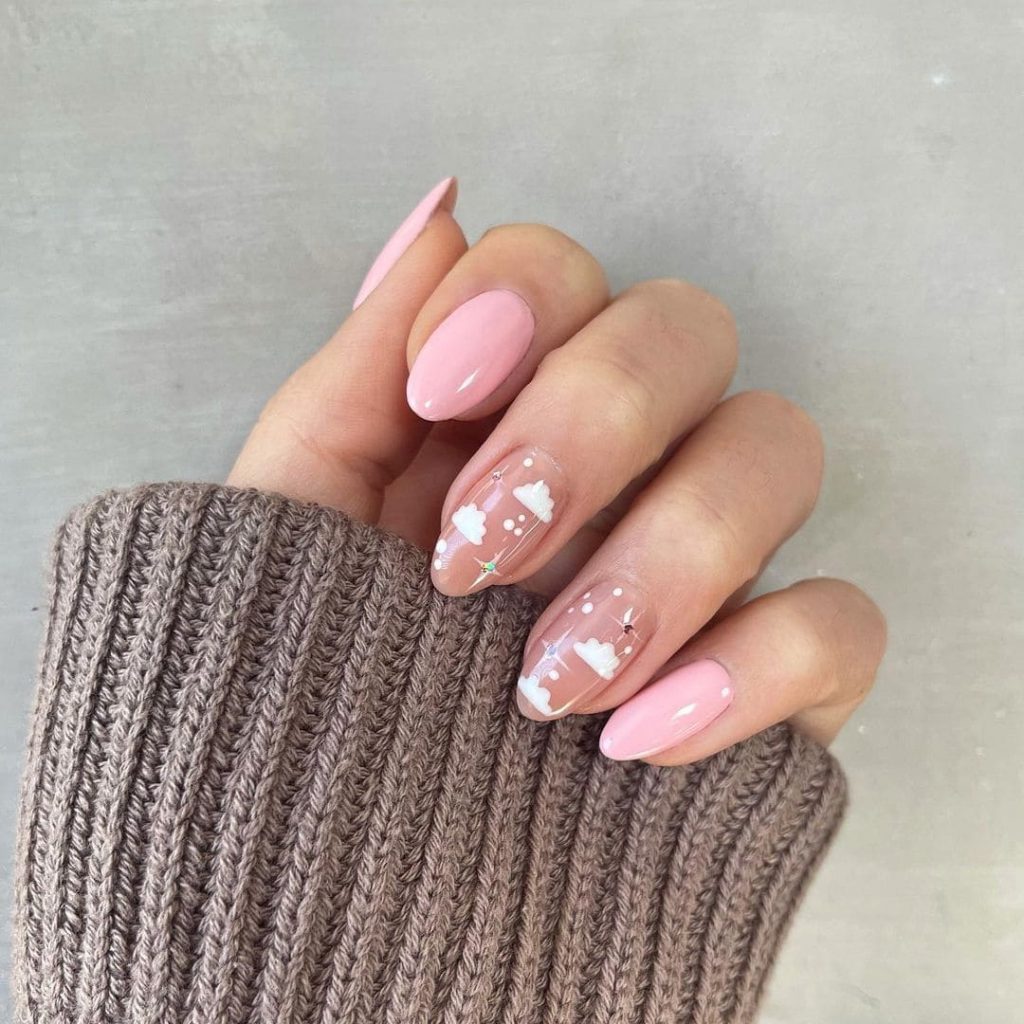 This nail design not only proves simple to recreate but also grants your nails a summer blending nail look. Check out @heluviee for more recreation tips.
---
21. This Artistic Almond Nails Design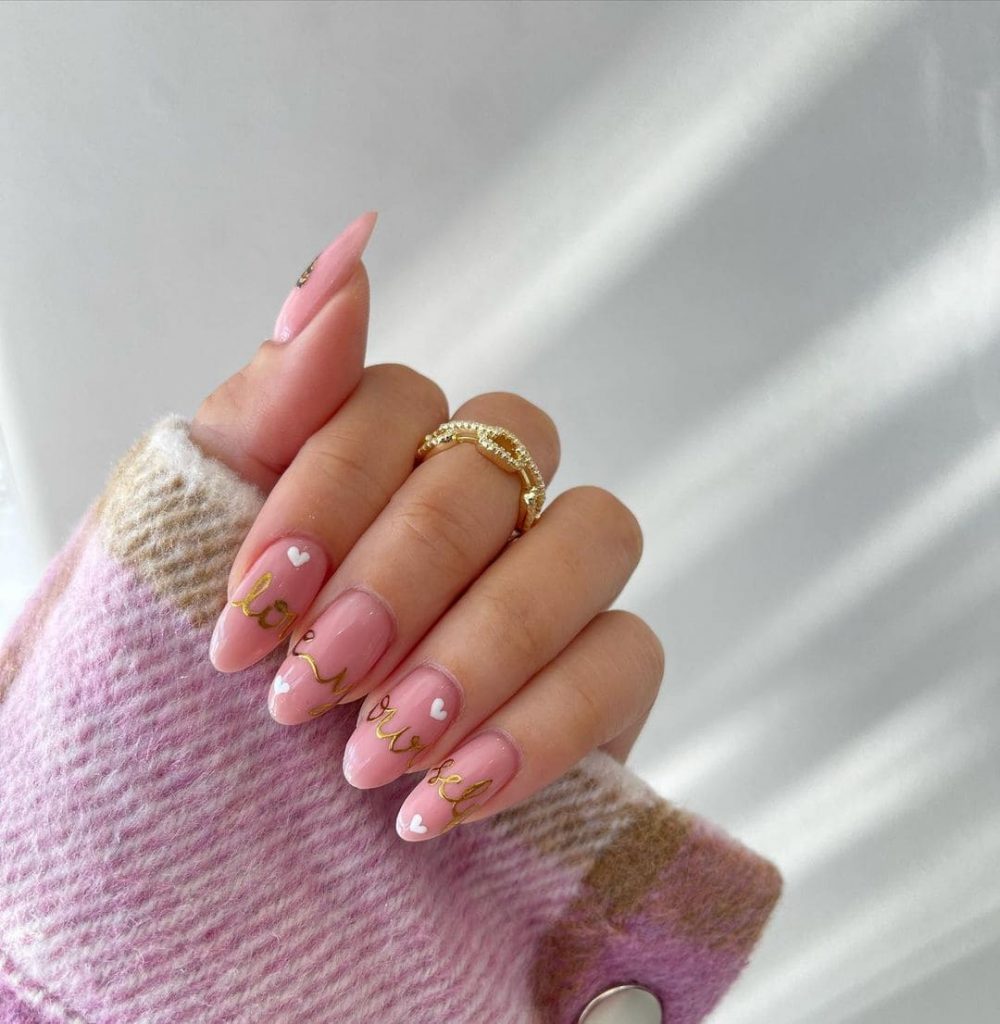 Almond design nails keep getting better. This nail look proves artistic and creative for summer skating and camping adventures.
---
22. Decorated Heart Pink Almond Shaped Nails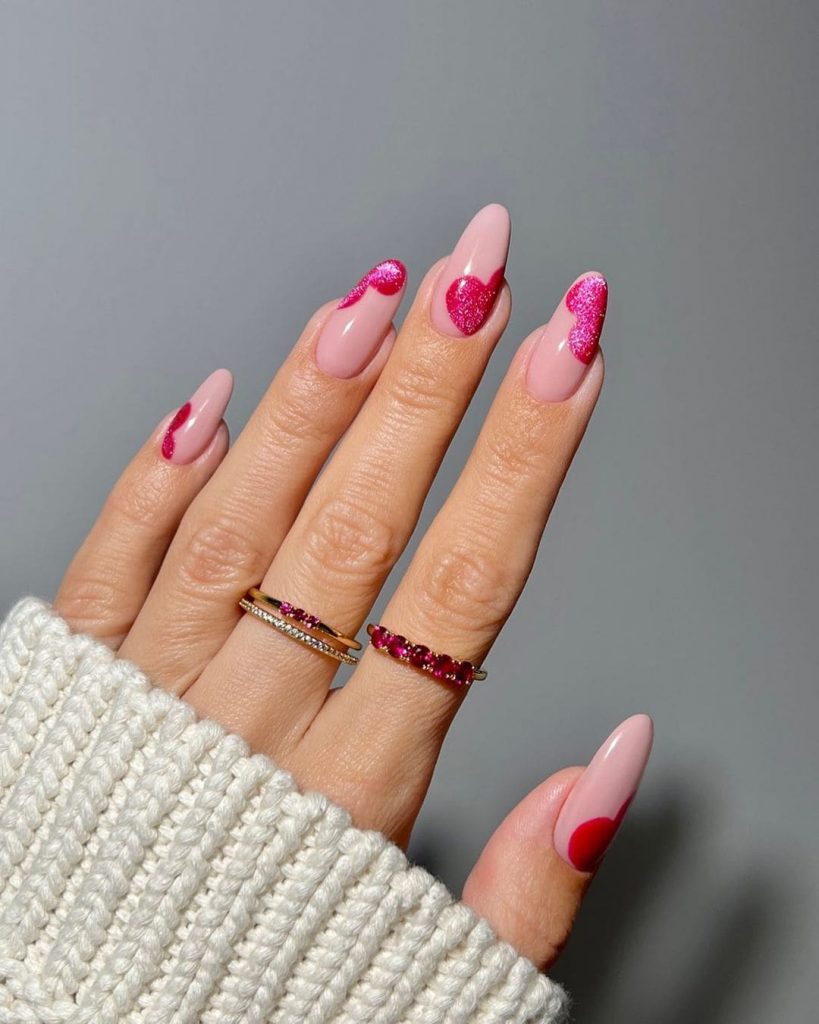 Who said that almond nails should be boring? With some custom decorations and pink glitter nail polish, you will give your nails a magnificent glow.
---
23. Pink Matte Almond Shaped Nails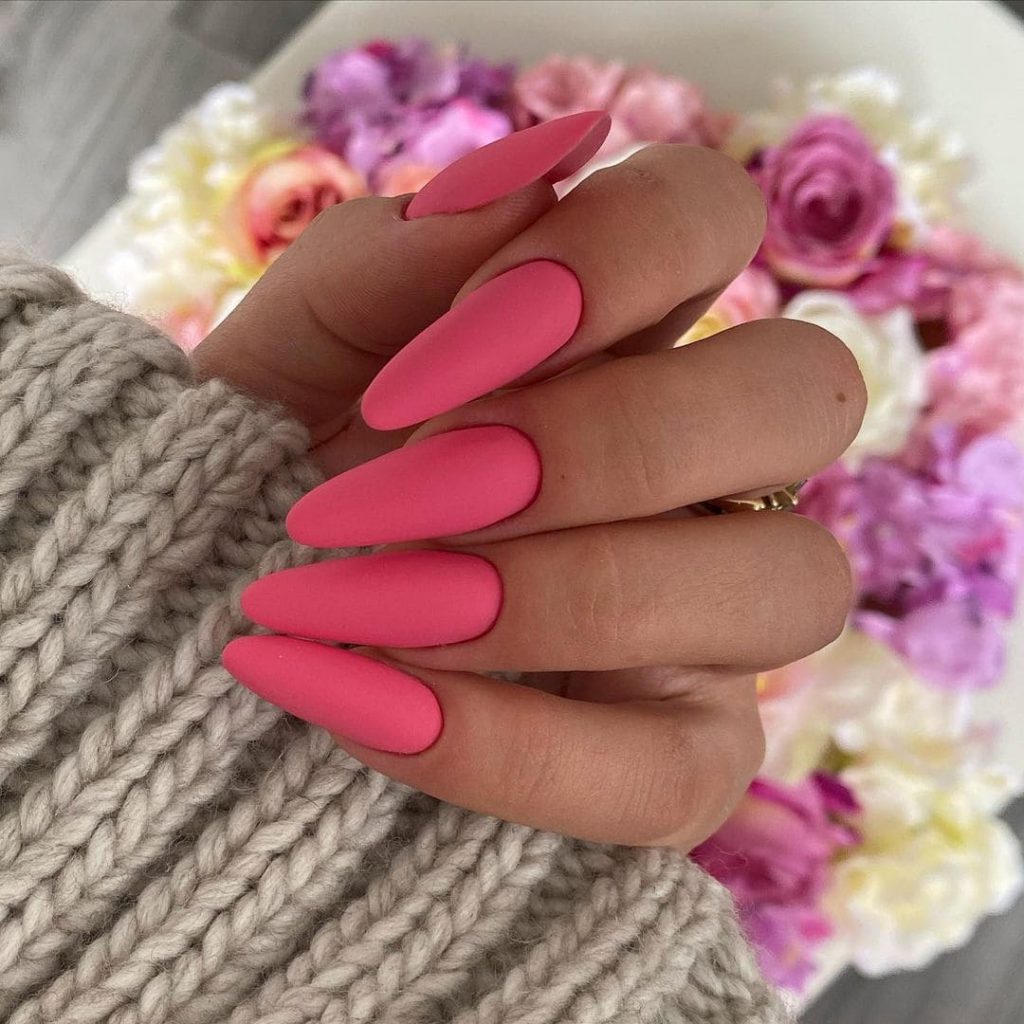 Your pink nail polish might help you create the most amazing flowers to add some warmth to your almond shaped nails. This design will be perfect for summer events.
---
24. Matte With Green Highlights Almond Nails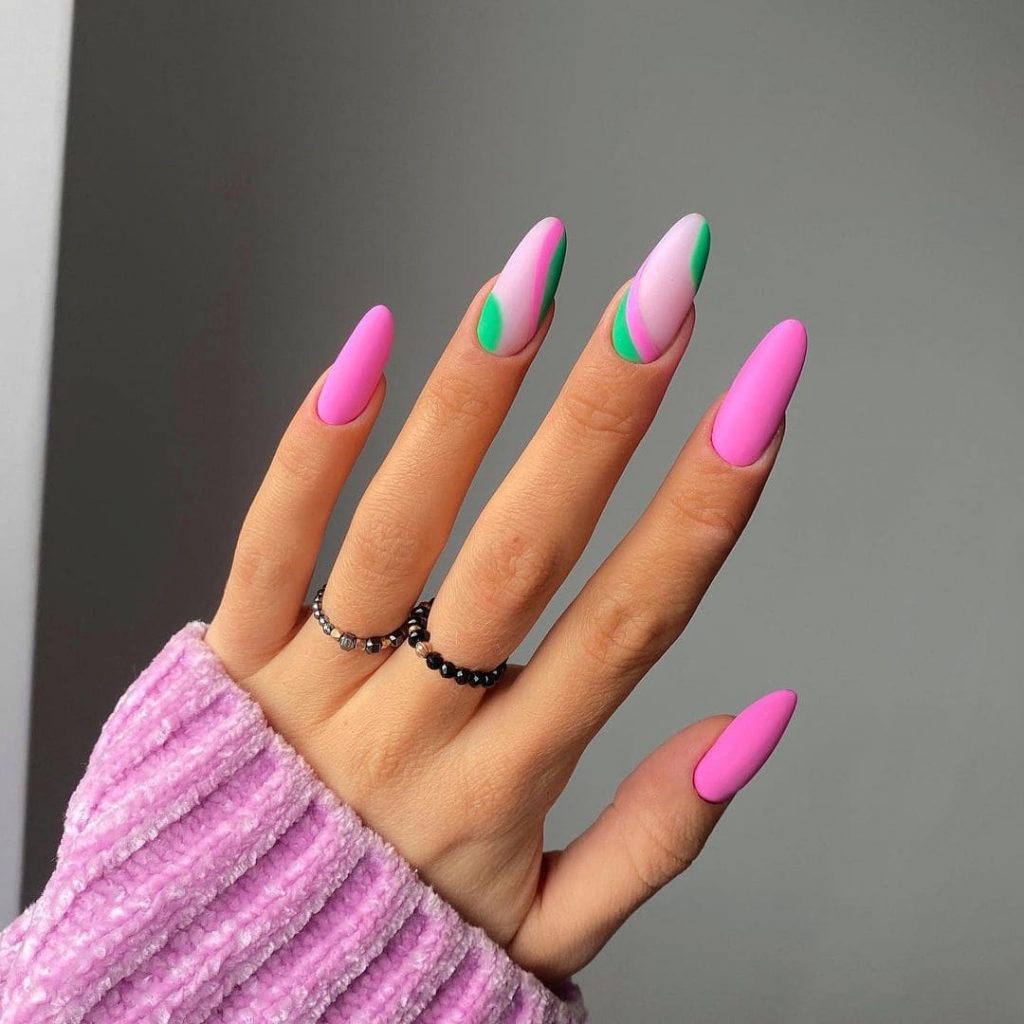 Purple highlights on your pink almond nails will give you a perfect nail look this summer. Let the purple nail polish go first, with the pink nail polish serving as an overcoat.
---
25. Cute Pink Heart Manicure Look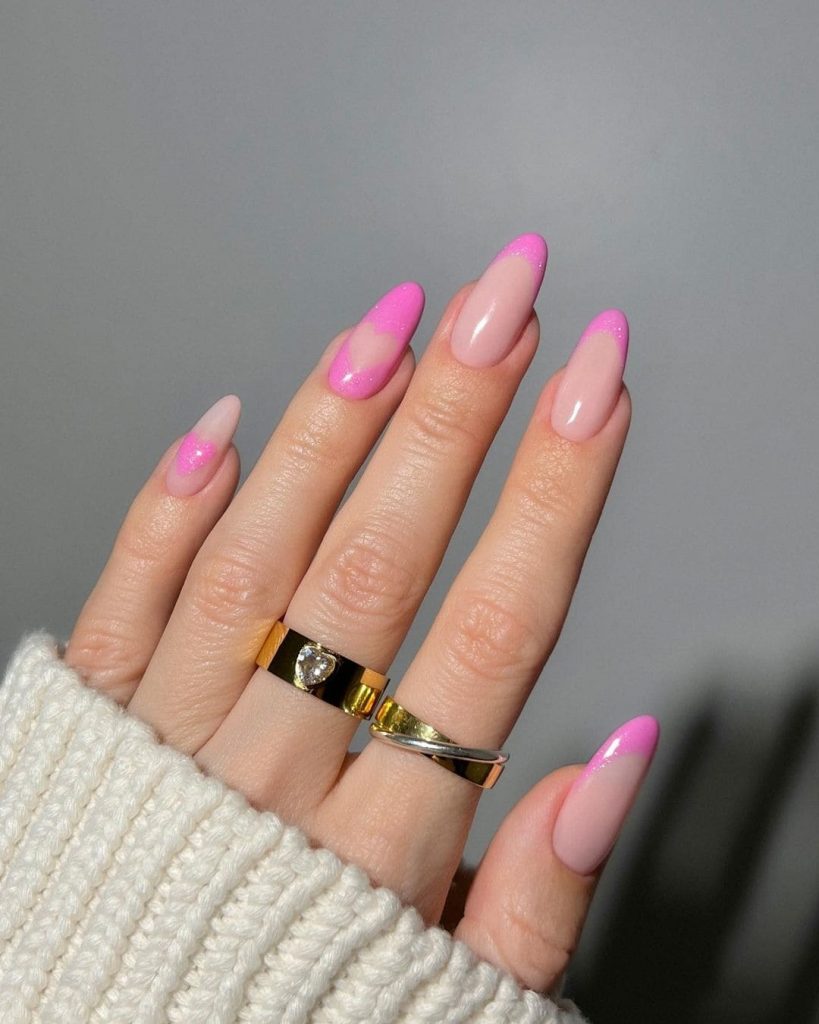 If you want to recreate this fantastic look, the pink nail polish does the undercoat. The white nail polish will create attractive white bands to serve as the icing on the cake.
---
26. Almond Pink With Dots and Hearts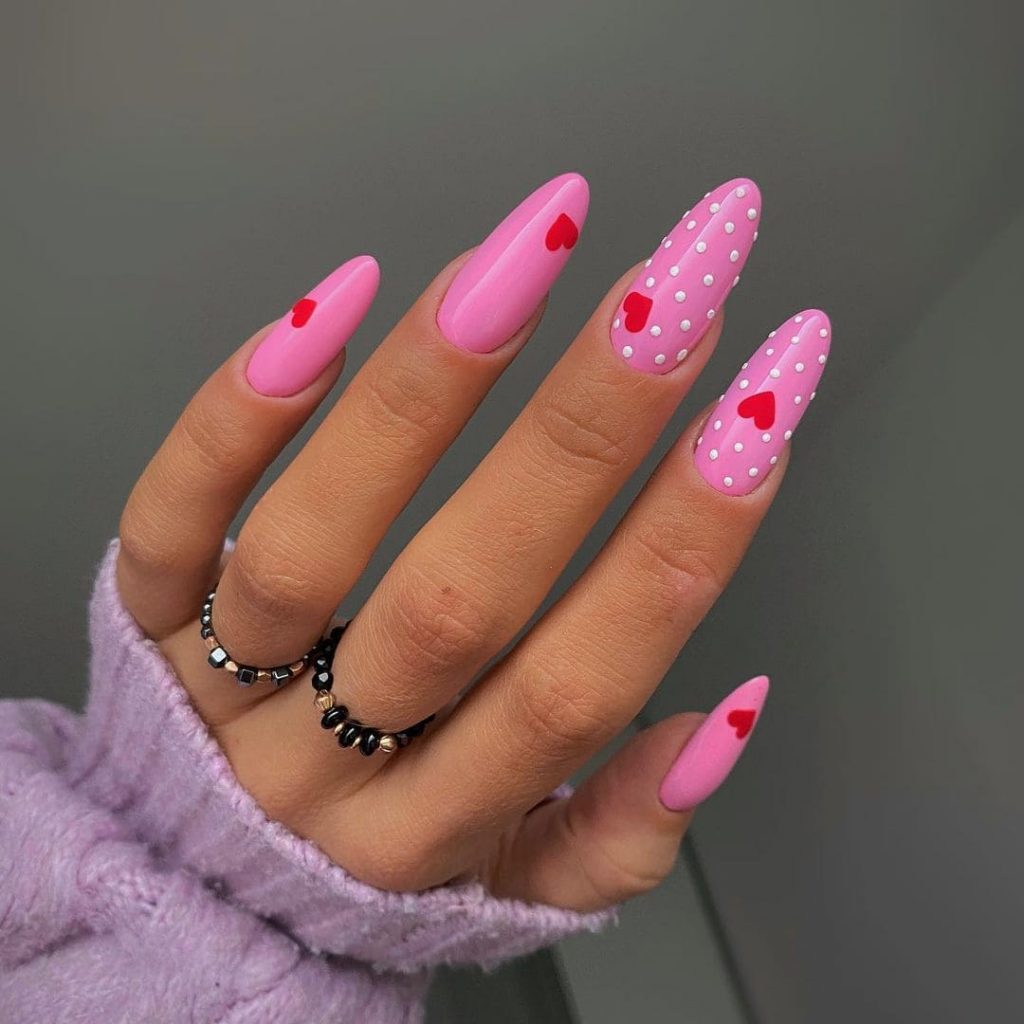 In this nail design, the pink color remains with other colors forming some striking nail patterns. You will get more attention with this nails design this summer.
---
27. Pink Polka Dots Almond Nail Design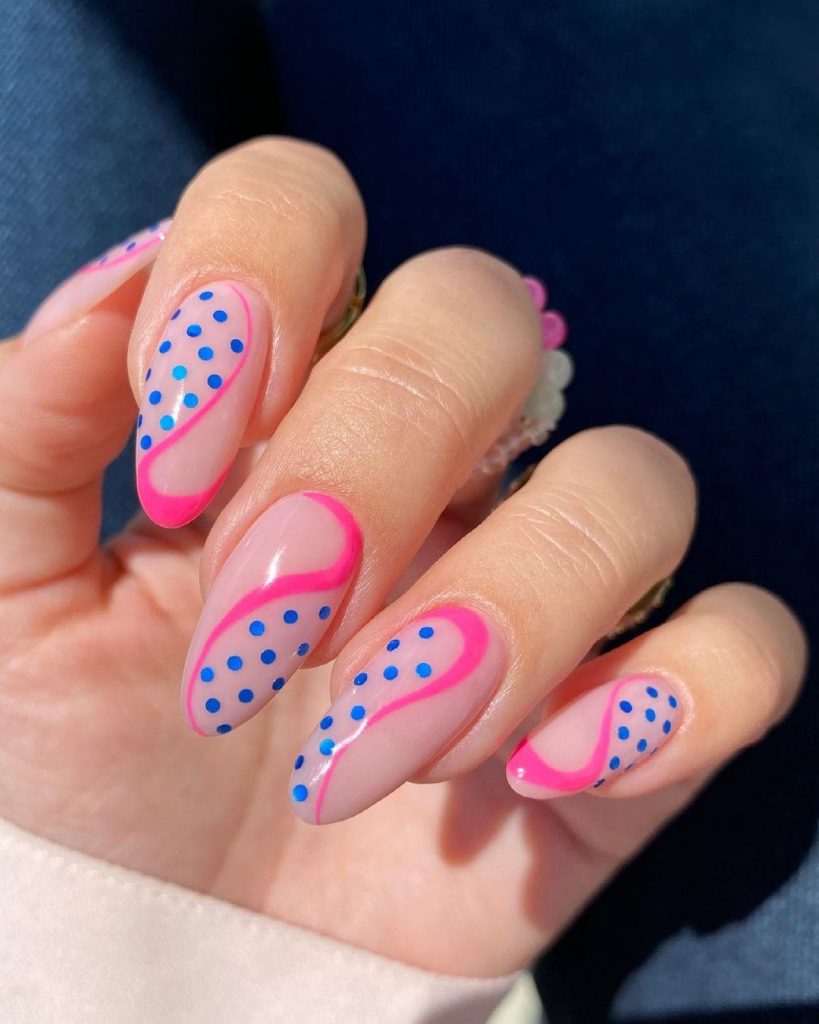 If you want to recreate this look, your almond shaped nails get painted with pink nail polish. After they have dried, put up the shining stickers and enjoy your summer in style.
---
28. Floral Pink Almond Nail Design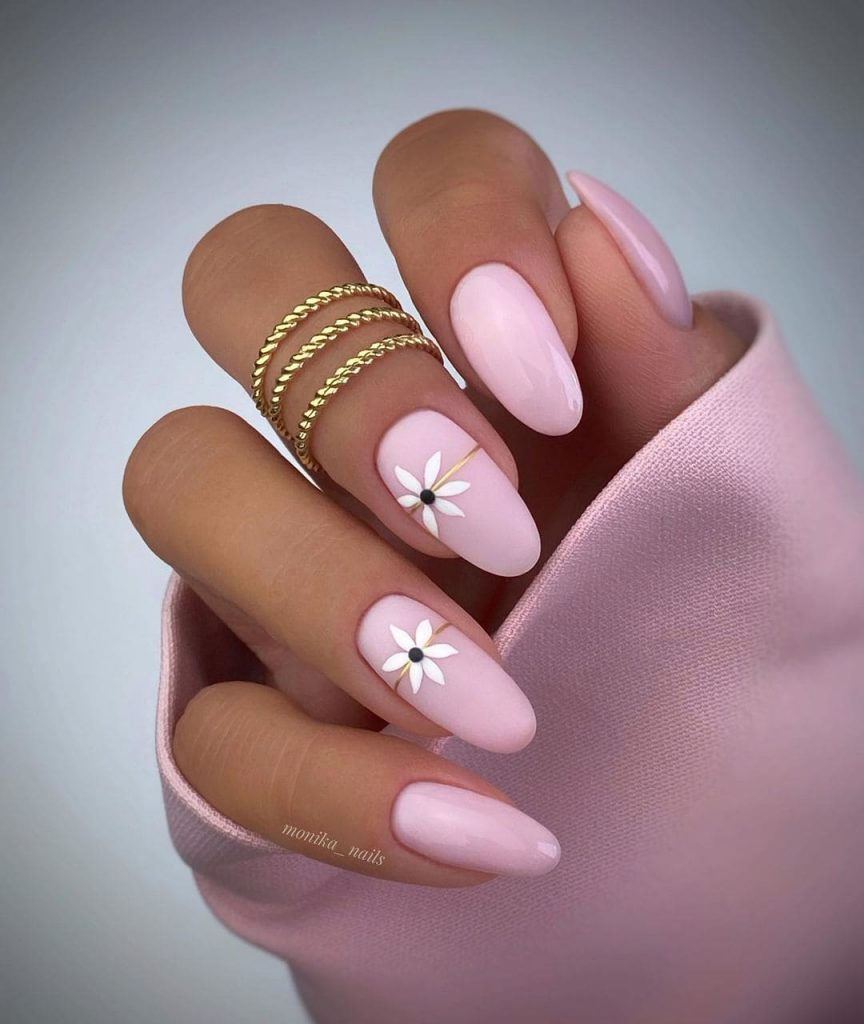 Floral looks great on your almond shaped nails and will make a unique nail design. Feel free to recreate this simple design for your summer events.
---
29. Creative Pink Almond Nail Design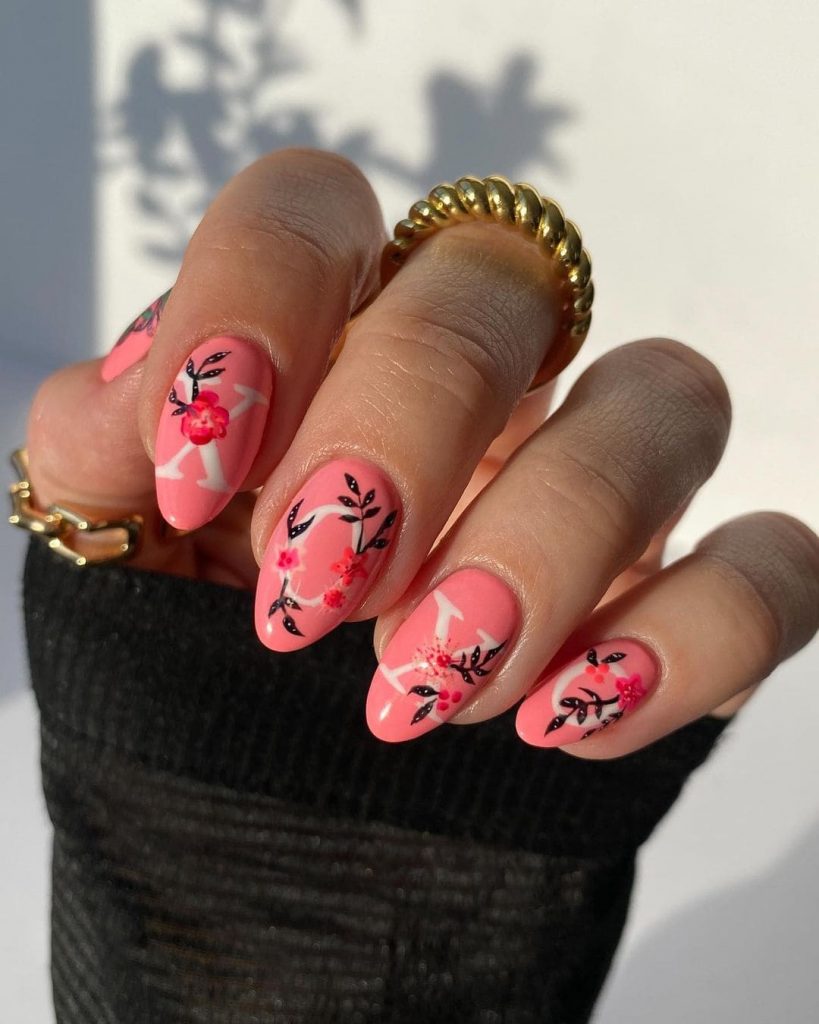 @ heygreatnails on Instagram has mastered the art to create this nail design. If you wish to rock this summer, feel free to let this nail artist make your nails beautiful.
---
30. The Black Strip Hearts Look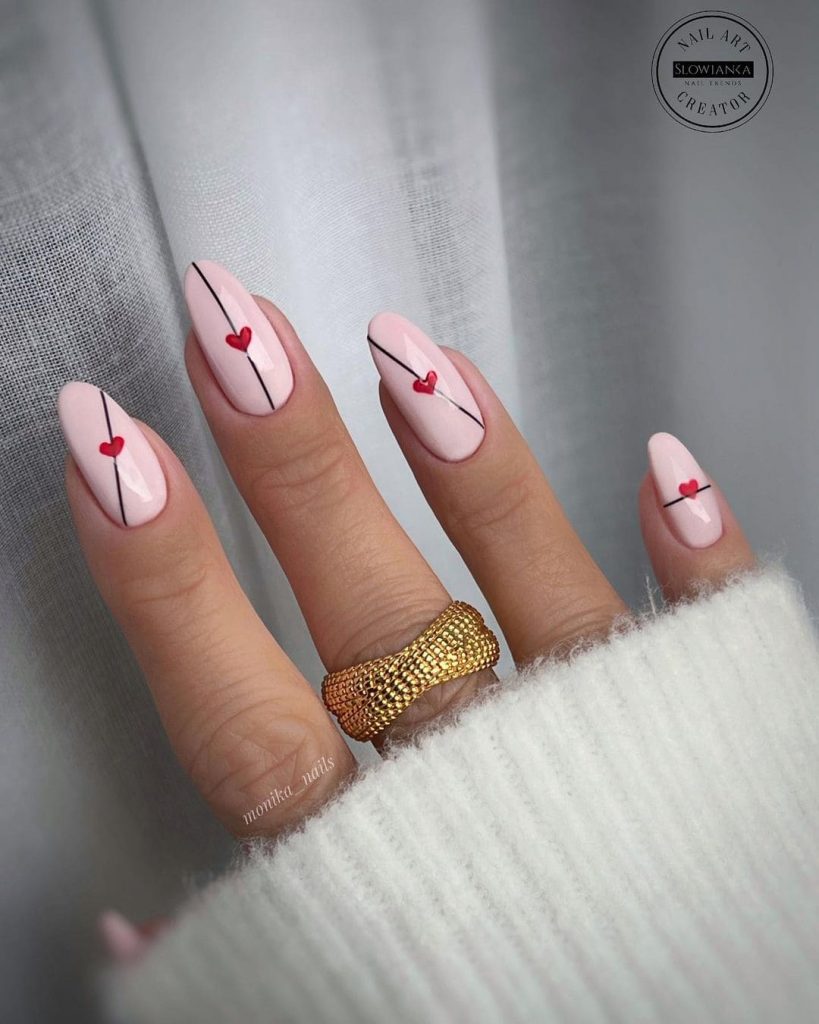 By running a black strip with gold ending at the center of your pink almond nails design, you will create the best almond nails look of the year. You should try this design this summer season.