When it comes to skincare, we have so many products in the market that may confuse you. But when it comes to glowing and healthy skin, we don't get tired but keep digging to bring you the best there ever is. Today, we will go into details about our newest highest-containing vitamin E product, called MS Beauty Prickly Pear Seed oil.
This Certified 100% Organic USDA Approved product will have your skin looking well nourished. With a skin-hydrating beauty product like this, it's a perfect choice in giving your skin all nutrients to keep it hydrated and full of vibrancy. It's made with Natural organic ingredients which are tested and approved for maximum benefits.
So, if you feel like getting your skin to that glowing level you have wanted, keep reading this review to understand all it takes to keep your skin ever beautiful.
What is MS Beauty Prickly Pear Seed Oil?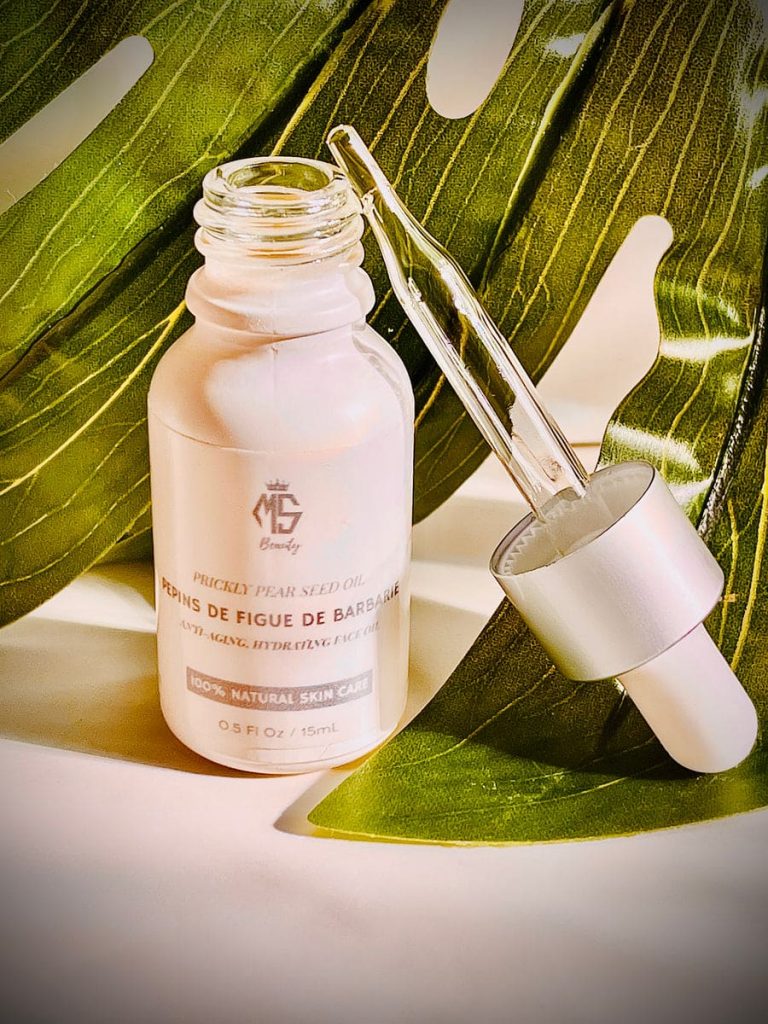 Skincare enthusiasts and routine people find MS Beauty Prickly Pear Seed Oil to function as a hydrating skincare product to cater to their skin needs. This product's benefits to your skin will not match any other ordinary oil. The abundance of vitamin E makes it a must-have for people looking to make their skin glow vibrantly.
This premium skincare product boosts fatty acids and antioxidants, which work to remove blemishes in your skin. It also works best as a night serum bringing a youthful glow to your skin overnight. So, if you may be wondering what this product does, these benefits will contribute to some of its duties.
What is prickly pear seed oil good for?
Those using this skincare product have confirmed that it helps with the following skincare benefits.
1. It helps in reducing wrinkles or fine lines
Did you know that fine lines may later lead to the development of wrinkles? These two will contribute to having old-looking skin. When you use the MS Beauty Prickly Pear Seed Oil in your developed skincare routine, you will start realizing the changes. The fine lines and wrinkles will significantly disappear, leaving you looking younger and more beautiful.
2. MS Beauty Prickly pear seed oil calms redness
Redness signifies irritated skin primarily due to dehydration. This product will help hydrate the skin thoroughly and prevent the skin irritation that causes redness.
3. It will help in brightening dark under-eye circles
Do you know that dark under-eye circles develop from dehydration? One way to prevent their formation would be to drink enough water, while the other one will be to use this pear seed oil product. It will boost your hydration levels while preventing excessive skin dehydration. In the long run, all the dark under-eye circles will disappear.
4. It helps in relieving sunburn
The skin-friendly ingredients help prevent excessive sunburn giving you a beautiful skin glow. In addition, you will be confident working under the sun with a reduced dehydration rate since harmful rays may not easily penetrate the skin.
This product develops a rather protective shield.
5. It will brighten your skin to guarantee you an even skin complexion
Dark under-eyes, sunburned spots, wrinkles, and fine lines will give your skin an uneven complexion. When you use the prickly pear seed oil, these blemishes get minimized and lead to your skin complexion evening out. Your youthful radiance will return and provide you with a healthy skin glow.
6. It does not clog pores
Prickly pear seed oil will work best with your skin without clogging pores to give you the healthiest skin. This property works best with all skin types and proves the best skincare oil. If you use other skincare products, it might prove helpful to look out for prickly pear seed oil as an ingredient. Even small amounts of this product will grant your face enough change in hydrating properties.
7. It may be used as an effective carrier oil
A carrier oil functions to deliver essential skin nutrients that may not be applied to the skin directly on its own. For example, one study found prickly pear seed oil as an effective carrier oil, especially for vitamin A.
8. It provides antioxidants and antibacterial properties for skin protection
Antioxidants will help in preventing skin damage from excessive sunlight or other stressors. On the other hand, antibacterial properties will help keep the skin free from infections and cleanse the skin. In addition, these properties help the skin breakout-free.  
What Vitamins Are Contained in MS Beauty Prickly Pear Seed Oil? 
The vitamins contained in each skincare product will dictate how helpful it might be to your skin. Most vitamins prove essential in skincare practices and help build solid and resistant skin. The prickly pear seed oil has become endorsed with the following fundamental vitamins.
Vitamin E. This vitamin contributes to the highest percentage of vitamins found in this oil.
Vitamin K
Essential oils
Omega 6 and 9
Antioxidants
Polyphenols
Amino acids
How To Use MS Beauty Prickly Pear Seed Oil
When using pure prickly pear seed oil, consider purchasing the one rated 100%. You may also settle for the cold-pressed, unrefined, organic, or virgin version of this skincare product. It will serve you best with the high quality it brings.
To apply the pure prickly pear seed oil, pour one to two drops of the product in your hands. Then, gently rub and massage into your face with the oil until you get an even distribution all over your face.
How To Use MS Beauty Prickly Pear Seed Oil For An Essential Carrier Oil?
To create the perfect essential oil for your skin, mix the prickly pear seed oil with any other desired essential oil. While mixing, remember that the drops of essential oil will determine the strength of your mixture.
For instance:
One tablespoon of prickly pear seed oil added to one drop of essential oil will create a one percent essential oil solution.
Two tablespoons of essential oil to the same drop gives you two percent mixture.
Five tablespoons of essential oil and any other corresponding tablespoons number will give you the percentage of the essential oil number.
Feel free to follow this criterion in creating your required essential oil percentage. However, different skin types and skin conditions may require different ratios.
Final thoughts
Have you struggled to find an oil that will work with your skin to restore its glow? The hydrating properties coupled with other skin benefits of the MS Beauty Prickly Pear Seed Oil will provide you with precisely that. So go ahead and purchase yours today for a fantastic skin do-over.
Frequently Asked Questions
Why is MS Beauty prickly pear seed oil expensive?
It takes a lot of seeds to prepare even an ounce of the prickly pear seed oil. This extraction cost contributes to the high prices.
Does MS Beauty prickly pear seed oil clog pores?
No, it doesn't. On the contrary, it penetrates so well, thanks to its high vitamin E content. It leaves the skin hydrated and looking vibrant.
Where can I purchase MS Beauty prickly pear seed oil?
Why use MS Beauty prickly pear seed oil?
Certified 100% Organic Natural ingredients with USDA Approved.