An oily skin signifies a skin type with excess sebum production. Although everyone's skin emits the oil sebum, in some people, it turns out too much. This excess oil production leads to the development of oily skin types. If your face appears shiny more often in a day and sometimes gets greasy even after cleansing, you have the oily skin type. That's why we've curated our best skincare products for oily skin.
When the sebum mixes with dead skin cells and gets stuck in the pores, you may experience a breakout. You should thus use the best skincare products for oily skin to keep it at its best.
What causes oily skin?
To understand the best skincare products to use with oily skin, you need to determine what causes your oily skin condition. It could be any of the following.
Genes – Mostly oily skin will run in the family. If your parents had oily skin, it could follow your glands to produce the extra sebum.
Age – In our younger years, our skin produces more oil than in our older ages. Your oily skin today may be a dry skin type in a few years. Evaluation by a dermatologist helps you switch skincare products accordingly.
 Enlarged pores – Our skin pores tend to enlarge following previous breakouts, age, or weight fluctuations. As the pores grow larger, they will produce more oil. So, you will need oily skincare products that help blot the oily skin areas during the daytime.
Use of wrong skincare products – If you use very creamy products in most cases, it may end up oiling your skin more, especially when it isn't oily. If your skin type varies with climate and location, then change your skincare products accordingly.
Skincare routine overdoing – If you cleanse and exfoliate the skin excessively, it ends up drying more. This process initiates an emergency response from the sebaceous glands that produce more oil, leading to oily skin types.
Which skincare products help with oily skin?
Now that we know the causes of oily skin, we must avoid some practices that may make our skin oily. We need to invest in the following products for better results for those with oily skin due to genetics, age, and other uncontrolled occurrences.
CeraVe Cleanser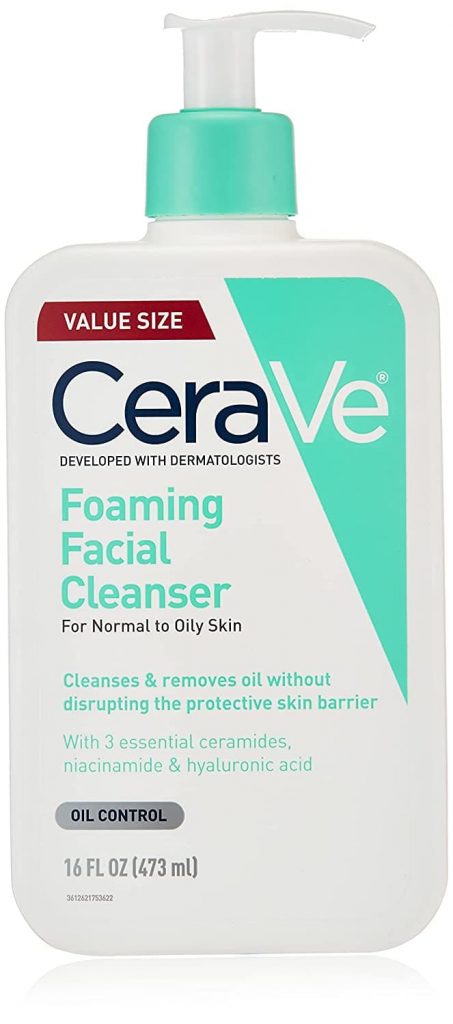 With oily skin, you will need the best cleanser to remove the excess sebum. If sebum mixes with sweat, it may cause a breakout. CeraVe cleanser will work to wash and clean your face of any excess oil, leaving you glowing. The clear gel foams and washes your face gently. You will not get flaky, dry skin after your cleaning session.
This skincare product restores your skin's natural barrier. The Ceramides present in the CeraVe cleanser work to restore the skin's barrier, thus making you glow and shine.
One thing that will amaze you will be the fact that dermatologists have produced this product, and you will get the confidence that most people associate with using it. It will give your skin a gentle yet successful oil extraction.
Pros
Removes excess oil
Skin-friendly
Gentle to the skin
Foams perfectly
Cons
Some people find it costly
We recommend CeraVe as the ultimate cleansing product for people looking for a gentle solution to their shiny-oil face.
---
Cetaphil cleanser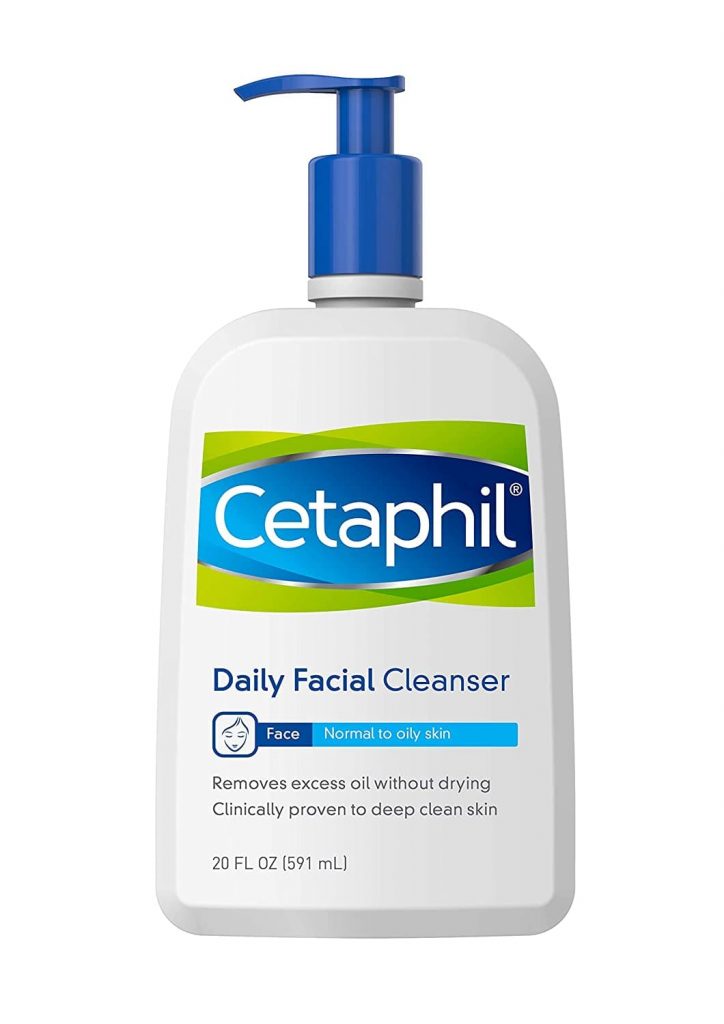 The cleansing process forms the most important process in oily skin type care. You will need to clean your skin to follow other skincare practices perfectly. Cleansing removes excess oil, makeup, and sweat. Cetaphil works perfectly on your skin to leave you feeling refreshed and clean.
Some cleansers will irritate the skin, preventing you from using them daily. Cetaphil doesn't irritate the skin, and you will clean your face twice without getting any irritation.
This product comes paraben-free and offers deep skin cleaning. You will not get drying episodes on the skin. Instead, you will leave feeling smooth and hydrated. This smoothness happens because Cetaphil doesn't strip the skin of its essential oils.
Pros
You get a clean and moisturized feel
Paraben-free
Gentle to the skin
The dispensing system doesn't allow for wastage
Removes all dirt, sweat, and makeup
Cons
Sometimes it may be unavailable due to high demand
Some people find it costly
We recommend this cleanser if you need the perfect cleaning product to keep any oil-related breakouts away.
---
Paula's Choice toner

Toners come after you have cleansed your face perfectly. Once you have removed the excess sebum, sweat, and makeup, before applying once more, you will need something to sit between the skin and your makeup.
Paula's choice toner will be that thing. It will not only balance your skin, but also act as a pore-reducing product. If pores enlarge, they release more oil to the skin, making it oily. Paula's choice will minimize your pores as it works to make the oil-producing pores smaller.
The ingredients that make-up this toner, like water, glycerin, glycol, among others, guarantee you skin-friendliness. You may experience zero reactions from using this product. This product also reduces blackheads and reduces aging, leaving you looking youthful and with unblemished skin.
Did you know that Paula's choice toner also contains antioxidants, Ceramides, and other essential components? These components work together to guarantee you smooth and well-balanced skin.
Its fragrance-free nature makes this toner the best you may ever get in the market. If you need the best toner for your oily skin, embrace Paula's choice today for more fabulous days ahead.
Pros
Paraben-free
Scent and fragrance-free
It contains water and glycerin
Soothes and smoothens skin
Suits various skin types
Gentle to the facial skin
Cons
Not suitable for dry skin
Shipping charges make it costly
We recommend this product for people with oily skin looking to find the best toner before applying makeup.
---
Biossance Squalane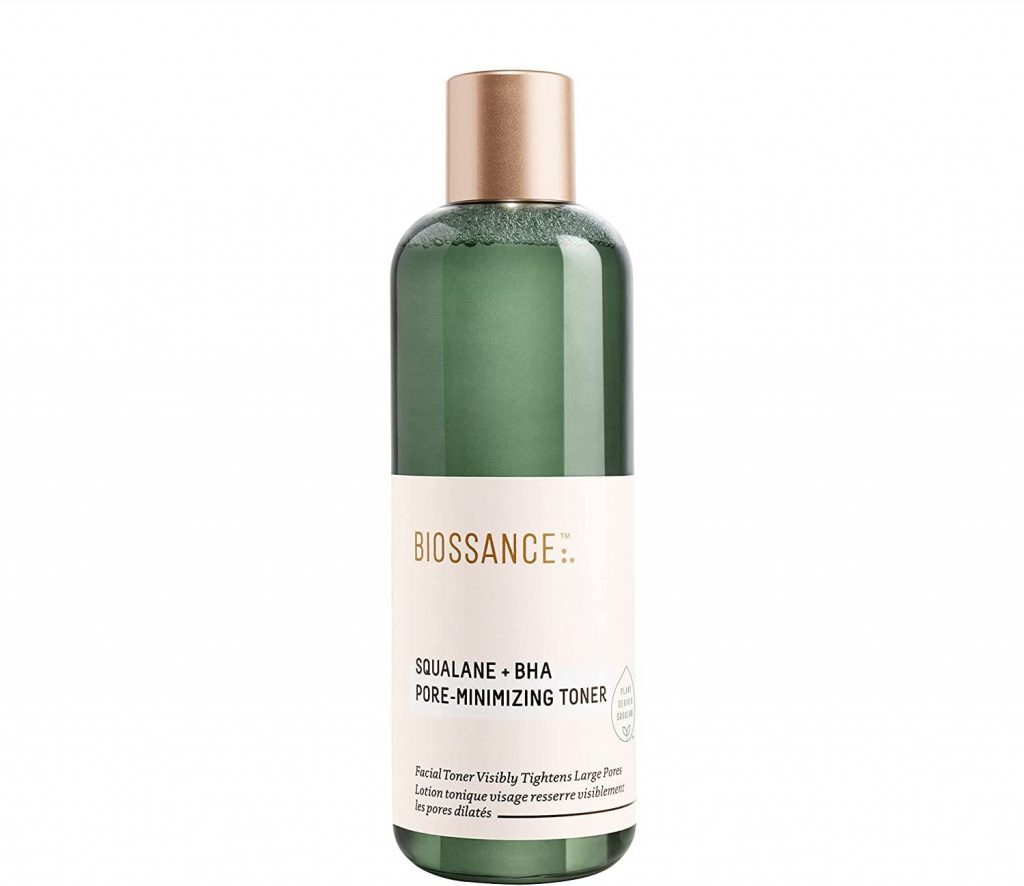 Biossance Squalane makes another excellent toner and pore reducing product. The pores will appear clear and smaller, adding to your beautiful appearance. Not only does this toner reduce the pores and make them clear, it gently hydrates and exfoliates your skin. Exfoliating and hydrating will make you feel smoother and refreshed.
The Biossance brand has made this toner scent-free to ensure that it suits your delicate skin. The ingredients guarantee safe and irritation-free use. The willow bark content, which has beta hydroxyl acid, works by unclogging pores and exfoliating the skin, leaving it refreshed. You don't have to worry about irritants while using this product.
How to use
Clean your face with a recommended cleanser
Pour a sizeable amount of the Biossance toner into a cotton wool
Gently wipe over your clean face
Also, you may pour on your palms and pat on your skin
Pros
Paraben-free
Vegan and cruelty-free
Easy to use
Hydrates and soothes skin
Minimizes large pores
Cons
Shipping fees increase the net buying cost
Not recommended for dry skin
We recommend this toner, especially for people with pores on their skin. It will do wonders for you.
---
LAROCHE Posay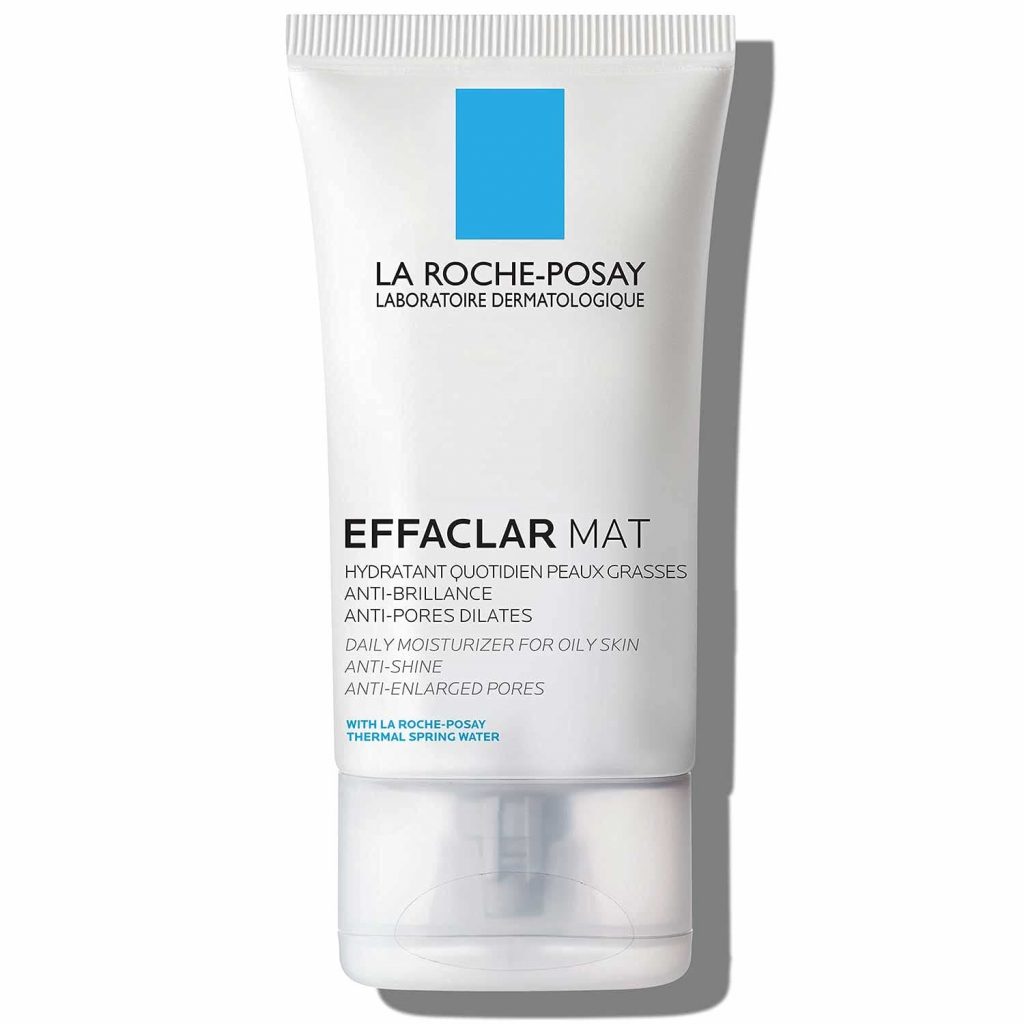 Moisturizing oily skin proves the most challenging part of oily skin skincare. Because the gland produces excess sebum, you may argue that you don't need to moisturize it. But every skin type requires a gentle moisturizer to stay balanced. This situation should not be an exception for the oily skin type.
The salicylic acid used as an ingredient in making LAROCHE Posay moisturizer makes the moisturizer the perfect base before makeup. This moisturizer works targeting two strong skincare points.
Minimize the skin shine. Shine gets reduced when the glands produce a limited amount of sebum.
It also minimizes the skin pores. Large skin pores will lead to the release of excess sebum and therefore contribute to an oily skin type. LAROCHE Posay will work deeply into the skin to reduce the size of the pores. This way, the amount of sebum produced by the sebaceous glands reduces significantly.
If you have developed oily skin type from overdoing your skincare routine triggering excess oil production, this product will effectively resume normalcy. When the skin pores get reduced, then you will succeed in bringing down the excessive oil production.
Pros
Paraben-free
It doesn't cause allergic reactions
Tested by dermatologists hence safe
Has won the 2020 prevention healthy skincare award
Best mattifying moisturizer
Easy to use
Cons
not suited for dry skin
some people find it expensive
We recommend this product for someone with oily skin with large skin pores. It will effectively handle your excess sebum production while minimizing your skin pores.
---
Cetaphil DermaControl Moisturizer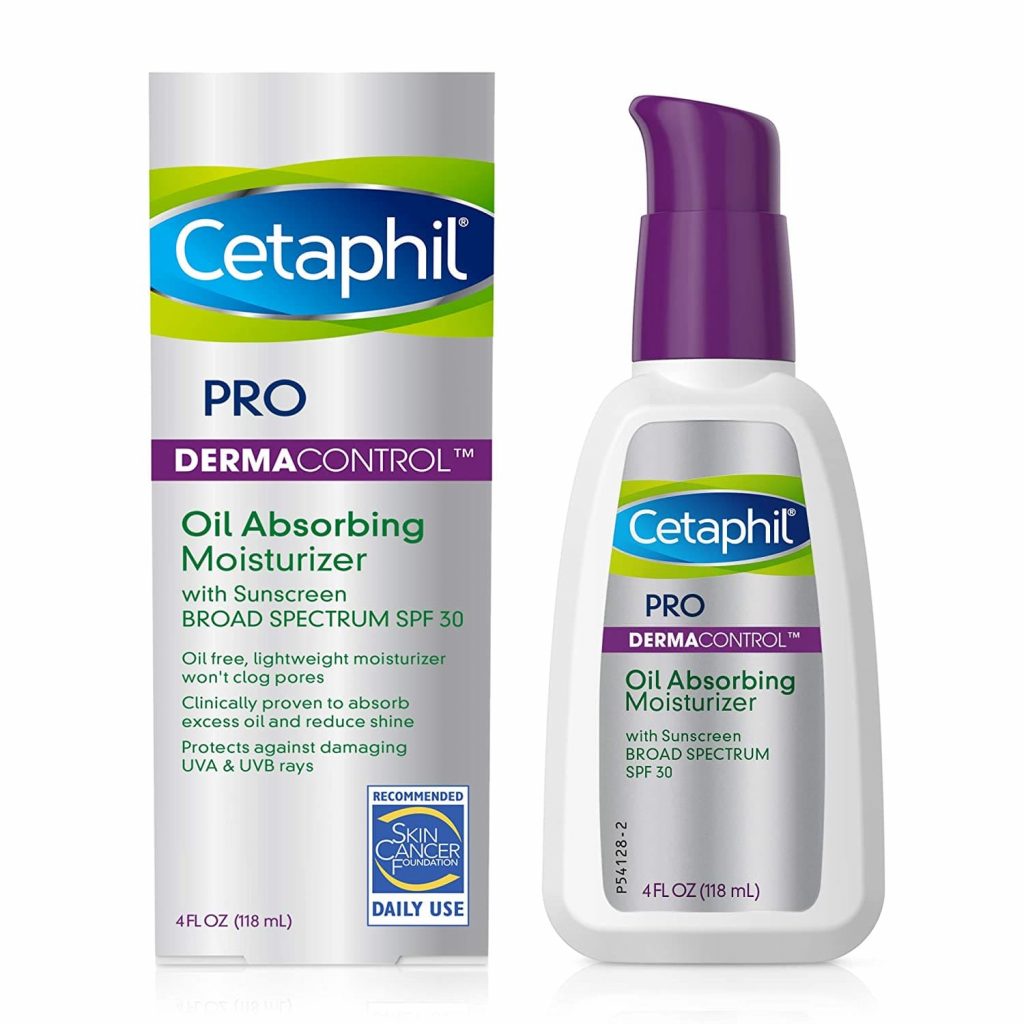 Do you fear moisturizing your face because it always seems shiny? Worry no more. Cetaphil DermaControl reduces your skin's shiny appearance leaving you with a smooth and shiny free face.
This moisturizer also works best for people with sensitive, oily skin. Some people have not only a shiny, oily face but also sensitive acne-full oily skin. Cetaphil has healing properties that minimize the reactions and help you achieve smooth facial skin.
The unscented nature of this moisturizer makes it ideal for sensitive, oily skin types. About 96% of people with oily skin get reactions when they apply scented skincare products.
This Cetaphil moisturizer works through the following techniques.
It absorbs oil. Through this technique, you will have less and less sebum on your skin.
It reduces shine. When the extra oil gets absorbed, it will not stay on the skin surface. Consequently, the skin shine reduces, leaving you with a well-balanced skin appearance.
It hydrates the skin. Enough hydration will give your skin a shine less appearance making your skin beautiful with a natural glow.
It protects the skin against harmful sun rays. Not only will this moisturizer keep your skin shine-free, non-oily, and hydrated, it will also protect against harmful UVA and UVB rays. So you will also double the use by having a unique sunscreen.
The packaging comes lightweight enough to guarantee you the perfect travelling item. It will fit in your purse, and you may carry it with you without struggle. You also don't get any fragrance related skin problems since it comes scent-free. The moisturizer absorbs the excess sebum quickly. Through quick absorption, you will get well-hydrated skin and unclogged pores.
Pros
Lightweight
Protects against harmful UVA, and UVB rays
Keeps skin hydrated
Absorbs excess oil
It has a beautiful packaging
Easy to apply
Cons
Not recommended for all skin types
The shipping charges increase the overall cost
We recommend this product for people with oily skin who need to reduce overall skin shine.
Frequently Asked Questions
Oily skin may result from genetics, excessive skincare routine, harsh skincare products, or even age. If you develop oily skin due to a secondary imposed cause, you may stop using oily skincare products once your skin regains normalcy.
If you naturally have oily skin, the skincare products discussed in this article will help you immensely.
What products are suitable for oily skin?
Oily skin needs skincare products that focus on removing the excess oil from the skin. Also, pore reducing products have proven very effective in dealing with the oily skin menace.
This article provides you with the best basin skincare routine products for oily skin. Purchase some of our recommended cleansers, toners, and moisturizers for a fantastic experience.
What skincare routine is best for oily skin?    
You should ensure that you wash, clean, your face with cleansers, tone your face after cleaning. If you got acne, treat your face using benzoyl peroxide treatment, and then moisturize.
Taking care of oily skin has a lot of challenges. We have summarized the best skincare products for oily skin in an everyday style. Here, you get the best cleansers, toners and moisturizers. Once you use the above products in your skincare process, you will realize a balanced, acne-free and oily-free facial appearance.
This thong design has extra fabric on your bum compared to typical thongs entering your bum cheeks. The additional fabric gives you a flirty yet beautiful look if you consider your panties as bikinis.
Do thongs cause yeast infections?
We don't have research-based evidence on this claim. However, you might consider wearing cotton fabric thongs if you prefer them for daily wear. Drying your underwear in direct sunlight also helps prevent foreign germs that may trigger UTIs.