If your chemically-treated hair looks or feels dull, frizzy, tangled, brittle, dry, or plain rough, you might have hair damage. The phenomenon occurs when you've damaged the outer layer of your hair or cuticle, leaving your hair shaft vulnerable and exposed.
In today's hair care blog, we'll be discussing the simplest ways to repair damaged hair at home.
1. Prevention is Paramount
If you've been putting bleach and chemical dyes to your hair and styling it with heat, your existing hair is likely hanging on by a hair (pun intended). Before starting a hair routine, make sure you've got enough prevention in place. For instance,
Only rub shampoo on your scalp. Don't run it through your hair strands.
Air dry your hair.
Brush your hair after it's on the business-end of dry.
Sleep in braids or loose ponytails. Refrain from hairstyles that pull at your hair.
No bleaching, dying or styling with heat.
Switch to a wide-toothed comb.
2. Adopt a Daily Hair Routine
Once you've got the prevention down pat, adopt a gentle hair care regime. During the first week, wash your hair daily with products that are free of alcohol, chemical dyes, sulfates, synthetic fragrance, and parabens. Washing your hair every day would wash all the dirt, sweat, and dead skin cells out of your hair.
During the second week, wash your hair every other day with a gentle shampoo, but be sure to condition your hair every day, with the odd deep conditioning session once a week.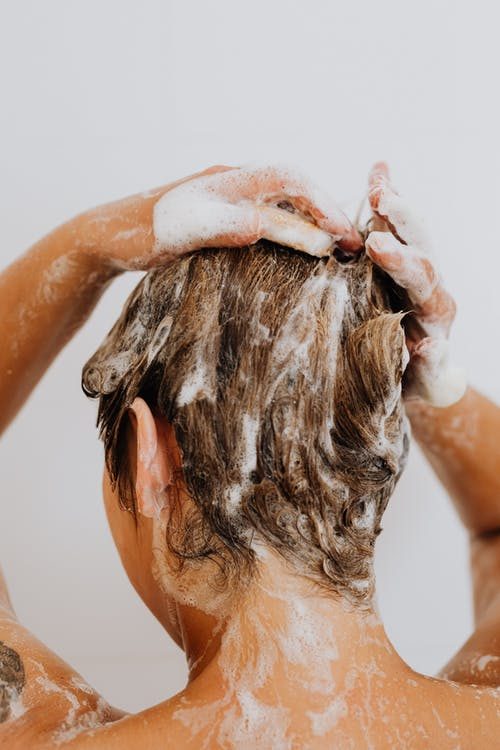 3. Get a Regular Trim
According to experts, people with healthy hair should only trim them about three to four
times a year. But since we're talking about damaged hair, you should probably get a snip
every six to eight weeks, depending on the extent of your hair damage.
This is because you can't reverse split ends, but you can stop them before they can do any
more damage to your cuticles. Trims would keep your split ends to a minimum while your hair responds to treatment.
4. Apply a DIY Hair Mask Every Week
A hair mask is a deep conditioning treatment, we know we've already talked about them, but we're only mentioning them again, lest you buy an over-priced one from your local Walmart.
Hair masks are leave-in masks that you can apply for anywhere from three minutes to overnight. You can make your own masks at home and from things you practically have lying around the house, such as honey, egg, sugar, hair oils, and so on.
Learn the best ways to take care of your hair by checking our Your Beauty Essentials, where we not only impart advice on hair but also discuss makeup essentials, skincare essentials, manicure and pedicure tips, and more.
Leave us a message for comments and special requests.