When you possess the dry skin type, it doesn't mean you have to tolerate rough and flaky skin. Your face becomes the most irritable place on your body that needs utmost care. If you apply skincare products that cause dehydration to the skin, the skin will become dryer. Reason why we've put together some of the best skincare products for dry skin to help you out.
You will not have improved its status even by the smallest chance. Sometimes dry skin may result from using harsh skin care products or being exposed to harsh environmental conditions like extreme cold.
It may also have a relation with our genetics, where some people have dryer skin than others. Sometimes we may also develop skin disorders like Eczema and Psoriasis, making our skin dry and flaky.
No matter the cause of our dry skin, the skincare products that we use should do the following:
Not irritate the skin further
Should boost the skin's hydration
Should moisturize and supply the skin with essential oils and serum
Be gentle to the skin
Should contain enough nutritional ingredients for the skin
Protect the skin against harsh environmental factors
This article will look at the best skincare products we should apply to dry skin. If your skin type happens to be the dry type, you will find this article very informative and practical.
If you don't have a dry skin type, this article will equip you with enough knowledge to help a person suffering find their dry skin skincare products.
Yonka Lotion Toner
Are you struggling to find the best toner for your dry skin? Search no more. Yonka lotion proves the ultimate dry skin toner. After cleansing your face, you will need a toner to soothe the skin before applying any other product.
Qualities of Yonka Lotion
Hydrates and soothes your skin after cleansing. If the skin were to remain dehydrated, then it would dry more. This skin toning lotion ensures that the skin gets hydrated and smooth.
It has no alcohol. Alcohol-based toners will irritate dry skin. Did you know that Yonka soothes and refines the pores while energizing the skin?
It prevents skin aging. As we wash our skin daily, we tend to increase the aging process. However, with Yonka, your skin will receive anti-aging treatment boosted with essential oils that prevent aging. This product serves as an aromatherapeutic skin treatment.
It offers professional skincare. This product gets manufactured by a French Phyto-aromatic skincare company. You will therefore use a well-researched product offering maximum benefits to your skin.
How to use the Yonka Lotion Toner
Spray some Yonka lotion on your face and neck immediately after cleansing.
Massage the face and neck with the lotion until you evenly spread the lotion.
Let it dry out as you continue massaging until it seeps into the skin.
You may repeat this process twice a day to achieve great results on your dry skin.
Pros
This lotion leaves you feeling fresh and hydrated
The anti-aging properties will make your skin appear younger
The skin gets nourished and toned
Cons
Some people find this product costly
Not applicable for all skin types
We recommend this lotion to be used at night and in the morning after cleansing your face. It will ensure that your skin gets enough hydration to prevent further dry-out.
---
Farmacy Honey Moisturizing Cream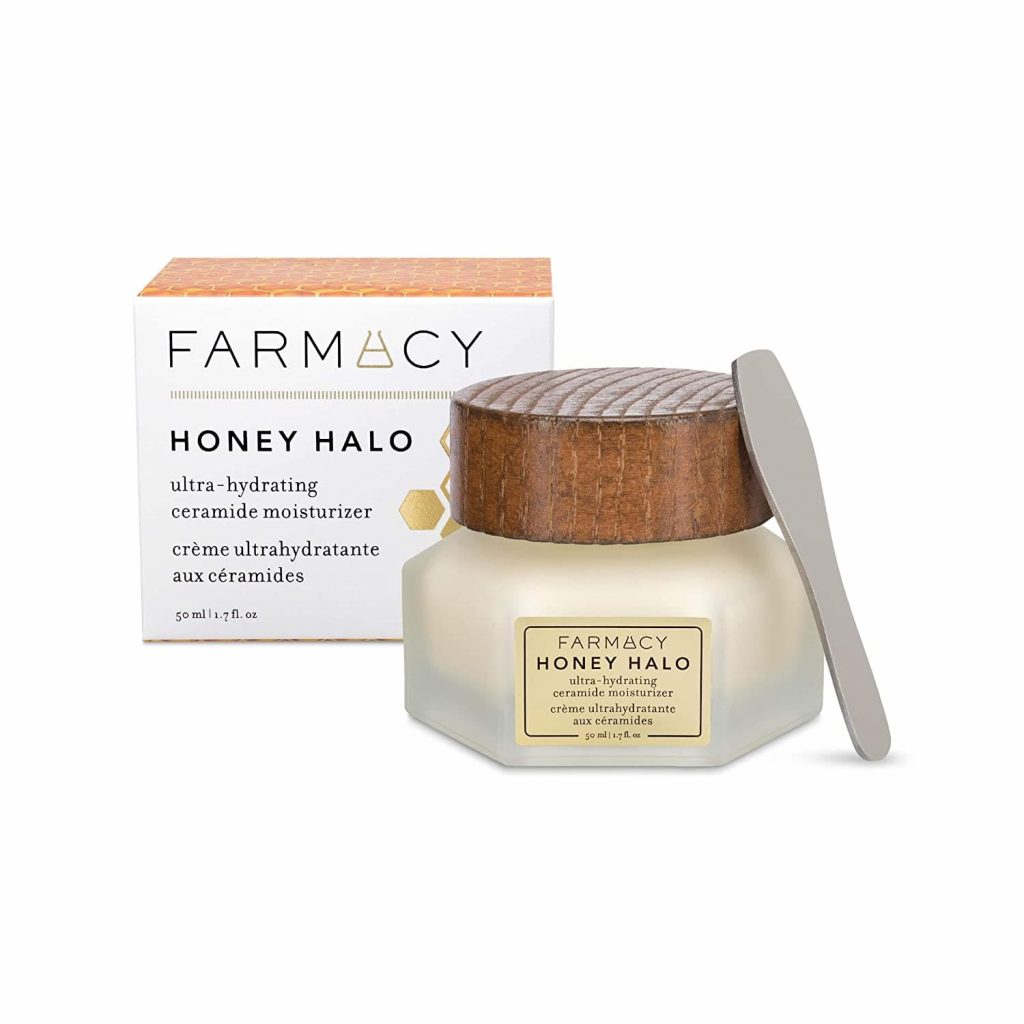 Moisturizing your skin forms a major step for people with dry skin. Dry skin lacks the essential oils and serum that keeps skin moisturized and balanced. For this reason, the skin tends to dry often and have a rough, flaky appearance. Not all moisturizers work for dry skin. For instant, if you mistakenly apply moisturizing cream meant for oily skin, your skin will dry even more.
The perfect moisturizing product for dry skin will be a cream product. Cream moisturizers offer more essential oils for the skin to feel protected from excessive drying. Farmacy honey moisturizing cream will do exactly this and more.
Qualities of Farmacy Cream
It maximally hydrates the skin. Hydrating dry skin becomes vital for people with dry skin. Farmacy cream hydrates the skin and prevents further dehydration.
It locks in moisture. The Ceramides in this moisturizing cream replenish the skin's barrier preventing further dry skin.
The fig fruit extract plumbs and supples the skin leaving it smooth.
This product comes from a reputable pharmaceutical brand. The company focuses on making your skin radiant and glowing.
How to use this product
Ensure you clean and tone your face
Apply and evenly distribute on your face while gently massaging to let it seep into the skin.
Apply twice a day for better results.
Pros
It leaves your skin healthy and moisturized
Easy to apply
It comes from a trusted brand
Cons
It May be expensive for some people
Not ideal for all skin types
We highly recommend this product for someone struggling with dry skin. It will leave your skin hydrated, moisturized, and balanced with no more excessive drying.
---
Paula's Choice Skin Recovery Cleanser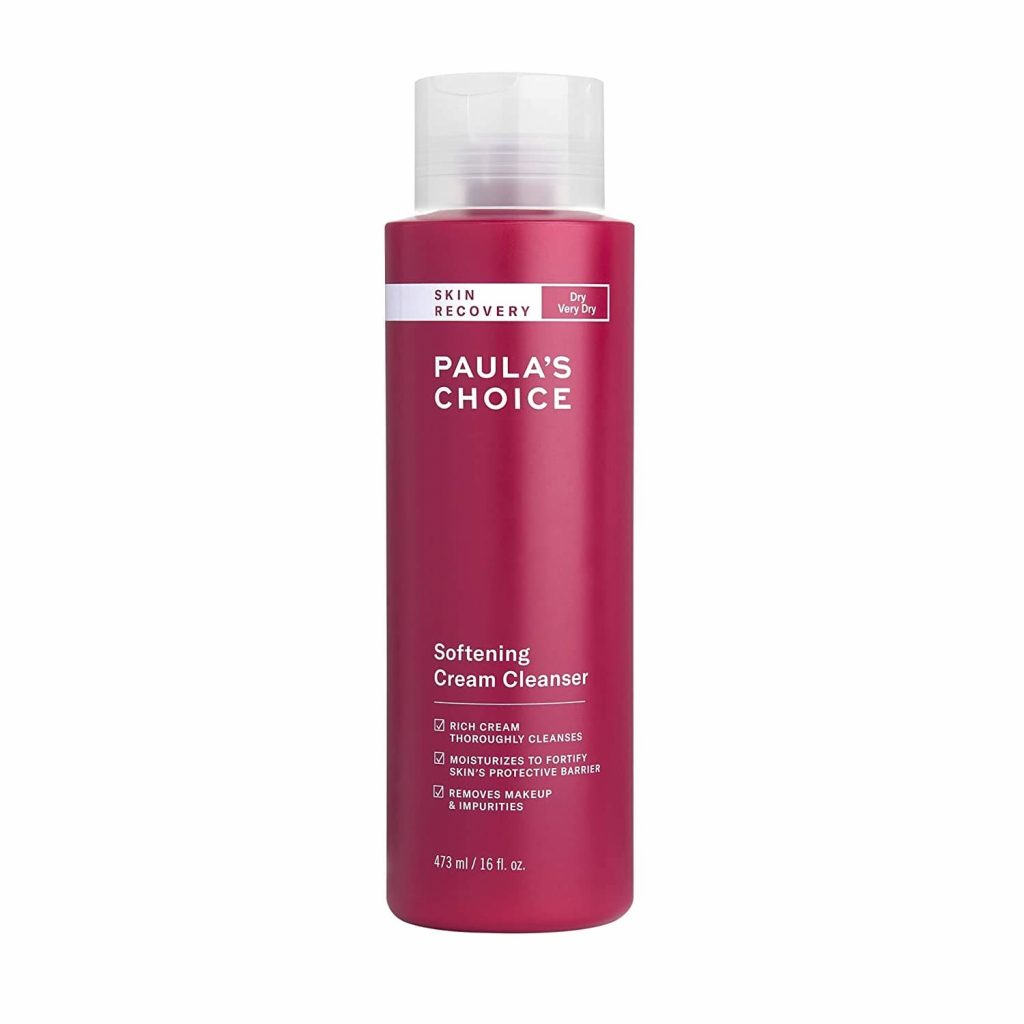 When the skin feels dry due to exposure to extreme weather conditions like cold or excess heat, you get red, irritated, dry skin. Although this may happen due to harsh skincare products, some people also get it from their genetic makeup. No matter the cause, Paula's Choice cleanser will work soothingly with your dry skin to bring out the best results.
Qualities of this product
It has a rich formula concentration that works to soften, hydrate, and soothe your dry skin. This product will reduce any redness and dull appearance to leave you looking bright and beautiful.
The gentle ingredients will soothe any irritated and dry skin leaving it clean and hydrated. You may use it with Eczema or any other skin condition that leaves your skin dry and irritated.
A caring brand made this product. All the ingredients are used to ensure that you get a lasting skincare solution.
Terms of use
After a long day of work, clean your face using this product to remove makeup, moisturizers, and other skincare products.
Gently wash your face with this product until you get your face clean at night and in the morning.
Pros
Build to soothe and clean the skin
It contains friendly dry skin ingredients
Reduces dullness
Cons
We recommend this product for people with dry, normal, and sensitive skin. It will keep the serums and moisture in and prevent dehydration which causes dryness.
---
Yonka Elastine Anti-aging Night Cream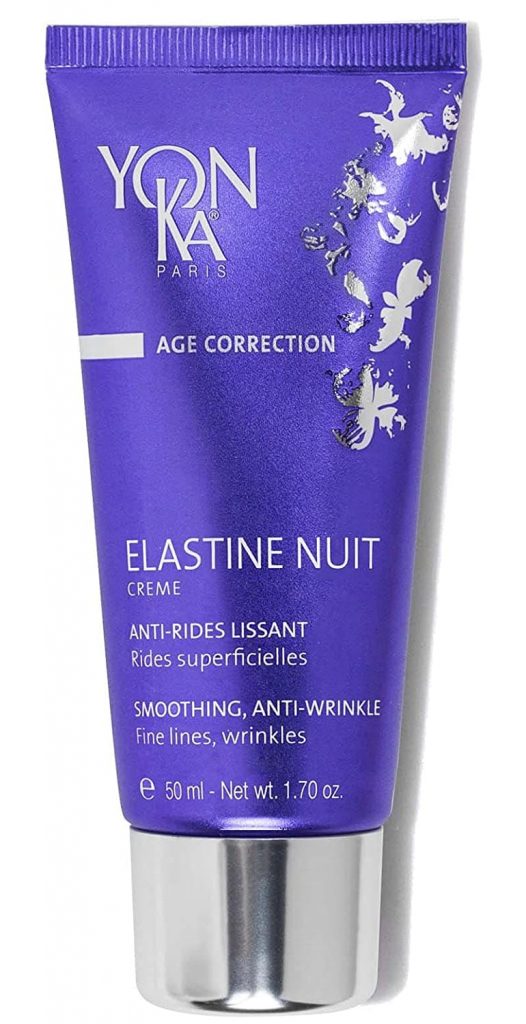 As much as all skin types age as we grow older, dehydrated, dry skin may age even faster. The dry, flaky skin may make the skin look dull than it should be, making you appear old. For this reason, a friendly and gentle anti-aging cream will help you brighten up and appear vibrant.
The Yonka anti-aging cream works best for all skin types making it best for dry skin. Being able to apply for all skin types guarantees the incorporation of the gentlest ingredients in the cream.
Qualities of the Yonka Anti-aging Cream
This cream has peptides that plump, smoothen and hydrate the skin. Due to the dry nature of dry skin type, it becomes easy to form wriggles and skin lines resulting from dehydration. This cream smoothens and hydrates your skin overnight, preventing stretching and drying accompanied by dry skin type.
The smoothing Elastine with milk peptides nourishes the skin. This nourishment restores youthful resilience to the skin, making it look younger.
It helps in repairing damaged skin. This night cream has the best 19 amino acids that help in repairing damaged skin. The strong antioxidants comprising of vitamin A, C, and E help environmental stressors that cause aging.
This cream offers professional skincare. Yon-ka Paris produced the product. This French company specializes in Phyto-aromatic skincare products that guarantee you amazing results. You have no doubt using their products.
How do you use Yonka anti-aging cream?      
Cleanse your face to remove dirt, makeup, or sweat
Tone your skin
Apply a generous amount of this cream to your face, and neck massaging evenly to the eyes area. This way, the creams seep into the skin restoring damaged skin and removing toxins that cause aging.
Repeat this process every night before bedtime for amazing results.
Pros
It keeps the skin young
This cream restores damaged skin
The tube makes it easy to squeeze and apply the cream
Suitable for all skin types
Cons
Most people find this cream expensive
We recommend this cream for dry skin to prevent dull and flaky skin, making people appear old than their actual age. Purchase one today and boost your skin appearance with anti-aging properties.
---
Yonka Hydra Anti-Aging Face Moisturizer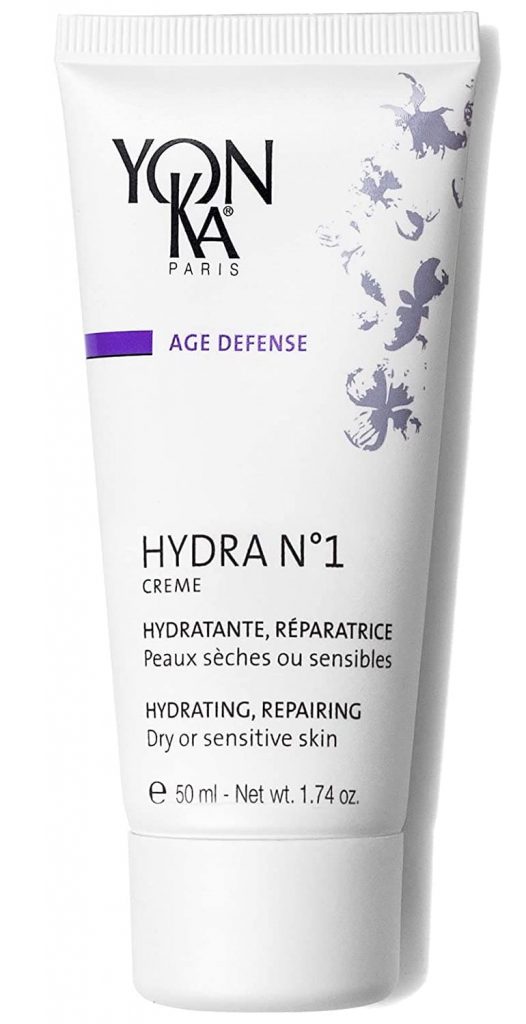 For dry skin, moisturizing prove essential. Since the skin doesn't produce essential oils and serum, a good moisturizer will provide these essentials.  Moisturizers become essential for dry skin and should be a must-have.
The Yonka Hydra anti-aging face moisturizer hydrates, moisturizes and soothes the skin. It also provides essential elements that prevent aging.
Qualities of the Yonka Hydra Anti-aging Moisturizer
Restores and moisturizes the skin. This moisturizer has two forms of hyaluronic acid that enhance moisturization and prevent skin water loss. These acids will help in restoring and keeping your skin moist.
This product prevents skin aging. The macro and micro molecular hyaluronic acid, shea butter, and hazelnut oil help in soothing the skin after absorbing and combating dryness. These components help restore youthful resilience into the skin.
Assured results. When this product was tested for its effectiveness, it passed excellently. In one test for hydration, volunteers tested hydration of 138% and 86% within eight hours of Yonka Hydra use.
Among other 20 volunteers, 100% of them confirmed a feeling of refreshed, hydrated, and supple skin. 90% of the volunteers reported a younger and smooth appearing skin.
How do you use the Yonka Hydra Anti-Aging Cream?
Cleanse your face
Ton your face
Apply the Yonka anti-aging moisturizer just like the typical moisturizer
Use this product twice daily. In the morning and before you go to sleep
Pros
Easy to apply
Protects and hydrates the skin
It comes in a beautiful tube
Prevents aging
Boosts skin vibrancy
Cons
Not suitable for use in all skin types
Some people find this product to be expensive
We recommend this product for anyone with dry skin. If you never knew, it works both as a moisturizer and as an anti-aging skincare product. You will moisturize the skin and prevent it from aging.
Frequently Asked Questions
Which skincare is best for dry skin?
The best skincare products for dry skin will boost hydration and moisturization to the skin. The products discussed in this article form a perfect example of the best skincare products for dry skin.
What is the best skincare product for dry skin on the face?
The best skincare product for dry skin on the face comprises moisturizers that help relieve dry skin. Some include Yonka Hydra moisturizer and Farmacy Honey moisturizing cream.
How do I do away with dry skin on my face?
Some tips to avoid dry skin on your face include:
Don't shower and wash your face often with harsh skin care products.
Moisturize your face immediately after you shower.
I prefer using ointment cream skincare products rather than gels and lotions.
Wear a lip balm often.
Ensure that your skincare products have no scent and remain gentle to the skin.
Wear gloves when dealing with harsh detergents to avoid harming the skin on your hands.