How has split dyed hair served you in 2022? Have you or have you not tried it yet? Then, you deserve to try new hairstyles, and this one takes the lead. Split-dyed hair involves dividing your hair into two parts and dyeing each part a different color. As a result, the hairstyle has proven fashionable in 2022.
The trendiness of this hairstyle has kept it a loved one for decades. You will always look beautiful if you choose to do a split-dyed hairstyle. If you wonder which color to choose for your hair, split dying might be your best option. It works on short and long hair without struggle.
Everybody loved how Cruella de Vil rocked it, and our Instagram feeds have gone crazy with this design. So, do you wish to try it? Worry no more. We bring you the best ways to rock it and look spectacularly beautiful.
What is Split Dyed Hair?
Split dyed hair describes a hairstyle with your head dyed in two different colors.
How to do Split Dyed Hair Step-by-Step
Divide your hair into two even halves
Prepare your different hair dyes
Start with one half and dye your desired hair color from the roots upward
As the first part gets darker on the dye, start on the other half
Dye it from the roots upwards too
Leave the two separated halves for up to 30 minutes
Wash the different halves to remove the dye
Wash the hair uniformly to achieve a clean look
Rock your split-dyed hair now with confidence
1. Unique brown/blond look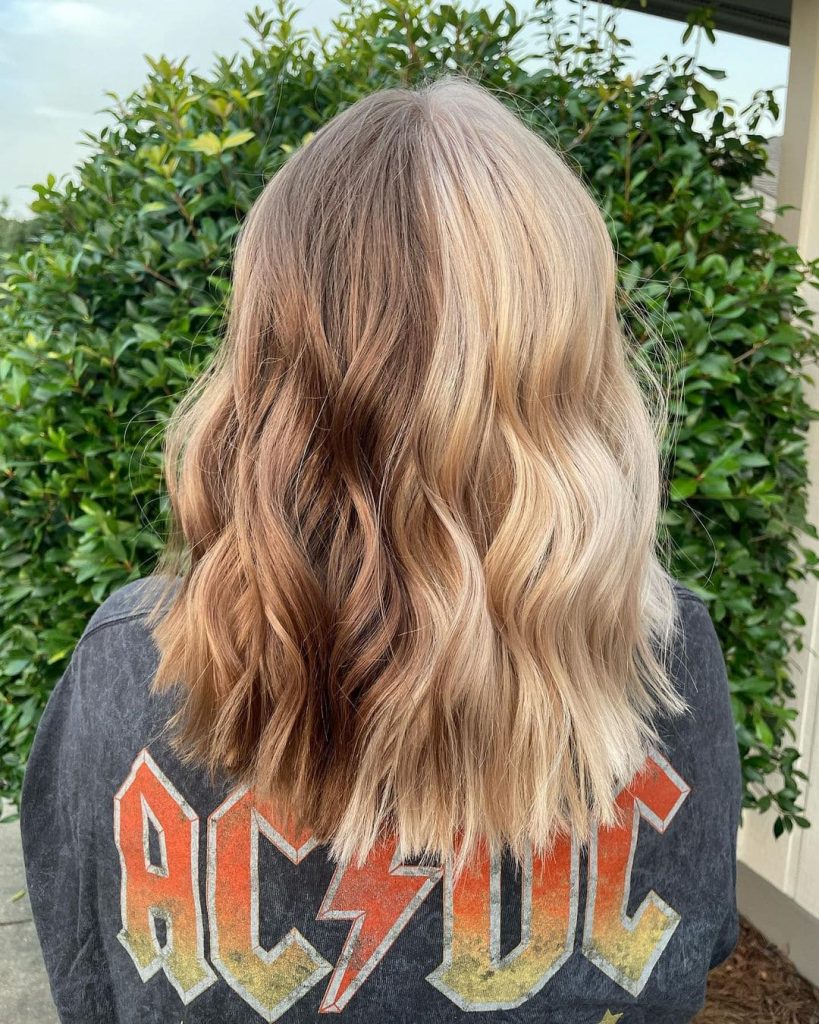 With this design, you will love the blonde and brown look on your hair. It gives a unique look and works best for an office hair look. In addition, Keratin color dye will provide you with amazing honey blonde color to complement a natural look.
2. Brown and blonde special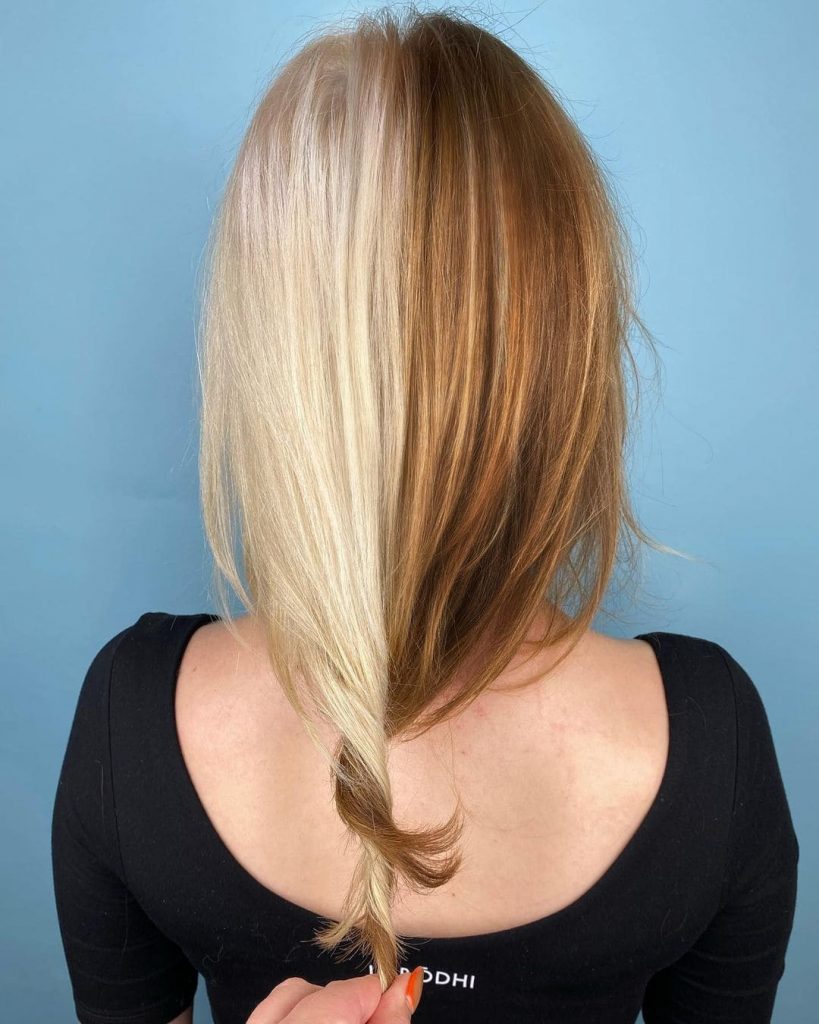 If you have brown or blonde hair color, dying one side, either blonde or brown, will give you this great split-dyed hair. If you have black hair, dyeing the two colors results in a similar look.
3. Sunset look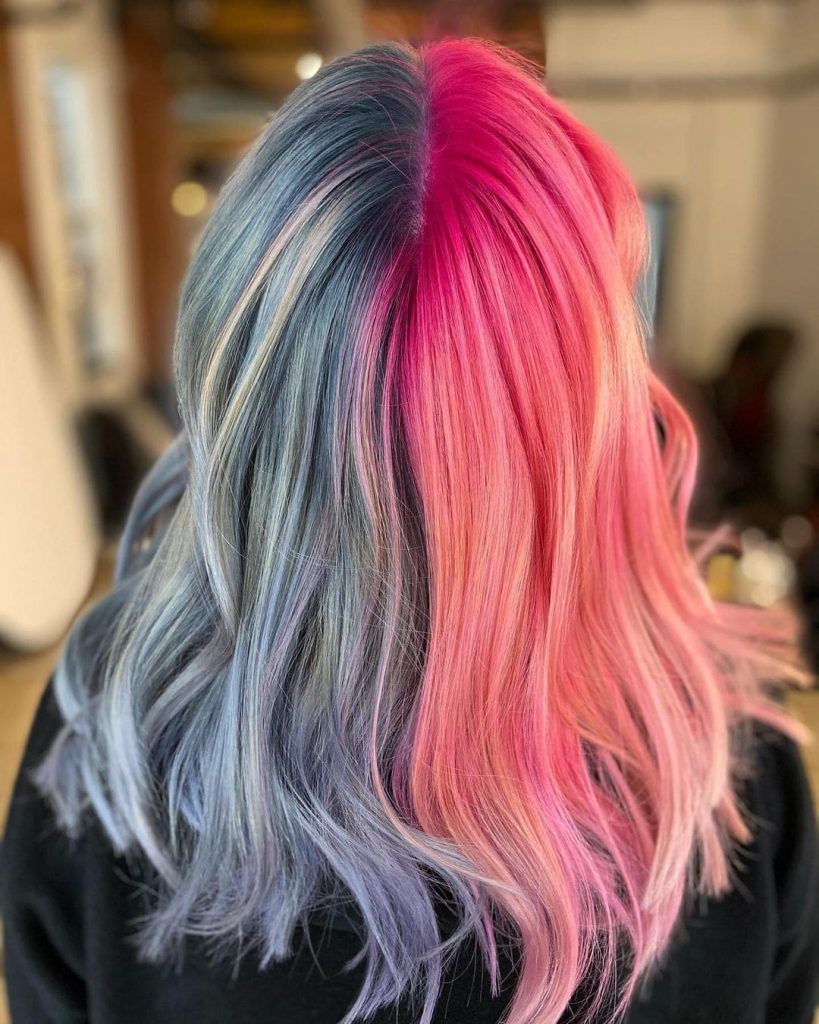 If you love sunsets, visit your favorite spot with this hair look. The sun's setting rays will look so beautiful on your red dyed hair. We love this look because it adds a unique touch to the hair design.
4. Bright and colorful hair design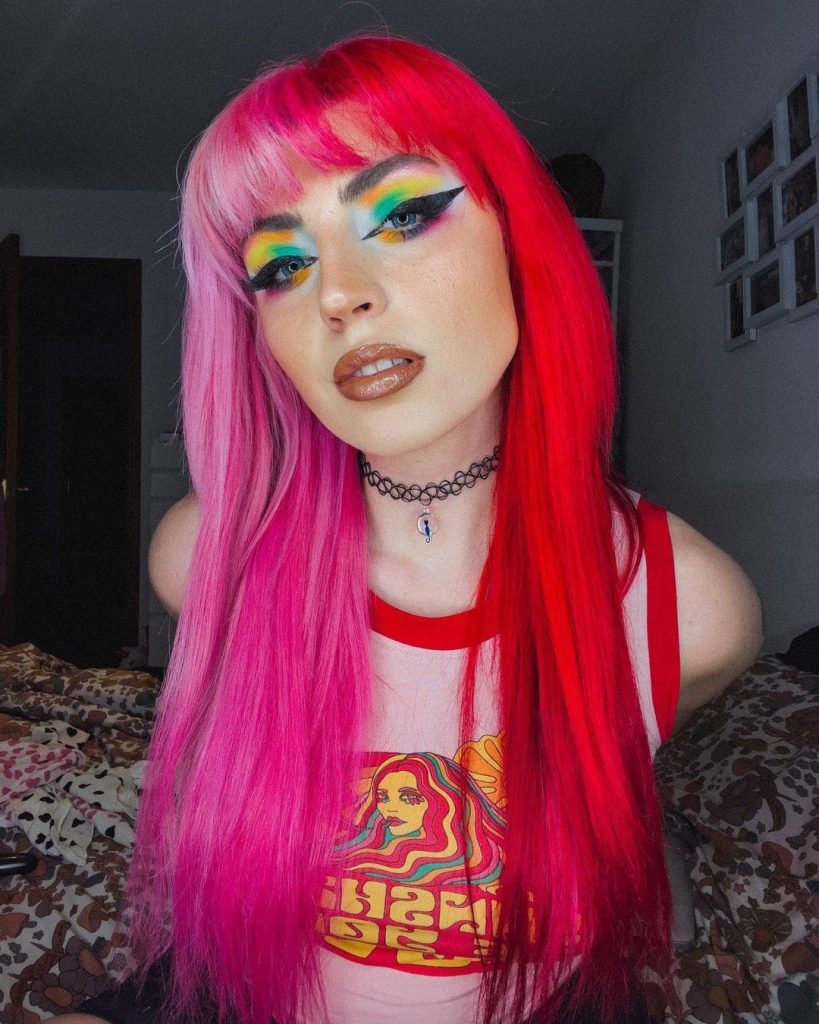 Does pink and red excite you? If so, then you got the right idea. So go ahead and give your hair that amazing makeover you have wanted for so long. You will look flashy and romantic within a blink of an eye.
5. Stylish red hue
You deserve some stares if you dye your hair black and red in this unique design. Design the hair so that the red-dyed hair takes the side of your head in a stylish appearance.
6. A mix of brown and blonde dye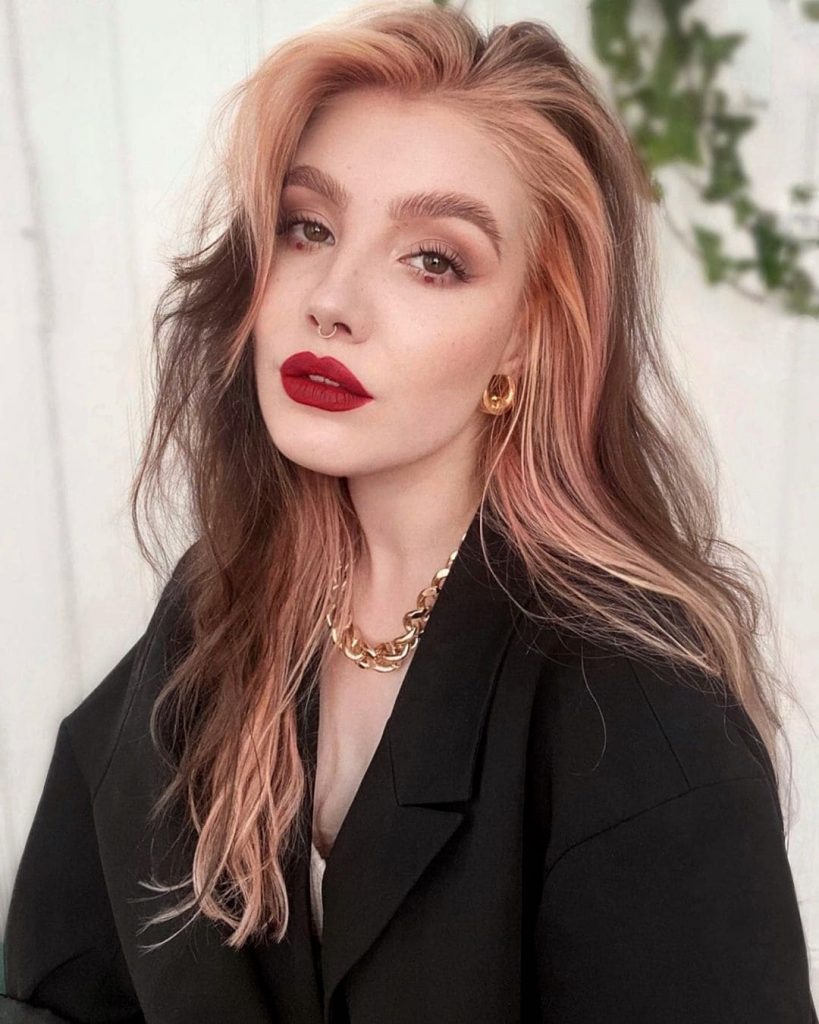 You may choose to split your hair from front to back. The front part takes a mix of blonde and brown with a slight reddish hue while you give the back a uniform dark color. This design brings out youthfulness in you.
7. Bold Split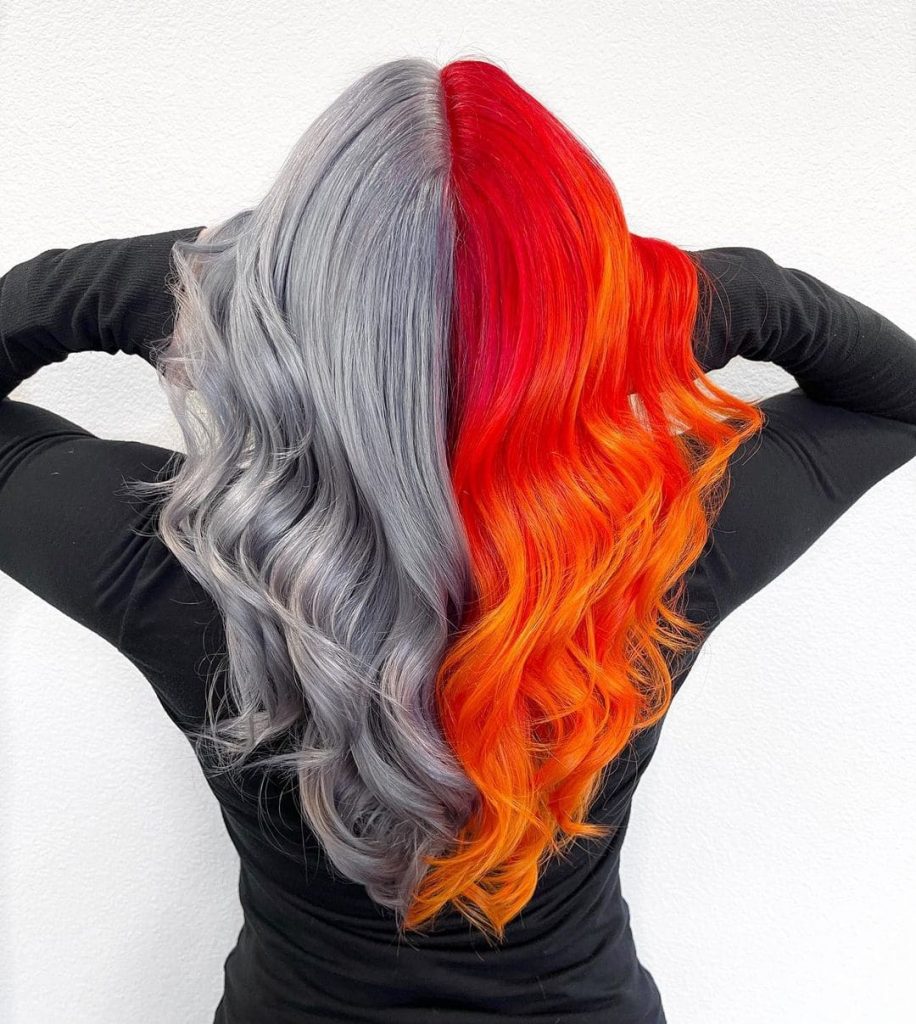 Multi-dyed hair gives you the glow that everybody won't resist. For this design, your hair dye splits from top to bottom. You need to dye the lower part with your desired dye, then follow the top with a different color.
8. Blonde/Brown split-dyed hair design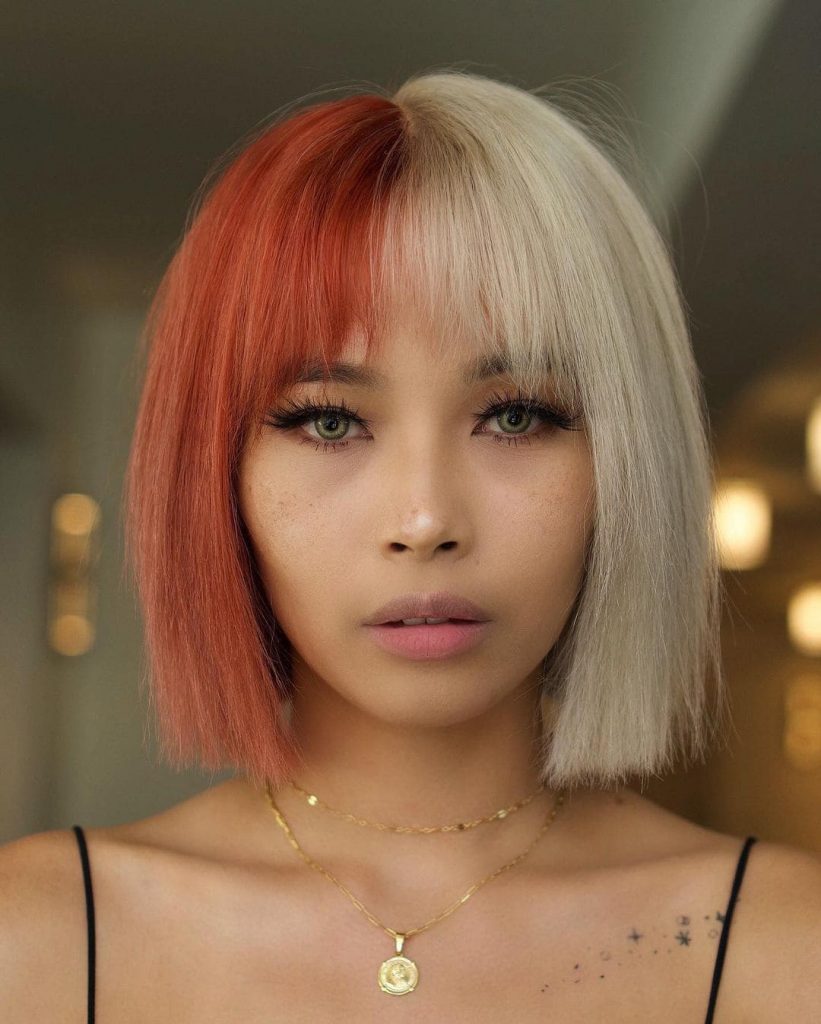 If you need to give your hair a unique touch, dyeing it brown or blonde does it all. Adding some curls makes the hair more stylish.
9. Black and white galore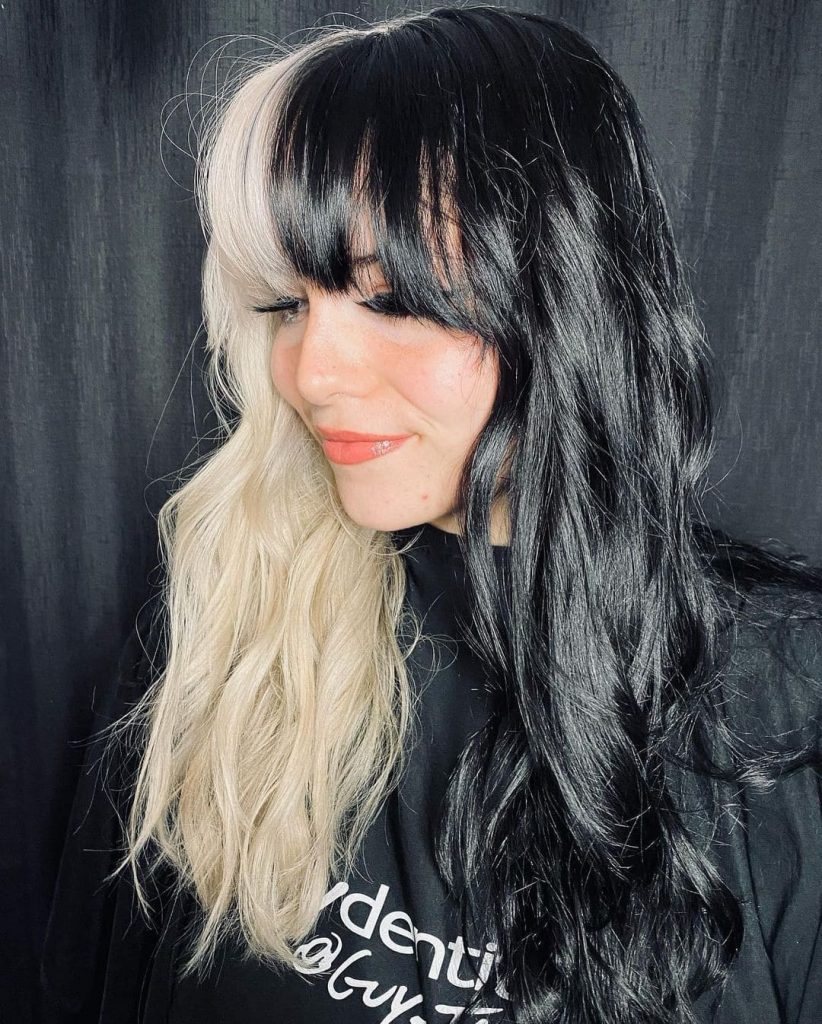 For centuries, black and white have gained favor and popularity in many aspects. If you need a unique split dye hair look in 2022, don't shy from trying the black and white hair dye. It adds uniqueness to your everyday look.
10. Orange and Pink split-dyed hair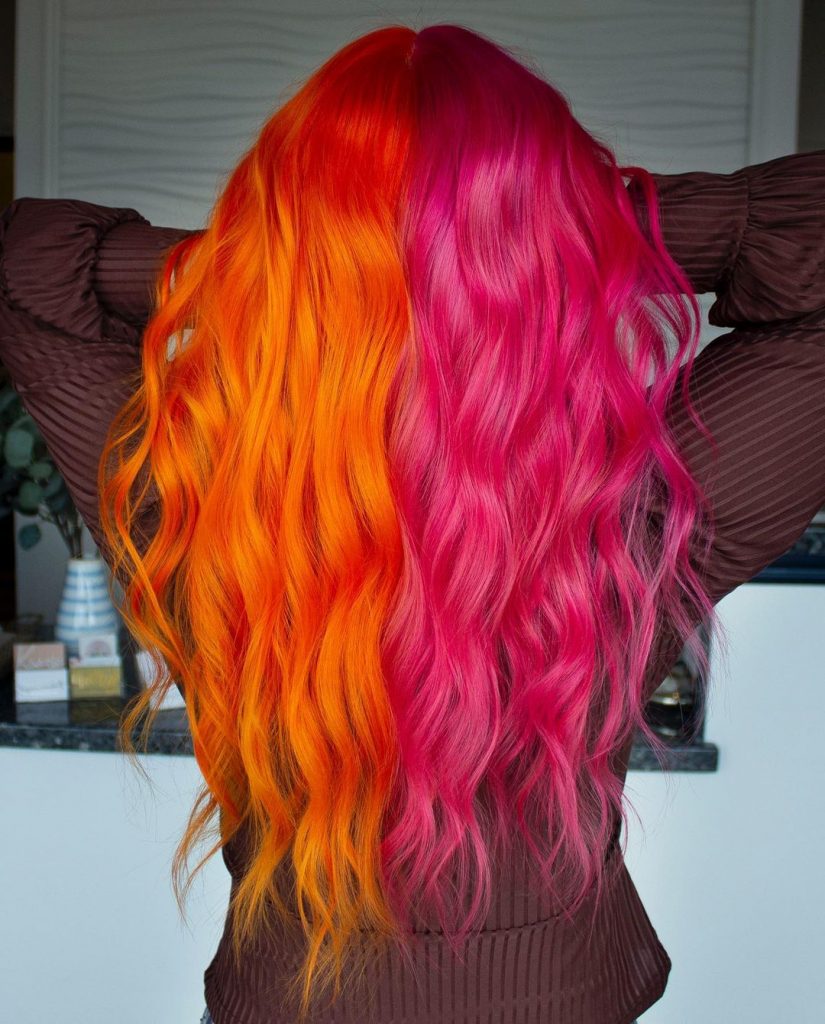 Colorful looks require colorful themes. If you enjoy commanding looks, try out this orange/green hair design. It makes the hair look vibrant and inspirational to try out adventurous activities.
11. Purple and the pinkies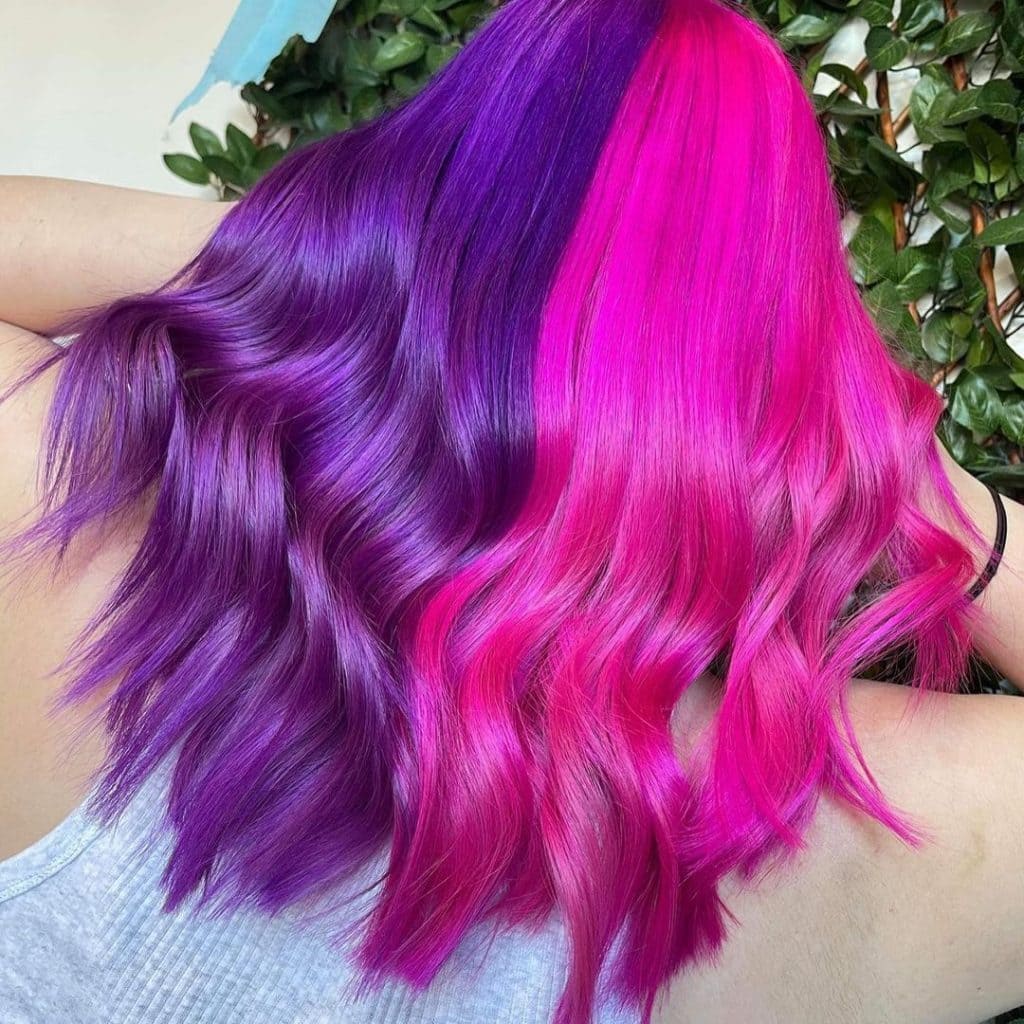 You don't have to wear your long hair without colors. Most Instagram lovers have found a way to mix colors to make it more interesting. A little purple and pink done in a split dye design will marvel you.
12. Mix and match design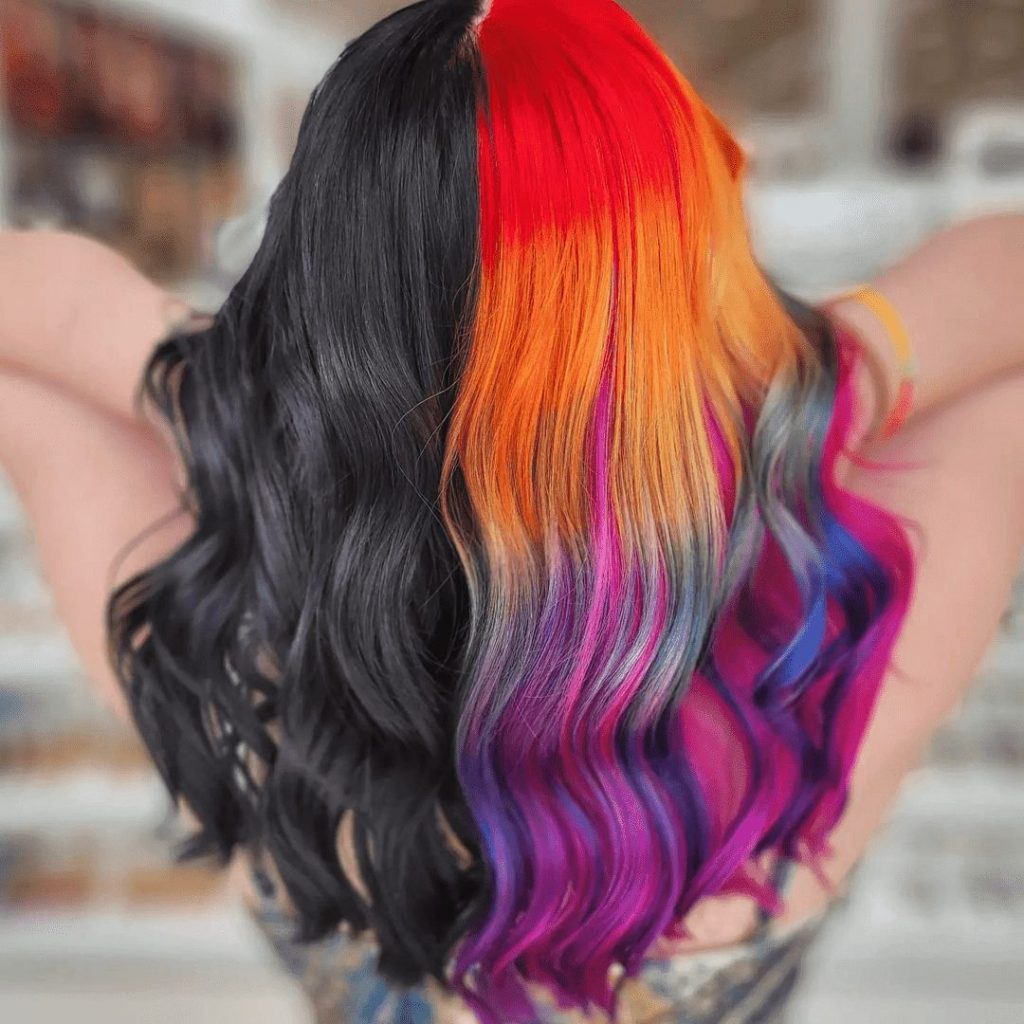 If you find color mixing and matching innovative, it won't hurt to try it in your hair. This mix and match split-dyed hair look brings a new design into this fashionable look. As the wavy hair flows with attractive colors, you will be every person's interesting look.
13. Blonde-brown split hair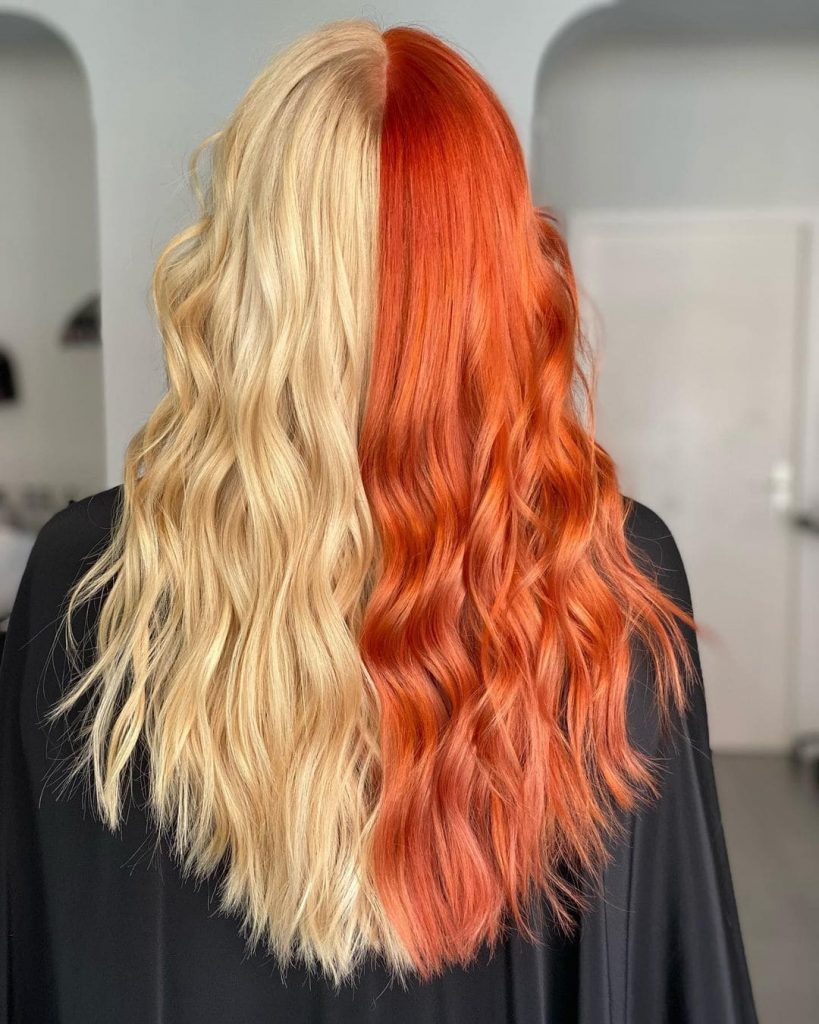 How is your short hair coming? Do you need some tips to keep it as interesting as possible? Then, go ahead and dye it brown with a broad blonde look. It will give you the perfect blonde, brown, split-dyed hairstyle. 
14. Splendid green and pink looks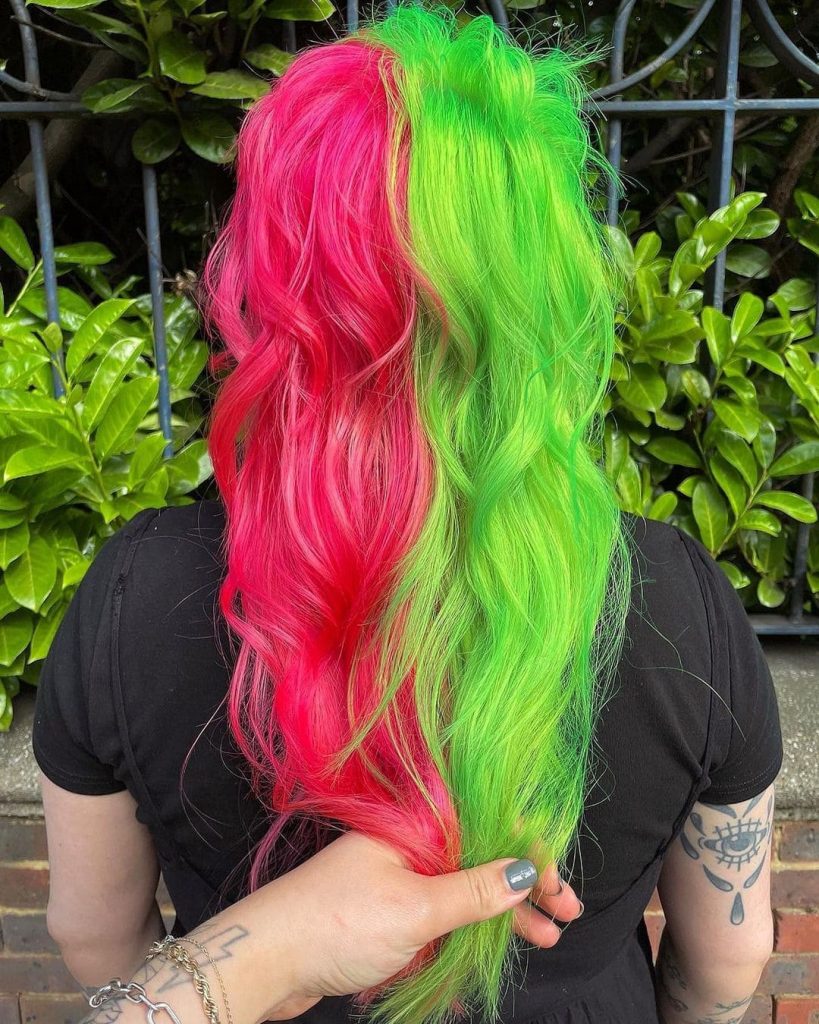 I find short hair easy to style. With these green and pink splits, you will find it even more appealing. The colors blend to give you the most amazing blush of beauty.
15. Red and blue Split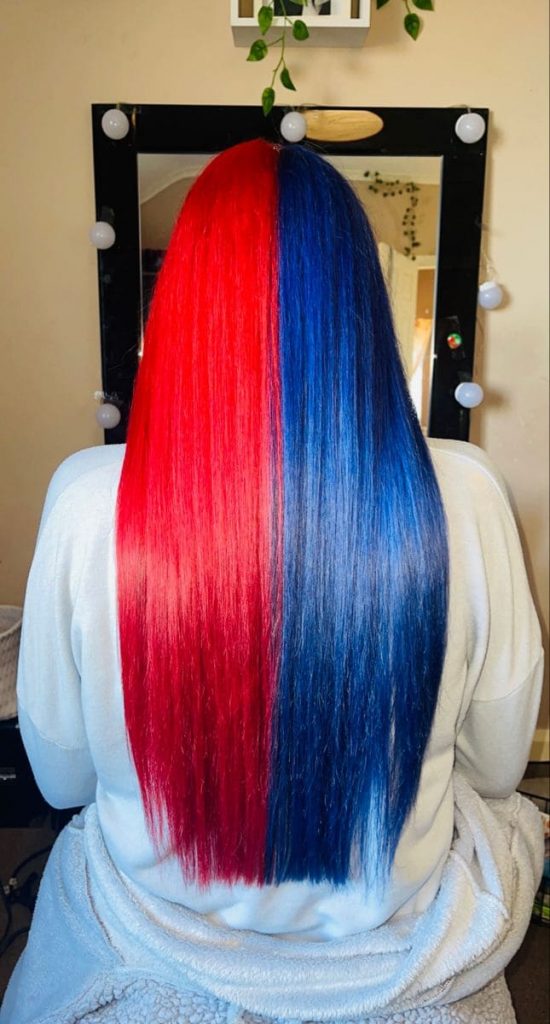 Split-dyed hair looks breathtaking when endorsed with amazing curls. Adore gives the best results since it introduces ocean blue color into your hair. If you add red, your split-dyed hair gets the glow and radiance to boost your confidence.
16. Perfect grey and blue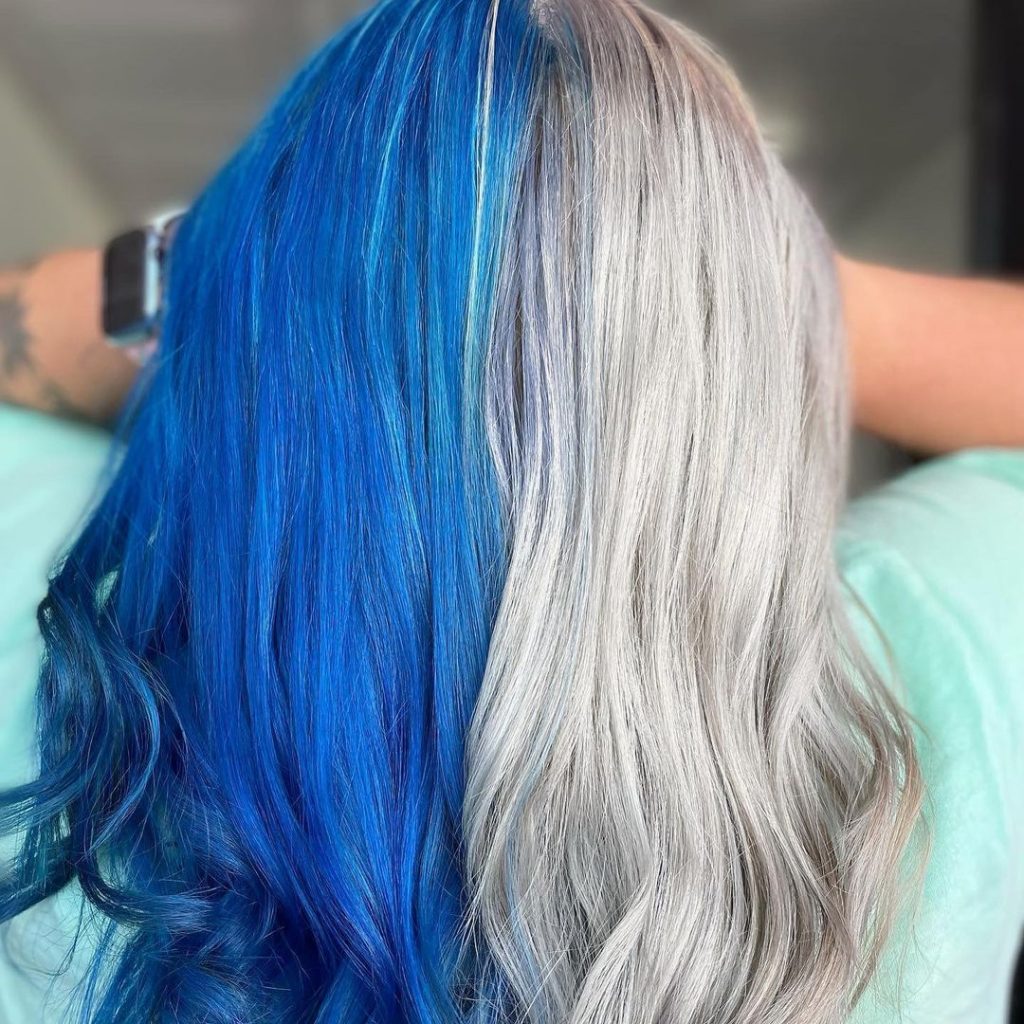 You will love this design because it creates a perfect colorful split hair. In addition, the broad curves give it a romantic feel for a romantic dinner date.
17. Pink and Blue Split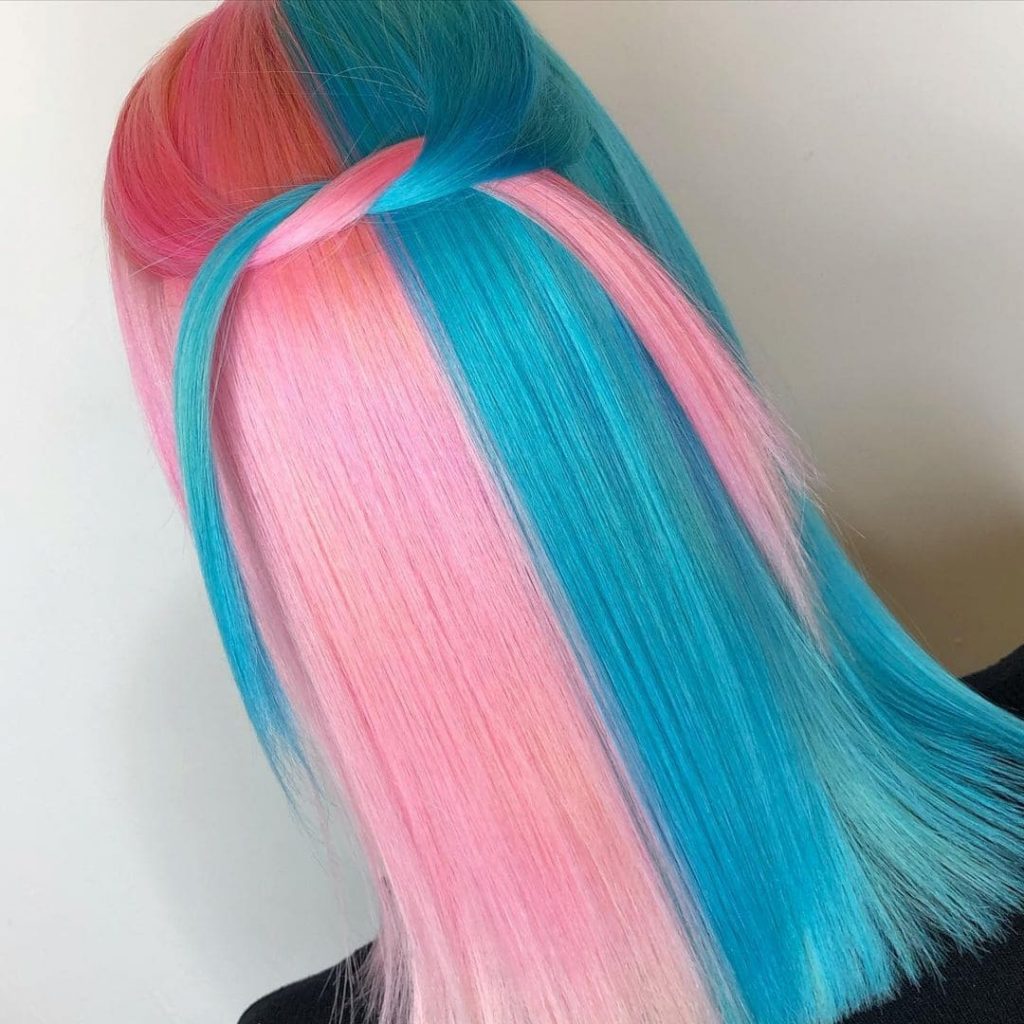 If you need a unique hairstyle, do split hair dyeing and cut it into long and short designs. I love this design because it adds some professionalism to the hairstyle. In addition, most movie stars find it mesmerizing.
18. Split-dyed bob hairstyle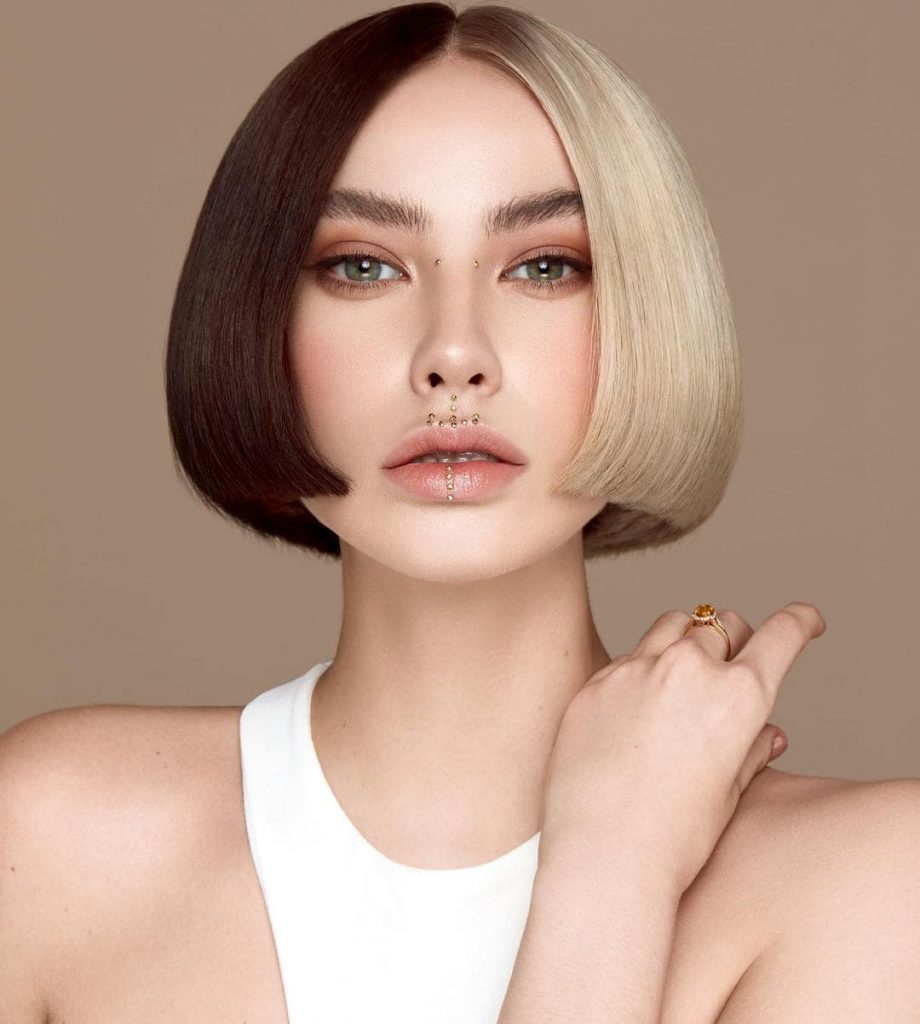 Bob hairstyle has survived over numerous decades. But, if you need to add some fanciness to this old-school look, try a split-dyed look. It will give you an edgy look to face any situation confidently.
19. Rainbow Split Dye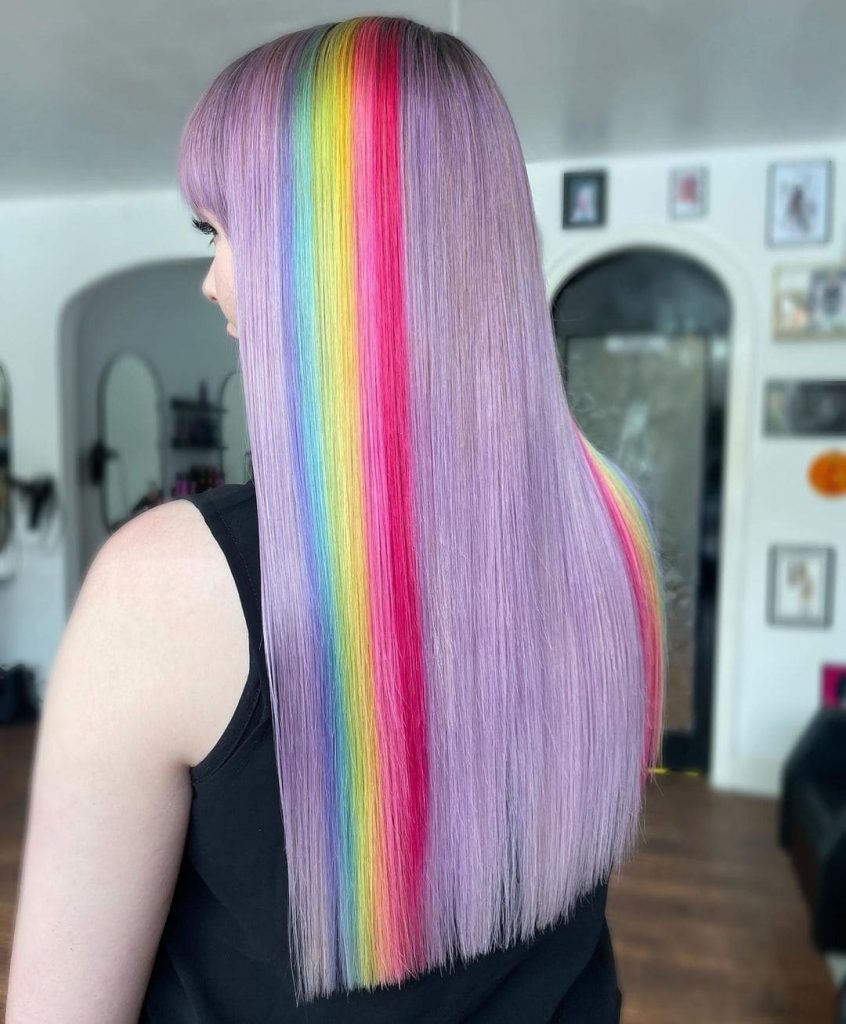 Do you find your hair voluptuous and sexy? Guess what? Adding some curls and the split dye may turn out sexy. If you need to find a hairstyle to turn on your man, this hairstyle will precisely do the job.
20. The calm and sexy look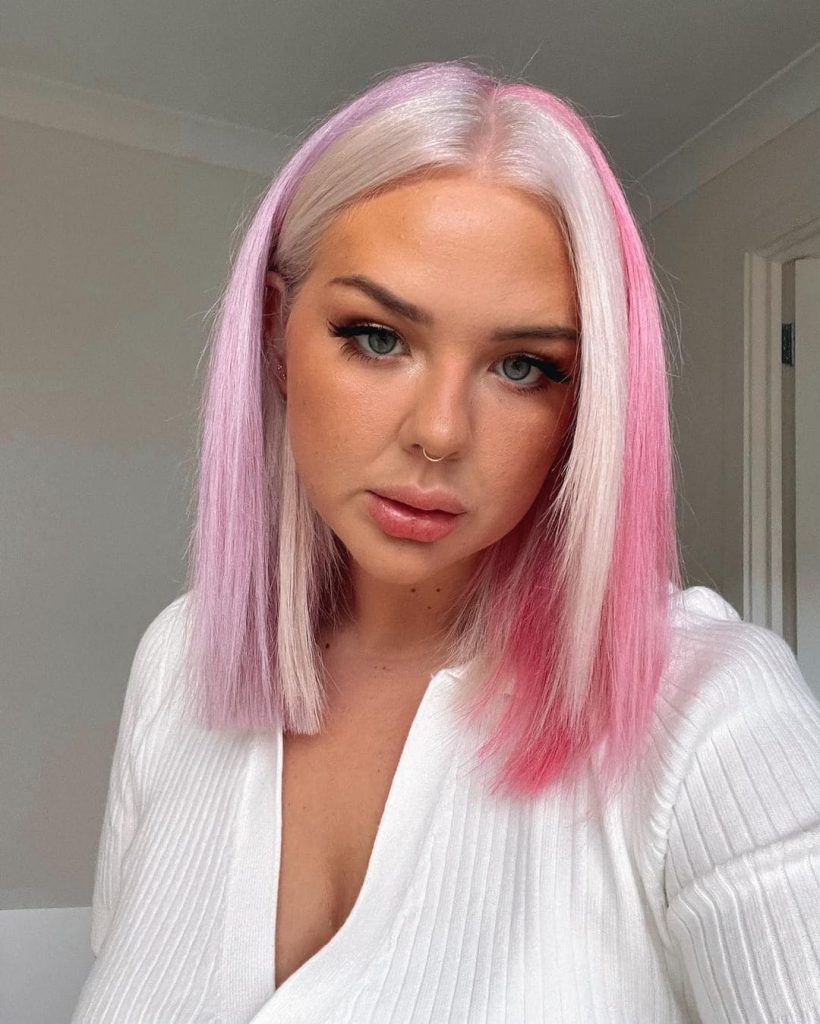 This split hair design with colored ends turns out very sexy. This design gives a perfect look for attending romantic dinner dates. It brings out the youthful look in you.
 21. Light grey and pink shades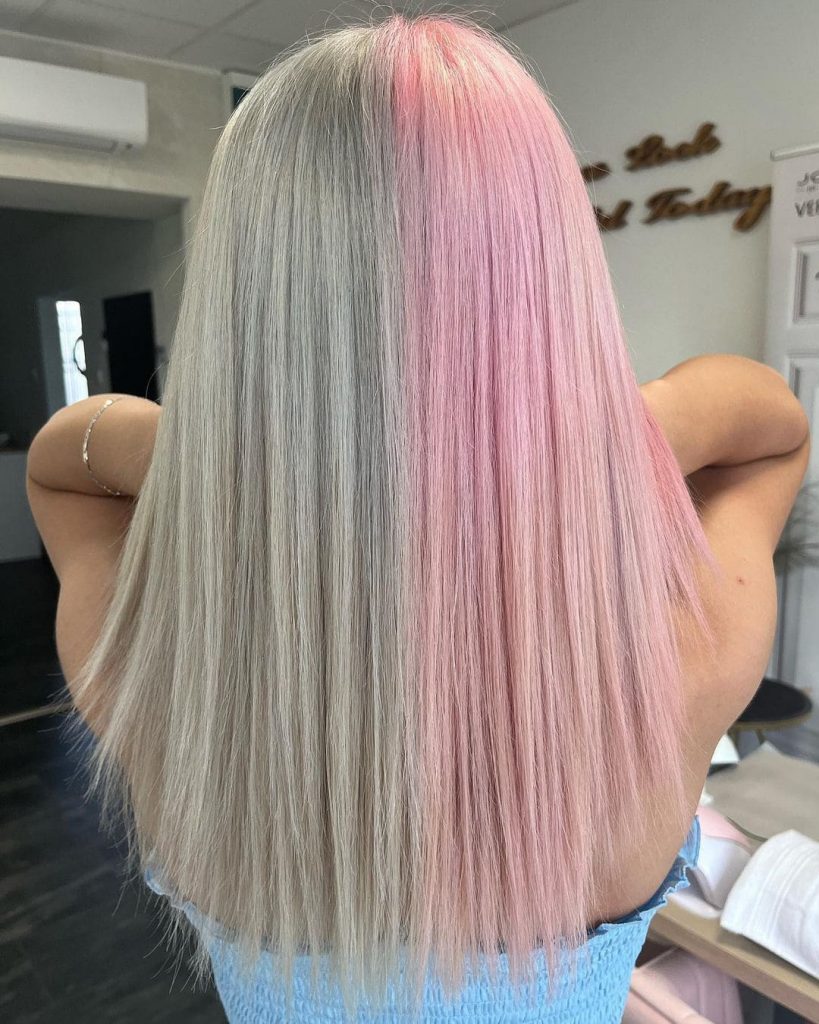 While most people go for hot pink, light pink may do fine. It merges with grey excellently to give a fantastic after look.
22. Copper never disappoints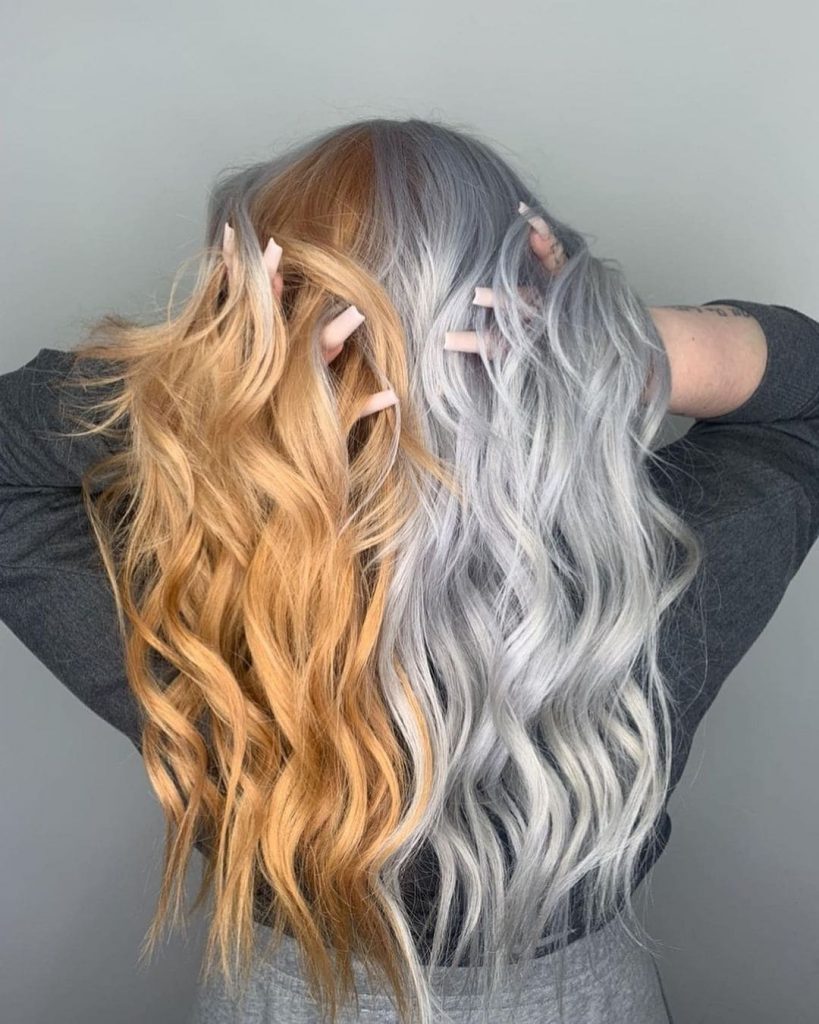 Gold gives the blonde color some marks. If you choose to go with blonde and black, it is a golden hairstyle.
23. Deep red and blue
Perfect curls get seen with a nicely dyed split hair design. If you rock this hairstyle during an event, nobody gets to forget how beautiful you look.
24. Blonde and brown shades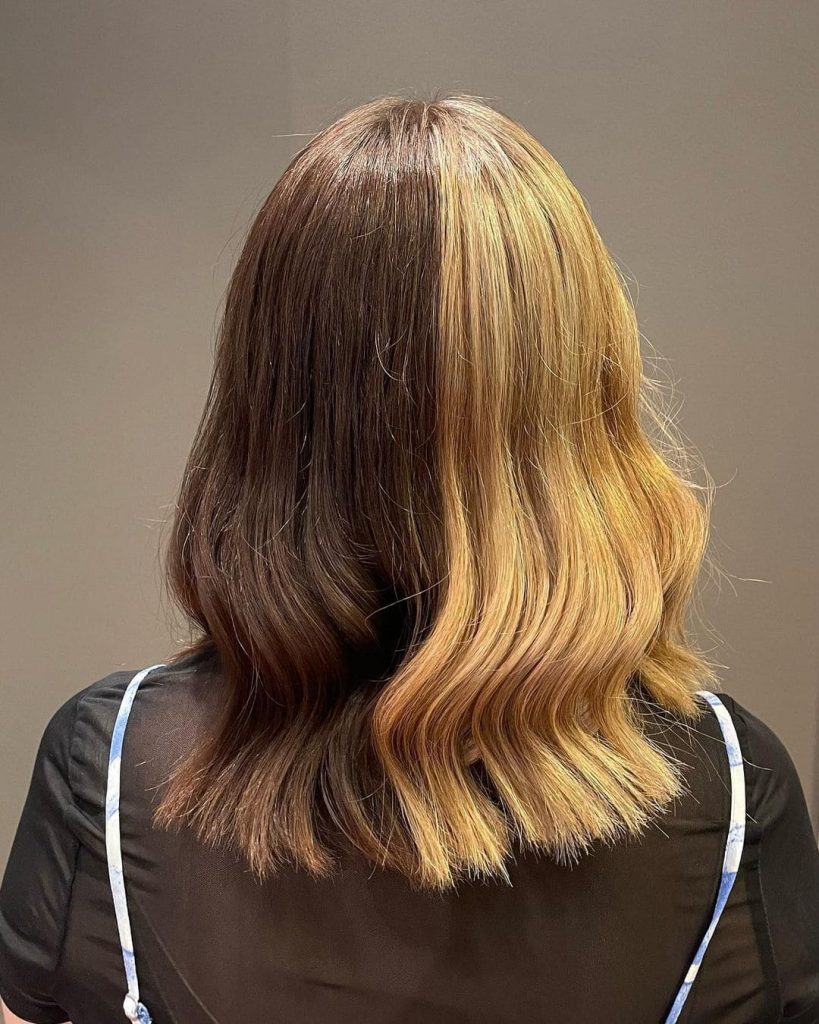 Have you trimmed your hair recently and looking for a new hairstyle? These brown and blonde shades will give it the beauty it needs. We love the design because it makes straight hair fancier.
25. Different shades of brown
Did you know that different shades of a single color may give you the best split-dyed hairstyle? For example, look at this design presenting two shades of brown on each side of the head. If you need to recreate it, try to make one side appear lighter than the darker shade.
26. Purple and green look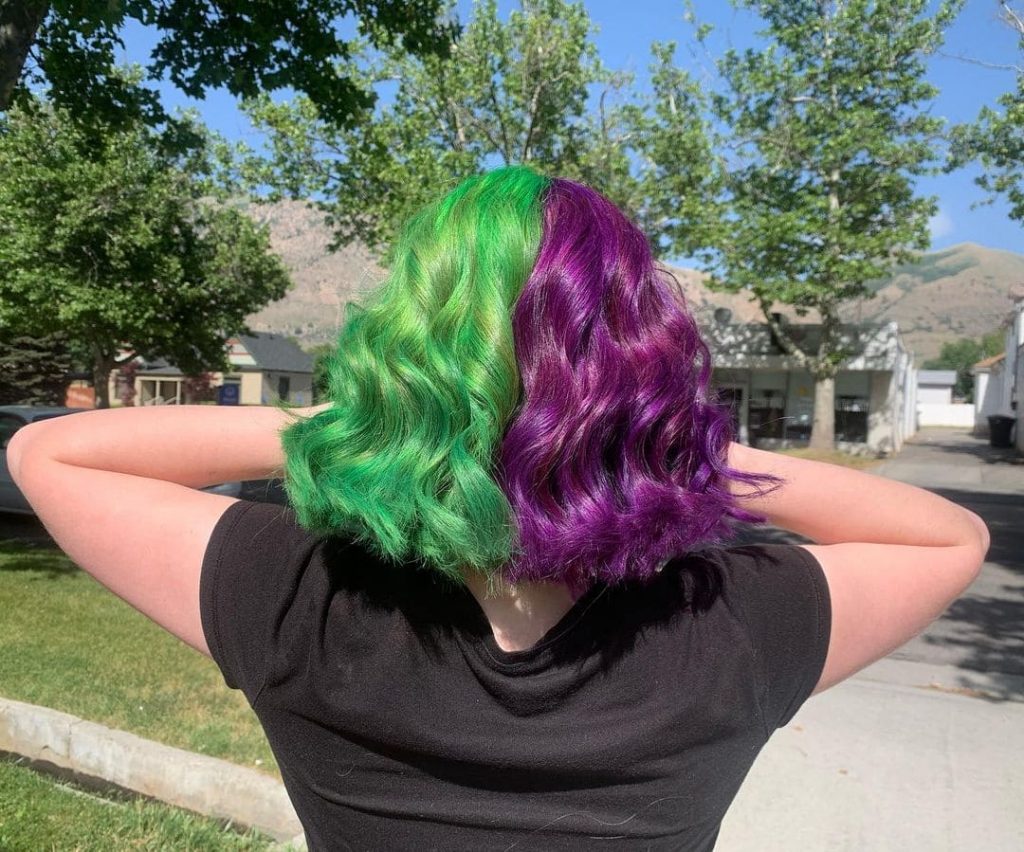 Bright colors signify beauty. Trying exemplary hairstyles will get you there if you want to look beautiful in 2022. This green and purple dye will make you stand out wherever you go.
27. Uniform split dyed hair look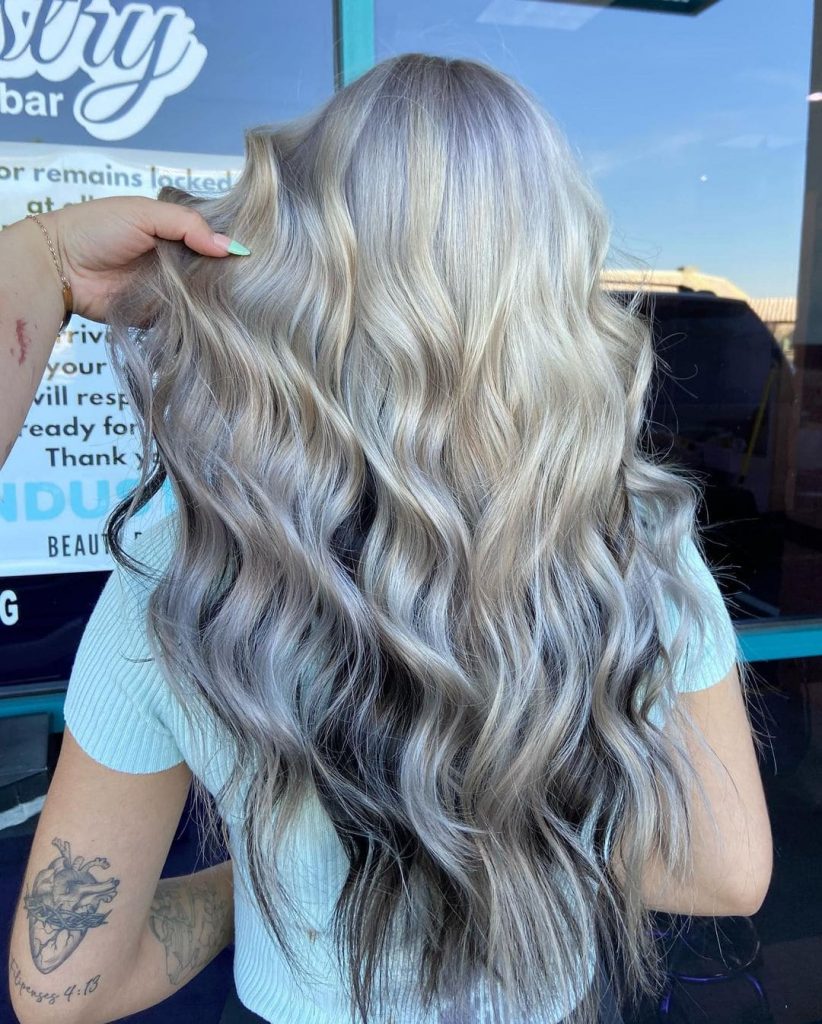 Did you know you may also do split-dyed hairstyles with similar dyes? Your left split hair will look exactly like the right split hair. This similarity is because you only need to dye similar colors and designs on both sides. Therefore, you end up with a unique hairstyle.
28. Black And Pink Look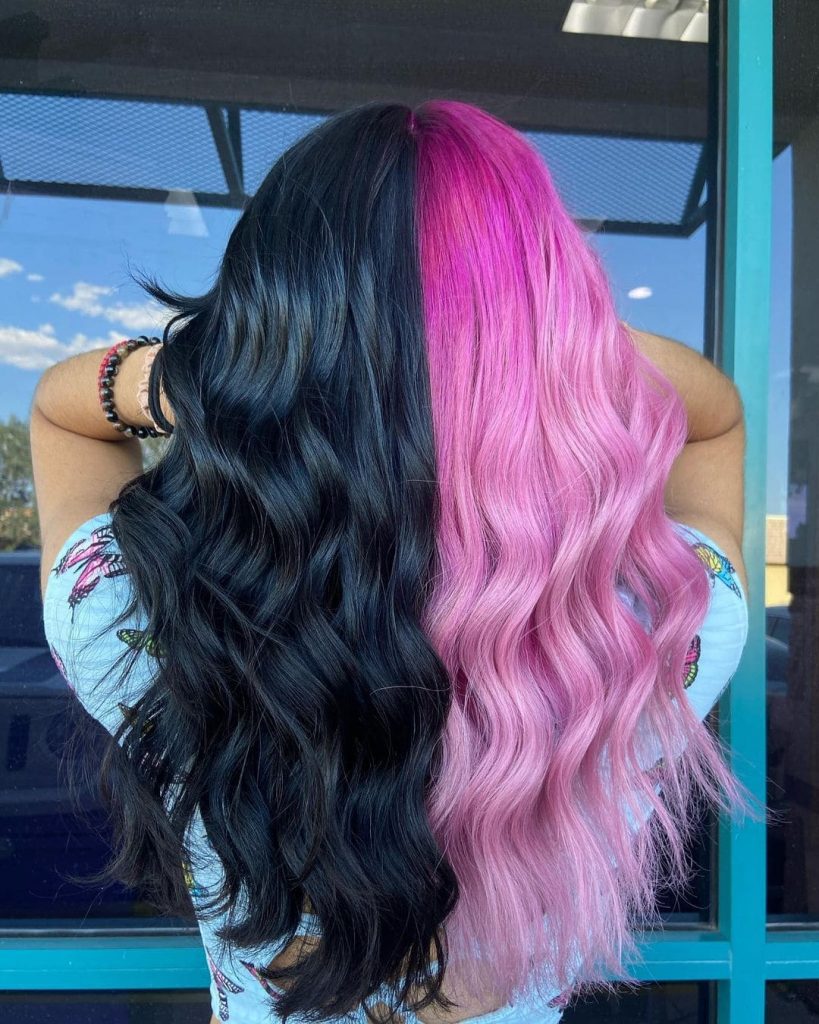 Do you need to add some gangster points to your tattooing interest? This look complements your outlook beautifully.
29. Stylish pink/black design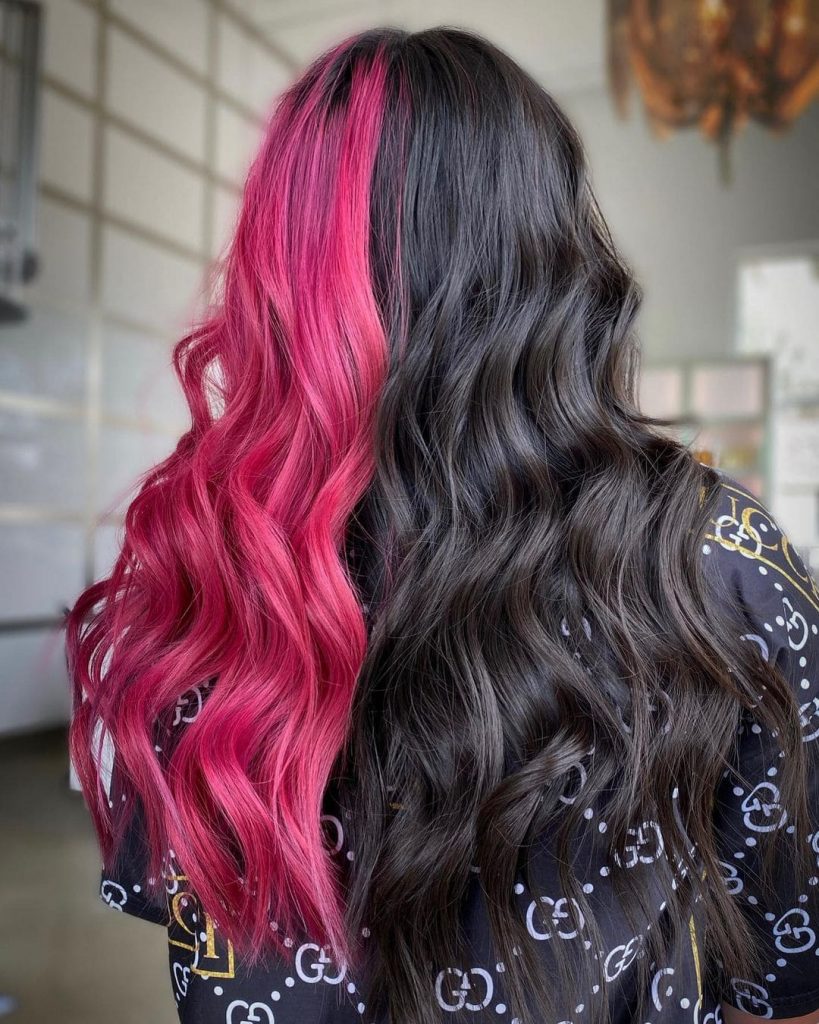 The pink color looks spectacular on black hair. To recreate this look, let a few hairs fall free and dye them pink
30. Red and black split-dyed hair
When done right, a deep red dye turns out brilliant. Therefore, it will give the best split-dyed hair on the beach, party, or on tour. If you need a sexy look, try out this unique hair dye.
31. Curly and colored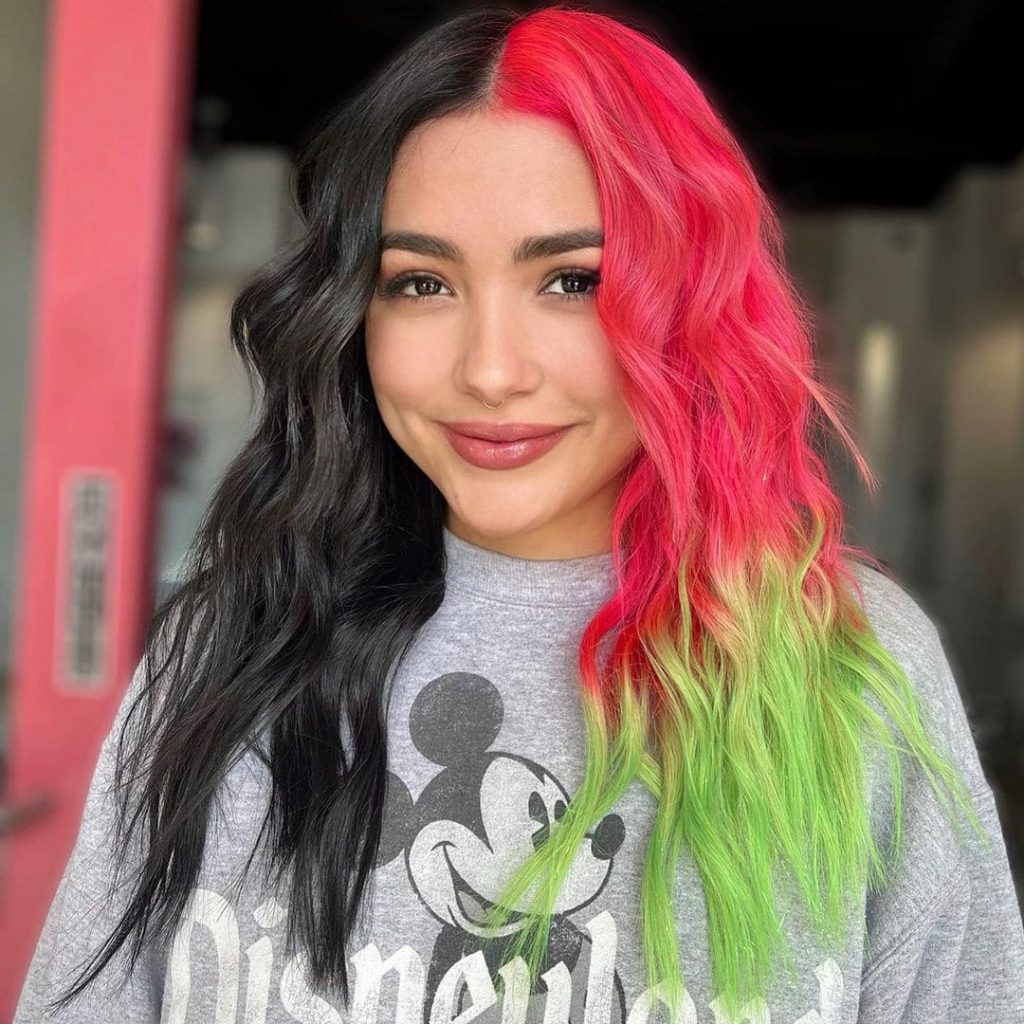 If you love curly hair, then this gives you the chance to shine. The green and purple dye give the hair a natural shine making you look beautiful. Hot tools pro signature curling iron will help you put the perfect curls on your hair.
32. Royal green look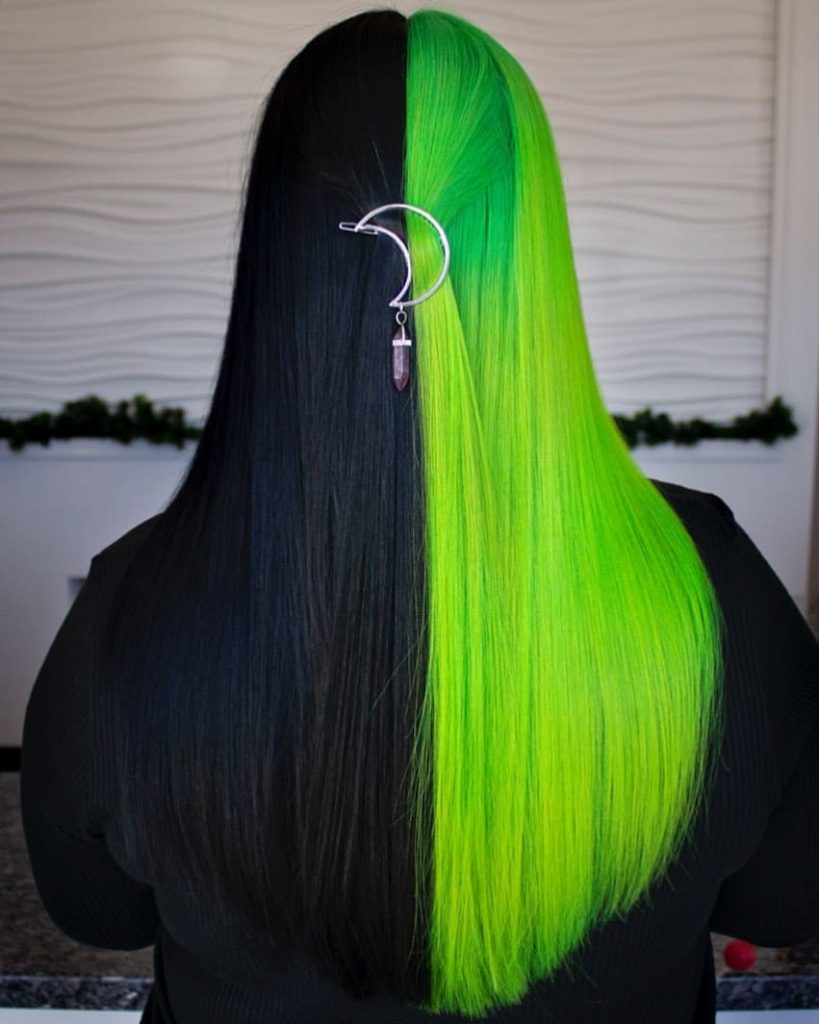 The split-dye hairstyle looks best when done professionally. The grey hair with a green touch looks brilliant and will make you beautiful for any event. Most Instagram trends won't leave this look, so you have the chance to try it out.
33. Yellow and pink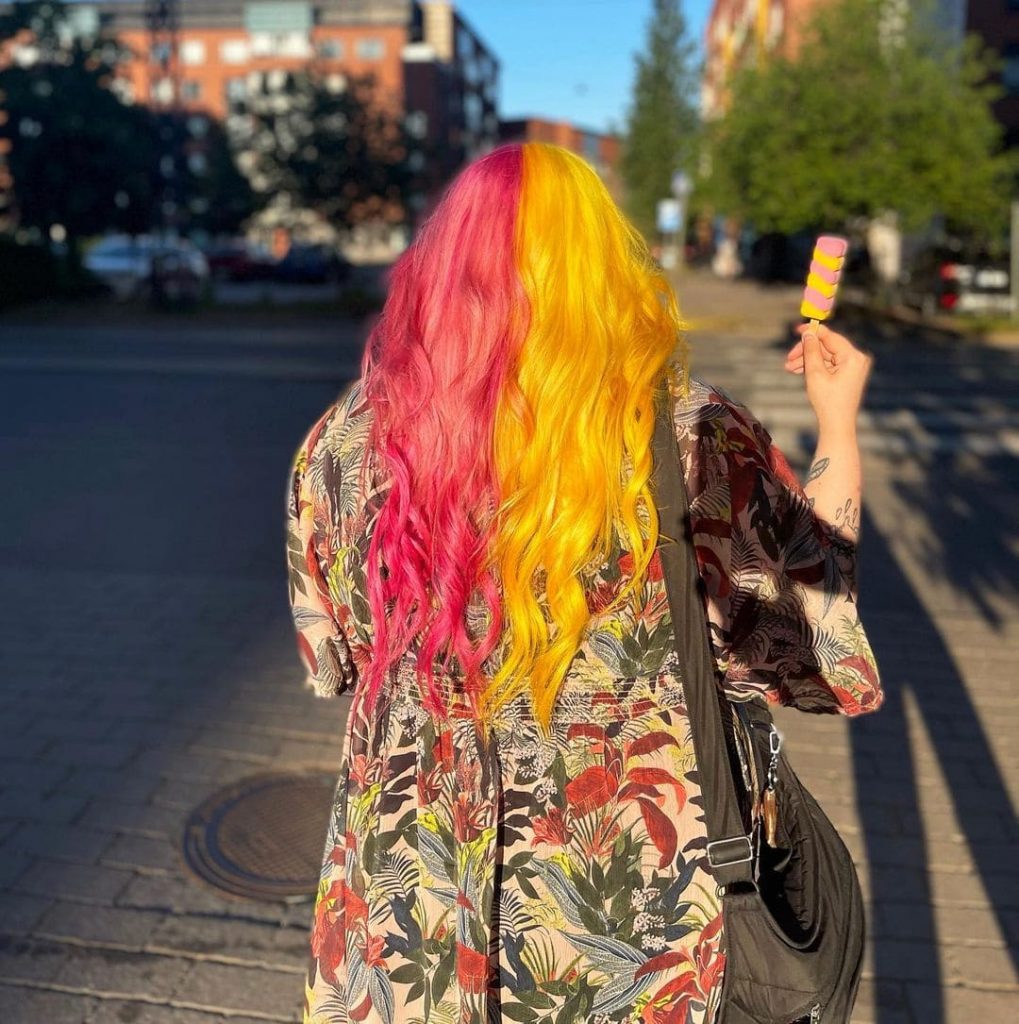 If you wish to get a colorful split hair design, pink and yellow colors will do you that favor. This hair look sits well for summer and any fun events. So if you wish to go out to that beach party, give your hair this unique design.
34. Blue and black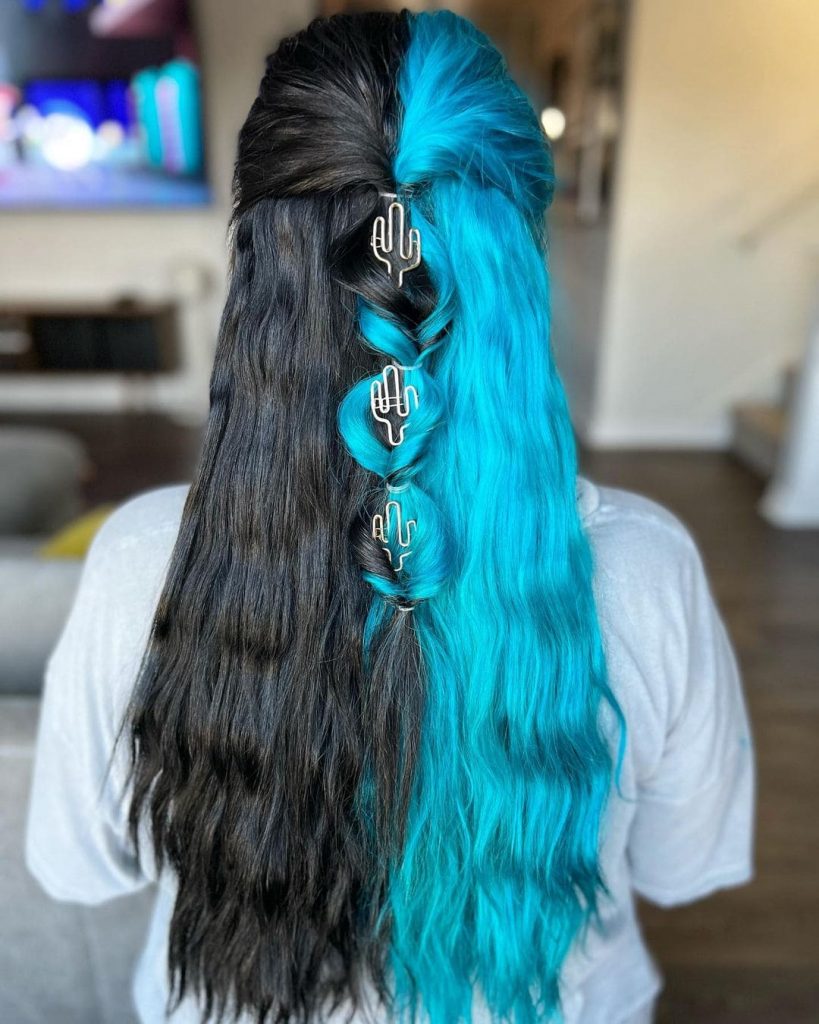 Blue and black prove to be amazing for most occasions. This design brings an amazing natural look to your head. It blends in, giving you the awesomeness you have wanted.
35. Split Bun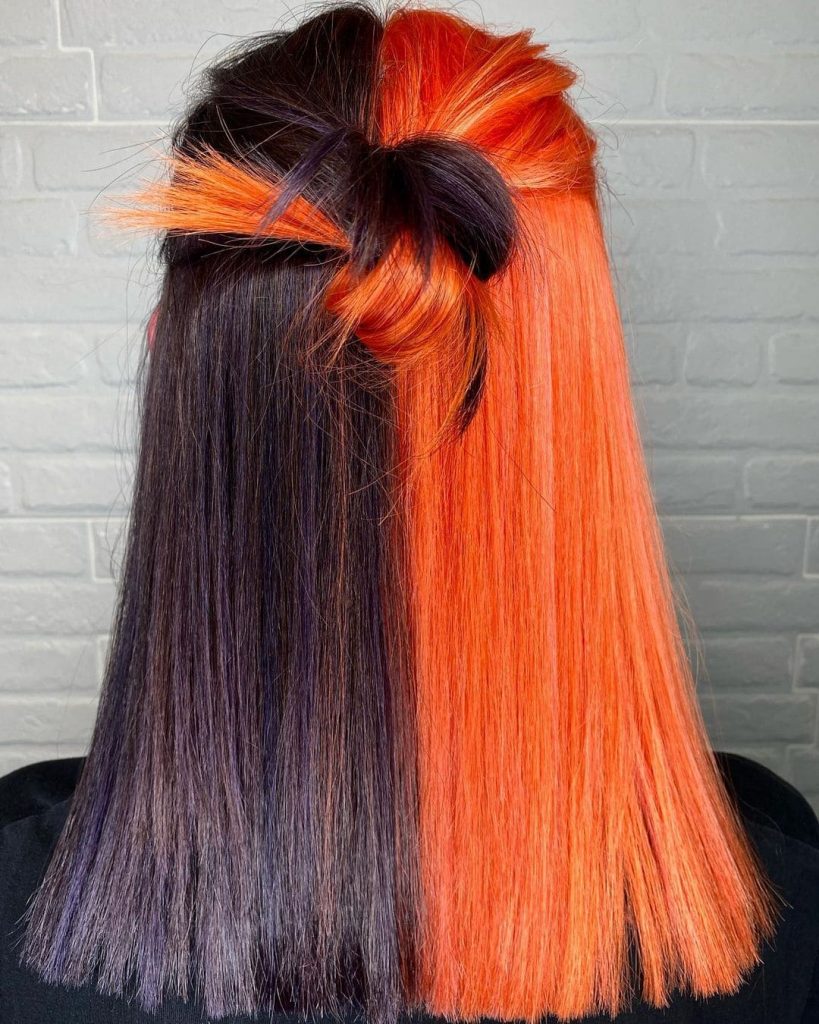 This dyeing design brings out the uniqueness in your hair. You will love it because it brings together three colors professionally. It grants you the confidence to face any situation.
36. Grey and maroon design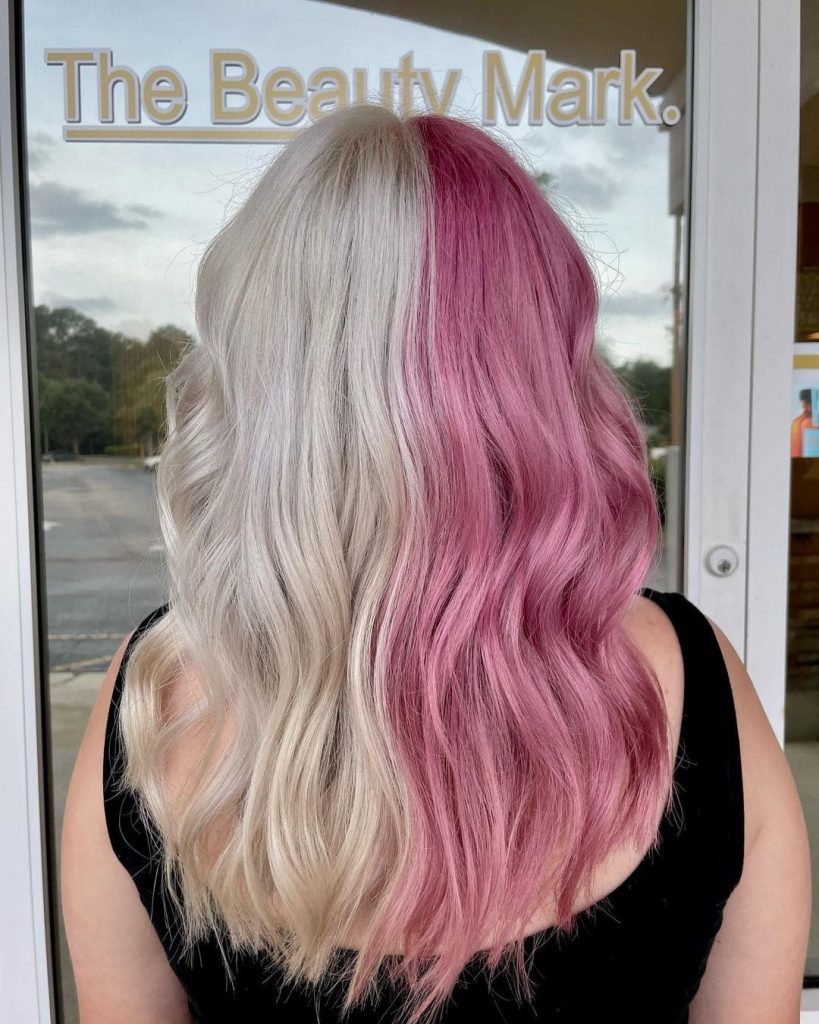 If your skin is light, this design will add beauty to your looks. In addition, it makes your hair blonde and maroon colored giving you more attention. You will be worth a glance if you wear your hair this way, coupled with beautiful makeup.
37. The bossy look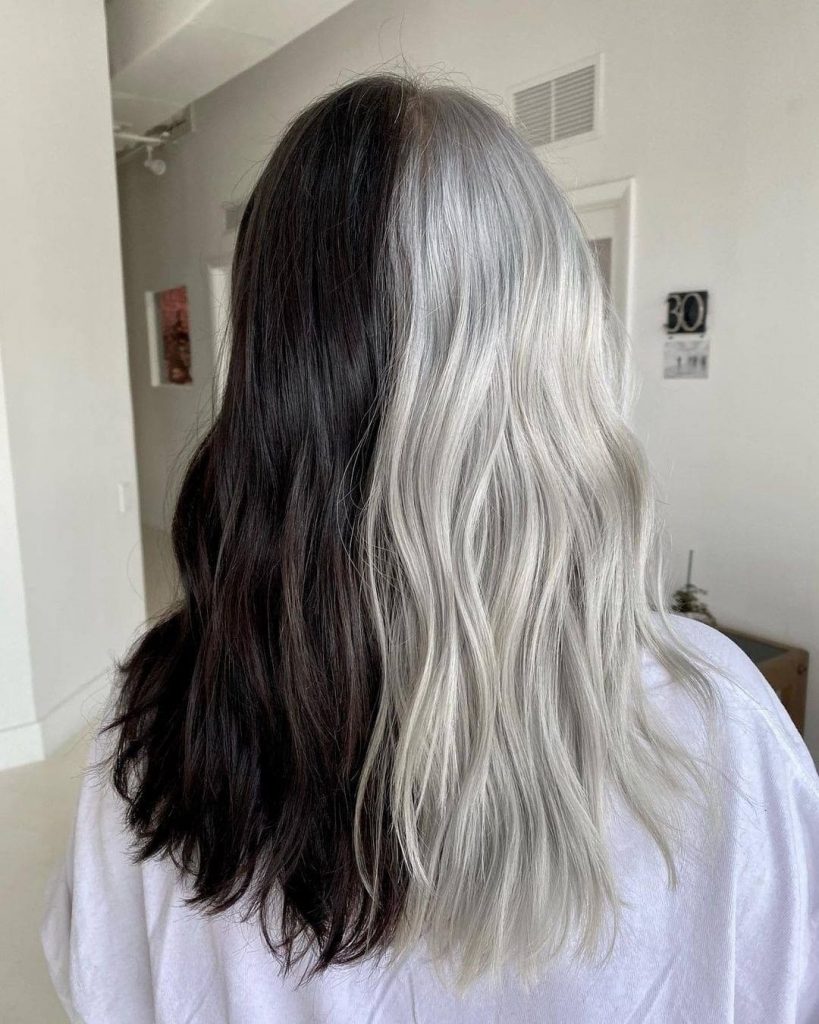 Do you want to appear bossy, expensive, and classy? Most people find this split-dyed hairstyle precisely that. However, if you have a place you need commanding respect, don't shy off from trying this lookout.
38. Beautiful pink and purple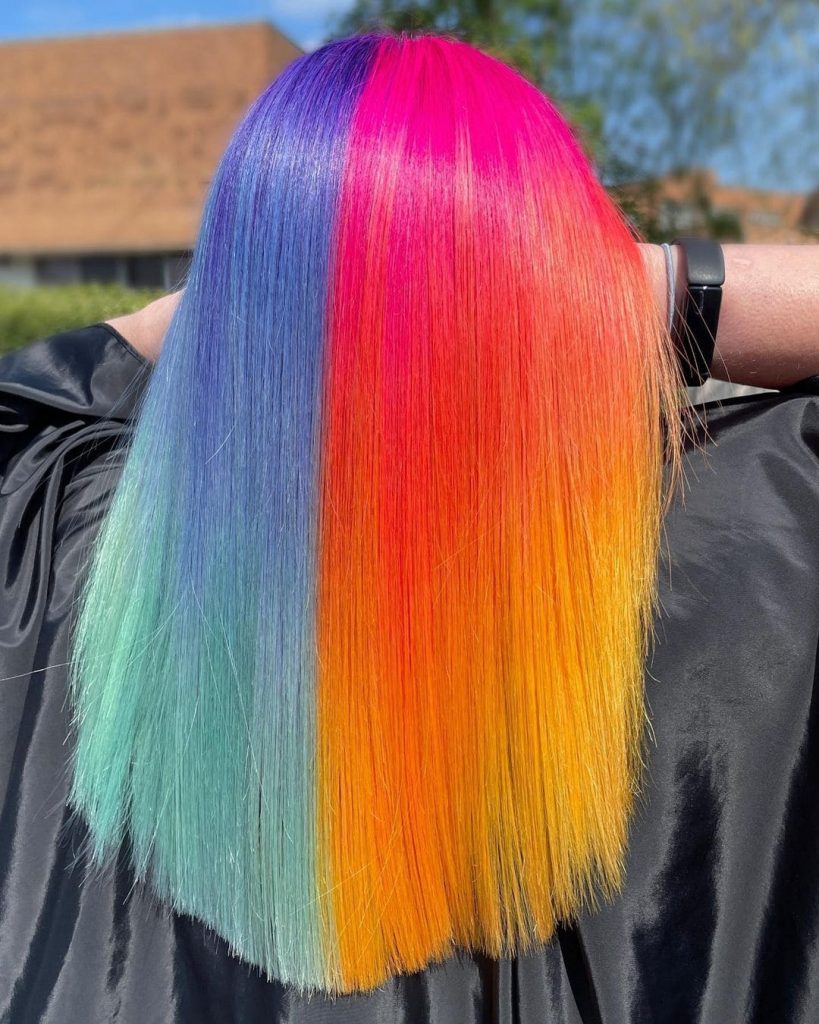 Being young proves to be a beautiful thing. This dyed hair color makes this split hair design perfect. You will appear more youthful and beautiful with this pink and purple split-dyed hairstyle.
39. Brown And Purple splitting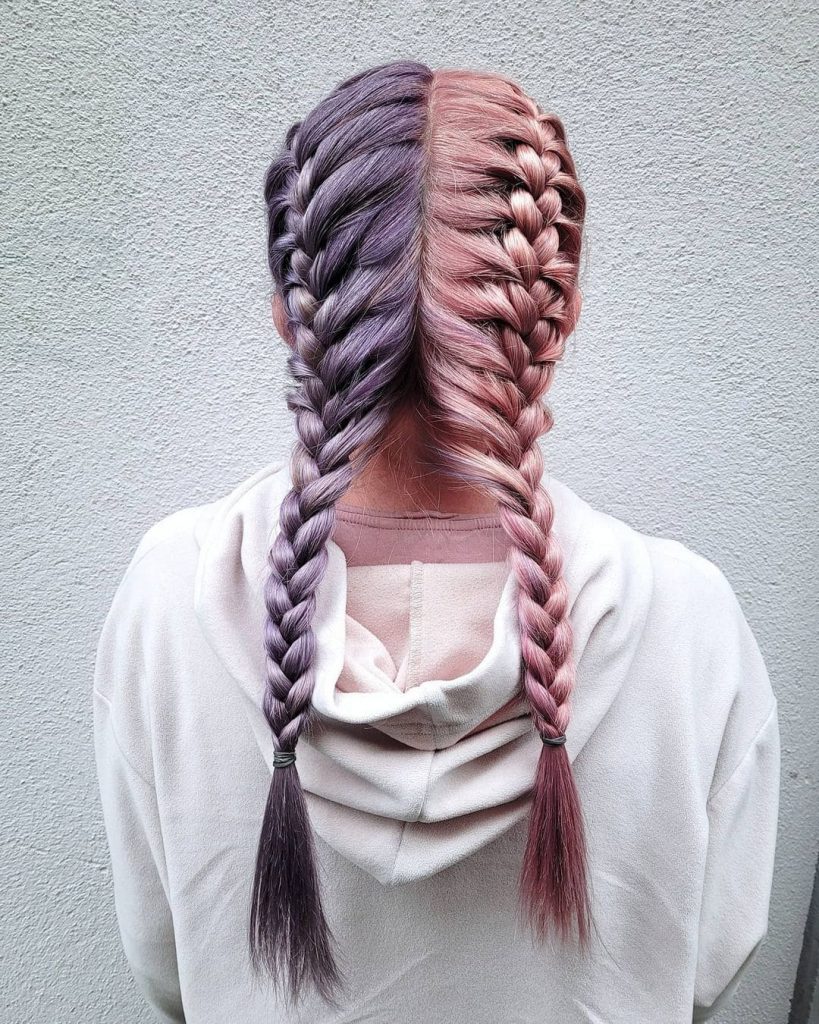 If you need the best outlook, this one will do. It makes split-dyed hairstyles more appealing and likable. Show off your confidence by recreating this amazing hairstyle.
40. pink and green
If you need your front hair uniquely done, this is your chance. Green and pink dye will give you the most amazing look. To recreate this look, split your hair into front and back portions. Further, split and dye the front part to give you the perfect split dye hairstyle.
How to Choose Your Color
Choosing your hair color makes an exciting idea. It might get tricky but still very interesting. Most customers find Ombre colors ideal for split-dyed hair starters.
It would help if you also visited professionals to help you achieve this look. Some of our recommended grouped colors include:
Pastels- these include gentle colors like baby blue and baby pink. They give a good dyeing start point.
Complementing colors. We may call them opposites because they include bright colors. Here, you may choose blue and green or red and green.
The Blonde/black look proves very enticing. This color comes with its beauty and magic.
Natural/colored. Your hair comes with its natural color. By dyeing one side, you get your split-dyed hair look quickly.
Split dyed hair aftercare           
Dyeing your hair might be one thing, but the aftercare may be different. So we give you the following aftercare tips.
Ensure you use sulfate-free hair products to wash and shampoo
Cold water proves ideal for after-wash needs
We recommend you use live-in treatment for your hair. Live-in hair products keep the color locked in.
If you need to use heat tools like a curling iron or blow dryer, we recommend using a heat-protecting spray.
Frequently Asked Questions
What is split-dyed hair called?
You may call it half and half dyed hair. This hairstyle has become commonly known as split dyed hair design.
Is split-dyed hair a trend?
Everybody knows that split-dyed hair has become a trend since 2021. However, even in 2022, this design has not yet lost its trending nature.
What is peekaboo hair color?
Peekaboo hair color refers to different colors applied at the bottom of your split-dyed hair. It gives a beautiful touch to your hairstyle, making it more attractive.