With the spring season approaching, you need to be looking spectacular in all aspects.
Not only do you need your hairstyle fabulous, but also your makeup and nails. We work around the clock to bring you all good looks to look as beautiful as you desire.
Spring nails designs have dominated our sites for many years now. This year, you need to get the best spring nails insights to recreate breathtaking nail designs for your spring events.
Spring comes with many celebration invitations, and whichever nail design you choose should bring out the celebration mood.
Let the nail polish be unique whether you choose coffin design looks or almond nails. You may choose to add on some artistic designs or heart themes for a more loving look.
1. These Yellow Daises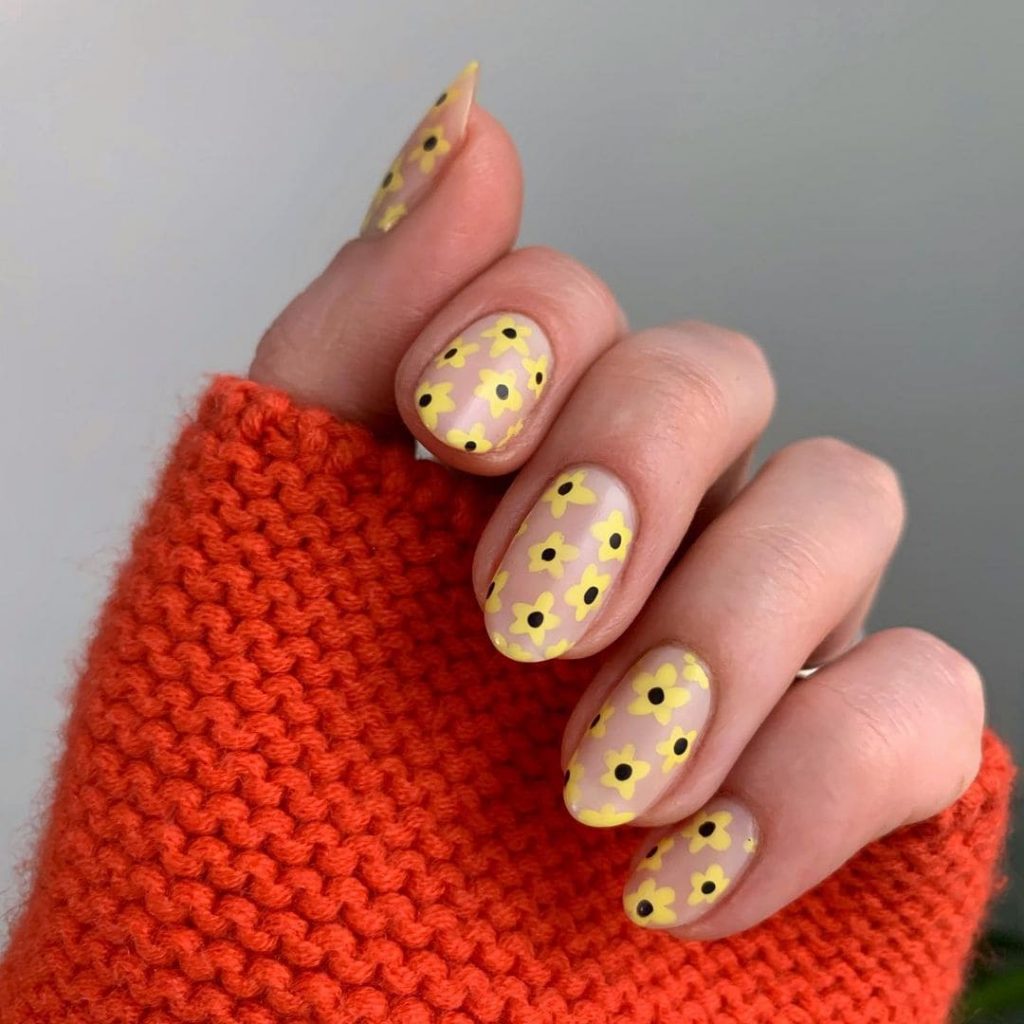 This nail design will be fantastic for your spring parties. You will only require a yellow and clear nail polish to recreate the design.
---
2. The Pink and Green Classic Design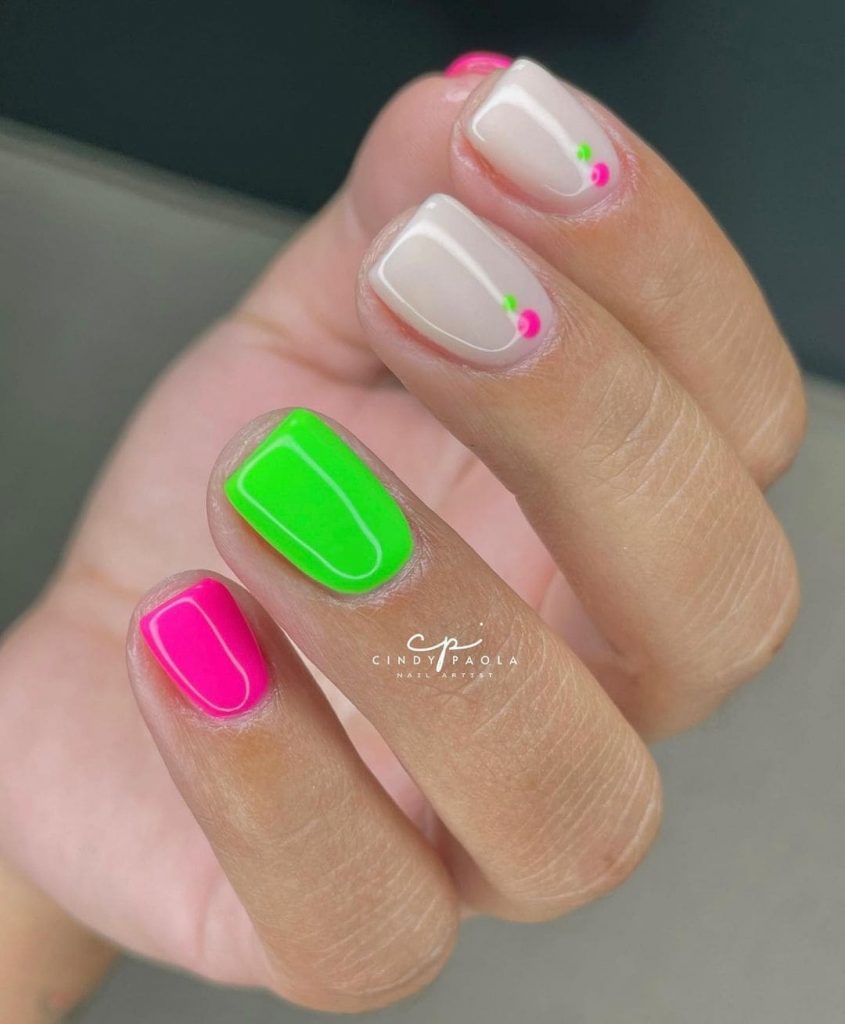 Do you have short nails? This spring might be memorable with this custom-made pink and green design.
---
3. The Ultimate Almond-Shaped Look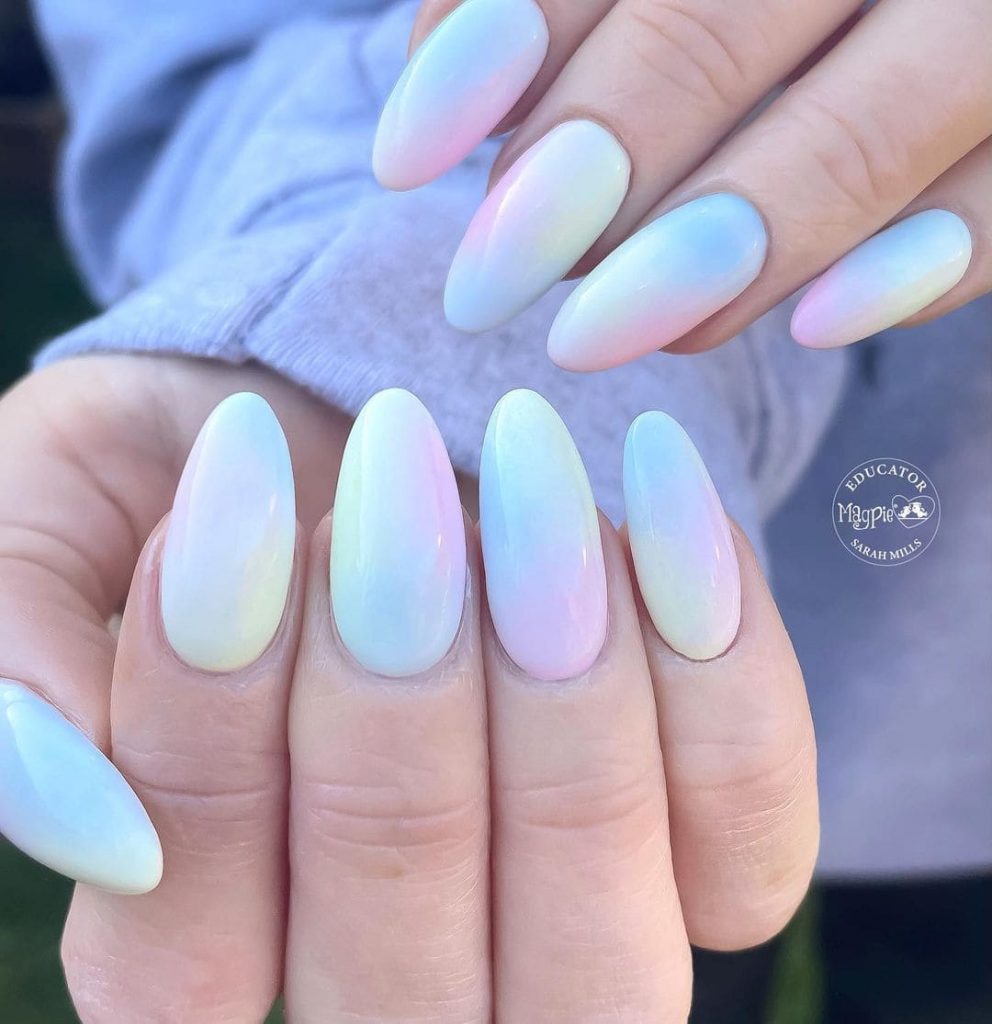 Almond nails never disappoint. This look will be a unique one for the spring holidays.
---
4. The Floral Spring Design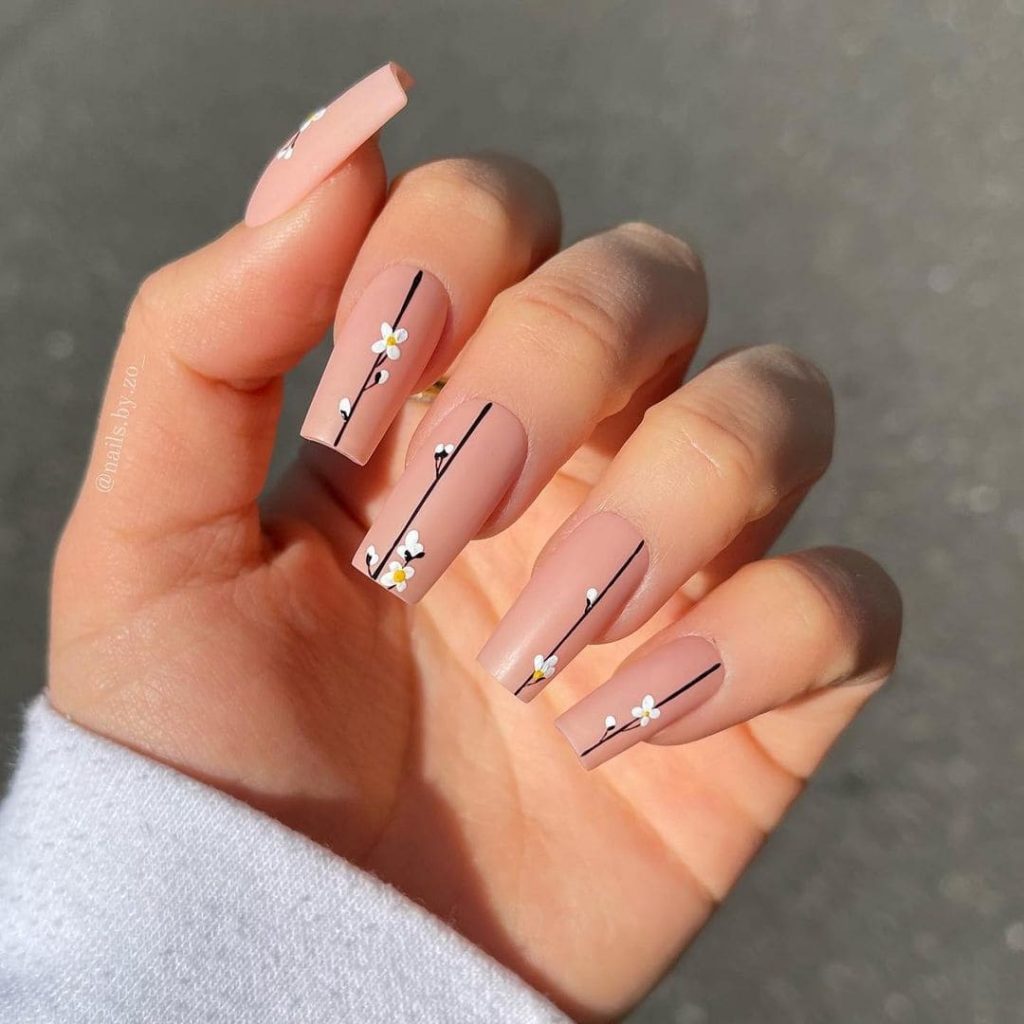 You will need this unique shade for your nail look and a good nail artist to draw the floral design. This design will give your spring the perfect memories.
---
5. Purple Blossom Nails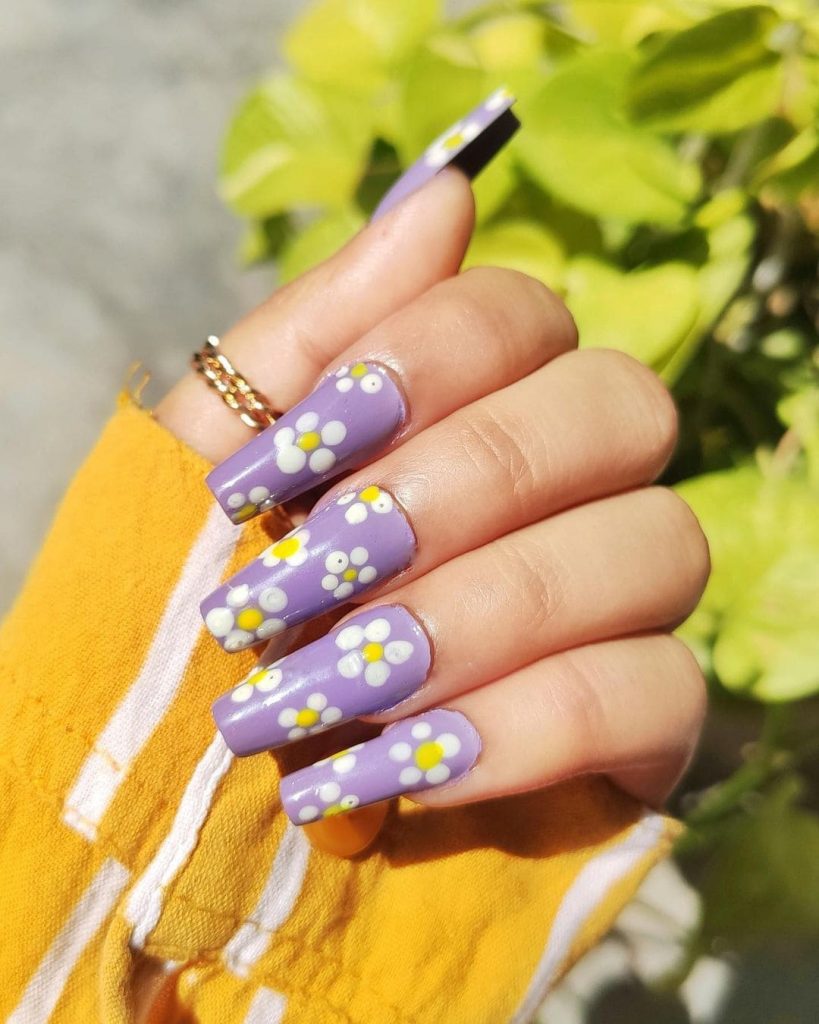 Did you know that most nail professionals find blue a beautiful color, especially for the spring season? This fashion nail design will give you unforgettable memories in the 2022 spring season.
---
6. The Purple French look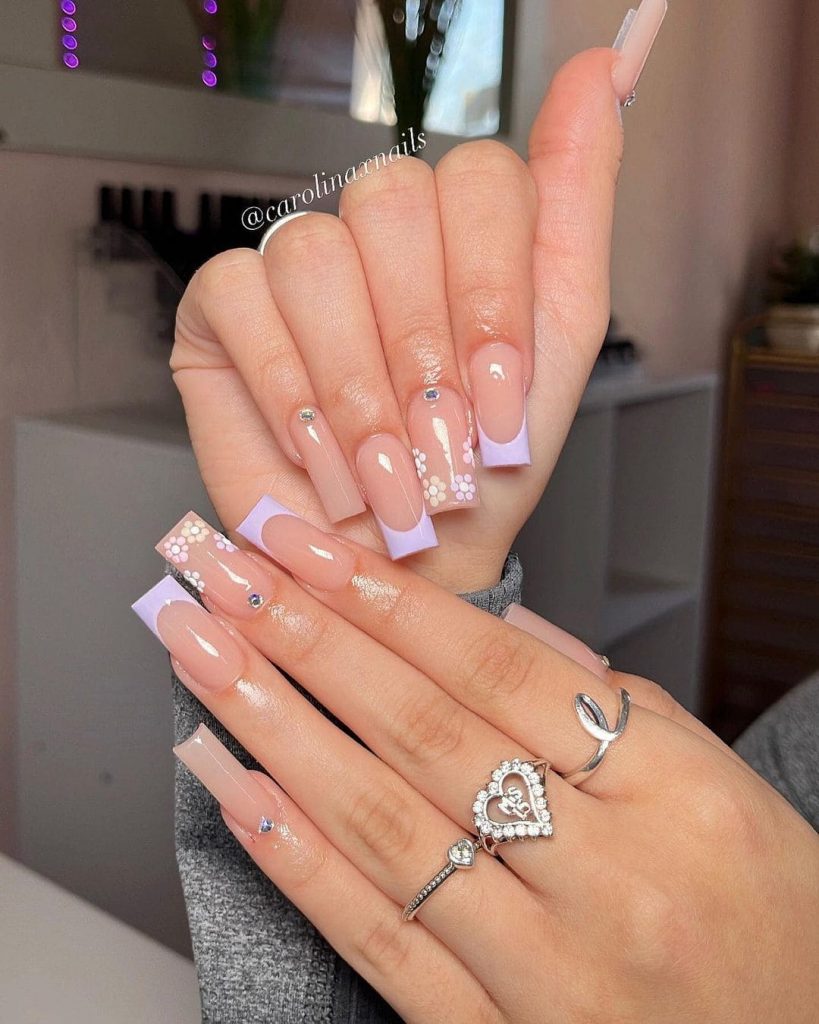 Are you a professional looking for the perfect nails for spring? This nail design will help you accomplish precisely that.
---
7. Ombre Green Baddie Spring Nails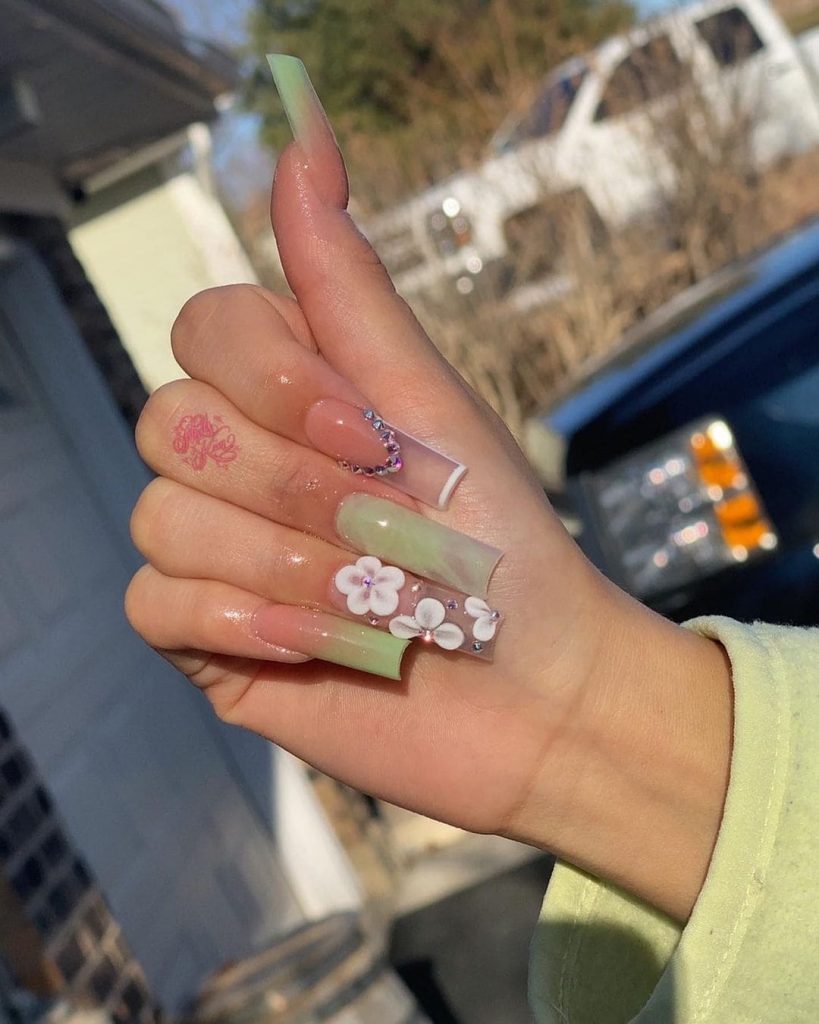 This design will boost your confidence to another level this spring season. Look at how nailsxkiim have mastered the art to help you recreate it.
---
8. Pastel Cow Print Nails
This pink nail design will be easy to recreate with pink polish and glittering stickers. You will quickly fix your nails with this design this springs period.
---
9. Cute Pink Spring Nail Design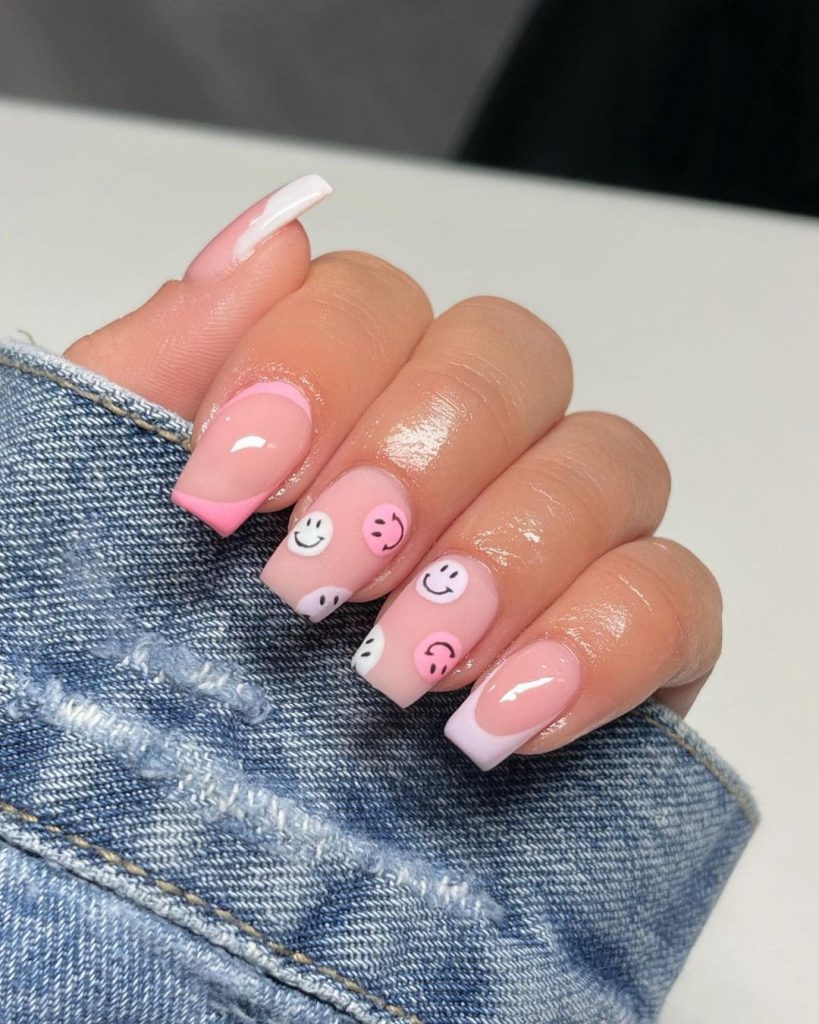 Some pink designs will be a deal-breaker this spring. You will enjoy this nail look to the fullest if you give it a recreation chance.
---
10. The Floral Rainbow Spring Nail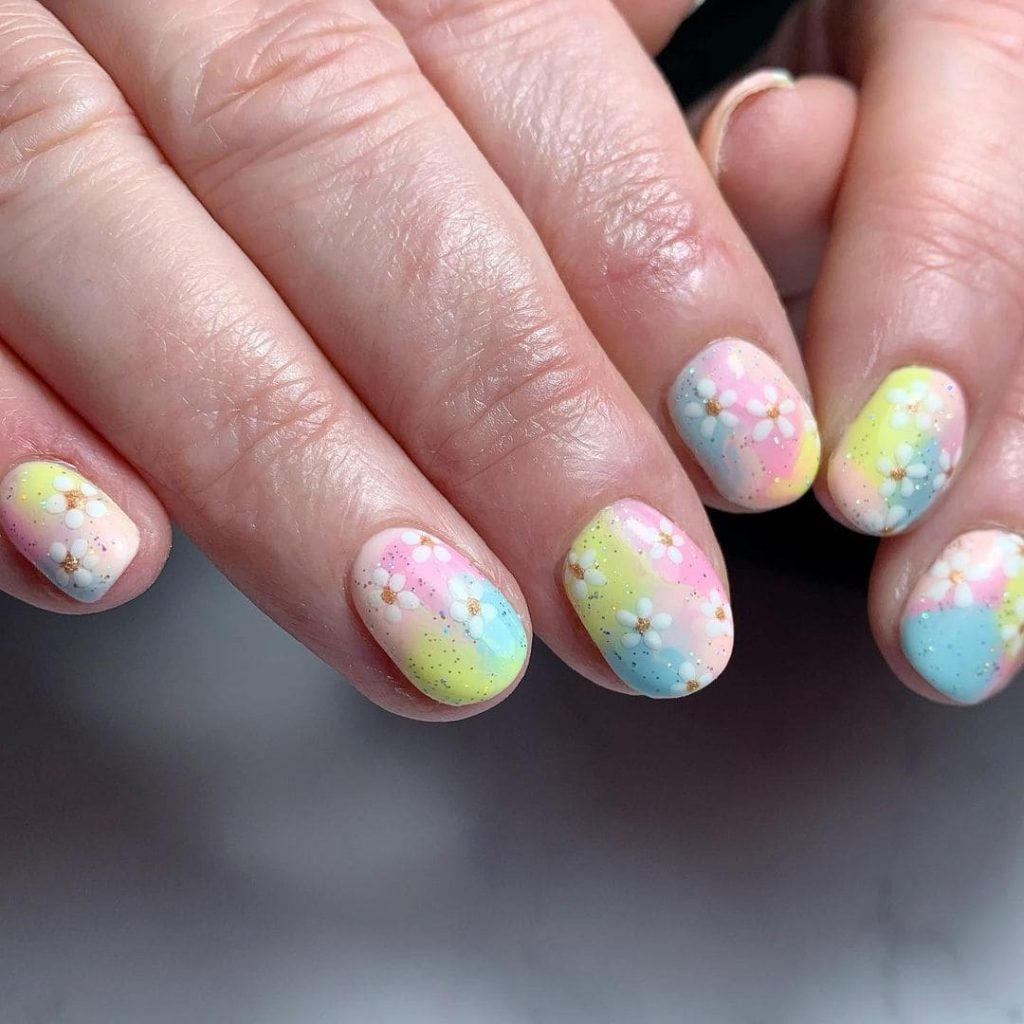 Like flowers bloom in spring, this nail design will bring out that glow in you. The rainbow colors make the design more beautiful.
---
11. The Ultimate Orange Spring Nails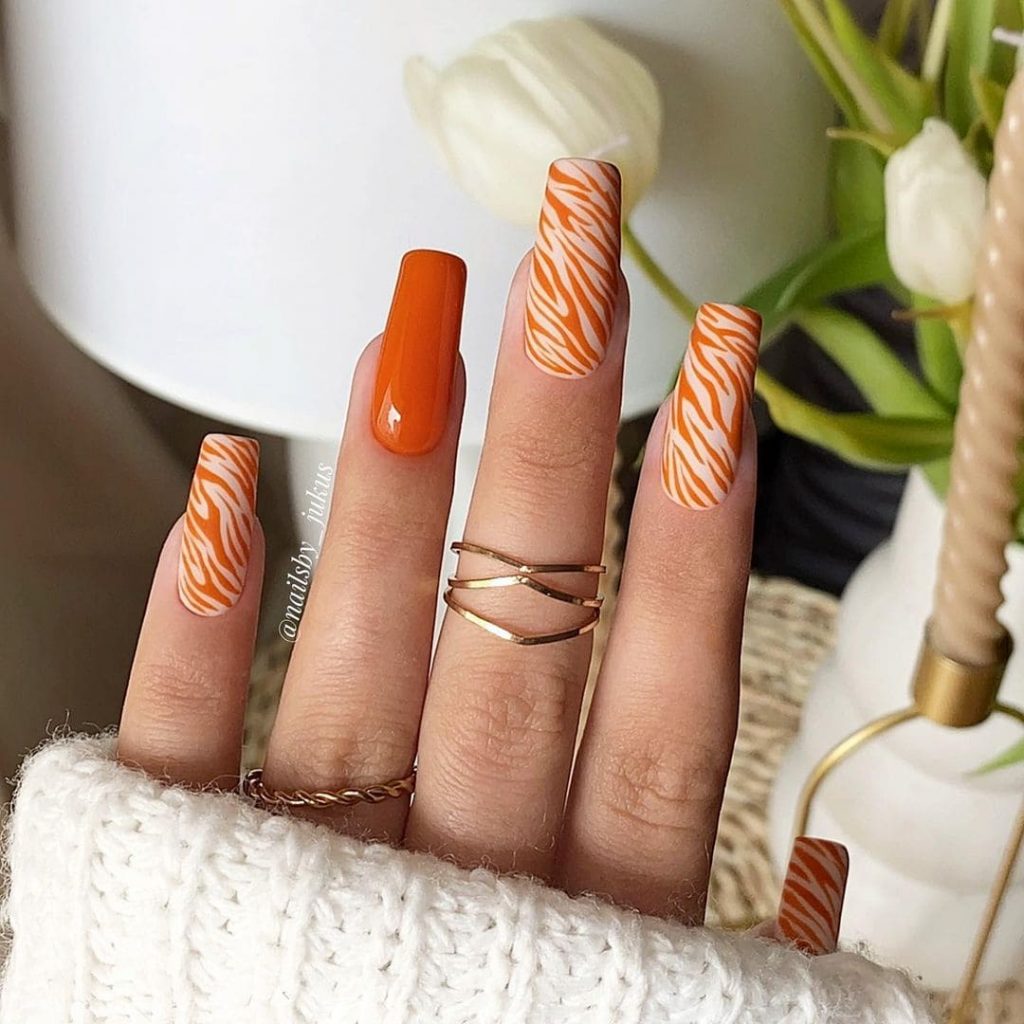 Have you tried orange nails for spring? This nail look will bring you warmth and beauty this spring.
---
12. Yellow with Rhinestone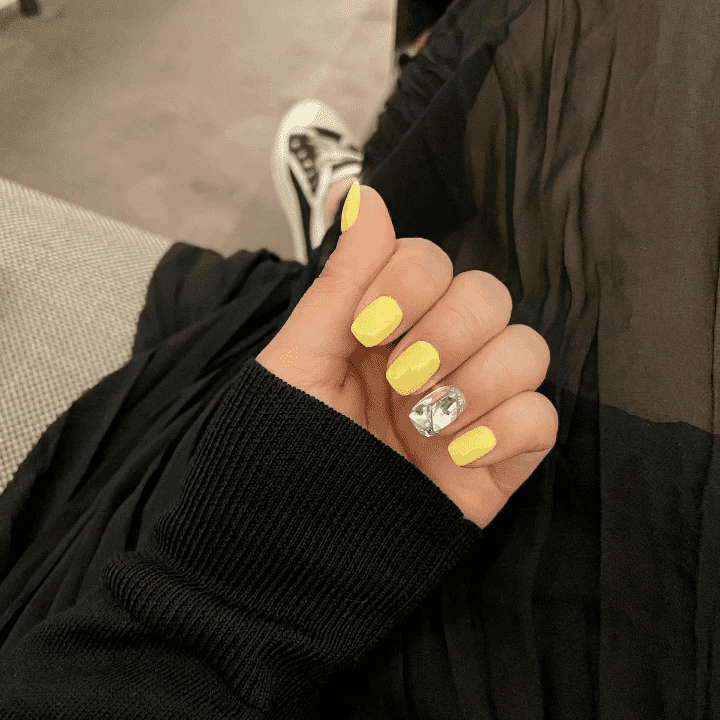 If you love bright colors, this yellow design will be your best choice. Check out some insights from nailbeaute on Instagram.
---
13. This French Colored Nail Tip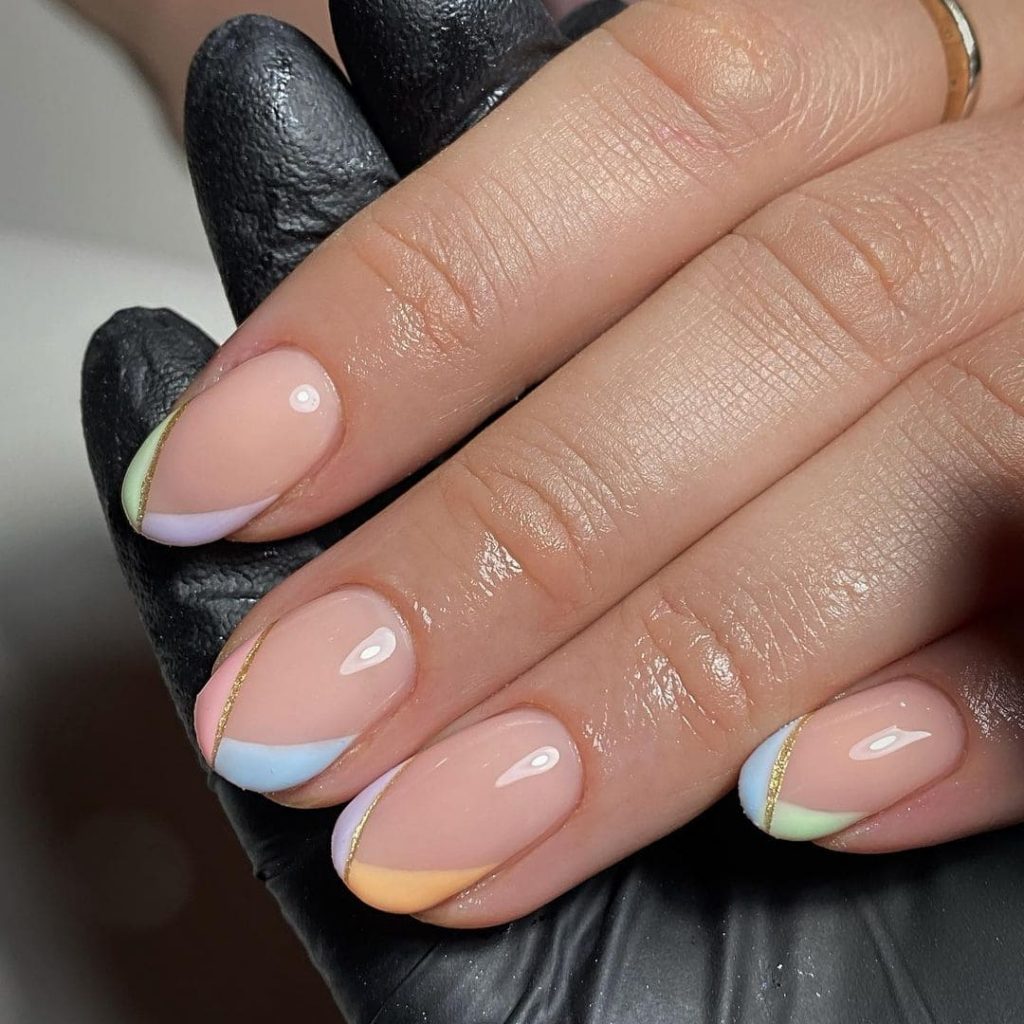 This design proves easy to recreate. With some different color nail polish, you will easily recreate this design.
---
14. This Subtle Floral Look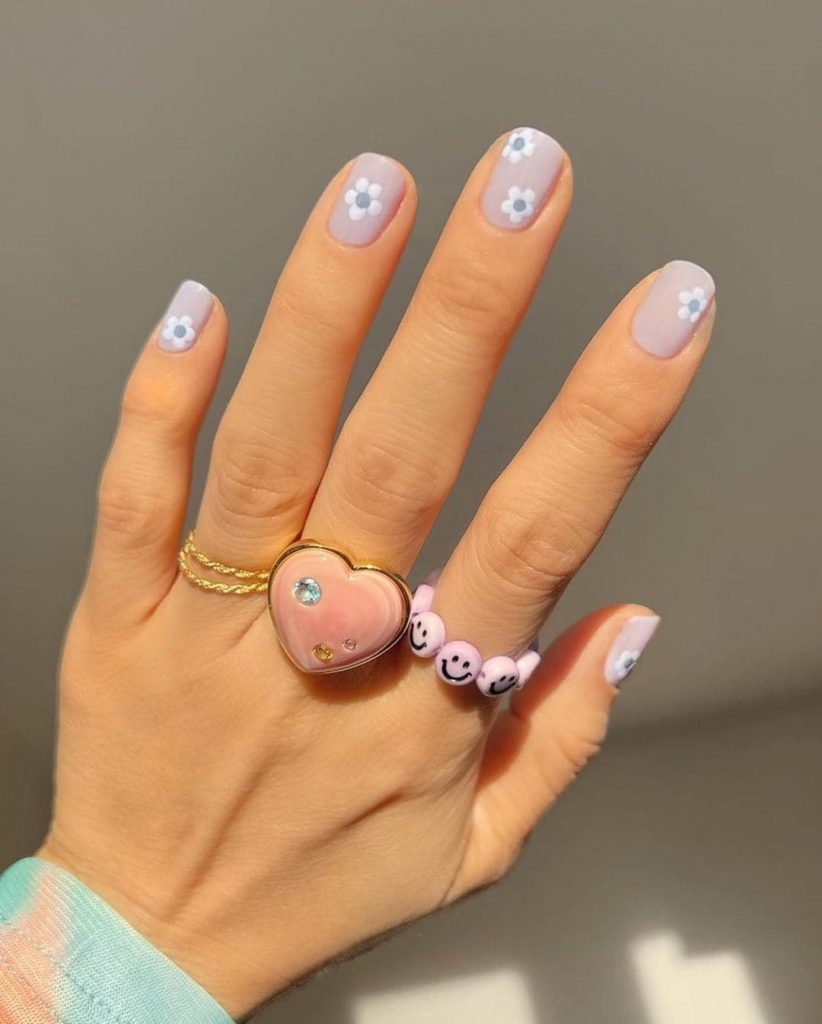 The glitters and flowers in this design will make a perfect spring look. Check out heartandheart-maiko for more insights.
---
15. Sunflower Summer Nails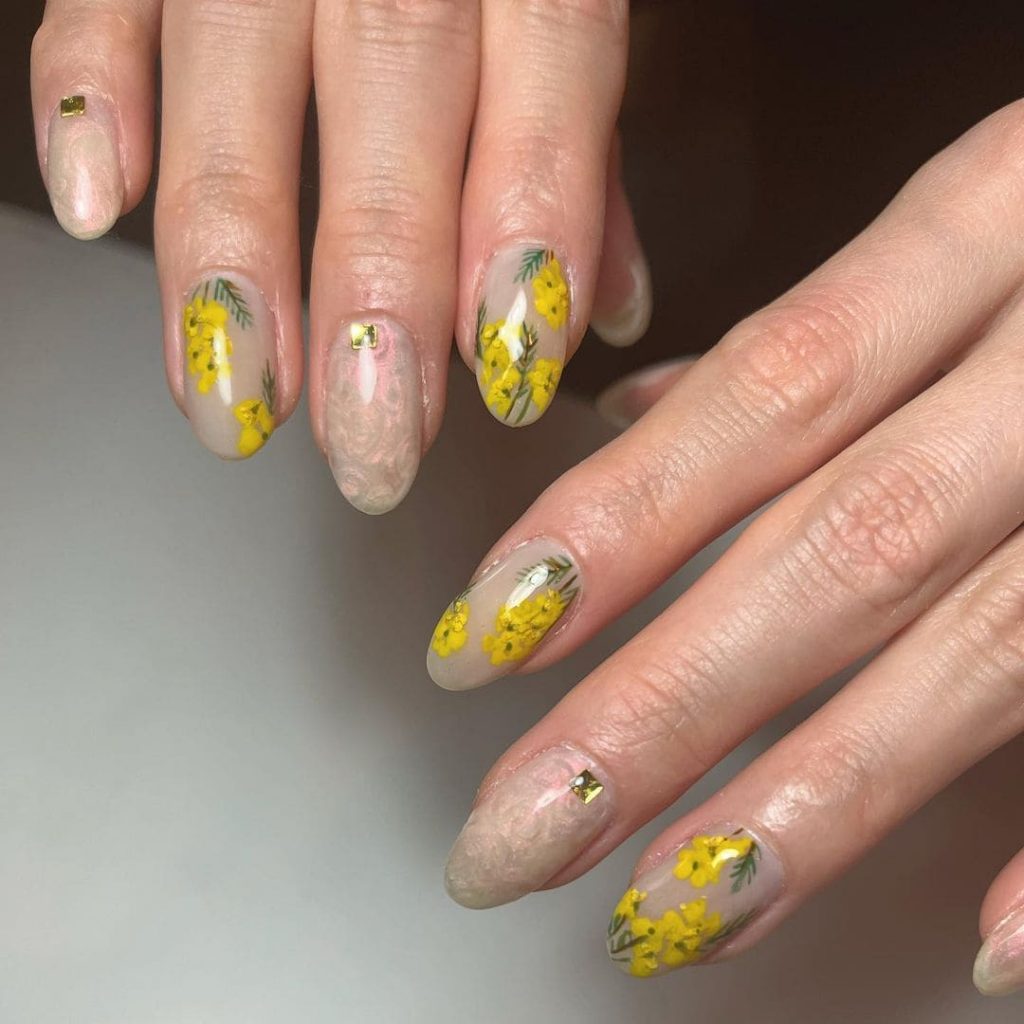 This design will provide an attractive look for your spring nails.
---
16. Yellow Floral Nails Design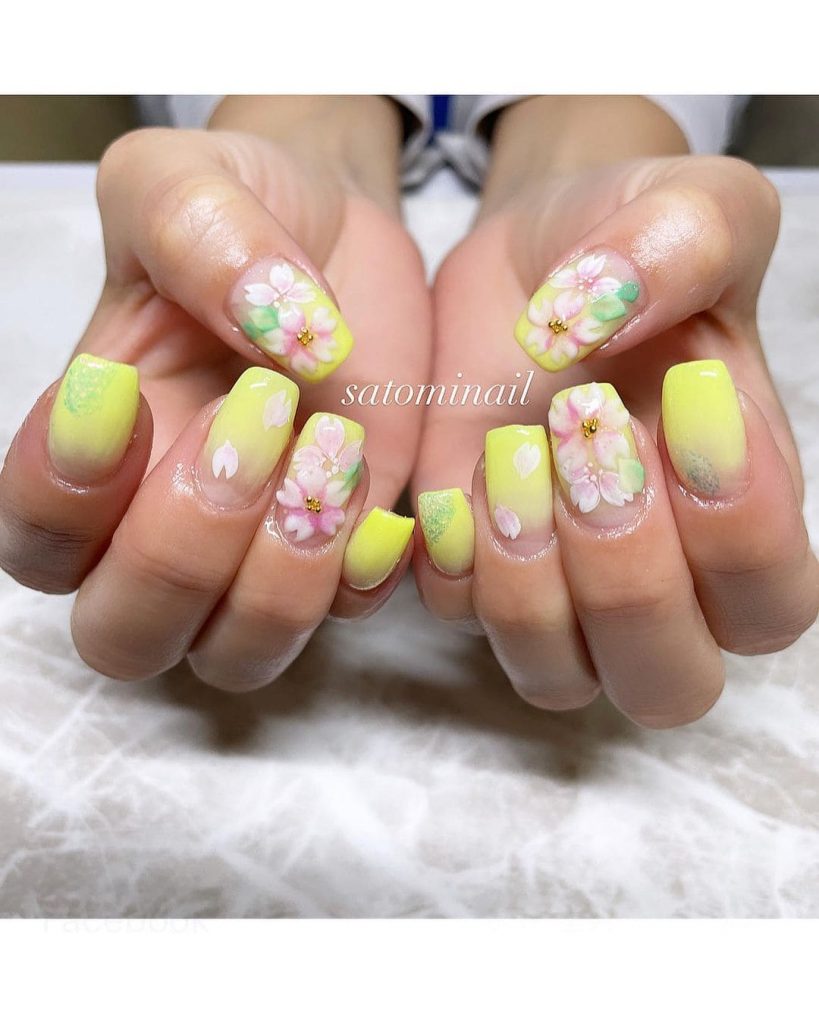 The yellow theme brings life to the spring mood. This design represents the coming back to life and your start of memorable events.
---
17. Orange Spring Nails Design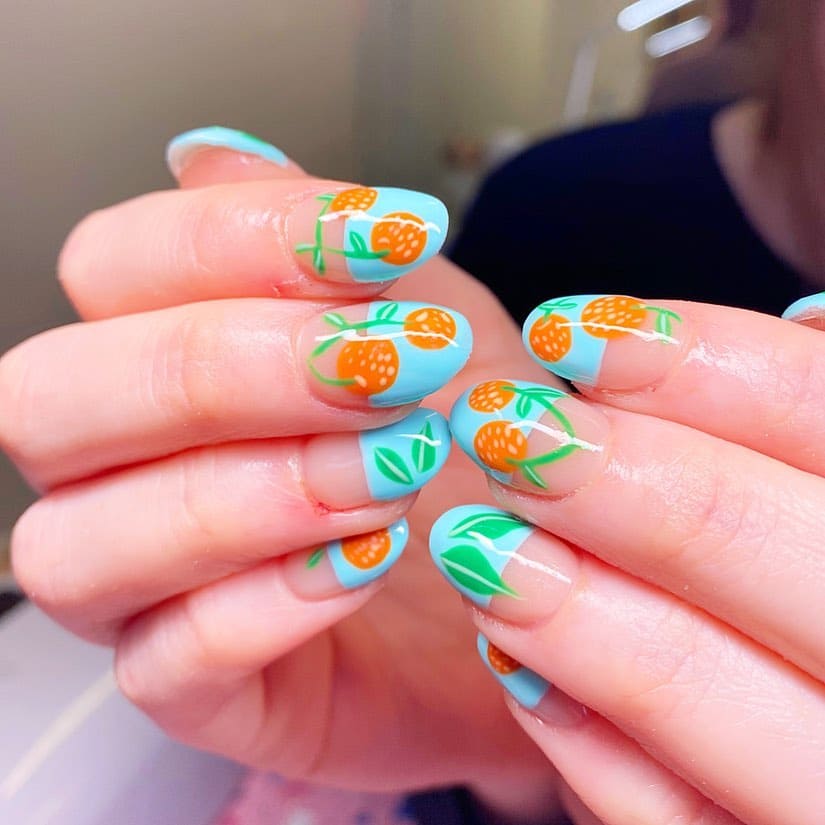 For some years now, nail designs presenting two different colors will prove impressive. This nail design created using baby blue nail polish will give you the perfect vibes for spring.
---
18. Marble Summer Nails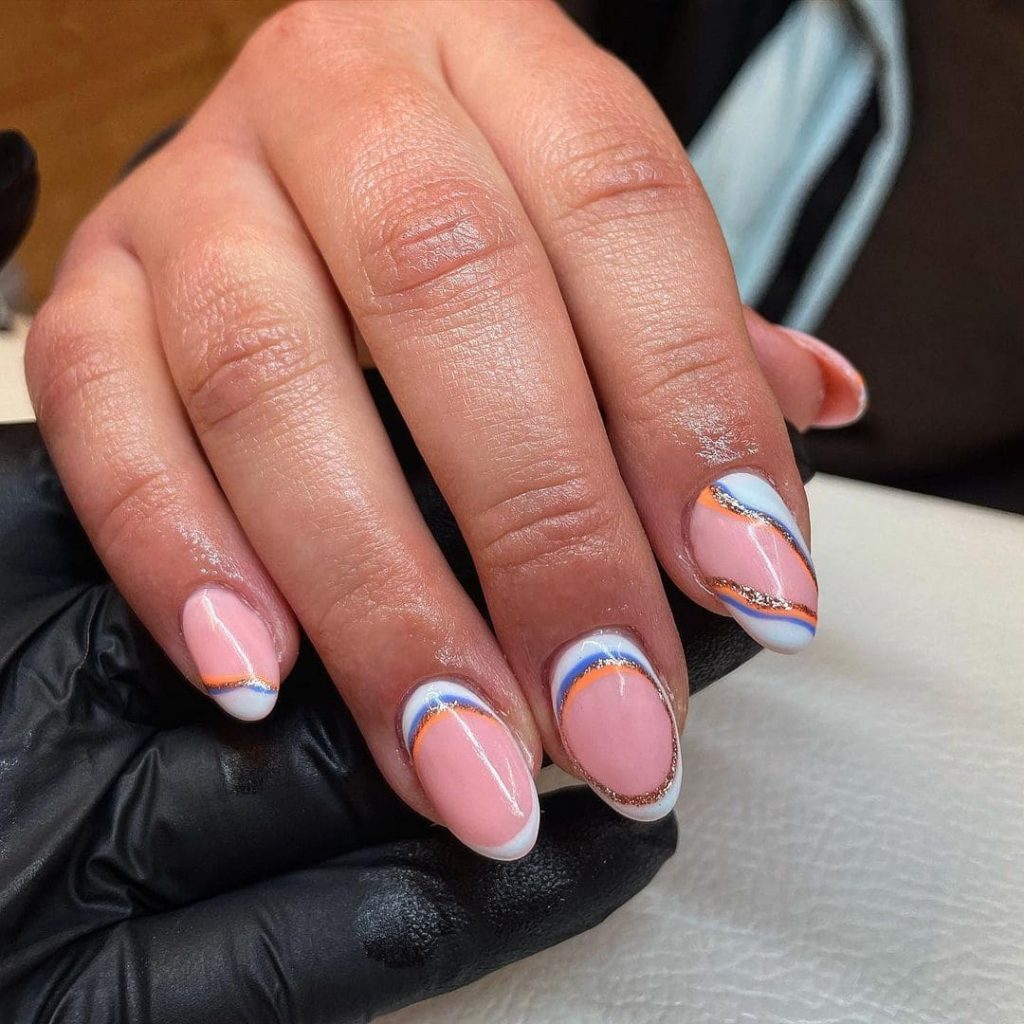 This nail design will be easy to recreate. With this nail design, spring will come and go leaving you feeling beautiful.
---
19. This Plant Gel Look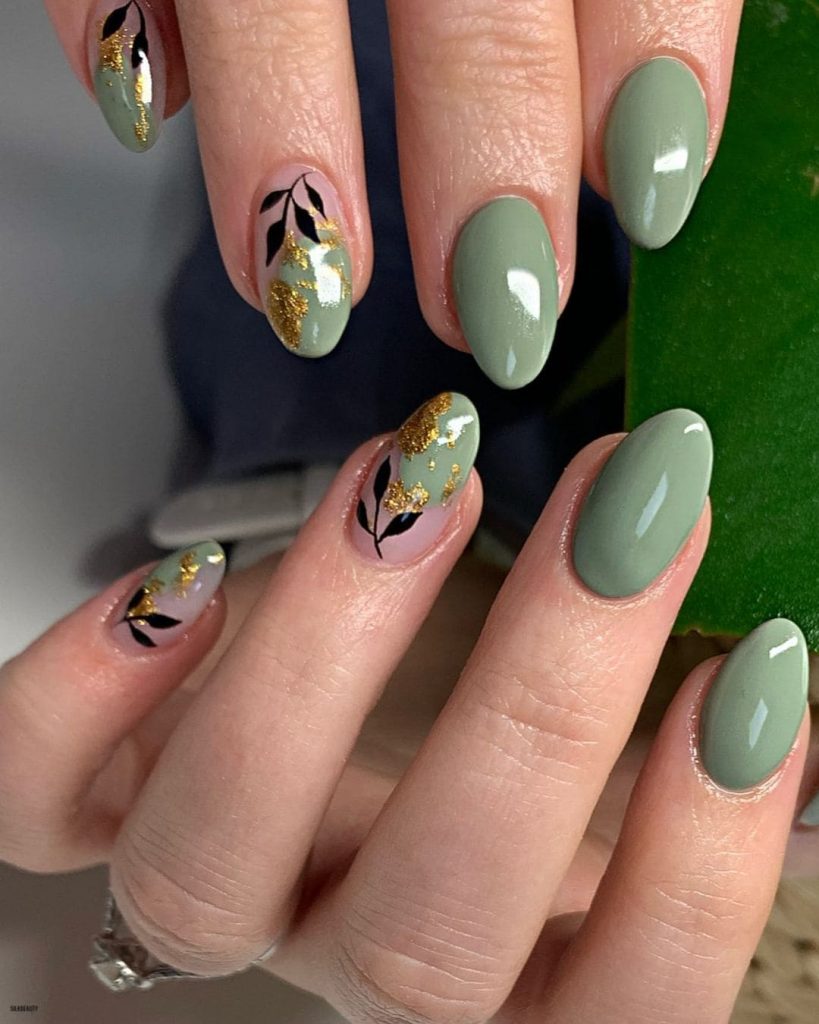 This plain color nail design will be a unique way to face this spring season. To recreate this look, check out how @silkbeauty.uk does it.
---
20. Blossom Pink Spring Nails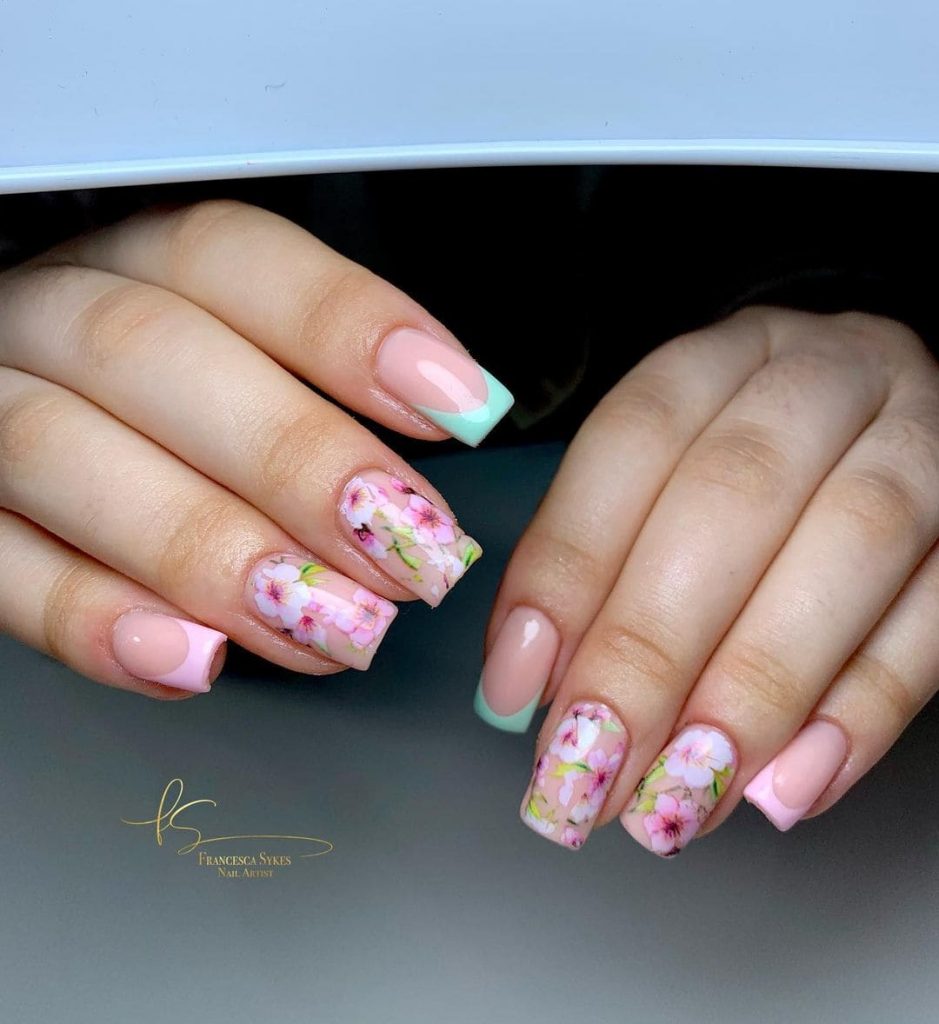 This design will be perfect for pink lovers. You will not know how spring comes and goes with this spectacular design.
---
21. Bee Floral Spring Nails
The bee floral design for your spring nails is immaculate. The design mimics the look of a bee in its habitat.
---
22. Unique French Nail Design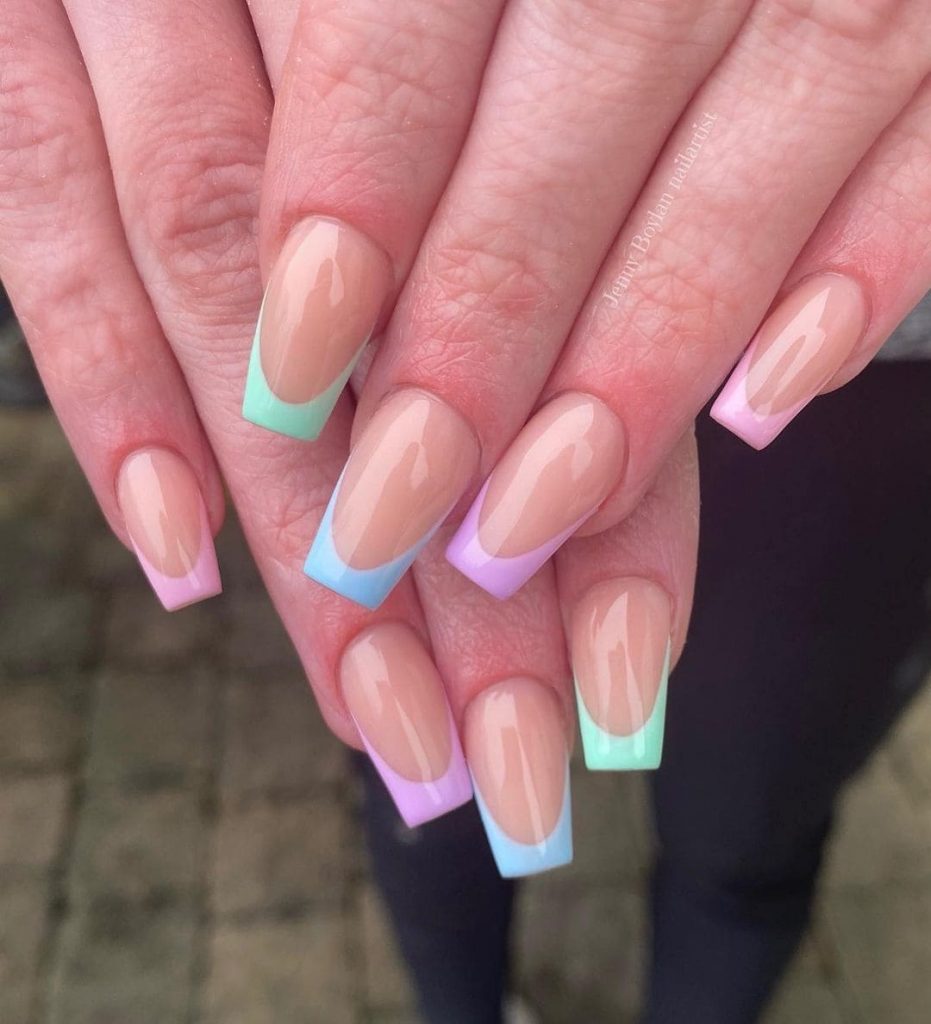 French nail design on coffin nails looks spectacular. The different color of nail polish makes this design perfect for spring.
---
23. Coudy Summer Vibe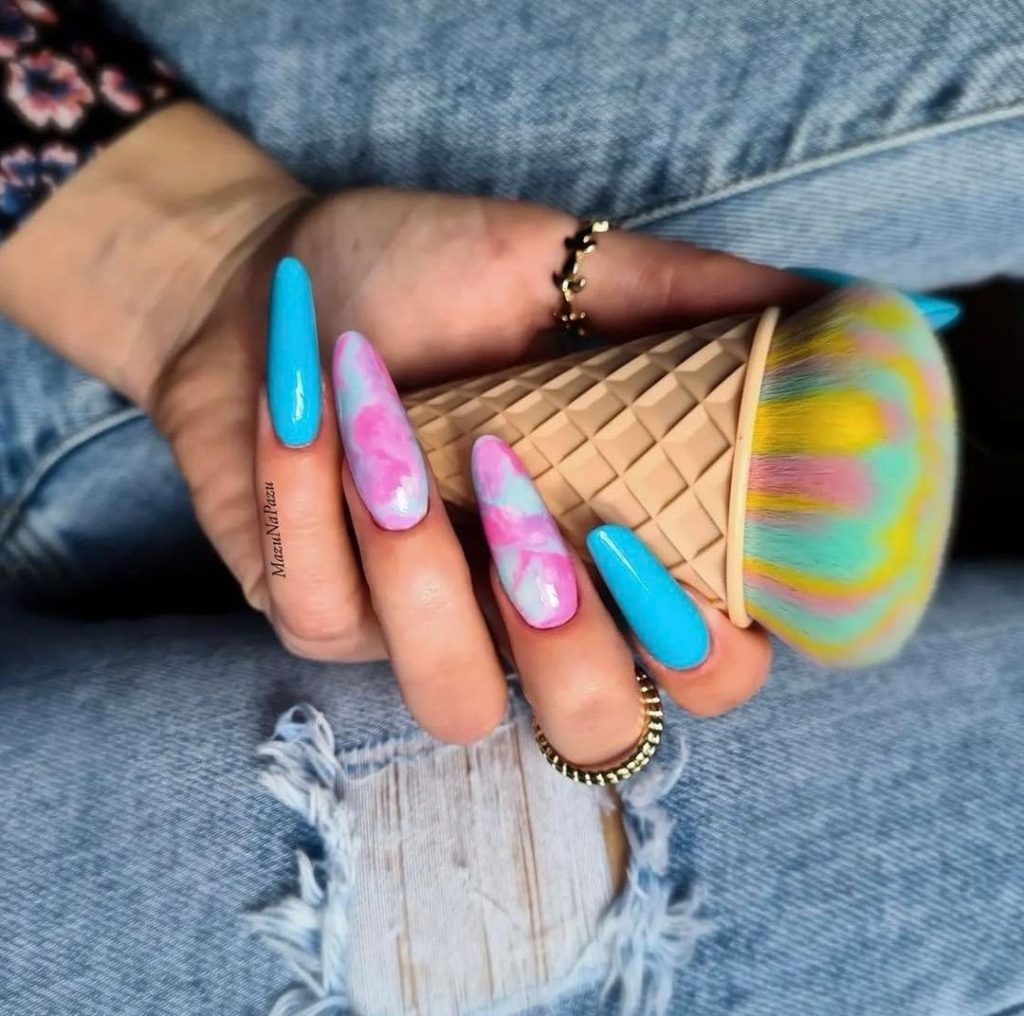 Have you tried indigodistributor nails on Instagram? If you haven't tried yet, this would be the ideal time to recreate this look for your spring festivities.
---
24. Chocolate Marble Nails Design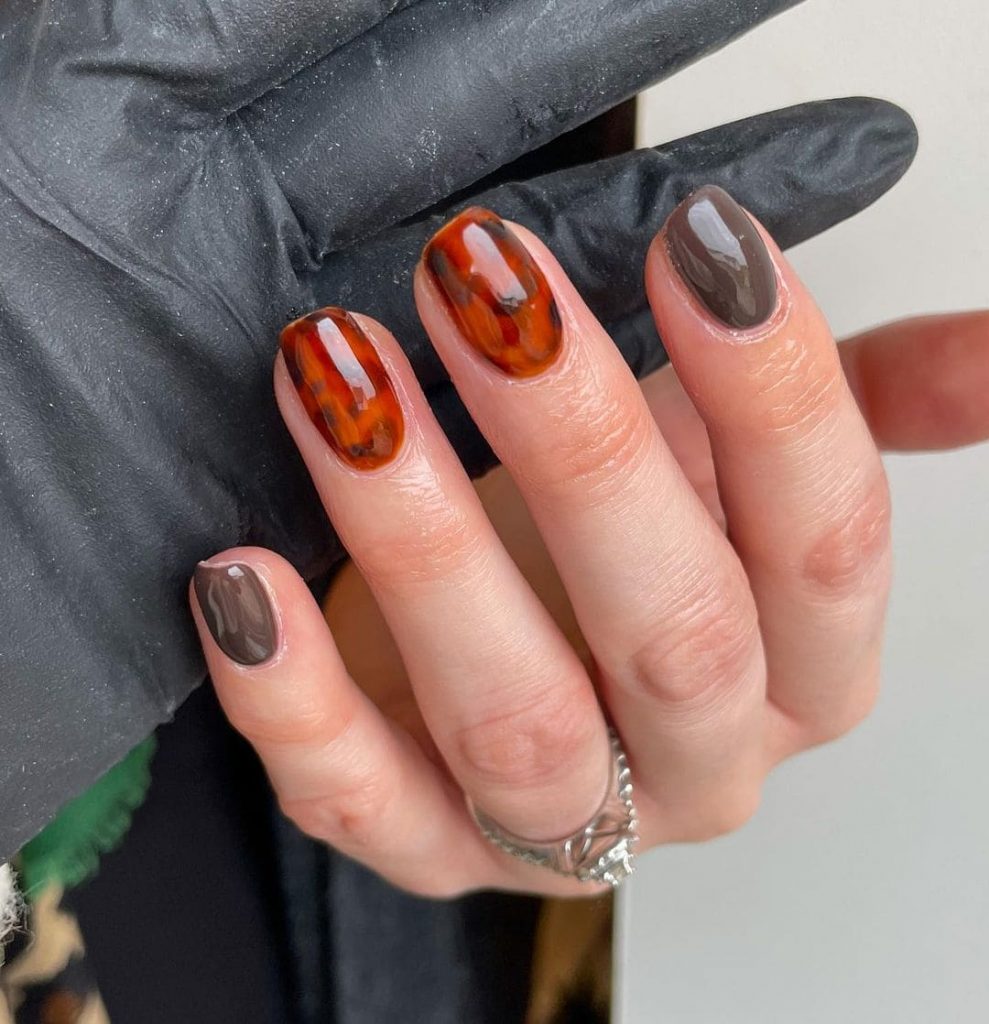 Some nail designs prove easy to recreate. If you haven't found yourself a nail design yet, feel free to recreate this.
---
25. Cute Springs Look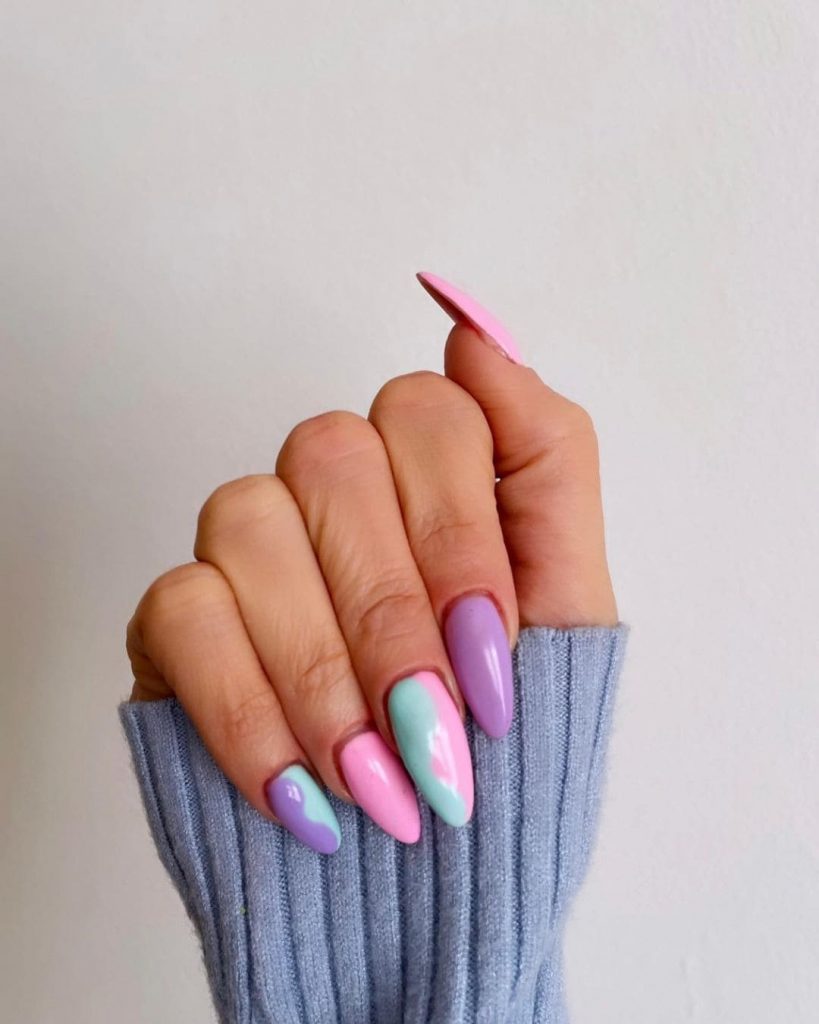 Purple mimics most flowering plants during spring. My grandfather used to bring me small floral plants with purple flowers. With this nail look, spring will feel lovely.
---
26. Dreamy Sky Blue Look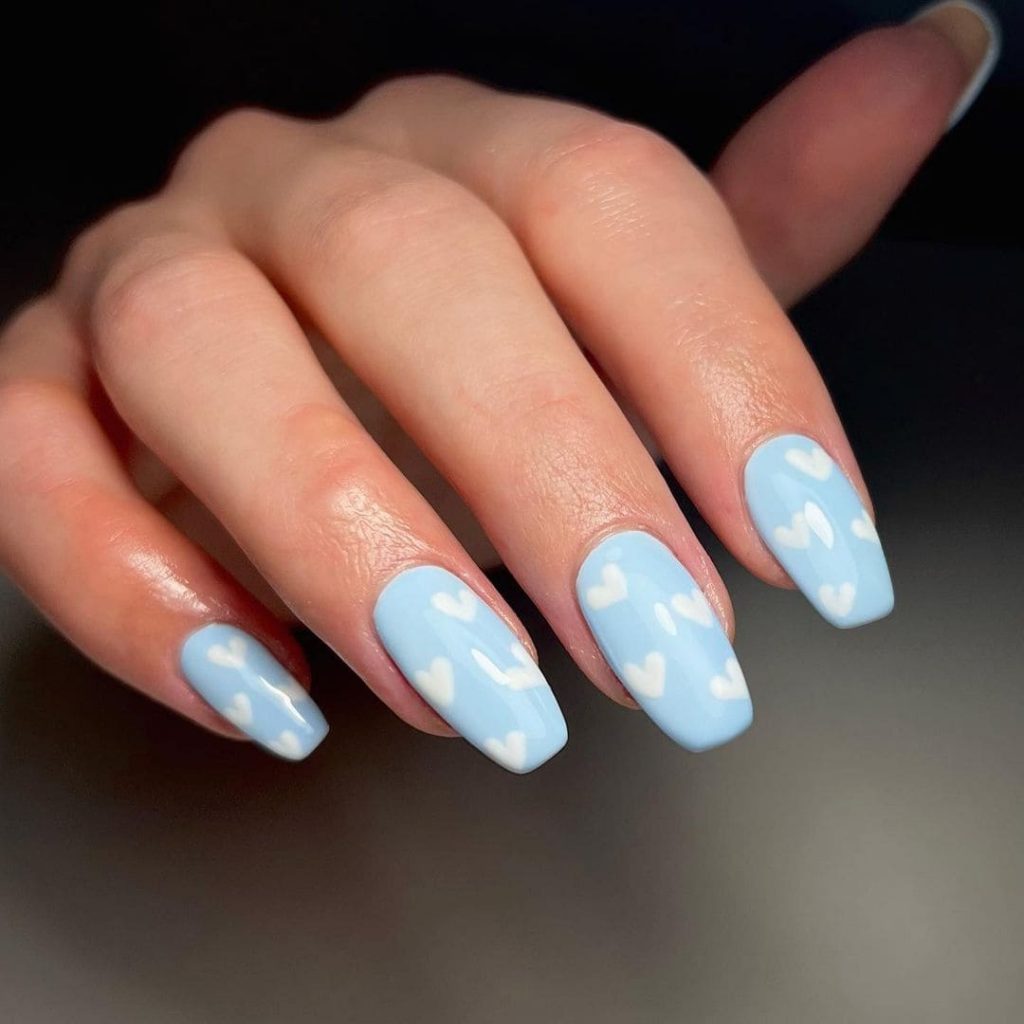 Blue gel polish manicure might be perfect for your nails during the spring season. Not only does the design prove easy to recreate, but it also appears beautiful.
---
27. Geometric Look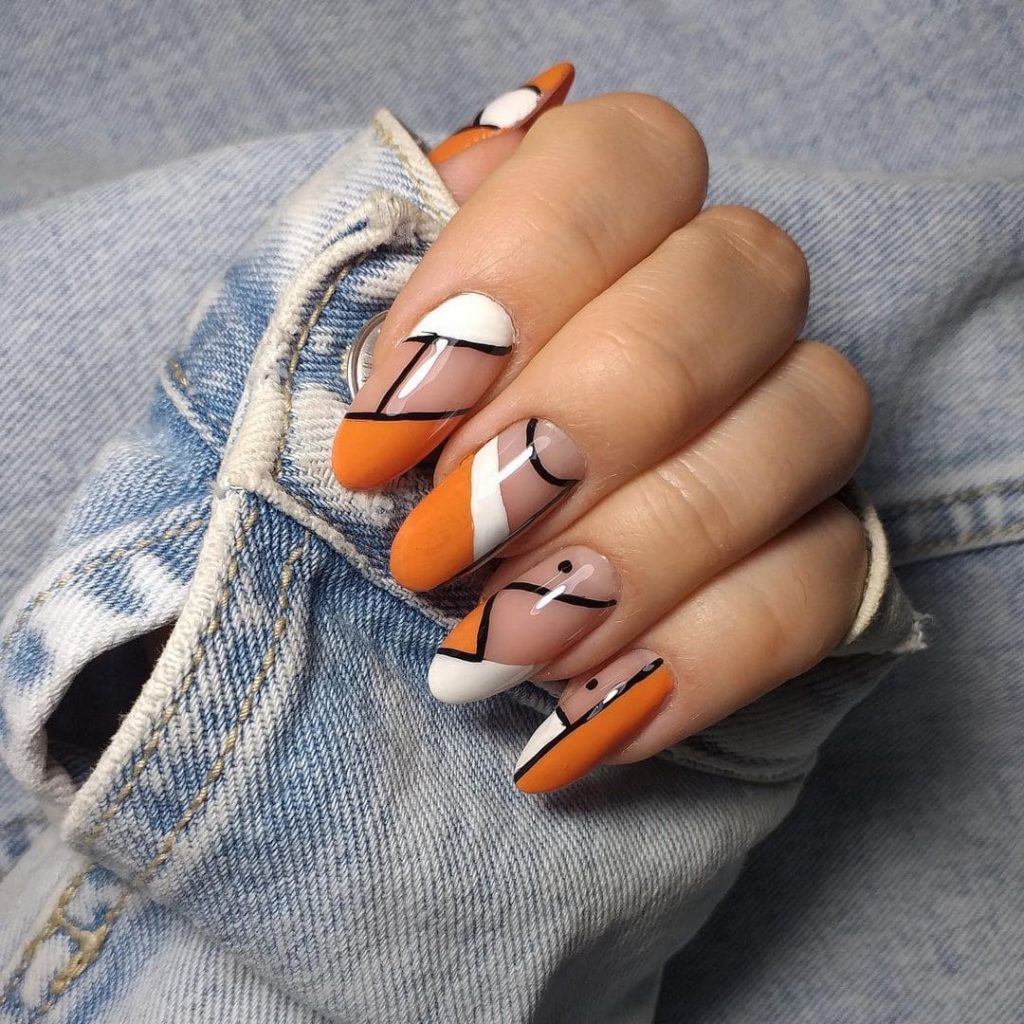 Geometric patterns come out very unique and spectacular. If you wish to bring some warmth into your spring, this nail look will help you achieve your target.
---
28. The Perfect Pink Hue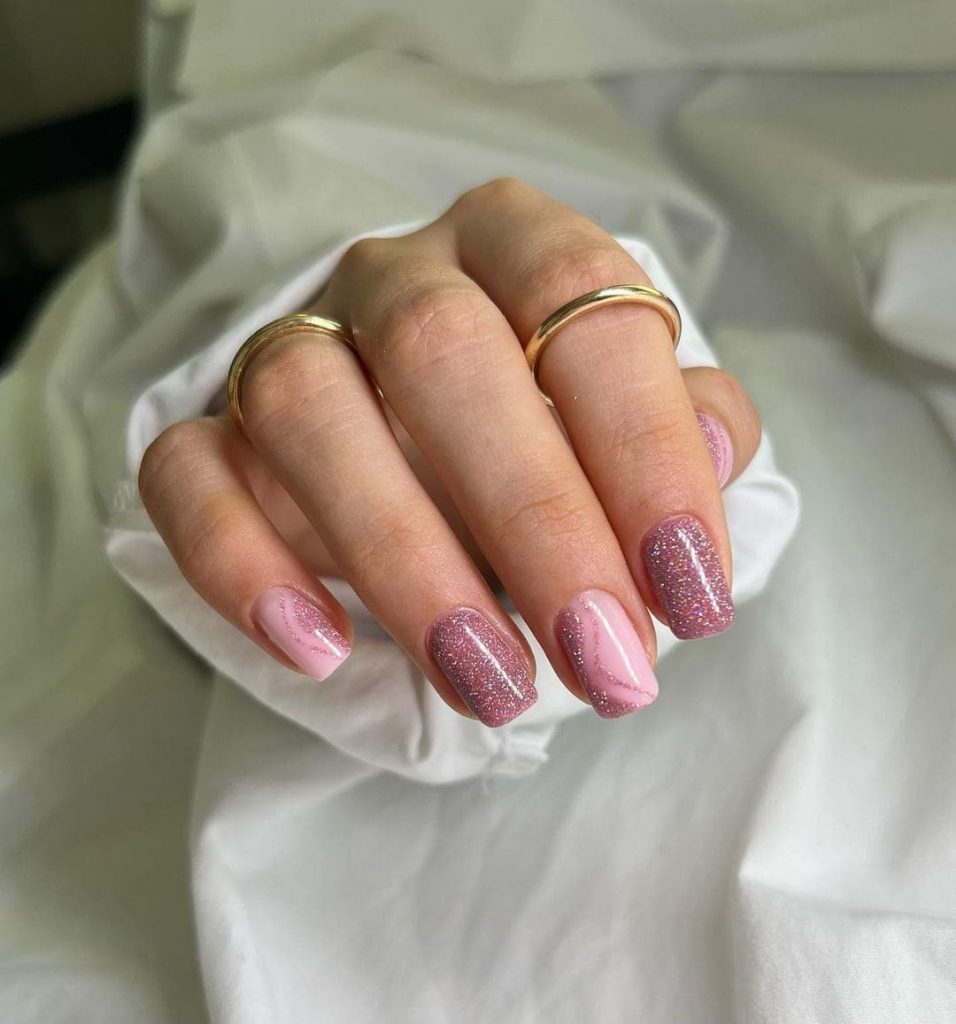 This nail design offers more than just good looks. It will add color to your spring events.
---
29. Beach Vibe Nail Art Design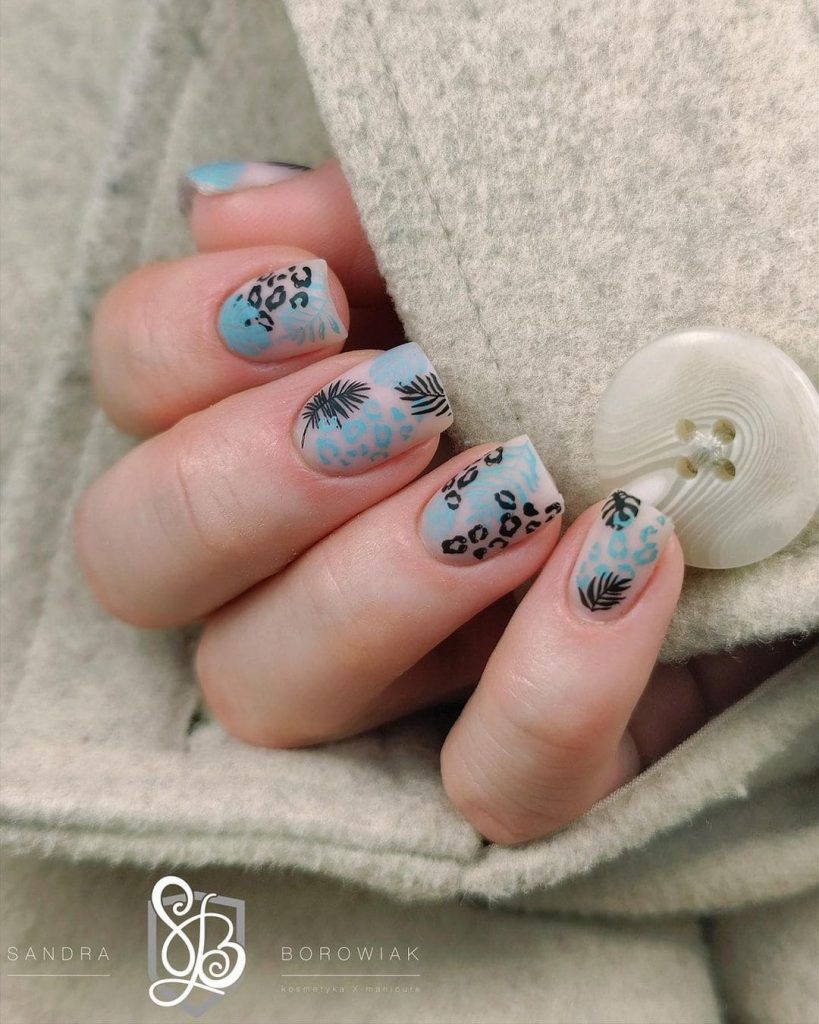 This blue-themed nail design brings to life all spring's desires. A good nail artist will help you recreate this look.
---
30. The Simple Elegant Look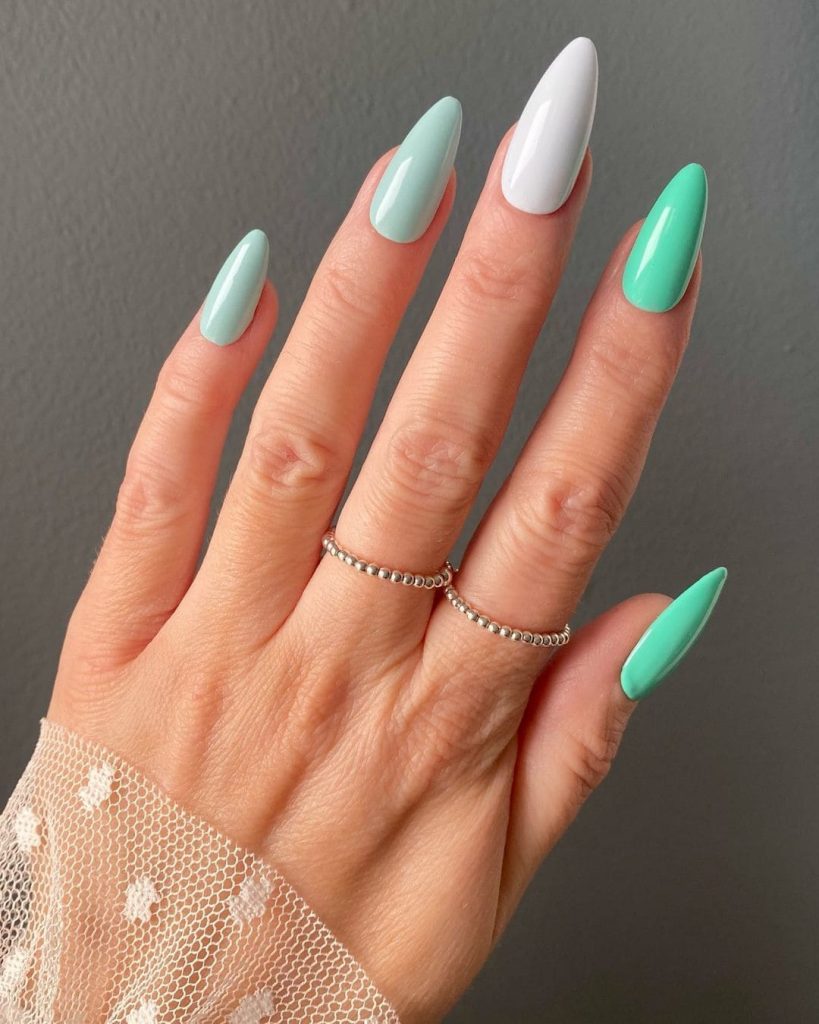 Have you run out of ideas for spring nails designs? This look from @noir__beauty will not let you down.
---
31. Peppermint Daisy Nails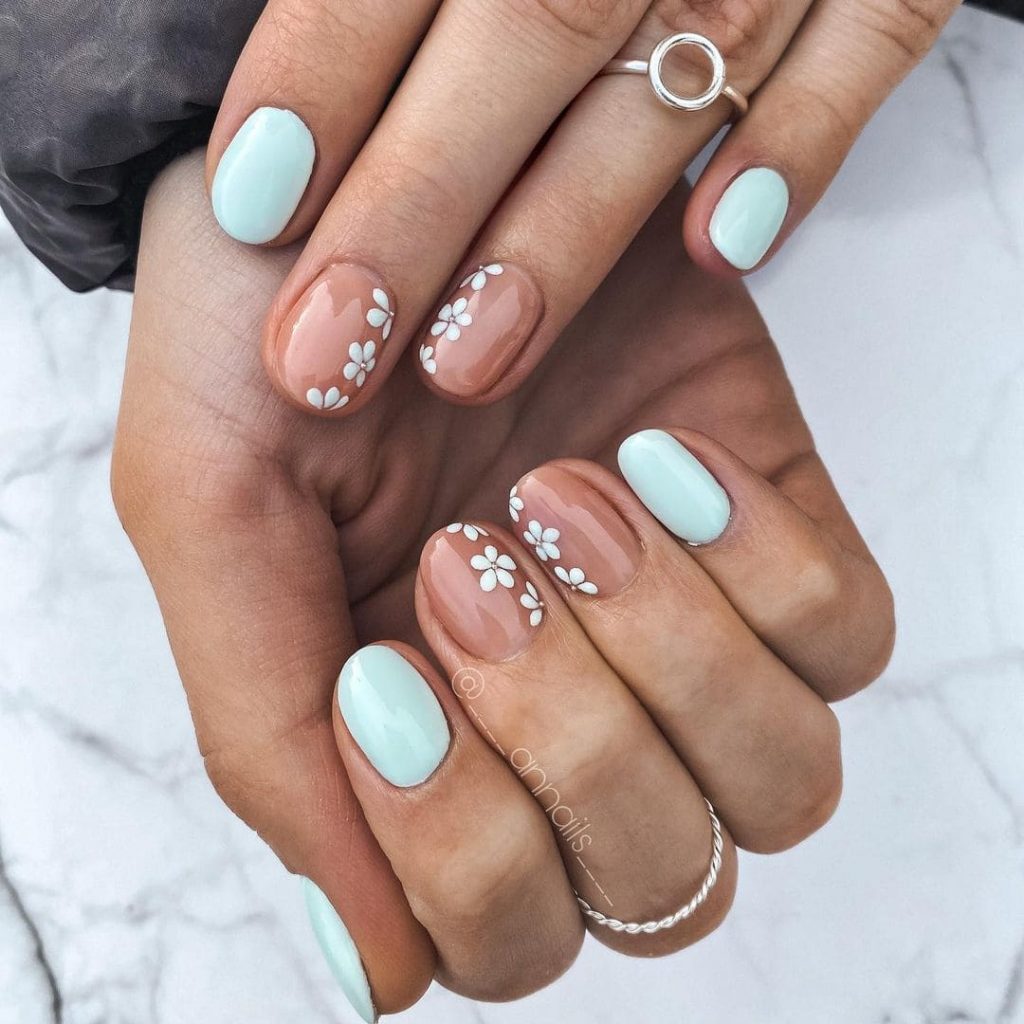 It will be typical of spring to come with flowering all over. This scene will fit perfectly with this nail design for your outdoor events.
---
32. Tropical Summer Vibe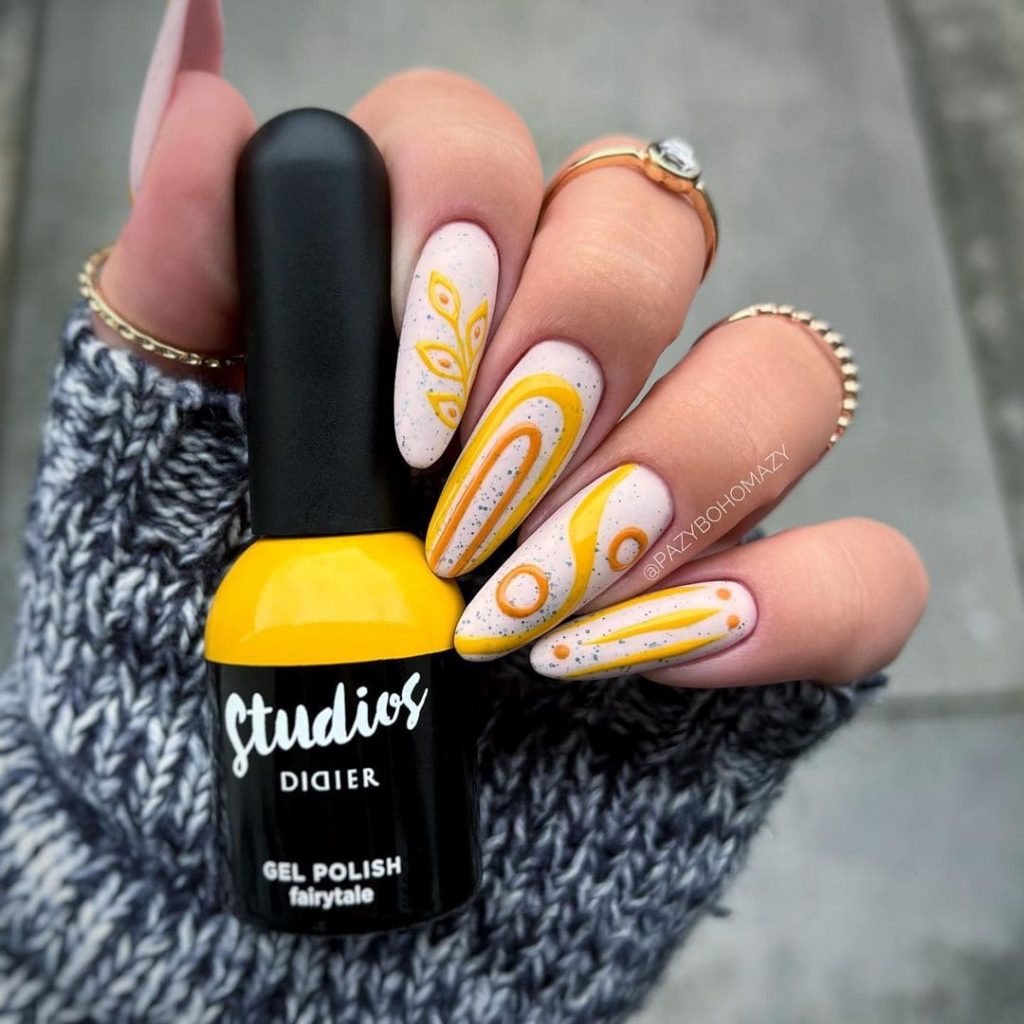 Do you find this design as beautiful as I am finding it? Visit @pazybohomazy on Instagram and get some tips on recreating it.
---
33. Baddie Pink Floral Design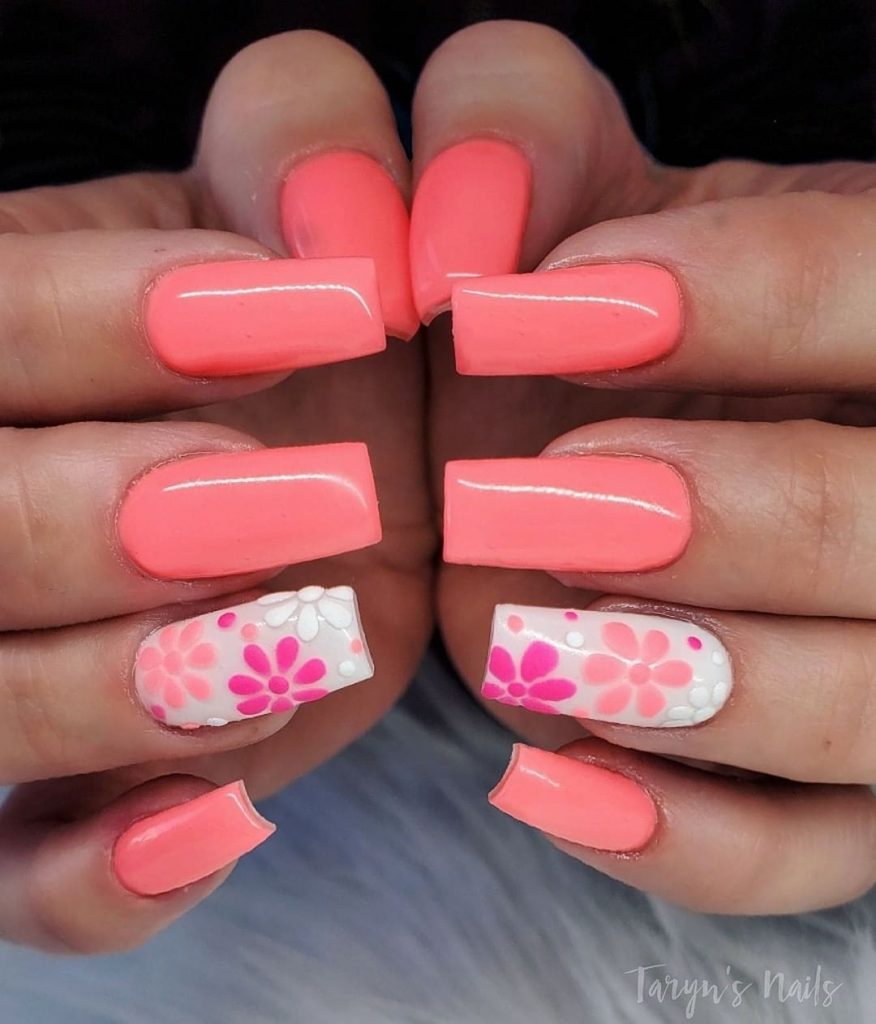 When you thing of summer vibes, blossom and chills comes to mind. This inspo is perfect for any vacation occasion.
---
34. The White Coffin Nails look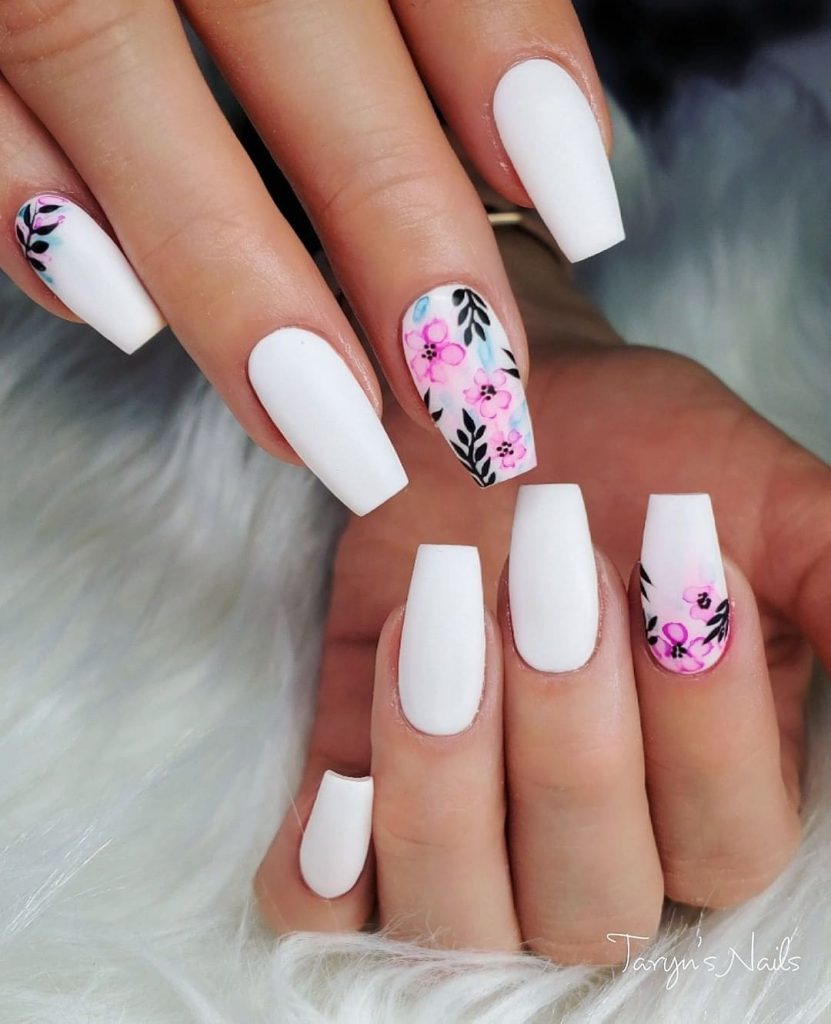 Have you seen unique white coffin nails? This design will be the perfect spring nail design in 2022.
---
35. Cute Yellow-Themed Floral Nails Design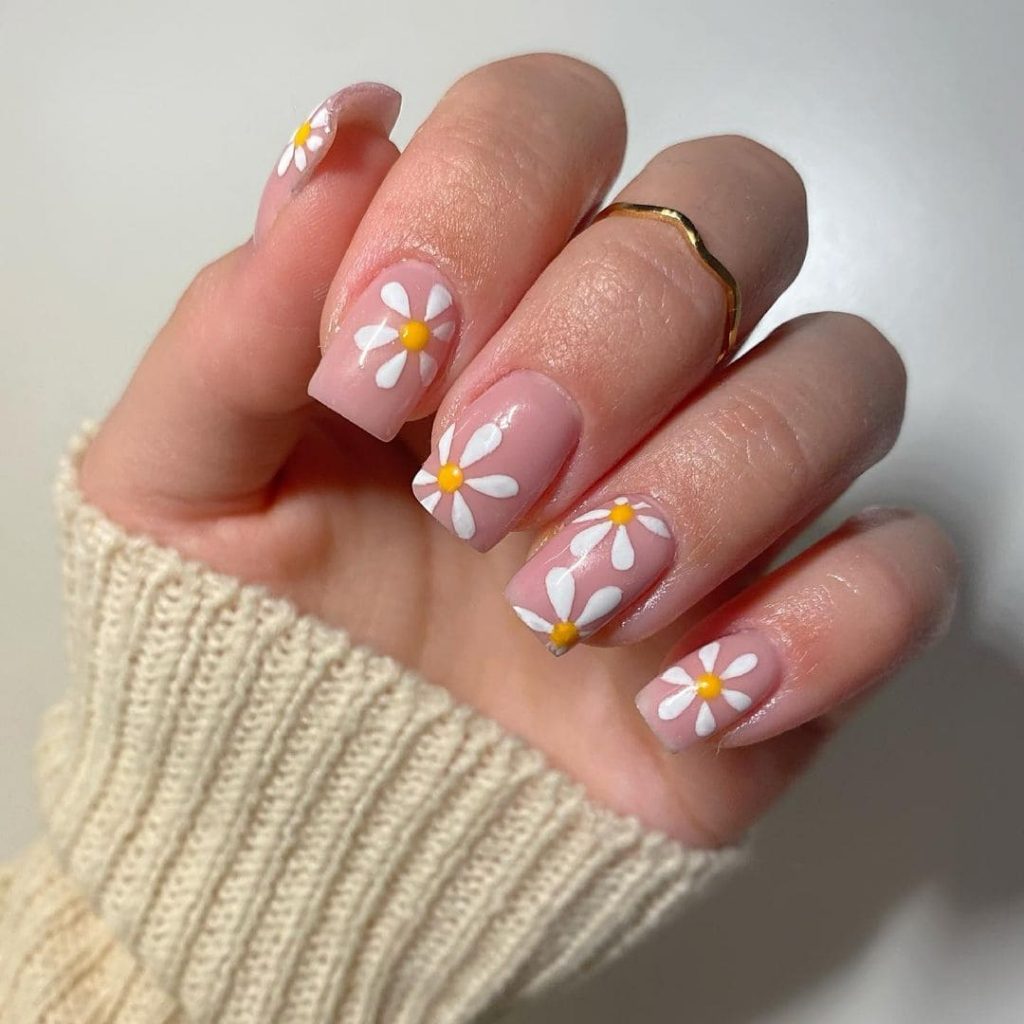 The white and yellow nail polish will be great to recreate the floral theme. The pink undercoat makes this design perfect for spring parties.
---
36. The Polka Dot Design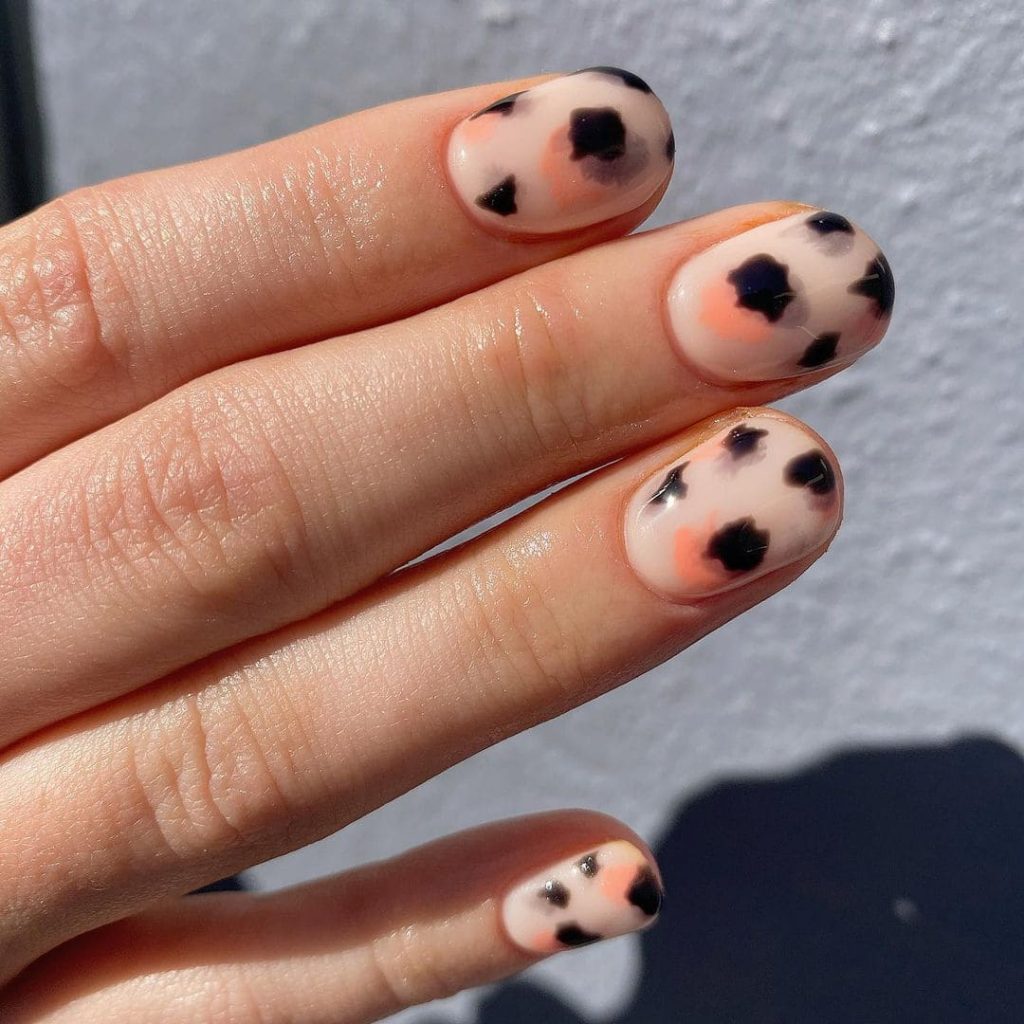 Large black and large polka dots with sharp ends give the best nail art design. This design adds to the spring nail ideas you need to make 2022 unique.
---
37. Pink Floral Spring Nails
This pink design will be a great look to recreate. The pink-themed flowers give some spring color to your nails.
---
38. The Pastel Look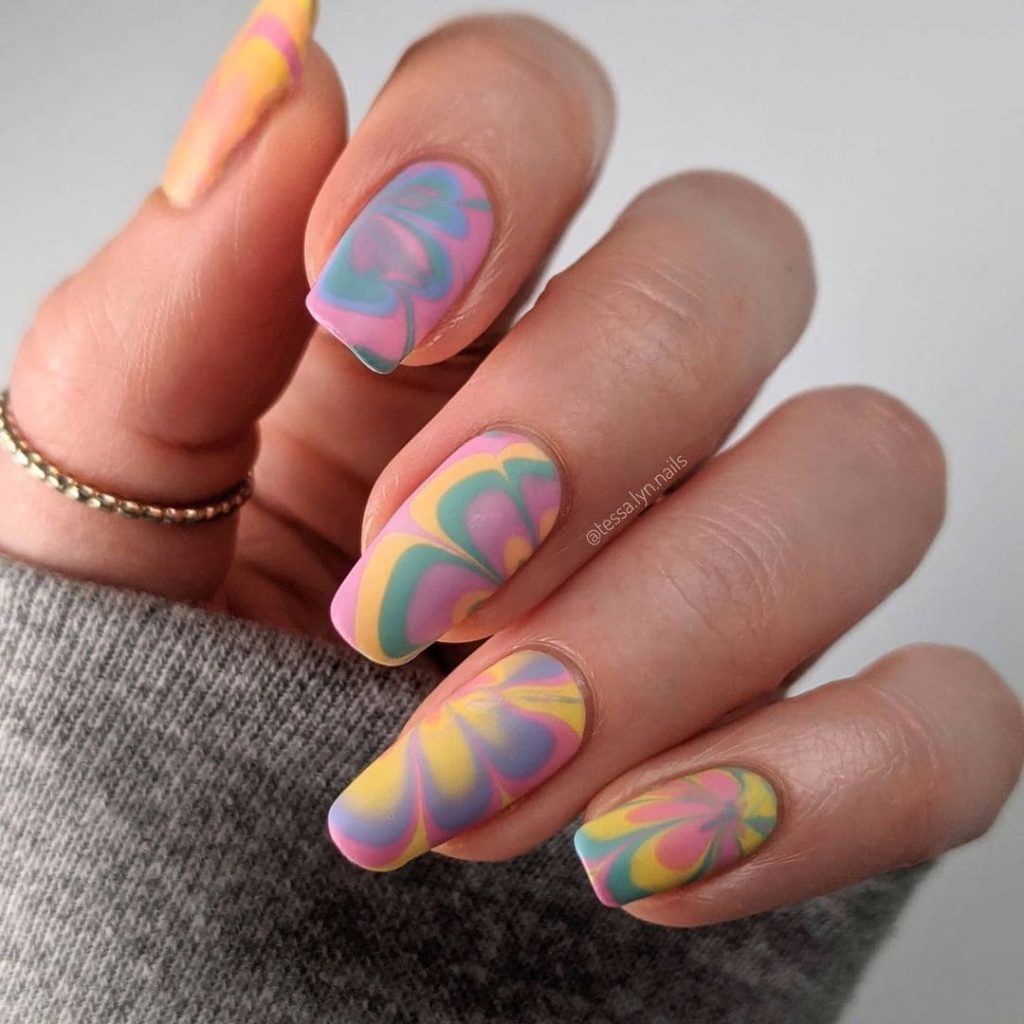 Are you an artist looking for fantastic spring nail design ideas? If so, this design will bring out the unique talent in you.
---
39. Long Floral Spring Nail Design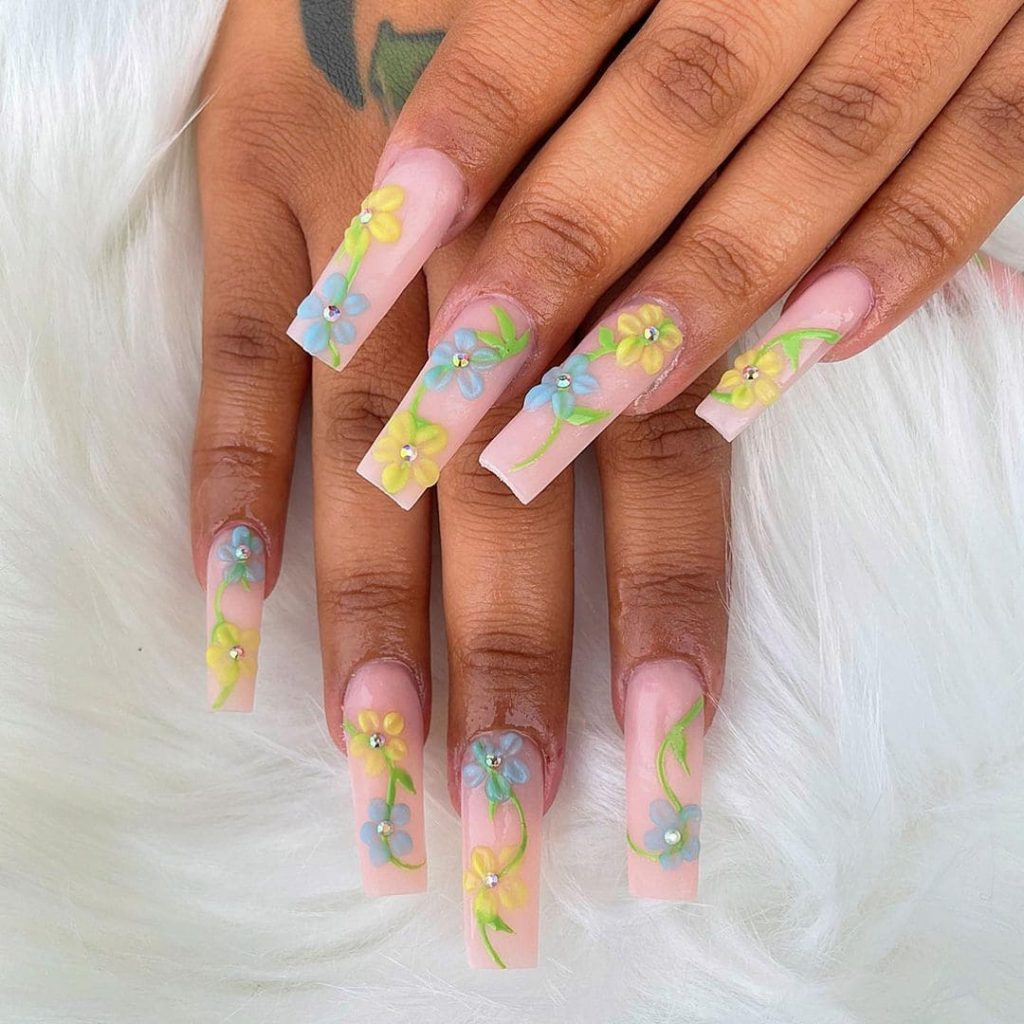 Do you love long nails? This spring nail design will add to more of your ideas this spring season. Check out mandyci-beauty and get some recreating tips.
---
40. Poodle Spring Nail Design
Have you wondered what nail design will make your little girl happy this spring season? This design will save you the struggle.
---
41. Matte Floral Mani
Do you love plain colors on your nails? This glittering green look will take care of your nails this spring period.
---
42. This Sweater Pattern Look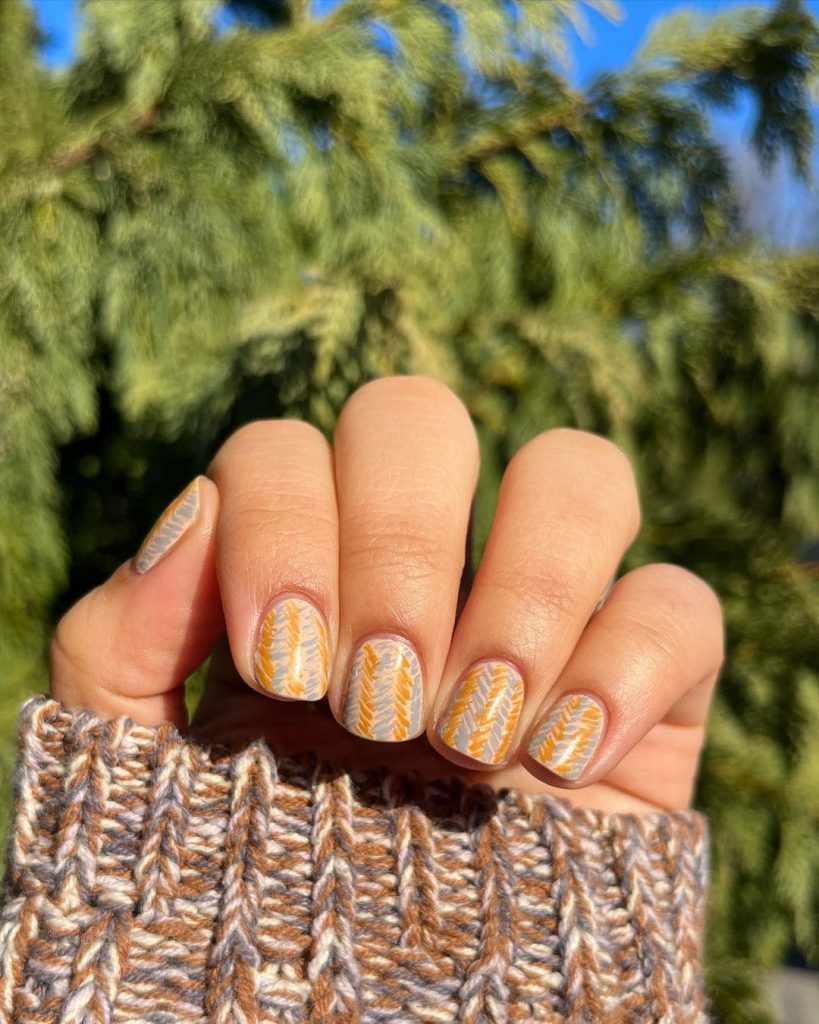 Wow! This design will give your sharp nails a unique look. The alternating pattern look will bring all the attention your way.
---
43. The Orange Glow Nails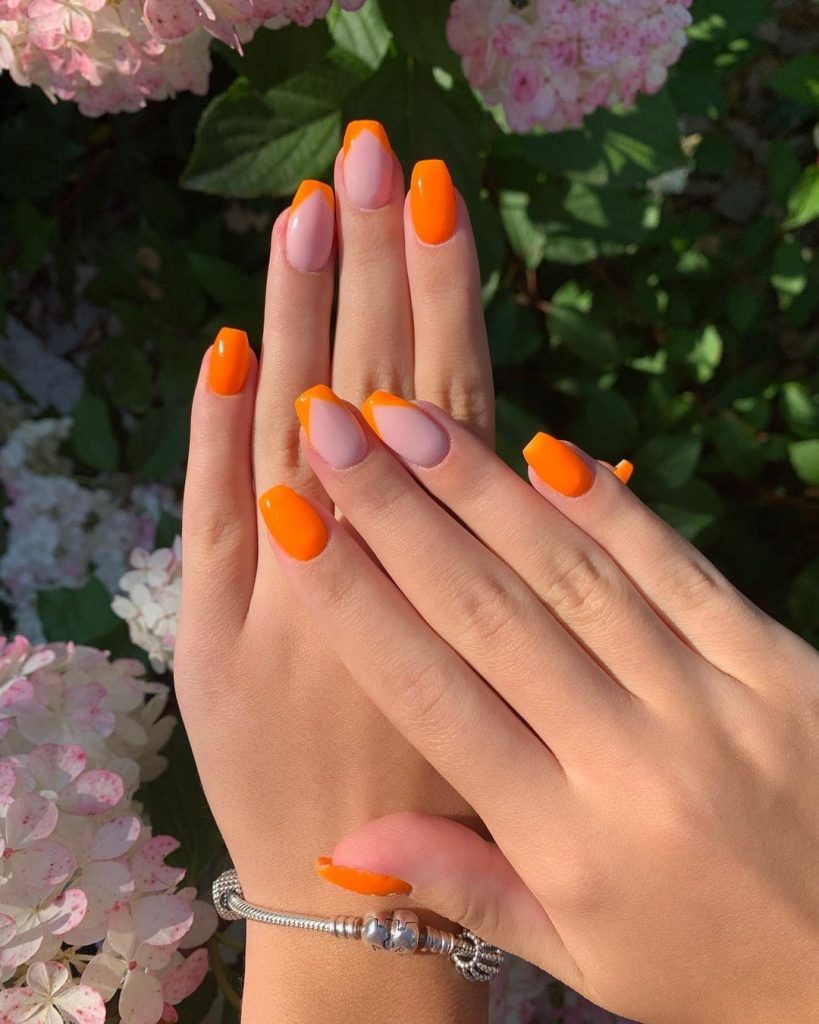 If you choose to have orange nails this spring, this design will be a fantastic choice. The short French manicure finish will give your nails the glow they deserve.
---
44. French Nail Combo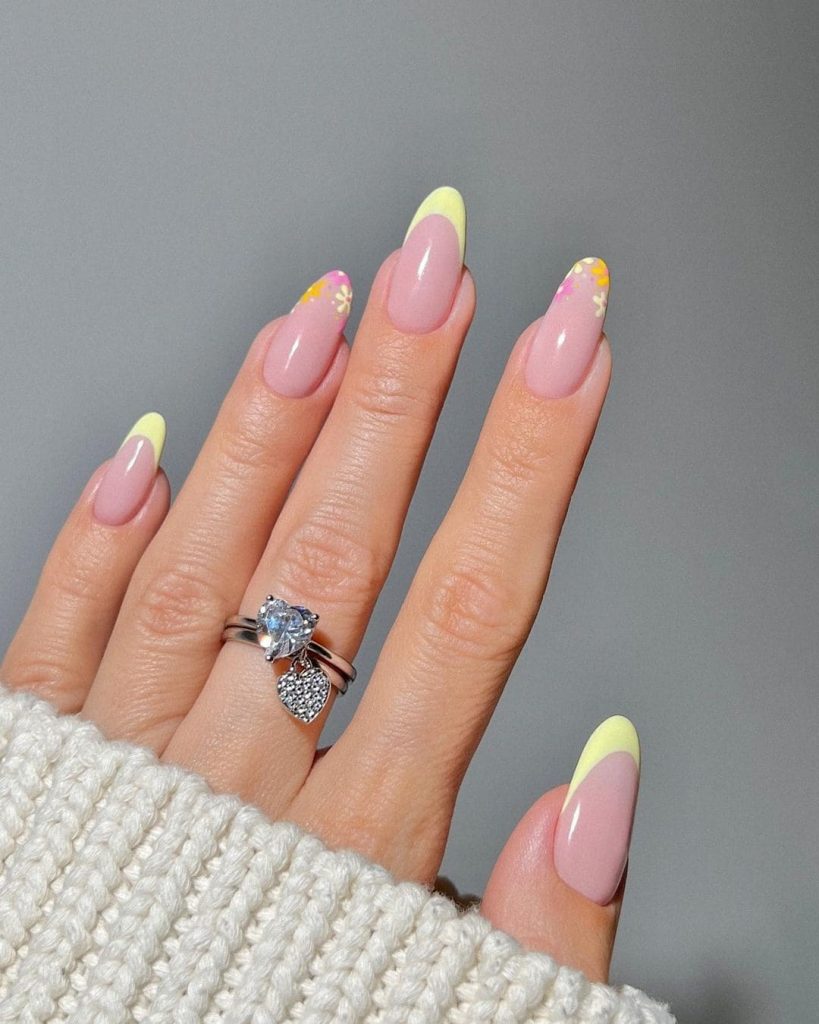 Did you know that blossoms will be a common feature of the spring season? We bring you this floral combo design to add to your spring nails ideas for 2022.
---
45. Pastel French Nails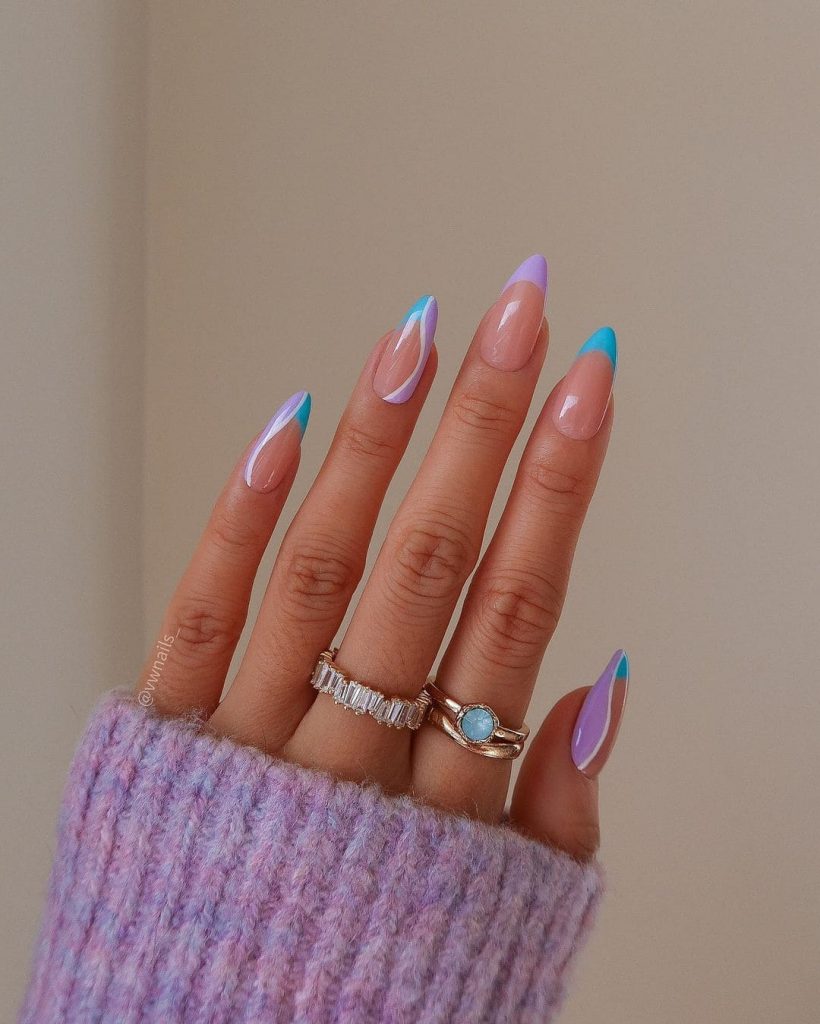 This nail design will give you the perfect nail look this spring season.
---
46. Matte Vibe Spring Nails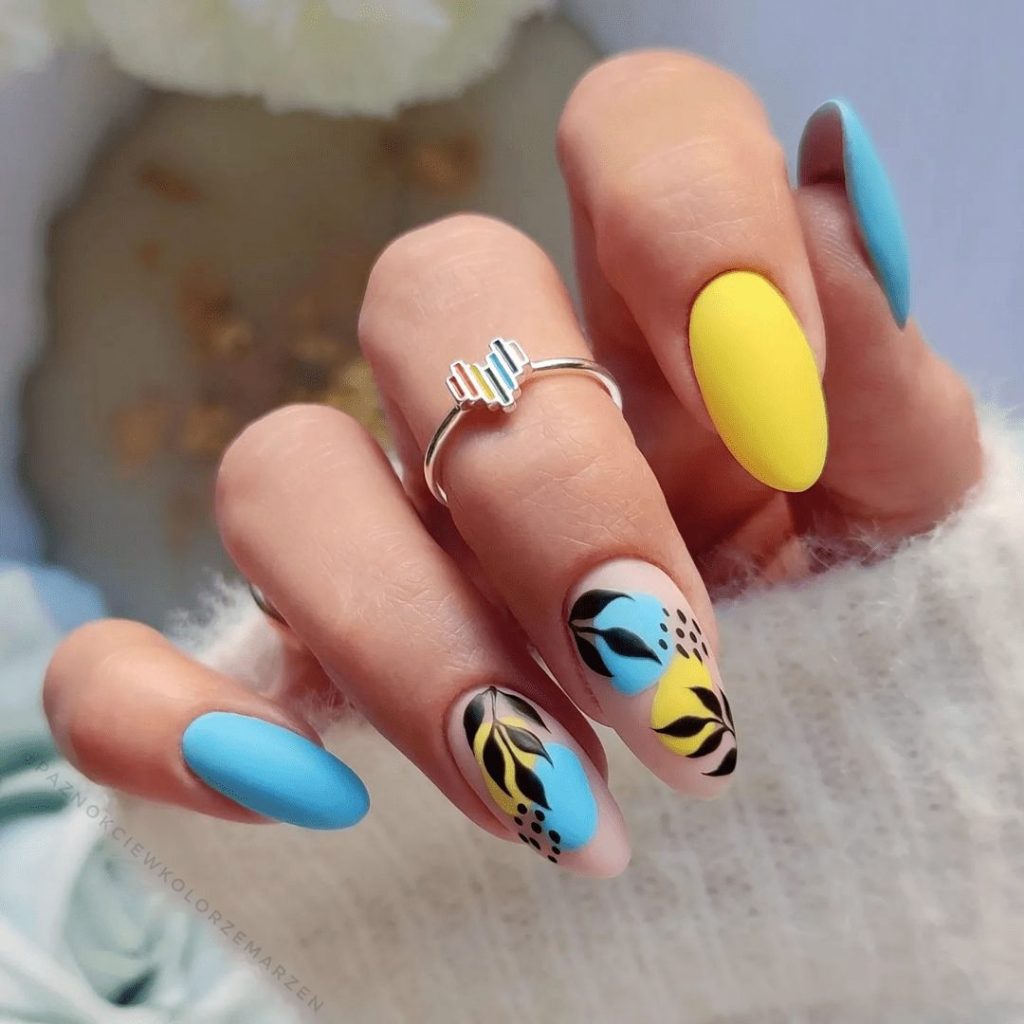 The spring season comes with many engagements and weddings. If you have such a love event, this design will be a must-have
---
47. The Blue and Pink Combination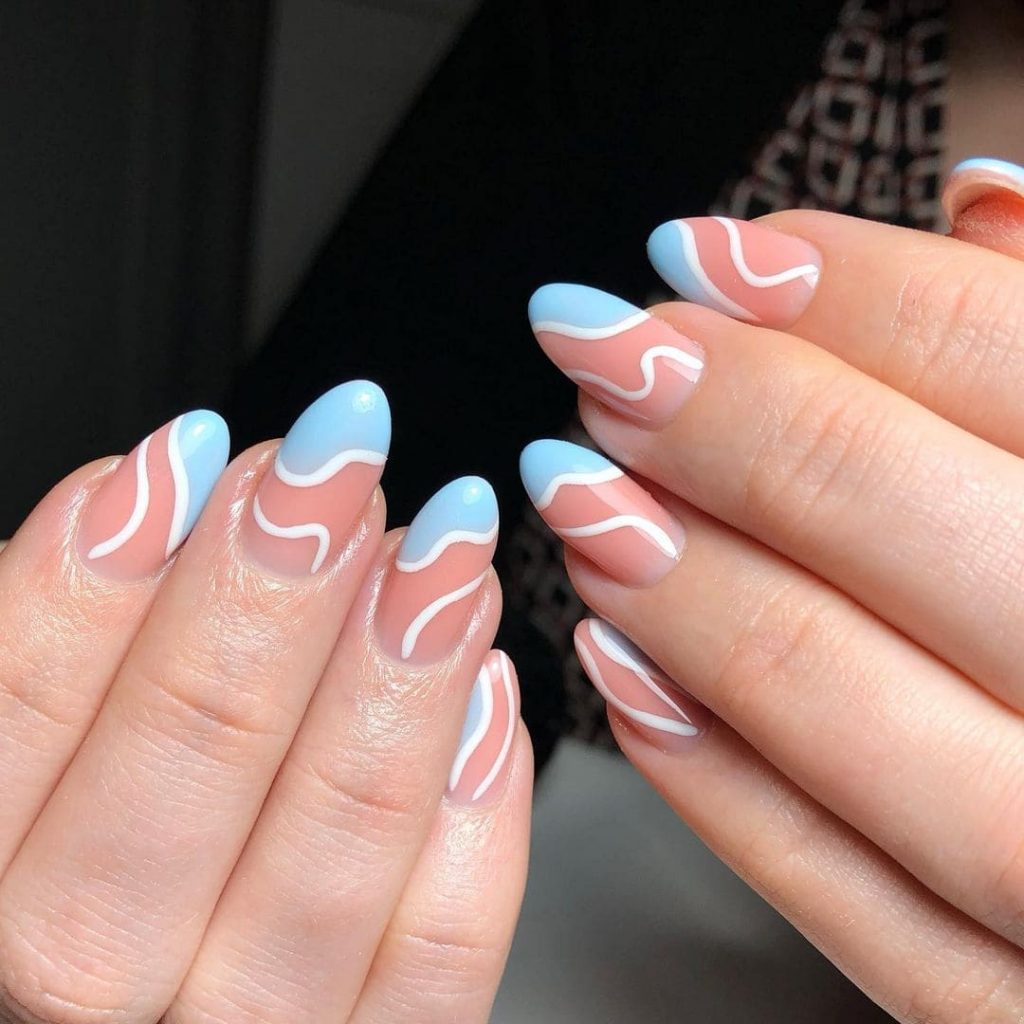 Do you want ideas on how you may combine pink and blue nail polish for your spring nails? This nail art design does precisely that.
---
48. Acrylic Clear Coat Nail Art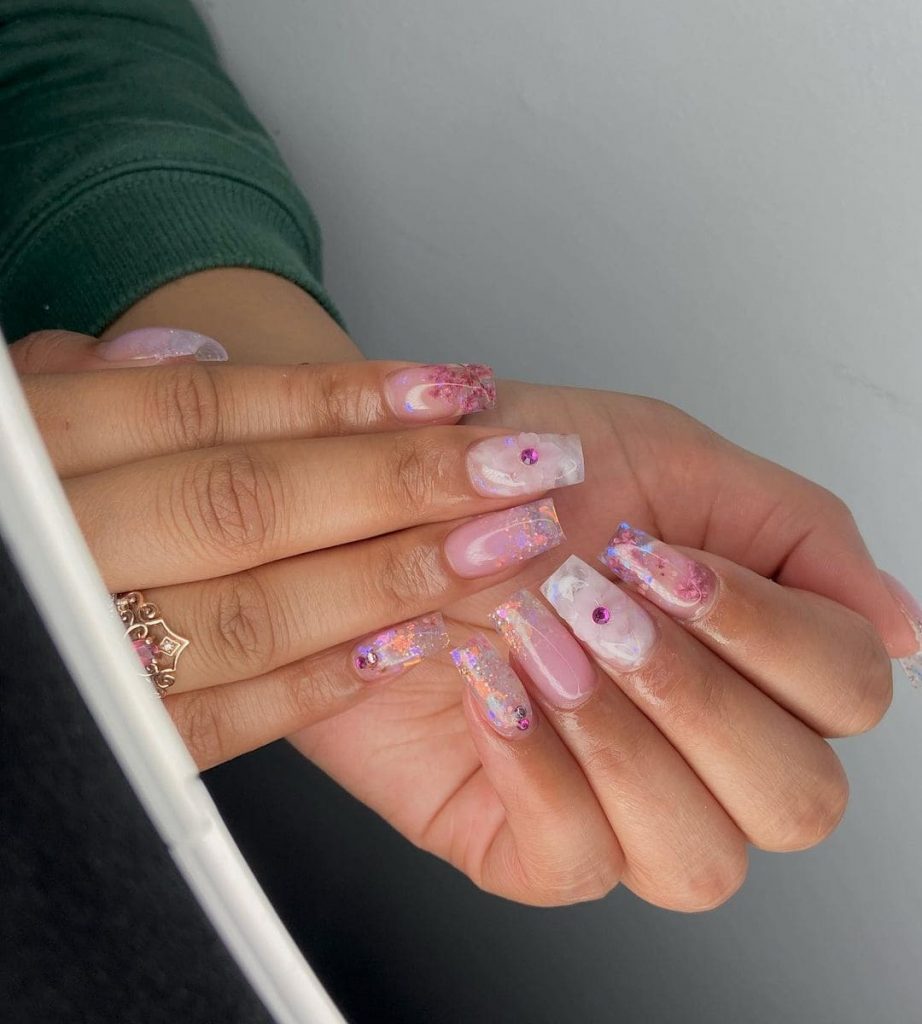 This clear nail design will be perfect for your spring events. The stickers make this design a must-have.
---
49. Daisy Green Spring Nails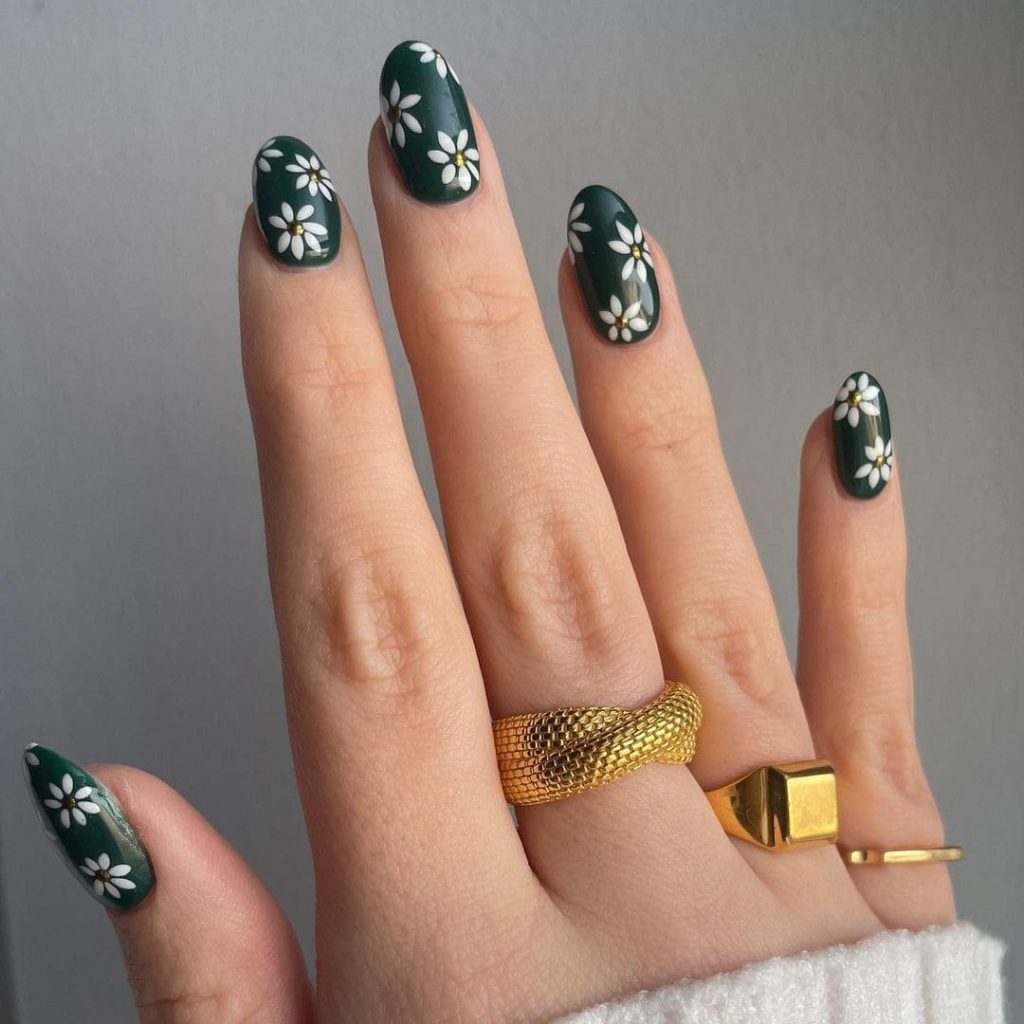 This green-themed design will provide a fabulous nail art design this spring season. The floral design makes it memorable.
---
50. This Pastel Spring Mani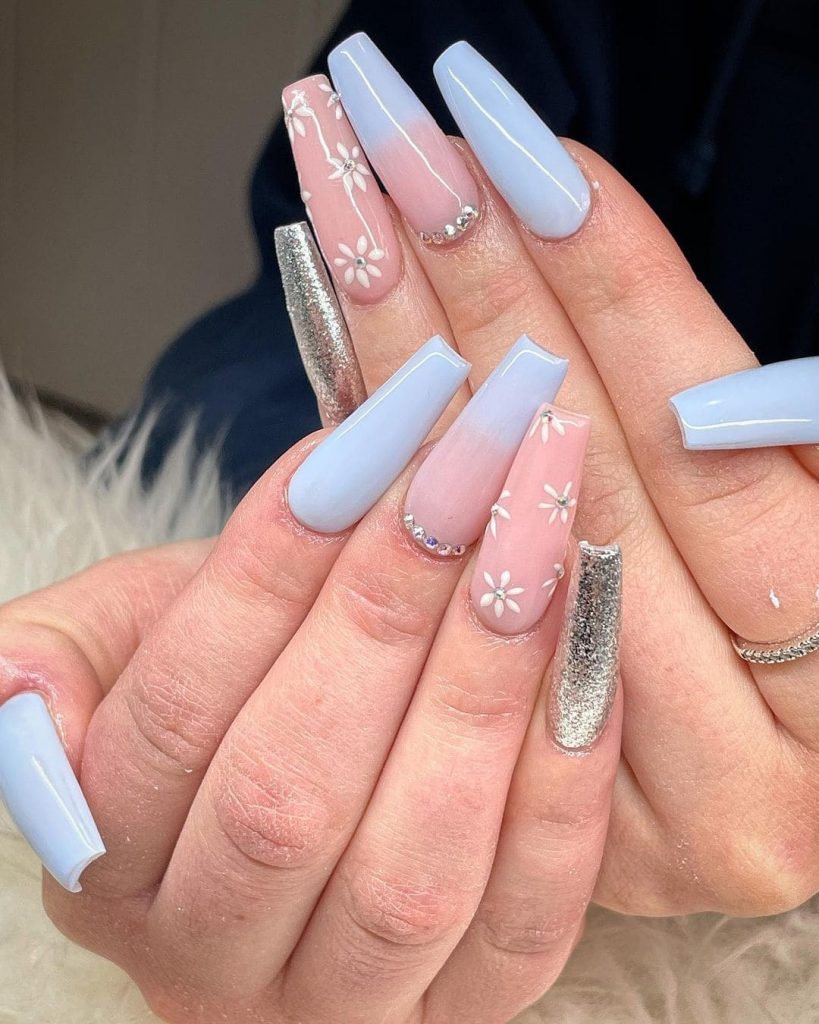 This design will be a must-have for long nail lovers. The butterfly idea makes it more fascinating.