If you're tired of your current nail style, here are some of the hottest summer sunflower nails trends to try this season. These nails are the most inspo-worthy nail art, polish colors, and trends from different colors of each nail to colorful nails.
Take a look and pick your best to wear to complete your ensemble. Flowers are a wonderful way to brighten up your summer surroundings. They provide a splash of color to your house or office. This summer, the sunflower is a particularly lovely bloom to contemplate.
Summertime brings sunflowers' flowering, which represents devotion, loyalty, and longevity. It's a "happy" flower, in a sense. So, while deciding on a design for your summer sunflower nails, sunflower is one of the beautiful and significant designs you may employ.
So, if you're seeking a stunning summer sunflower nail designs, these nail designs should be on your list.
1. Cute Pink Coffin Sunflower Nails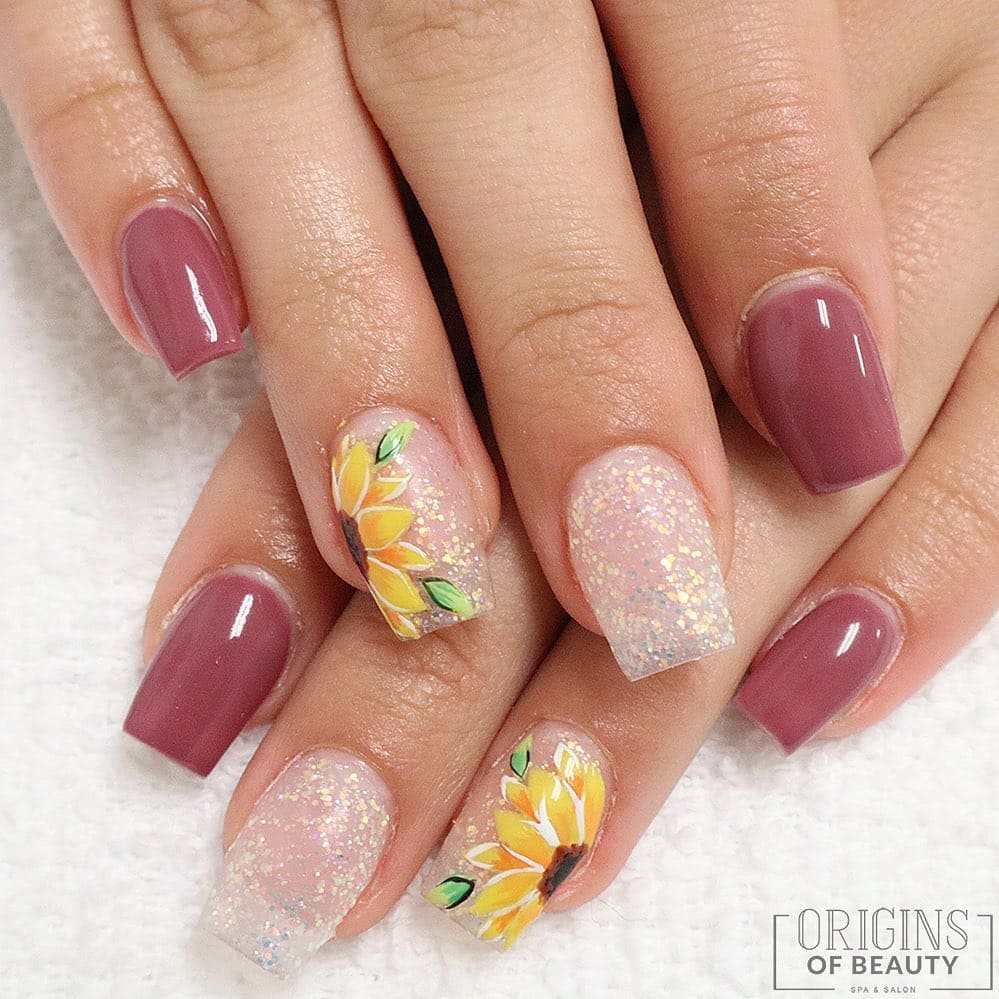 Pink is a forever color, and it makes the best combination with sparkle. It looks soft and sweet on any type of sunflower nails.
Recreate with : Etsy
---
2. Bright Yellow Sunflower Nails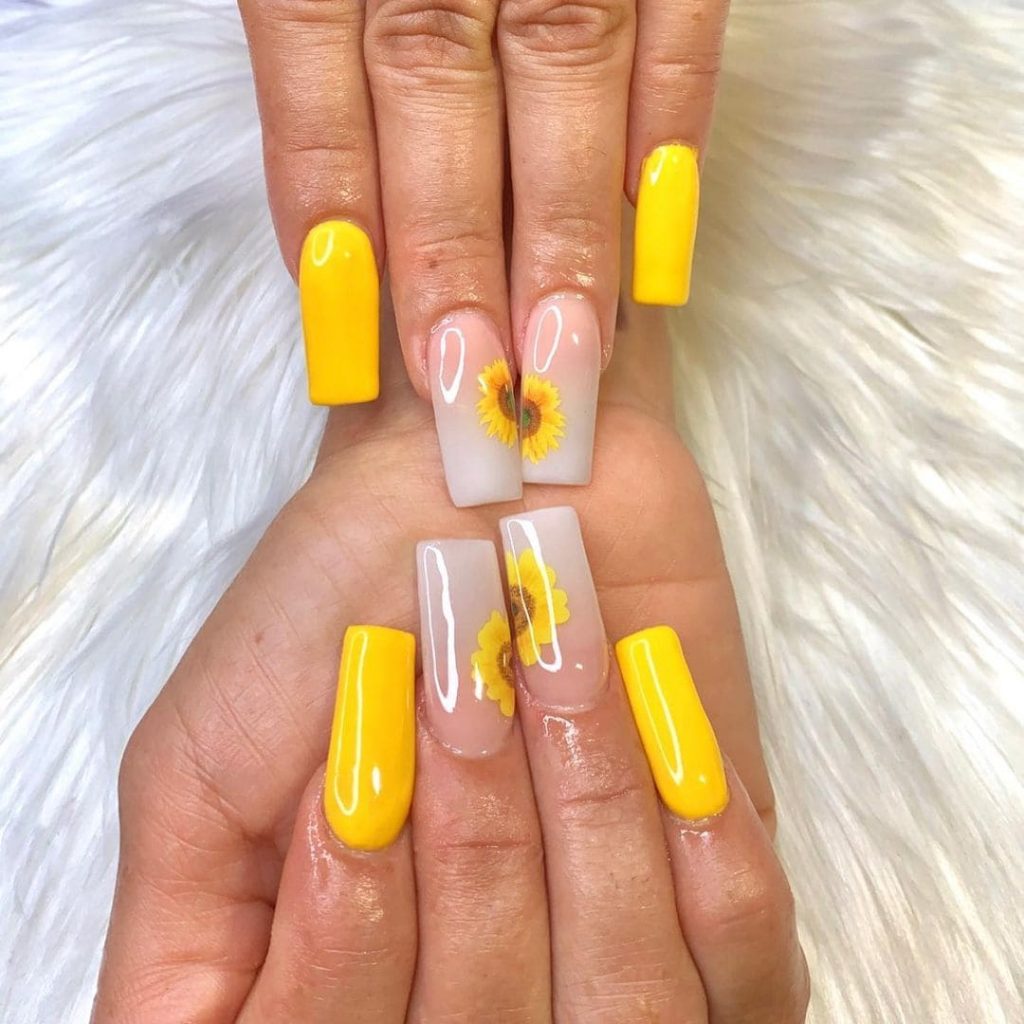 Choose the bright yellow color for the best sunflower nails design on your nails this summer. The glow and shine will give your hands a perfect texture.
Recreate with : Etsy
---
3. Yellow and Black Sunflower Nail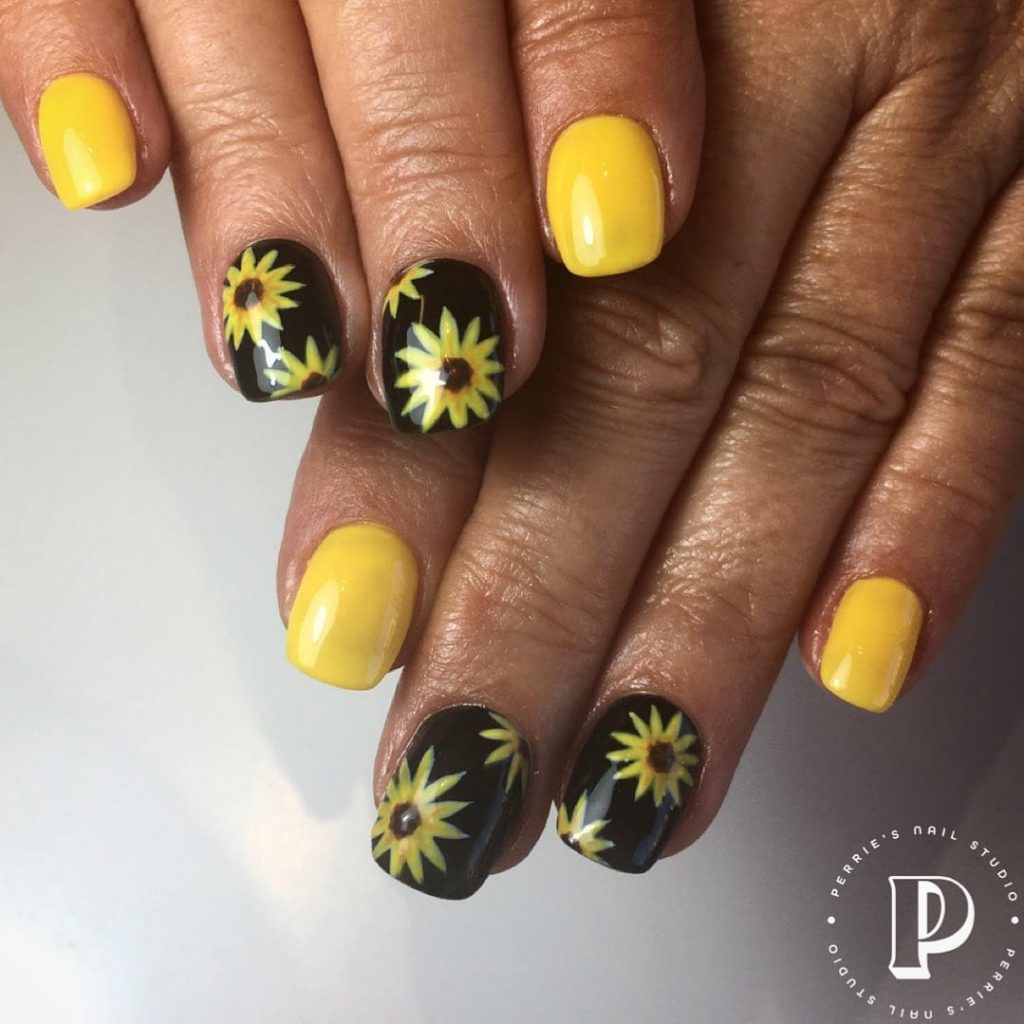 Yellow and Black together are a deadly combination. It gives you a bold as well as shiny sunflower nails look.
Recreate with : Etsy
---
4. Maroon Yellow Sunflower Nail Design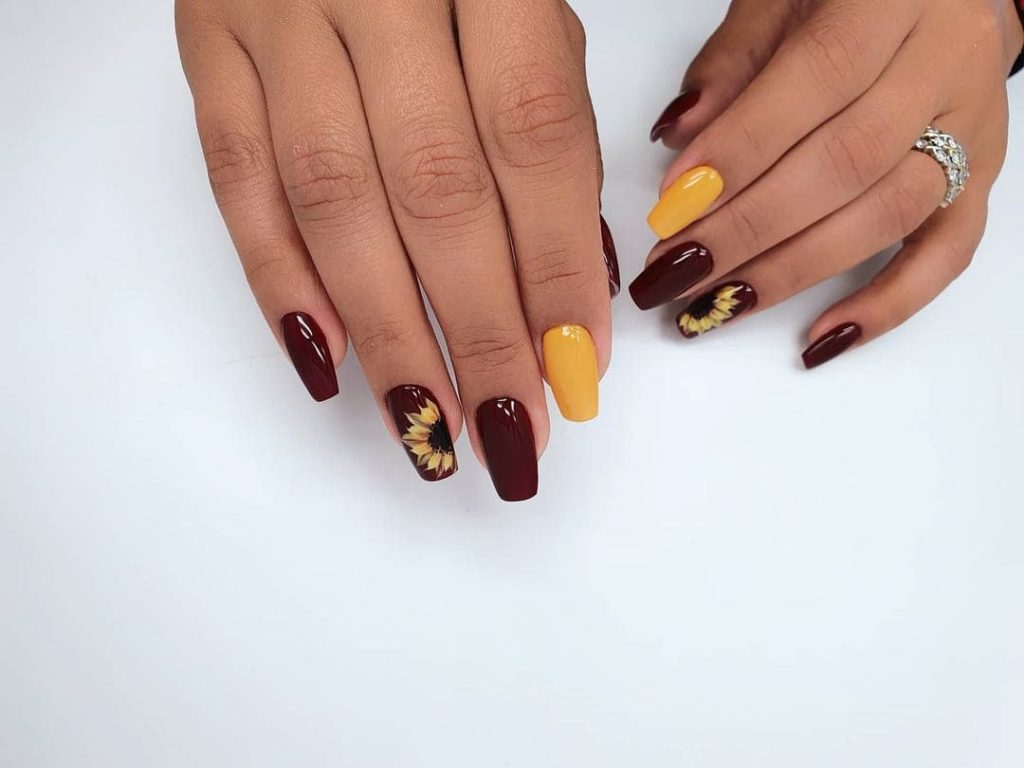 The freshly painted yellow sunflower nails with a touch of maroon shade will give your personality a killer look. Get a good finishing done on whatever design you choose.
Recreate with : Etsy
---
5. Black And Yellow Sunflower Nail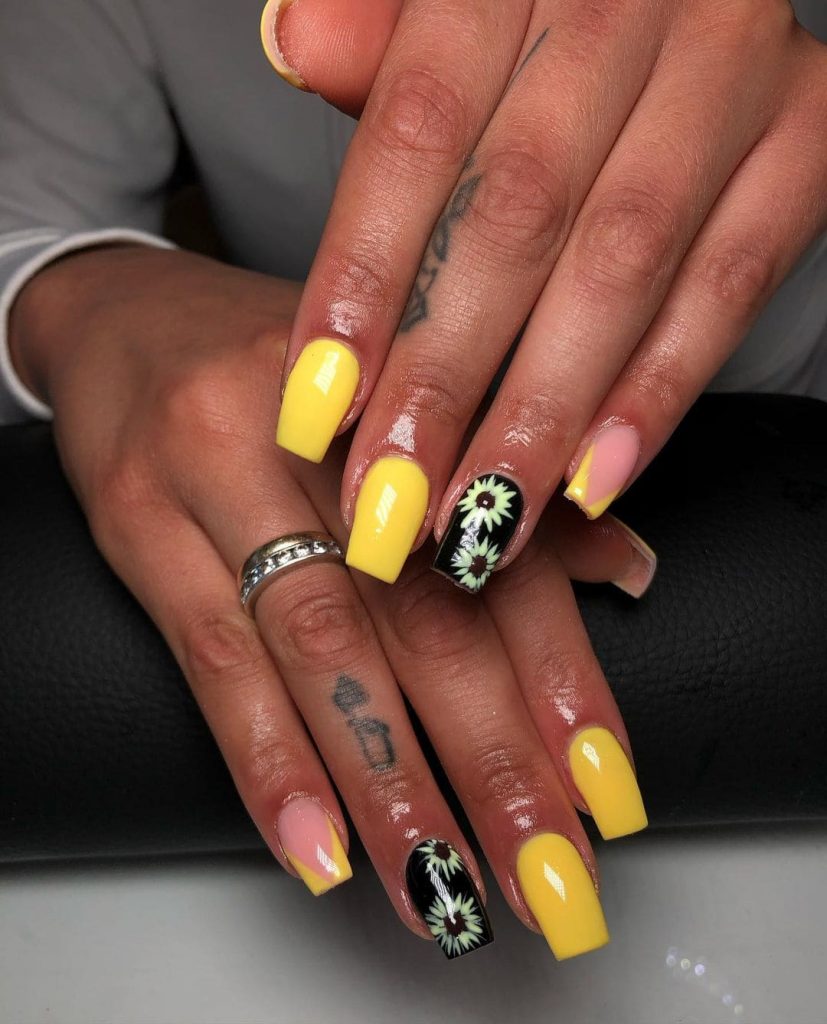 A sunflower on one nail and others emerging into glitter will give you the best party look. You can choose the color of glitter as per your choice.
---
6. White and Yellow Sunflower Nail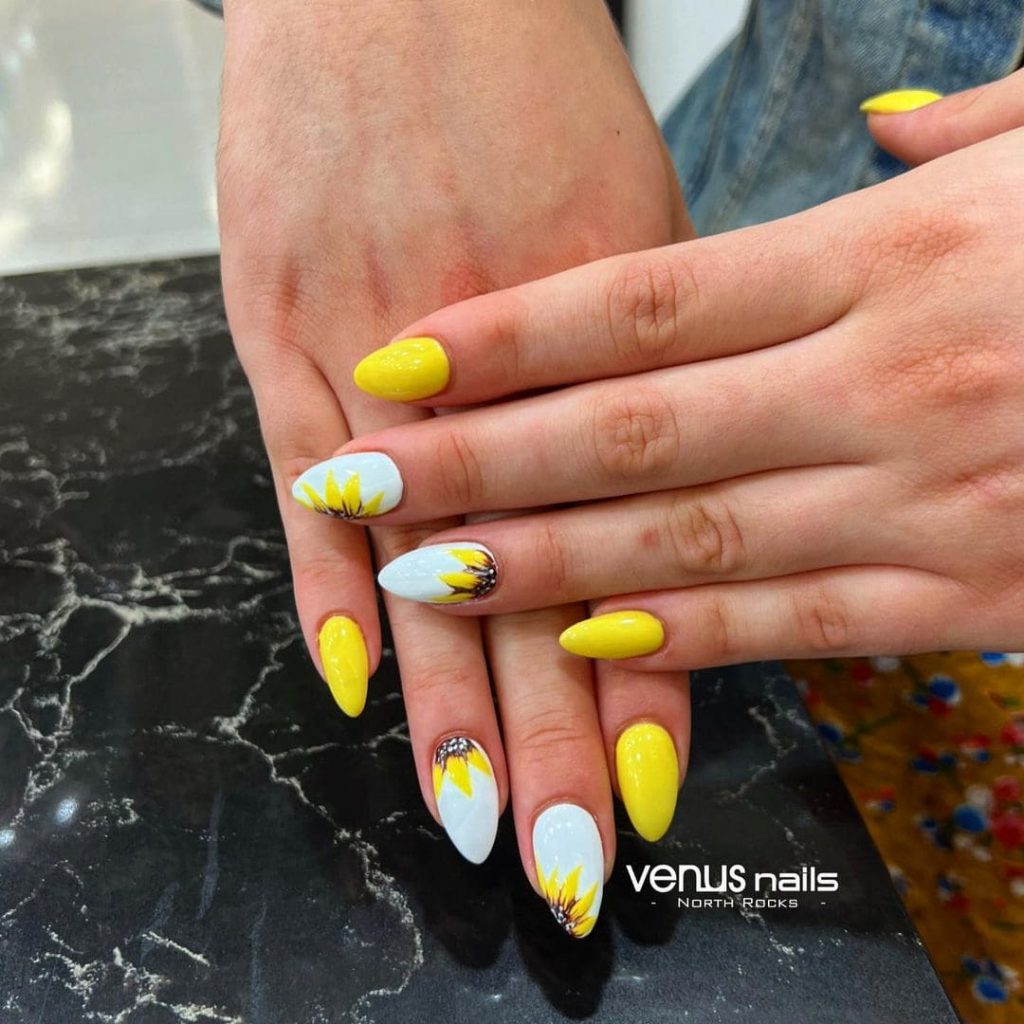 The sunflower nail is the new normal! The yellow sunflower nails design on your matte black painted nails will look super amazing. It goes with any type of outfit too.
---
7. Blue Sunflower Gel Nails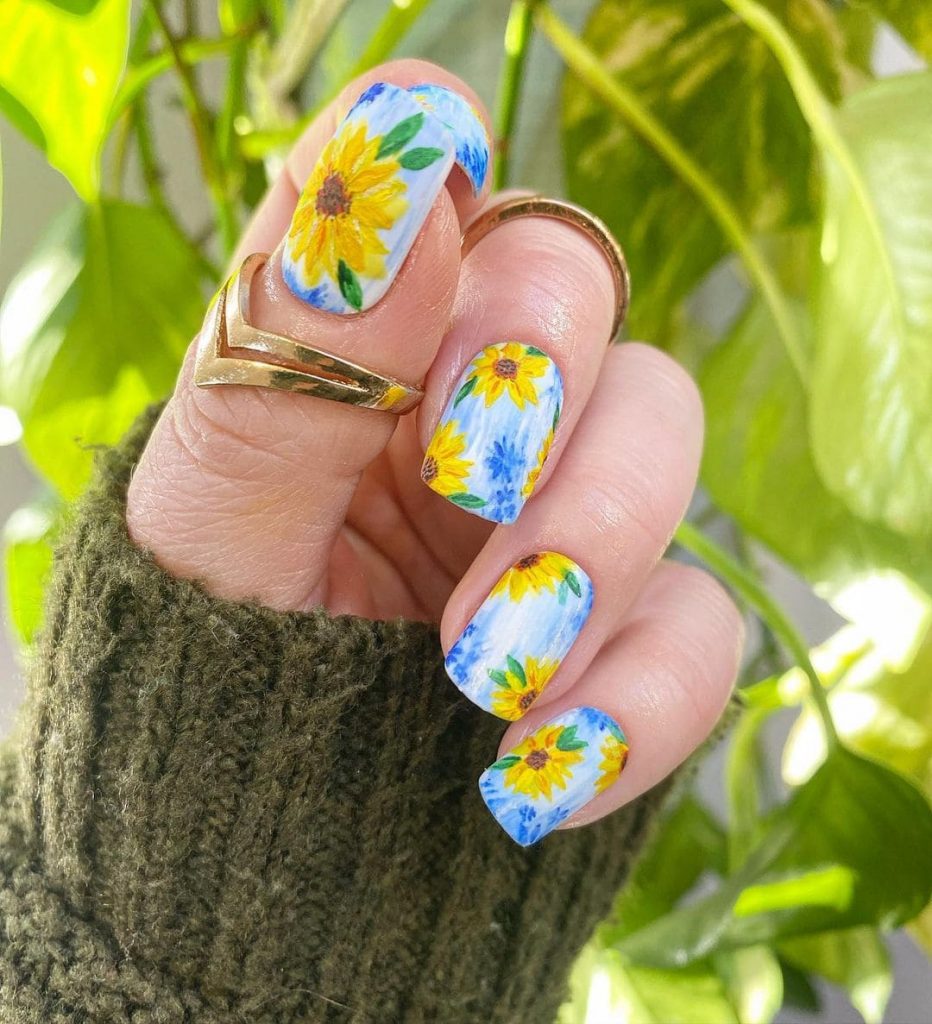 You can be a little creative with these blue color sunflower nail design and add a twist.
---
8. Light Purple Sunflower Acrylic Nails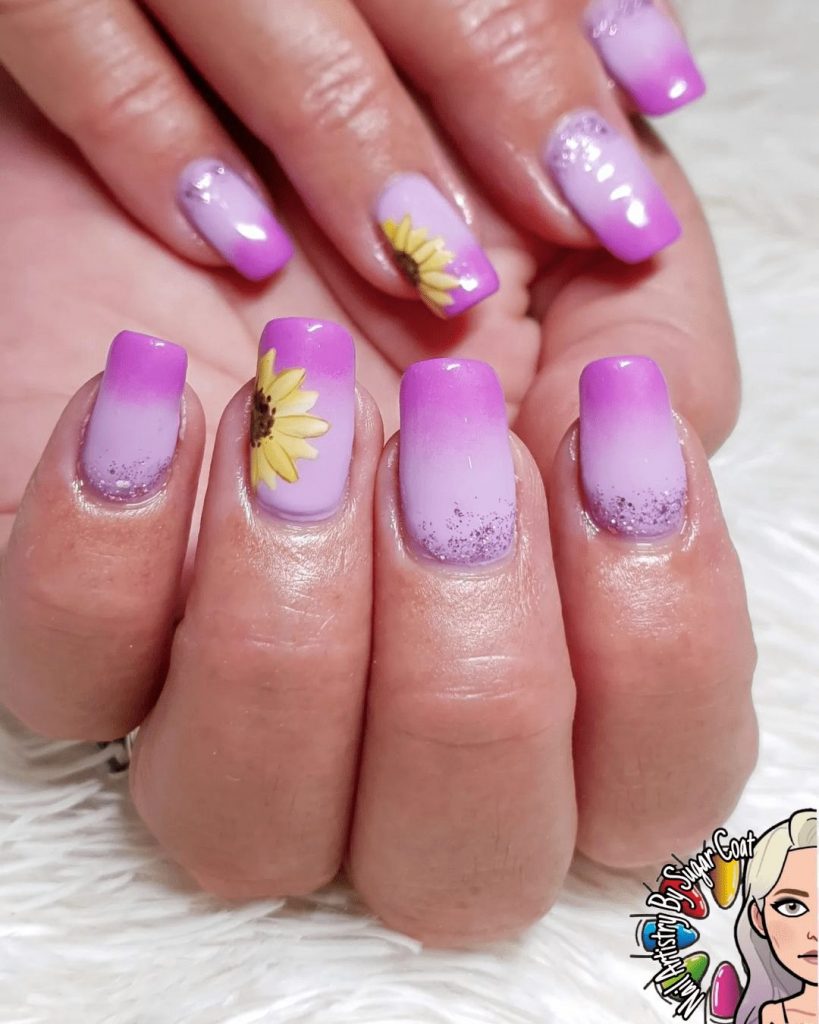 Lighter the pink, brighter the sunflower. One of the best choices for your nail is the shade of pink overdrawn with sunflower.
Recreate with : Etsy
---
9. Mixture Of Three Sunflower Nail
One nail transparent, two nails maroon, and two nails yellow! Go ahead for this experimental look on your long nails. You can get good-quality extensions to bring out the best of this design.
Recreate with : Etsy
---
10. Printed Cement Sunflower Nail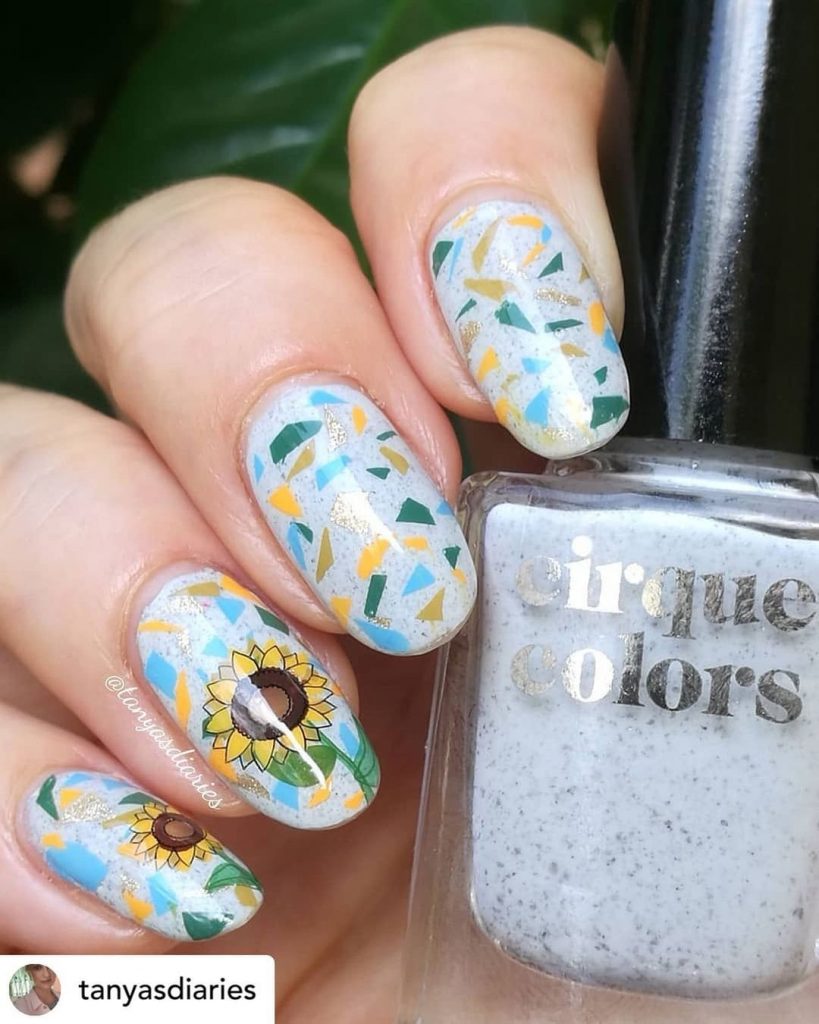 Get a touch of cement color on your nails and get one nail designed with sunflower. It looks super unique.
Recreate with : Etsy
---
11. Long Yellow White Sunflower Designs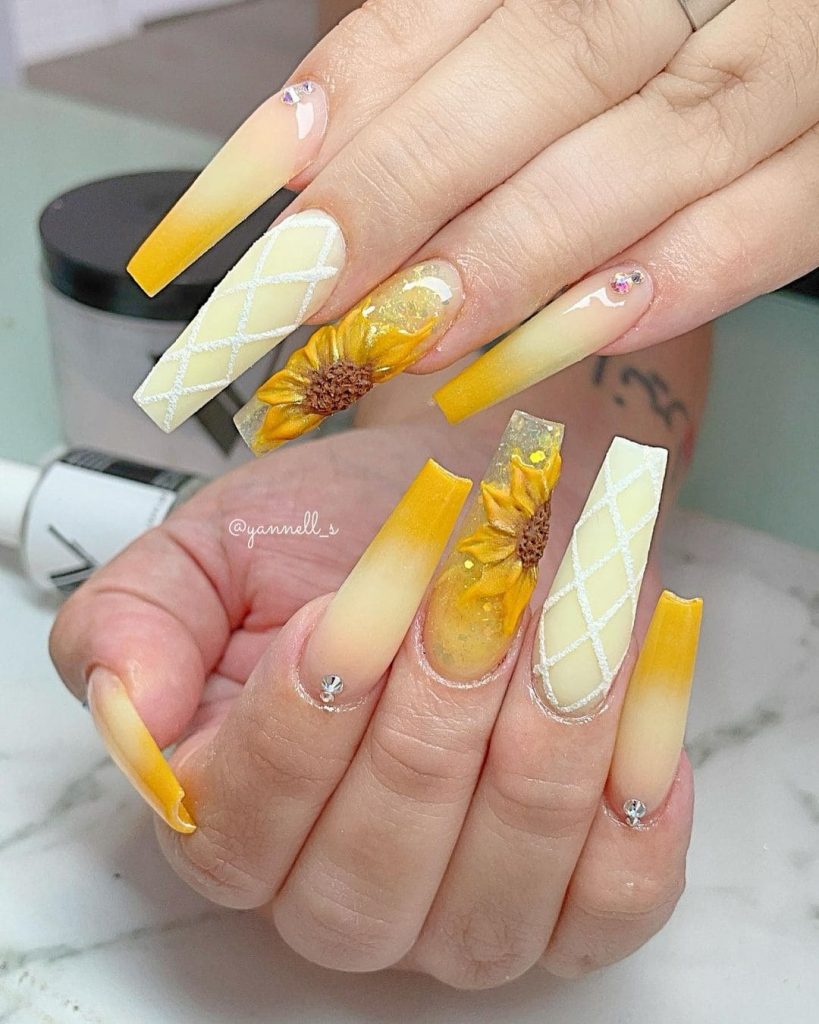 The white touch on the entire nail design will make it uncommon. It gives a terrific look to your long-shaped nails.
Recreate with : Etsy
---
12. Zebra Print Sunflower Design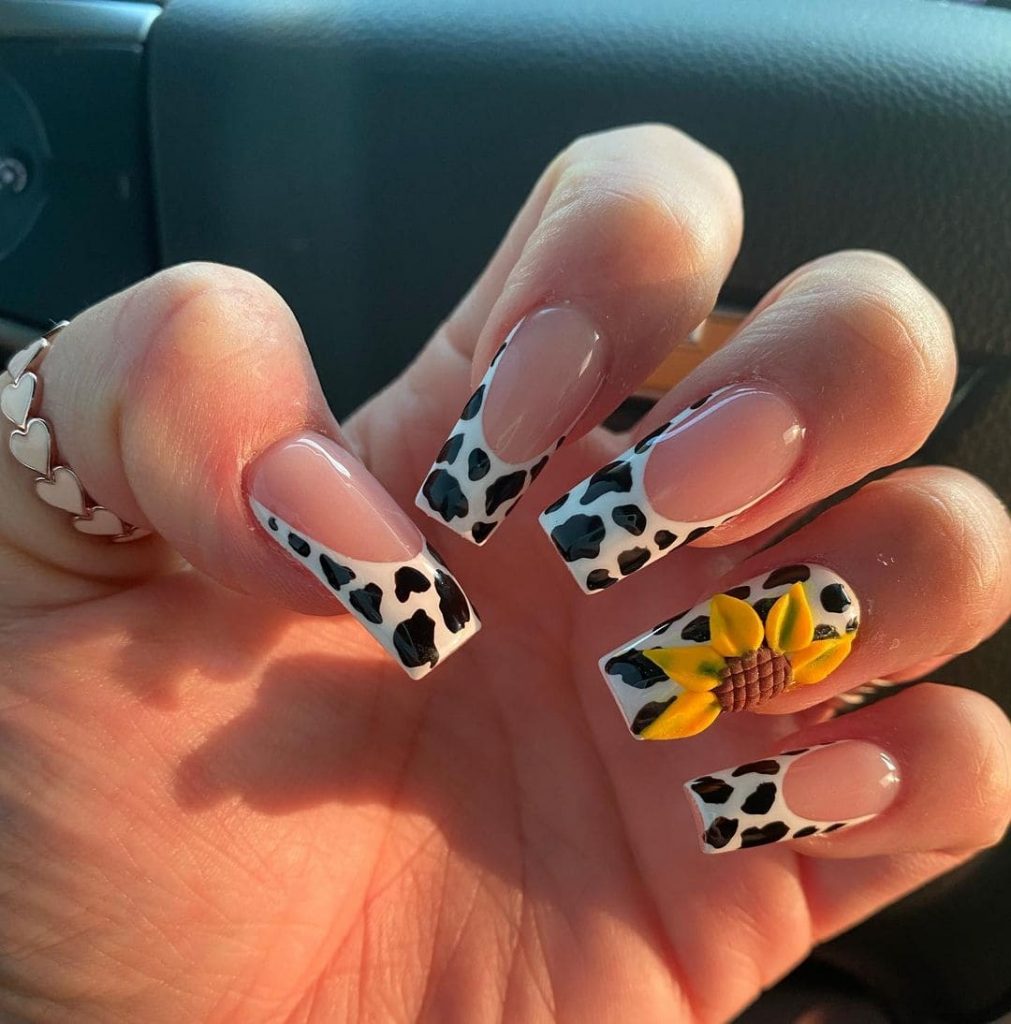 Zebra print has been the best friend of every nails design, and so it will go best with sunflower too. Try it out!
Recreate with : Etsy
---
13. Cream Sunflower Design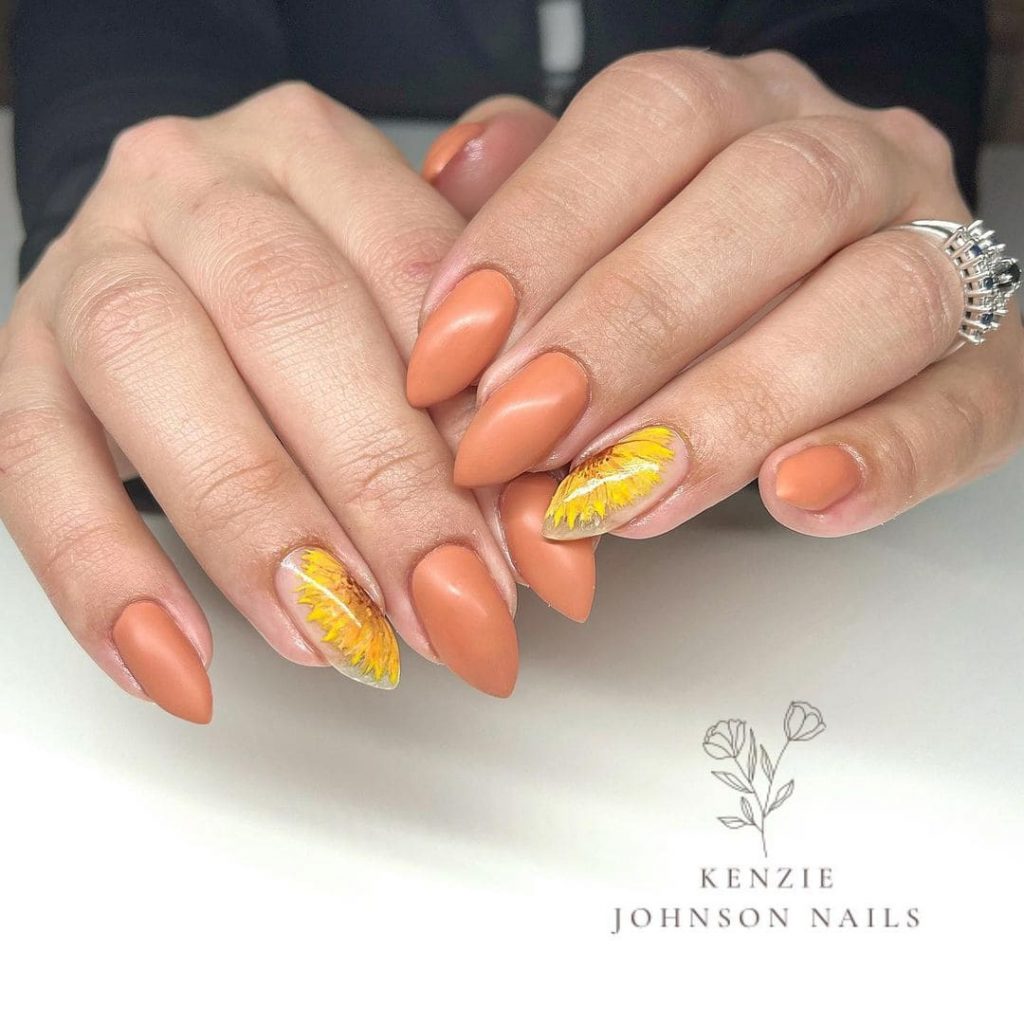 Just like the combination of light and dark goes in real life, it follows the same pattern in nail designs.
---
14. Short Mustard Sunflower Nails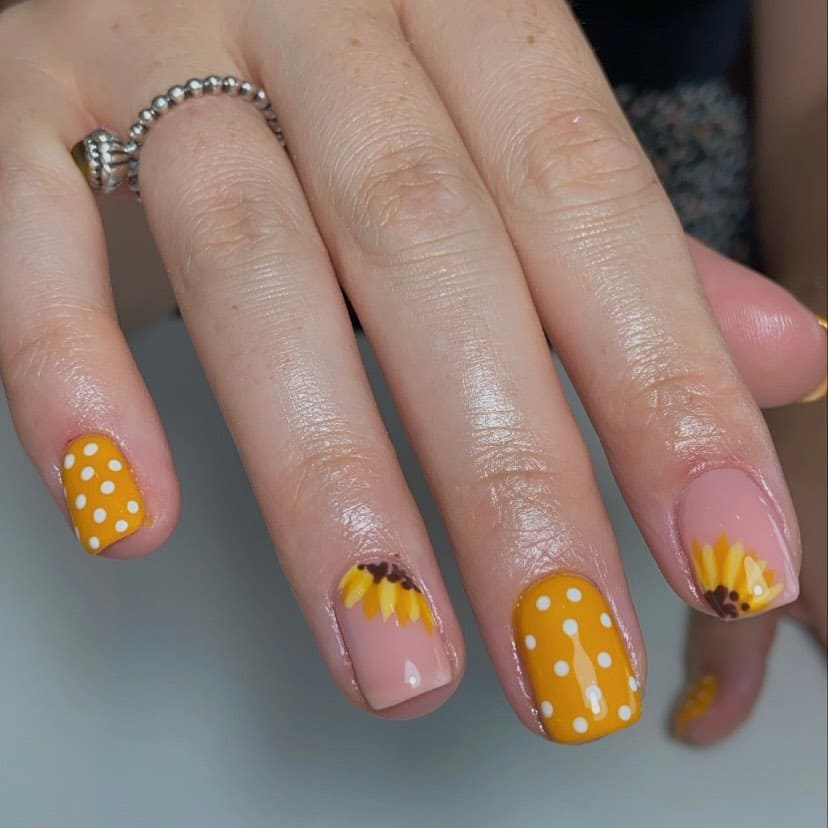 For summer nail choices, small mustard sunflower nails are the best options. Grab one for yours too.
---
15. Dark Green Sunflower Nails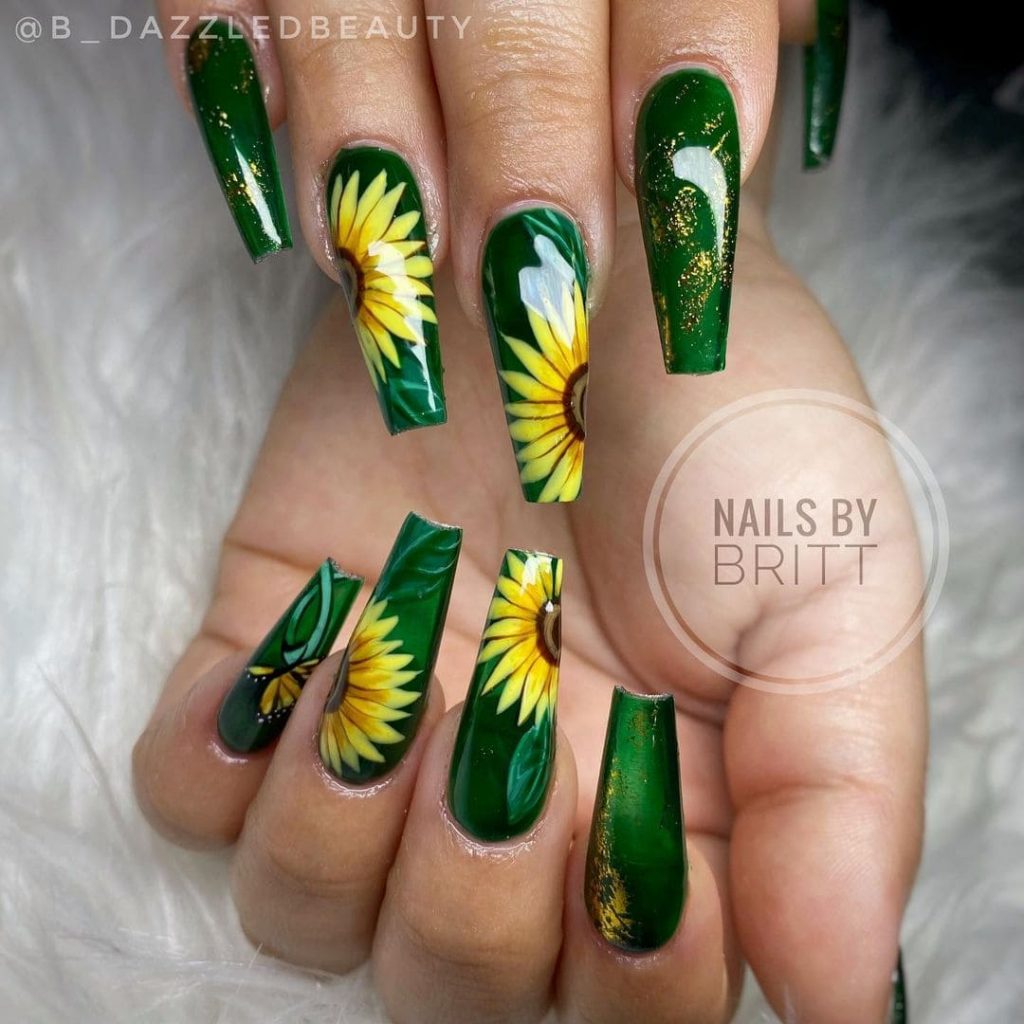 Choose some of your favorite sparkles and add the dark green color to your nails. I prefer yellow sparkle to go with sunflower.
---
16. Simple Sunflower Design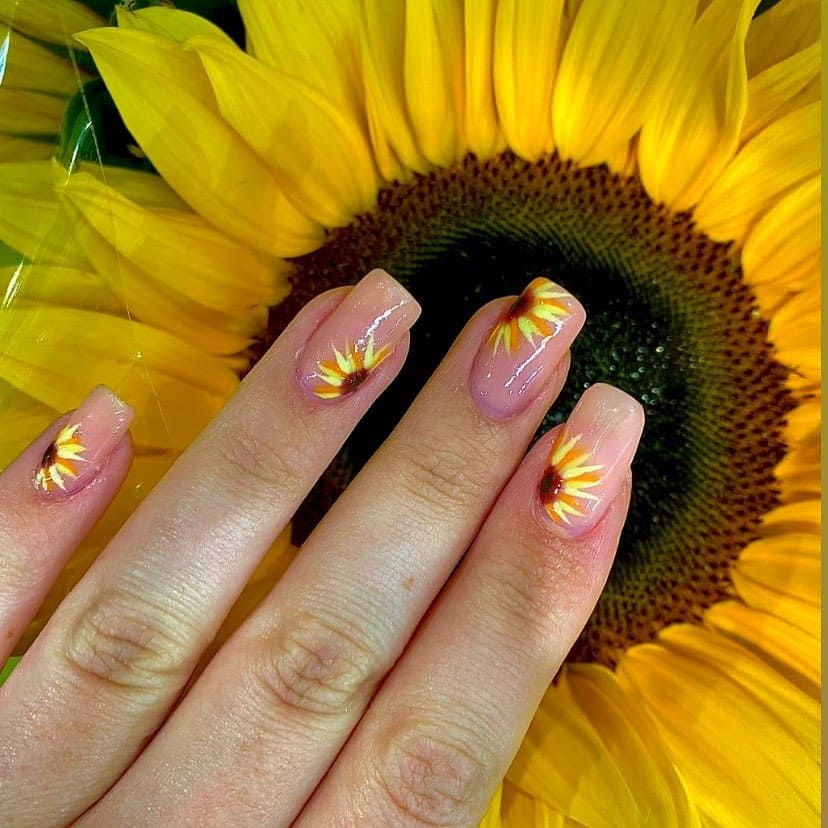 Simple is best, unique, and the most preferred. Get your nails colored in the simplest of design and stand out from the crowd.
---
17. Shiny Red Sunflower Nail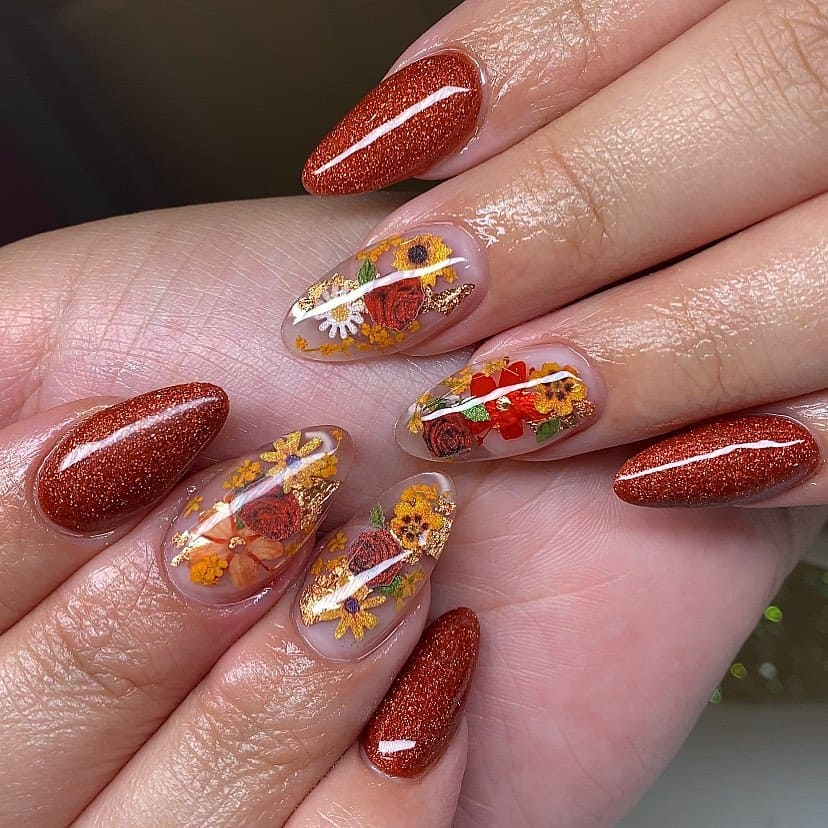 Red is the color of love, and shiny red is a style statement for your nails. Get some inspiration and try these out.
Recreate with : Etsy
---
18. Velvet Matte Sunflower Nails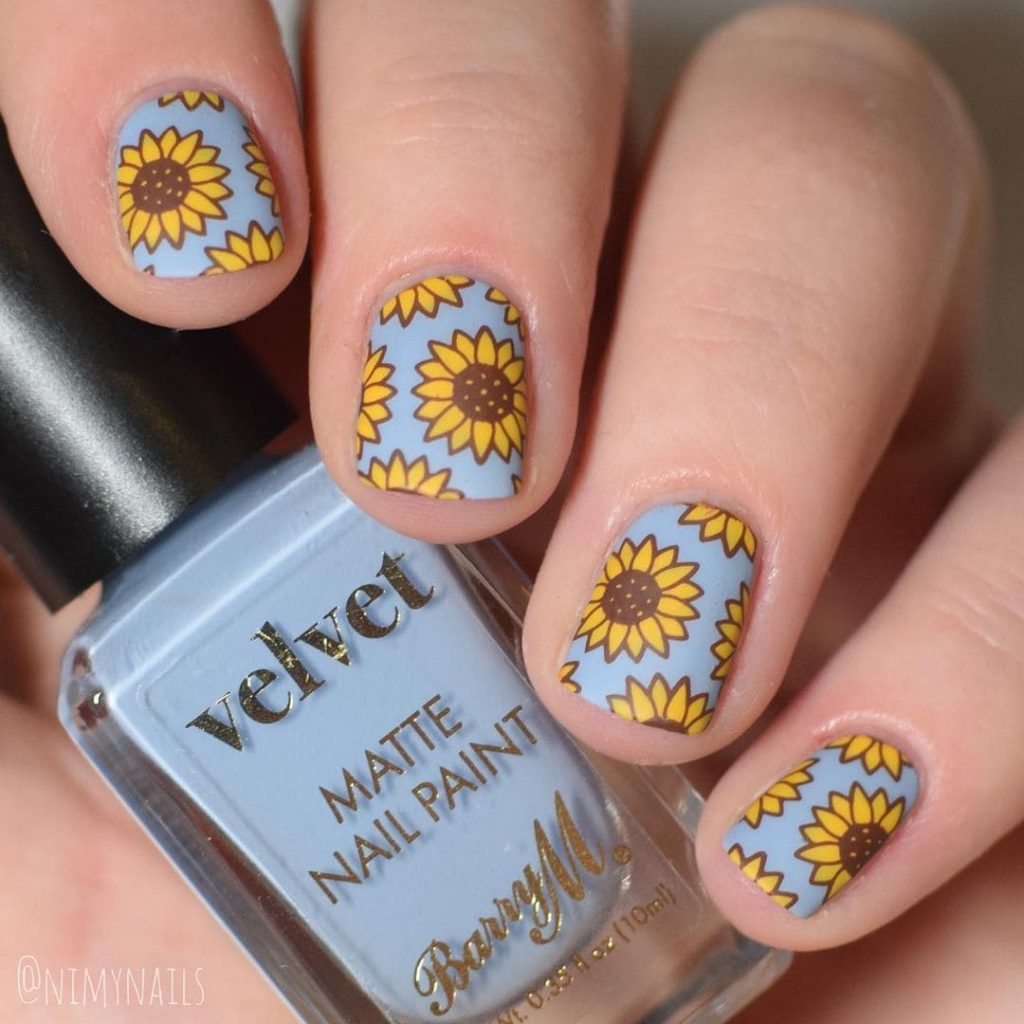 These light blue matte sunflower nails will look good on small rounded nails.
Recreate with : Etsy
---
19. Red Matte Sunflower Design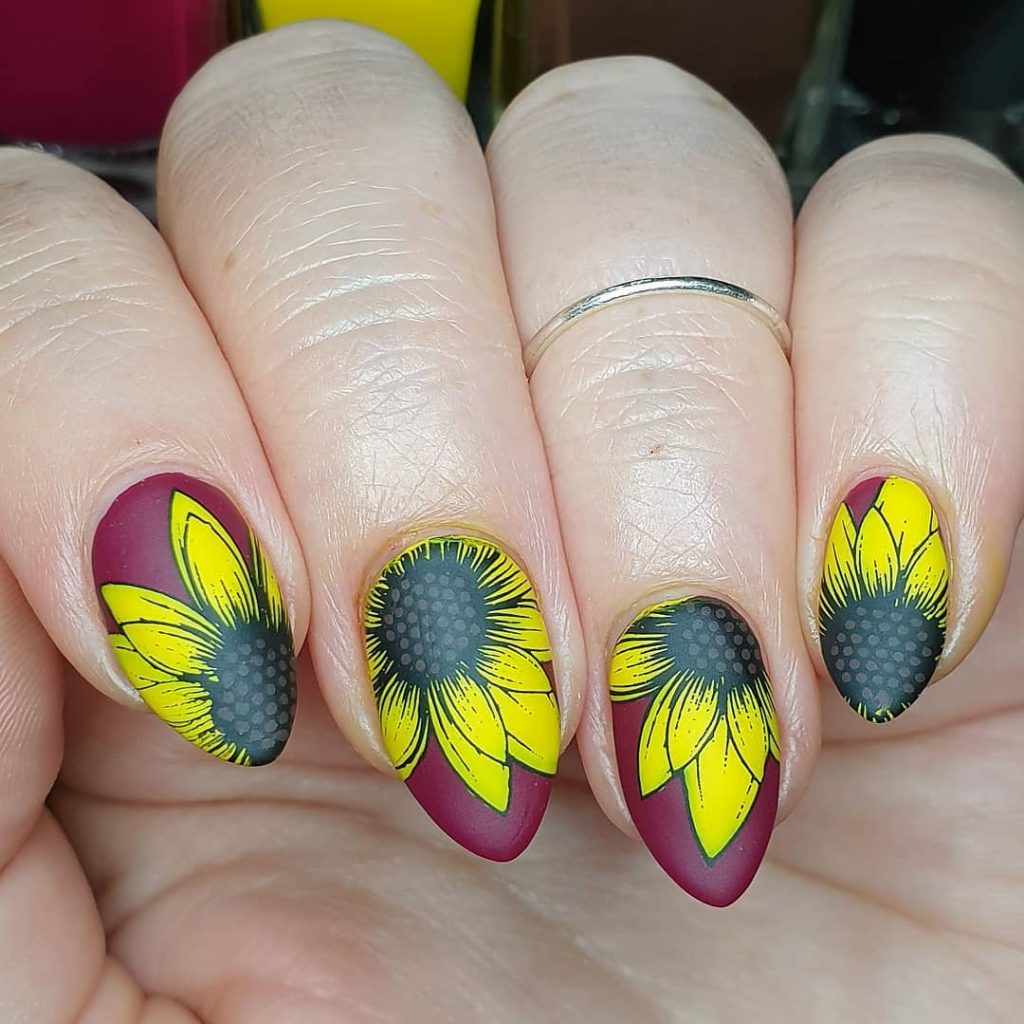 Check out this beautiful red matte sunflower design and make up your mind to get sunflower printed on all five nails.
---
20. Light Purple White Sunflower Nail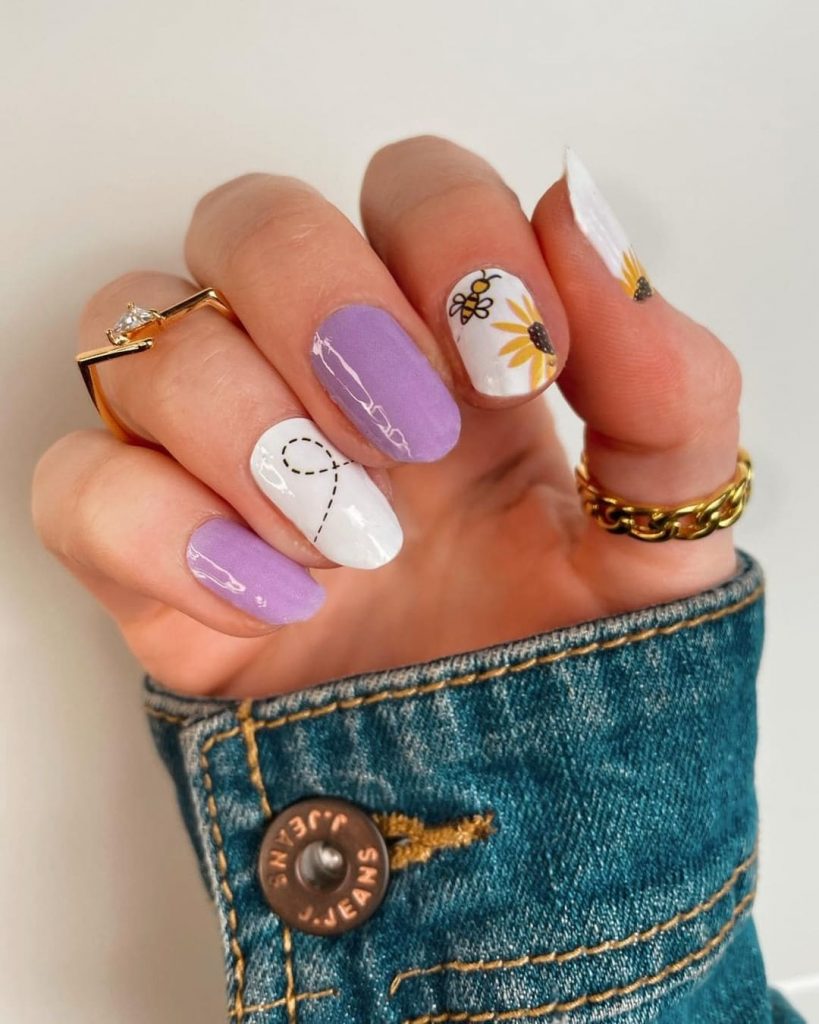 Light purple and white are a great combination, and you need to try them out.
Recreate with : Etsy
---
21. Colorful Sunflower Nail Design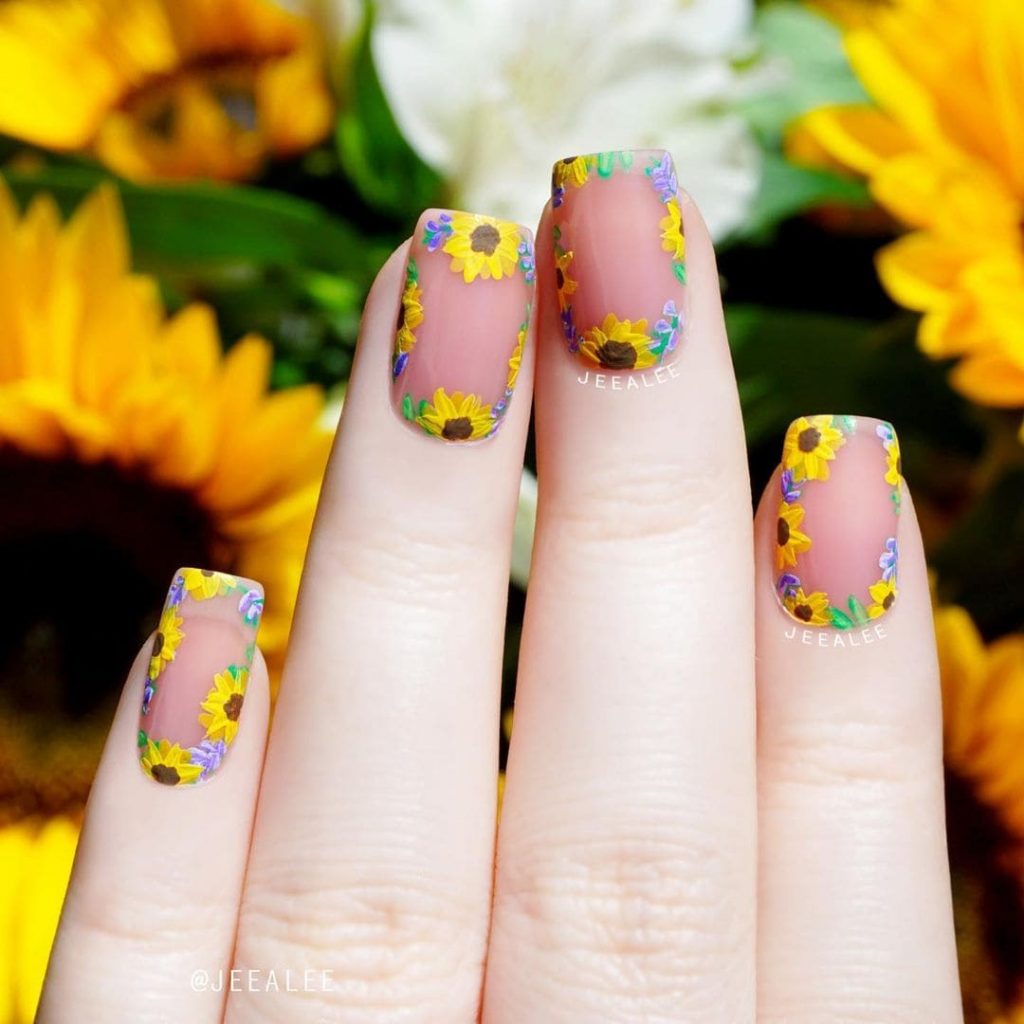 Buck up your nail fashion and get colorful sunflower painted on your nails to have an extraordinary fashion.
Recreate with : Etsy
---
22. Aesthetic Sunflower Nail Design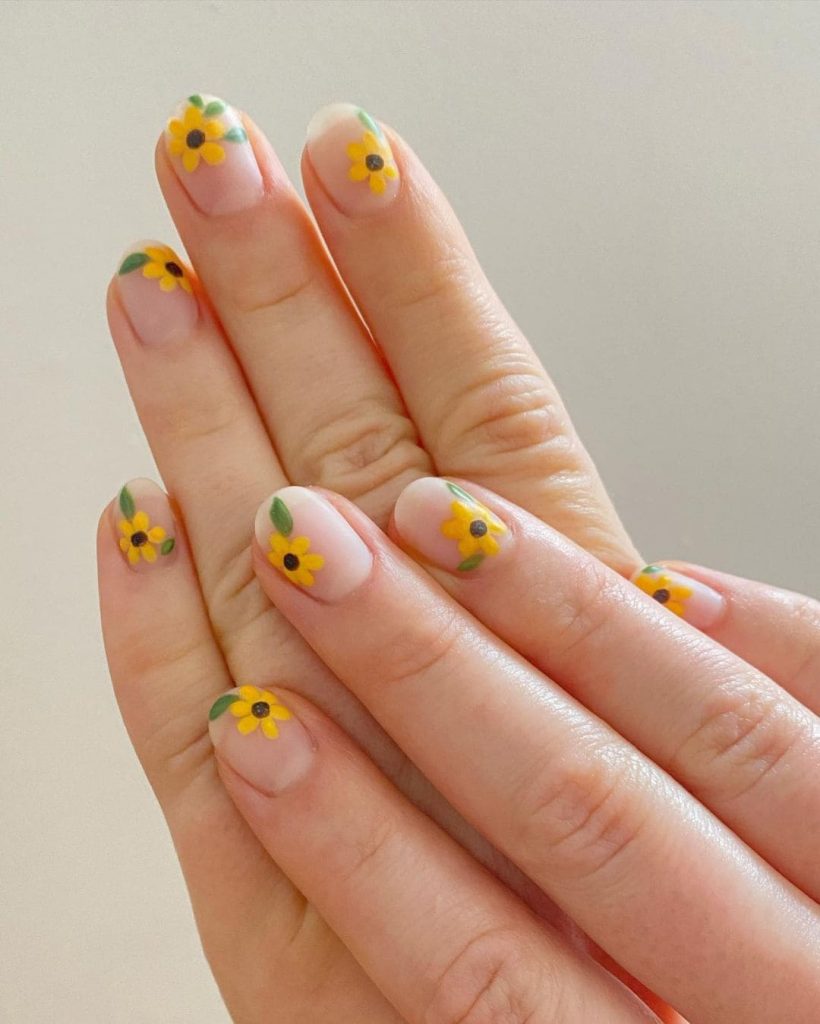 If you believe in keeping it simple, this is the best design.
Recreate with : Etsy
---
23. White Sunflower Design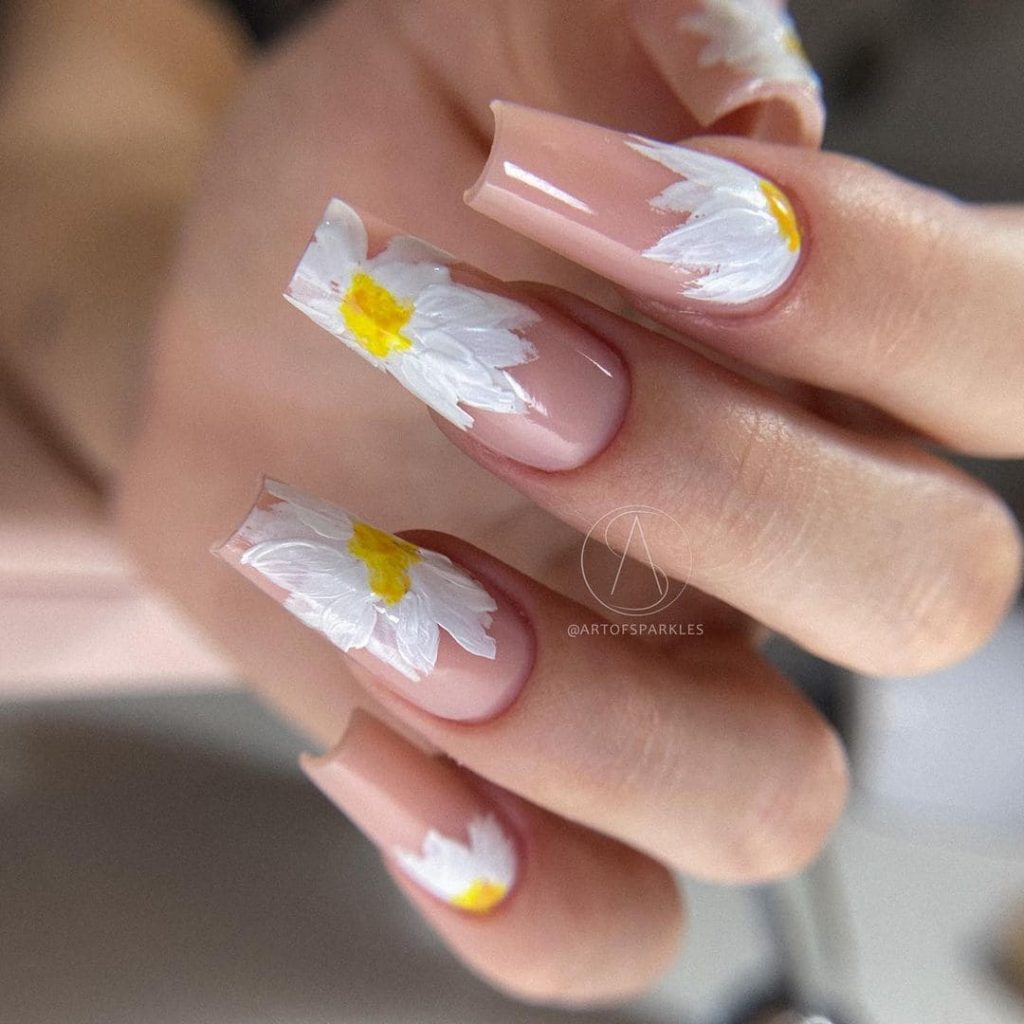 This white sunflower nail design is perfect for your summer touch-up.
---
24. Lining Sunflower Design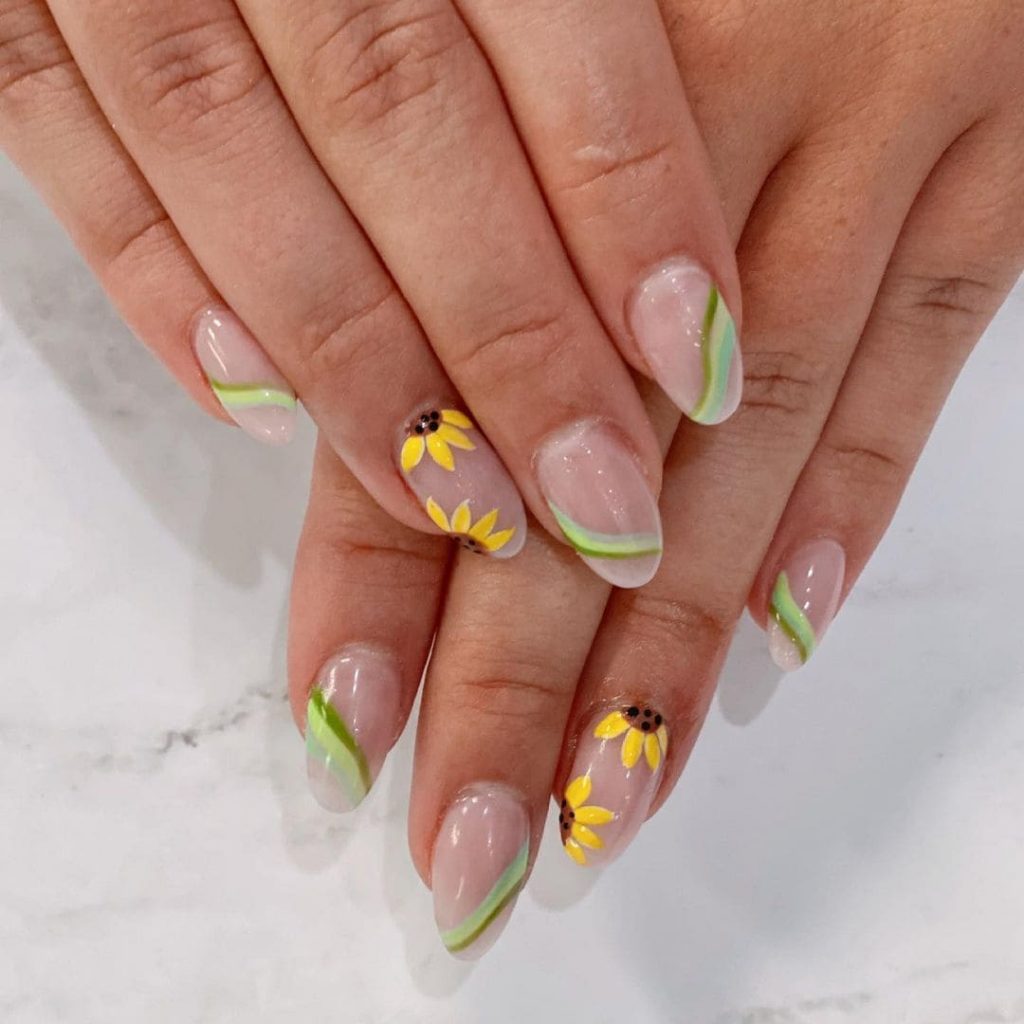 One sunflower on the ring finger and linings on the rest. Boom, you are good to go.
Recreate with : Etsy
---
25. Unique Sunflower Nail Design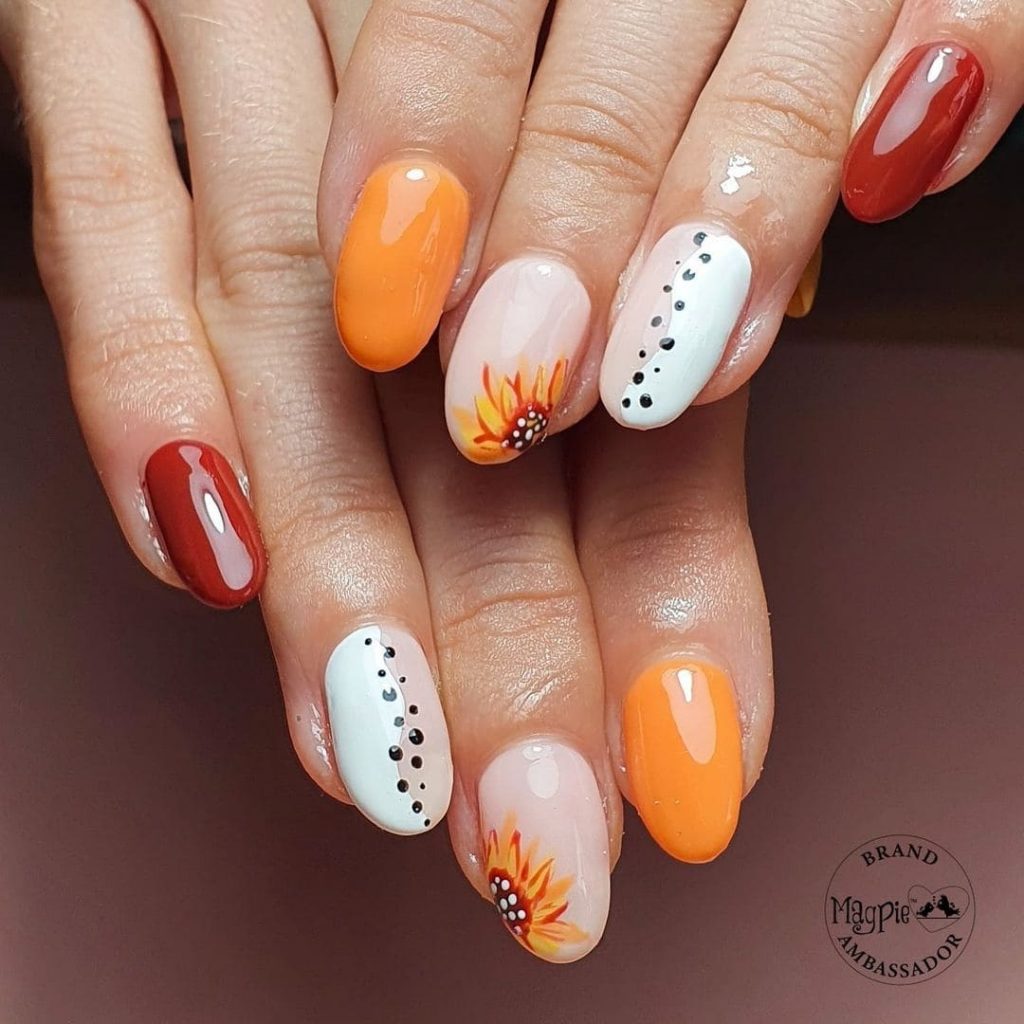 Unique nails make you unique too. Choose the best design layering for your nail.
---
26. Acrylic Yellow Sunflower Design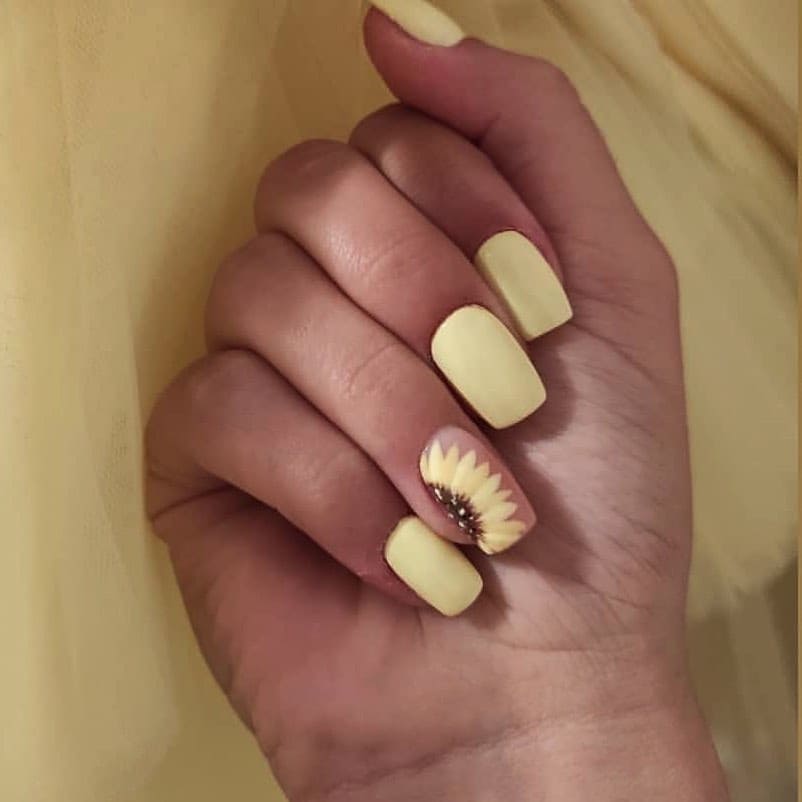 Acrylic yellow color with a sunflower on one nail will set beauty standards on a different level.
---
27. Black And White Sunflower Design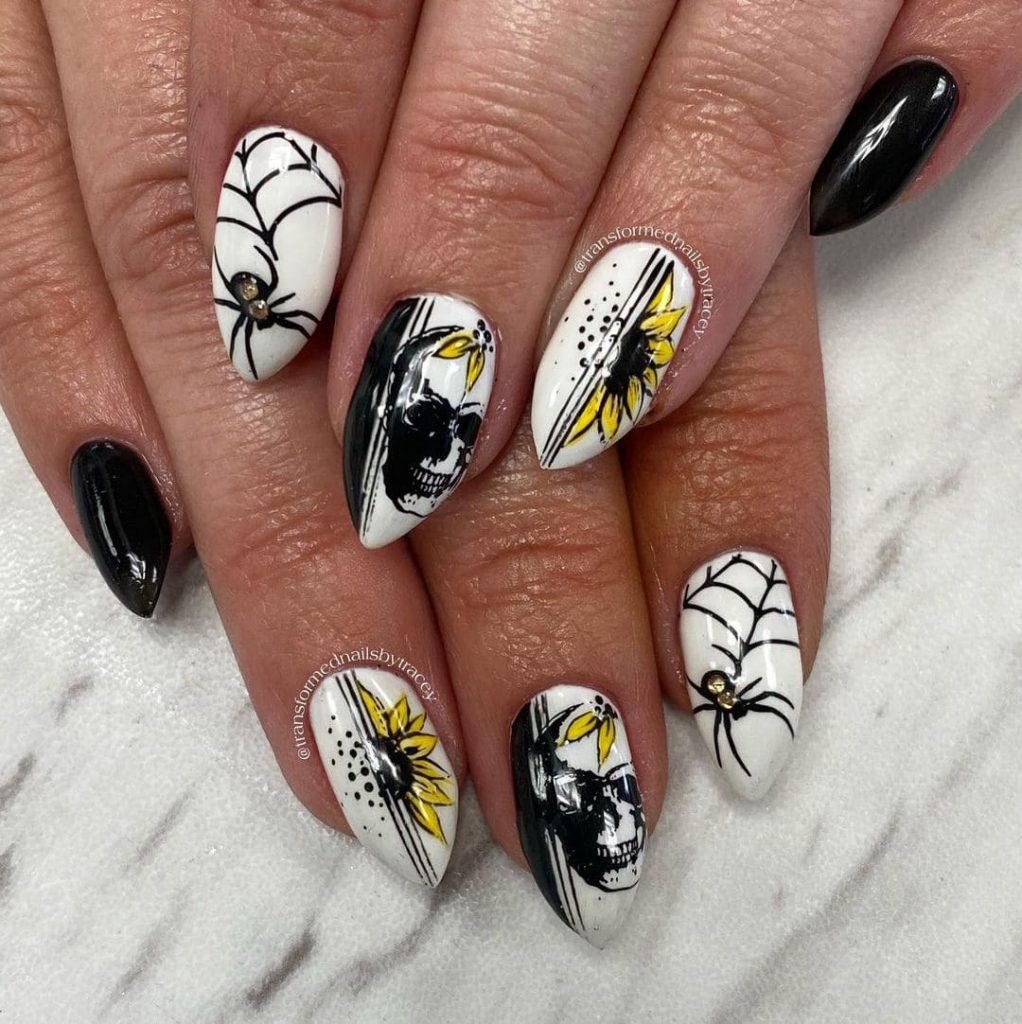 Black and white sunflower designs will look super cool and trendy on your nails regardless of which shape nail you have.
---
28. Grey Sparkle Yellow Sunflower Design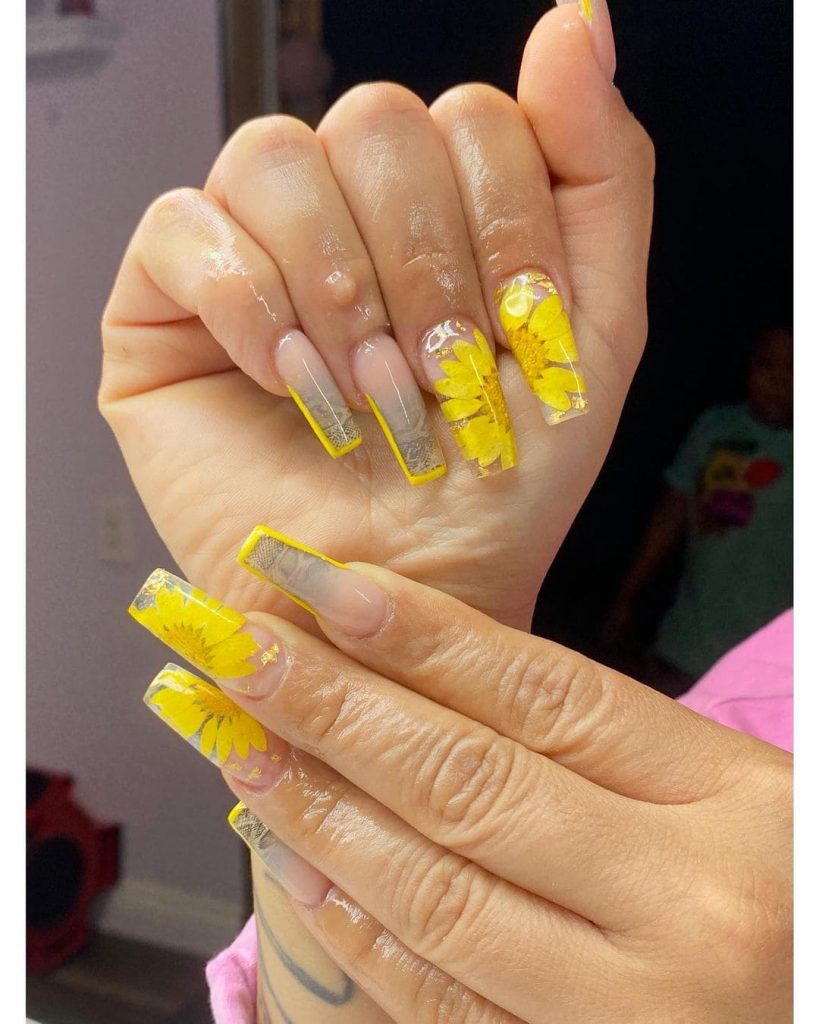 Gray sparkle gives you the most glowing look. And when you add a sunflower print to it, the nails glow differently.
---
29. Web Sunflower Nail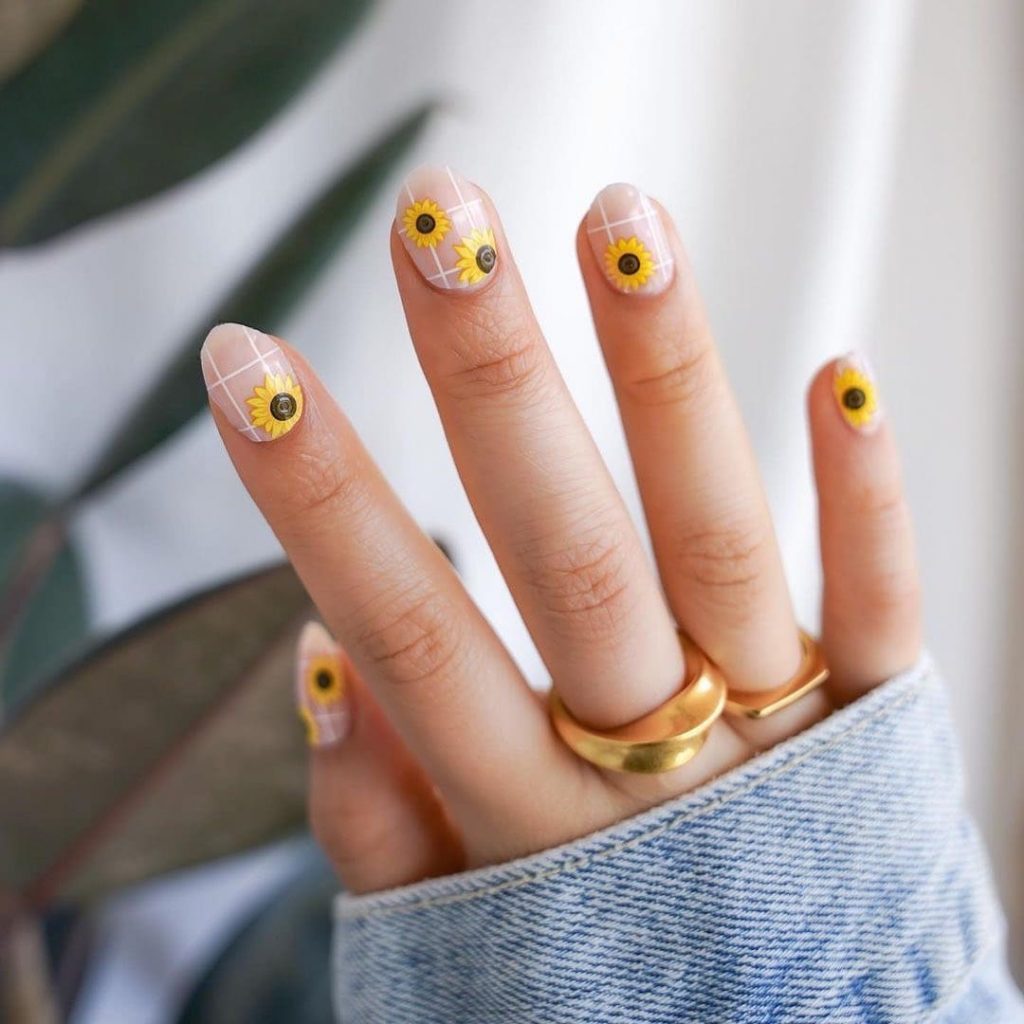 Tic-Tac-Toe design on your nails will make you feel playful and keep you energetic.
Recreate with : Etsy
---
30. Bold Orange Sunflower Design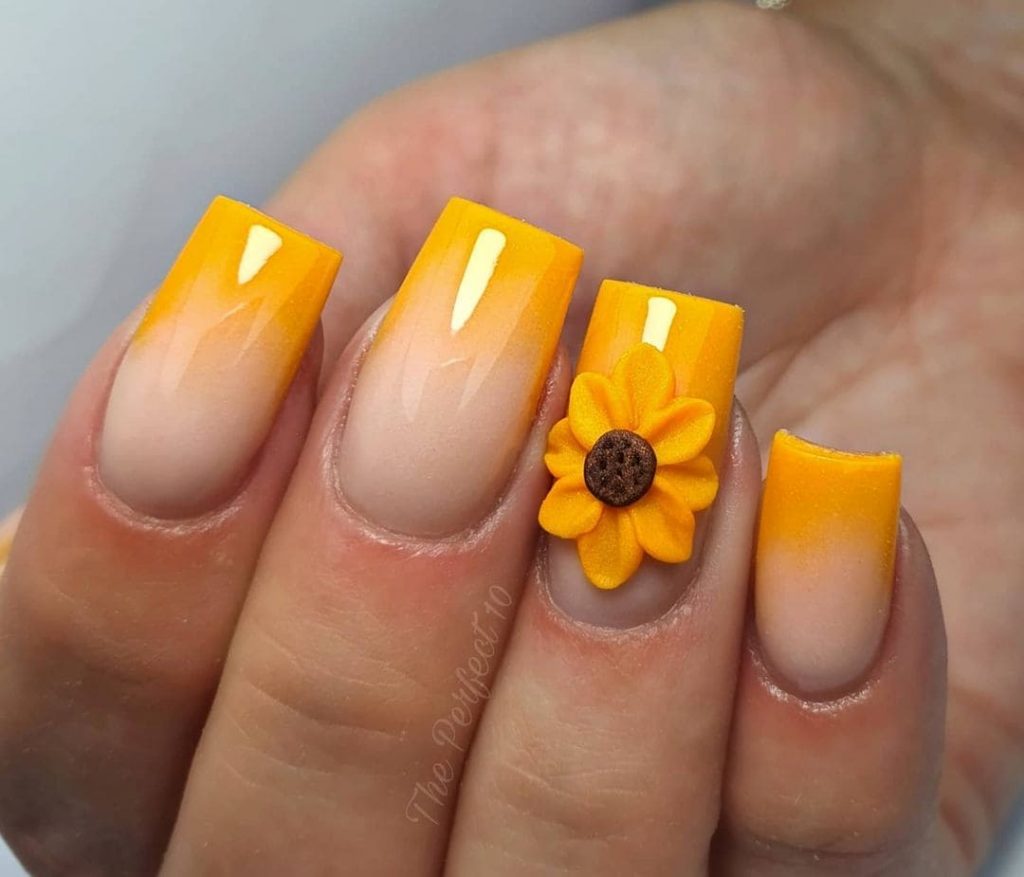 Orange nails and yellow sunflower designs are a perfect combination for your nails.
---
31. Dark Brown Sunflower Nail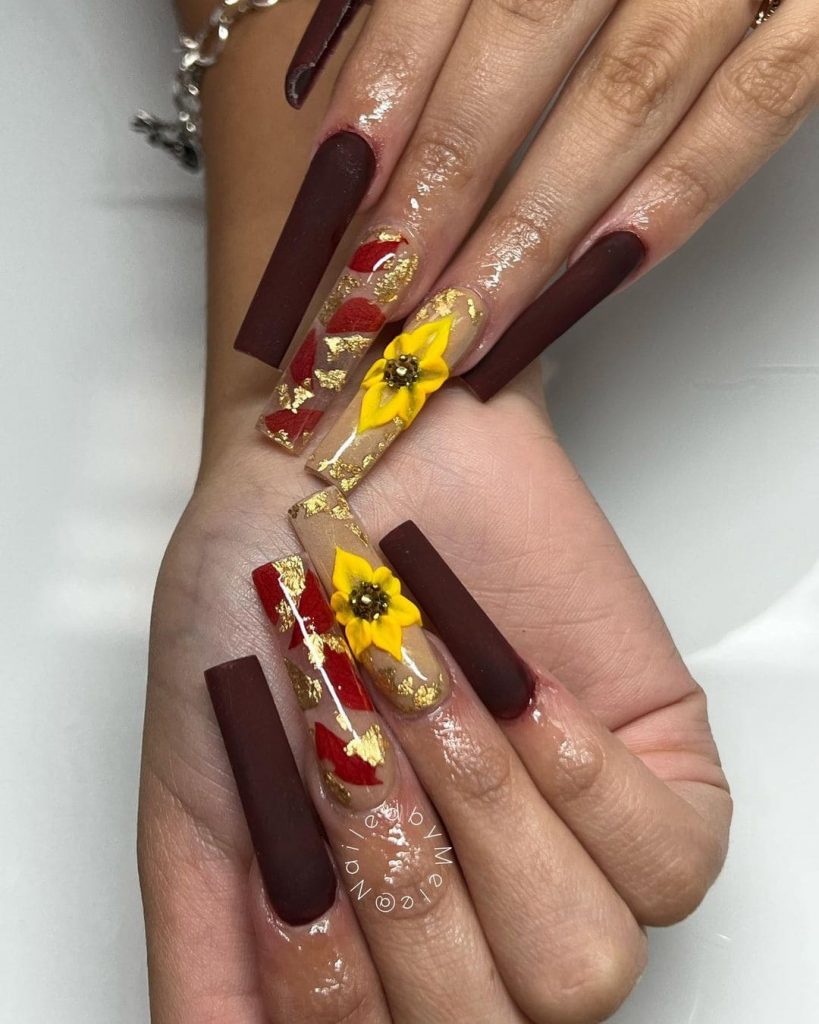 This dark brown sunflower nail idea is a bold choice you should definitely take.
---
32. Pastel Sunflower Nail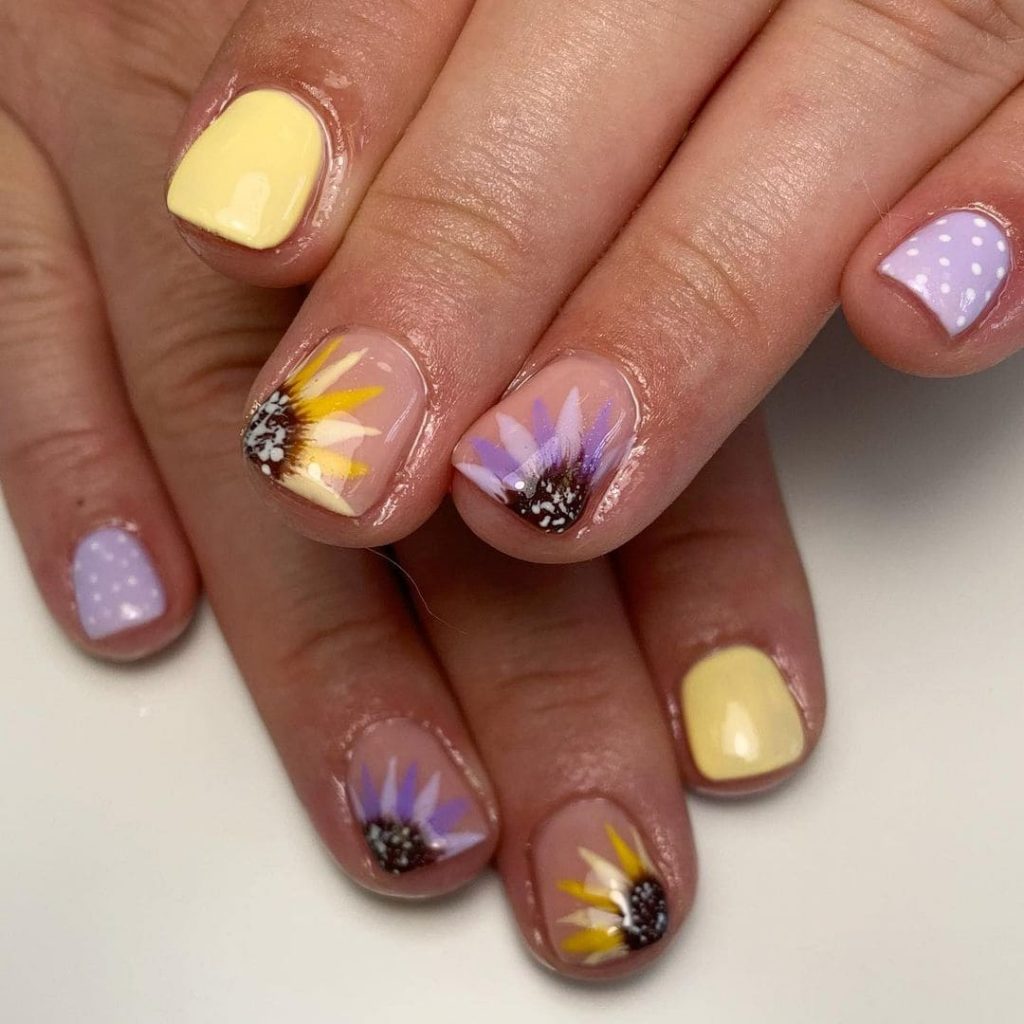 It perfectly fits with the sunflower design with different pastel colors on hand.
---
33. Full Sunflower Design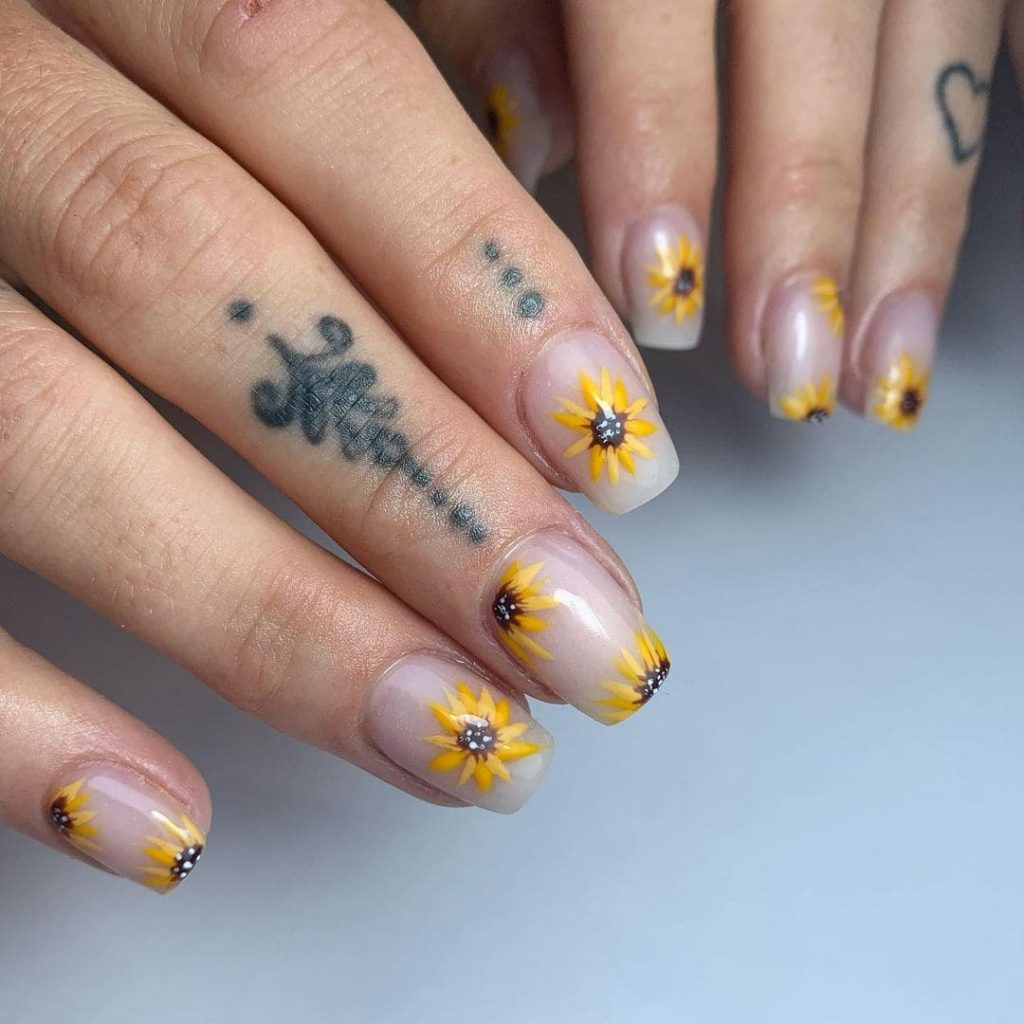 Get small sunflowers in the whole shape drawn on the sides of your nails. It'll give your personality a new look.
Recreate with : Etsy
---
34. Colorful Leafy Sunflower Design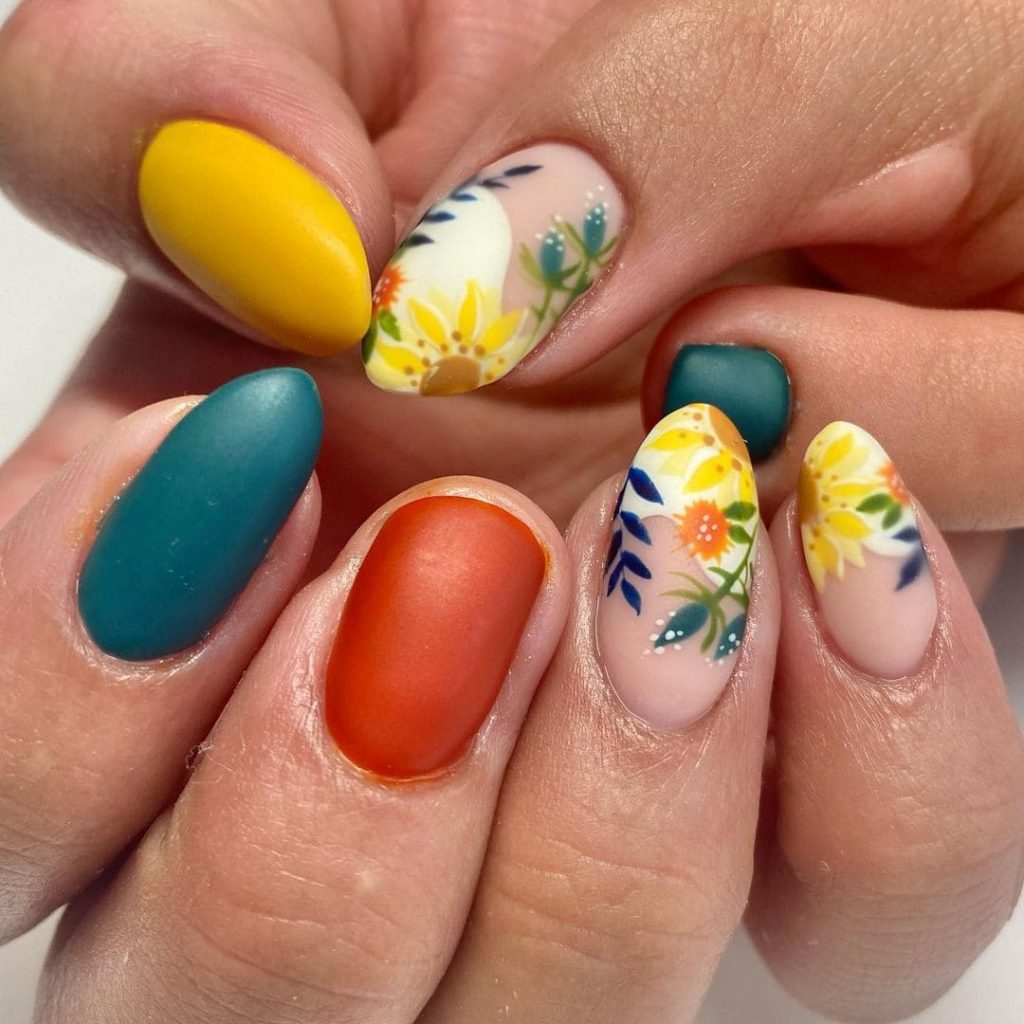 Check out this colorful option for your short round nails and add a cohesive element to your nail.
---
35. White Orange Cream Sunflower Nail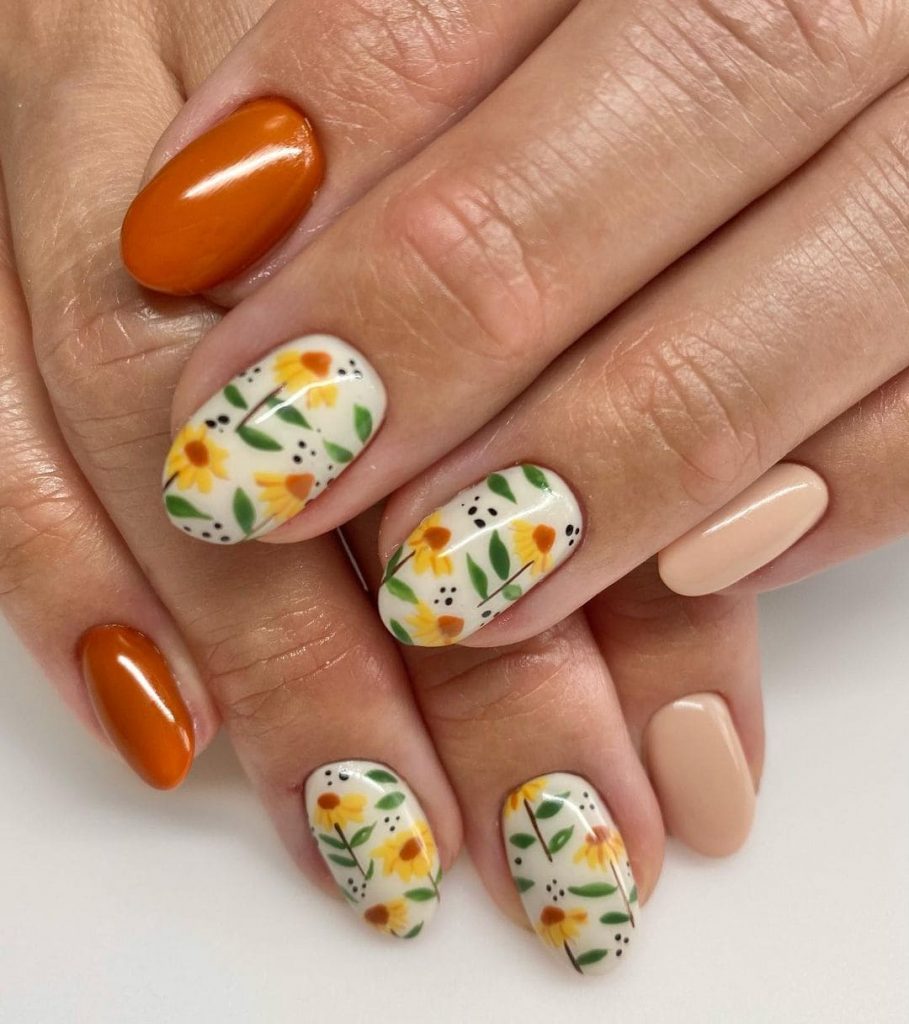 Painted with colorful designs and textured with the sunflower leaves, it gives us the aura of bloomy lights and summer.
Recreate with : Etsy
---
36. Mehndi Sunflower Color Nail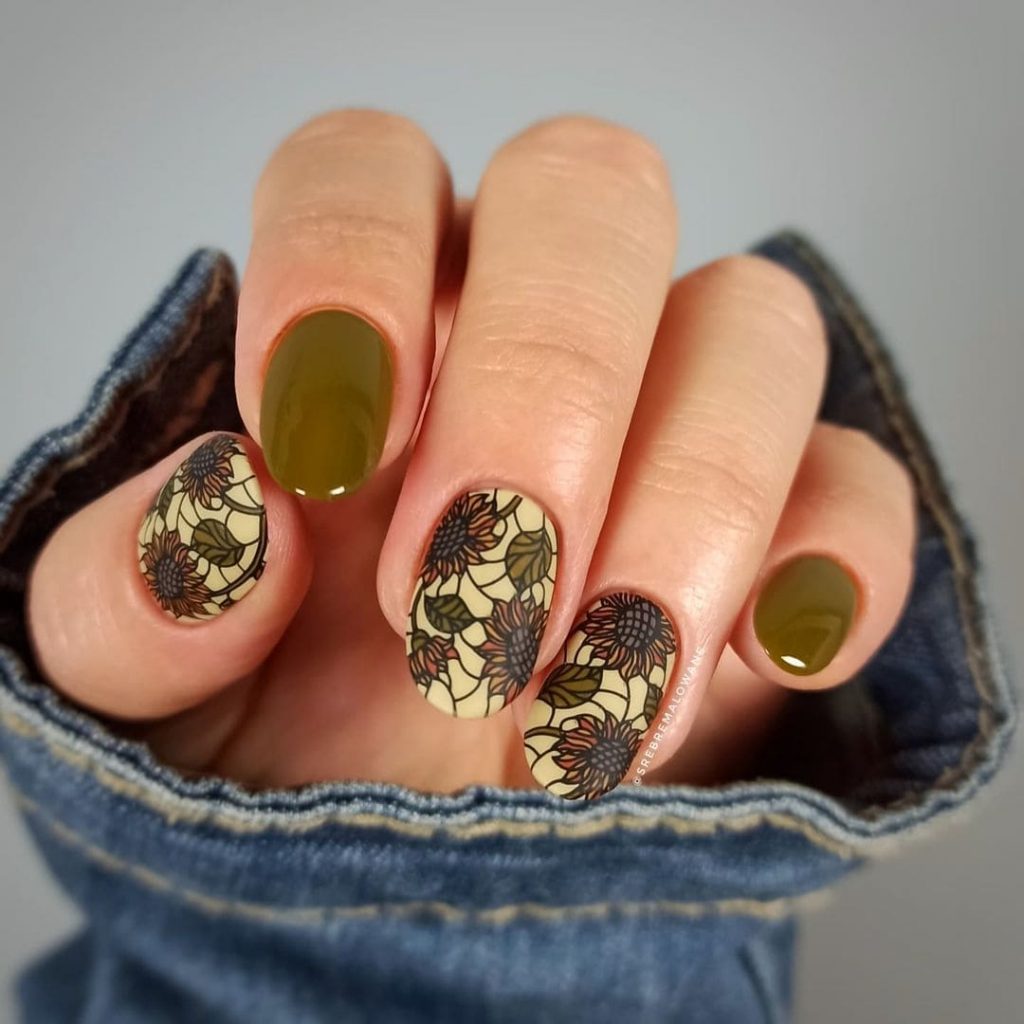 Mehndi color with a sunflower on the nails will give a glowing shine and a perfect texture.
---
37. Light Pastel Sunflower Nail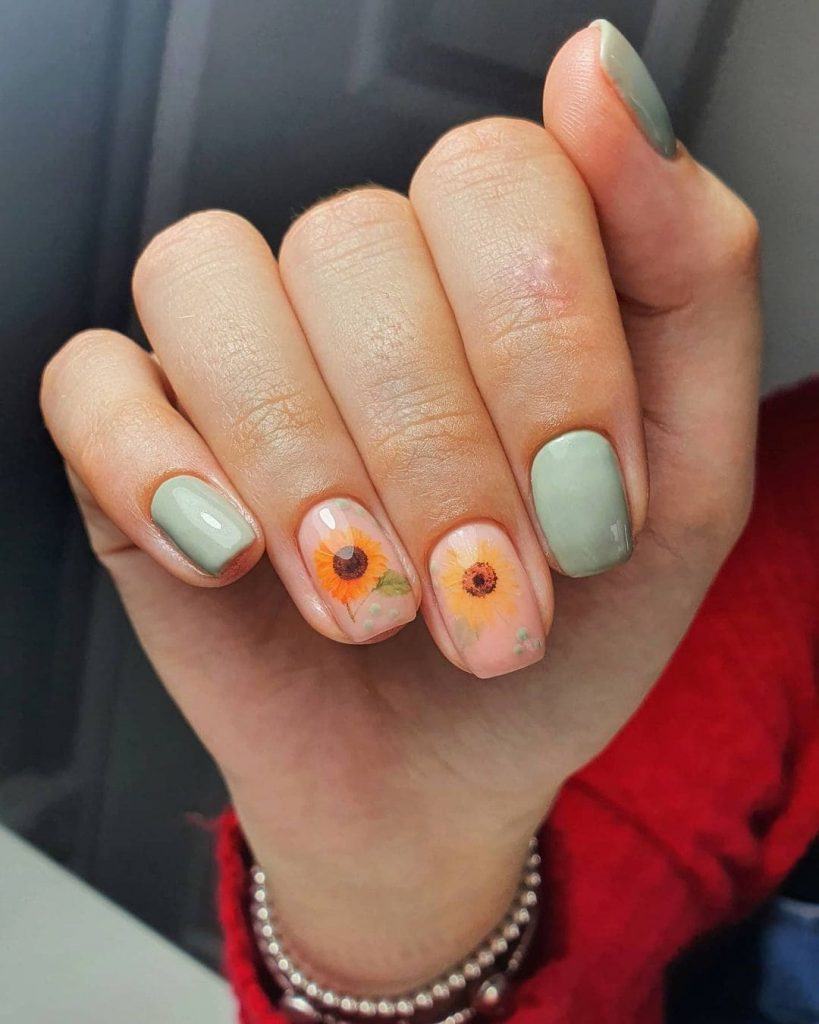 Choose your favorite pastel colors and get it designed with a perfect sunflower shape.
---
38. Glossy Green Sunflower Nail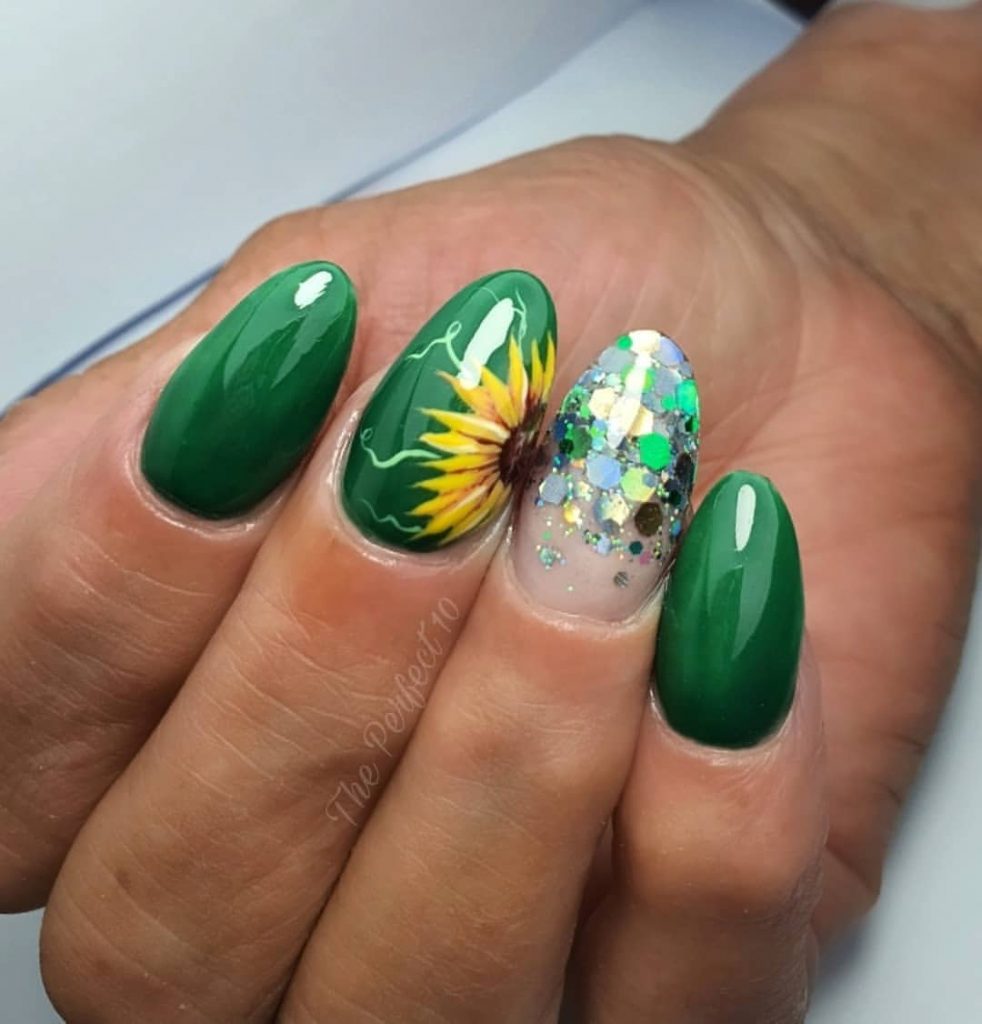 Add some gloss to your nails with sunflower and brighten up your look.
---
39. Perfect Sunflower Nail Design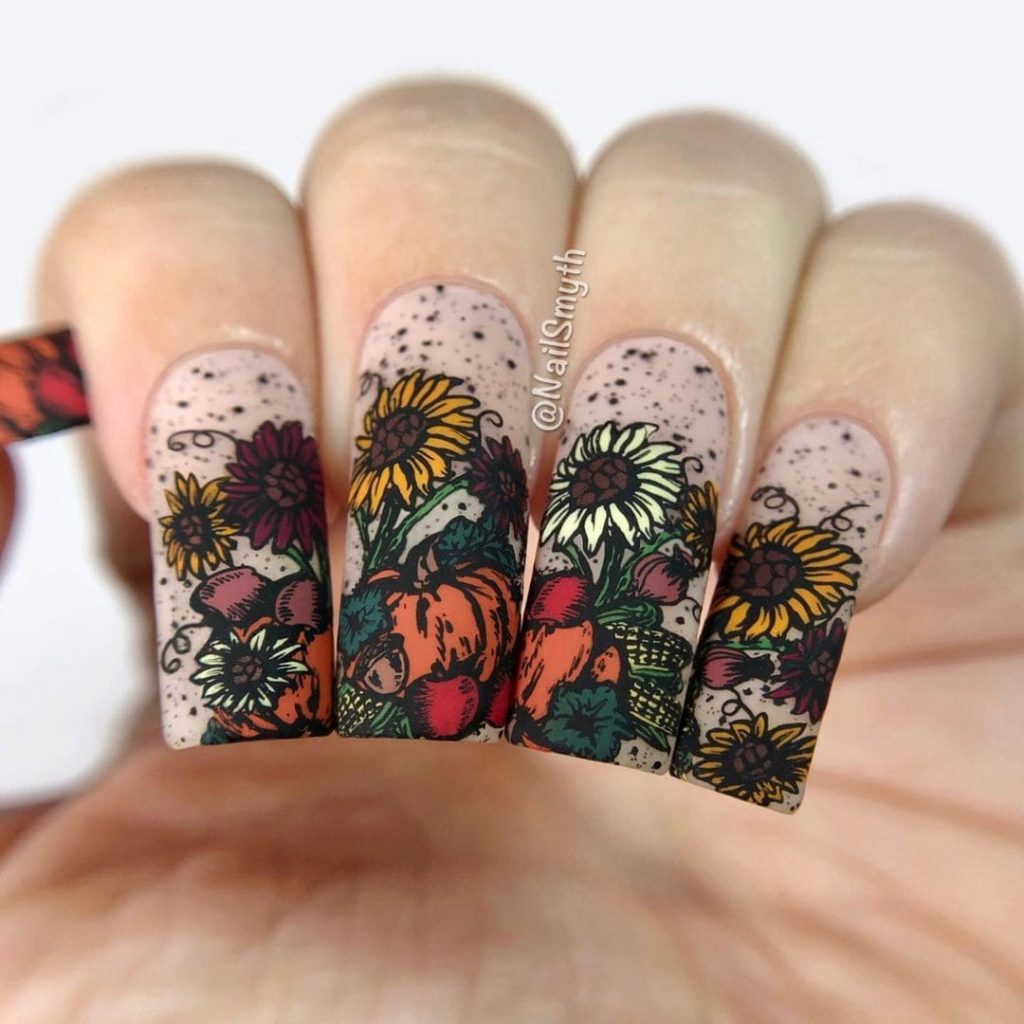 Once you see this nail design, there is no going back. It adds perfectly to any type of look and clothes. So, don't wait much; get your nails painted.
---
40. Shiny Black Sunflower Nail
This design is simple. Using a toothpick, you can make the sunflower on two of your nails.
---
41. Long Yellow Transparent Sunflower Nail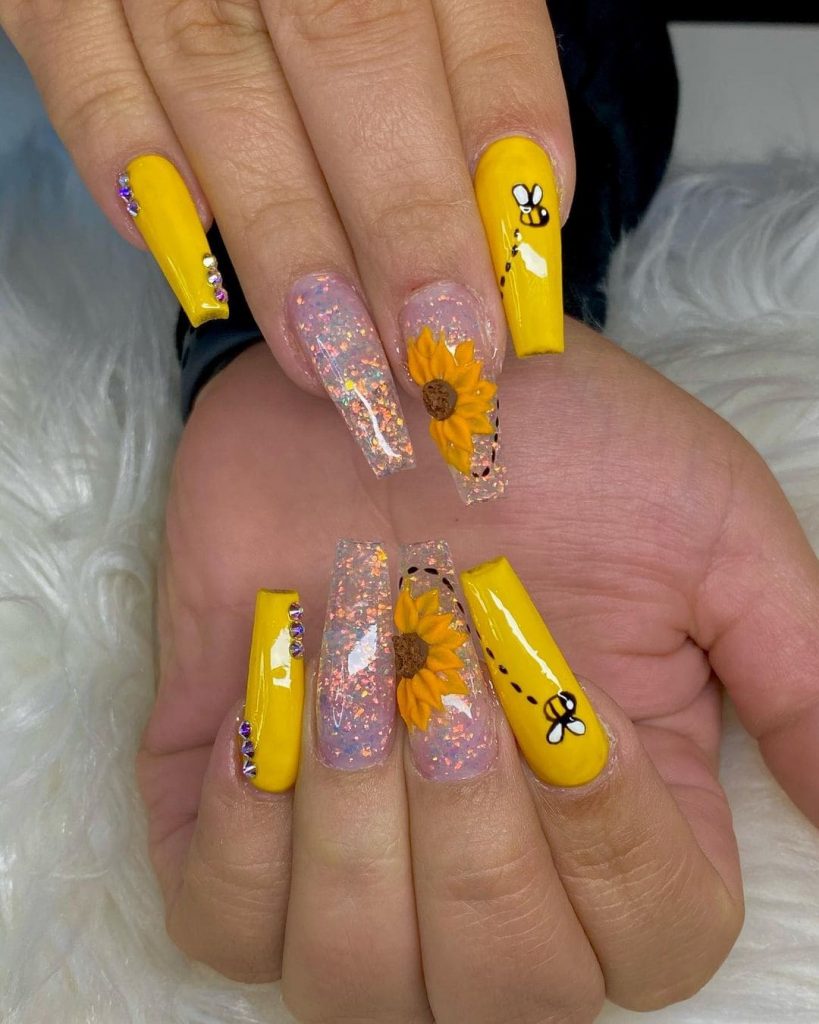 Without sticking to the normal yellow color, shift to this type of shiny yellow with a sunflower design of your choice.
---
42. Cute Sunflower Design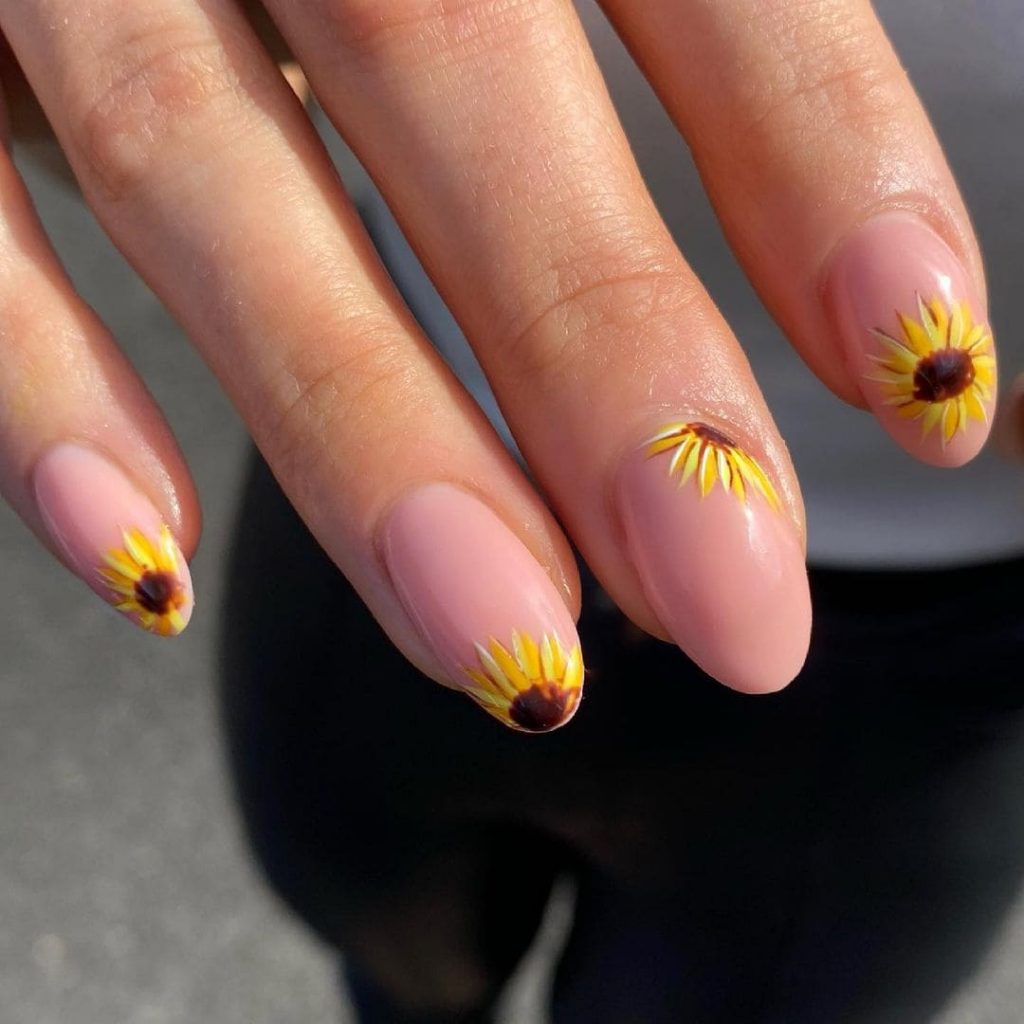 Take some inspiration from this nail design and give your nail a simple design.
Recreate with : Etsy
---
43. Acrylic Blue Sunflower Design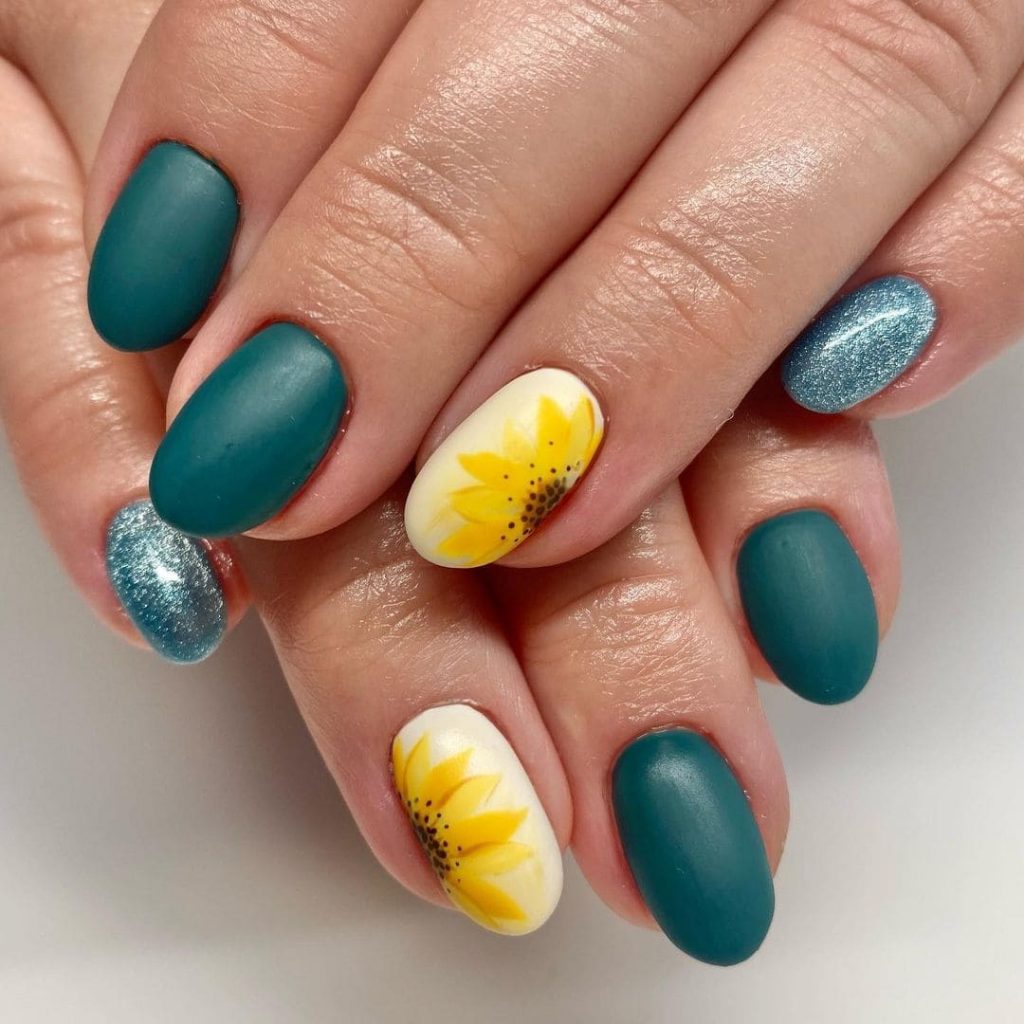 This design feels like a handful of blue colors that look good in all the shapes and designs.
---
44. Fresh Sunflower Nail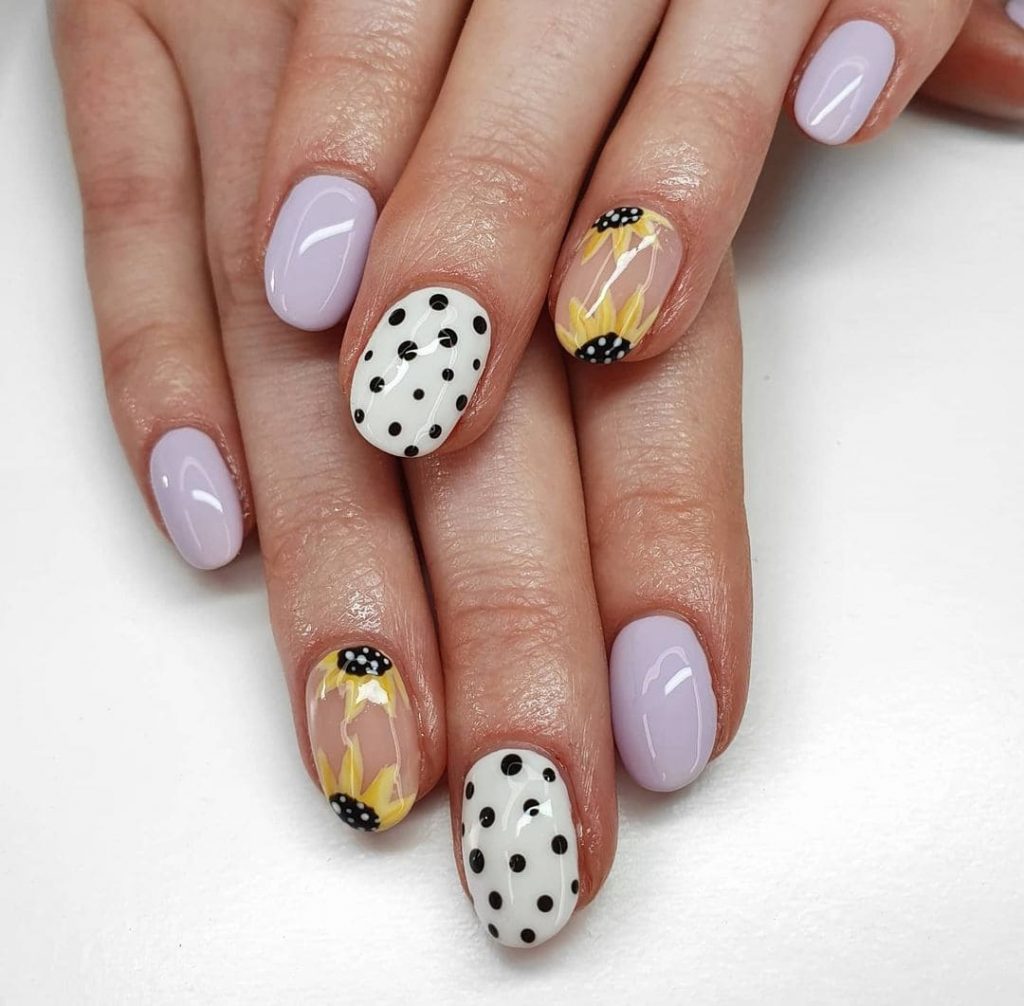 These light pastel colors will give a classy and modern touch.
---
45. Shades With Sunflower Design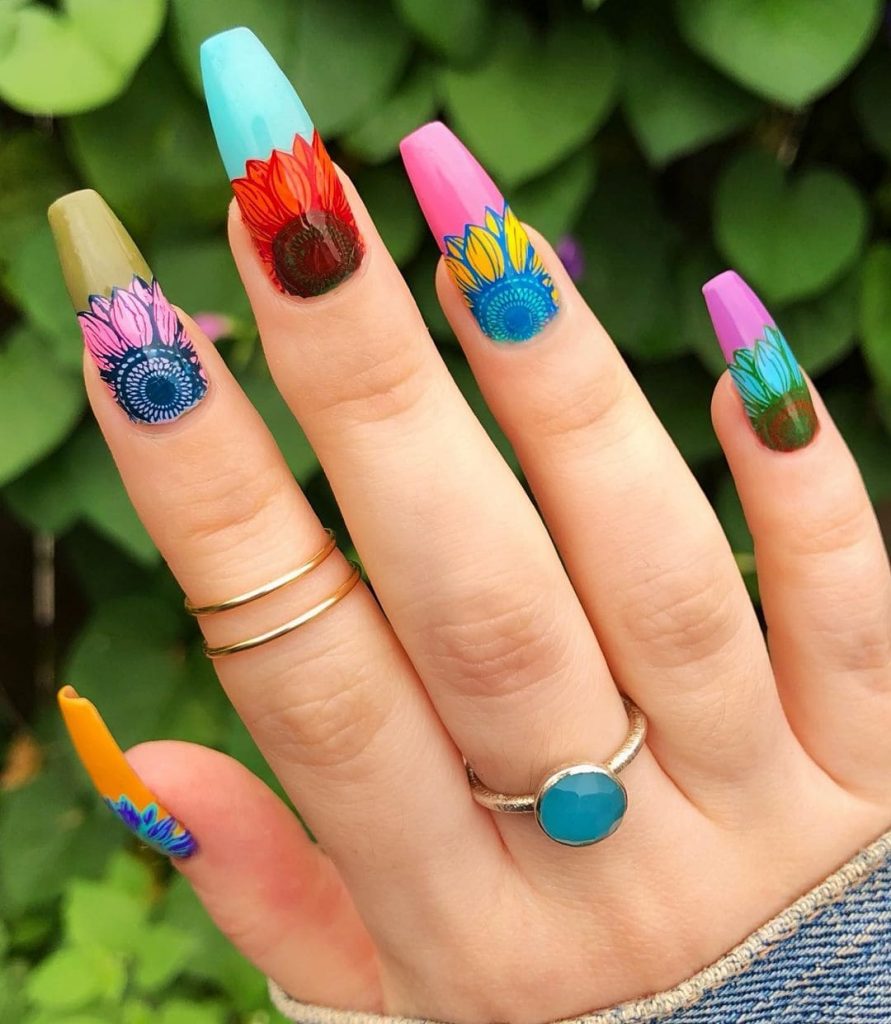 Getting out of the classy touches, the different shades filled with sunflower gives a noticeable feeling to your nails.
---
46. Rainbow Like Sunflower Design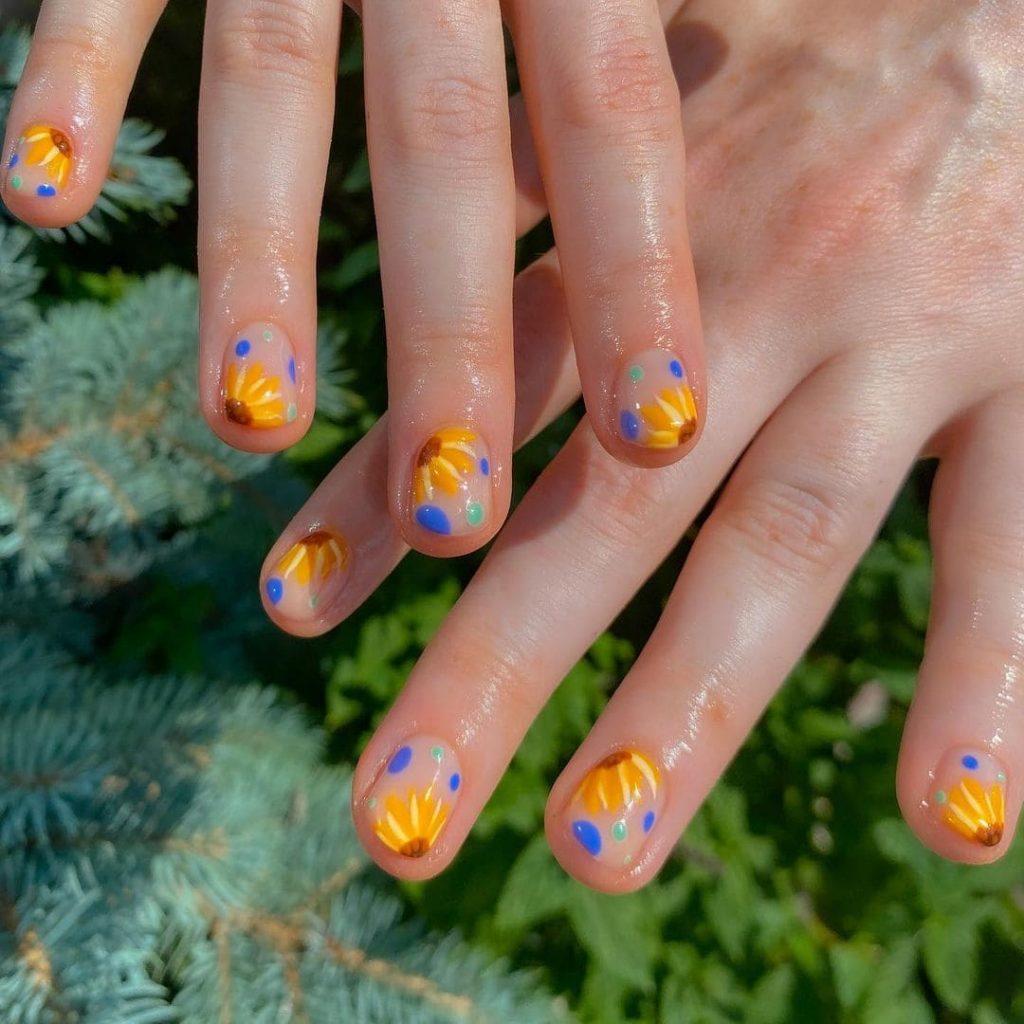 This colorful nail design will give you a calm and brighter feeling with detailing in every spot.
---
47. Double Sunflower Design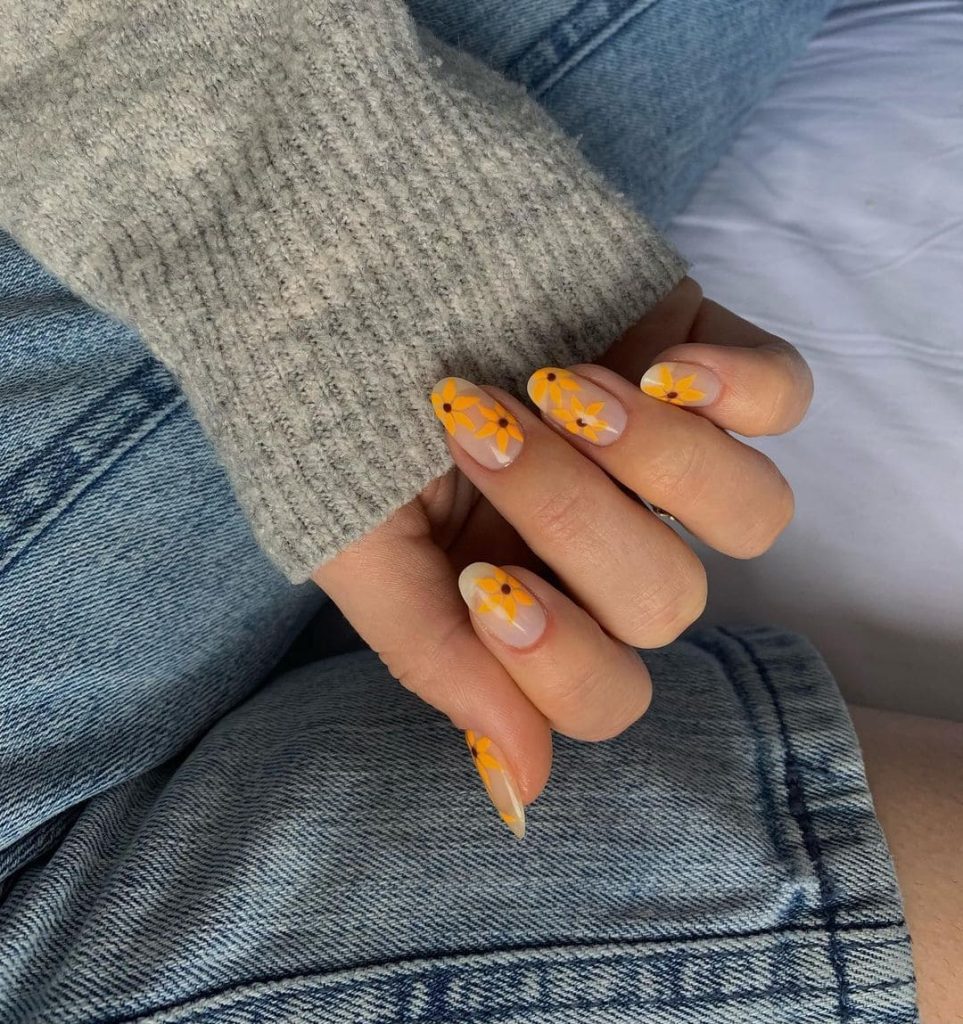 See this magical nail design. It is very attractive and goes well with every type of look.
Recreate with : Etsy
---
48. Funky Sunflower Design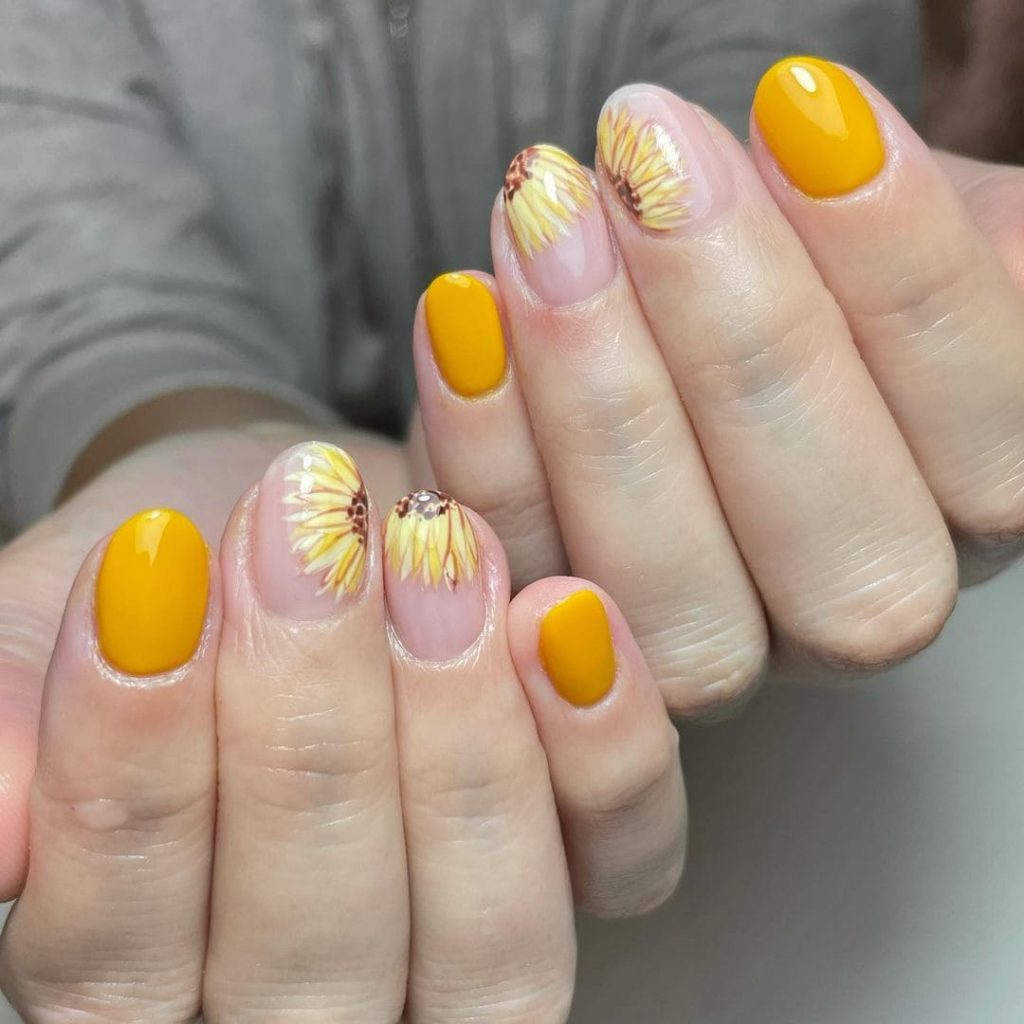 If you are someone who wants a light funky design, choose this one.
---
49. Shiny Black And Yellow Design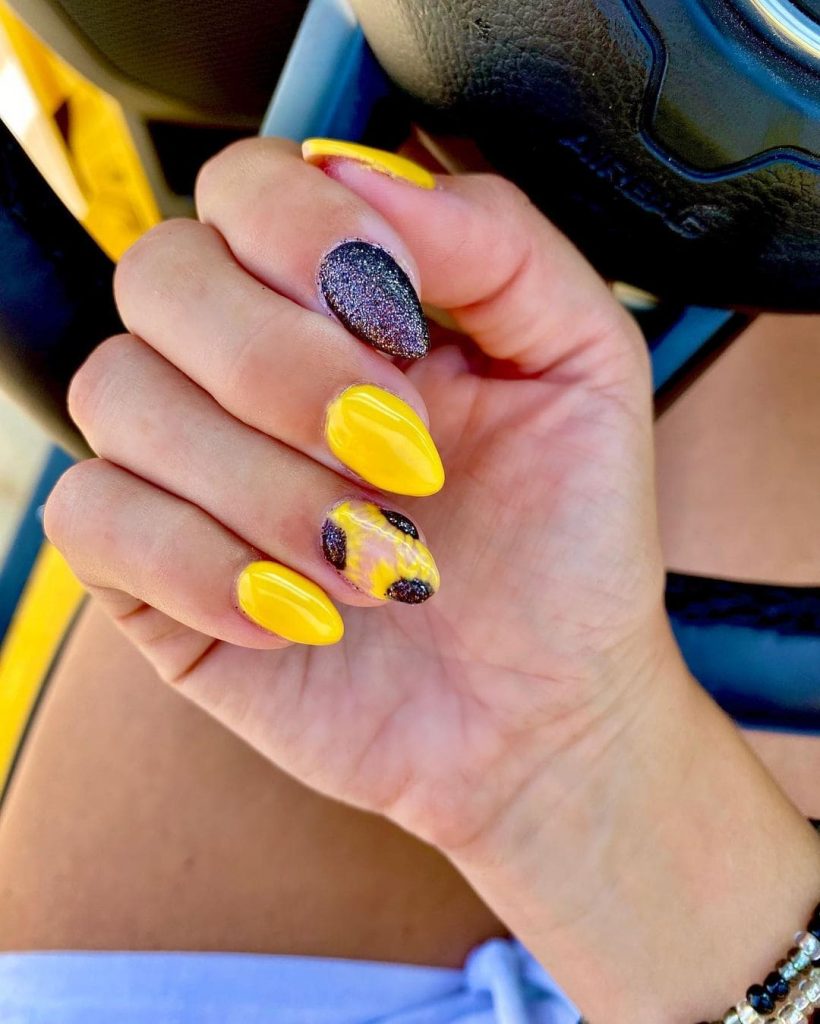 Check out this beautiful nail art sunflower design and get inspiration to style your nails like this.
---
50. Cow Sunflower Design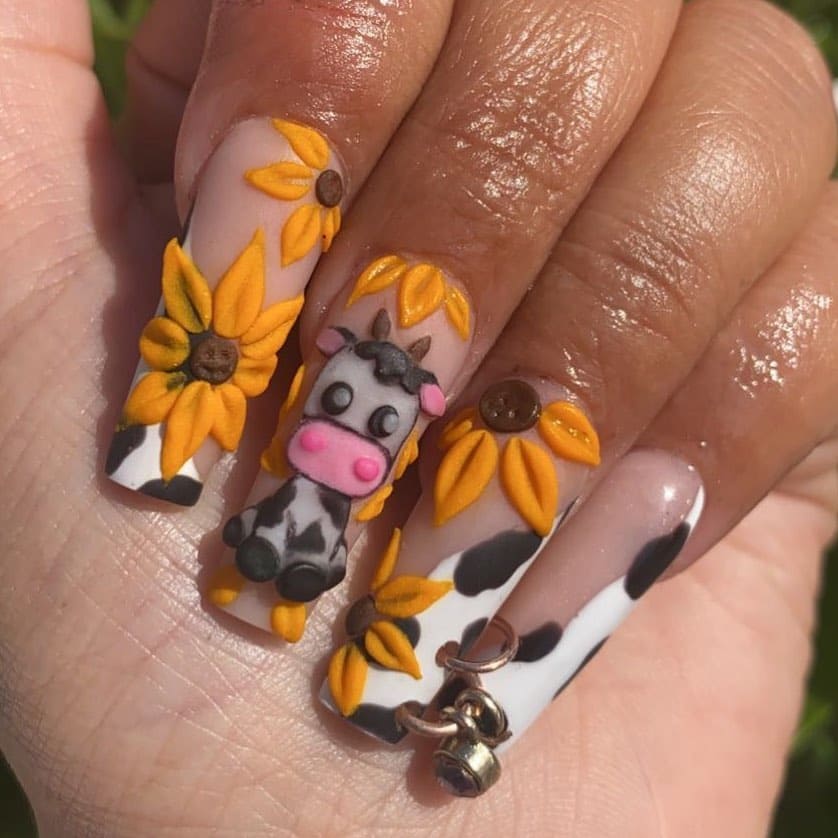 This unique design will justify the animal trends, and when you combine it with sunflower, it will give you a perfect look.
---
51. Nude Yellow Sunflower Nails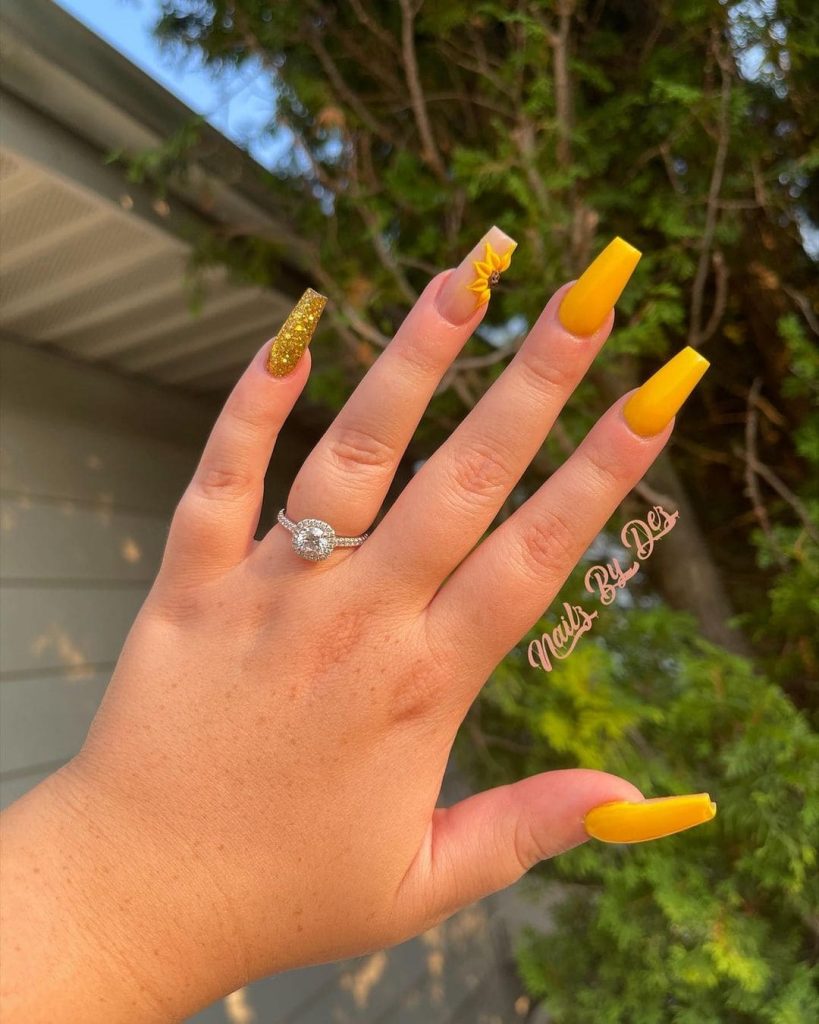 Sometime simple is the way to go when it comes to nails. And this is perfectly it.
Recreate with : Etsy
---
52. Chic Sunflower Nails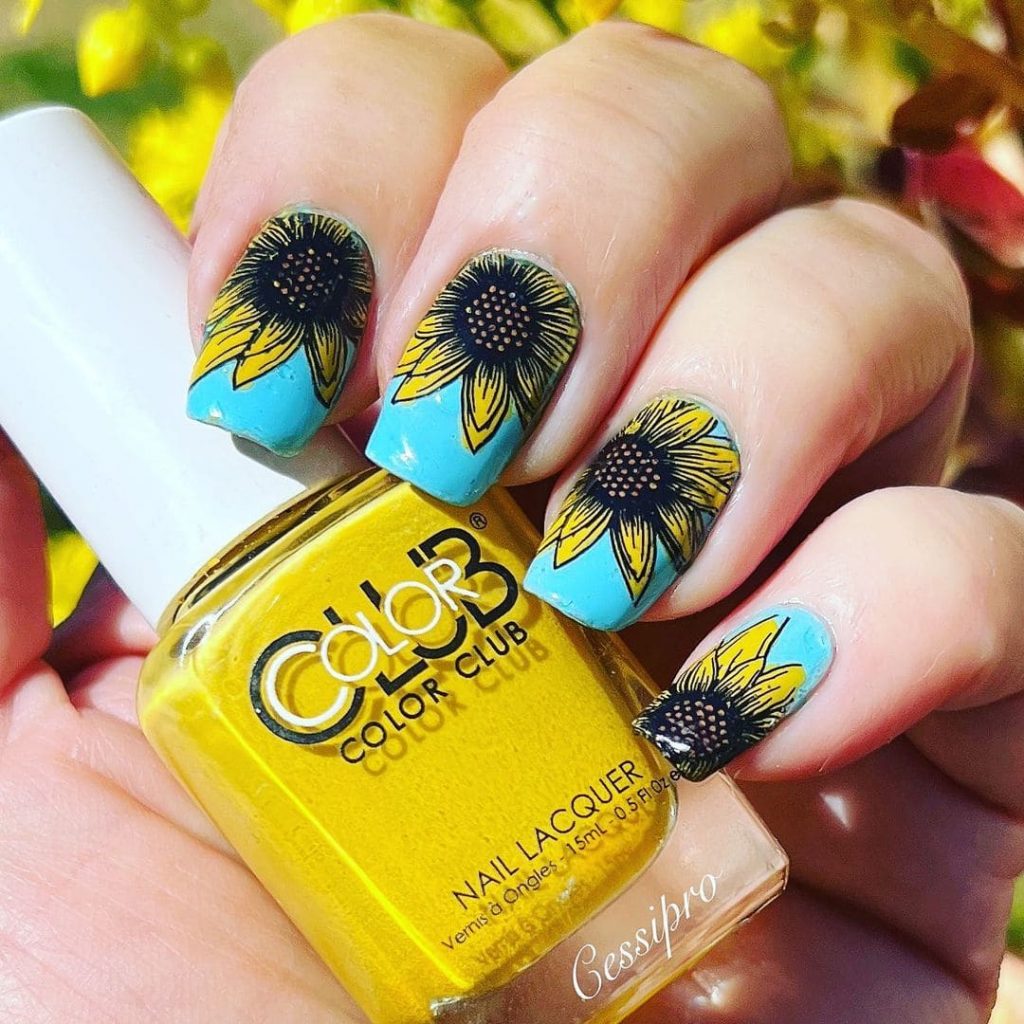 If you want your sunflower to stand out more then this nail inspo is the move.
---
53. Dark Blue Glitter Nails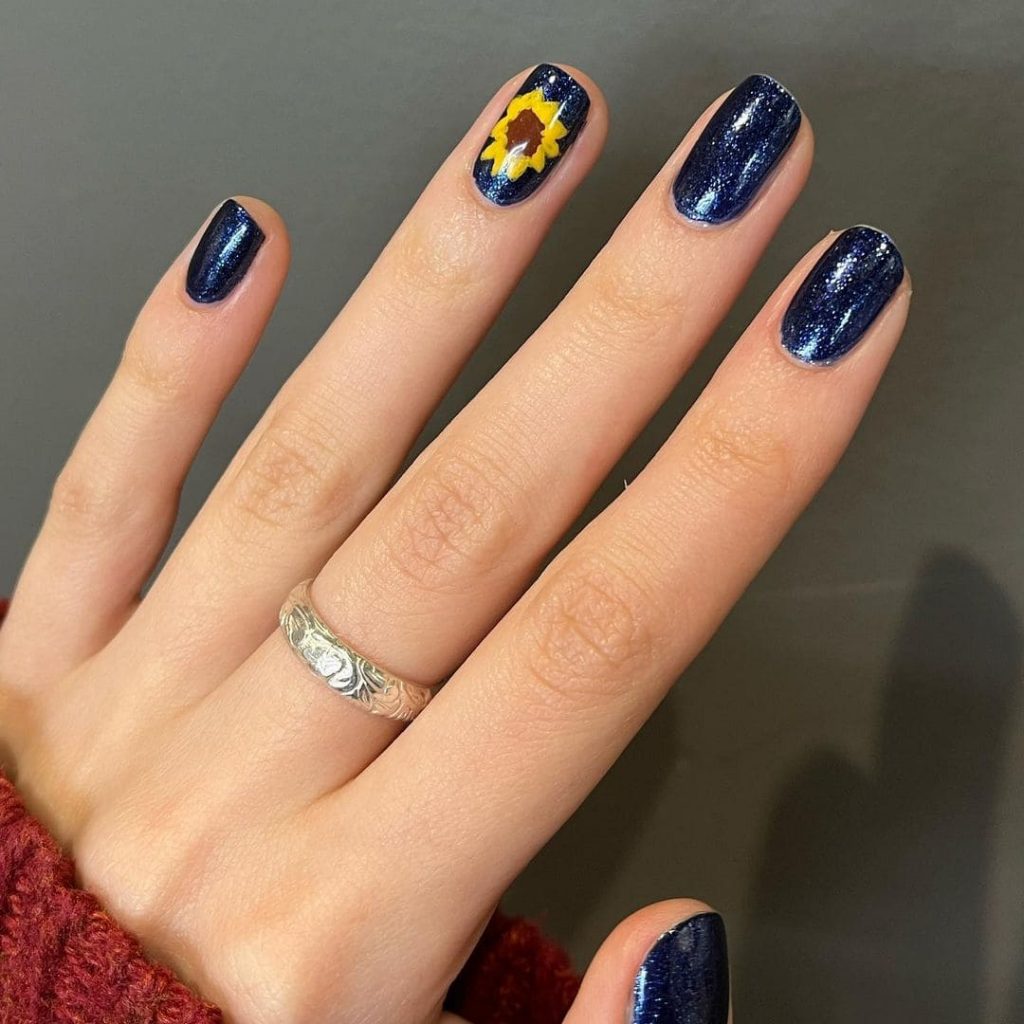 This nail art with the glitter on the blue is vibrant but simple.
---
54. Short Sunflower Gel Nail Art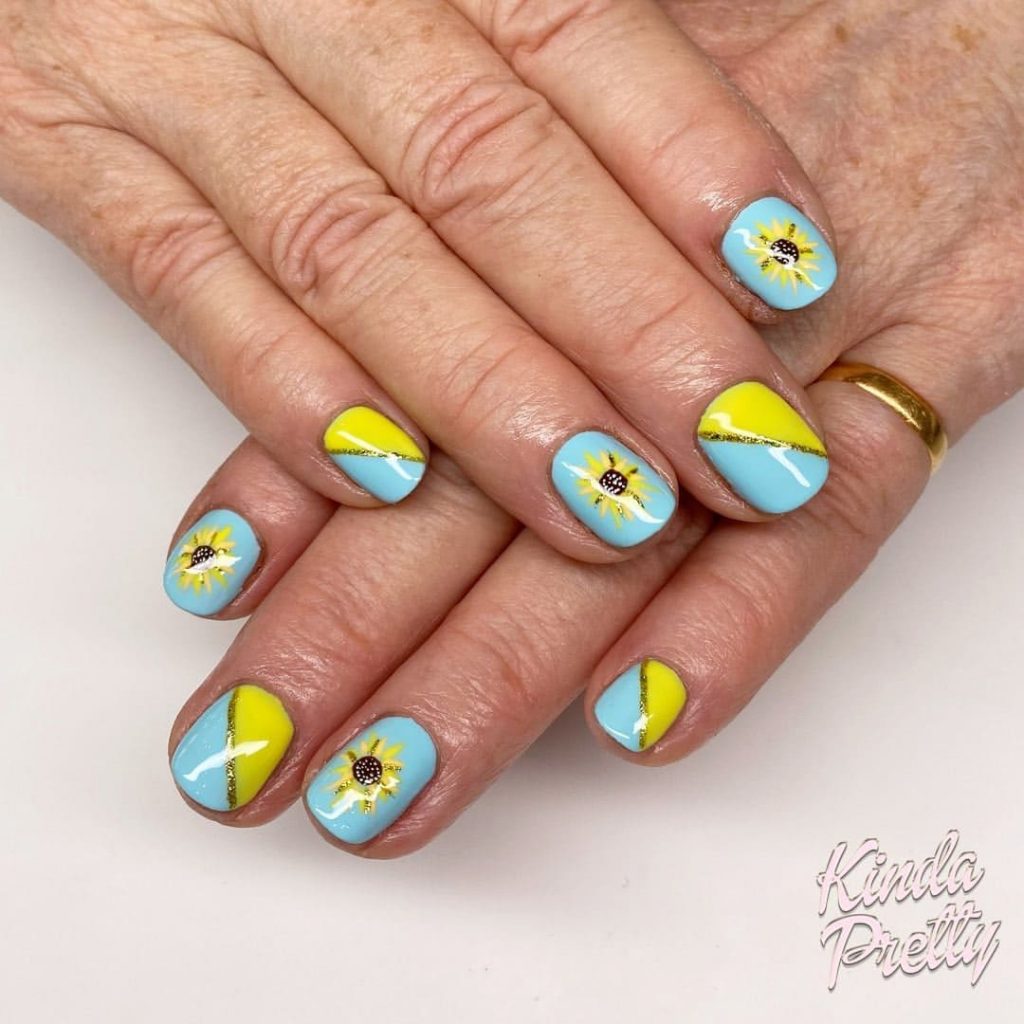 The ocean and summer vibe nail art design is perfect for summer vacation.
---
55. Stiletto Sunflower Nail Design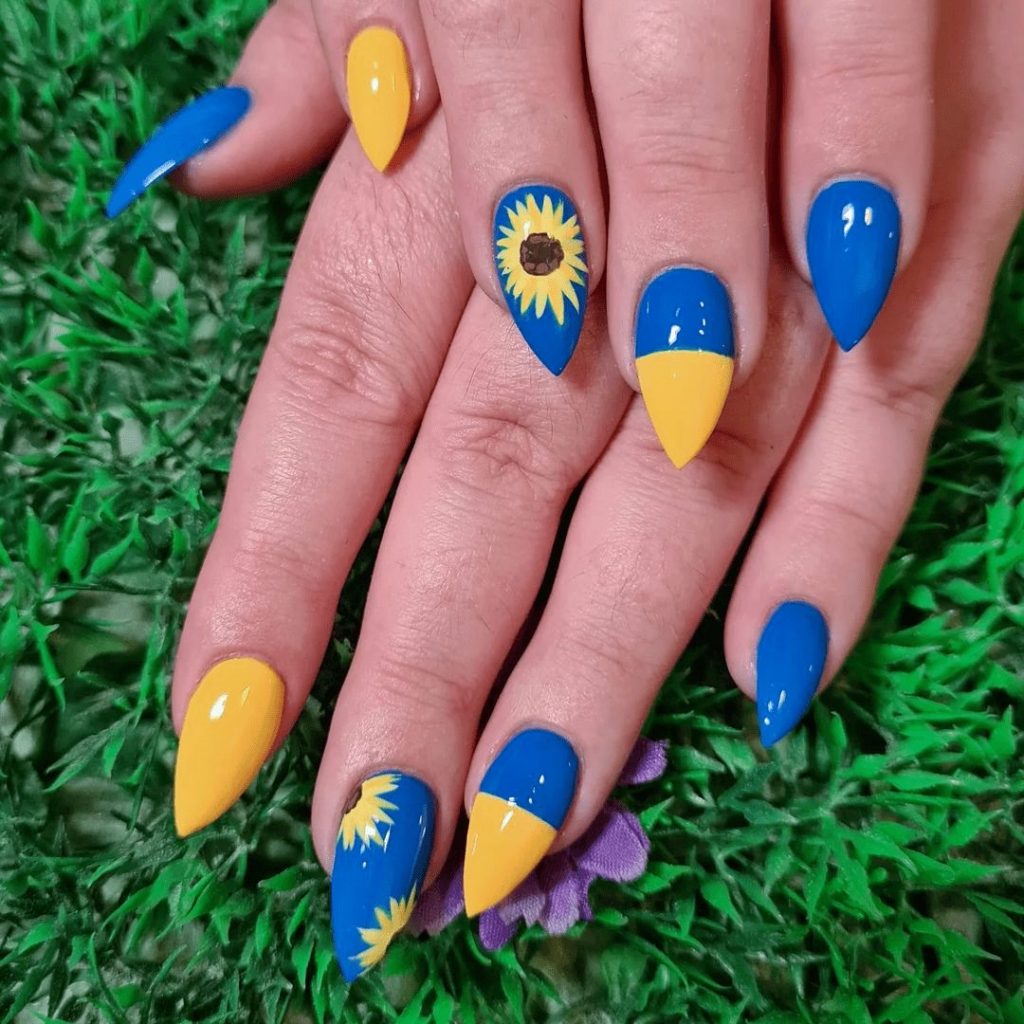 Simple and elegant always does the trick.
---
56. Sunflower Color Street Mani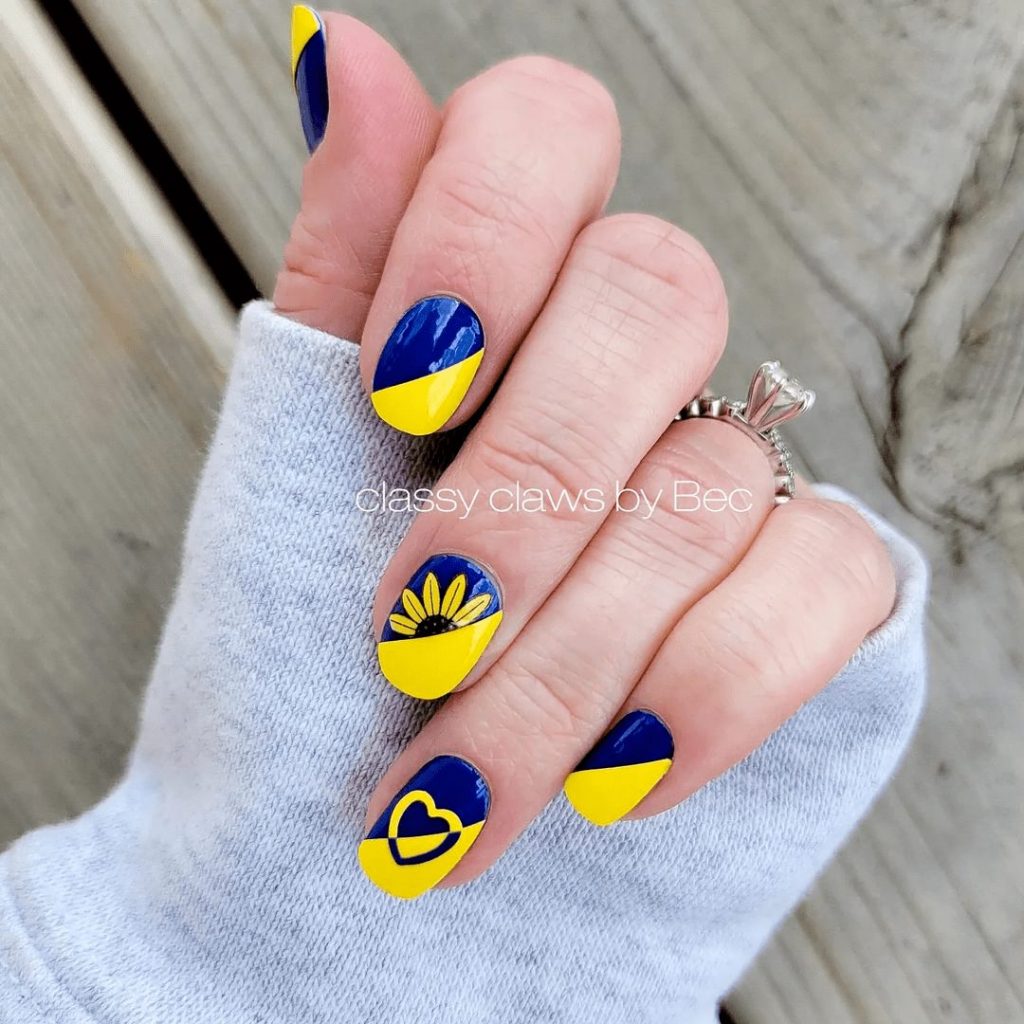 This bright color street nails art goes well with any bright outfit.
---
57. White on Yellow Polka Dot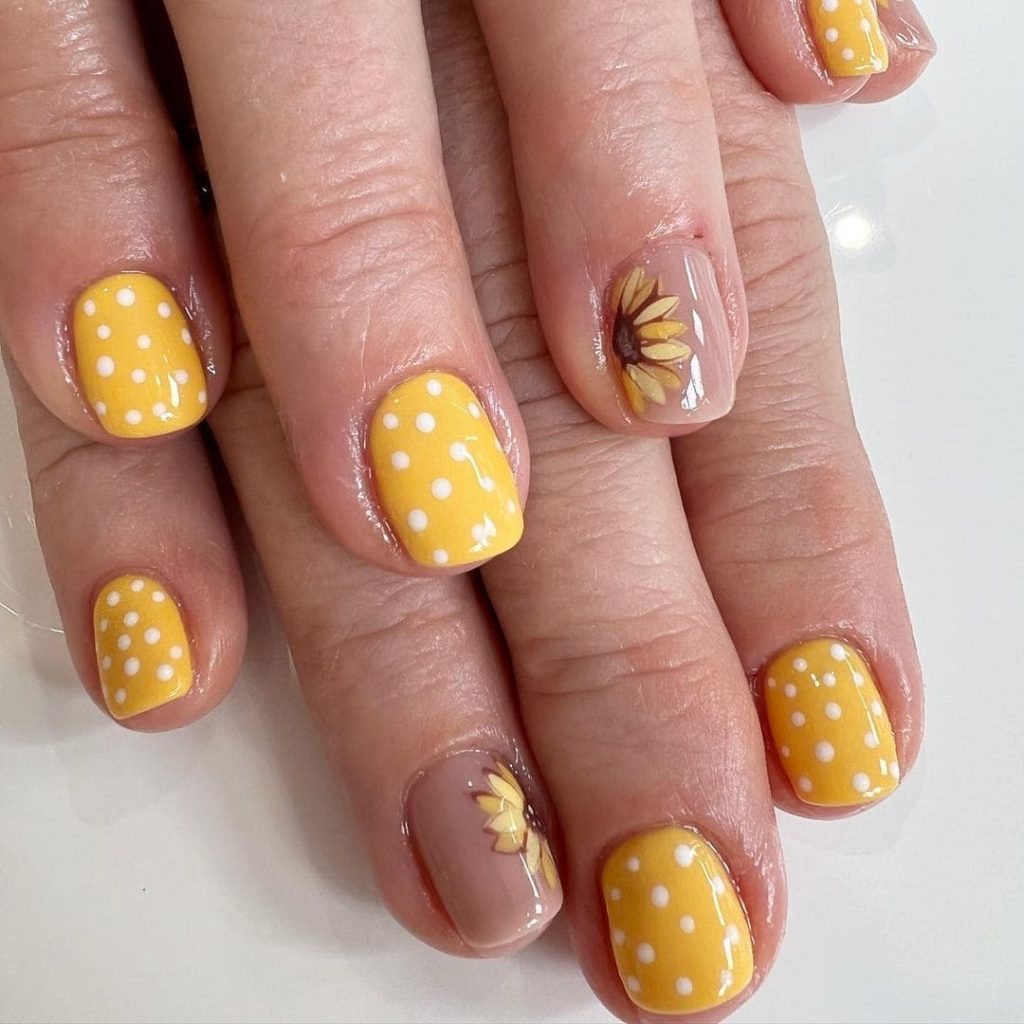 This Polka Dot design is very subtle and beautiful. If you want bright but in yellow with a twist of white, this is for you.
---
58. Almond Black Sunflower Nails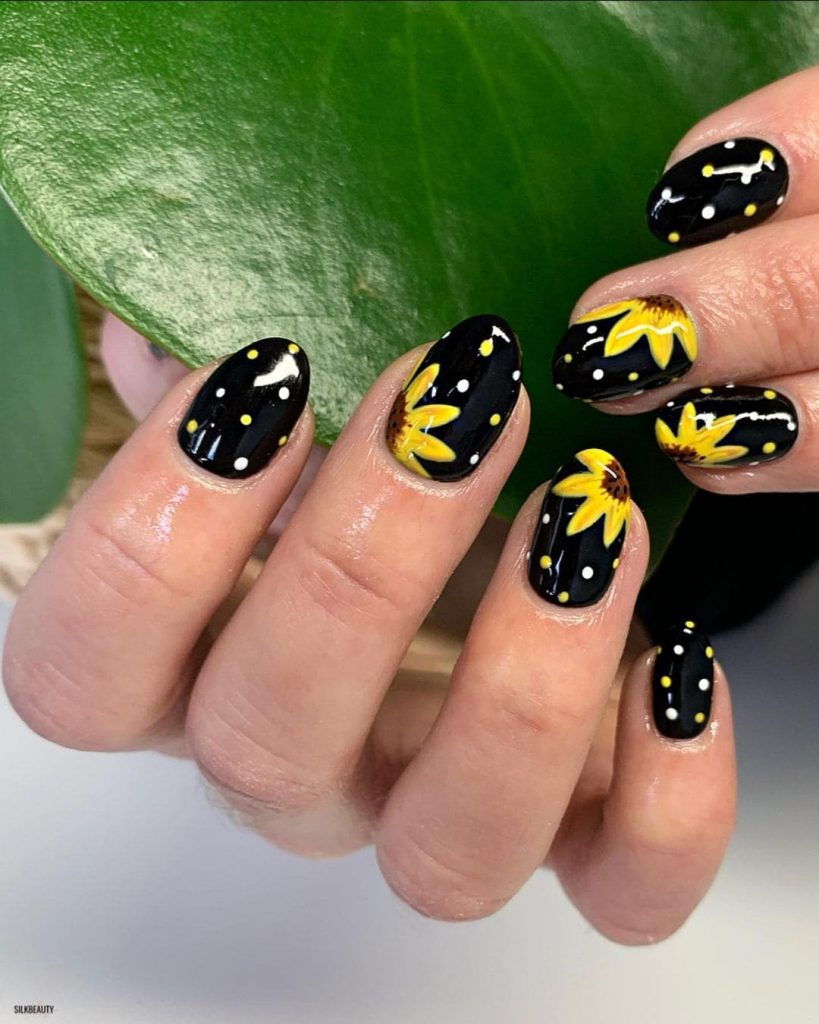 Blacked out nails Polka Dot. Are you feeling this vibe?
---
59. French Sunflower Nail Art
This light French nail design sets off any mood.
---
60. Sky Blue Sunflower Nails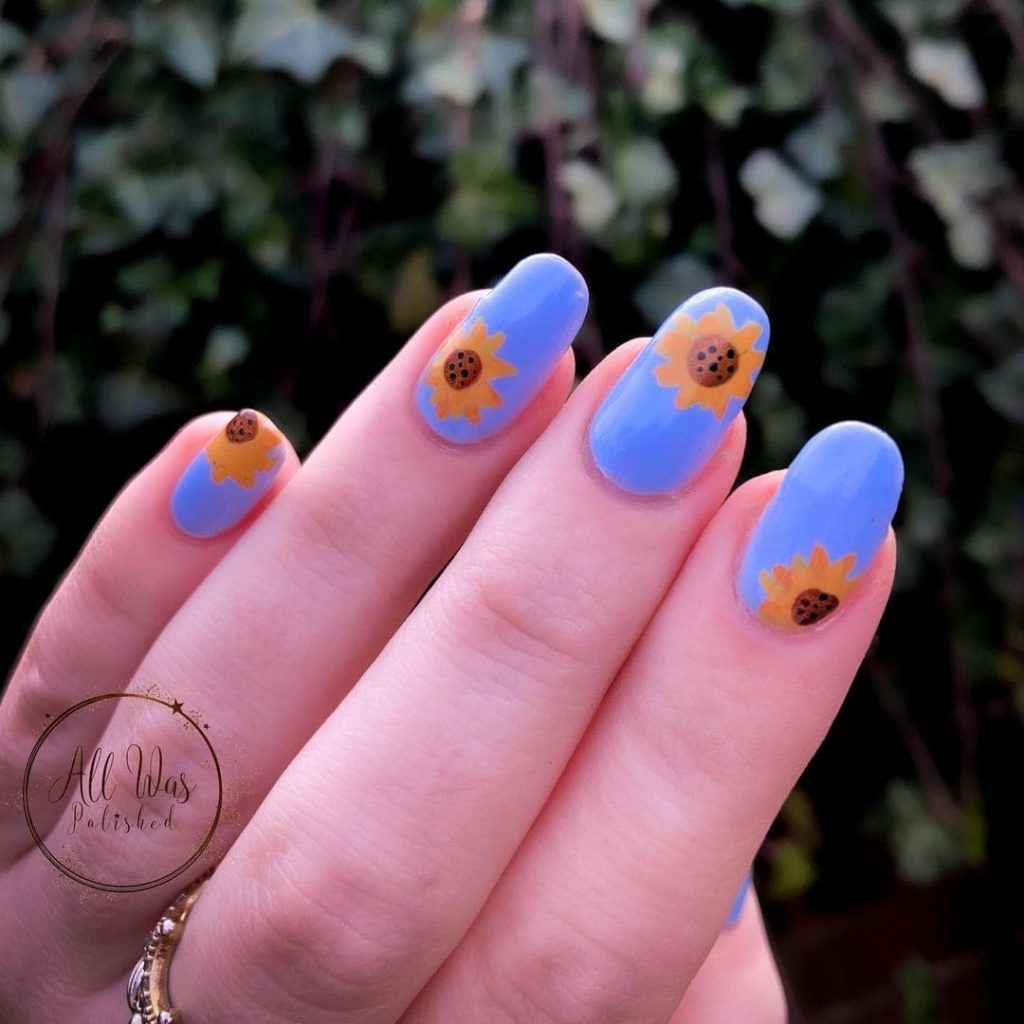 What's blue without having it in a sky color. If you love the contrast of blue, this goes well with your vibe.