If you're tired of your current nail style, here are some of the hottest summer sunflower nails trends to try this season. These nails are the most inspo-worthy nail art, polish colors, and trends from different colors of each nail to colorful nails.
Take a look and pick your best to wear to complete your ensemble. Flowers are a wonderful way to brighten up your summer surroundings. They provide a splash of color to your house or office. This summer, the sunflower is a particularly lovely bloom to contemplate.
Summer brings sunflowers' flowering, which represents devotion, loyalty, and longevity. It's a "happy" flower, in a sense. So, while deciding on a design for your summer sunflower nails, sunflower is one of the beautiful and significant designs you may employ.
So, if you're seeking a stunning summer sunflower nail designs, these nail designs should be on your list.
1. Cute Pink Coffin Sunflower Nails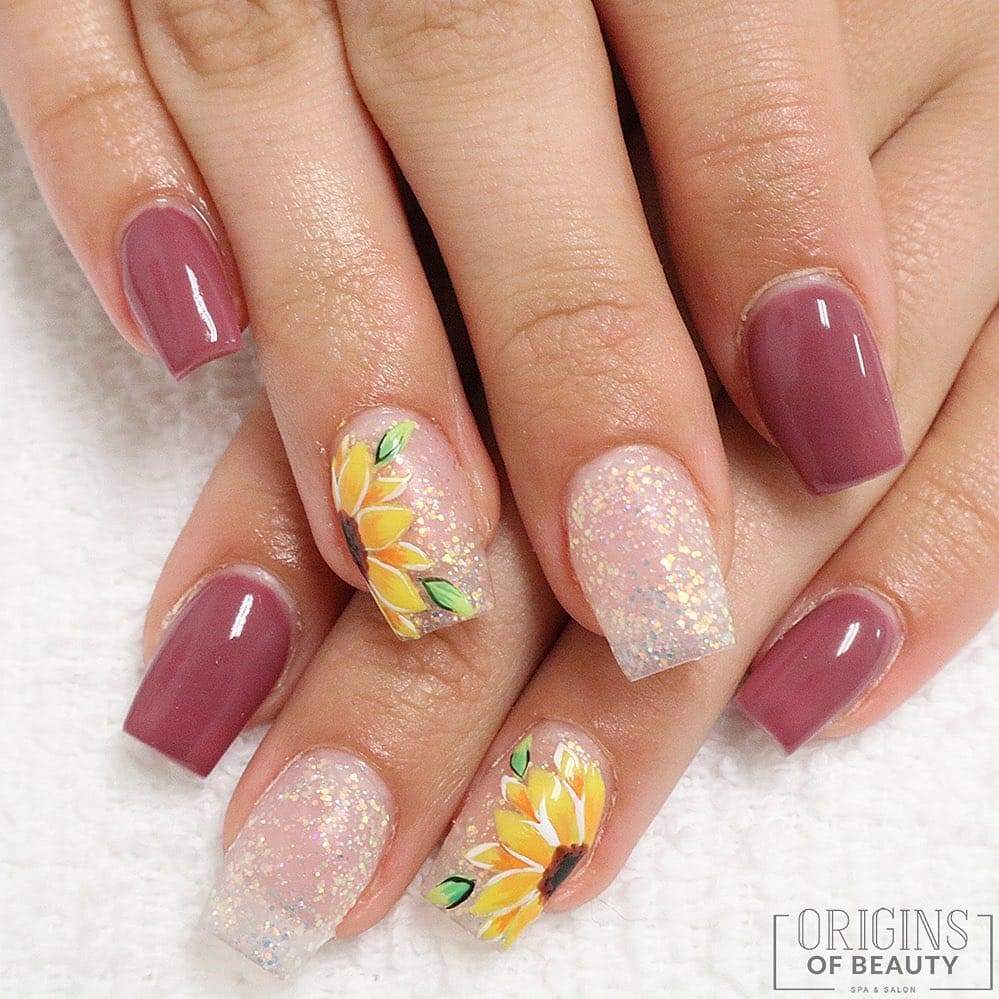 Recreate with : Etsy
---
2. Bright Yellow Sunflower Nails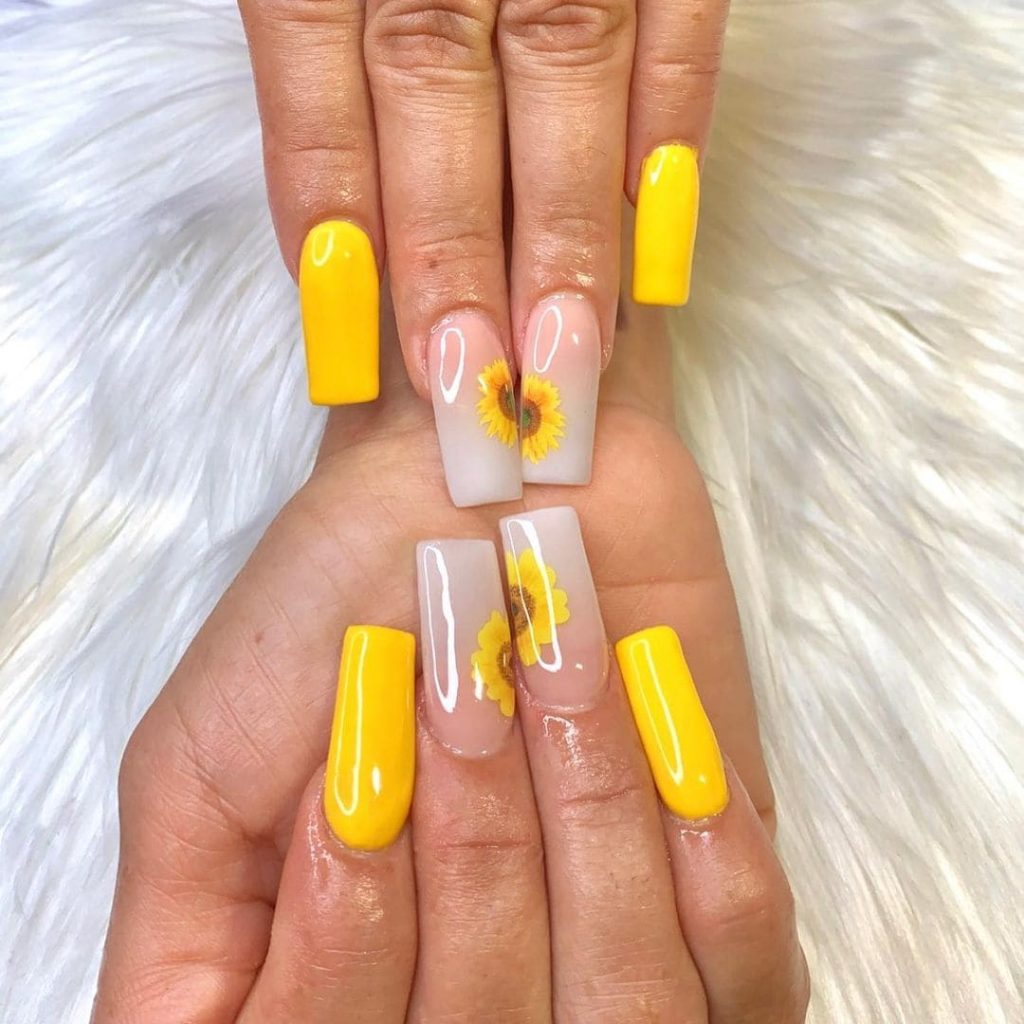 Recreate with : Etsy
---
3. Yellow and Black Sunflower Nail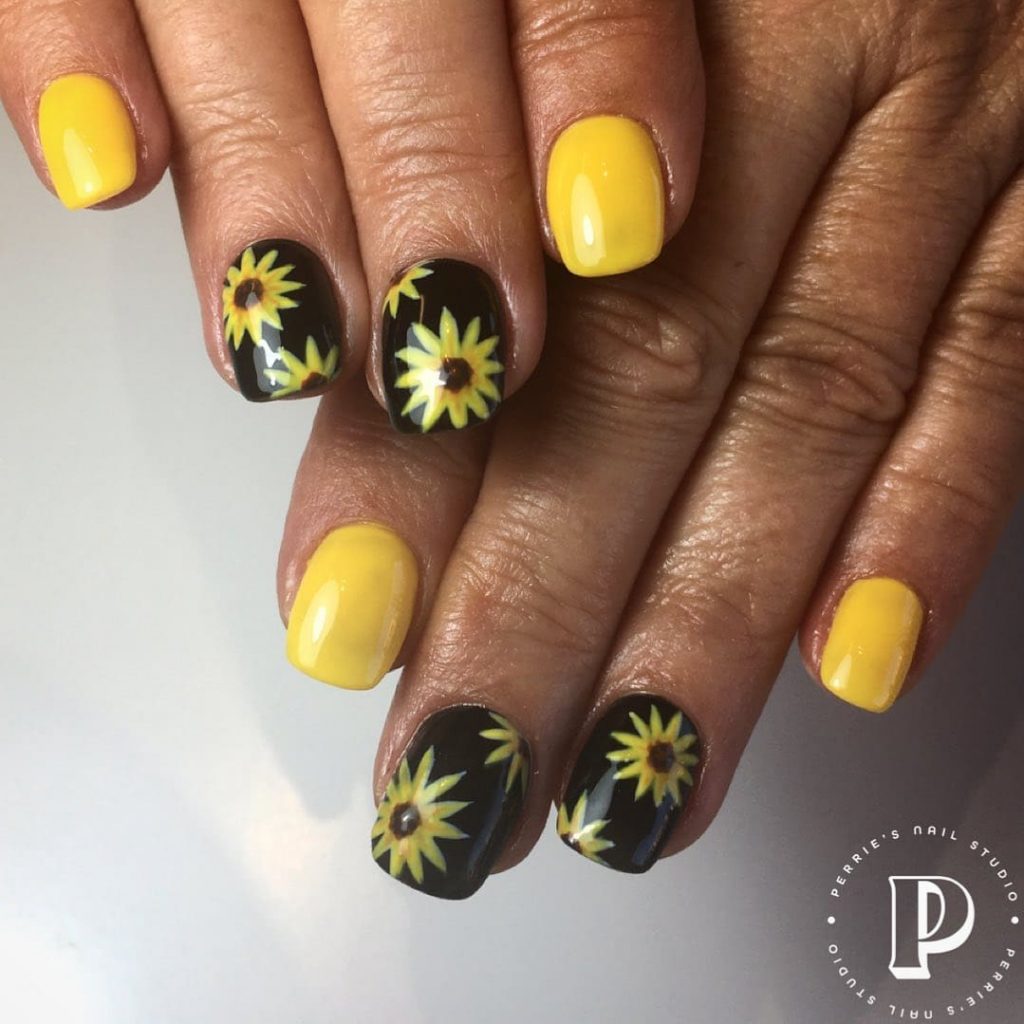 Recreate with : Etsy
---
4. Maroon Yellow Sunflower Nail Design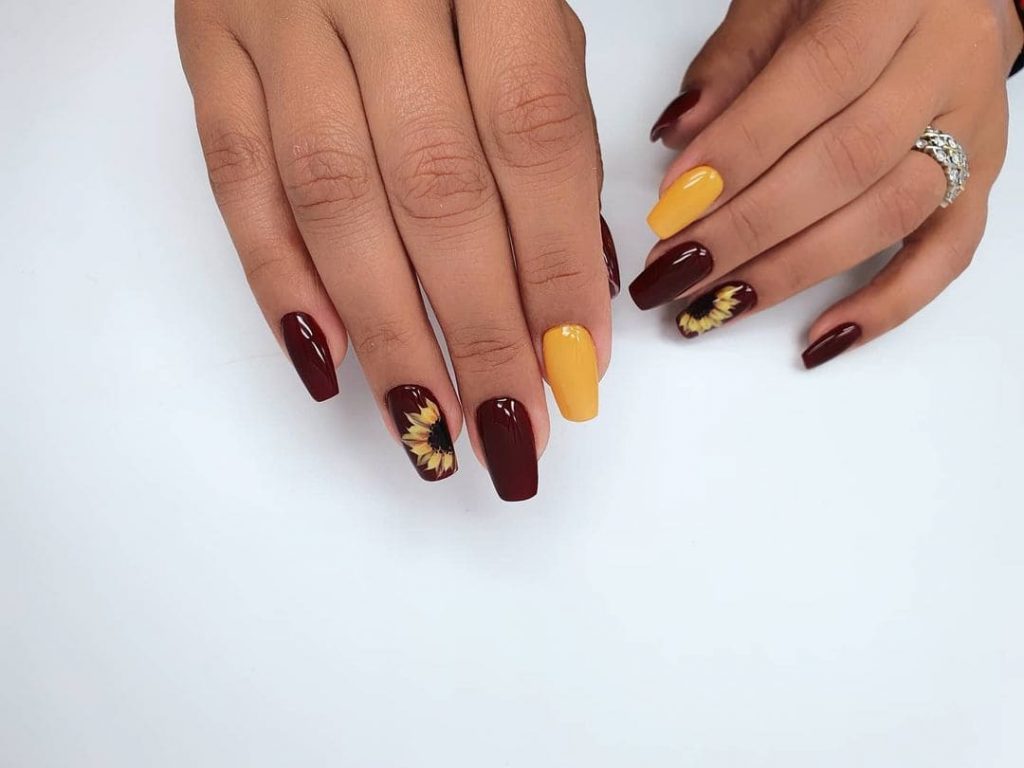 Recreate with : Etsy
---
5. Black And Yellow Sunflower Nail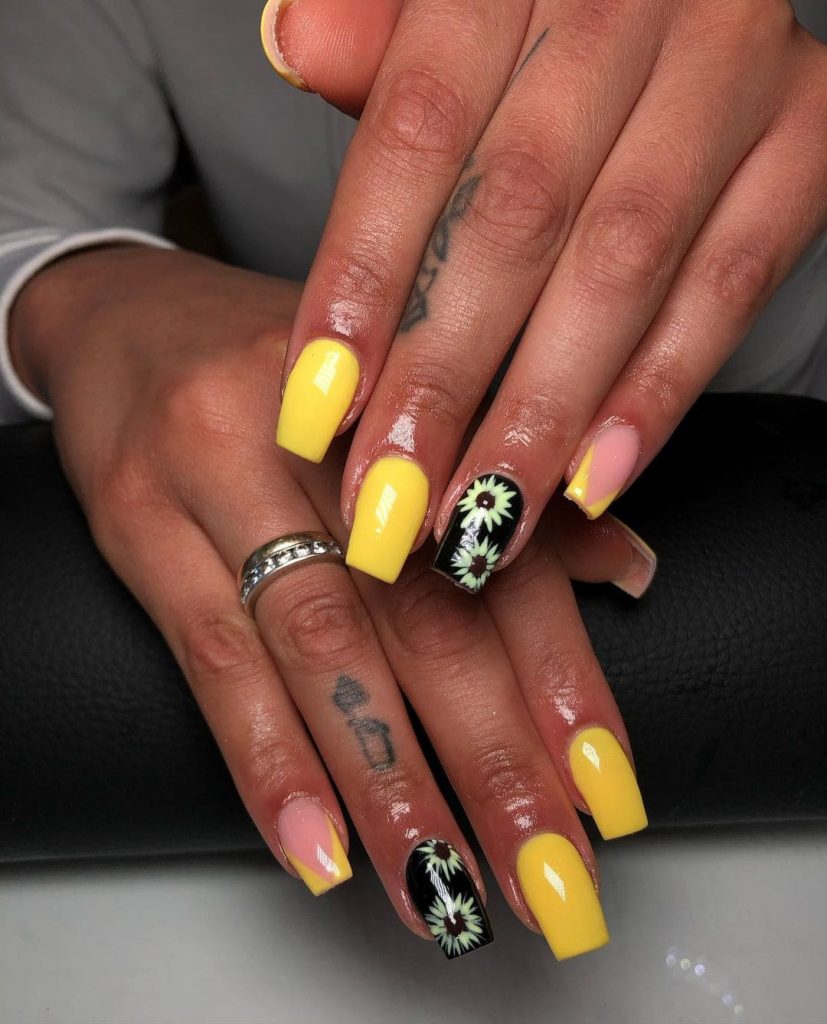 ---
6. White and Yellow Sunflower Nail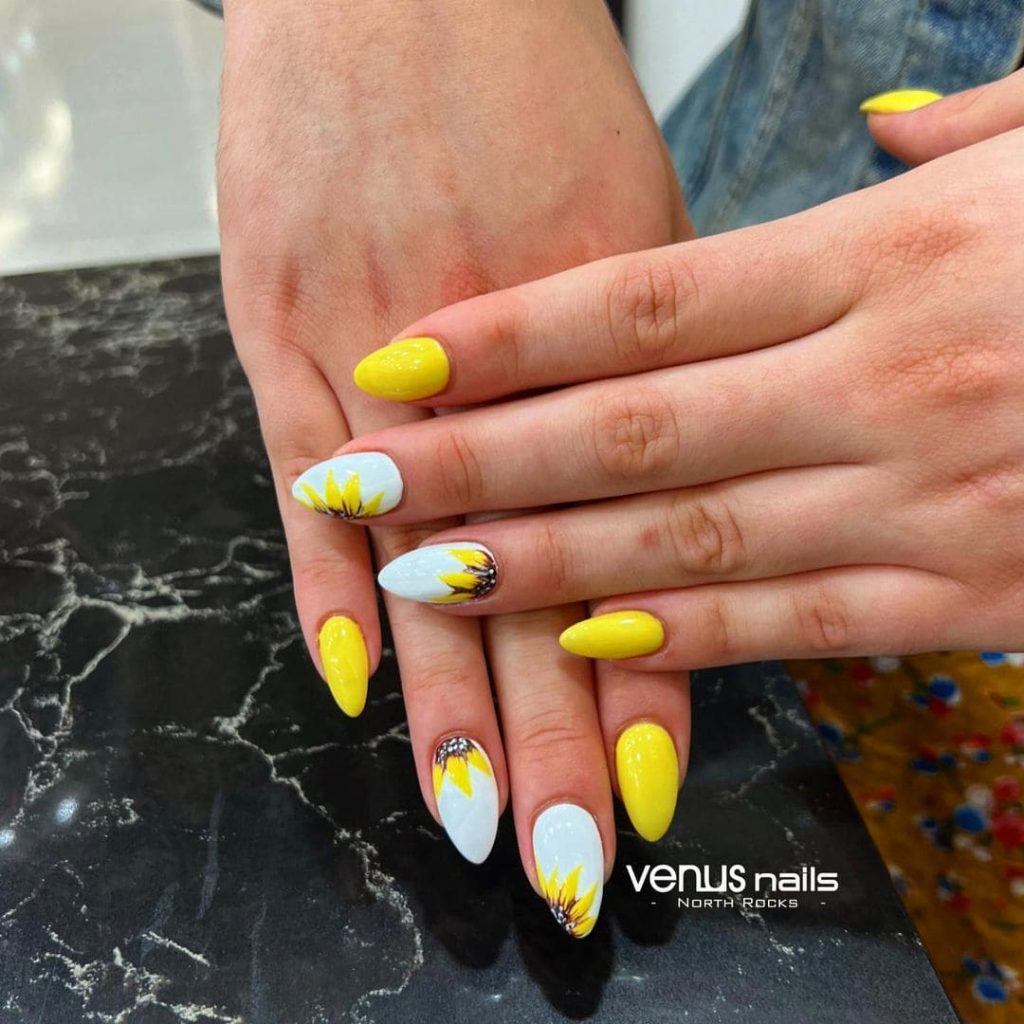 ---
7. Blue Sunflower Gel Nails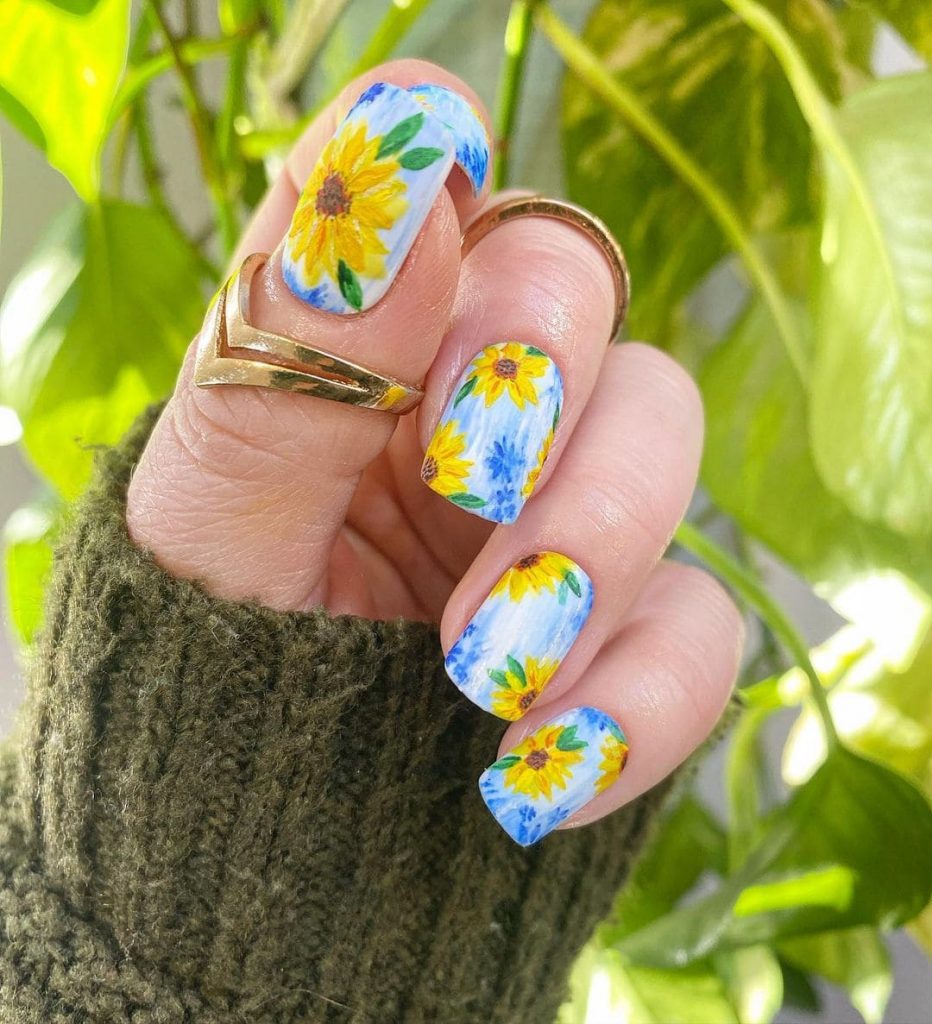 ---
8. Light Purple Sunflower Acrylic Nails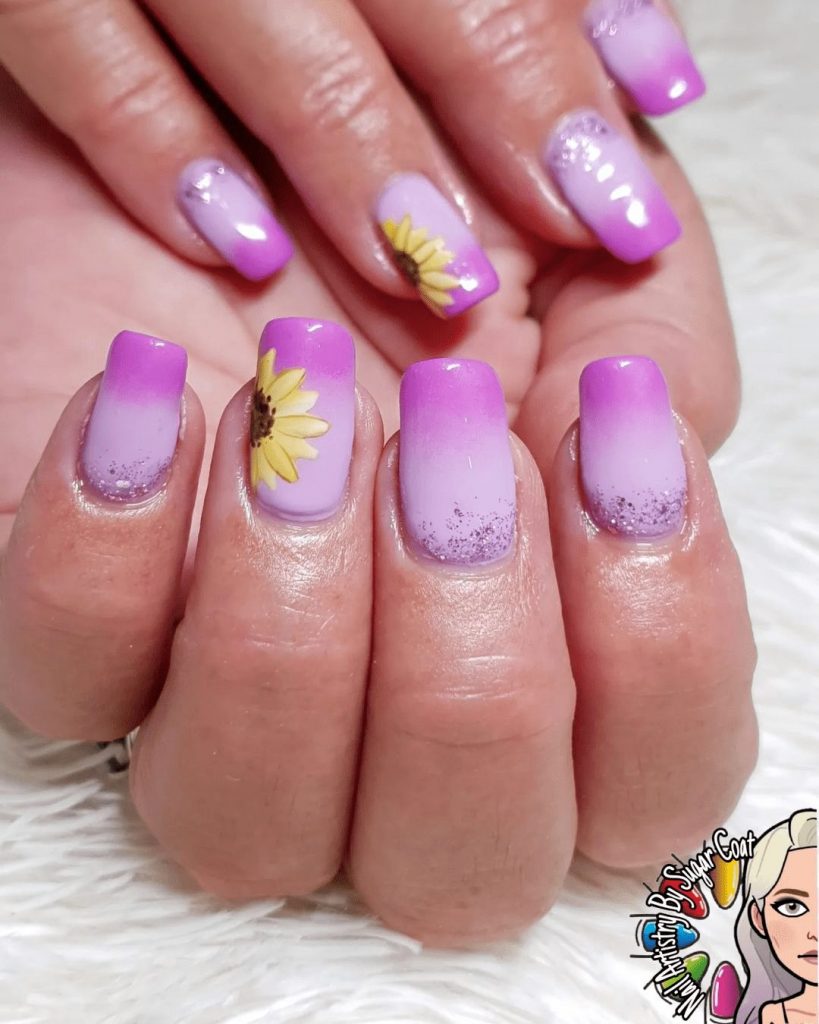 Recreate with : Etsy
---
9. Mixture Of Three Sunflower Nail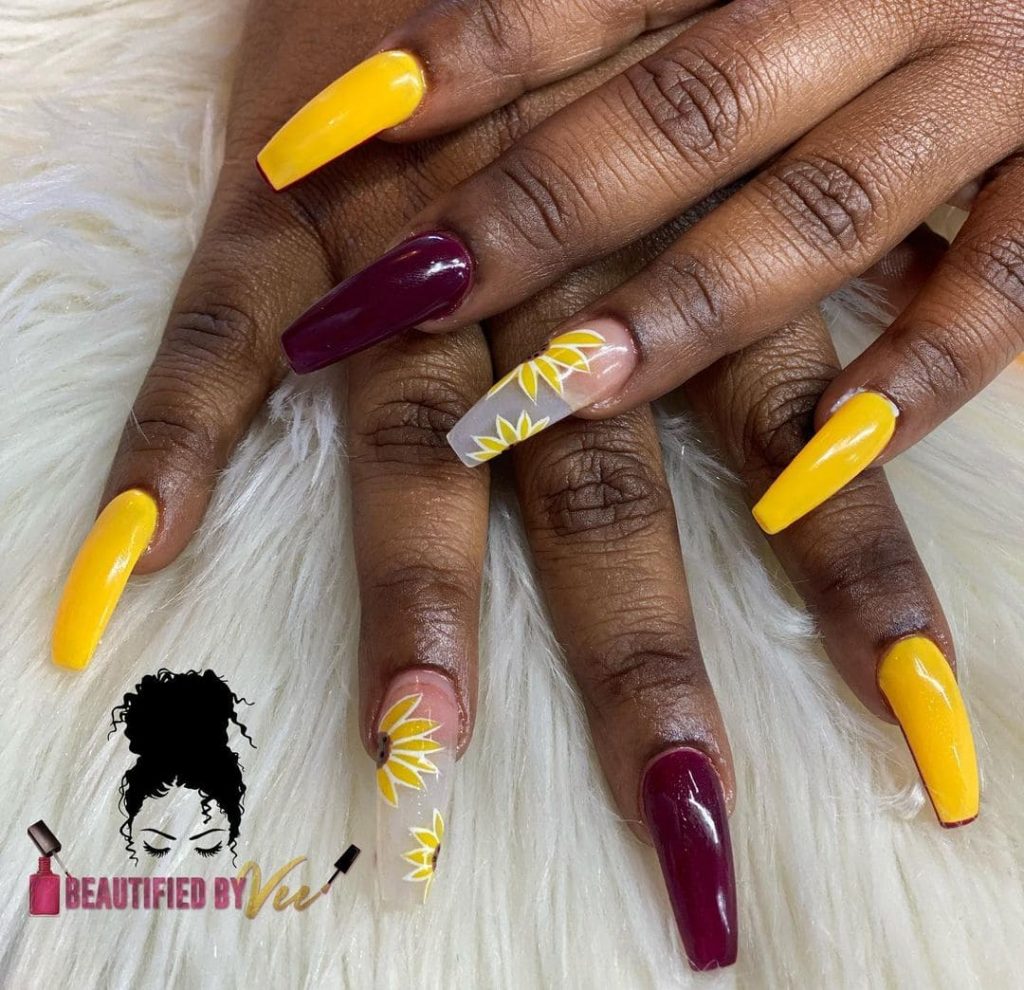 Recreate with : Etsy
---
10. Printed Cement Sunflower Nail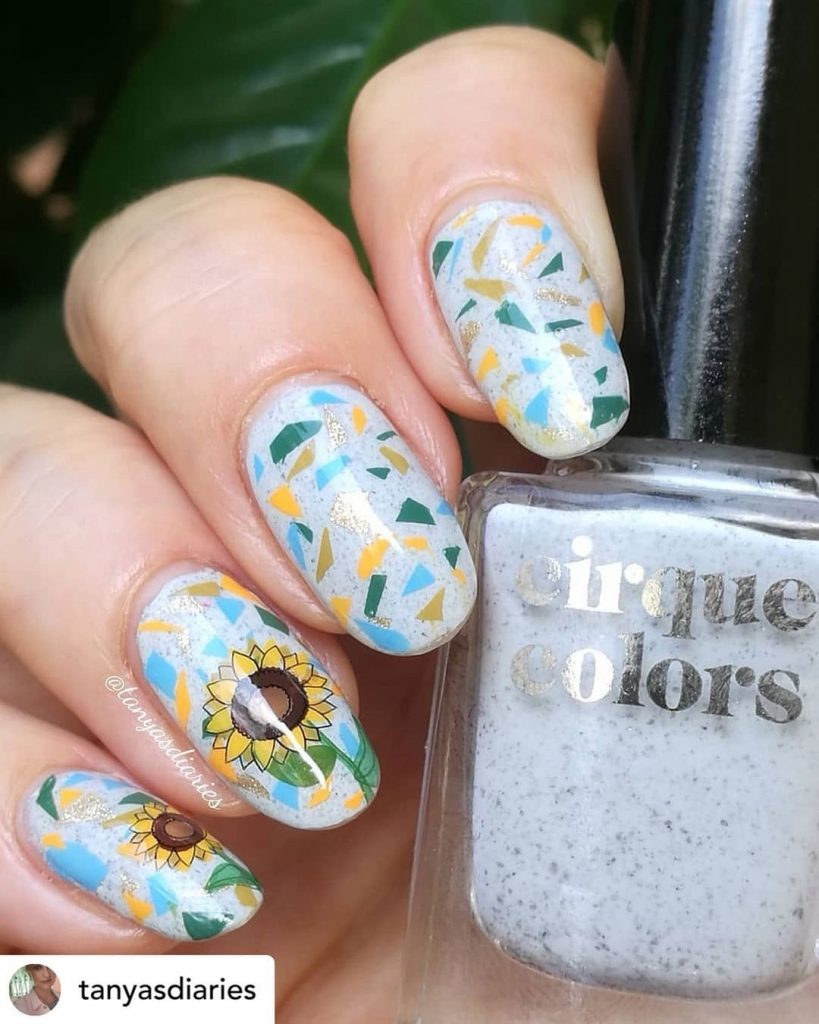 Recreate with : Etsy
---
11. Long Yellow White Sunflower Designs
Recreate with : Etsy
---
12. Zebra Print Sunflower Design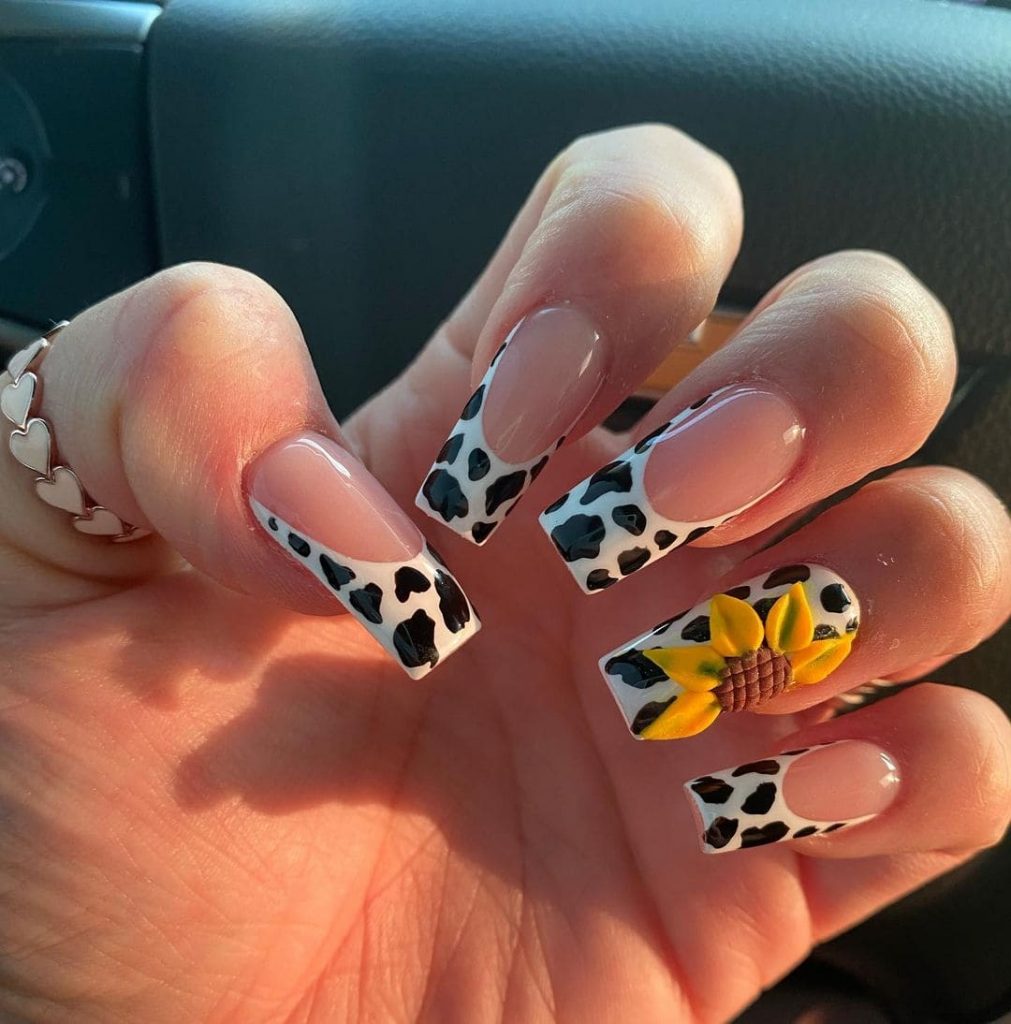 Recreate with : Etsy
---
13. Cream Sunflower Design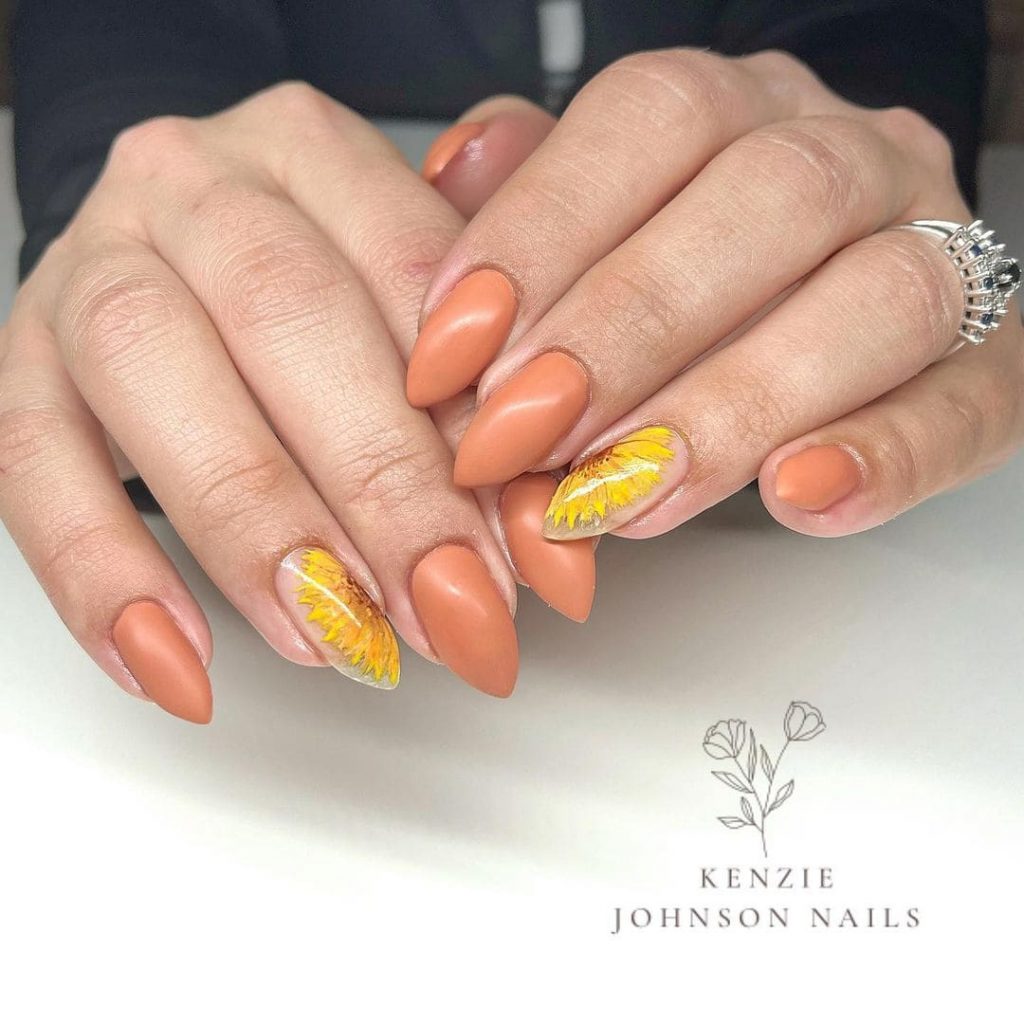 ---
14. Short Mustard Sunflower Nails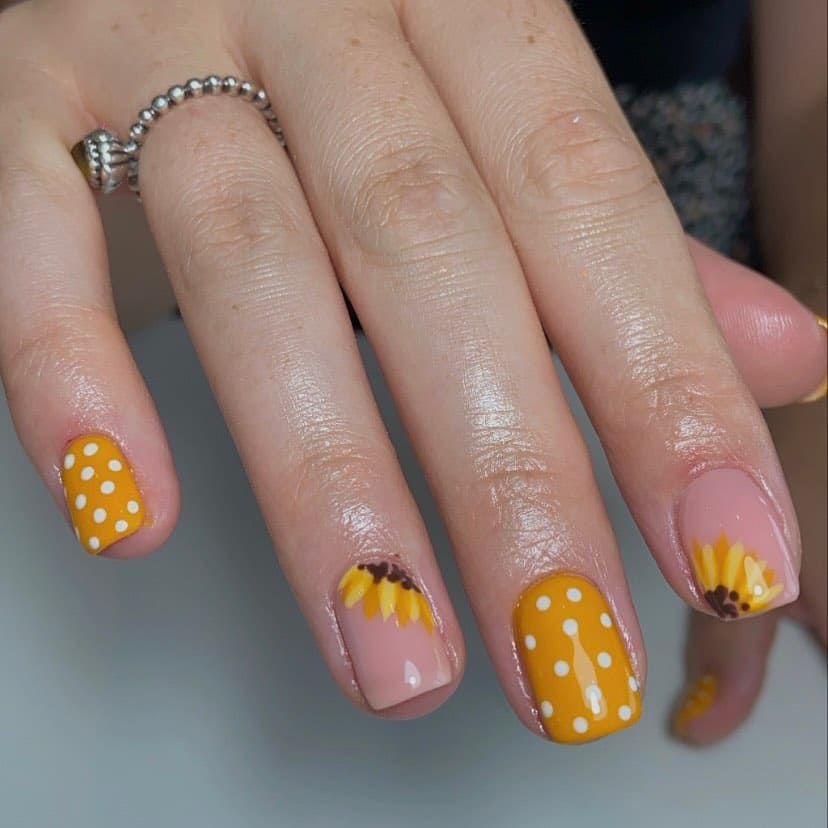 ---
15. Dark Green Sunflower Nails
---
16. Simple Sunflower Design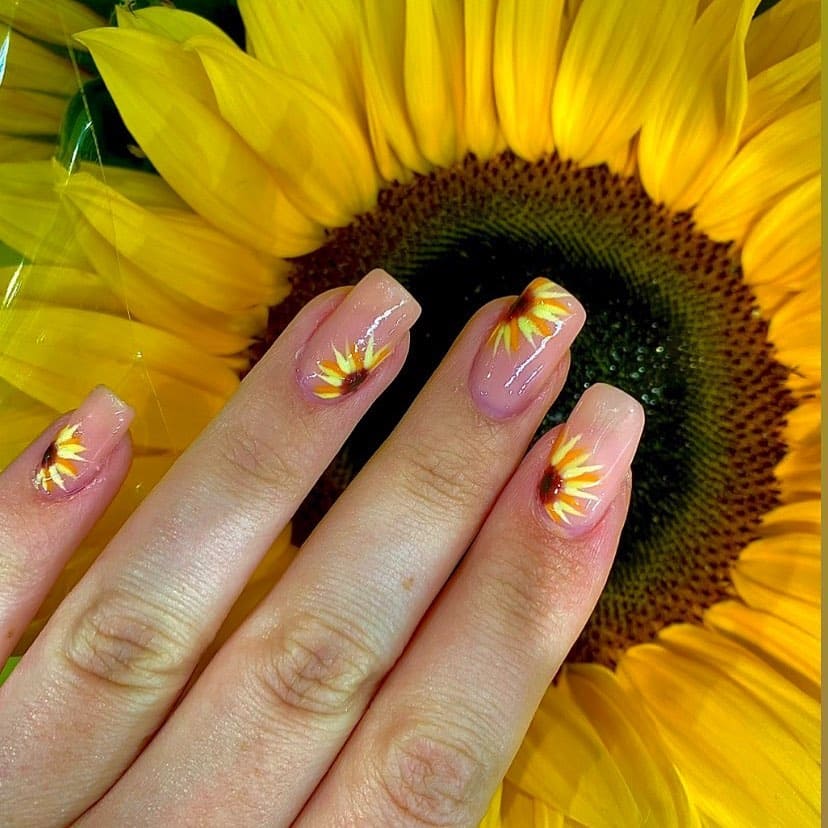 ---
17. Shiny Red Sunflower Nail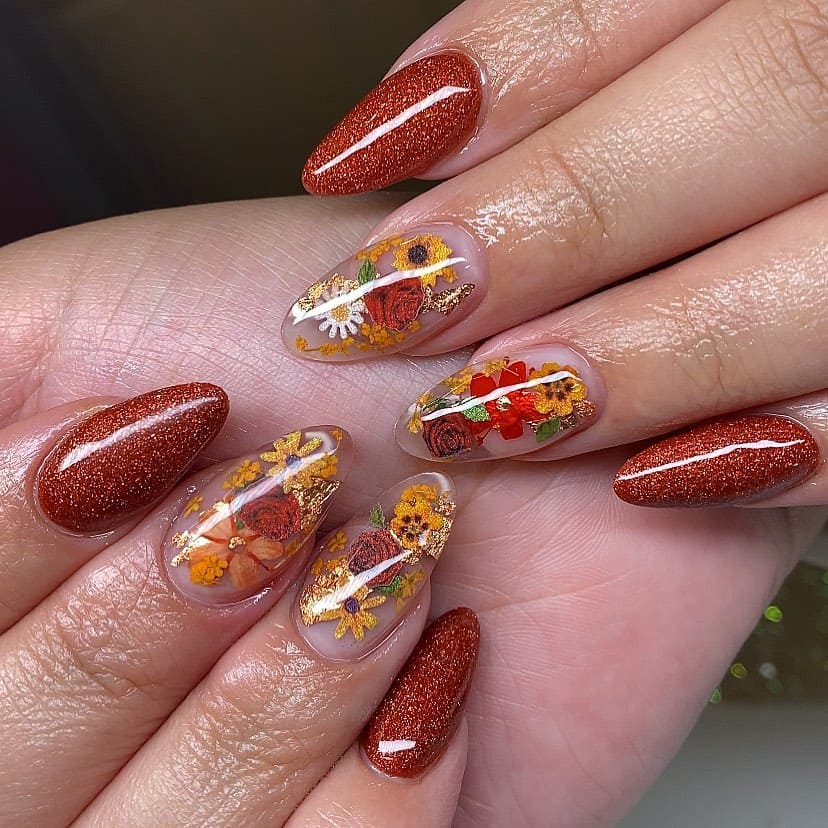 Recreate with : Etsy
---
18. Velvet Matte Sunflower Nails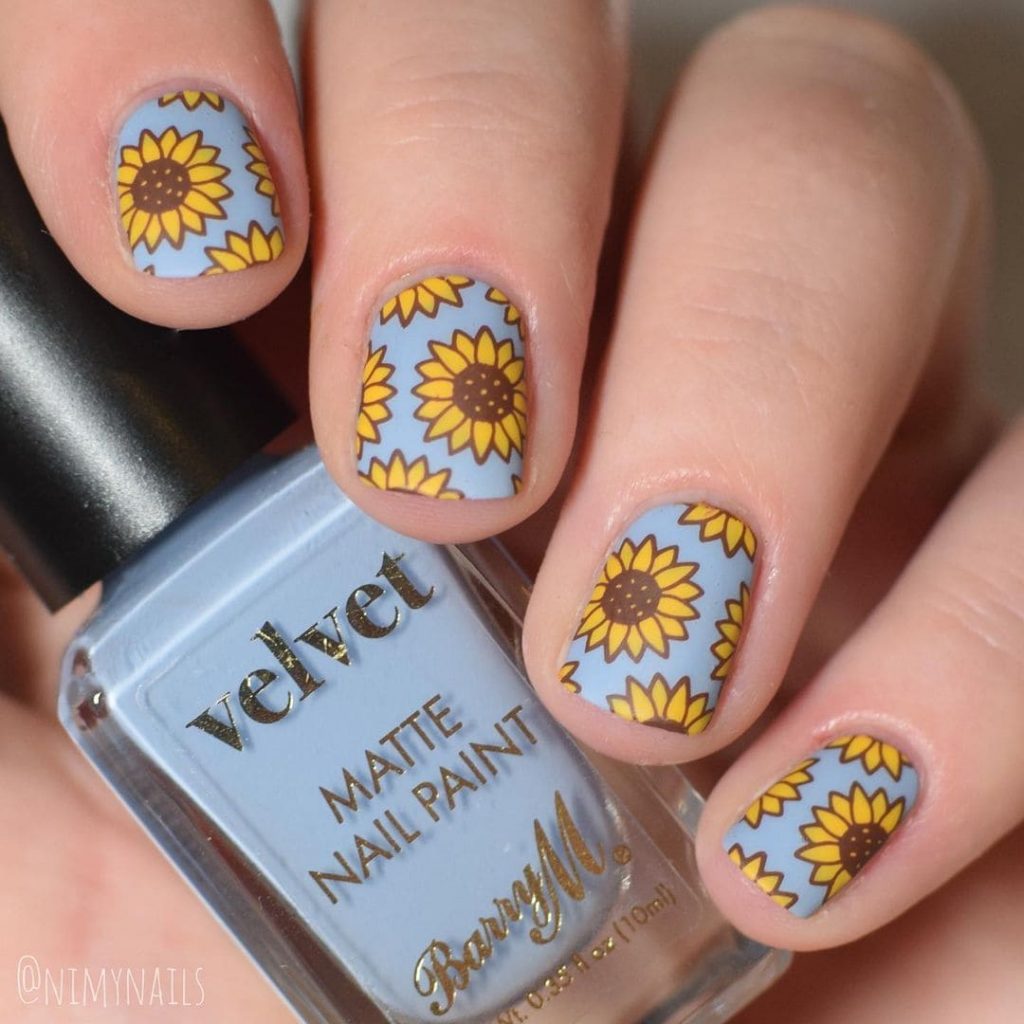 Recreate with : Etsy
---
19. Red Matte Sunflower Design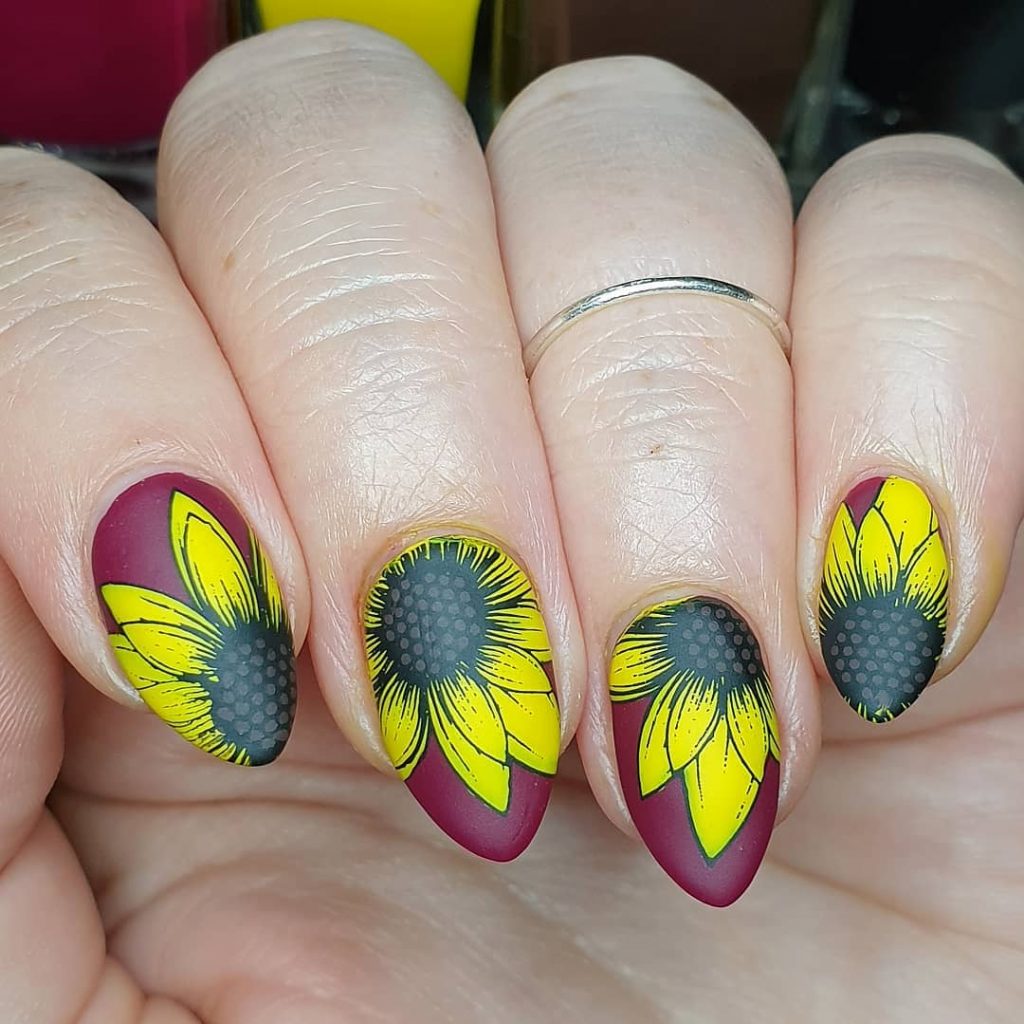 ---
20. Light Purple White Sunflower Nail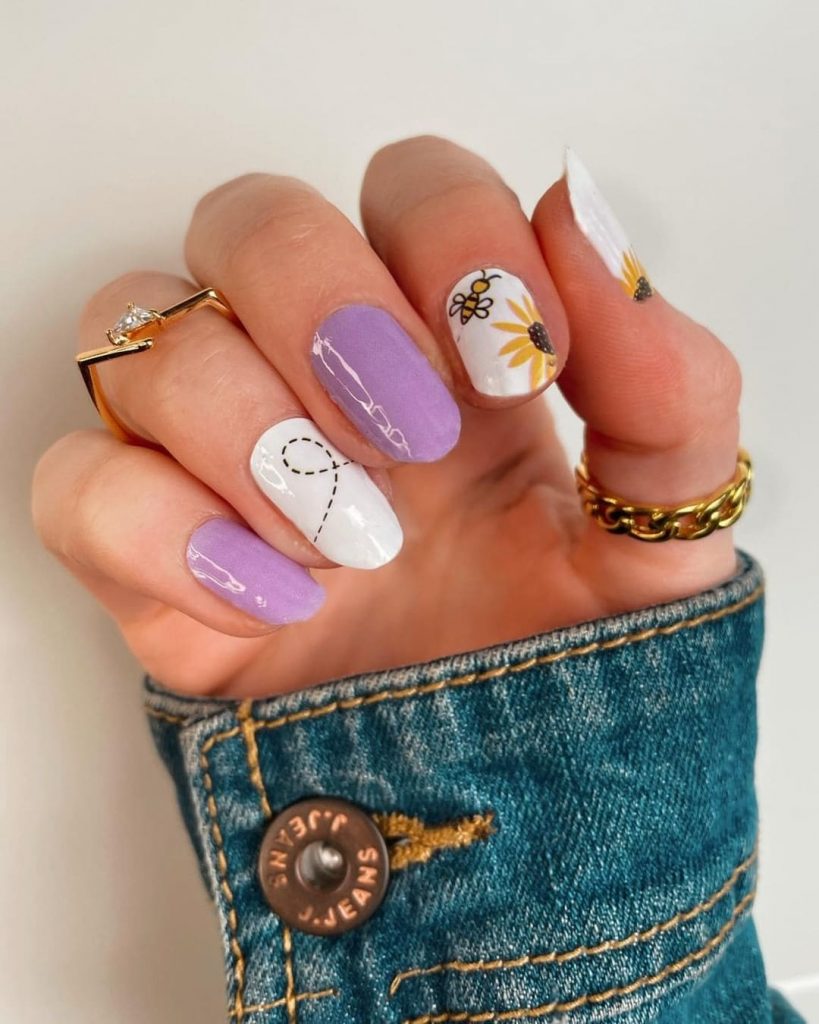 Recreate with : Etsy
---
21. Colorful Sunflower Nail Design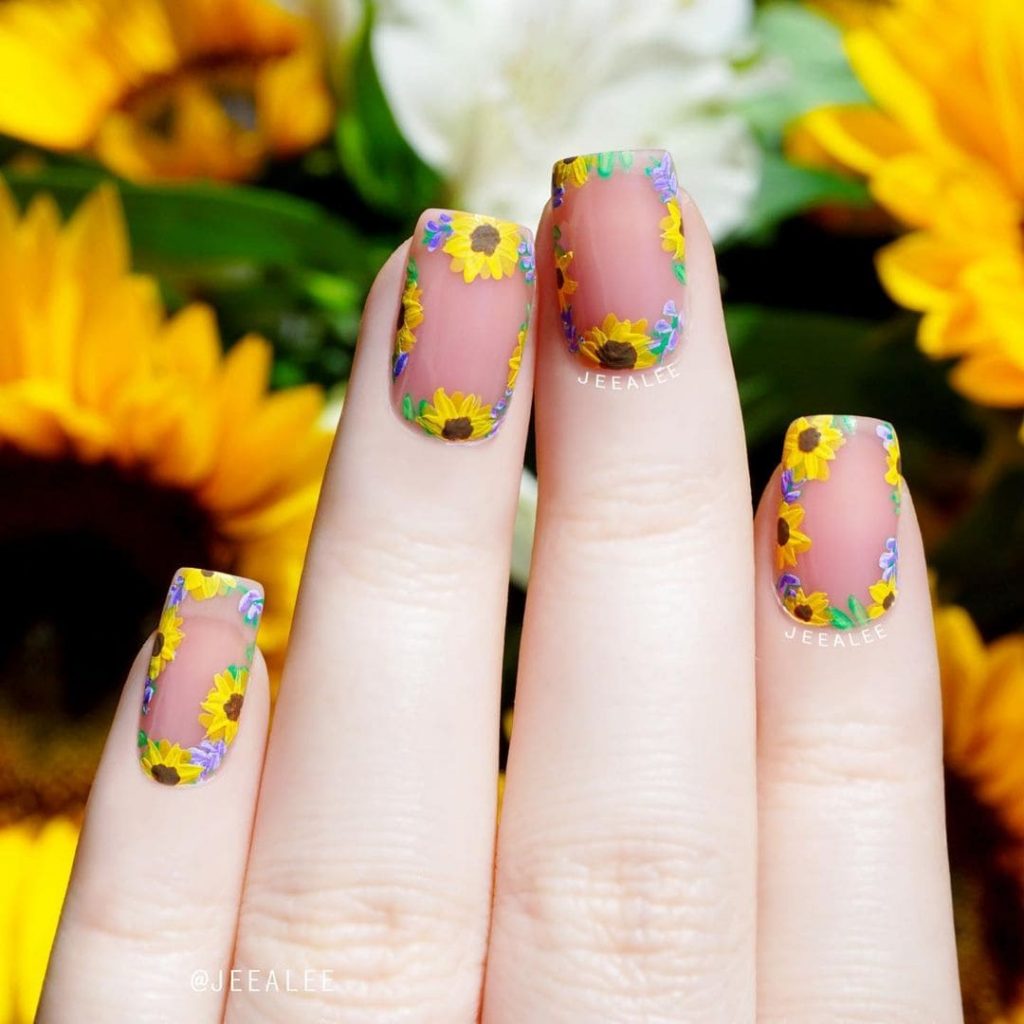 Recreate with : Etsy
---
22. Aesthetic Sunflower Nail Design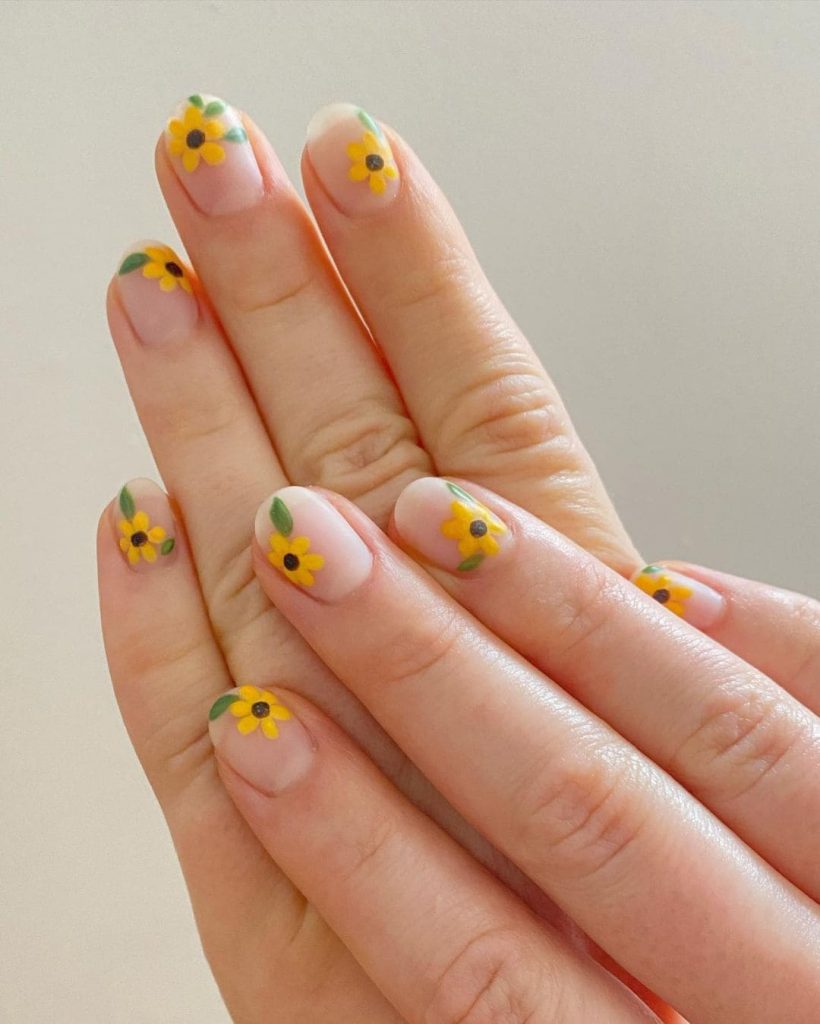 Recreate with : Etsy
---
23. White Sunflower Design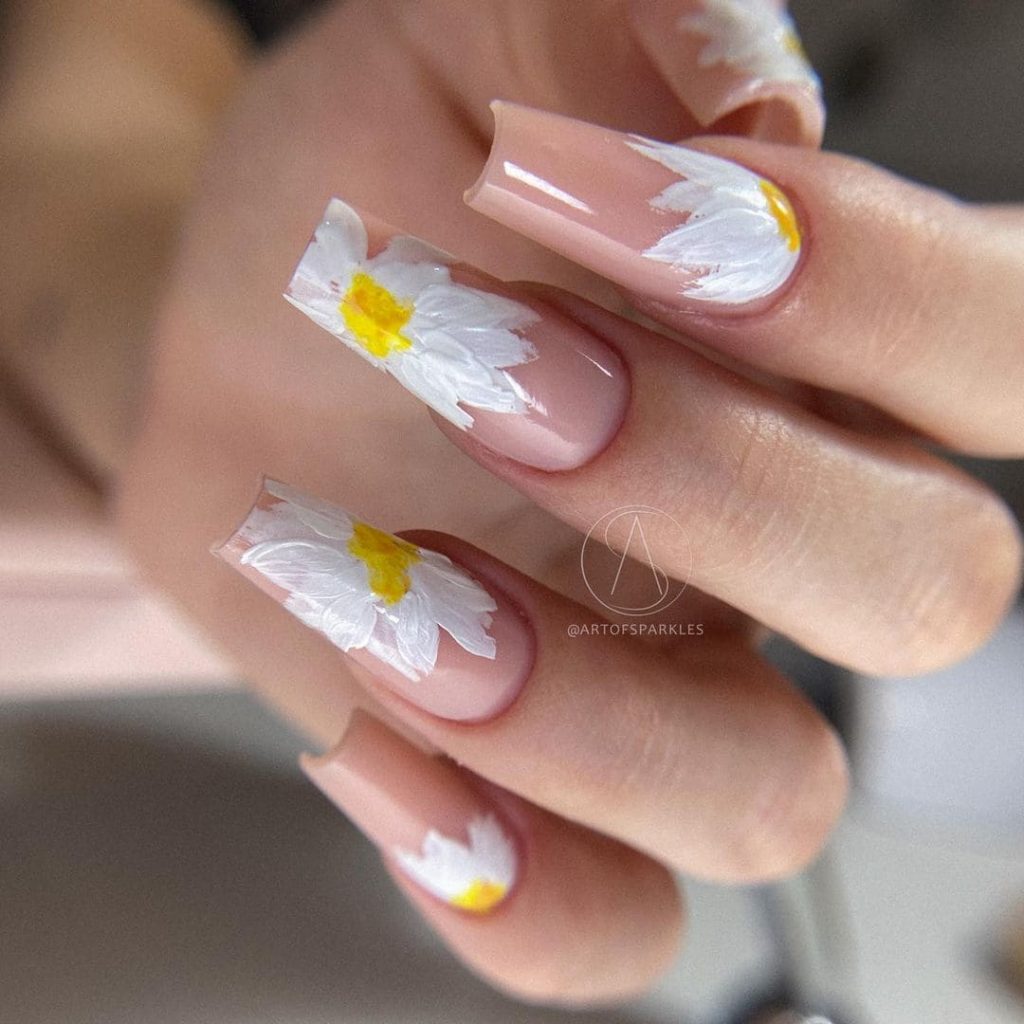 ---
24. Lining Sunflower Design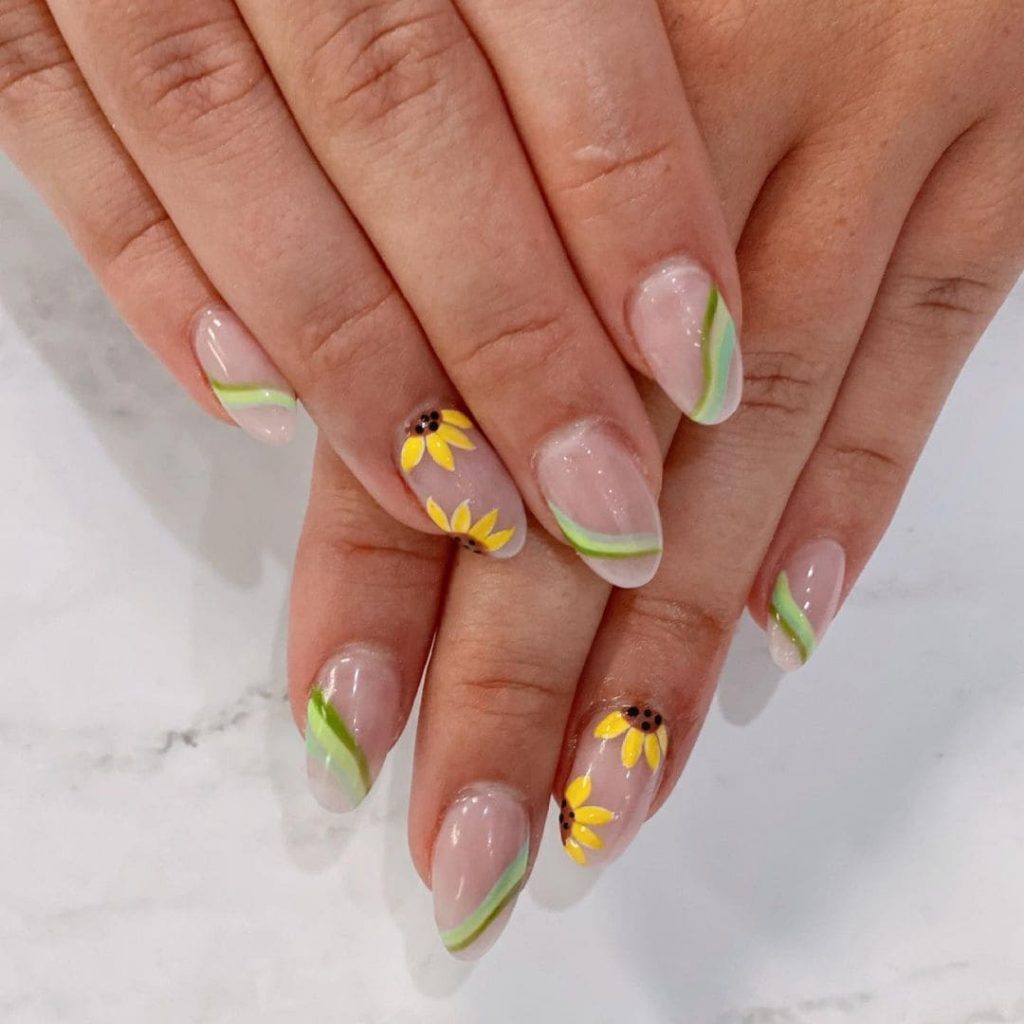 Recreate with : Etsy
---
25. Unique Sunflower Nail Design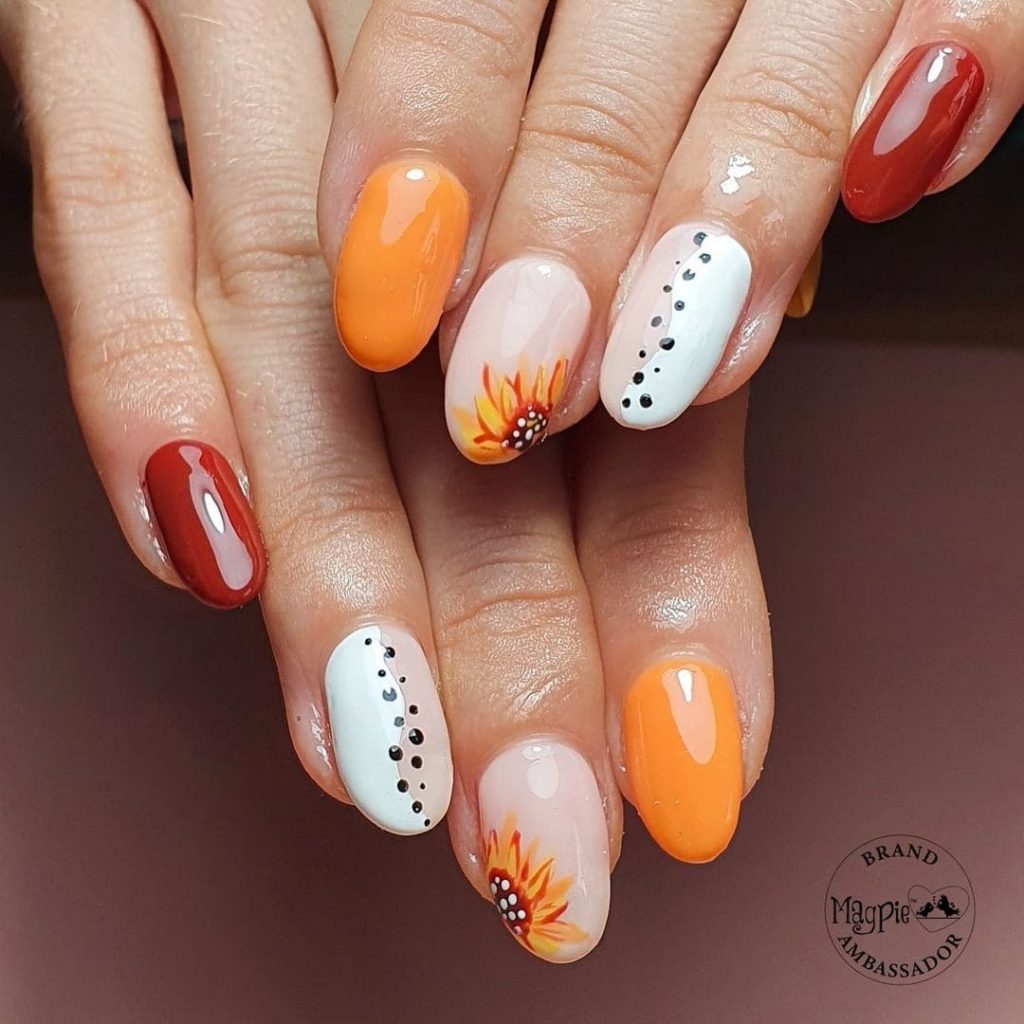 ---
26. Acrylic Yellow Sunflower Design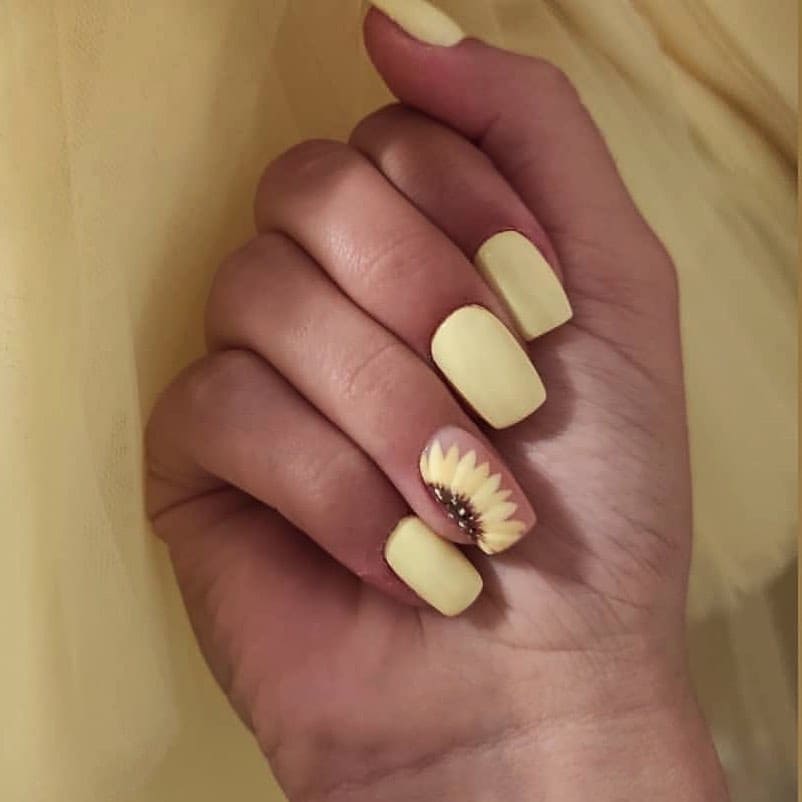 ---
27. Black And White Sunflower Design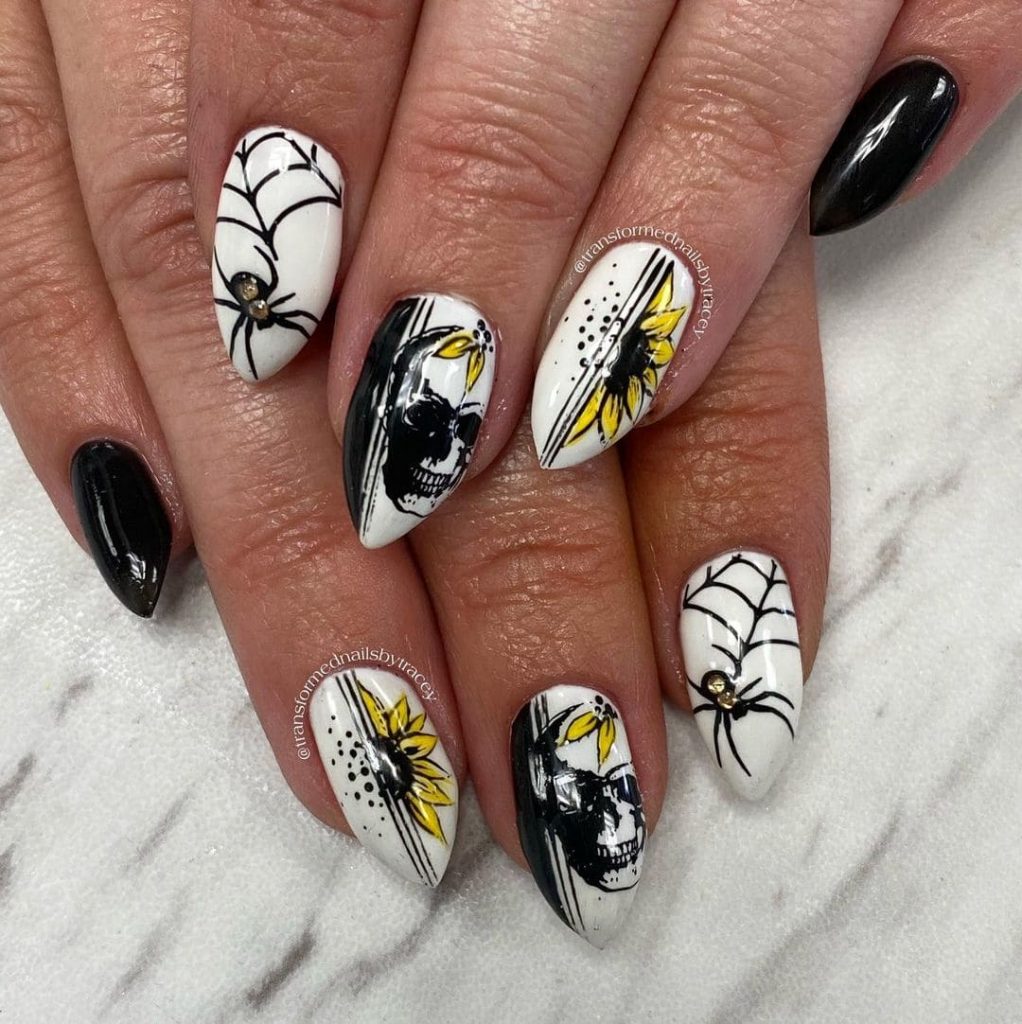 ---
28. Grey Sparkle Yellow Sunflower Design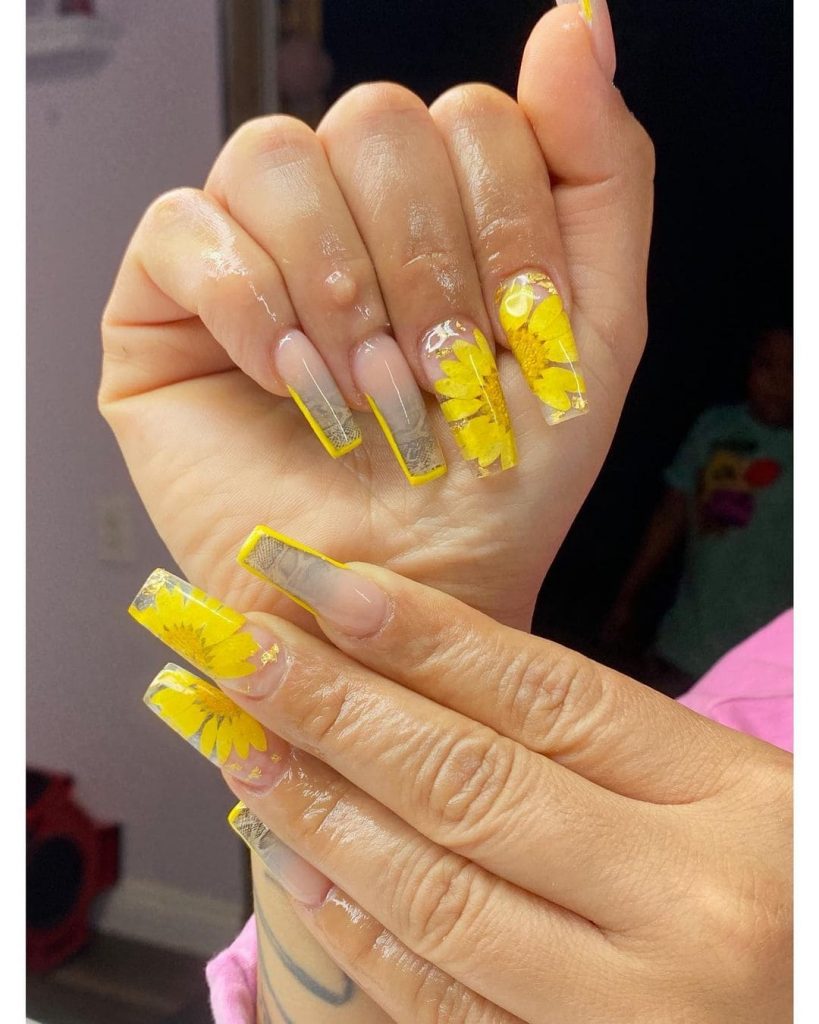 ---
29. Web Sunflower Nail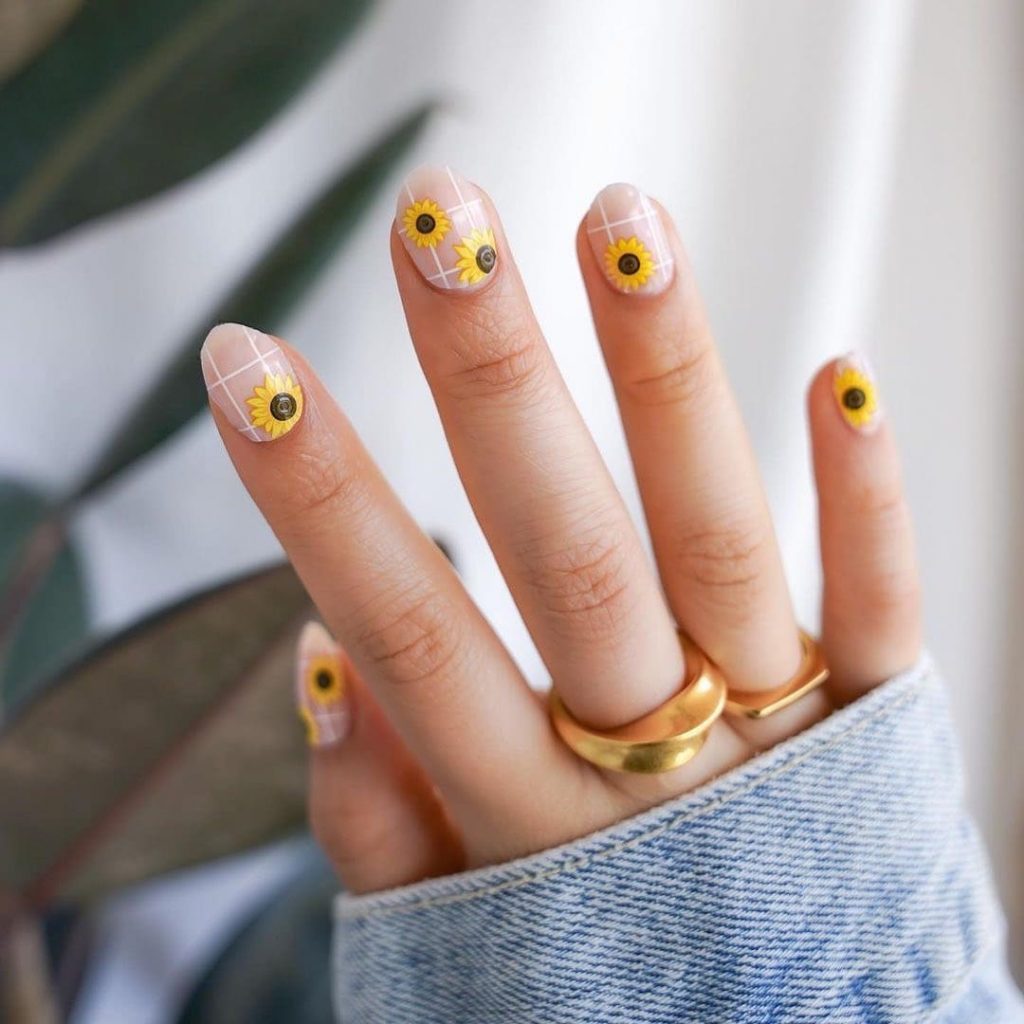 Recreate with : Etsy
---
30. Bold Orange Sunflower Design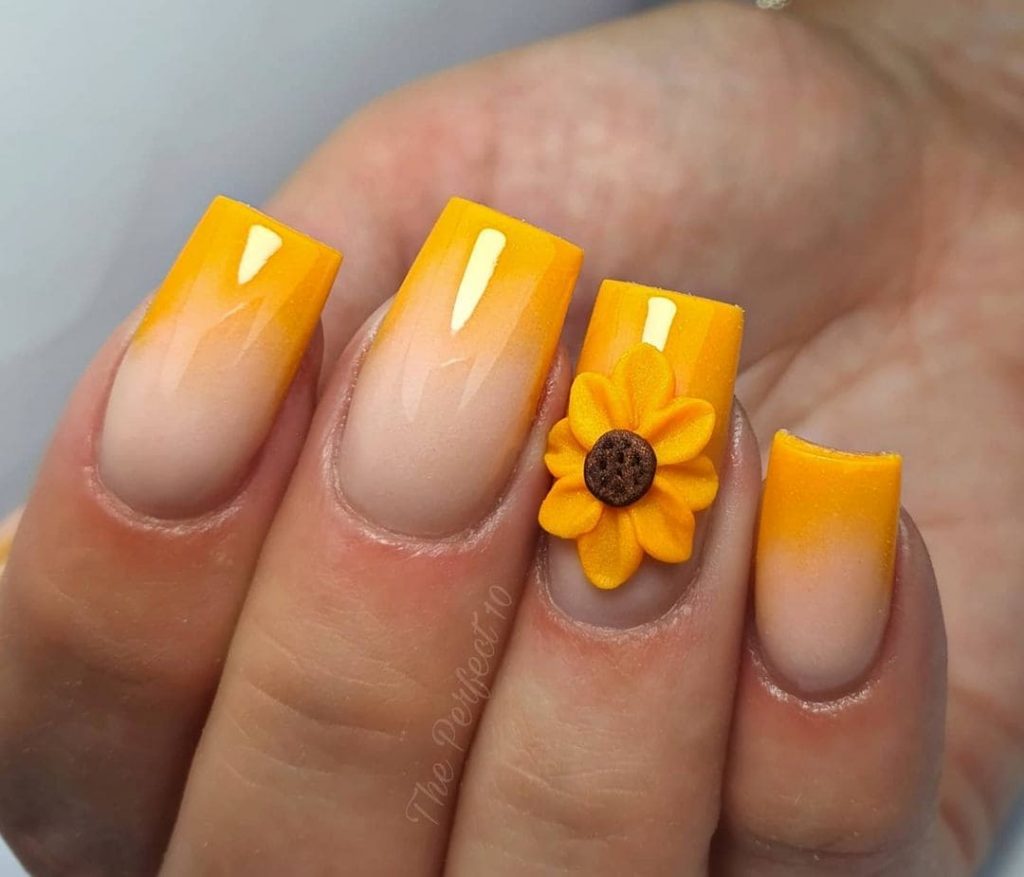 ---
31. Dark Brown Sunflower Nail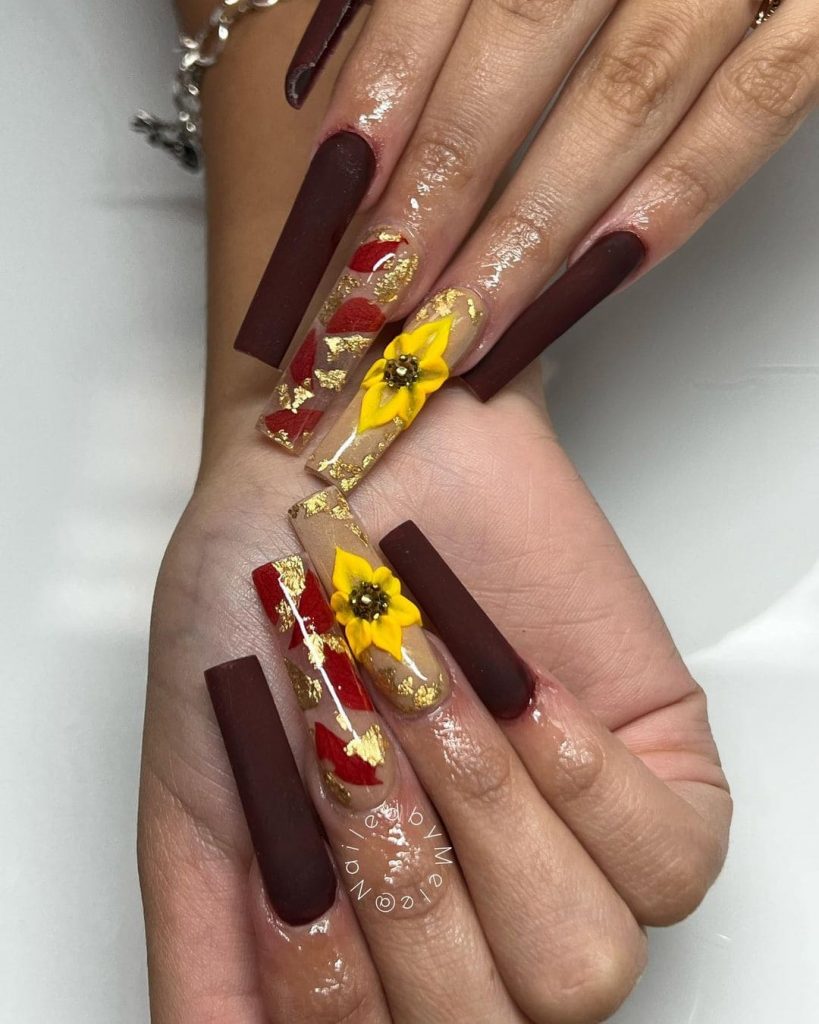 ---
32. Pastel Sunflower Nail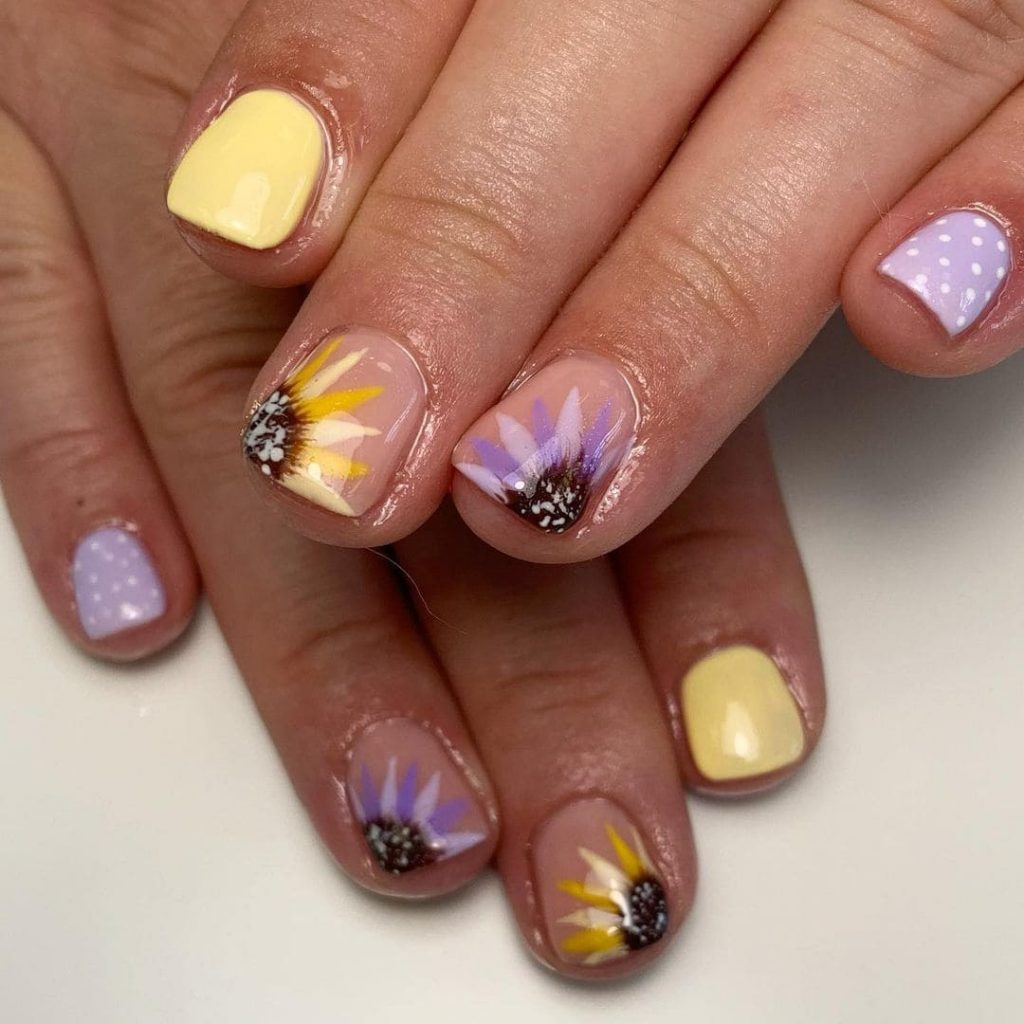 ---
33. Full Sunflower Design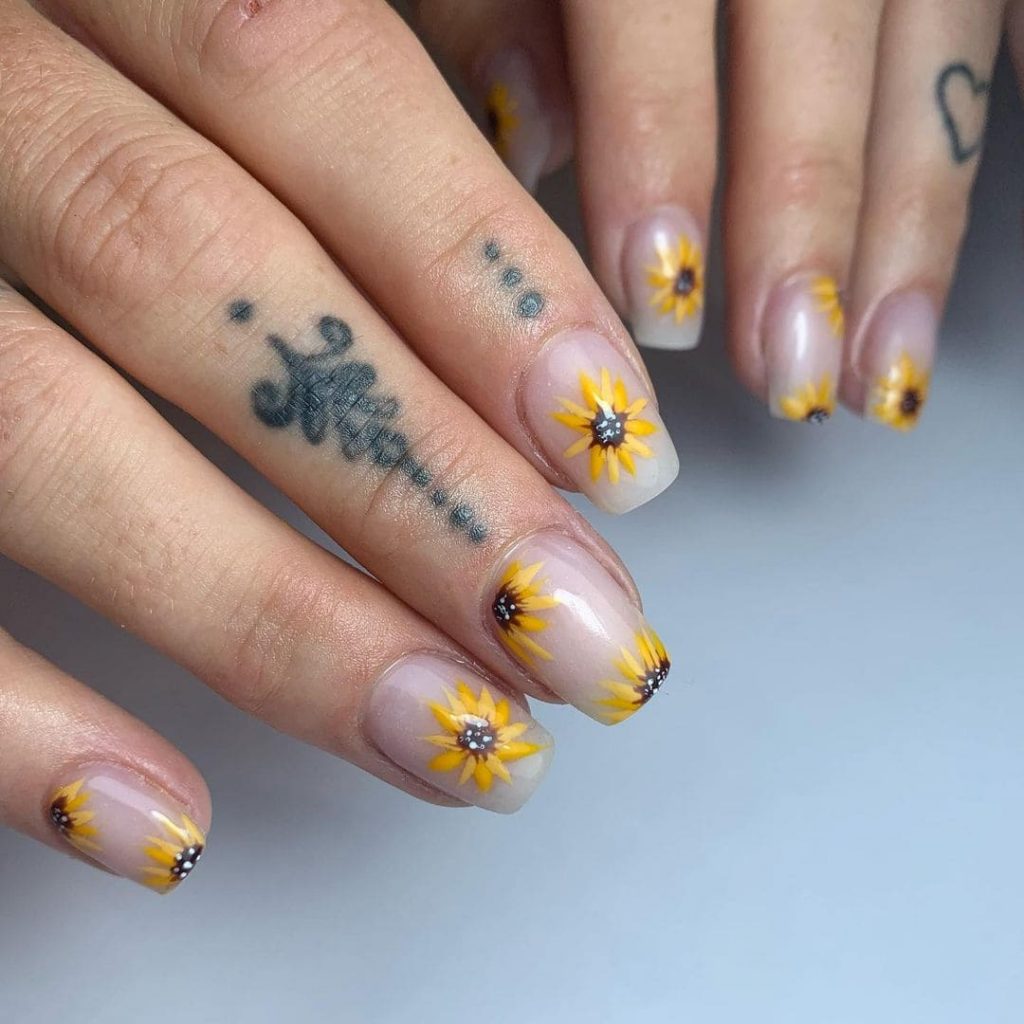 Recreate with : Etsy
---
34. Colorful Leafy Sunflower Design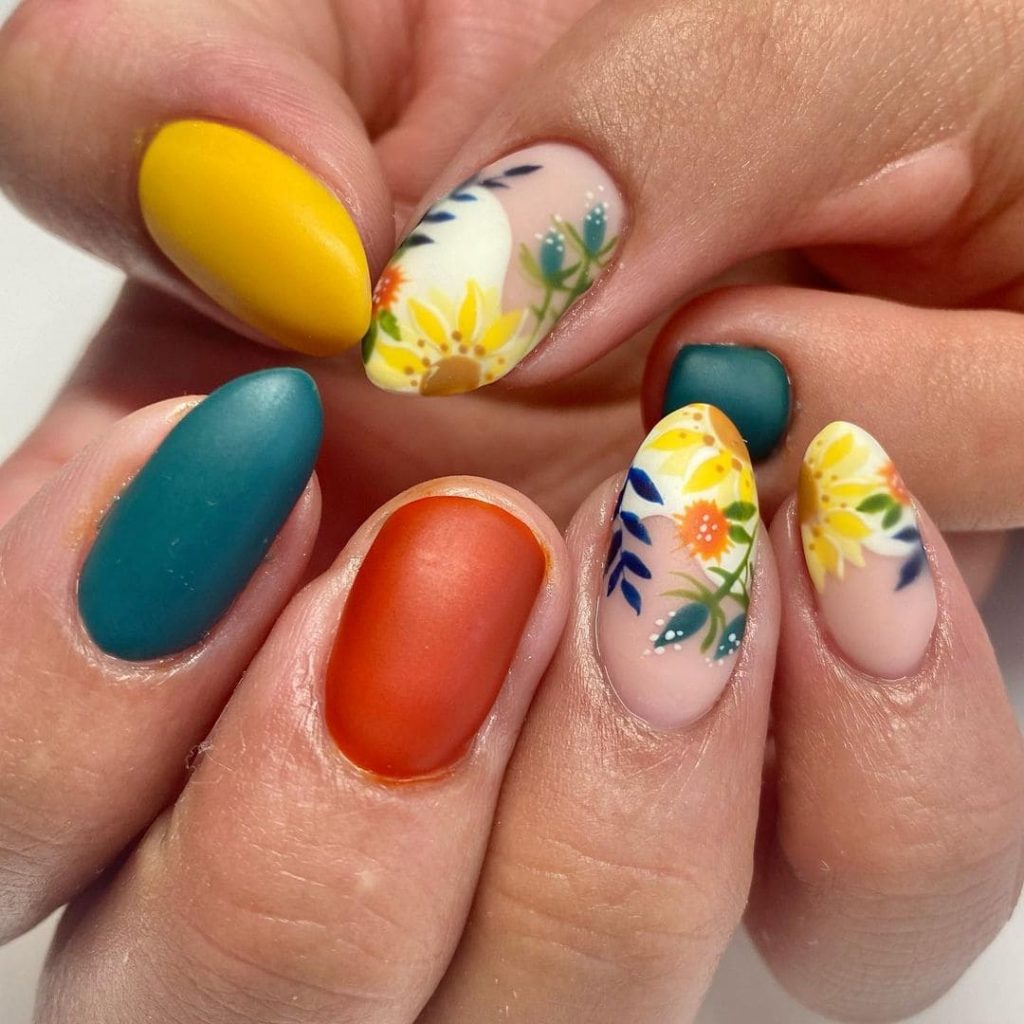 ---
35. White Orange Cream Sunflower Nail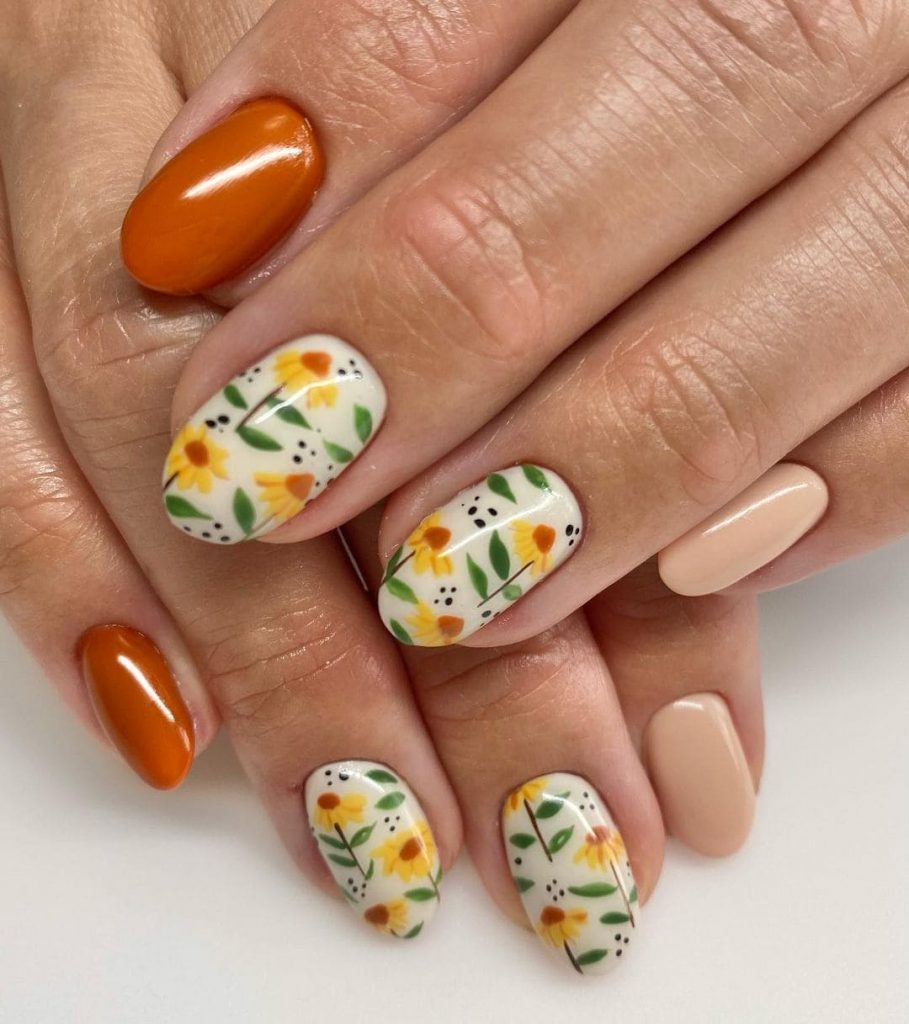 Recreate with : Etsy
---
36. Mehndi Sunflower Color Nail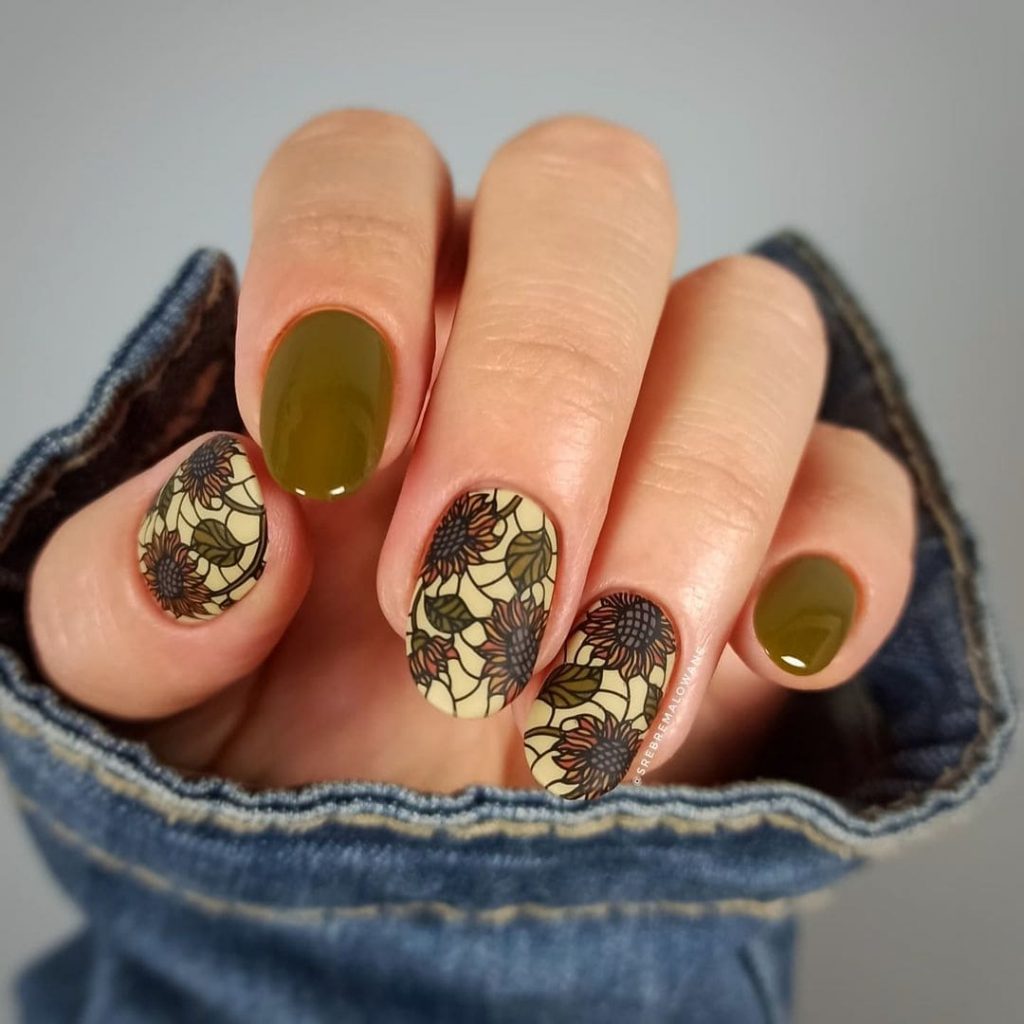 ---
37. Light Pastel Sunflower Nail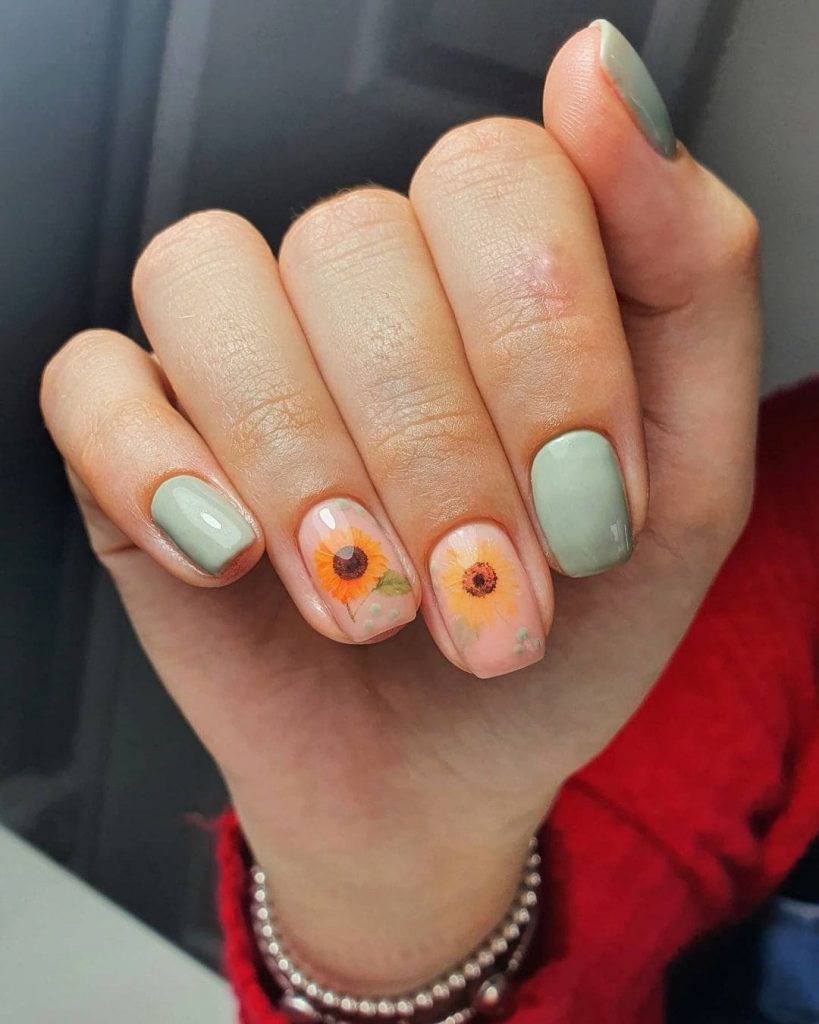 ---
38. Glossy Green Sunflower Nail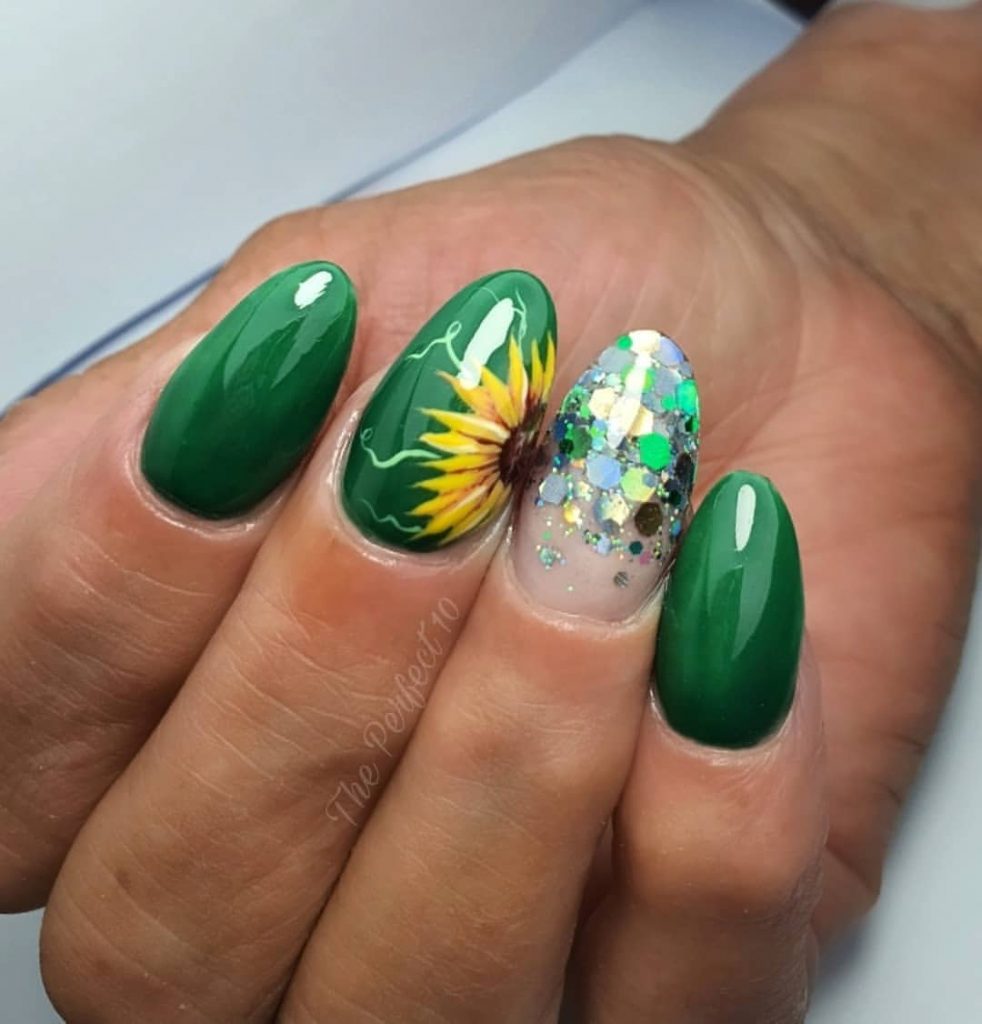 ---
39. Perfect Sunflower Nail Design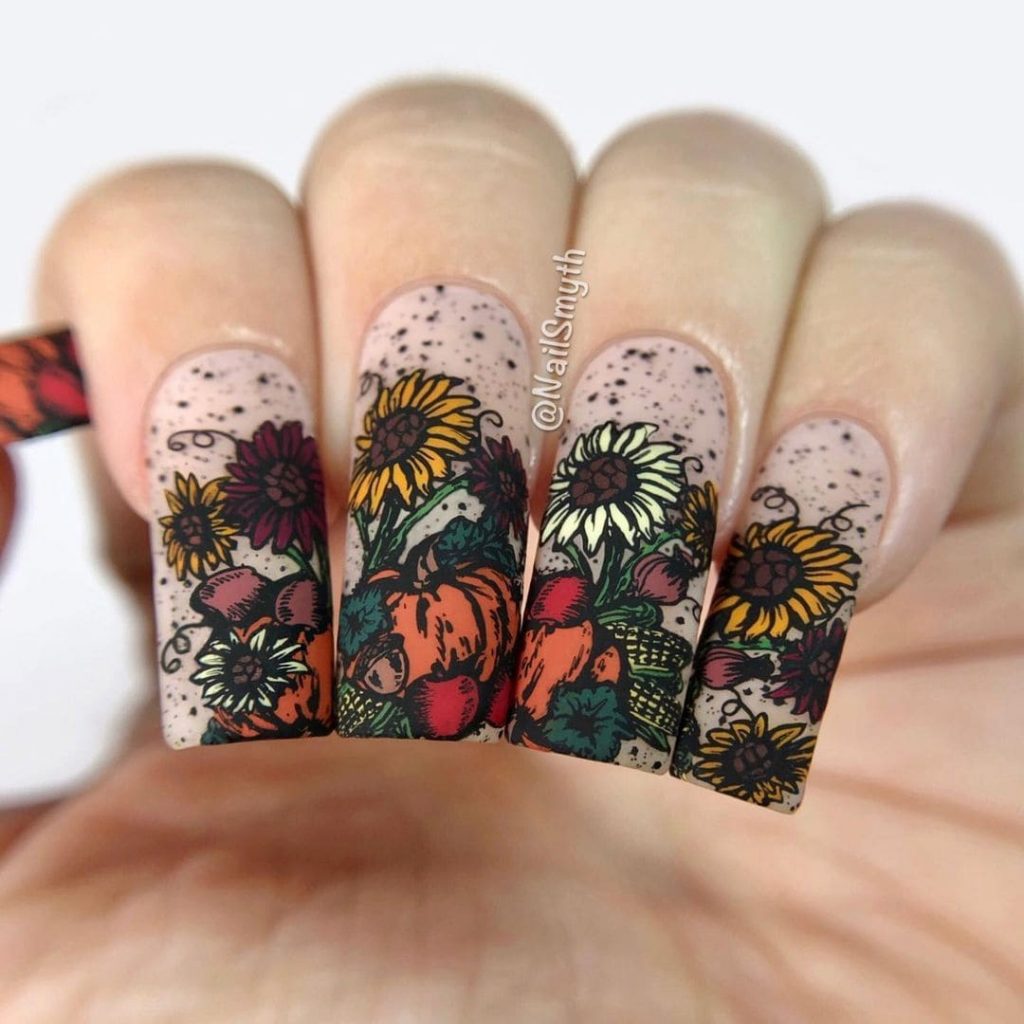 ---
40. Shiny Black Sunflower Nail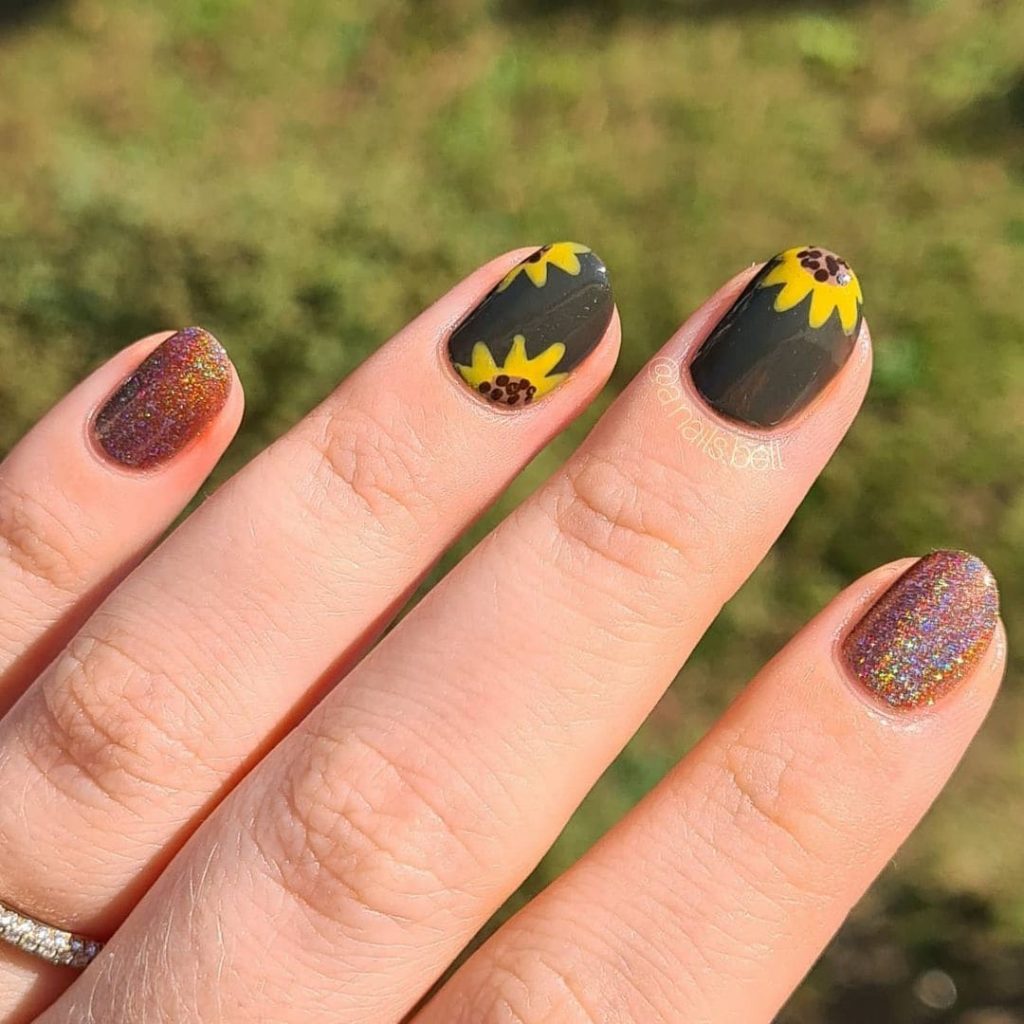 ---
41. Long Yellow Transparent Sunflower Nail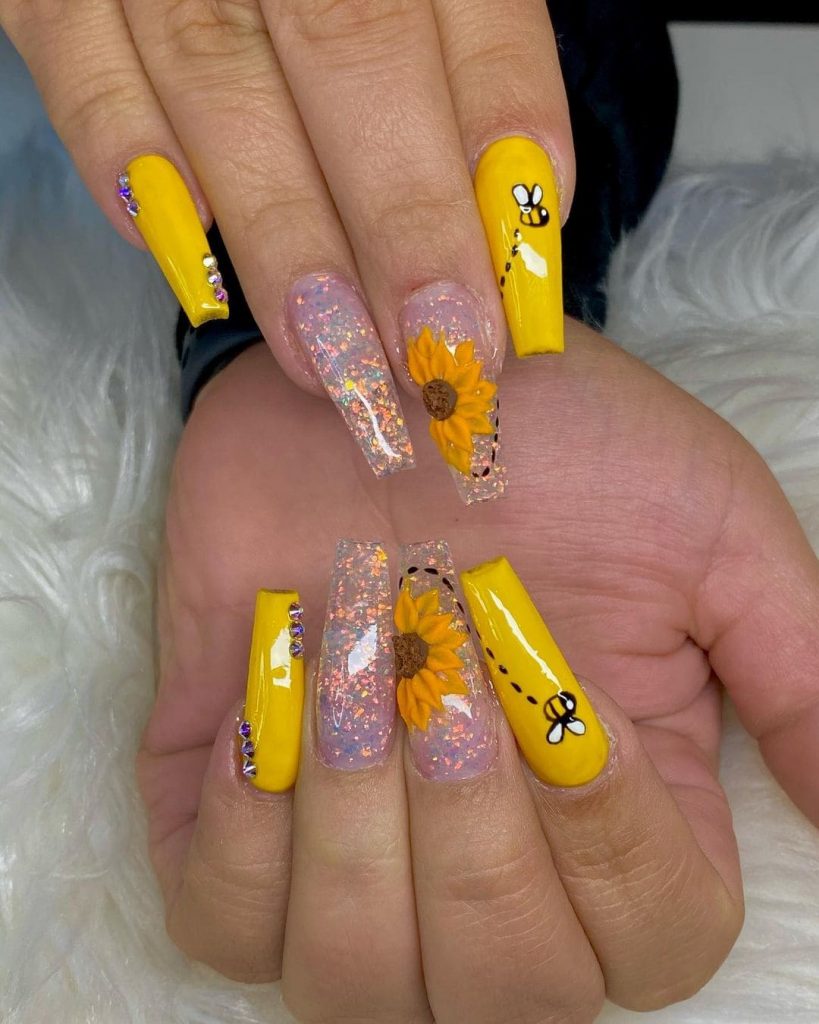 ---
42. Cute Sunflower Design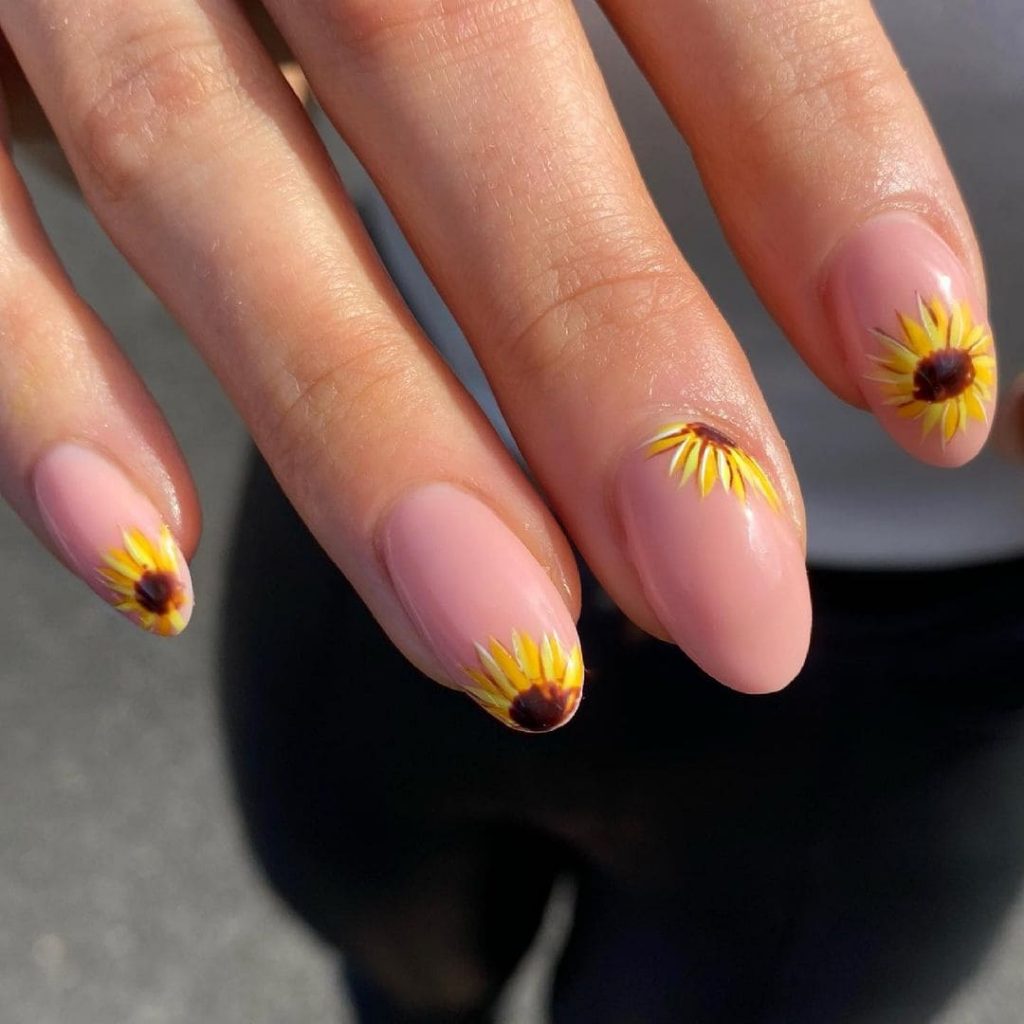 Recreate with : Etsy
---
43. Acrylic Blue Sunflower Design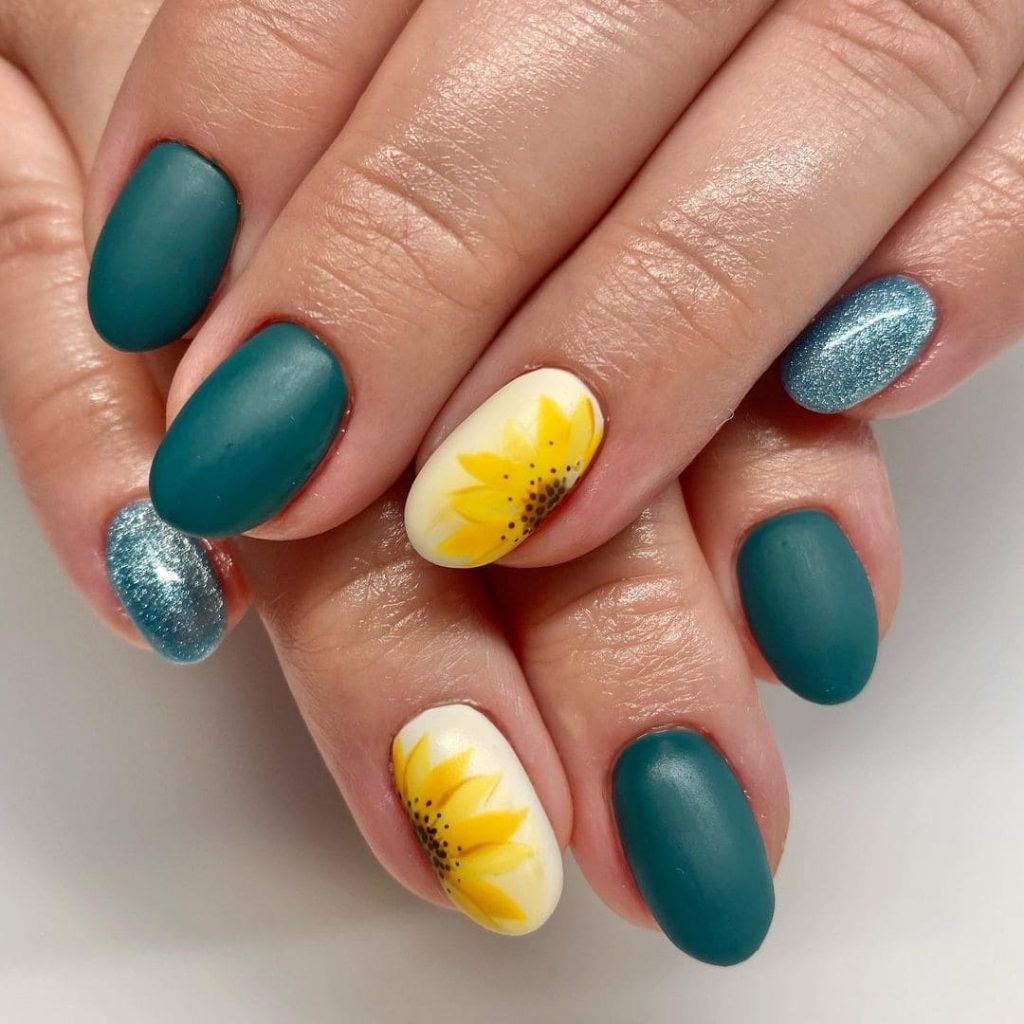 ---
44. Fresh Sunflower Nail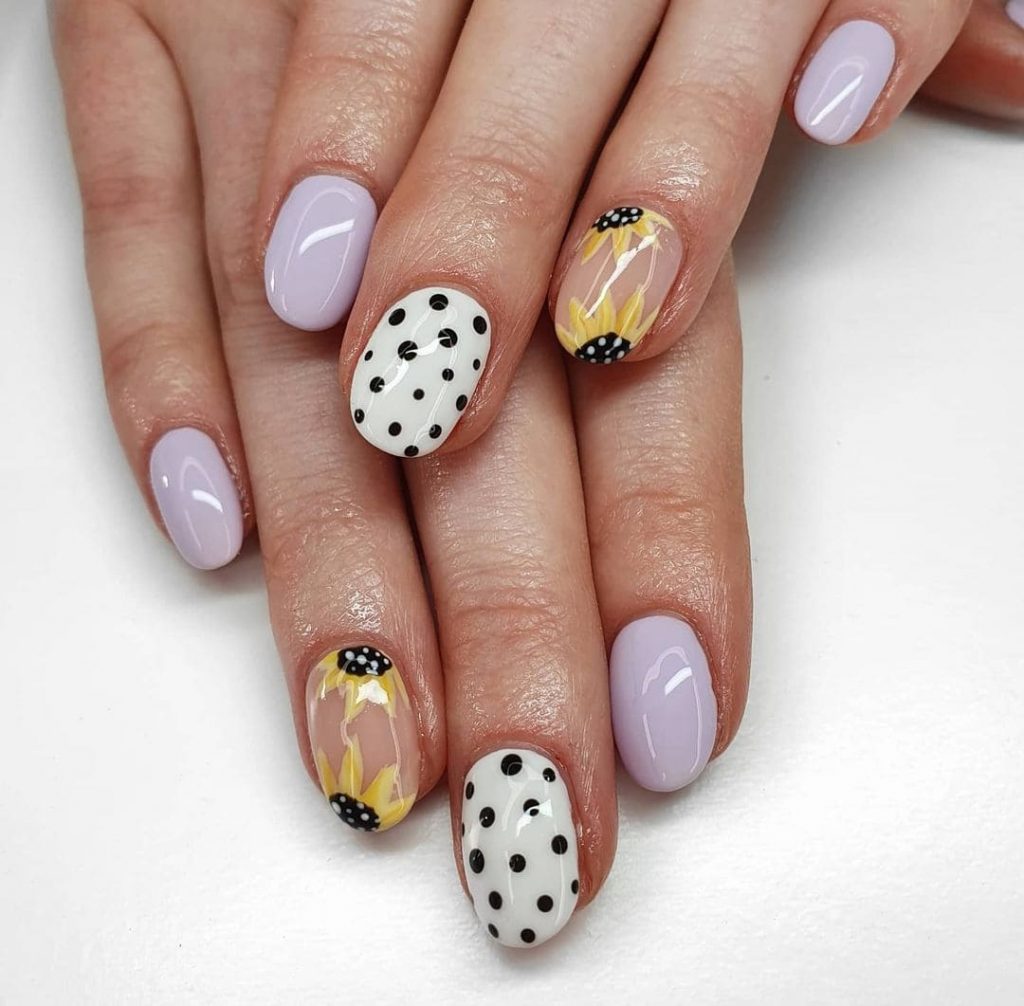 ---
45. Shades With Sunflower Design
---
46. Rainbow Like Sunflower Design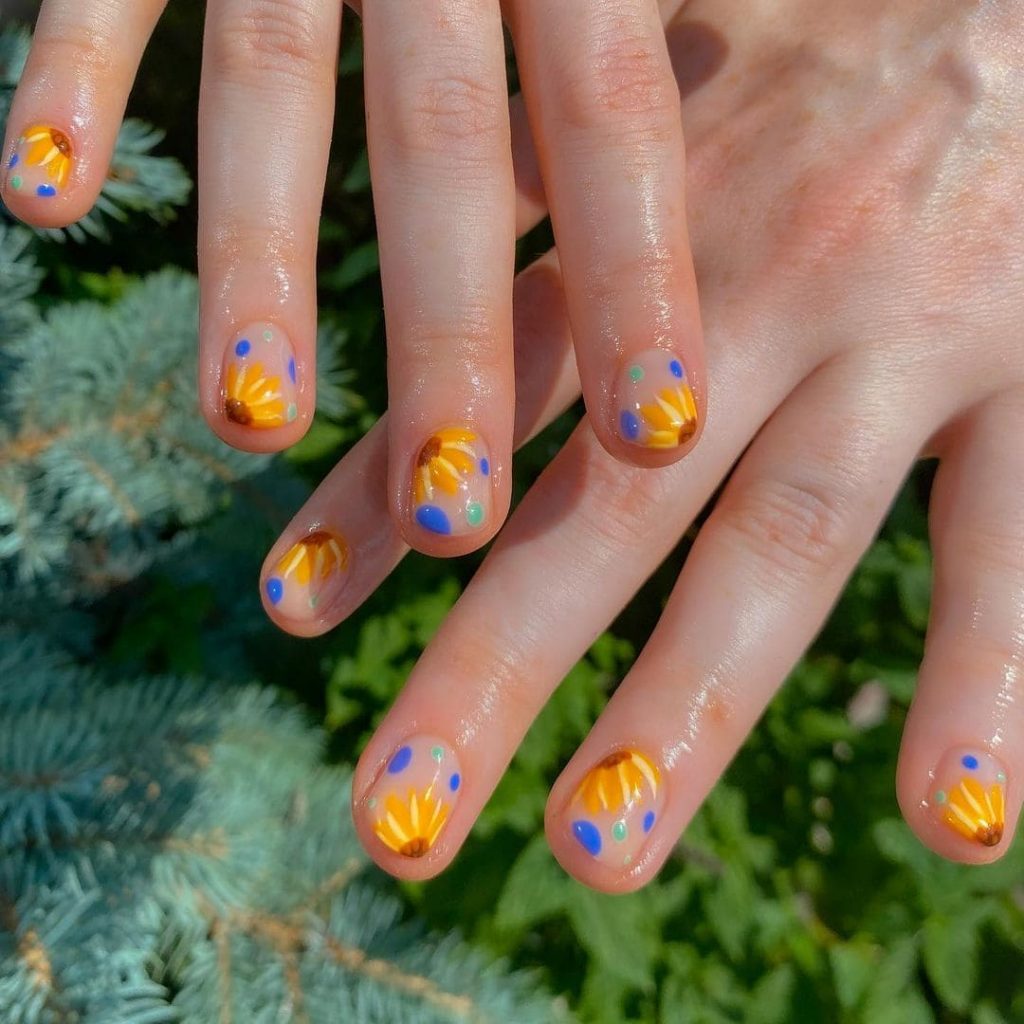 ---
47. Double Sunflower Design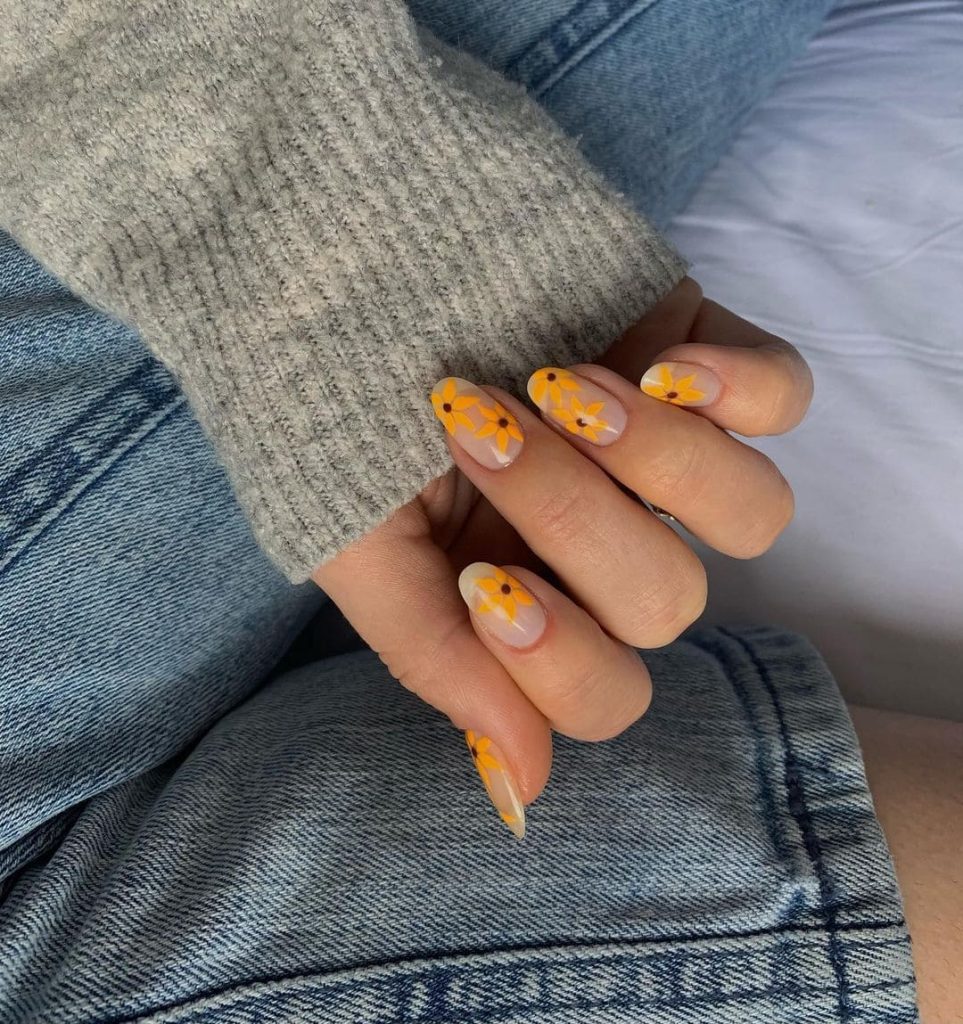 Recreate with : Etsy
---
48. Funky Sunflower Design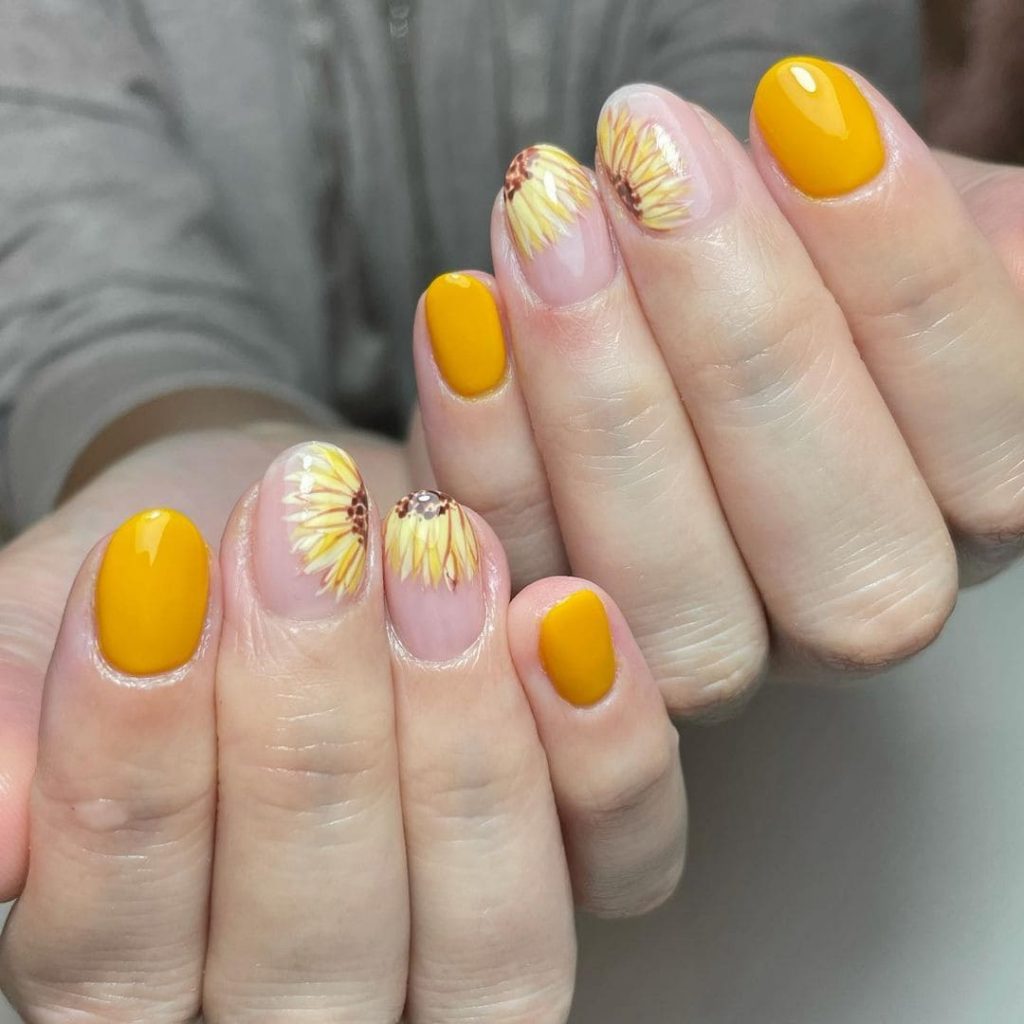 ---
49. Shiny Black And Yellow Design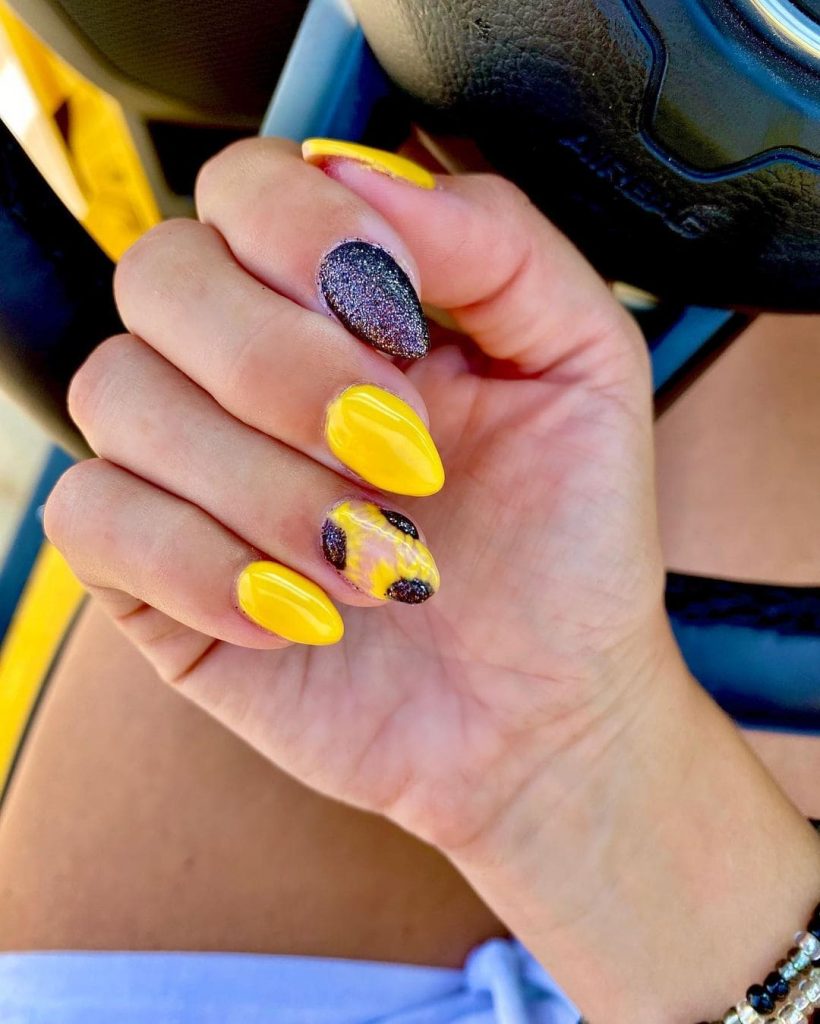 ---
50. Cow Sunflower Design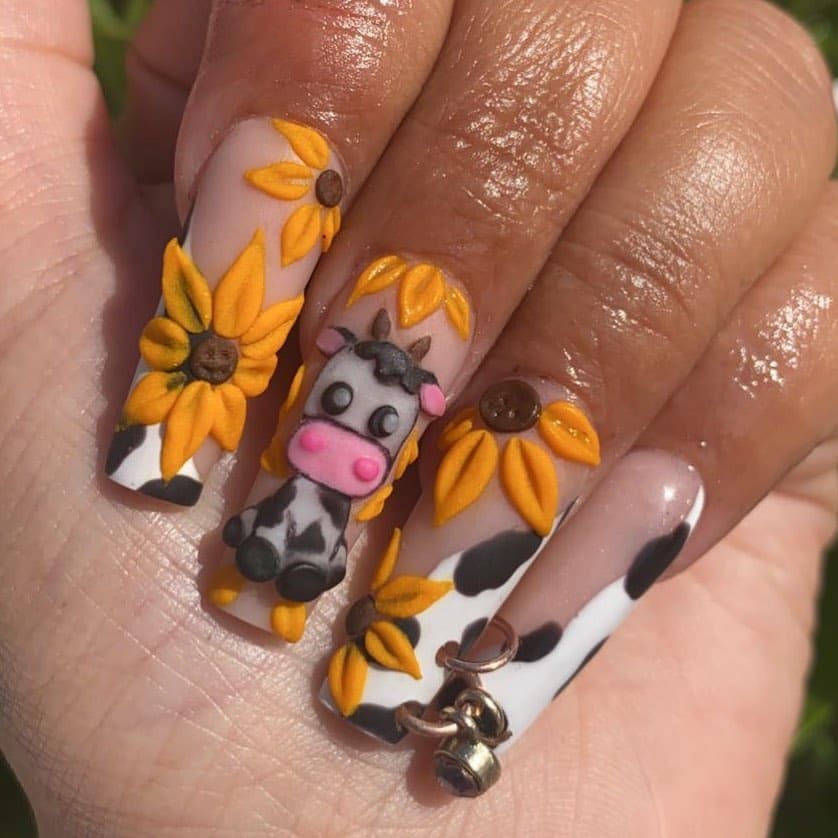 ---
51. Nude Yellow Sunflower Nails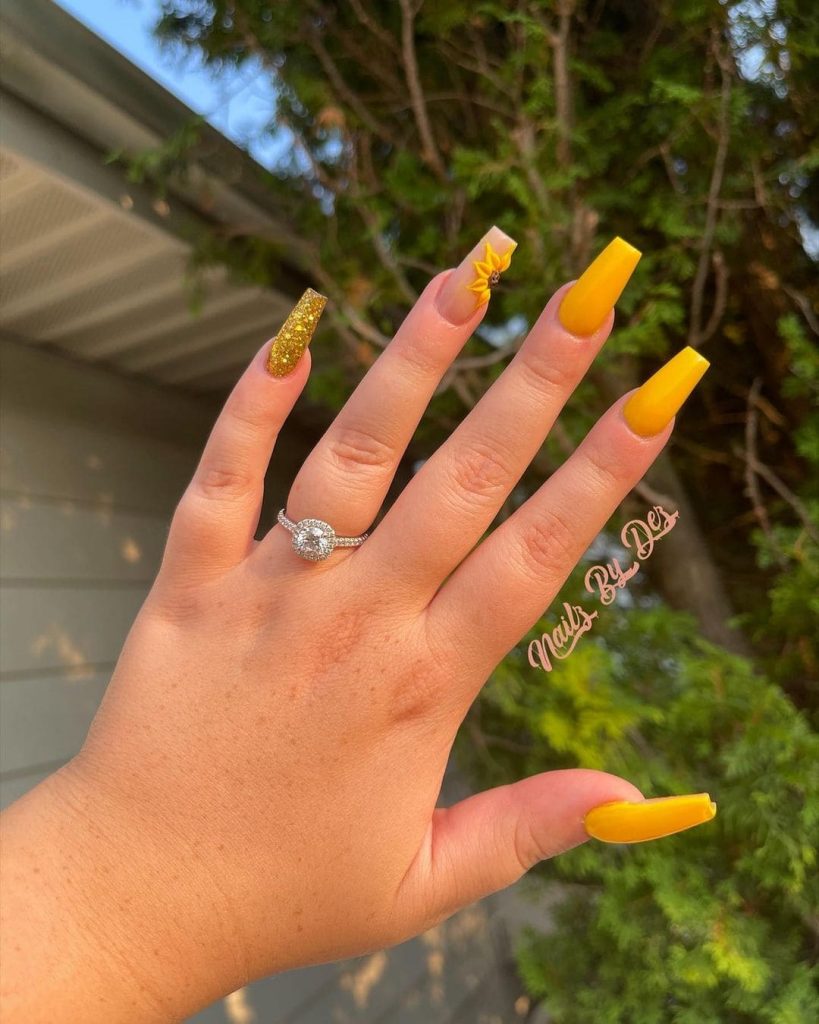 Recreate with : Etsy
---
52. Chic Sunflower Nails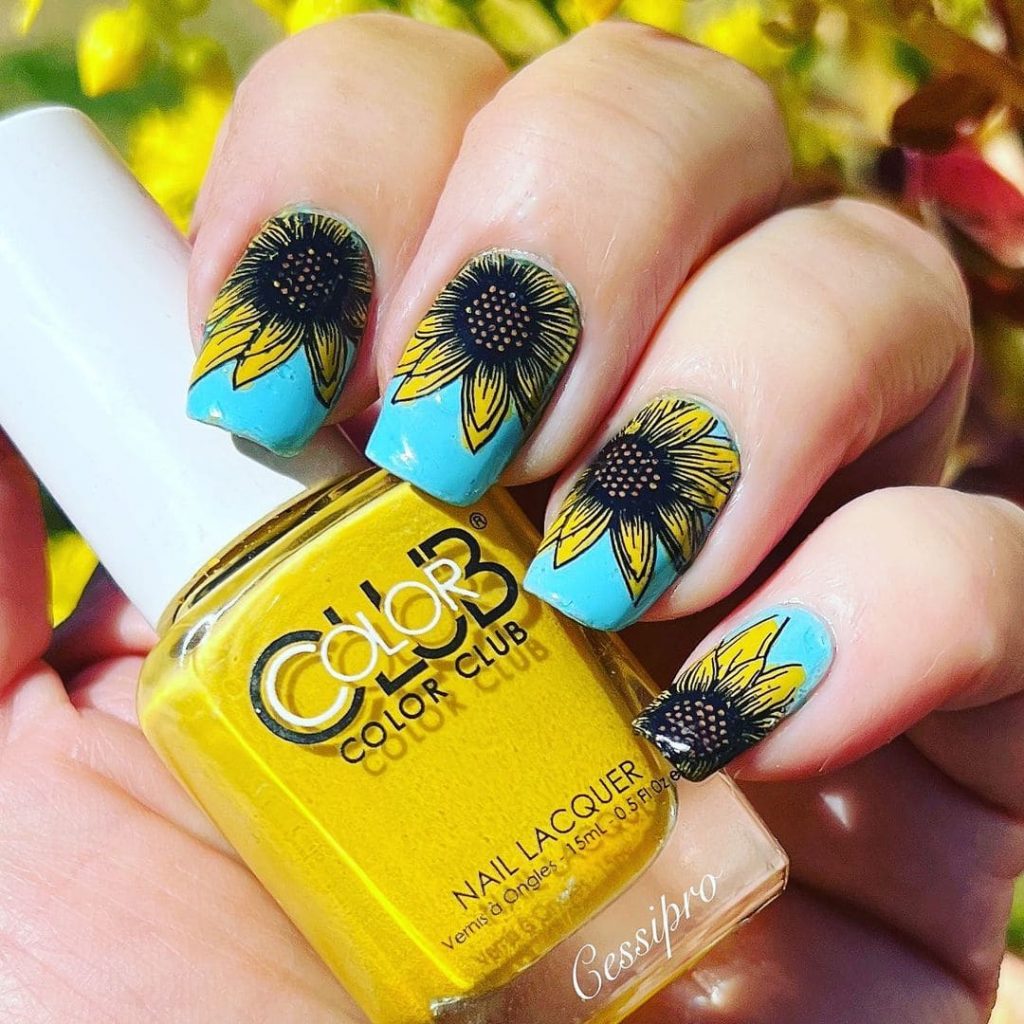 ---
53. Dark Blue Glitter Nails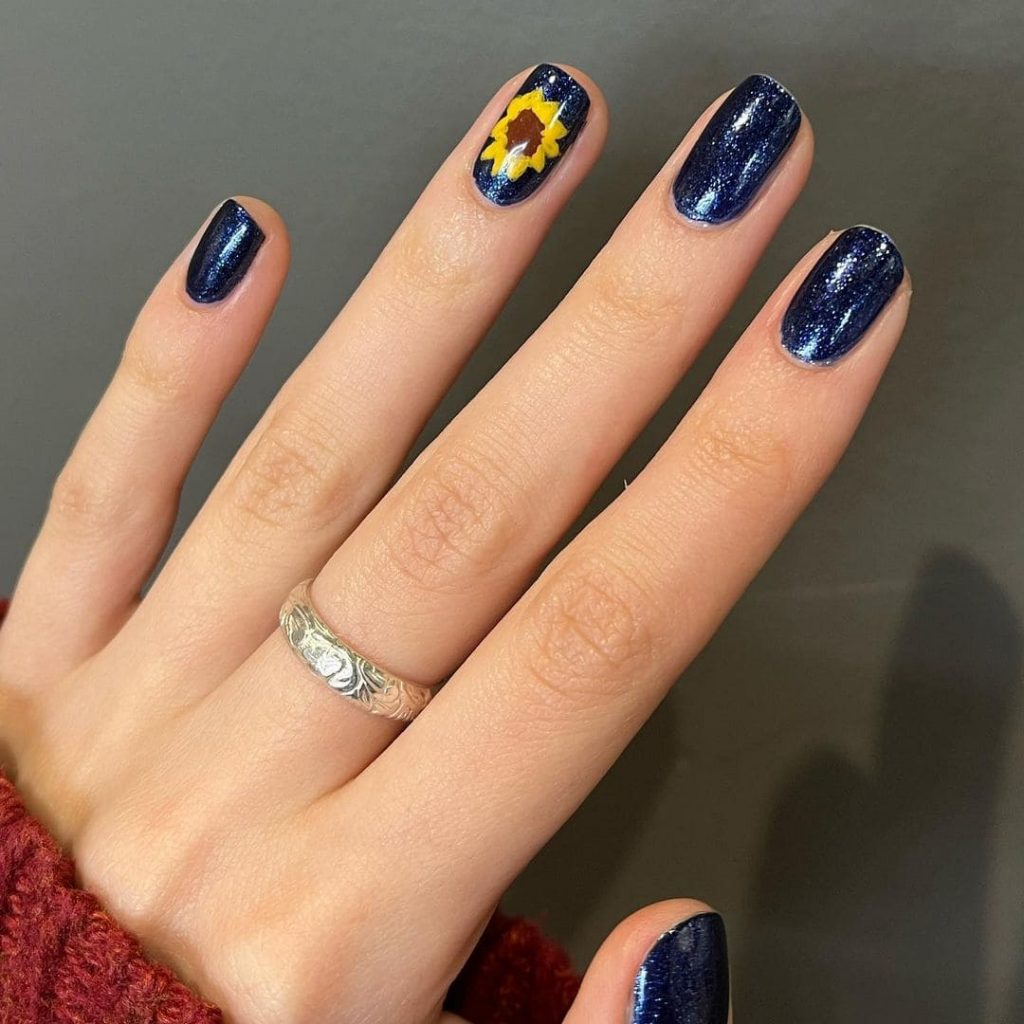 ---
54. Short Sunflower Gel Nail Art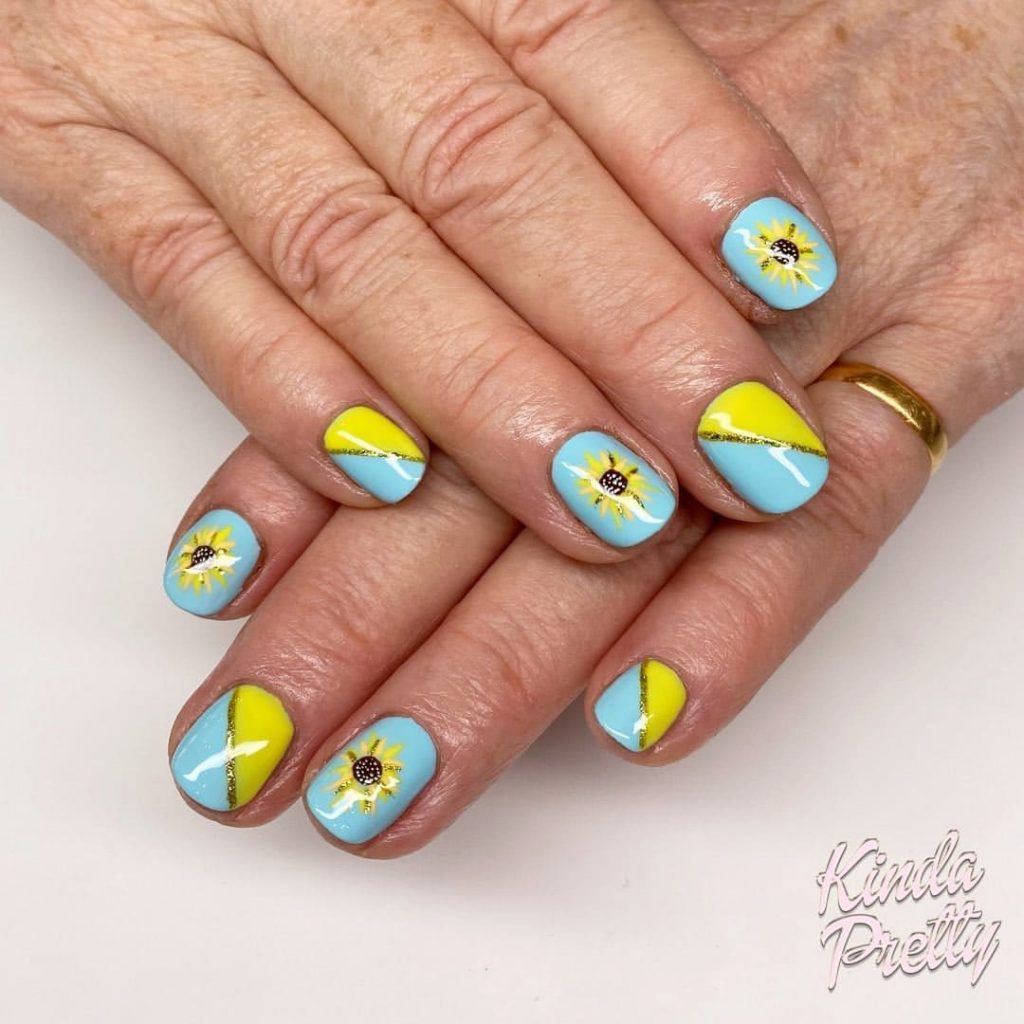 ---
55. Stiletto Sunflower Nail Design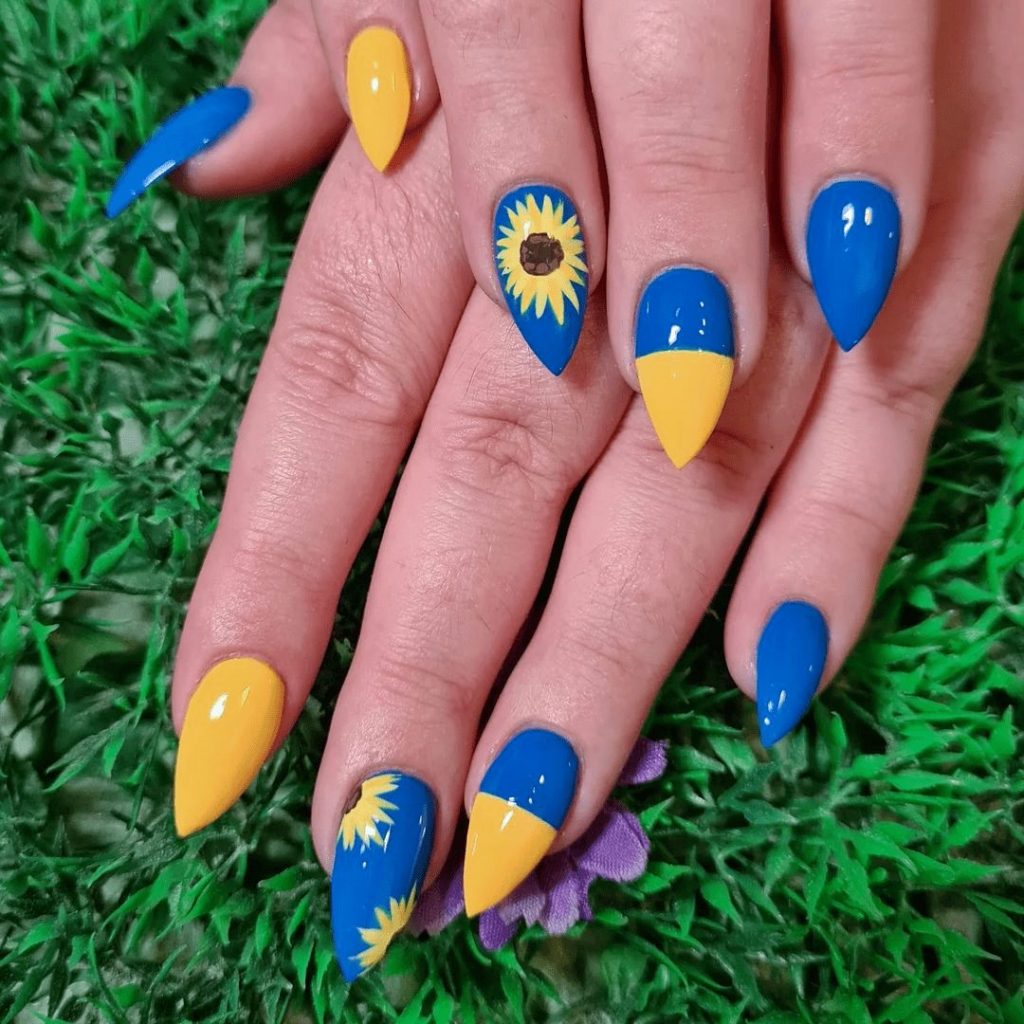 ---
56. Sunflower Color Street Mani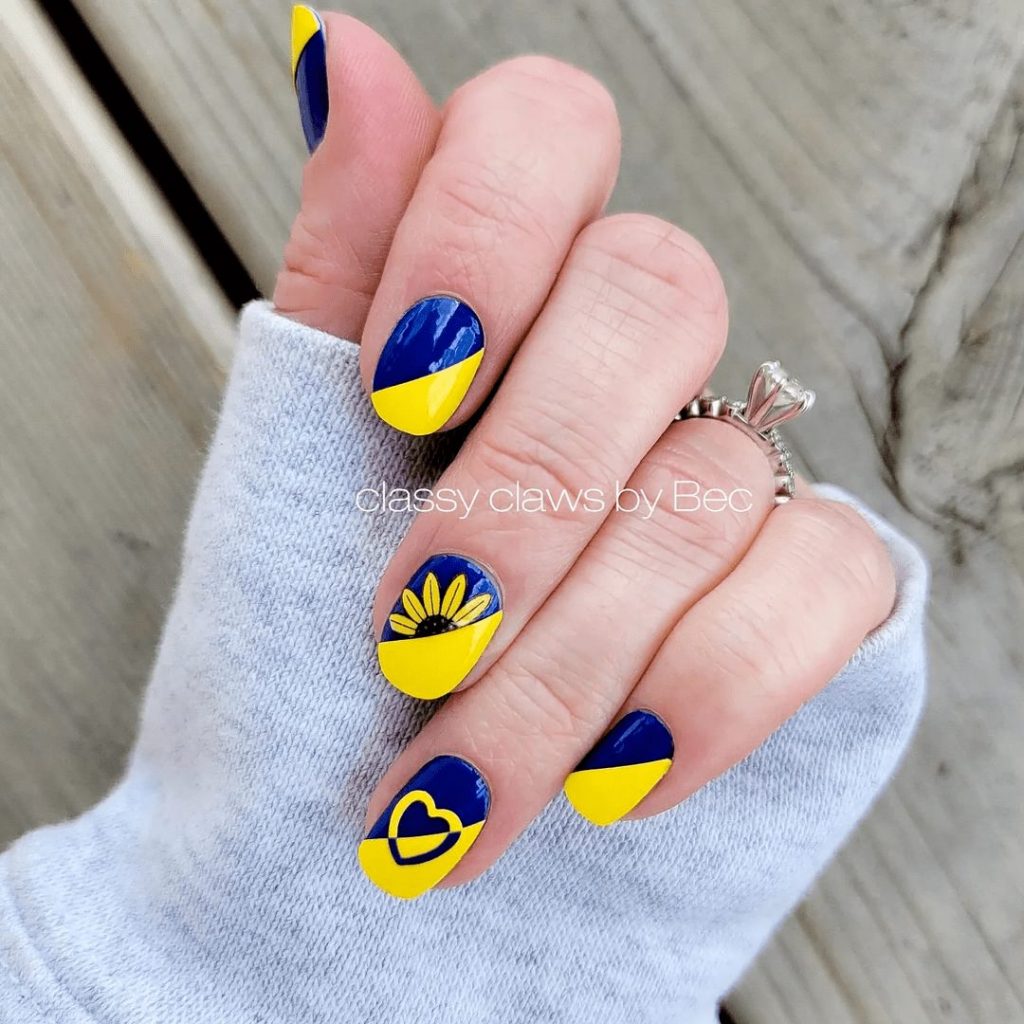 ---
57. White on Yellow Polka Dot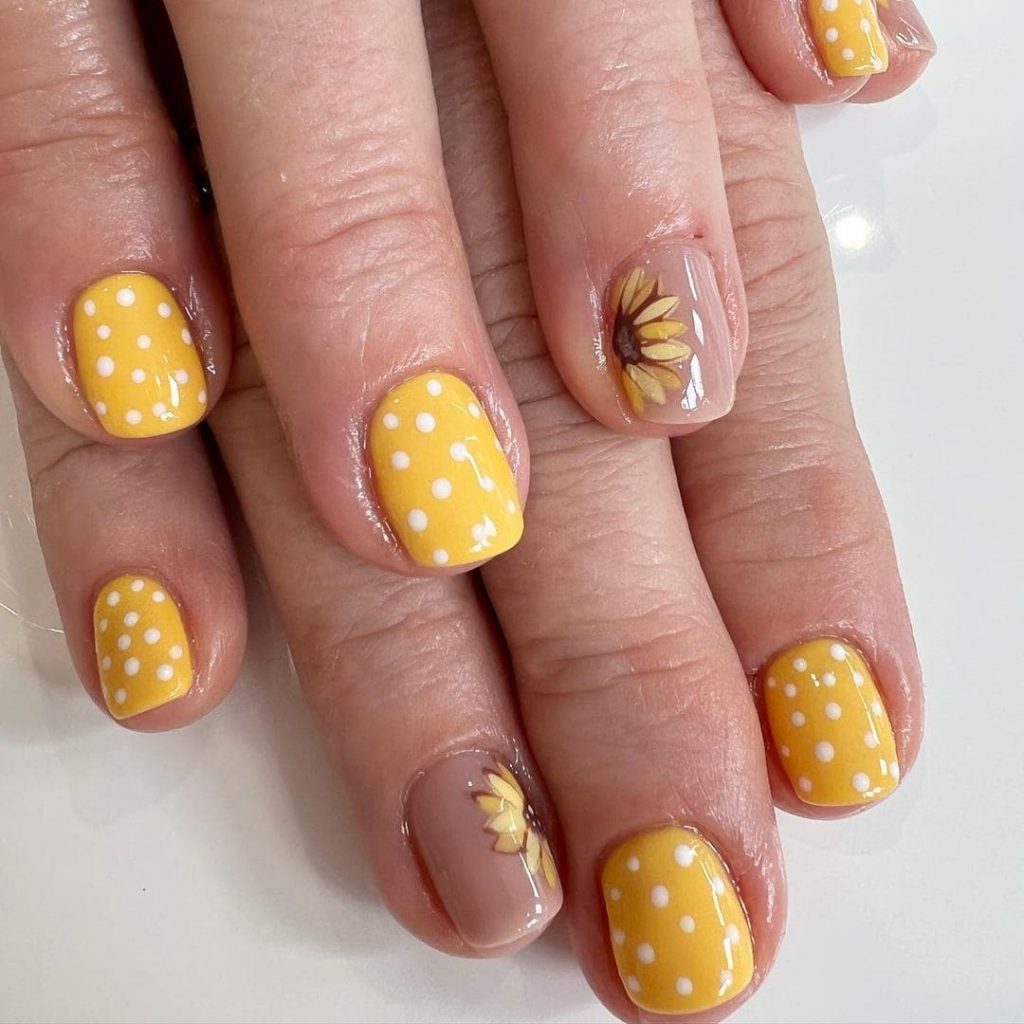 ---
58. Almond Black Sunflower Nails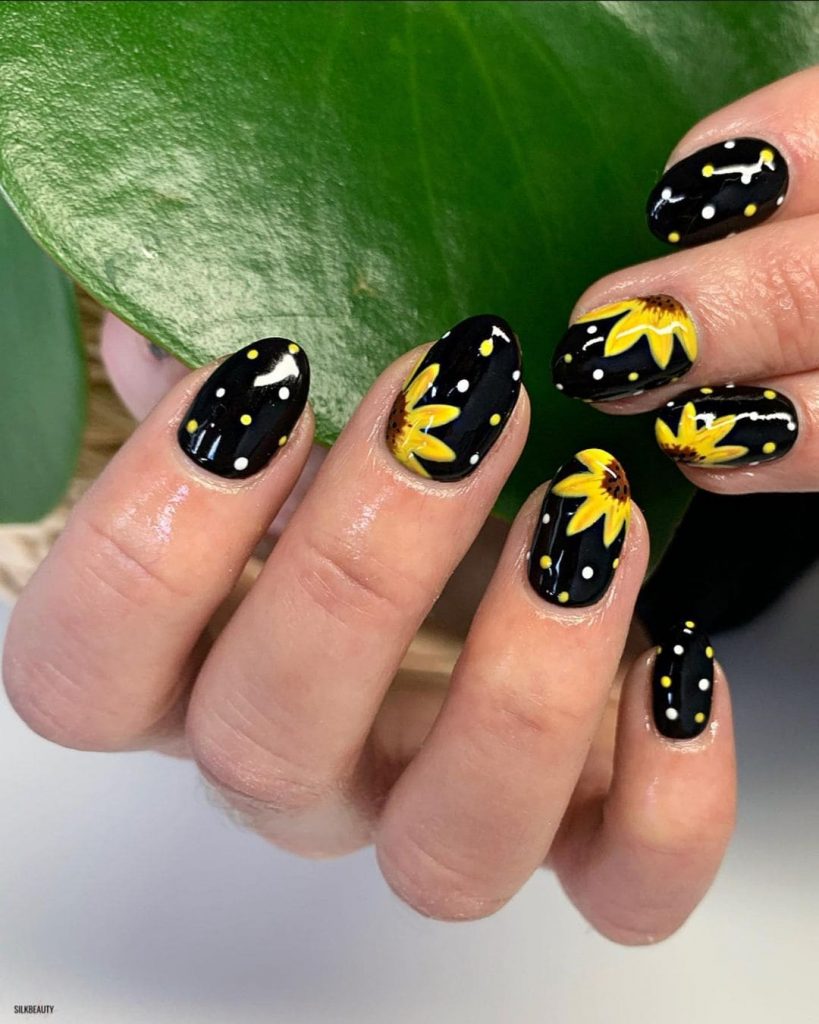 ---
59. French Sunflower Nail Art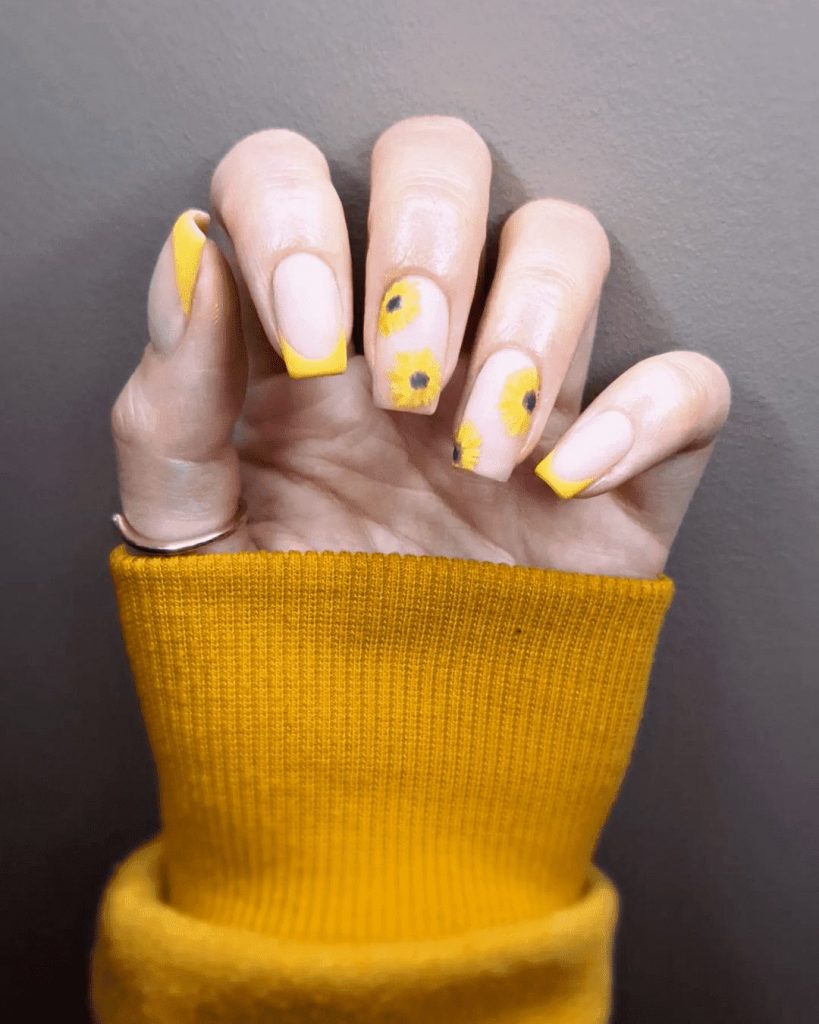 ---
60. Sky Blue Sunflower Nails