Of course, you must have heard of the famous Tarte Micellar makeup remover. Wearing makeup compliments our beauty. It boosts our beauty's confidence greatly. Most people with pimples, acne and black sports will prefer doing makeup to achieve their ultimate beautiful look. If done properly, makeup might be a daily routine since we always feel the urge to look good.
If you need to keep your skin as natural as without makeup, you need to remove makeup regularly. Sleeping with your makeup on proves detrimental to the skin, especially the eyes. Before the invention of makeup removers, you could only use soap and a face towel to remove makeup. People also invented their DIY makeup remover from their homes. I remember seeing my mother use hot water and sugar to exfoliate and remove her makeup.
But with technological advancements, makeup removers came to be. Now, we have different types and brands of makeup removers. Everybody in town and beyond wants to have this beauty product with them. It has proven an excellent makeup remover of all time.
Are you thinking of having it but don't know what it contains or works? Don't worry. This article gives the ultimate Tarte Micellar makeup remover review you have always wanted.
Tarte Micellar Makeup Remover Review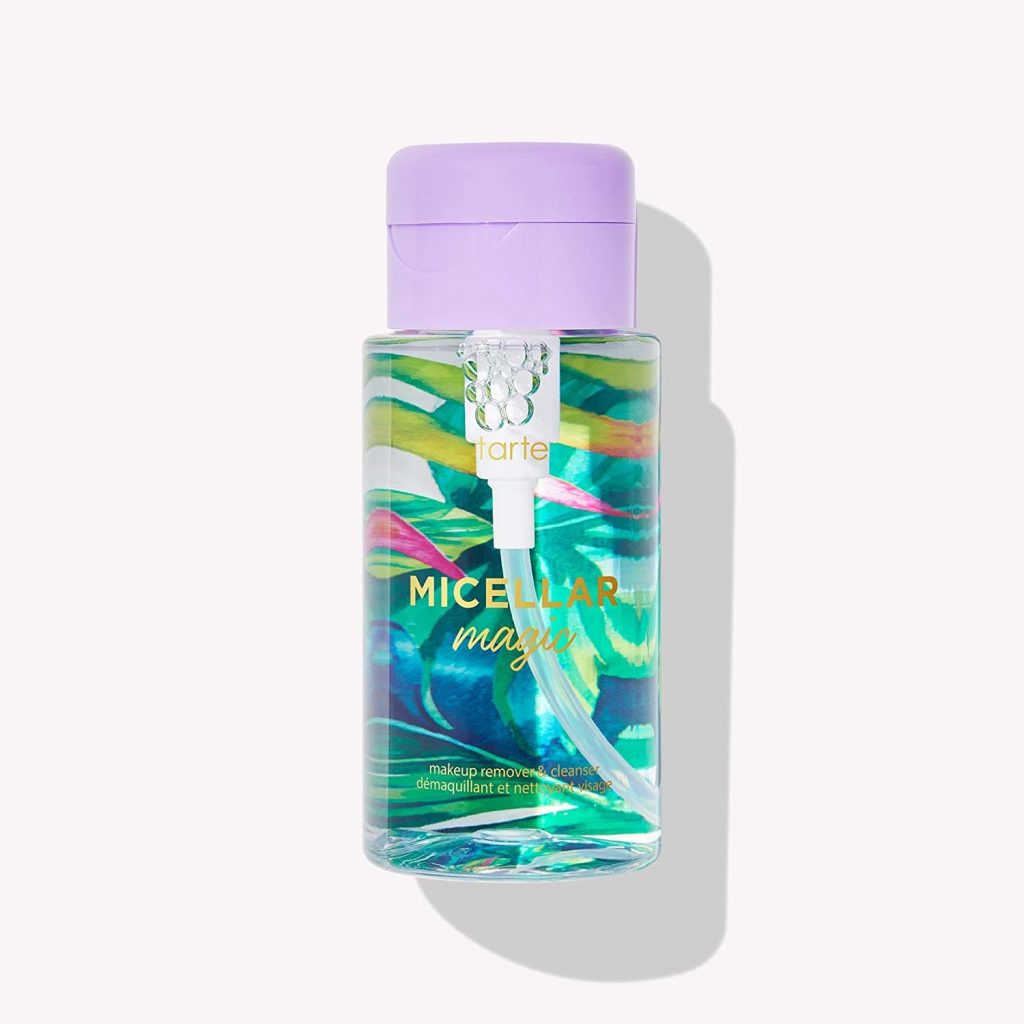 Benefits
Gentle to the skin. Some regular makeup removes have aggressive ingredients that will leave your skin feeling dehydrated and stripped of its essential components. Tarte Micellar makeup remover works to remove makeup from your skin gently. It has water as the major ingredient and will leave your skin hydrated and rejuvenated.
It removes waterproof makeup successfully. We all jubilated as waterproof makeup got invented, knowing our makeup wouldn't get distorted by water or sweat. But we didn't give much thought to the removal process. With waterproof makeup, washing it off with water might prove insufficient. Tarte Micellar makeup remover has special ingredients infused to guarantee 100% waterproof makeup removal.
It has cleansing qualities. As a makeup remover, Tarte saves you the struggle of later cleansing your face to remove impurities. Instead, as you remove the makeup, this product works to cleanse and clean your skin, leaving it ready for the next skincare routine.
It retains your skin's moisture. The skin moisture dictates the condition of your skin. Tarte Micellar makeup remover doesn't strip your skin of its moisture, so that it will give a smooth finish. You will get the skin looking vibrant and well-balanced with Tarte Micellar makeup remover.
It contains the best skincare ingredients. This skincare product comes with aqua, babassu, glycerin, extract from green tea, and mulberry ingredients that nourish and hydrate the skin. As the makeup comes off, water and essential oils enter the skin.
It has vegan qualities. Are you a vegan lover? This skincare product comes cruelty-free. It uses plant ingredients and doesn't cause any harm to animals during its production. There was no animal suffering in the bid to manufacture it, so if you value vegan, it's a-go.
This product has approval from dermatologists and clinical experts. Before its release, experts tested it to guarantee safety to users. So, you will less often have a negative reaction from this Tarte Micellar makeup remover. It was approved to contact lens wearers too. So, you will have zero skincare concerns while using this product.
Benefits of using Tarte makeup remover
It removes makeup effectively. You will not need a makeup remover that requires more than one application to remove makeup effectively. Tarte Micellar makeup remover will remove all makeup within a single application. It works best even on waterproof makeup.
You will receive cleansing benefits. As you remove your makeup, this makeup remover cleans your face. You will not go-ahead to start cleansing but proceed with your daily makeup routine.
It boosts your skin's hydration. Tarte Micellar makeup remover clears your makeup and cleanses your skin while keeping your skin's moisture intact.
You will get a portable makeup remover solution. The small size of the bottle and tubes allows for easy carrying. So if you want to apply and remove your makeup when traveling, Tarte Micellar makeup remover makes an easy-to-carry beauty product.
It will also help with your oily skin problems. Oily skin comes with flare-ups that may worsen with wearing makeup. In addition, since makeup may lock in excess oil, you may develop acne. But with Tarte makeup remover, the acne gets sorted. It helps remove excess oil, and you end up with a dryer and acne-free facial skin.  
How to use Tarte makeup remover
Soak your cotton wool with Tarte makeup remover
Wipe your face with the soaked cotton wool until all makeup comes out
Repeat this process with several Tarte soaked cotton wool  pieces to achieve a clean skin
You may rinse our face or leave it un-rinsed since the remover proves skin-friendly
Pros
Doubles as a mascara remover
Cons
Not ideal for all skin types
Who should use Tarte makeup remover
It should be used by people with oily, dry, or normal skin types. Sometimes combination skin types work best, but those with severely sensitive skin types complain of a stinging feeling on their skin.
Some essential tips while using Tarte makeup remover
Some people reported a stinging feeling after using Tarte makeup remover. We recommend that you test to see if it works for your skin type. It works best with people having an oily, dry, or normal skin type.
We recommend you try it on a small portion of your face for combination and overly sensitive skin. If you don't get any discomfort with it, you may proceed to apply it to the entire face.
It would prove helpful if you used it in small amounts when applying around the eye area. Eyes prove to be very delicate. Therefore, anything else apart from water should get applied with caution around the eyes. Tarte makeup remover works as the best mascara and eye-makeup remover.
If you experience some stinging feeling or have a sensitive skin type, you should rinse off your face after use.
Final Thoughts
Are you considering adding Tarte makeup remover to your skincare products? Feel free to do so. It will help you keep your skin clean and makeup-free in no time. The remover also comes with great ingredients that help nourish your skin.
If you need the ultimate review to help you make an informed decision, I hope this one does the job. Write about your experience with Tarte makeup remover in our comment section. Also, feel free to share with your friends if you find a great beauty tip.  
Frequently Asked Questions
Which brand produces the best makeup remover?         
As proven by the reviews from various customers, some good makeup remover brands include Tarte, Cetaphil, and La Roche.
Does Tarte Micellar makeup remover remove makeup?
Yes, Tarte makeup remover will help remove makeup and mascara and has cleansing properties. It also removes debris, sweat, and excess oil from your skin.
Do dermatologists recommend Tarte makeup remover?
Yes, most dermatologists and clinics recommend using Tarte makeup remover to remove makeup.