Going through many pictures of celebrities and different ladies in a new trendy wolf cut curly hair fashion? If not, we need you ladies to see this right away! We are convinced that you will definitely want to have a hairdo like that after knowing and seeing the trend. It is a more recent & fashionable hairdo that most young ladies adore & should attempt.
To find out some popular and trendy alternatives to consider now that you have 50 possibilities to pick from! Continue reading.
TikTok has presented the fashion world to a number of bombastic fashion icons, like the wolf cut on curly hair. But let us first understand, just what is wolf cut?
Nobody can forget Meg Ryan's iconic 90s hairstyle. The hair forms a typical shag style with its voluminous structure, which is maintained with layers and bangs.
Wolf haircuts are a contemporary spin on shag and mullet hairstyles. Thanks to TikTok, the shag haircut, which will be back in trend in 2021, has been called wolf cut with modern modifications. It is clear that it will continue to be popular in 2022!
What is a Wolf Cut?
Do you know what a wolf haircut is? The wolf cut curly hair has received over 400 million views on TikTok, is a fresh and highly trendy wilder version of the mullet. A wolf cut curly hair is a type of hairstyle with a lot of volume around the front and top of your head. It becomes thinner and has less volume as it progresses. It's a challenging cut to obtain, but it's simple to keep up with.
Who Should Go For A Wolf Cut?
Everyone can pull off a wolf haircut curly hair; it all depends on your unique taste and what you like or despise. However, most young ladies are already embracing wolf haircuts for everyday meetings because of their simple style features. If you're a kid who likes to keep up with trends and you're on TikTok, you're definitely aware of how popular this style is. The following people can have wolf haircuts:
Women with natural roots and colored hair.
Women with curly hair can attempt wolf cut hair.
Women with naturally thin hair and shorter hair end.
Excellent for any length.
It is ideal for girls who want to frame their faces (or for women with larger faces).
How To Get The Wolf Cut Curly Hair Look?
The wolf cut curly hair style, with pulled backsides, keeps your hair out of your face while it dries—and it looks great with curly bangs — Let us take a look at how to get the wolf cut curly hair look in just a mere 10-15 minutes!
Step 1: Use a Shampoo and Conditioner to cleanse and condition your hair properly. The shampoo and conditioner can be of your choice. Although for reference, we have penned down the best list of products recommended to have the perfect wolf-cut curly hair look.
Step 2: After getting out of the shower, spray a Heat Spray all over curls immediately before the hair dries and comb through to distribute. (Optional: You can also apply a Heat & Humidity Gel as a "top-coat" for further frizz prevention)
Step 3: Cup curls lightly with your open palm. This will assist the formation of curls without frizz. Also, make sure you avoid scrunching; it roughens the cuticle of your hair.
Step 4: Pull a portion of hair over your ear back and fix it with a hair comb.
Step 5: After completing on one side, repeat the same procedure on the other side, then allow curls to air-dry.
Recommended Products
R+Co Texture Cream
Use a sandcastle for a texture that evokes a day at the beach. This light crème mimics the appearance of the sun, sand, water, and wind. While absorbing oil, it also nourishes. Women with wavy or curly hair can use a small amount of this cream to accentuate the shaggy layers of the curly hair wolf cut.
---
Olivia Garden Round Brush
The ceramic brush will give your wolf cut some enormous hair vitality when used with your hairdryer. The Olivia Garden Ceramic + Ion Thermal Hairbrush is a thermal brush with synthetic bristles and a vented ceramic barrel for faster and more uniform styling.
---
Christophe Robin Curl Cream
After applying mousse to the roots, apply curl cream from the mid-shaft to the ends to add texture.
---
Leonor Greyl Hair Mousse
To add height to your hair, rub some of this mousse into your roots.
How Can You Style Your Wolf Cut?
There are several ways to design a wolf cut curly hair, depending on your hair structure. The wolf cut hair is ideal for individuals with naturally curly or wavy hair since it emphasizes the texture of your hair. Stenson recommends using a leave-in conditioner and letting your hair air-dry for a fun, tousled style. Because these hair types are drier, you may want to use a spray like the Matrix Miracle Creator Multi-Tasking Treatment Spray ($21, ulta.com) to tame any possible frizz.
To get the desired disheveled effect, folks with straight or fine hair may require the assistance of extra hair products and appliances. "If you have flat hair, use a heat tool, like the Beachwaver S1.25 ($129, ulta.com) for a tiny bend that will give the hair extra structure" Pompeo suggests. After you've generated the waves, apply dry shampoo for volume and sea salt or texturizing spray to make them seem more like beach waves.
Because there are no limits when it comes to styling a wolf haircut, you can give yourself a large bouncy blowout. It's all about having fun and trying out new ideas.
"Styling the wolf cut curly hair can be so fun because you can alter the entire feel by styling it," Candice explains. "You can kick the ends out for a lovely blow-dried appearance or rock it up with a hot tool for that Miley texture she's been strolling around with."
1. Caramel Shines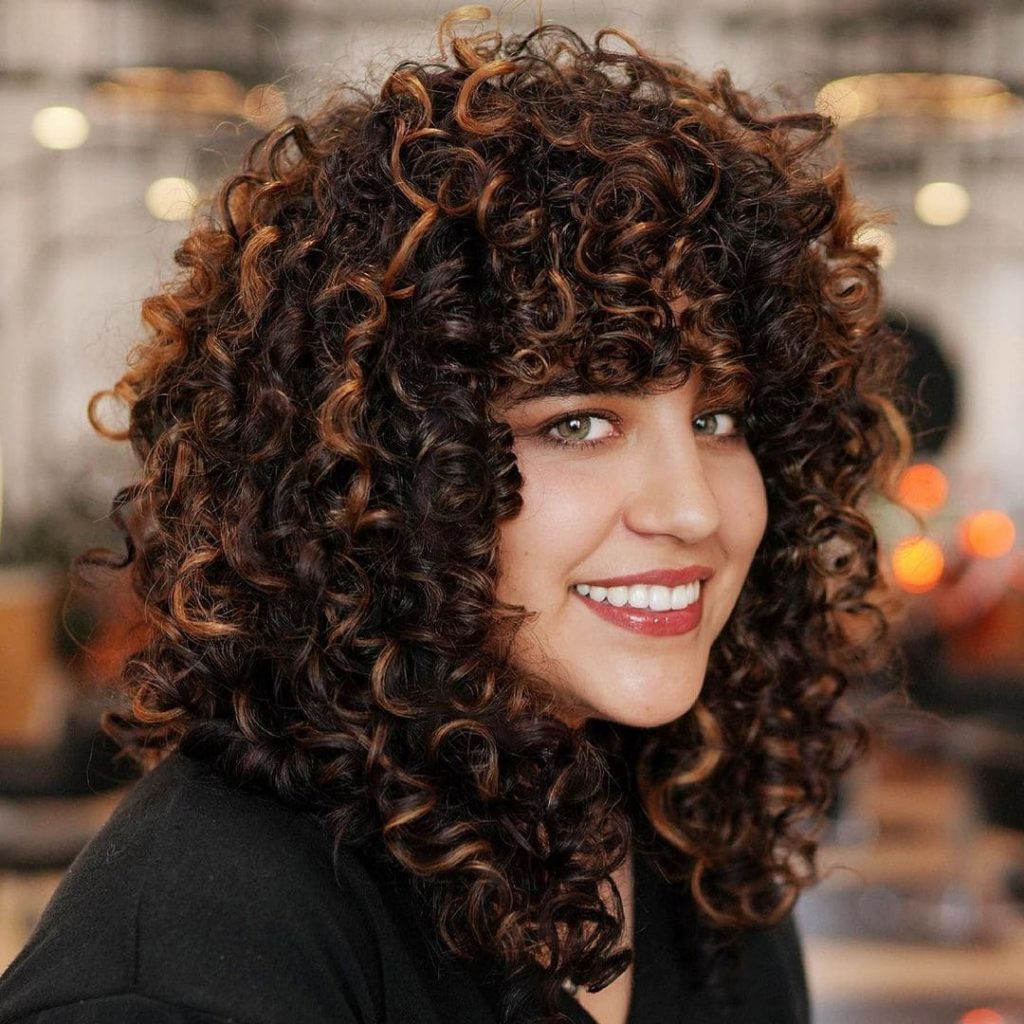 The curly hair encircling your face appears modest yet attractive with caramel sparkles thanks to the Wolf cut.
---
2. Short Curly Hair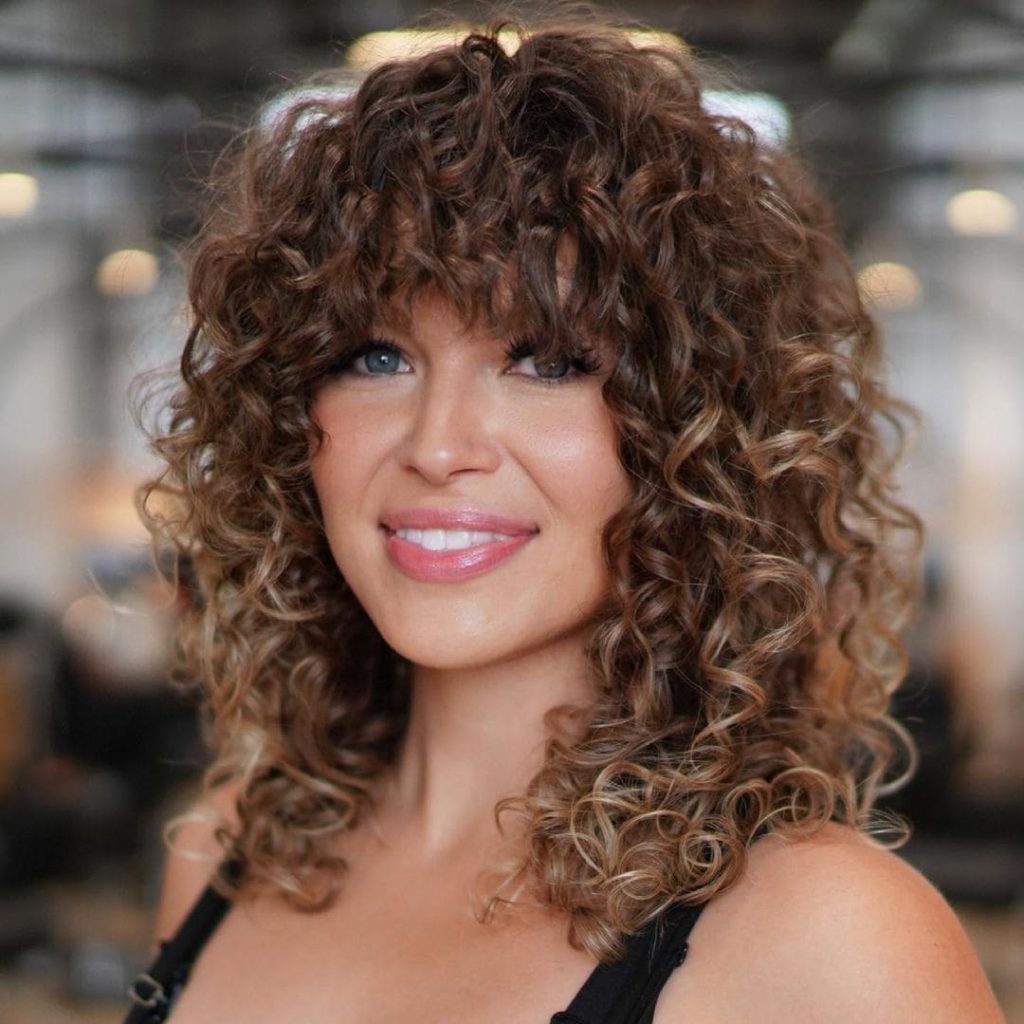 The wolf cut will decrease your style time in half by providing more volume to your hair.
---
3. Middle Parted Curly Hair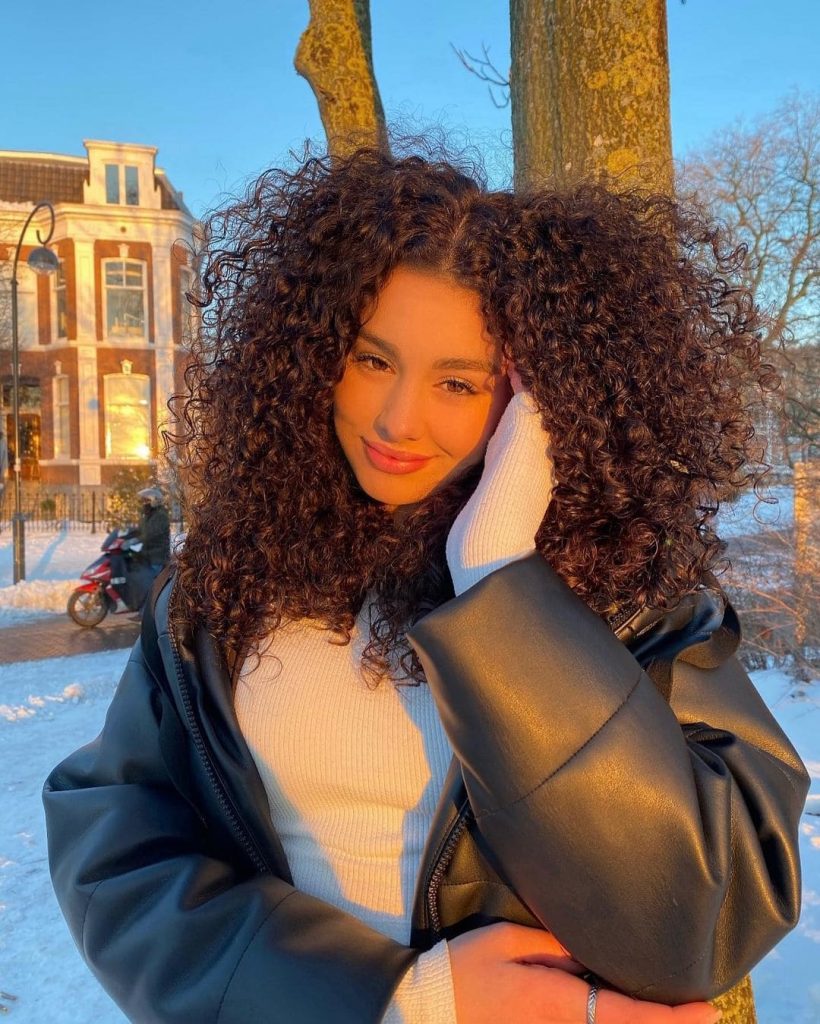 The voluminous wolf cut hairstyle separated in the middle makes your face appear longer and thinner; it's a lifesaver for females with round features and chubby cheeks!
---
4. Wolf Cut Hair Style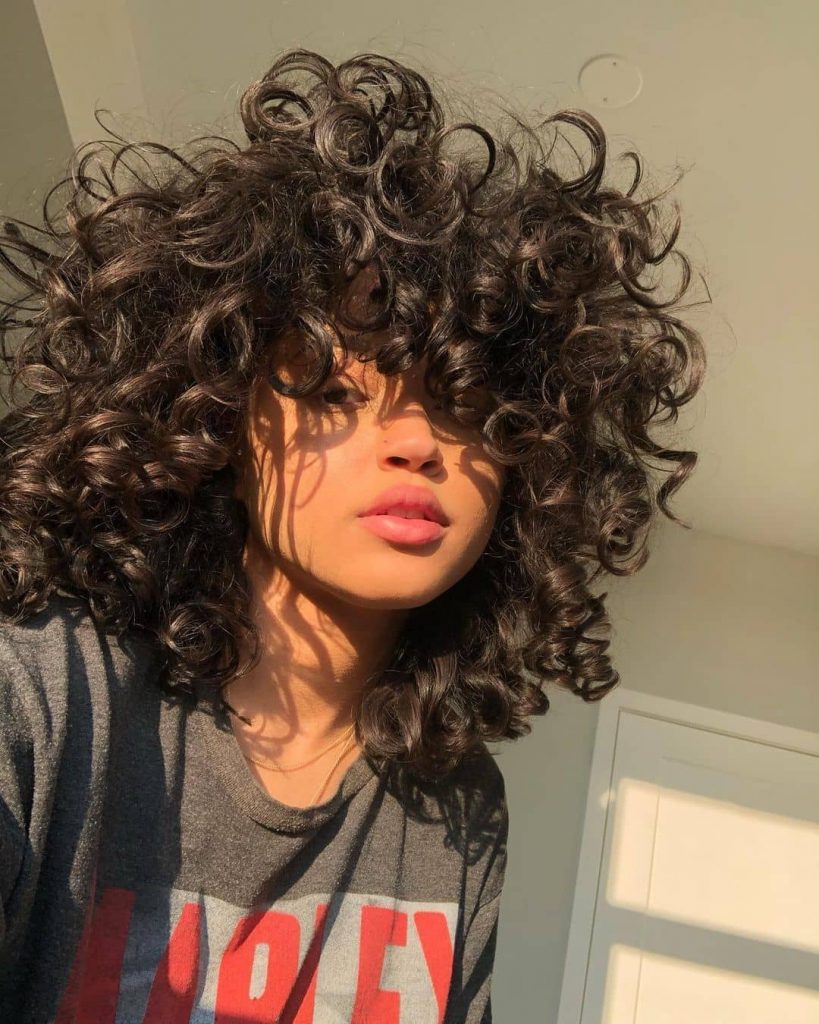 The wolf cut can update your look if you want to employ huge and thick curls in a sporty manner.
---
5. Spicy Wolf Cut Curly hair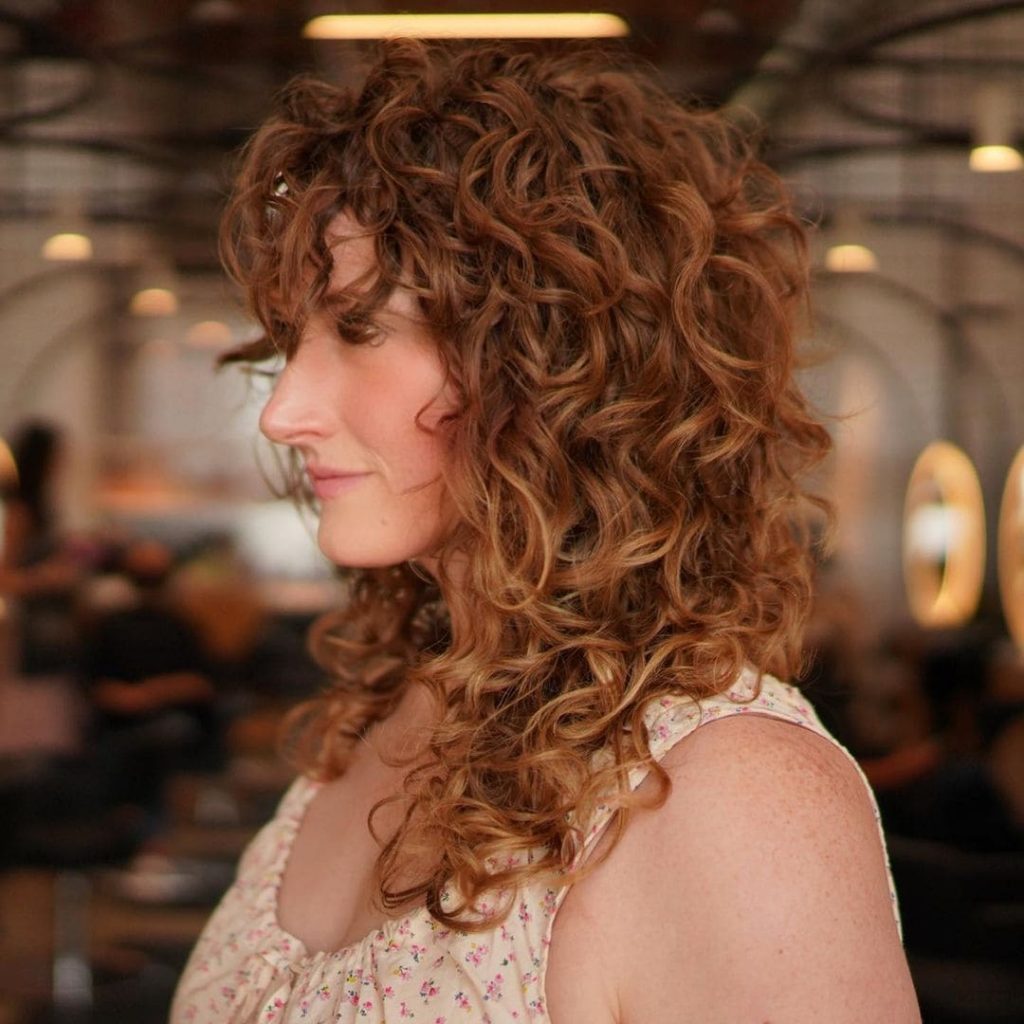 Blonde sparkles are lovely accents that will draw attention to your curls!
---
6. 80's Vintage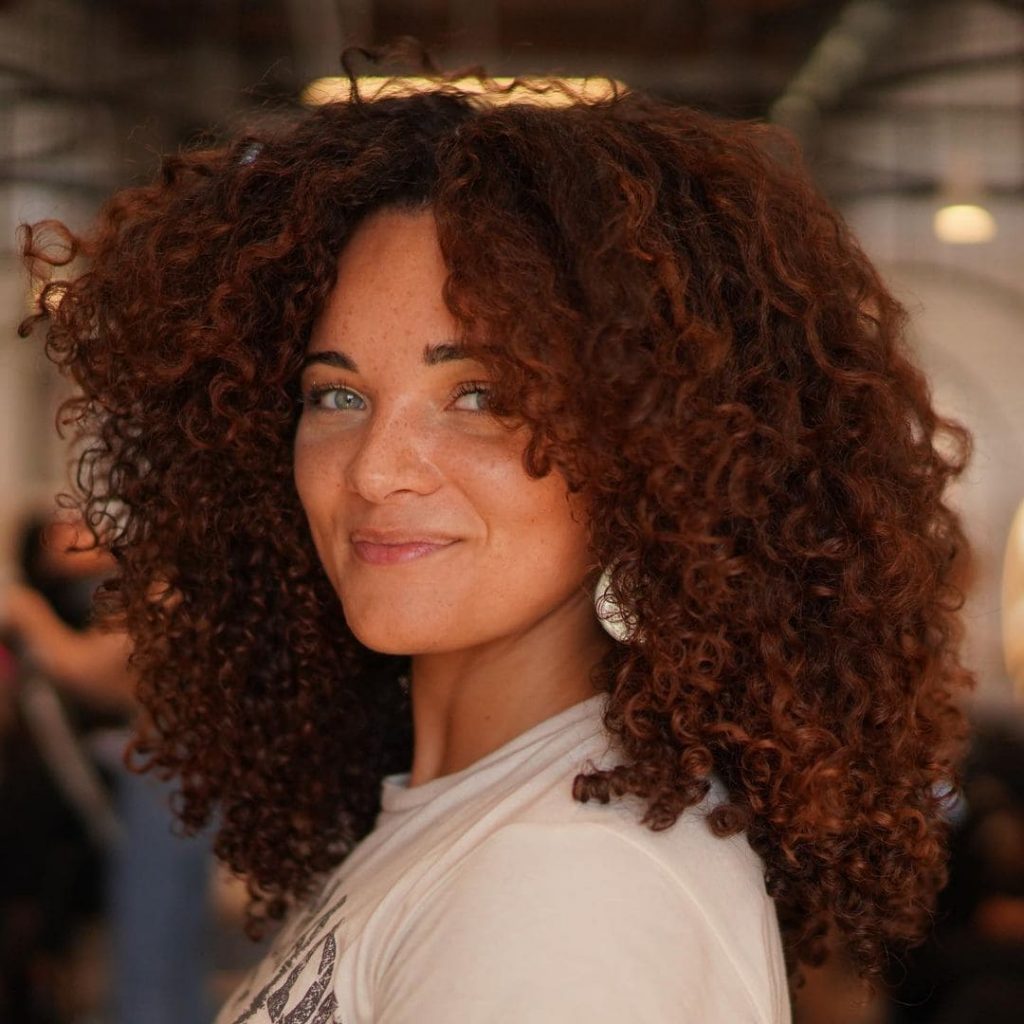 The best brilliant blonde fashionable wolf hairstyle for females who love to stand out and draw attention!
---
7. Groovy Red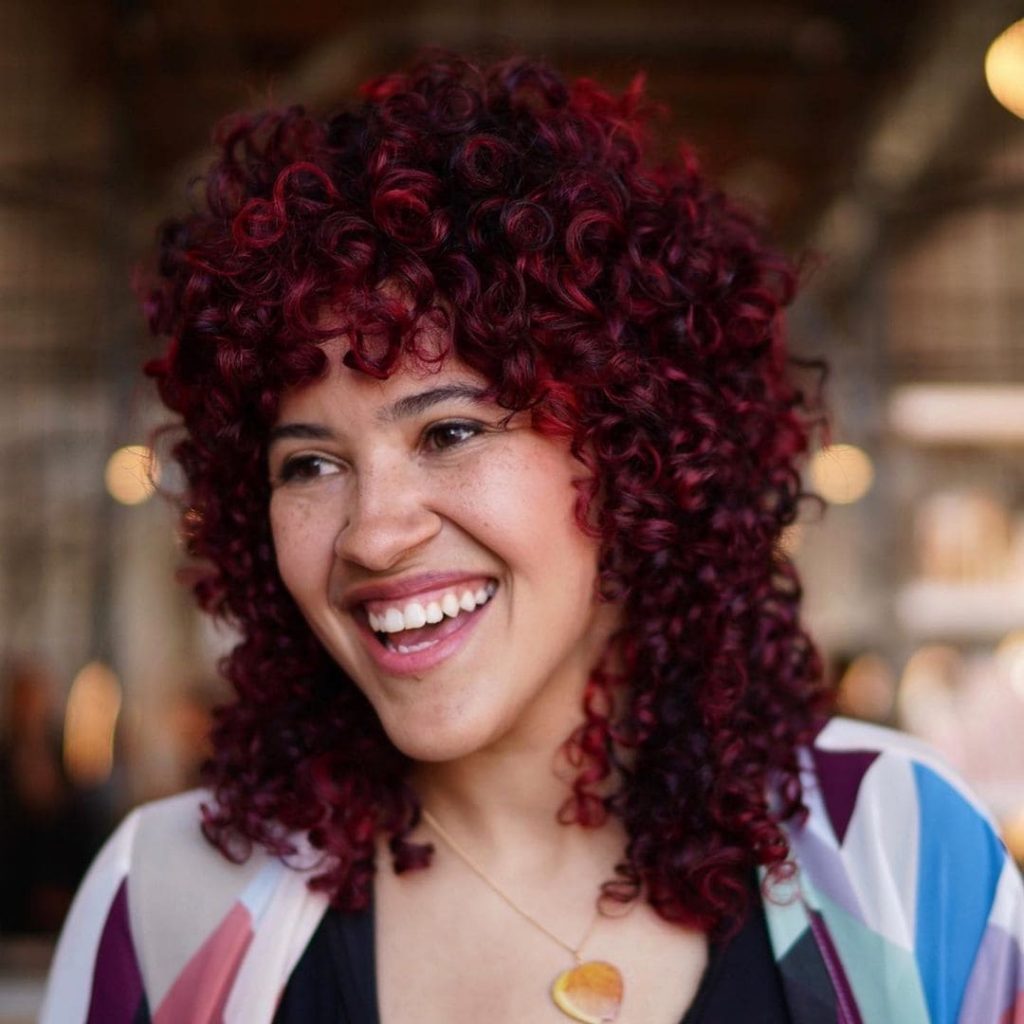 It is a great hairstyle for individuals who like bolder colors and a touch of warmth in their fashionable everyday look.
---
8. Messy Curls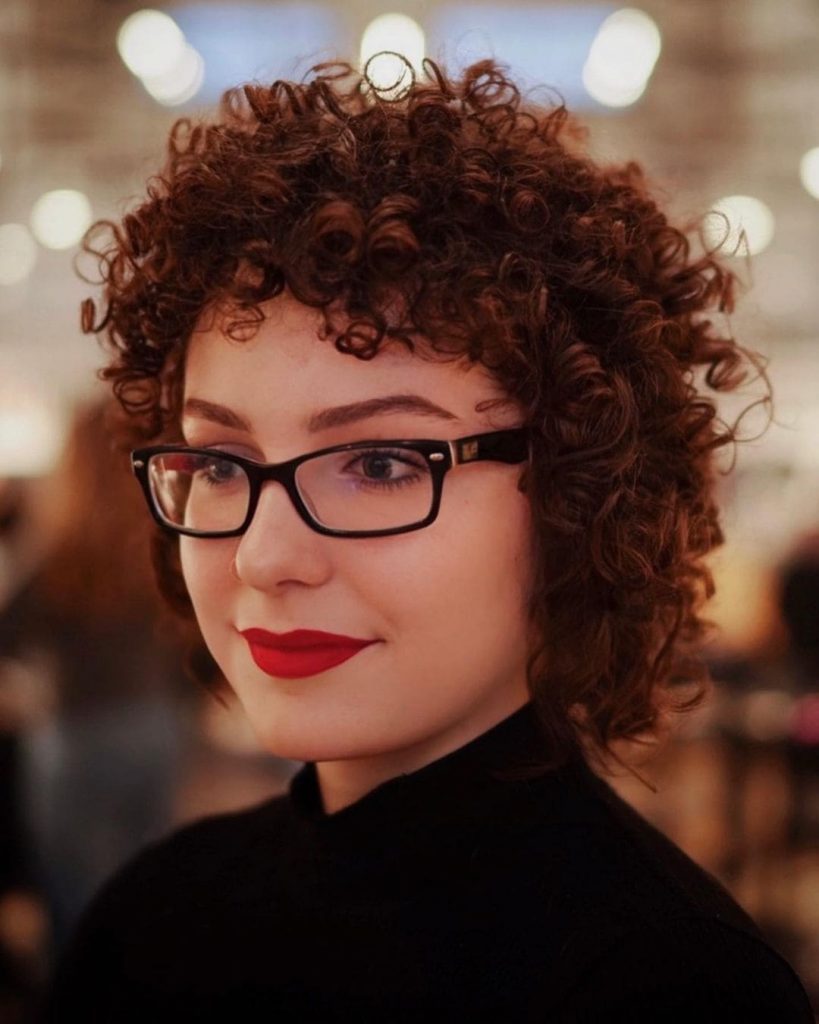 A sloppy wolf haircut like this one is ideal for everyday use and for females who want low-maintenance styles.
---
9. Blonde Caramel Balayage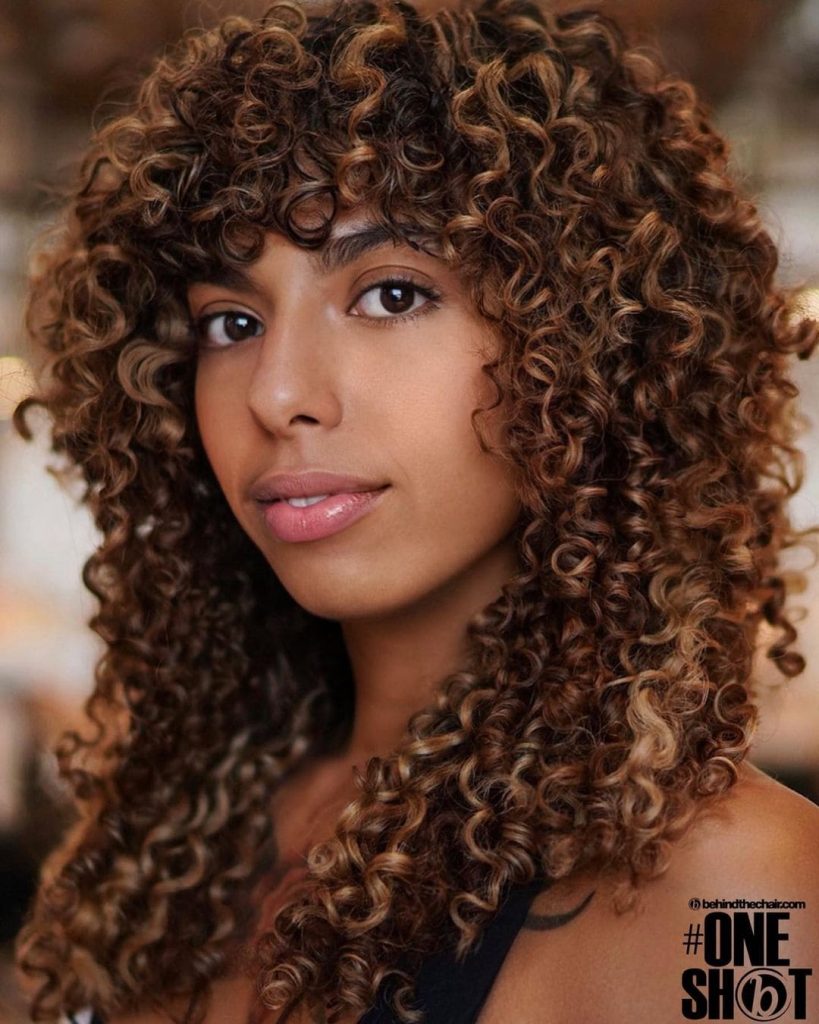 A chic blend of blonde and caramel tones. It is one of the solutions you should absolutely explore if you want to give your hair a new style.
---
10. Miley Cyrus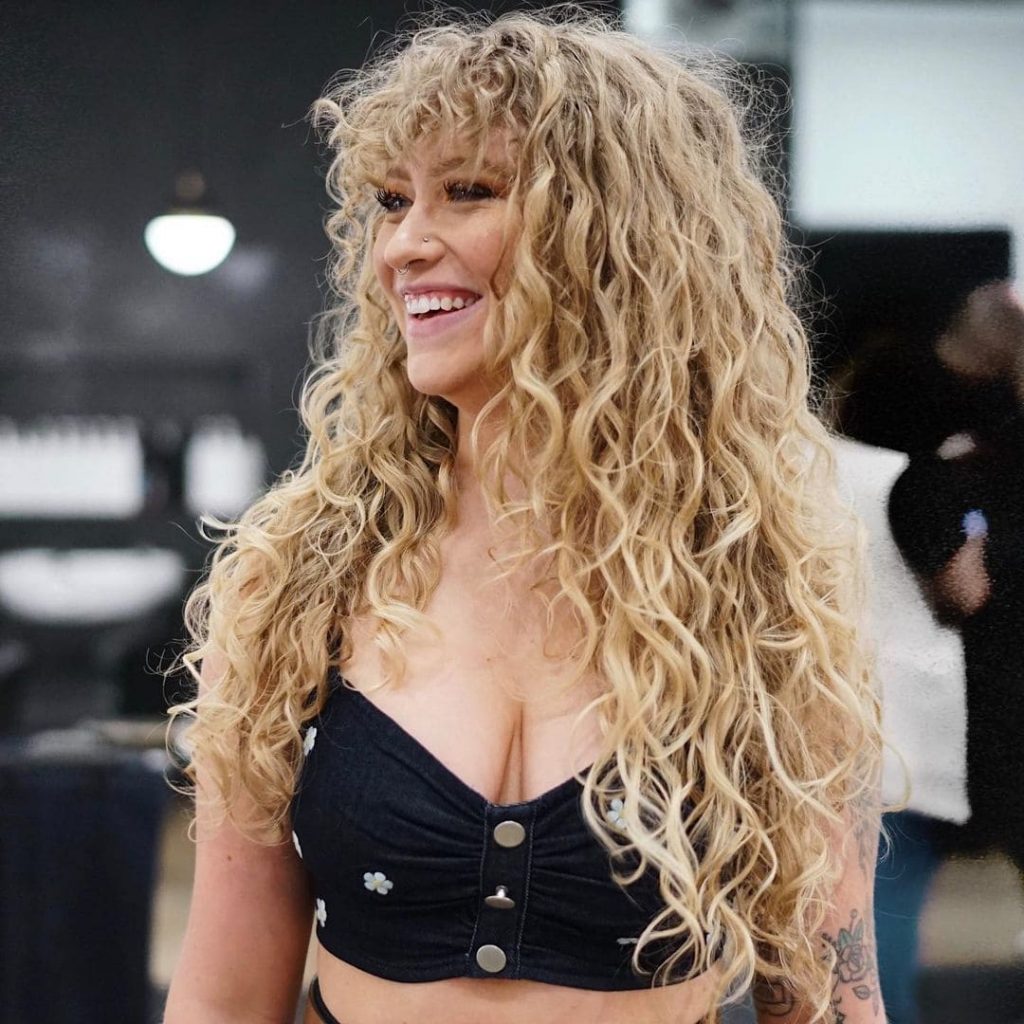 You should attempt this style if your hair is thin and on the shorter side. It will look great on younger girls and ladies who are having difficulty growing out their natural hair.
---
11. Shaggy Curls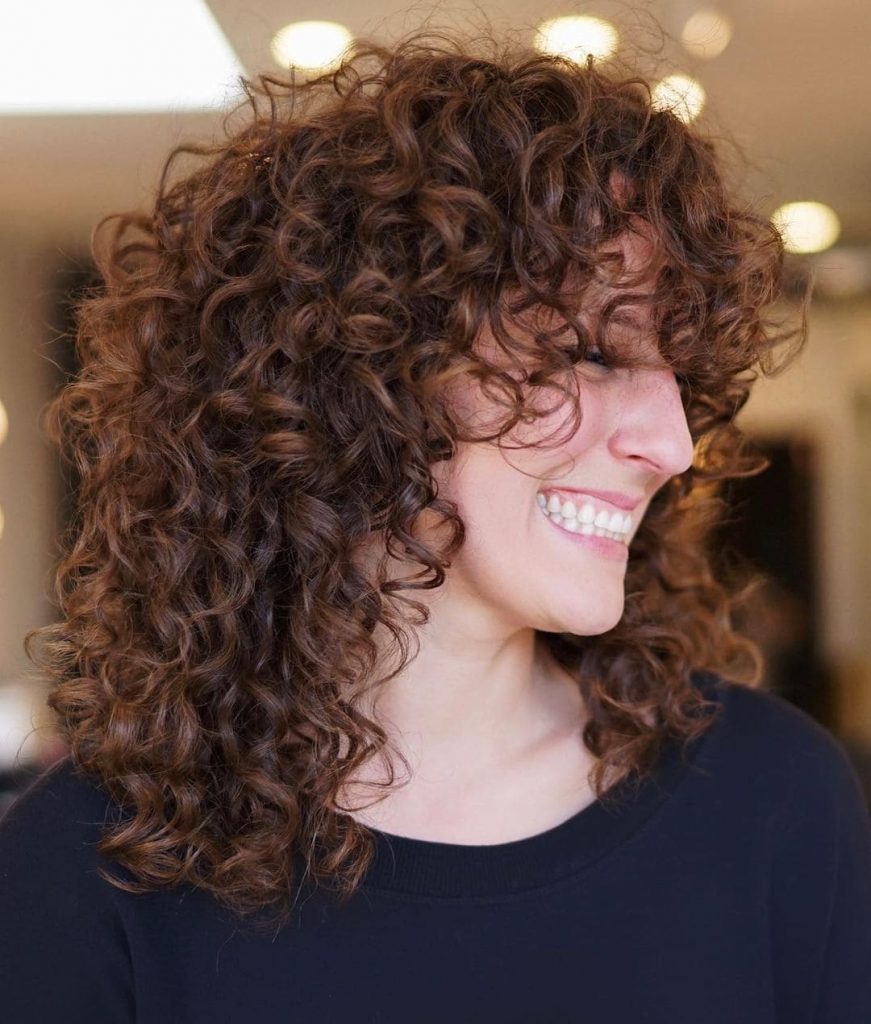 You can seem fashionable while being a truly stylish girl. This wolf hairstyle is ideal for younger ladies that appreciate dominant and trendy concepts.
---
12. Red Saturn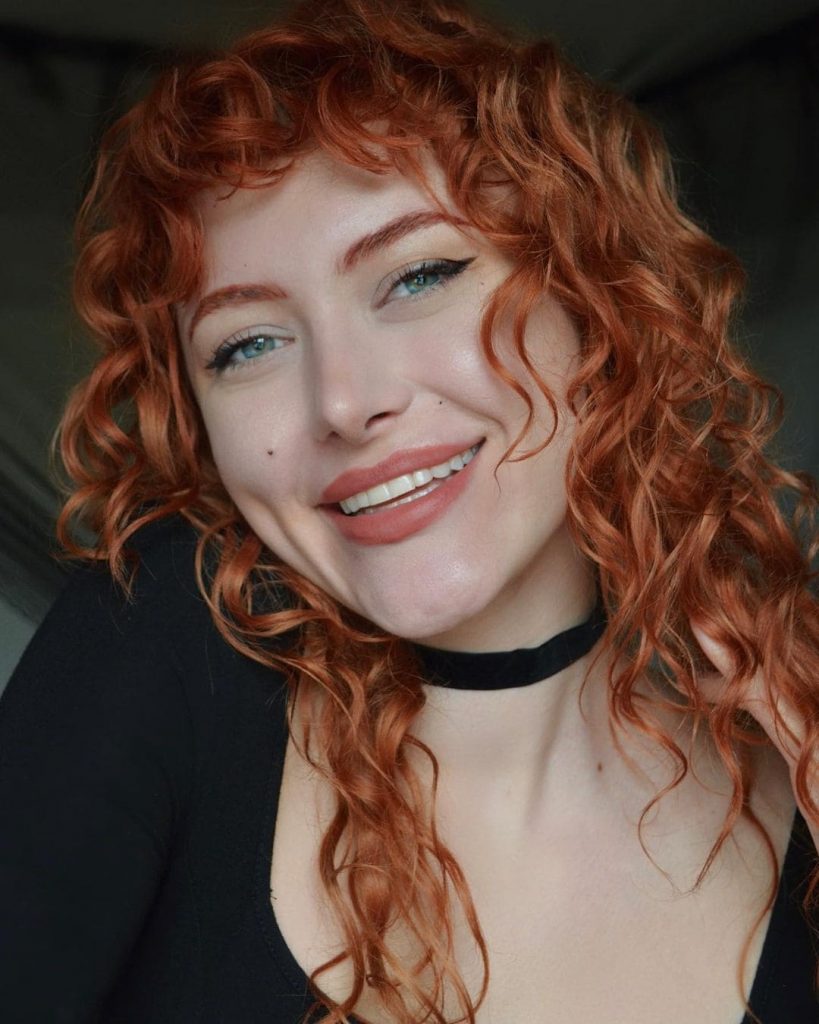 Choose some fluffy bangs at the top & style them voluminously. Use a lot of hair gel to obtain this fashionable look for everyday wear.
---
13. Auburn Tones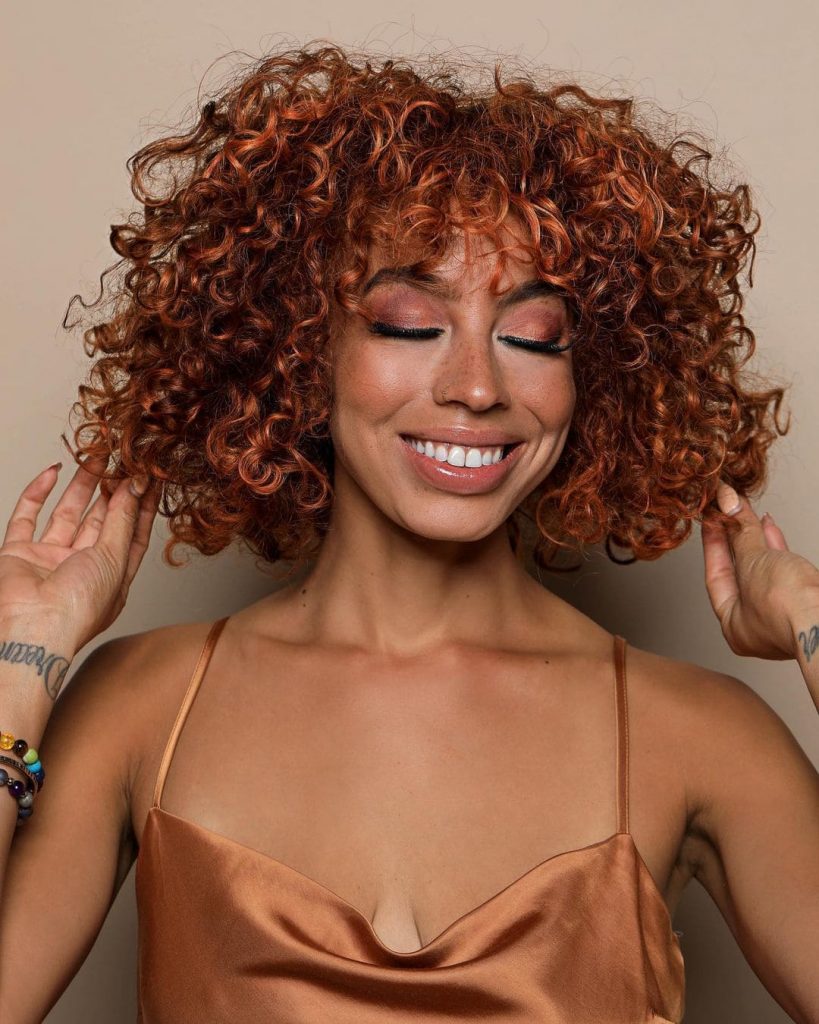 Hair that has been trimmed in layers to match the shape of your face frames your face in reddish tones. This wolf cut is fantastic!
---
14. Rounded Curly Hair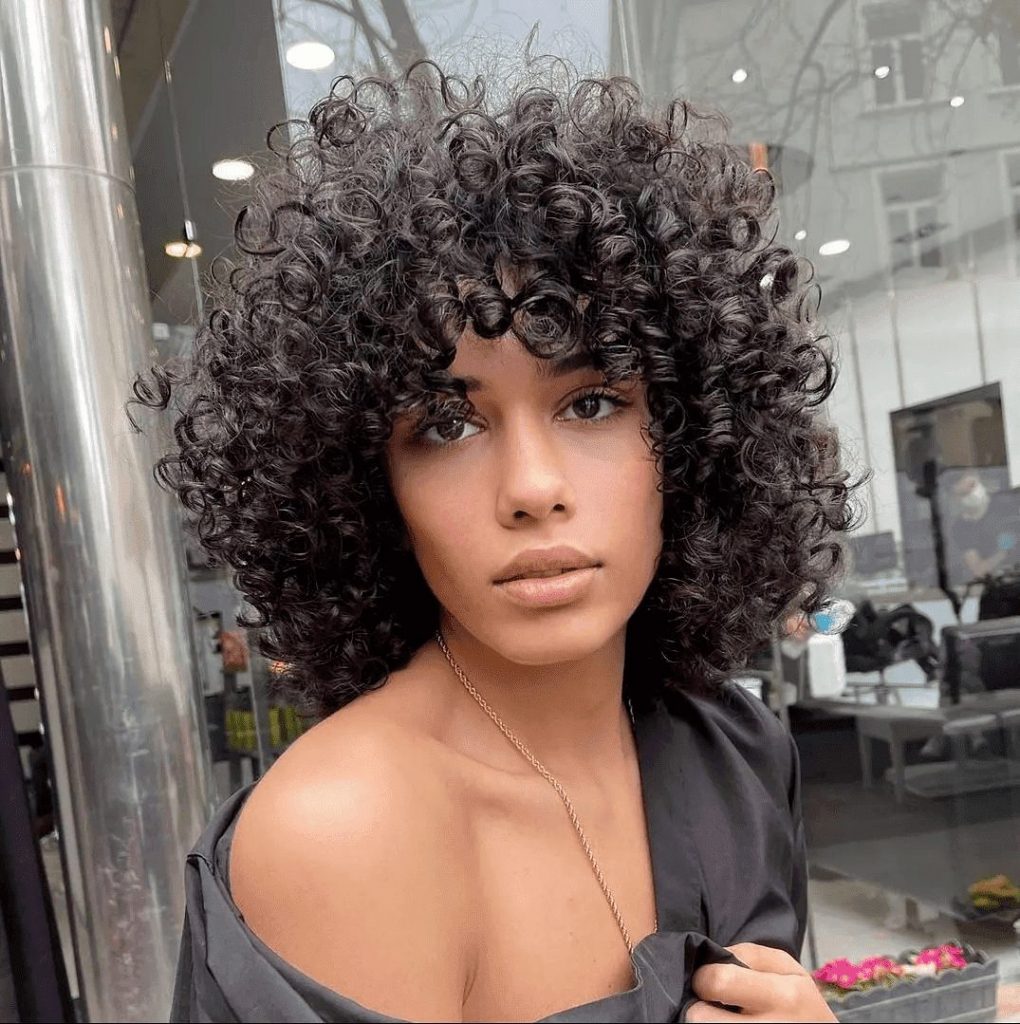 A haircut trimmed precisely for your face and completely suited to you will be a lifesaver for ladies with wide foreheads!
---
15. 2000's Jordin Sparks
The soft bangs cut, also known as wispy bangs, is paired with the wolf cut style to achieve a flawless and young look.
---
16. Funky Cinnamon
You'll love this wolf hairdo if you appreciate incredibly short, low-maintenance hairstyles.
---
17. College Gal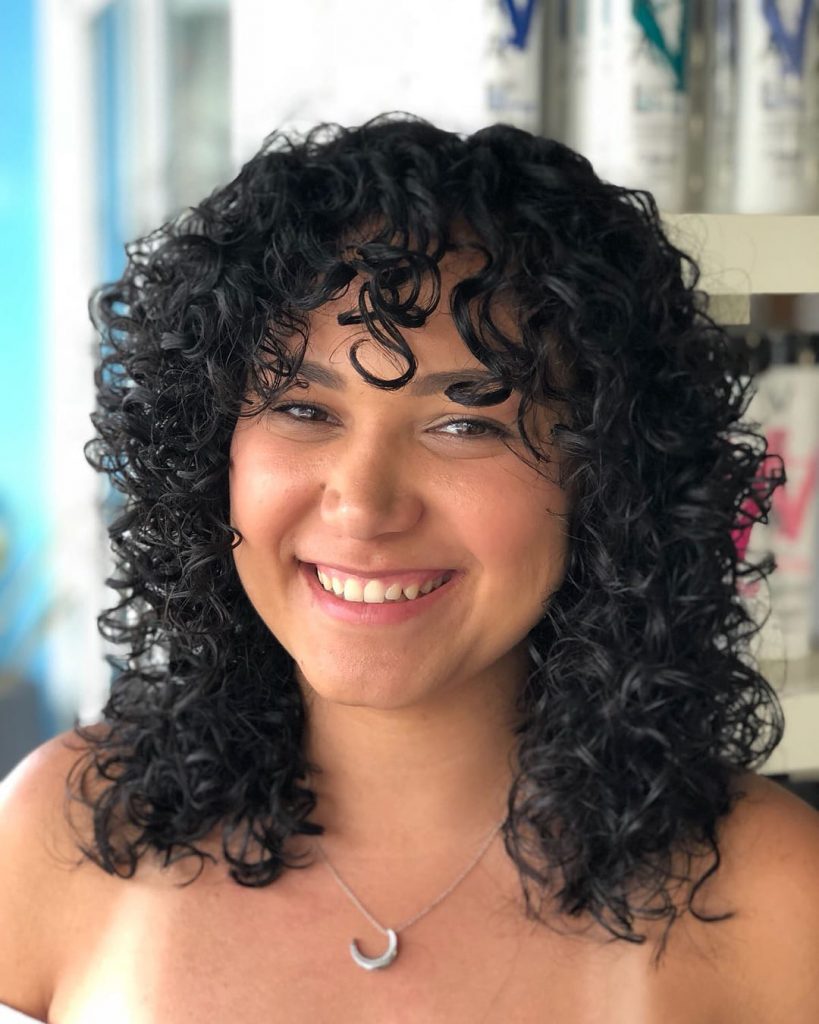 You'll adore this sloppy wolf hairdo if you prefer bright yellow coloring. It is ideal for everyday use.
---
18. Hot Orange Wolf Cut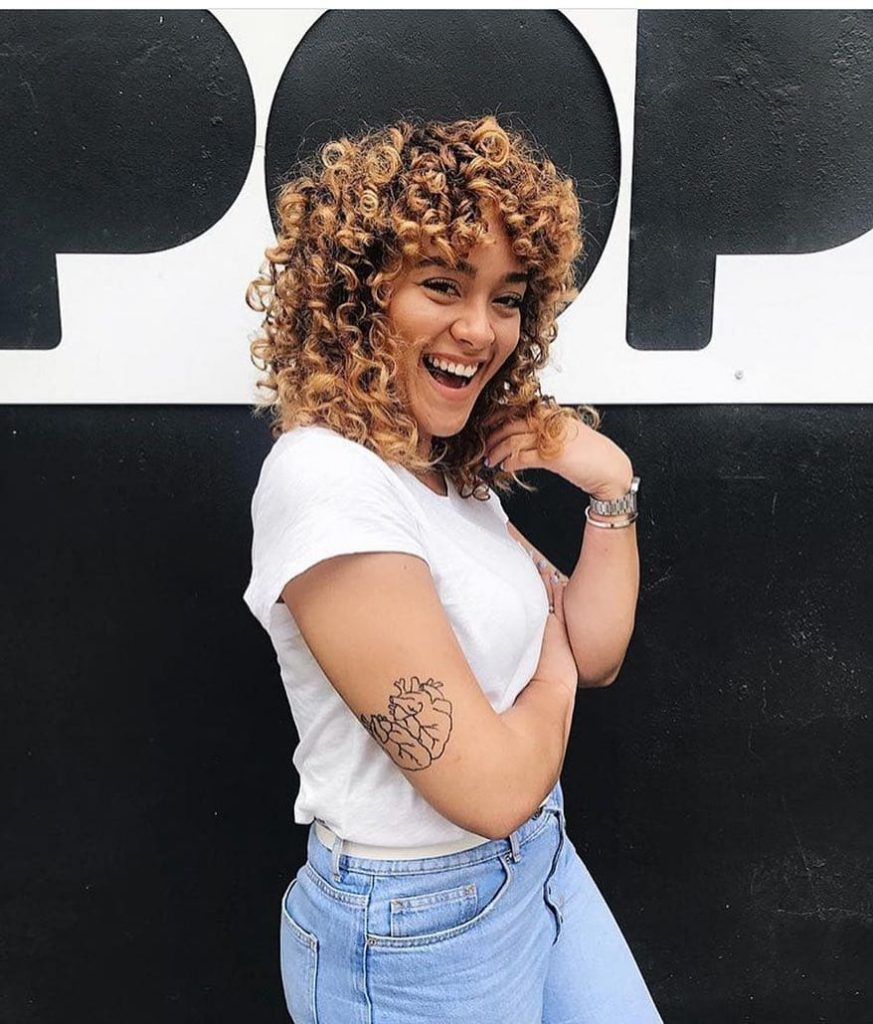 Girls who appreciate vibrant and stylish haircuts would like this green color in their hair. It's the ideal and young appearance.
---
19. Short Curly Blonde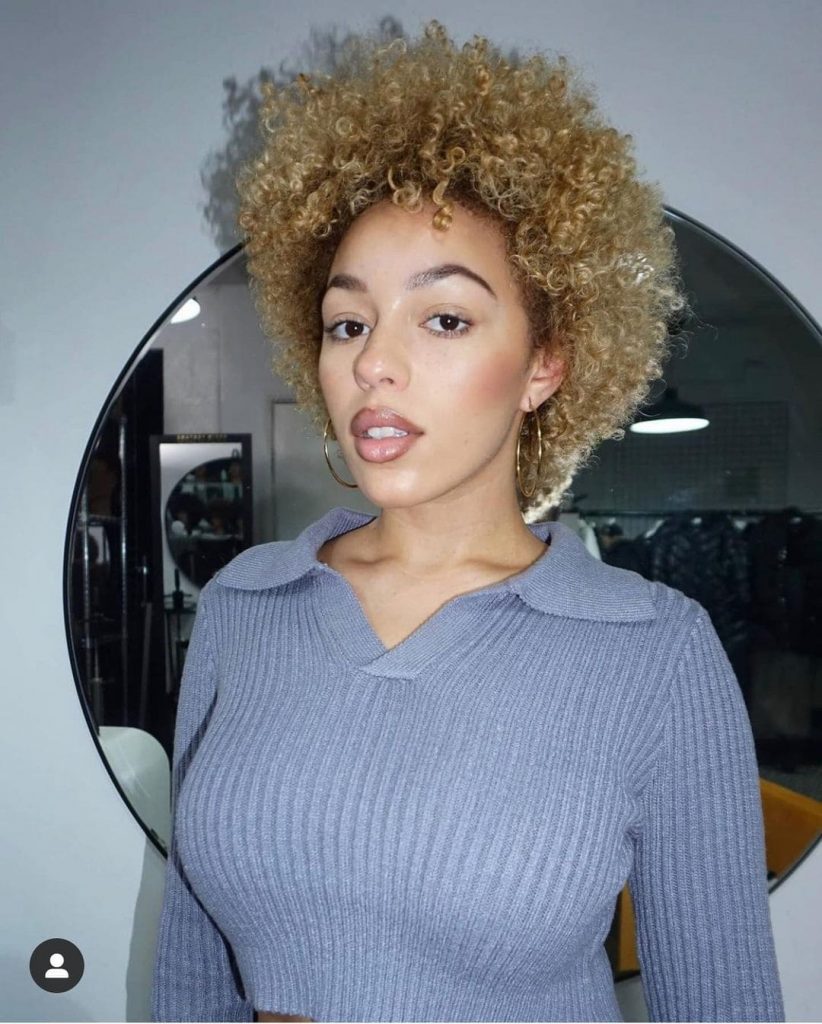 The wolf cut is used to style the short haircut. Blonde tones are an excellent hair color for this style! If you want something new, this is your haircut, easy to maintain, and athletic.
---
20. Blonde Tips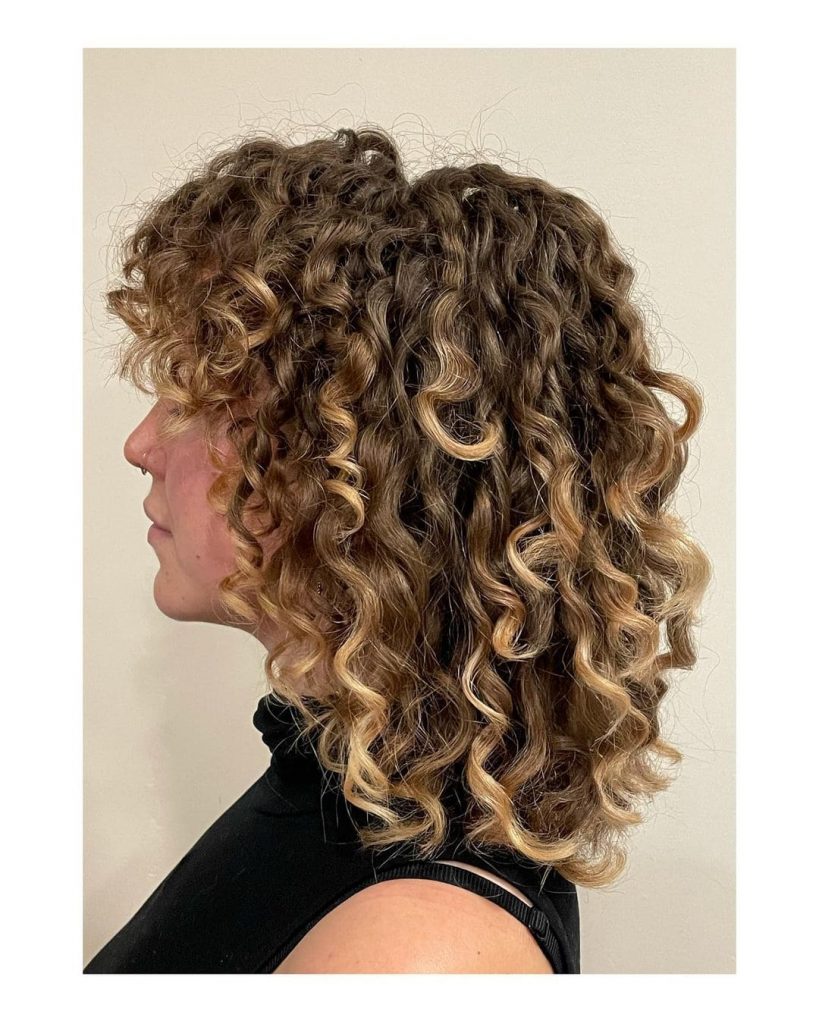 Elegant curls are created by the wolf cut, which is done by decreasing the layered cut. It will be ideal for ladies who seek a risk-free and modest haircut.
---
21. Brunette Curls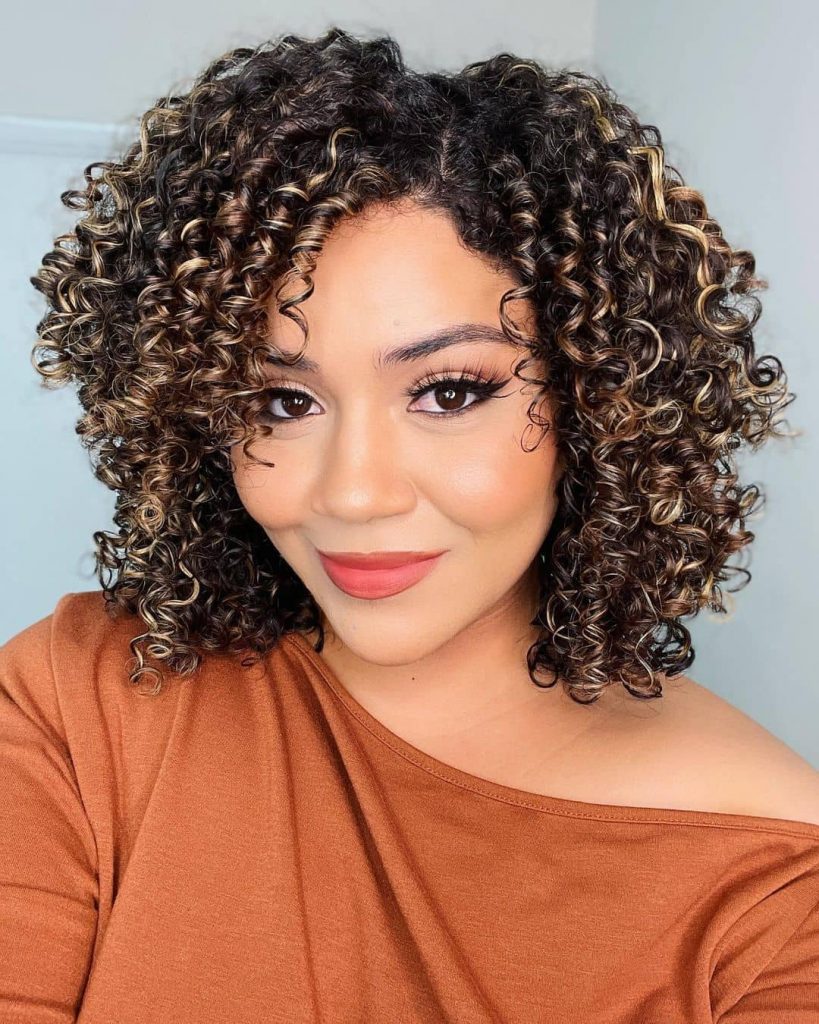 Curly hair mousse-supported is renowned for its moist look and lovely, non-fluffy attitude.
---
22. Wolf Shag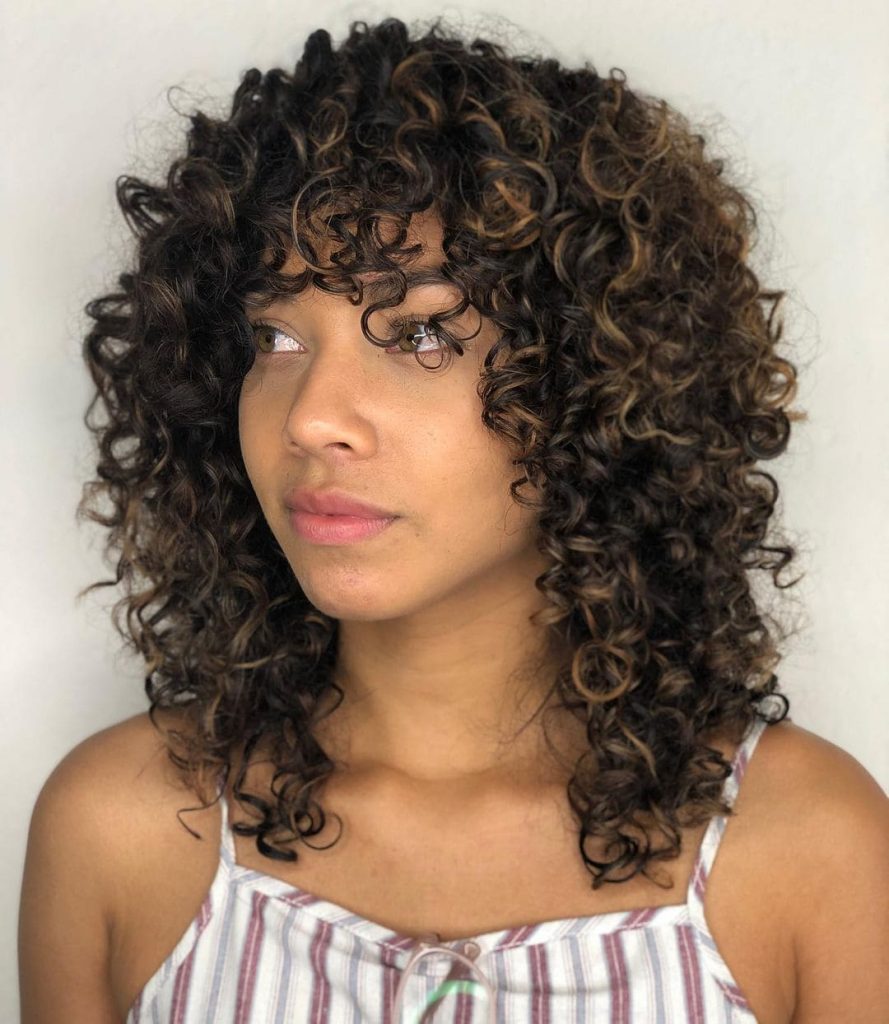 If your natural hair is thin & short, you'll appreciate this short hairstyle with mullet characteristics. It's the ideal hairstyle for everyday use.
---
23. Long Blonde Highlights
How about experimenting with this cut and color? For mature women, it is ideal, who want their natural texture yet want to embrace a wolf cut.
---
24. Sugar Blonde Wolf Cut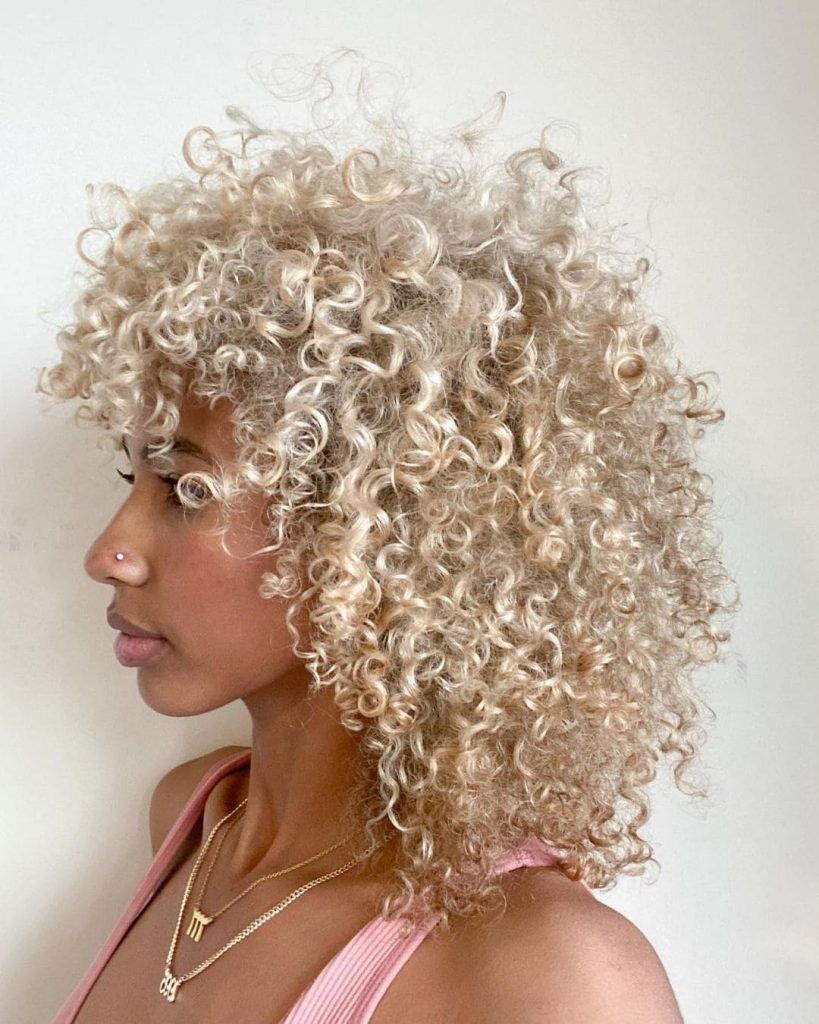 The combination of sugar blonde and bronze skin tones is simply stunning!
---
25. Sepia Curls
The short hair layers emphasize the dense curls, and the golden tones are flawless as always.
---
26. Afro Curly Hair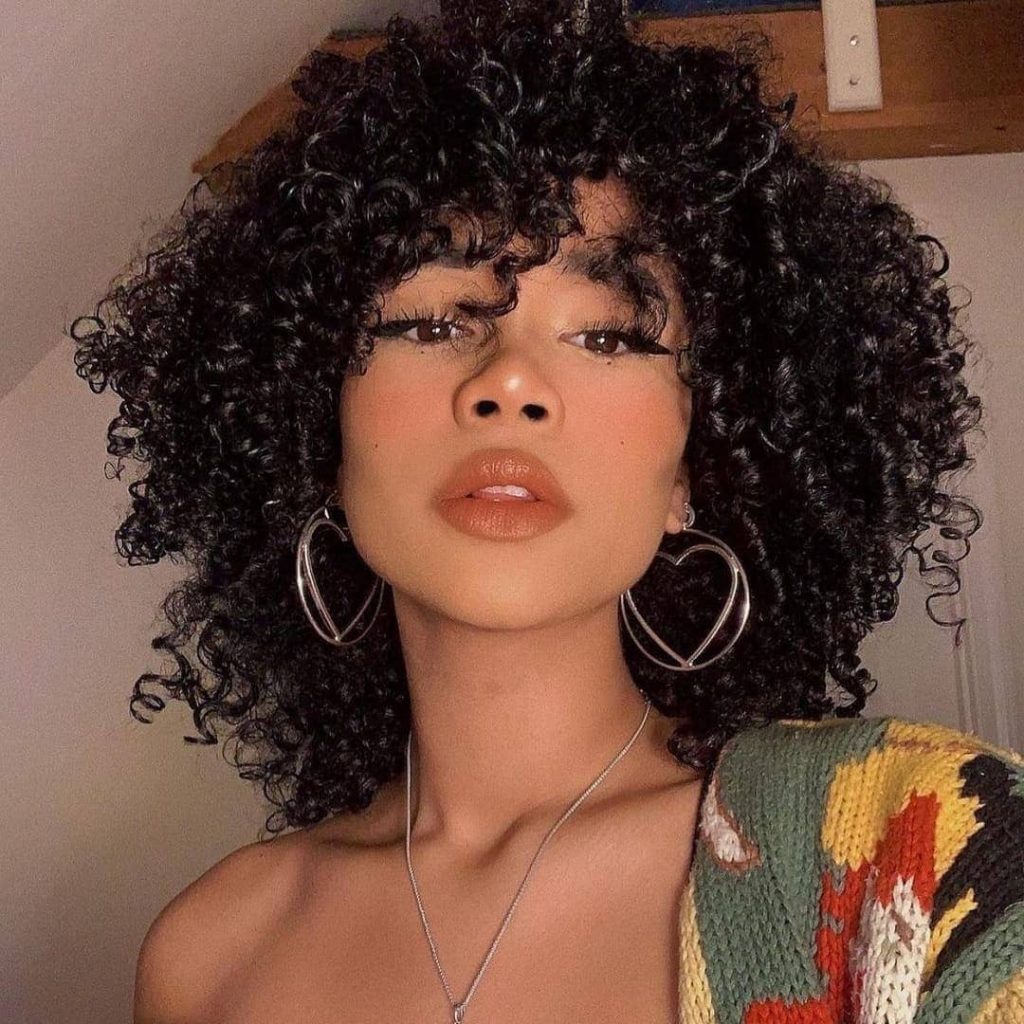 The wolf cut, complemented by the short bangs, creates a distinct 2022 style with the purple color mirrored on the side of the bangs.
---
27. Thick Curls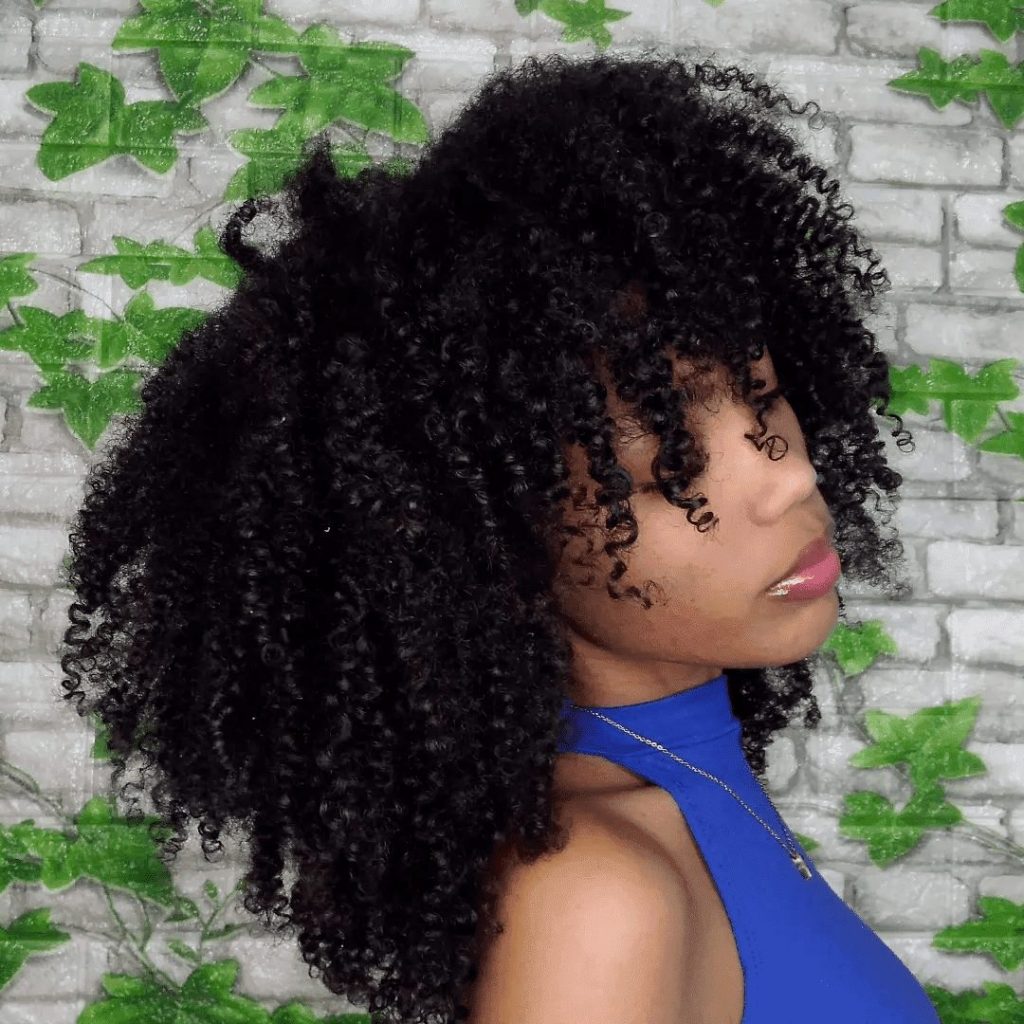 You may obtain a striking combination of classic and modern with the wolf cut without compromising the structure of traditional Afro curls.
---
28. Hazel Wolf Cut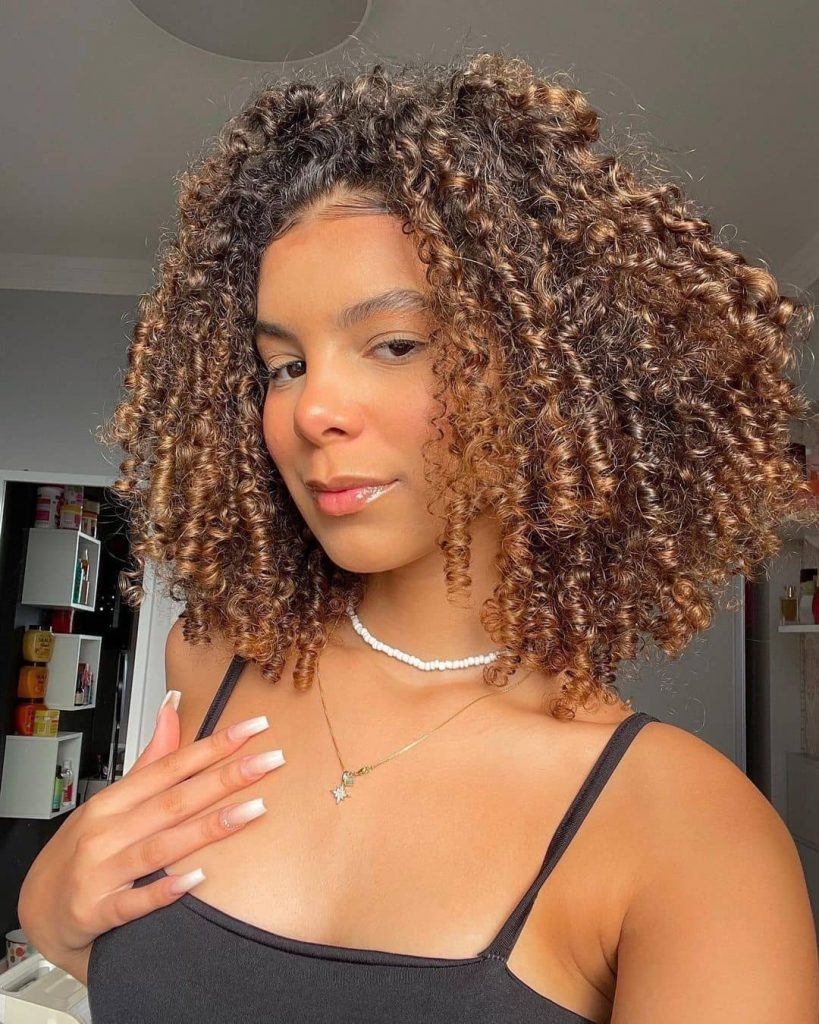 Wet hair, wolf cut, half-and-half hair coloring… This haircut has everything that is popular for 2022!
---
29. Rose Gold Curls
In a low bun, wear your dark hair, and let the wolf cut speak for itself! For the women who want to try something new, it's a lovely hairstyle and something fancy and attractive.
---
30. Curly Bangs
You'll love this appearance if your natural hair is curly or wavy. Wear it whenever you want & complement it with your natural texture & feminine waves.
---
31. Spicy Blonde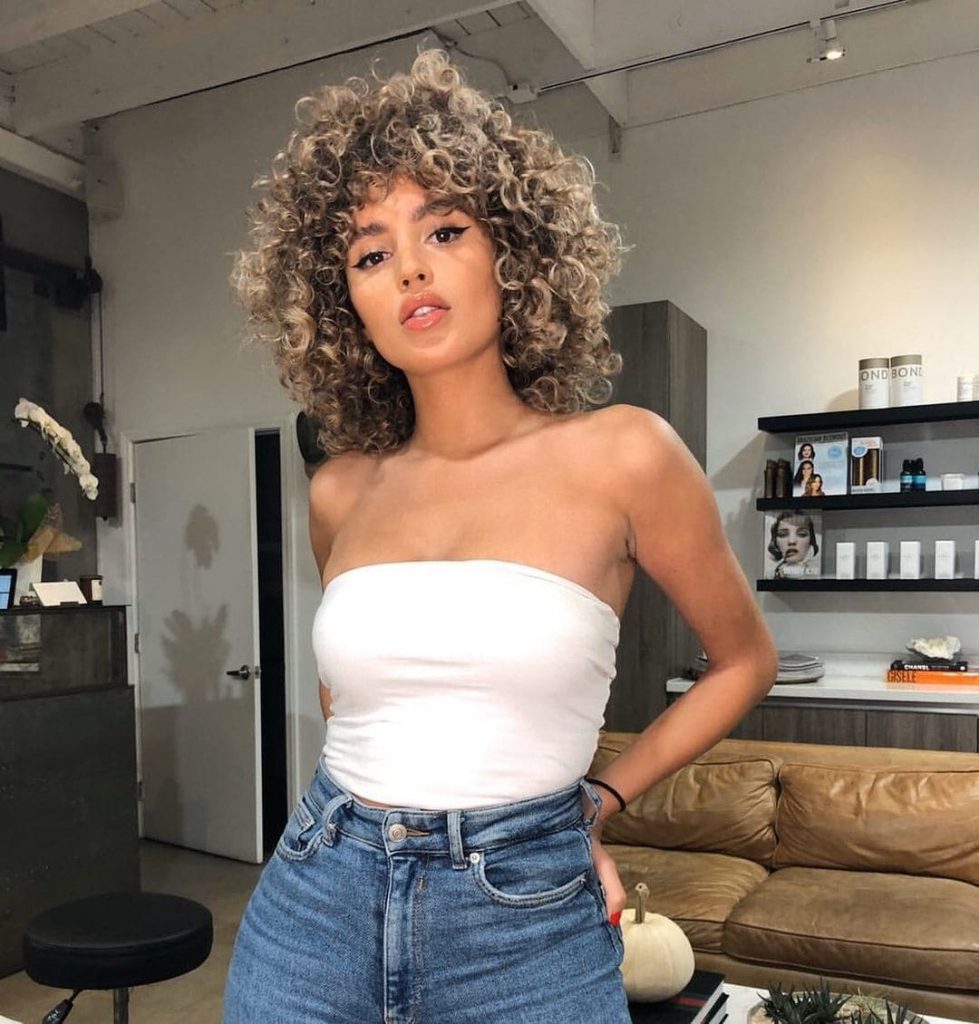 If you appreciate scorching red colors and beautiful designs, you should try this one. Because of the color combination, it is a lovely hairstyle for a night out.
---
32. Gorgeous Brown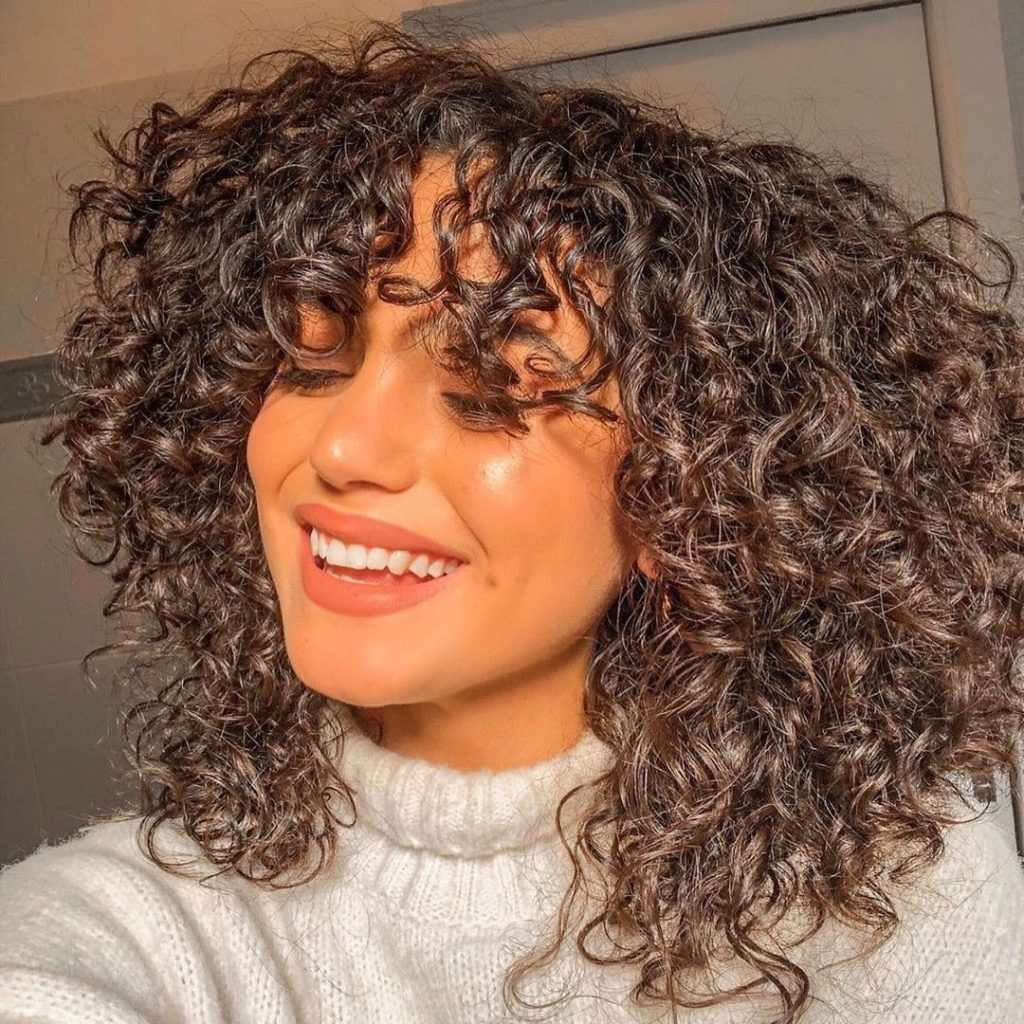 Do you enjoy uncommon orange and red hues? This hair color is extremely trendy, and it's ideal for ladies who want to have daily hair alternatives while still exuding a forceful mood with their chosen hue.
---
33. Light Blonde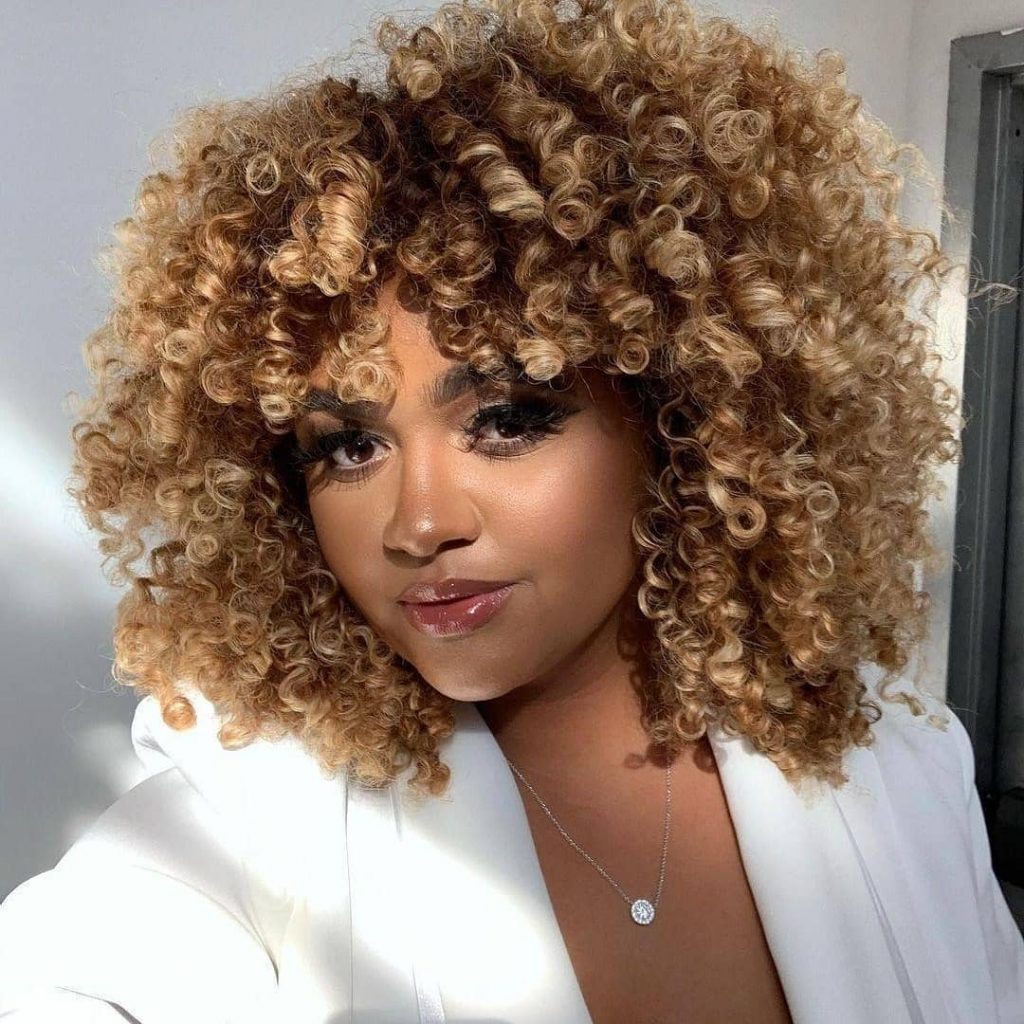 If you want to make your curly hair more dynamic and eye-catching, we can see the impact of wolf cuts with this before and after!
---
34. Natural Silver Wolf Cut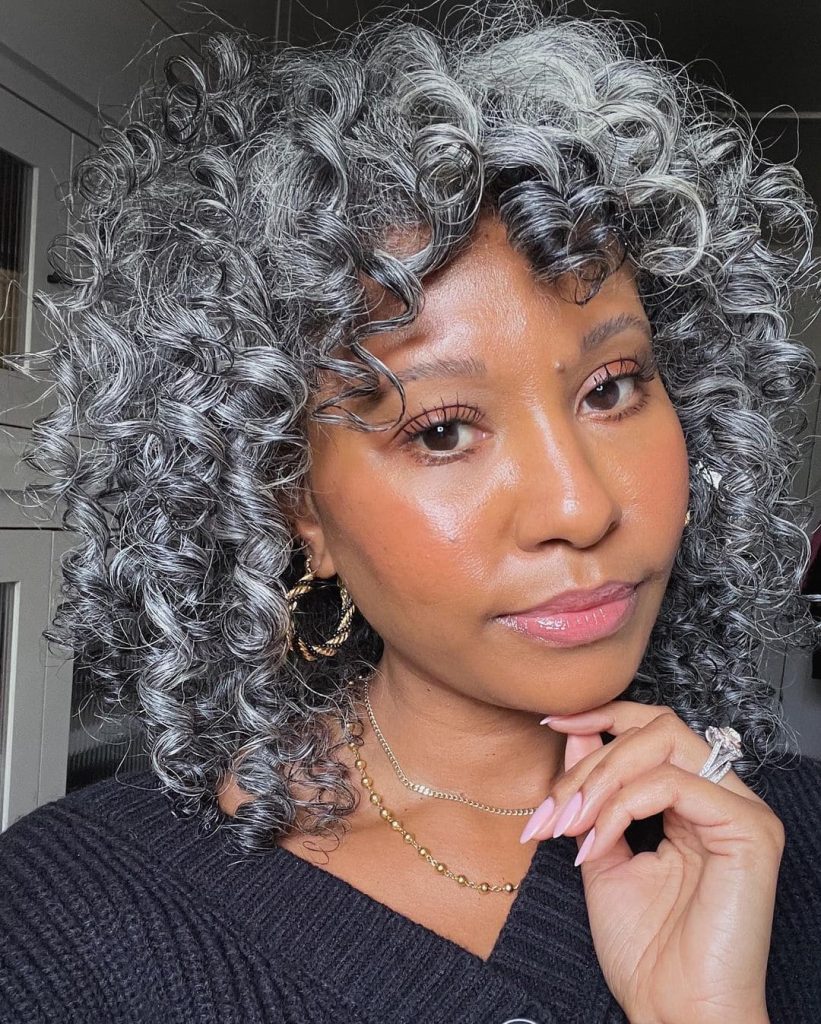 Natural silver is a highly popular hue since naturalness is the latest trend and is loved by ladies. The symmetry of the wolf cut and the silver hue appealed to us.
---
35. Big Bang Curls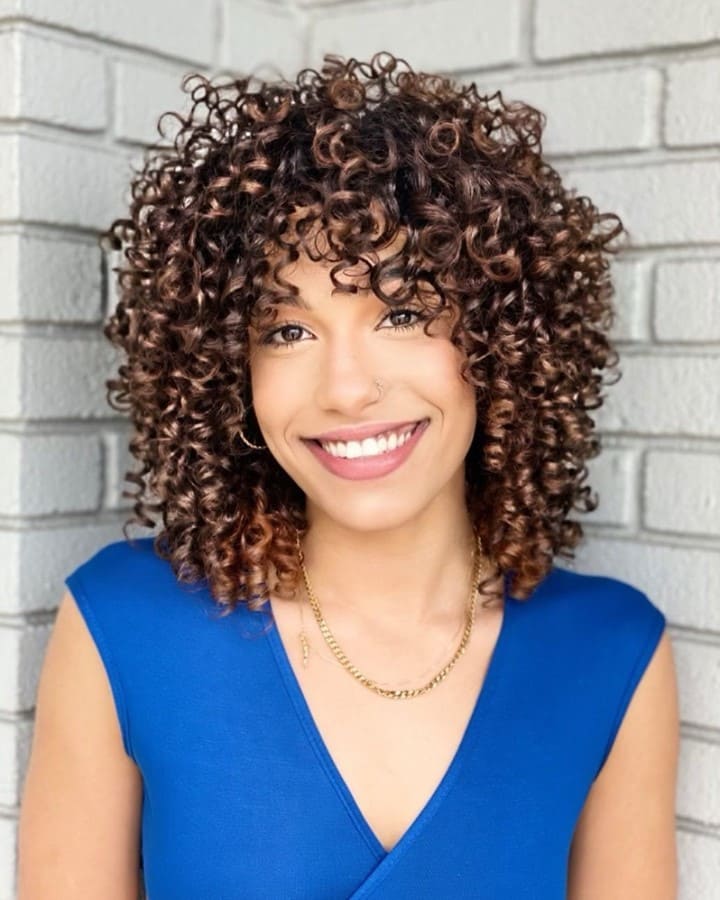 This haircut, which demonstrates how well bangs for curly hair, is one of the greatest examples of the wolf cut style.
---
36. Bangs Highlight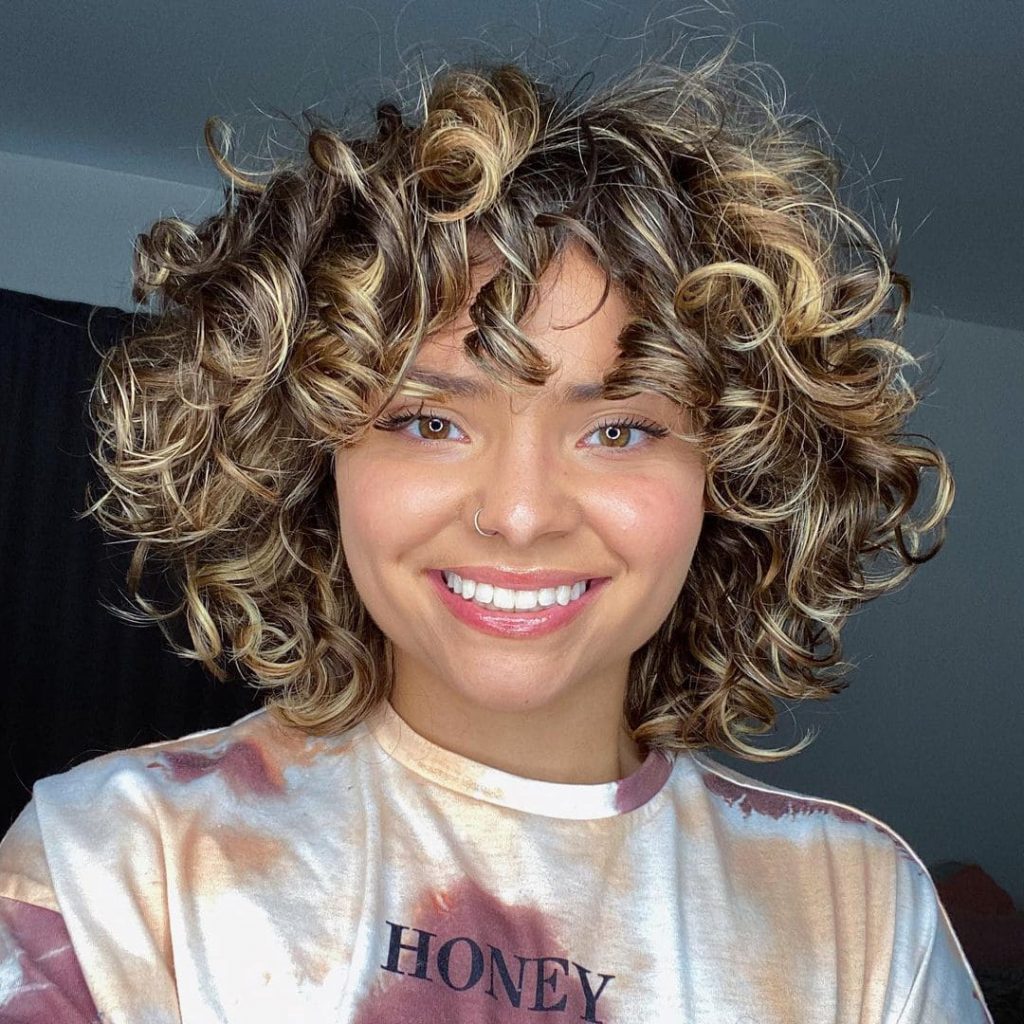 We adore this long, densely layered style that doubles the wolf haircut trend with its vibrant, juicy purple hair color.
---
37. Mullet Shaggy Hair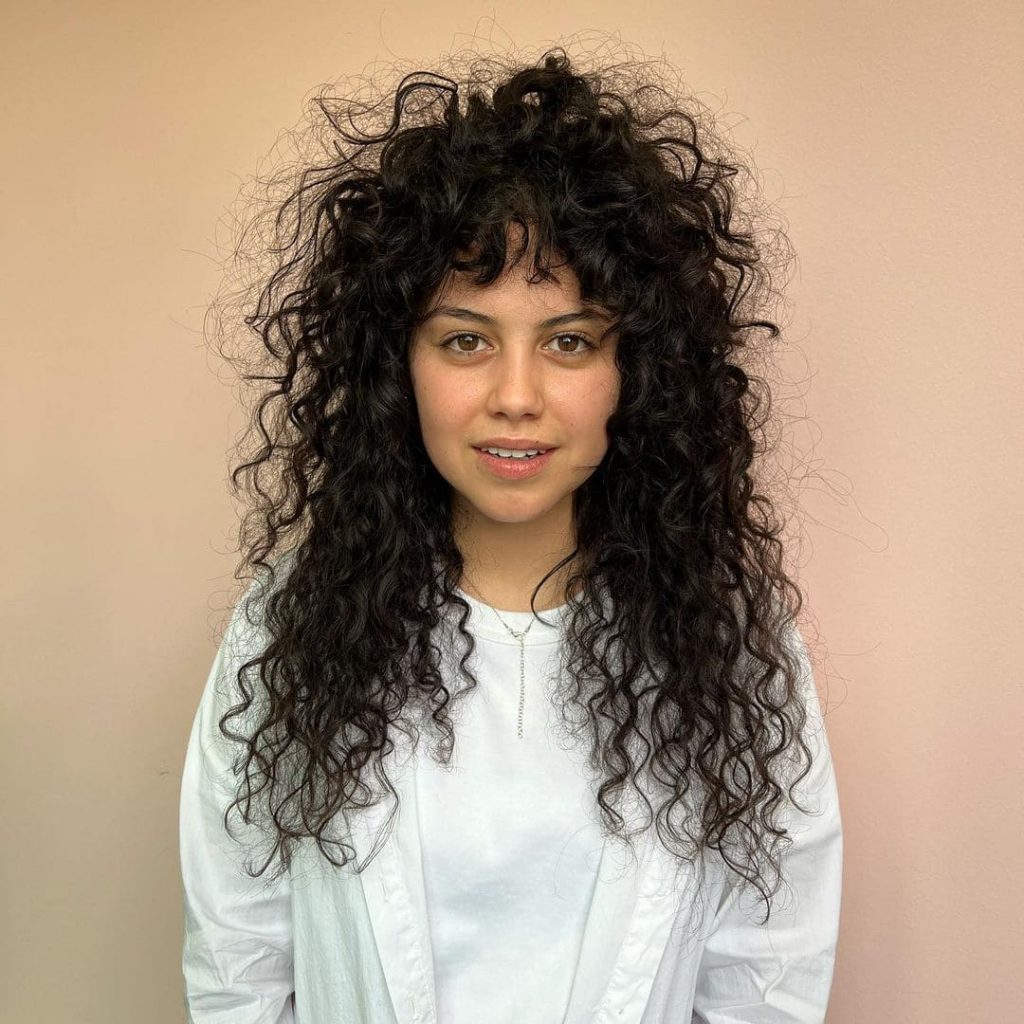 Give your delicate hair some punch with this daring wolf cut.
---
38. Bright Caramel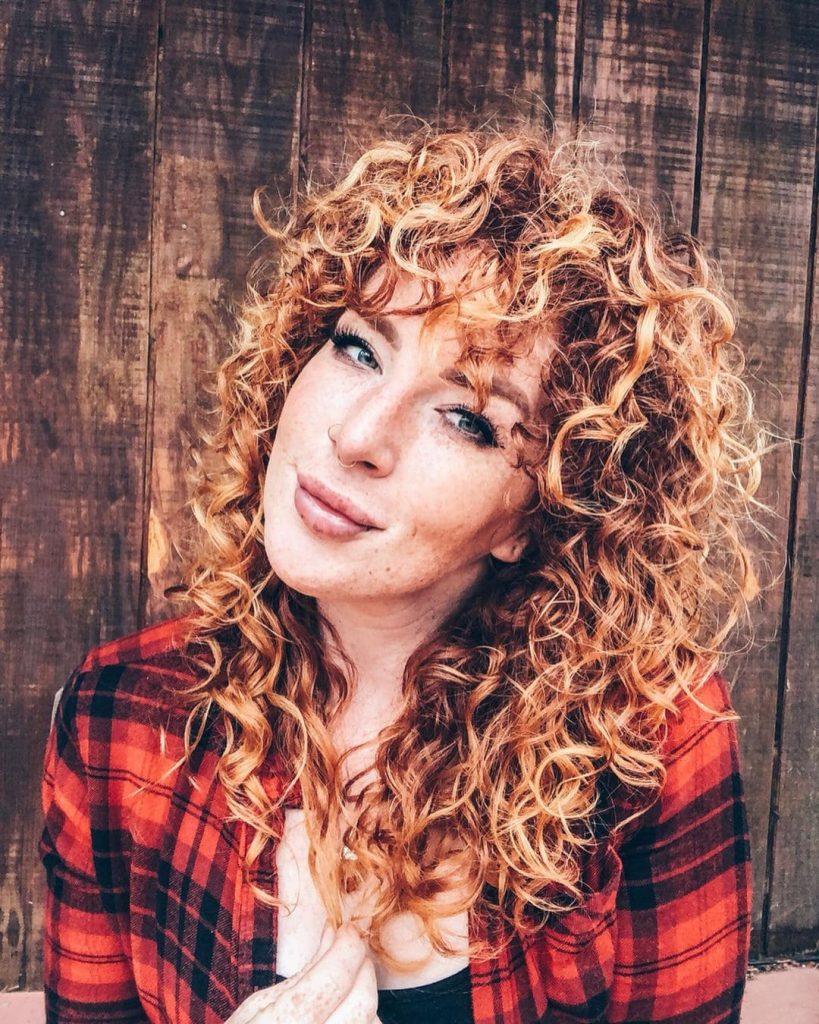 We recommend adding some volumizing mousse or spray and blow-drying your hair with your head down to produce this sloppy, disheveled wolf hairdo.
---
39. Supper Shaggy Wolf Cut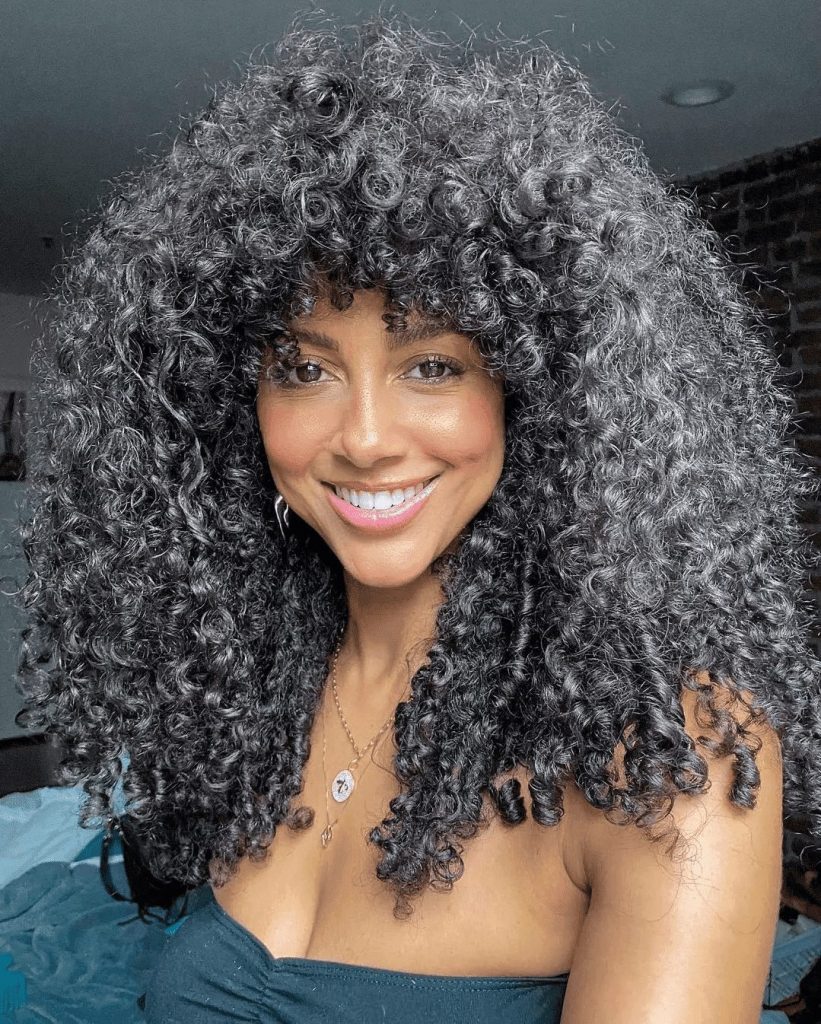 While wolf cuts may be done on any hair length, this style looks especially good on long hair. Shaggy bangs and lengthier layers frame your face and draw emphasis to your features.
---
40. Messy Fringe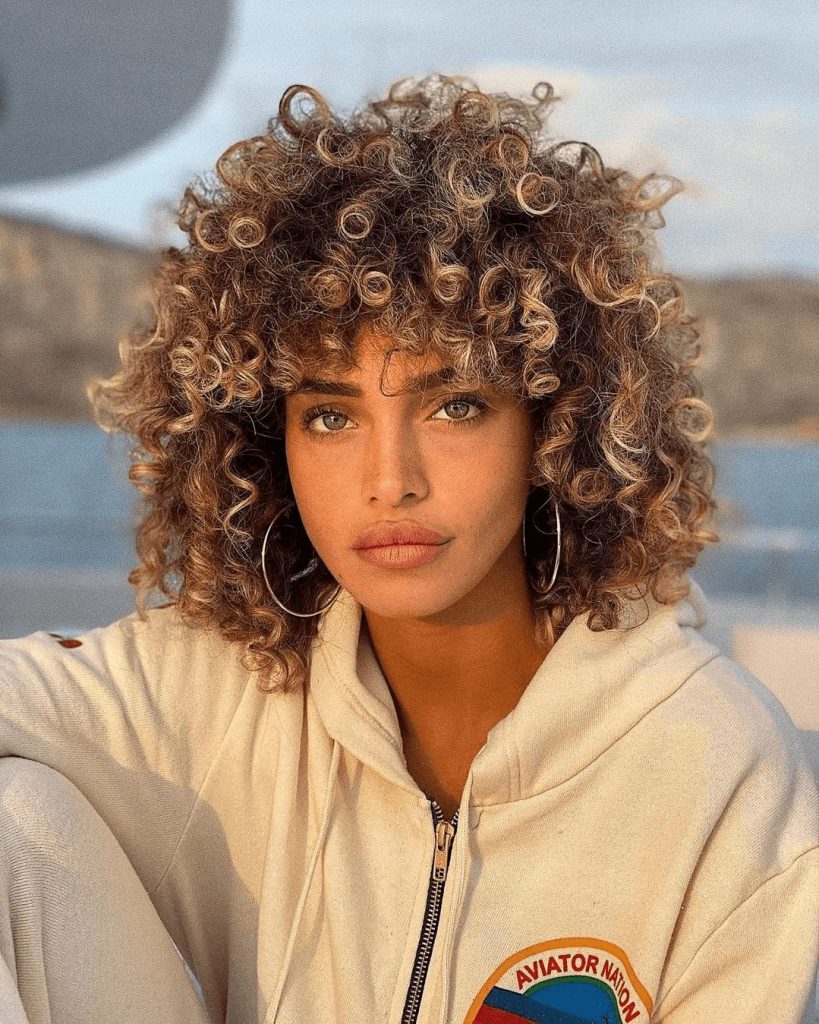 Wolf haircuts are noted for their low-maintenance elegance — letting your hair air dry and flicking the bangs out with a flat iron is typically enough.
---
41. Big Cover Up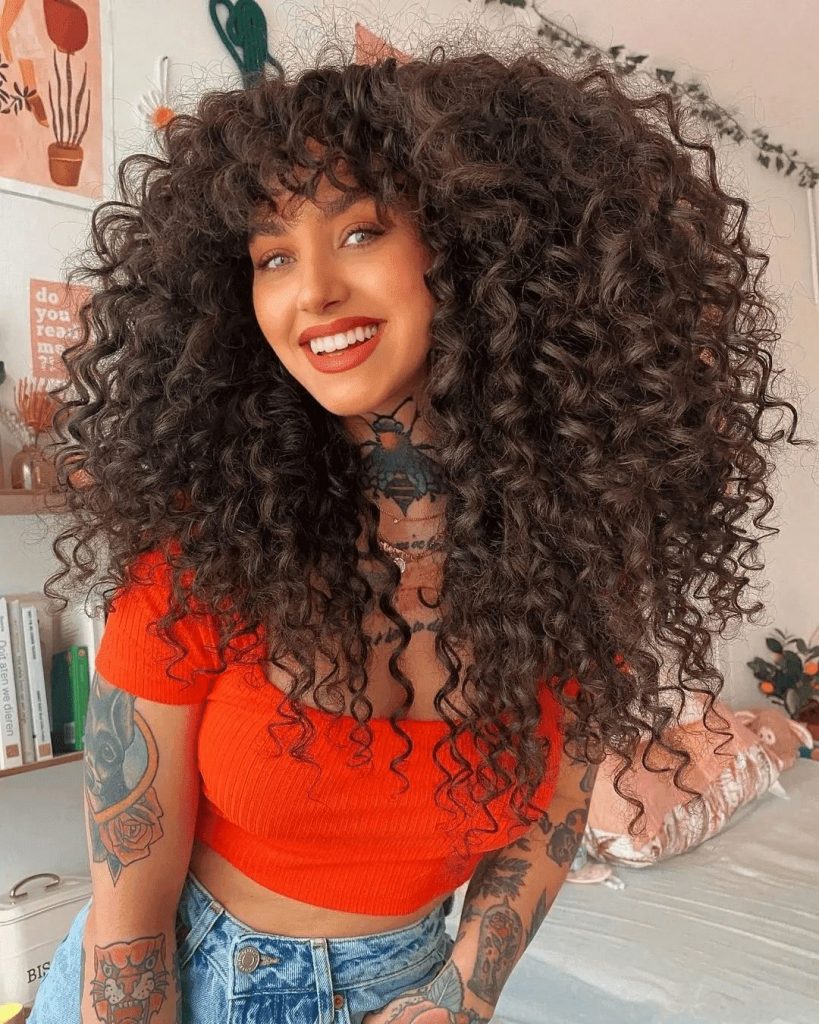 This dramatic makeover is so adorable! Do you wish to be different from the crowd? The lavender hue is the greatest option since it is stylish and appropriate for this season.
---
42. Purple and Green Hair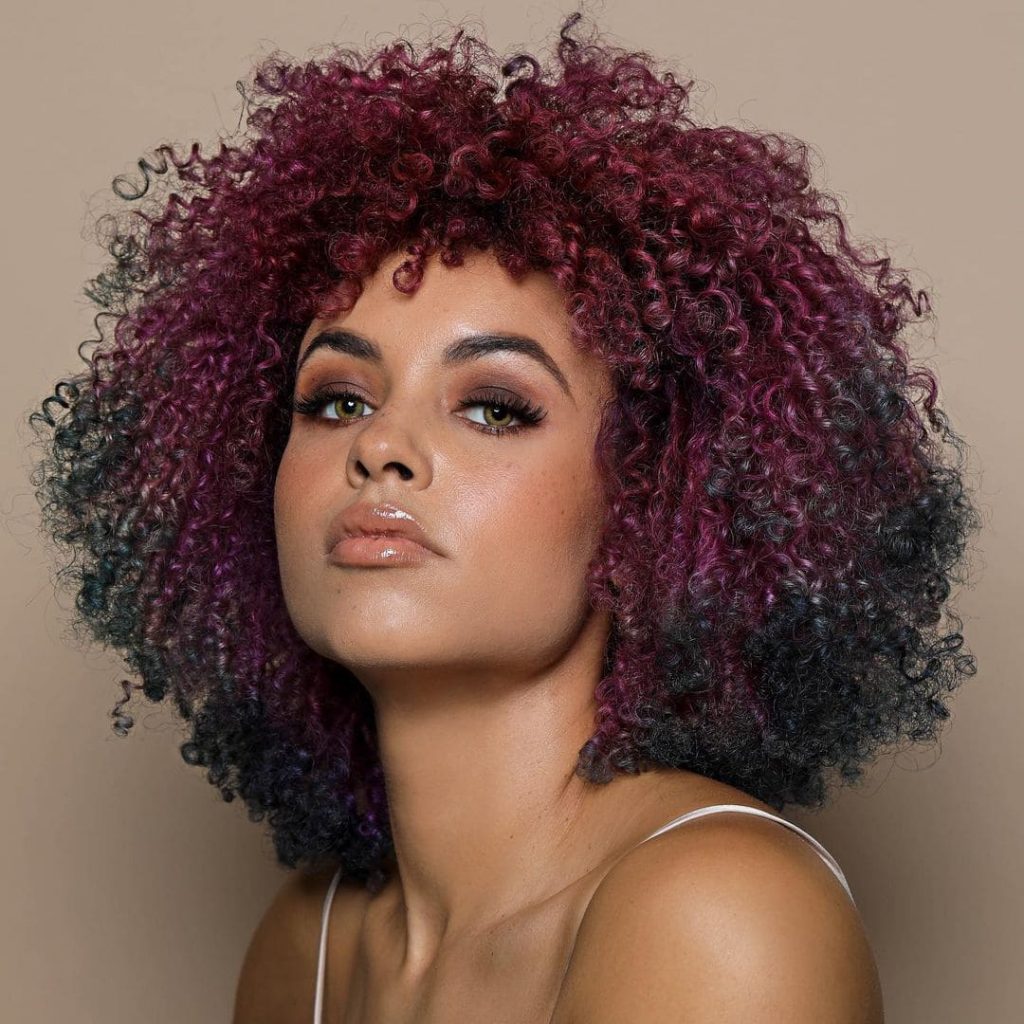 This wolf cut is ideal for girls with short hair; it may help you appear more capable at work.
---
43. Springy Curls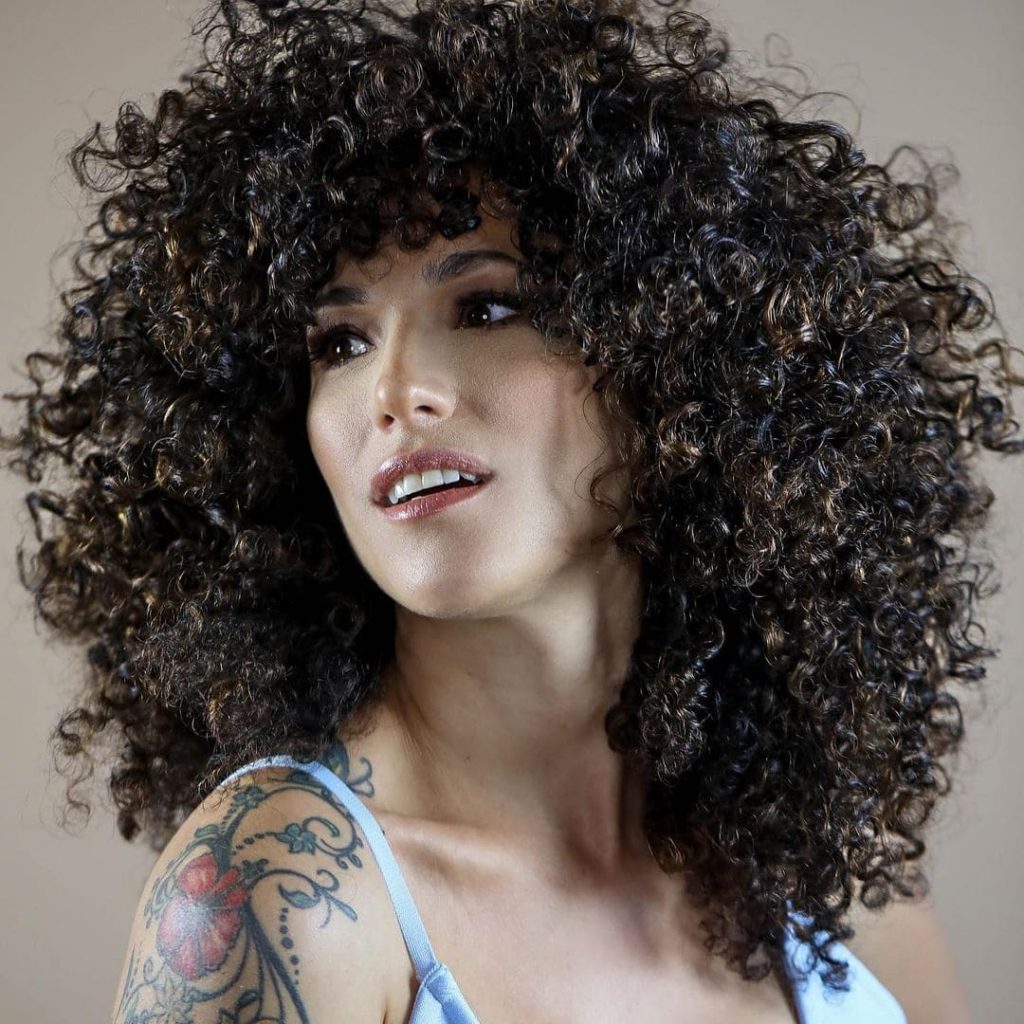 Do you like the out-of-the-ordinary orange color? This hue is trendy and ideal for 2022 ladies who have the strength to go to work every day.
---
44. Classic Red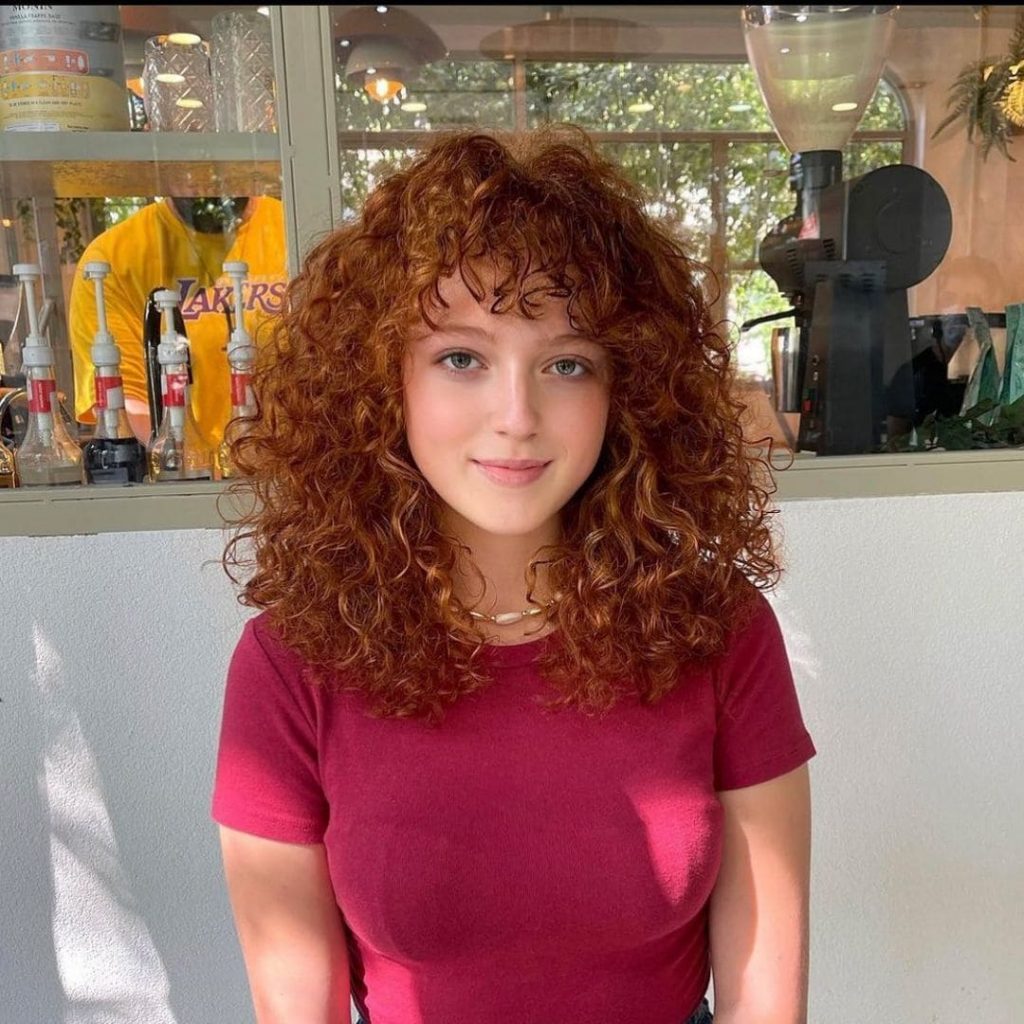 This color scheme and cut look best on this wolf cut, which is very lively and young.
---
45. Simple Curly Look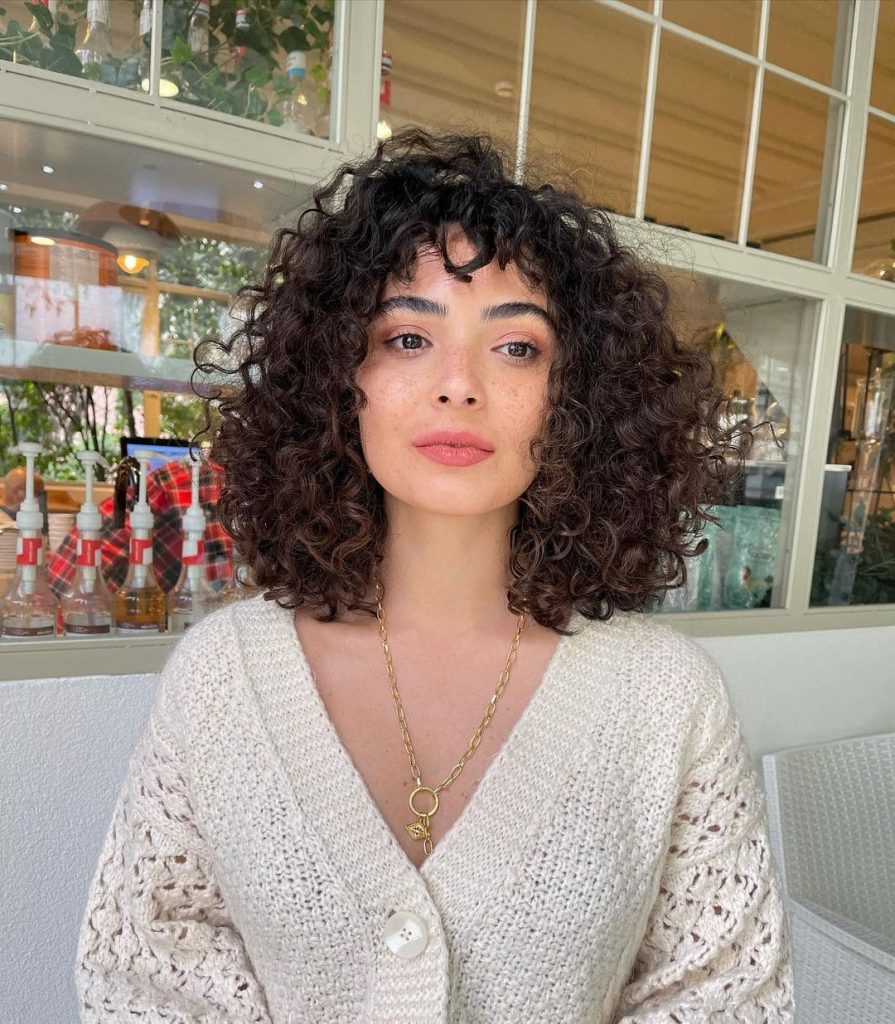 With the correct earrings, jewelry, and attire, this charming medium wolf haircut may work for both formal and informal settings.
---
46. Burgundy Curls
What a lovely long curly wolf hairdo; however, maintaining curly hair necessitates the use of a curling iron and gel, which may be time-consuming.
---
47. Natural Big Curls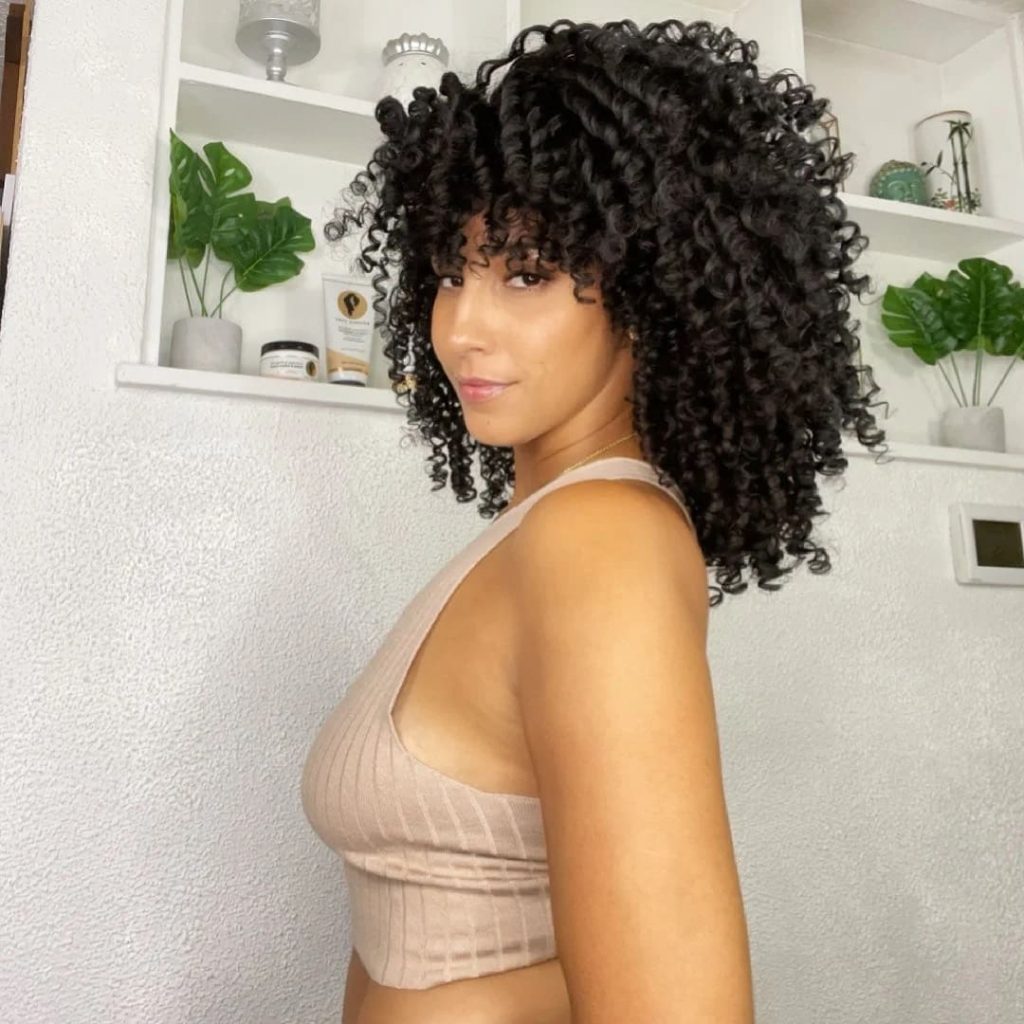 The ease of maintenance of wolf hair cut at the ear level will make you fall in love with it!
---
48. Bleached Blonde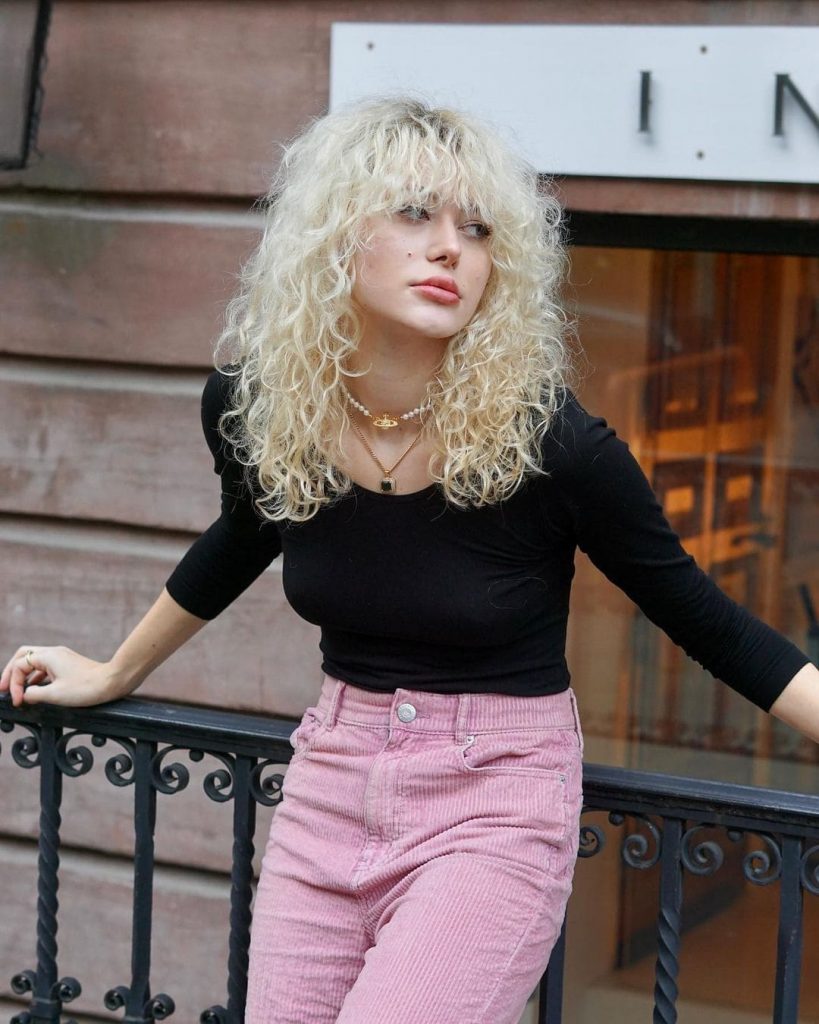 The one-sided wolf cut is one of the joker hairstyles that will fit ladies of all ages and types.
---
49. Copper Shag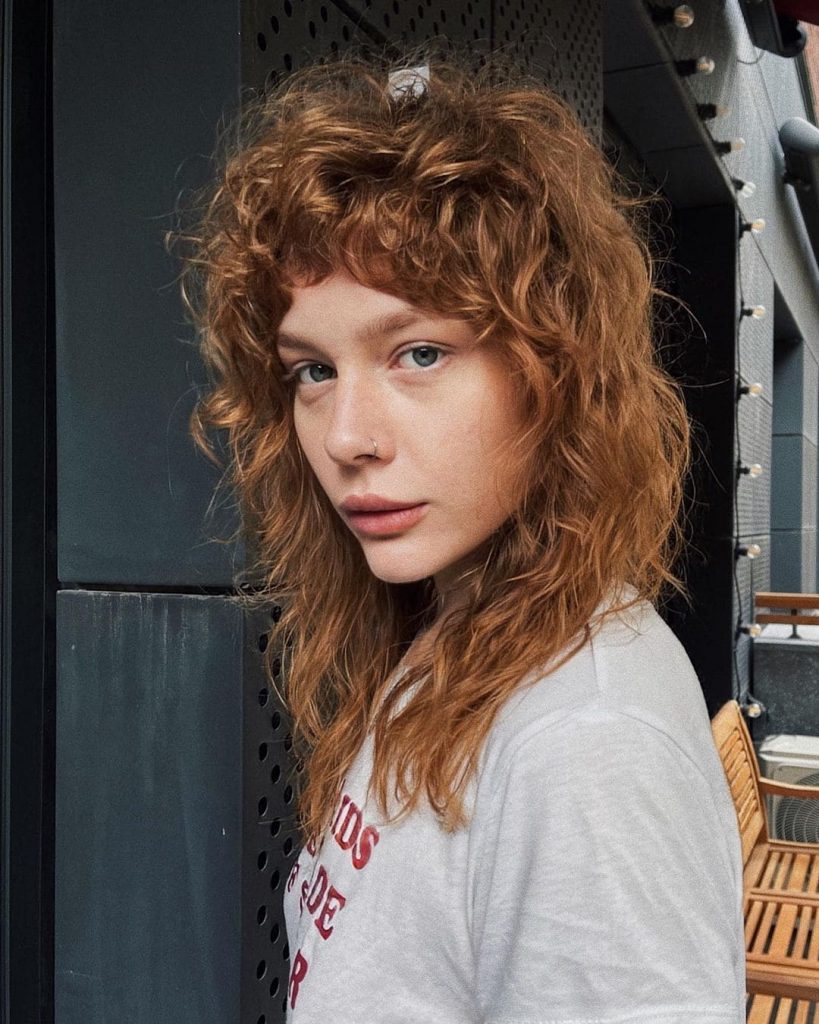 If your natural hair is curly/wavy, you'll love this appearance. Wear it whenever you want and complement it with your natural texture and feminine waves.
---
50. Curtain Bangs Bob
What a great idea to combine complementing colors! Her hair is silky and lovely in general. Consider this natural color combination if you have shoulder-length hair; it will set you out on the street.