Do you fancy Christmas Candy Cane nails? For the Christmas festivities, the candy cane nail design emphasizes the importance of Jesus' birth. This design gets done mostly in stripes, with the white and red stripes being common.
Do you know the symbolic meaning behind the stripes?
The red stripes signify the blood of Jesus, while the white stripes signify the purity of Jesus Christ. Now that Christmas is all about the birth of Christ, Candy Cane's nails will be perfect for the occasion.
1. The ultimate candy cane look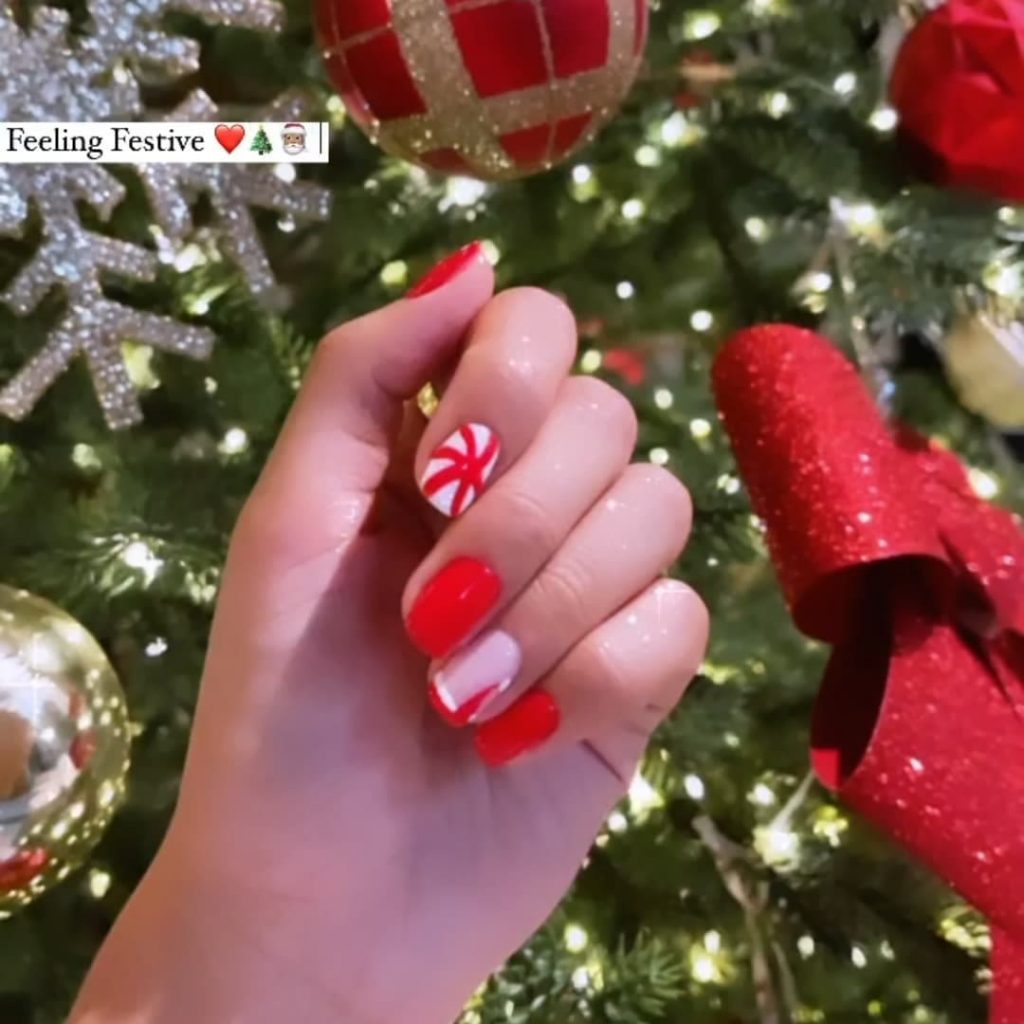 In this candy cane nail design, the red and white stripes make a unique pattern for Christmas. You will be looking forward to greater celebration times as people admire your fingernails. The curvy nail stripes on the index finger make such a unique imprint.
---
2. The candy cane design will be strong if done this way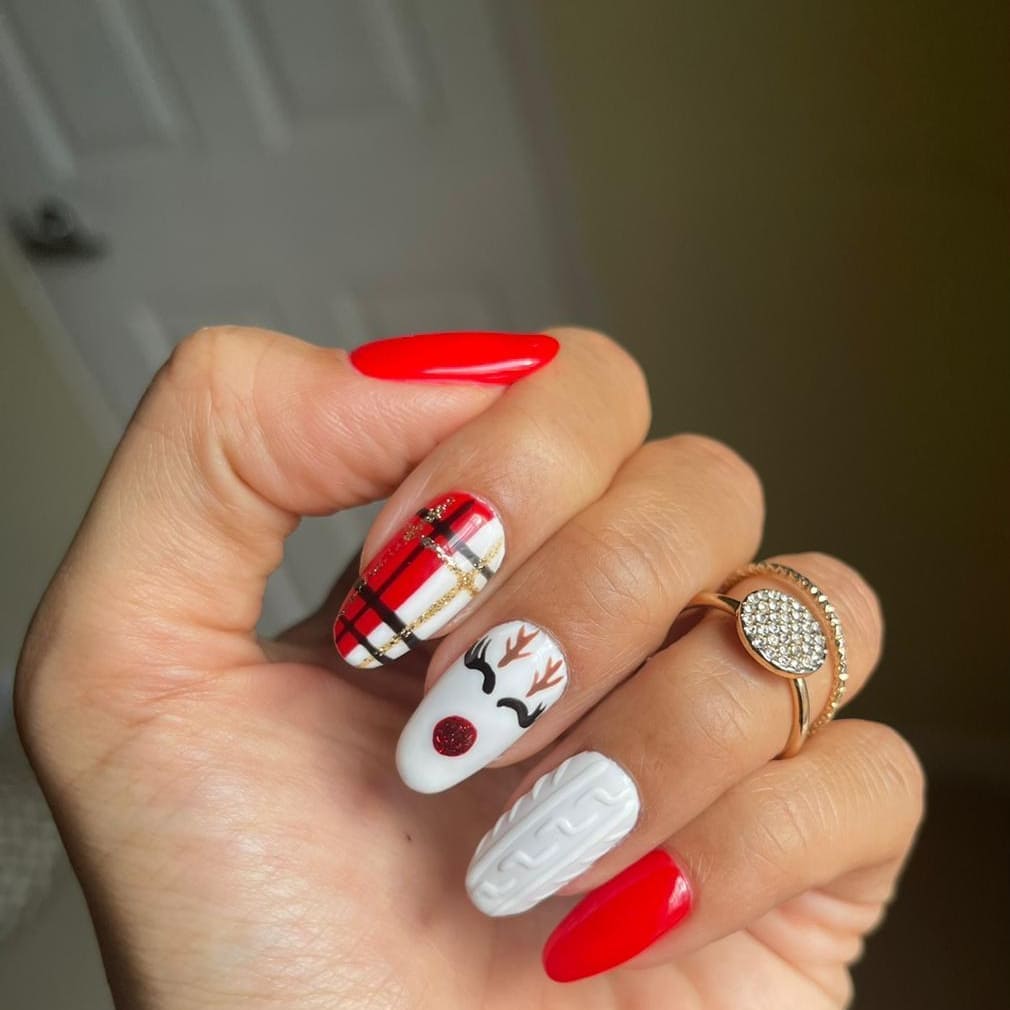 Do you find this candy cane nail unique? I find it spectacular with the well-defined stripes. The colors of black and gold make the design great for the Christmas festive season. The plain white and red colors may portray a candy cane look already.
---
3. Santa Clause makes this design a Christmas design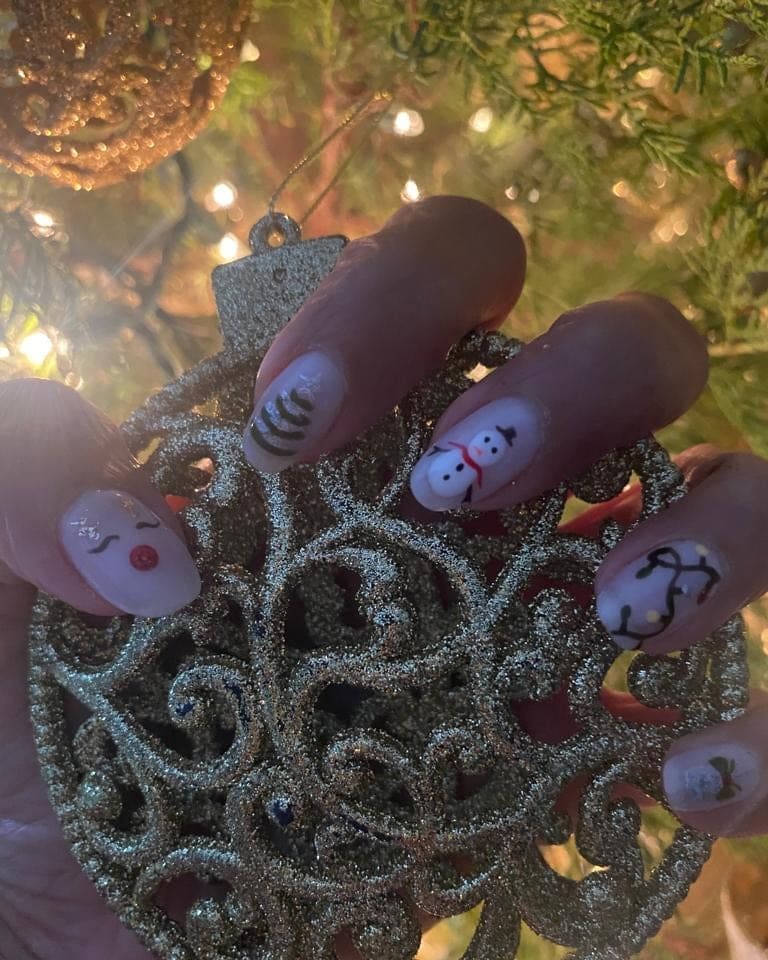 You don't have to make straight lines for a candy cane look. Drawing some patterns and Christmas shapes will make the perfect candy cane design.
---
4. Candy cane design will work in a single fingernail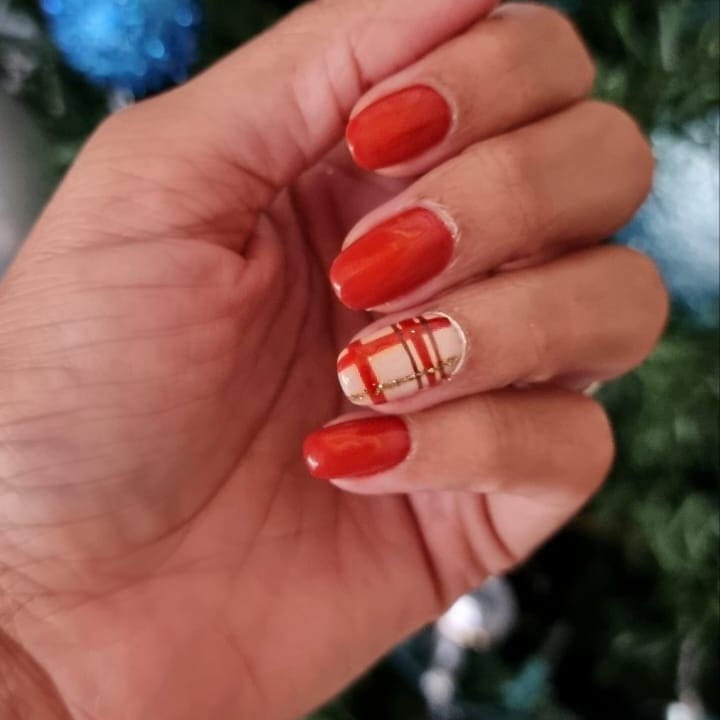 This design will be a great choice too. You may choose to go candy cane on the ring finger alone while maintaining a simple red look on the other fingers.
---
5. The red designs will be a good candy cane idea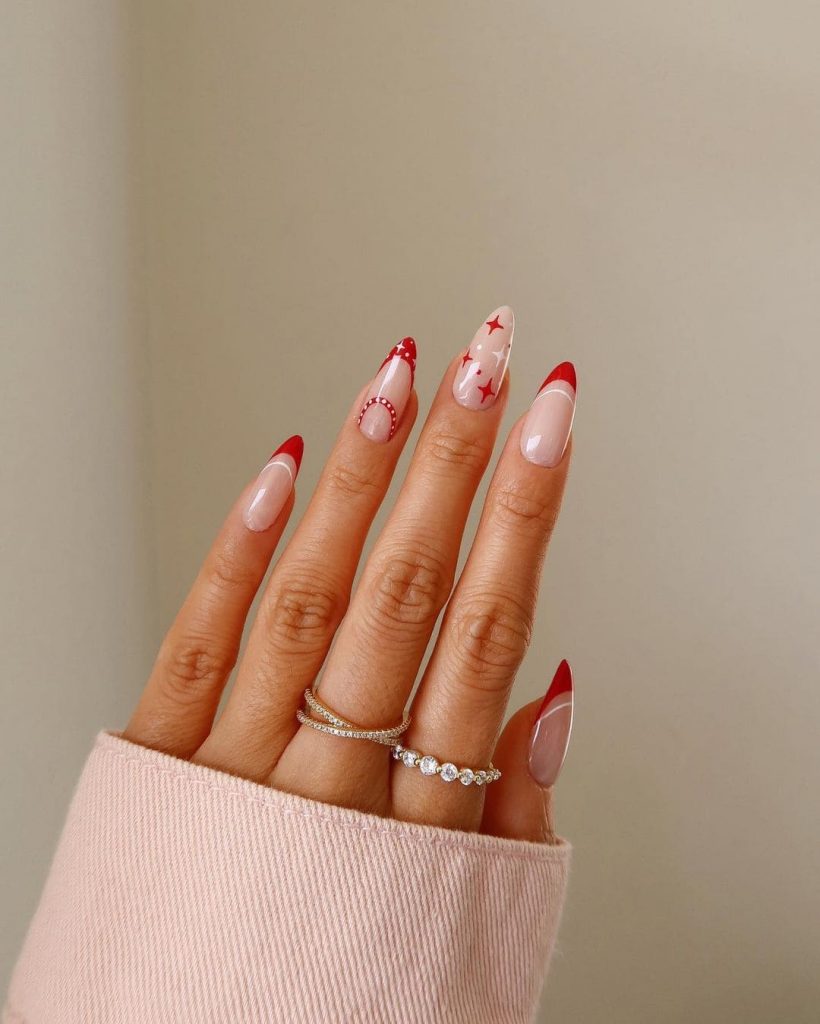 This nail art design presents the modern way of doing the candy nail design. You will embrace your Christmas in style by adding a little touch of creativity.
---
6. Blue and pink will match perfectly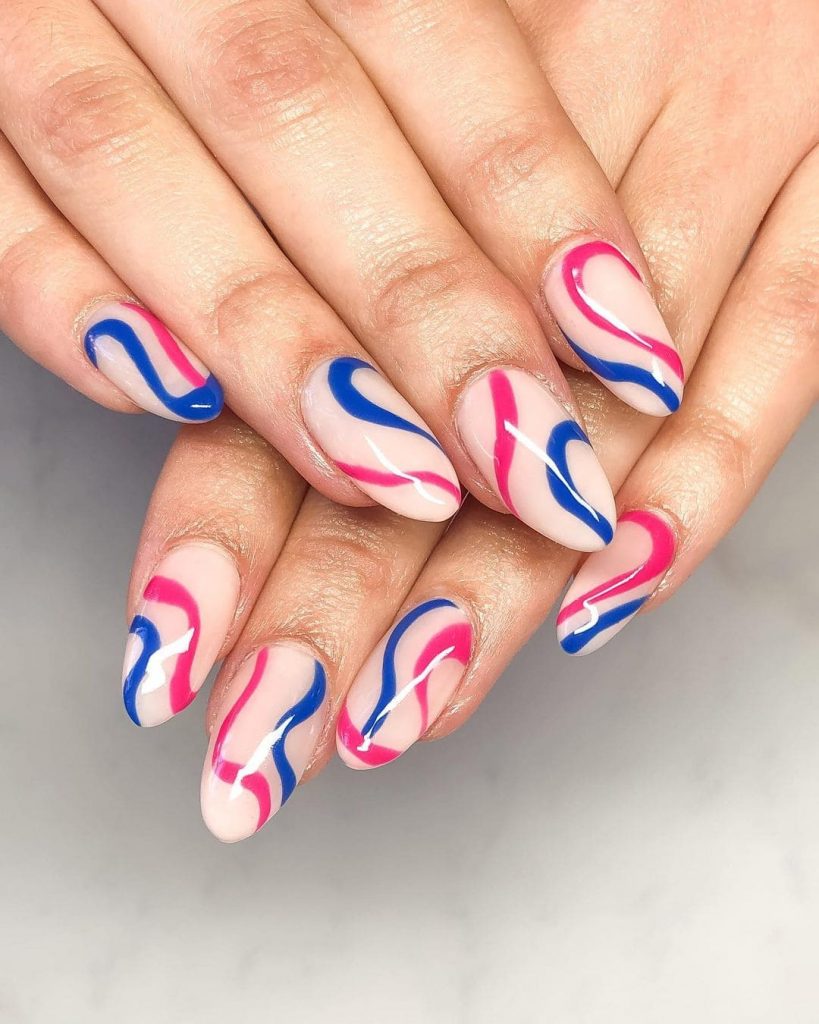 Have you tried using pink and blue stripes? As we embrace many colors in modern Christmas times, you may choose this design and stand out uniquely.
---
7. The white-ended stripes make this design breathtaking
This candy cane design will be the best thing you have seen. I love the design with its unique candy cane ends.
---
8. The red floral pattern gives this design its perfection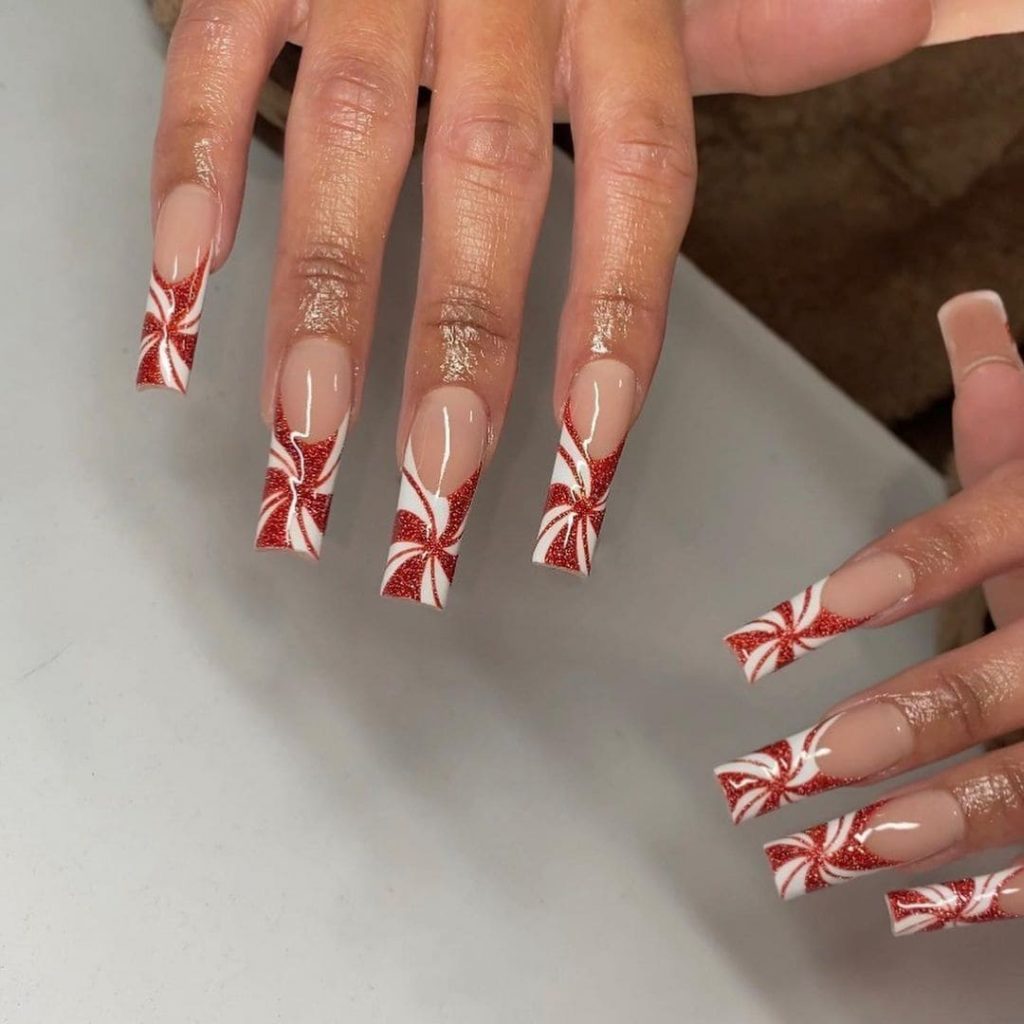 How better can candy cane nails get? This design meets perfection from color to how beautiful the fingernails look. Don't miss out on this one this festive season.
---
9. You may incorporate Santa Clause in your design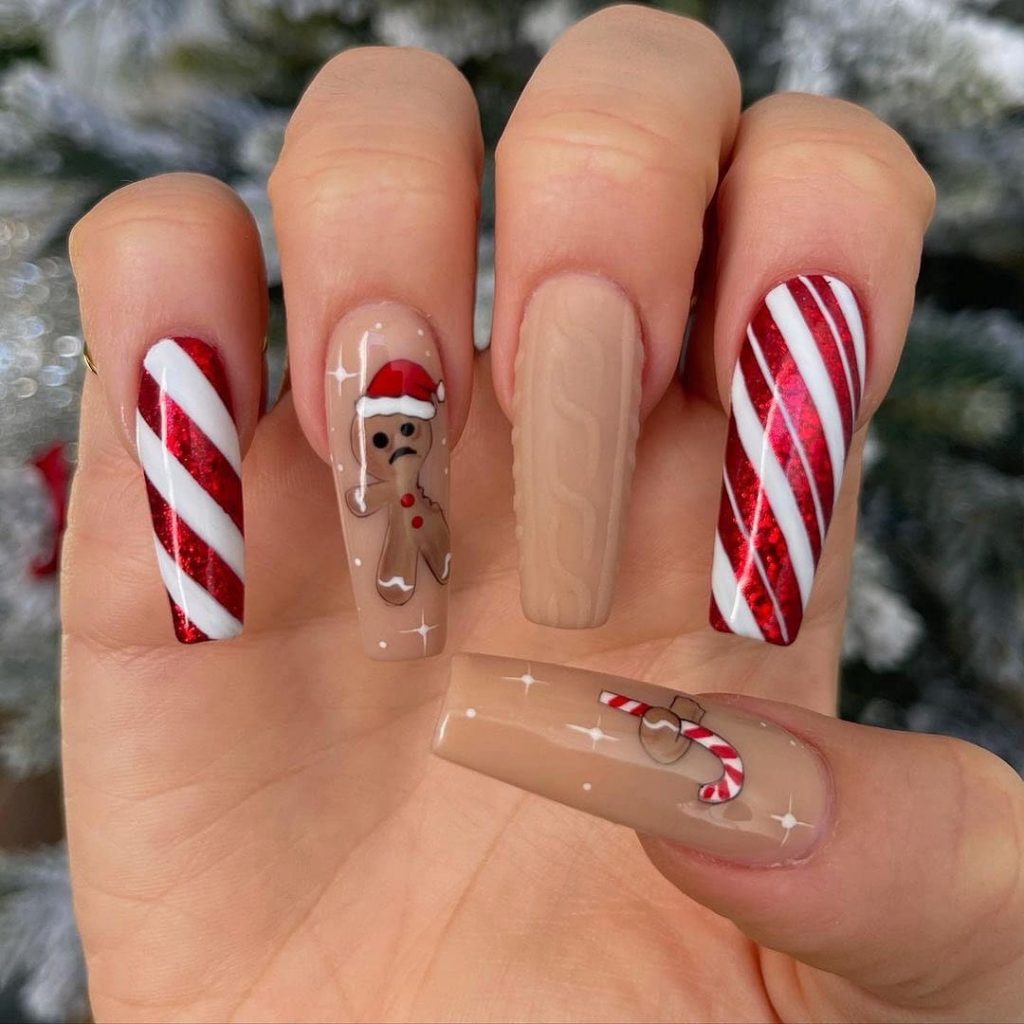 This design will be the deal-breaker. Who would not wish to try this one out? Santa Clause and the candy cane stripes make the best Christmas nail design.
---
10. The red stripes in this design say it all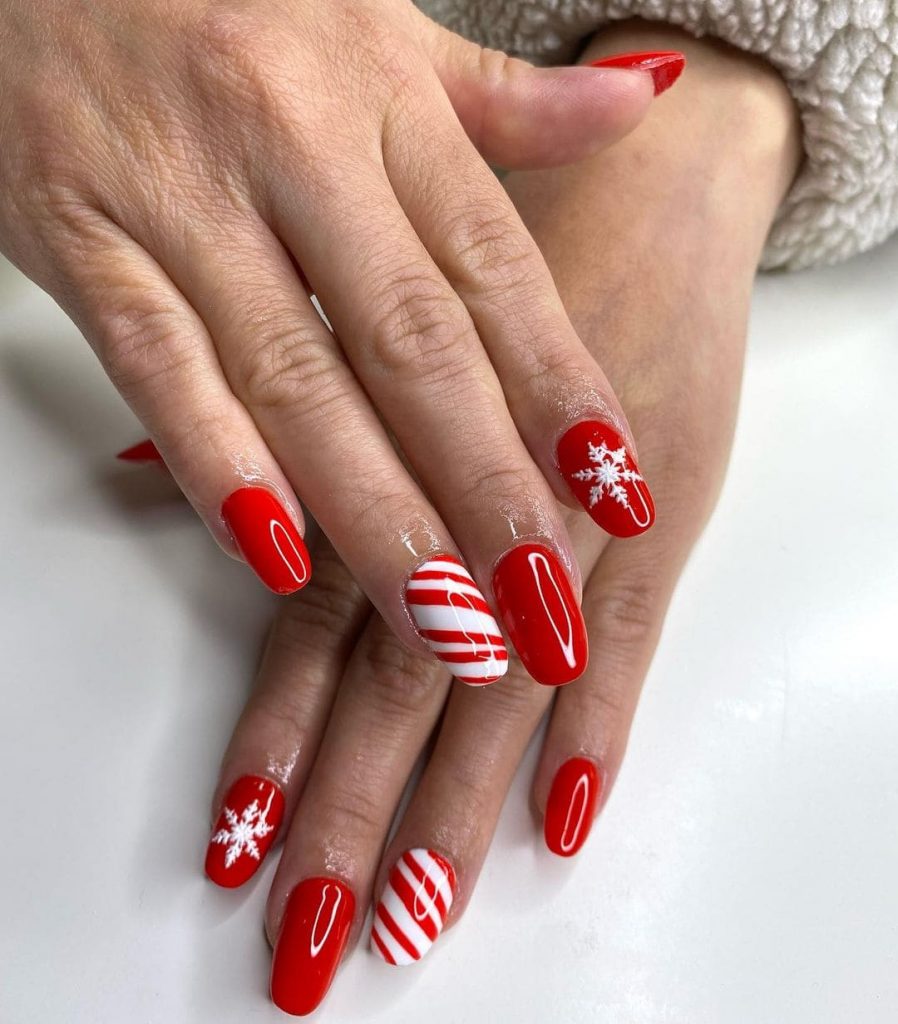 When you make other designs with candy cane nails designs in one hand, it becomes even more beautiful. Don't miss out on this look this festive season.
---
11. How blue will amaze you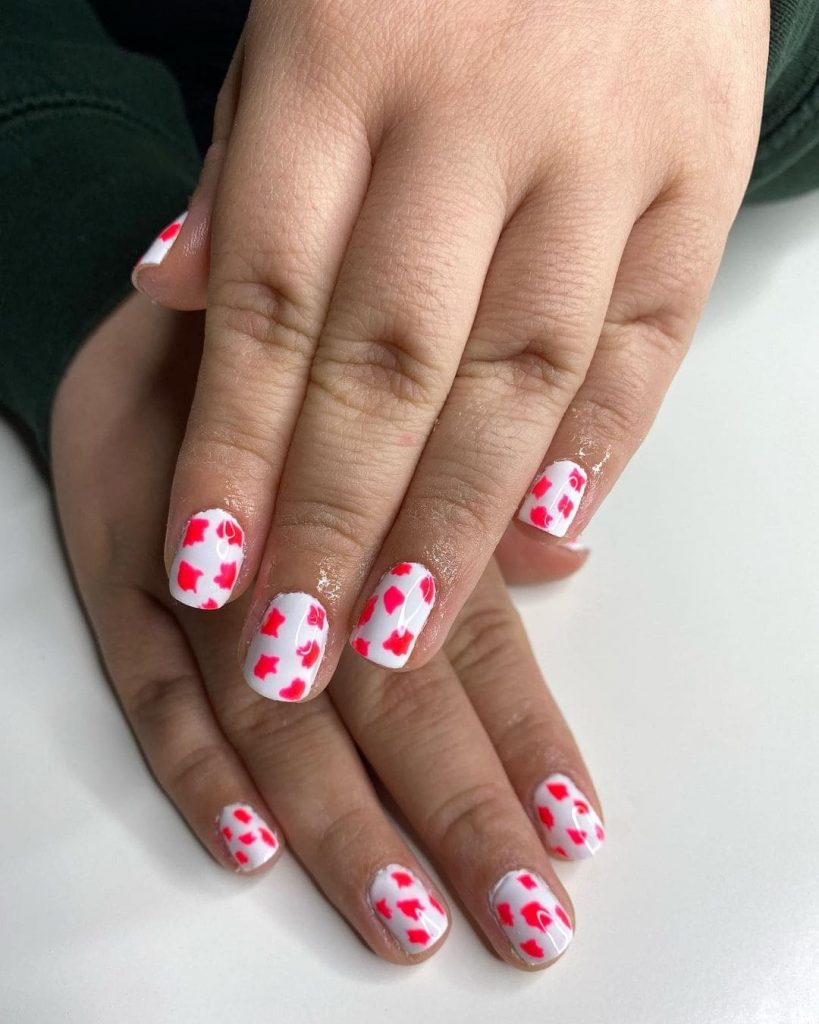 Feel free to try out a diversity of colors this December period. You may try your candy cane design with blue and silver for a change.
---
12. Brown-chocolate color will do too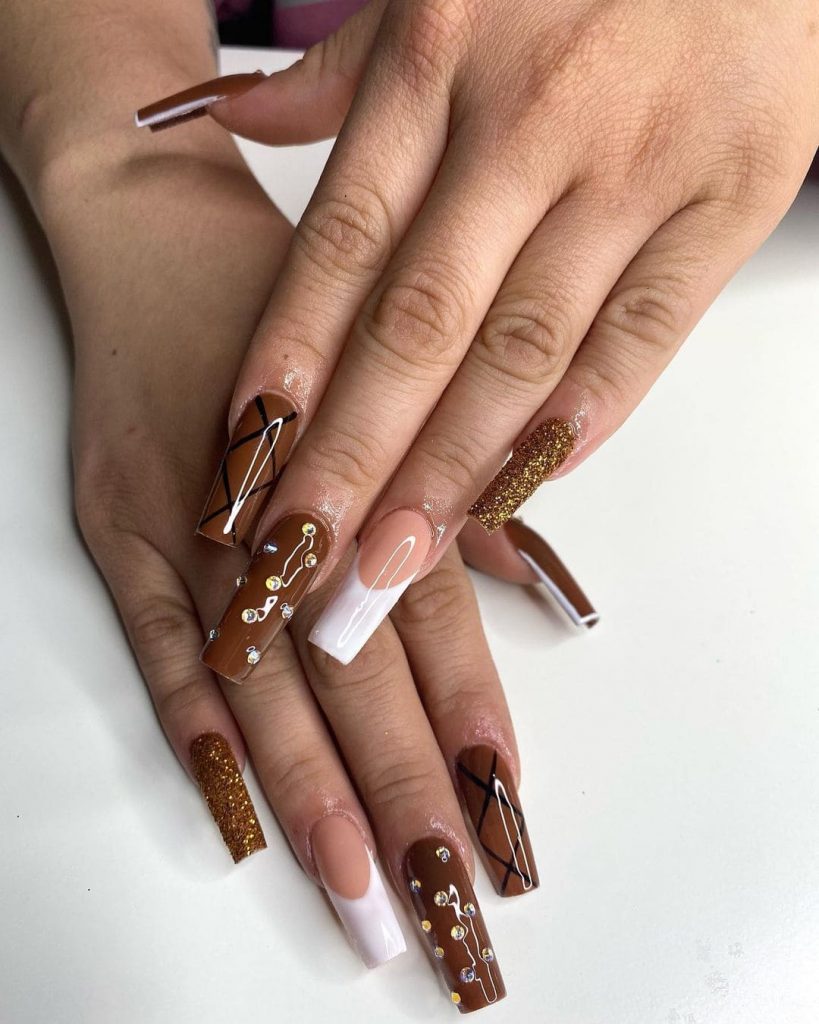 Most people will wonder how the candy cane nails will look with a mix of brown, white, and gold. Wonder no more. They will look as marvelous as this fingernail design.
---
13. This design gives each fingernail its candy cane look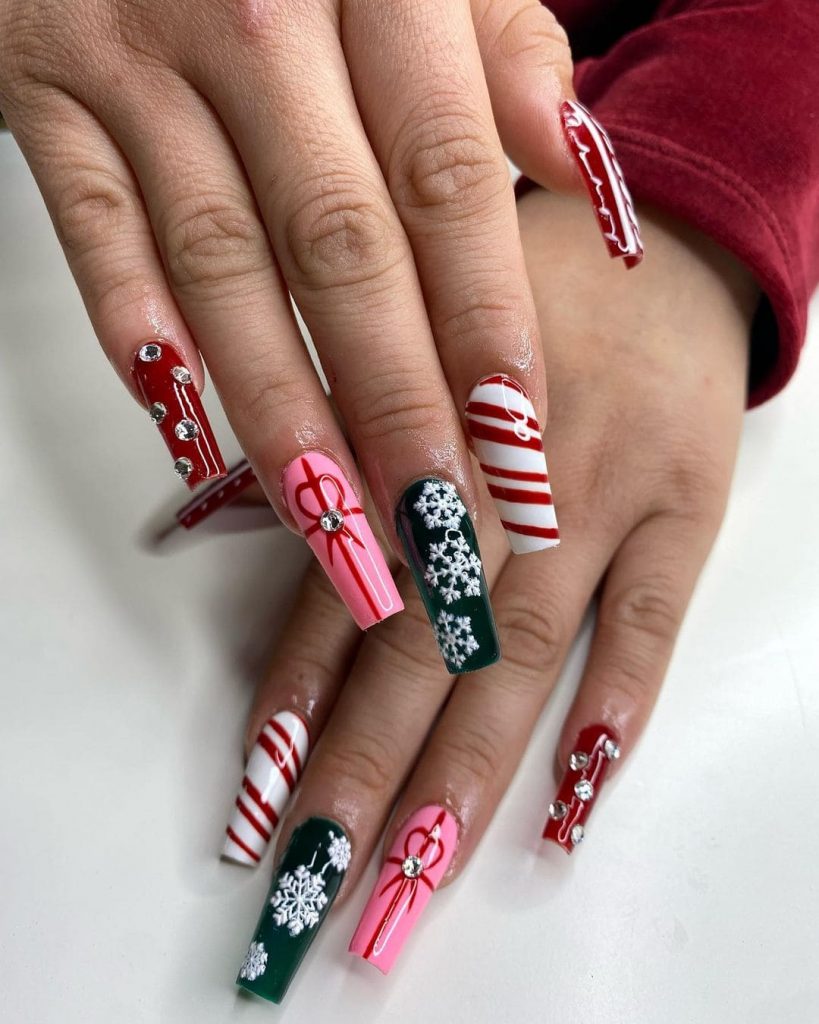 Have you tried these amazing nail colors and designs yet? If not, don't miss out on this stunning candy cane look during this December period.
---
14. The perfect smoky look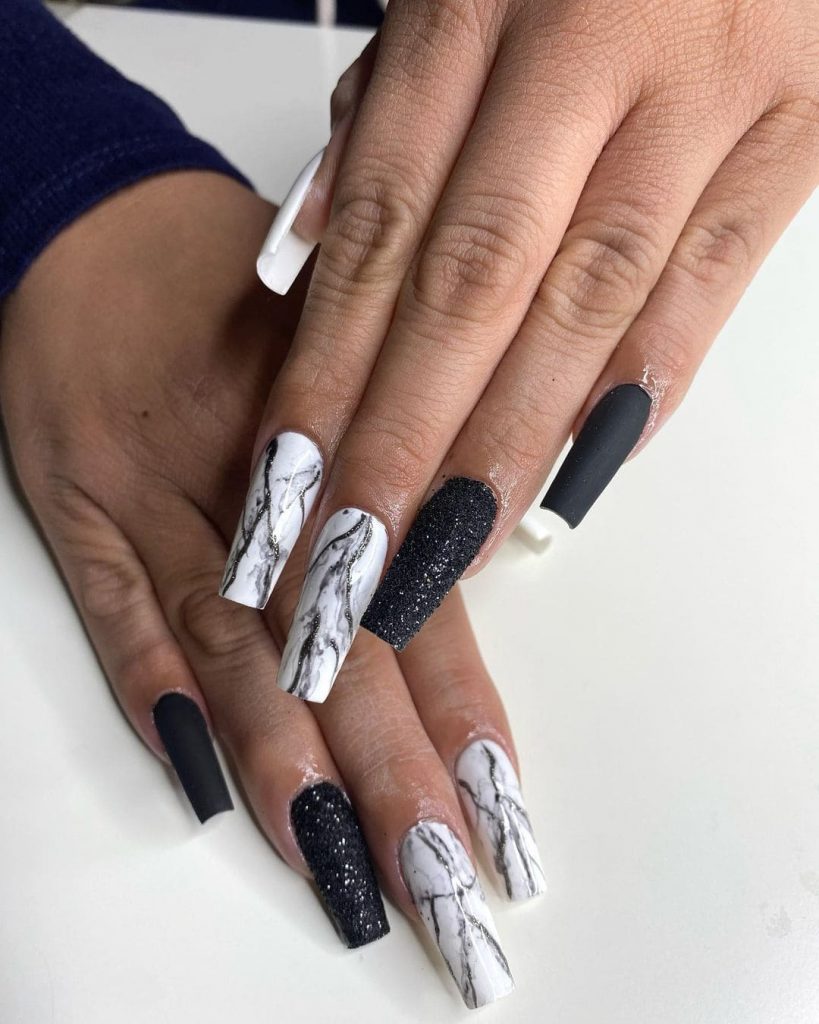 This design makes it possible to embrace the festive season in all colors and designs.
---
15. The artistic designs give this the perfect candy cane look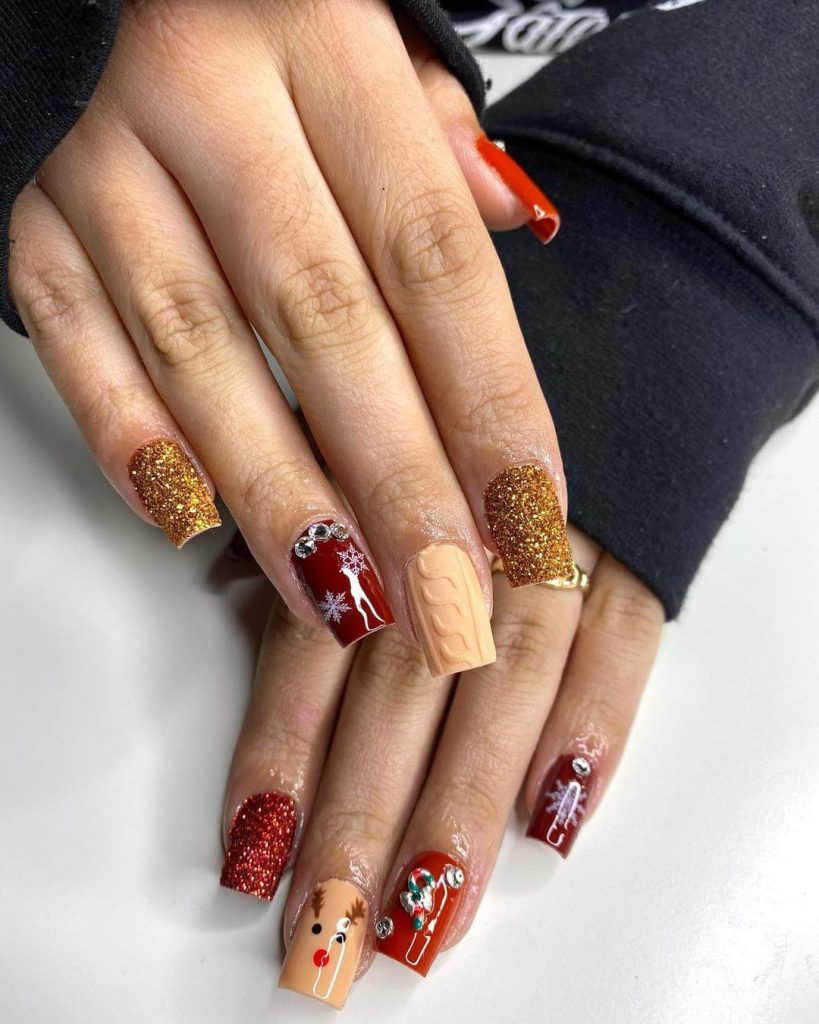 You will love how this color mix will bring out your candy cane nail design.
---
16. This candy cane nail design will be perfect this Christmas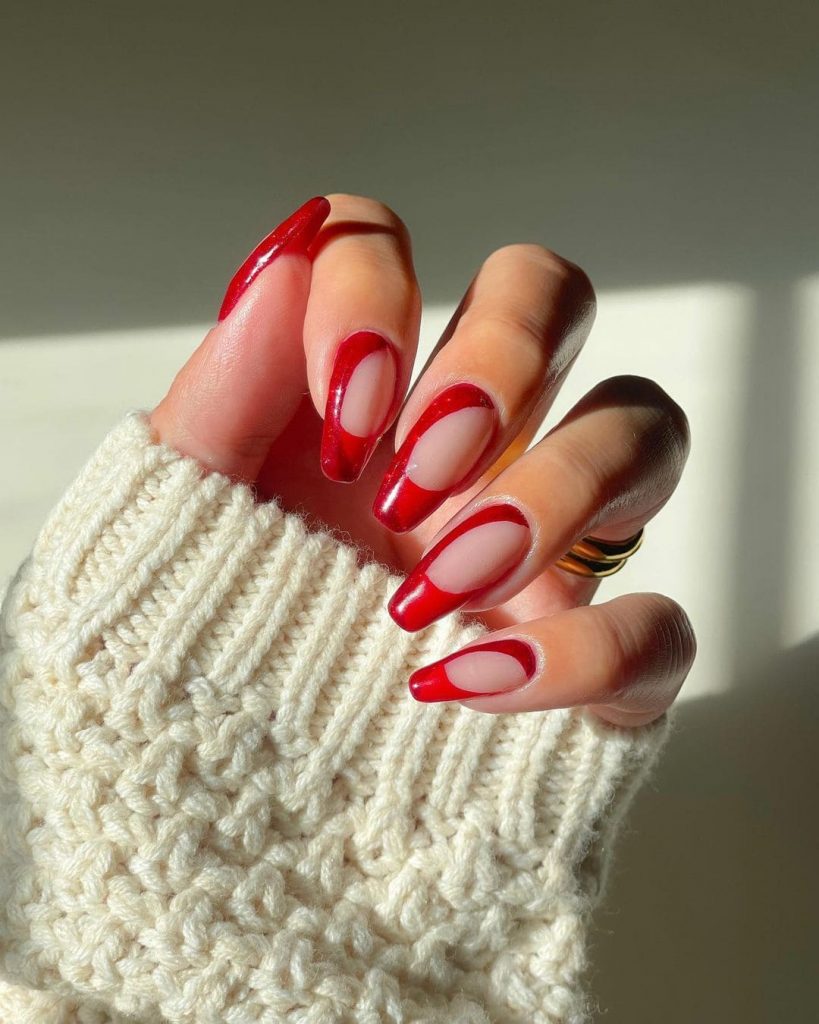 The red stripes on the red base will be recommendable. Everybody at the dinner table will be admiring you.
---
17. The black polish makes this nail design iconic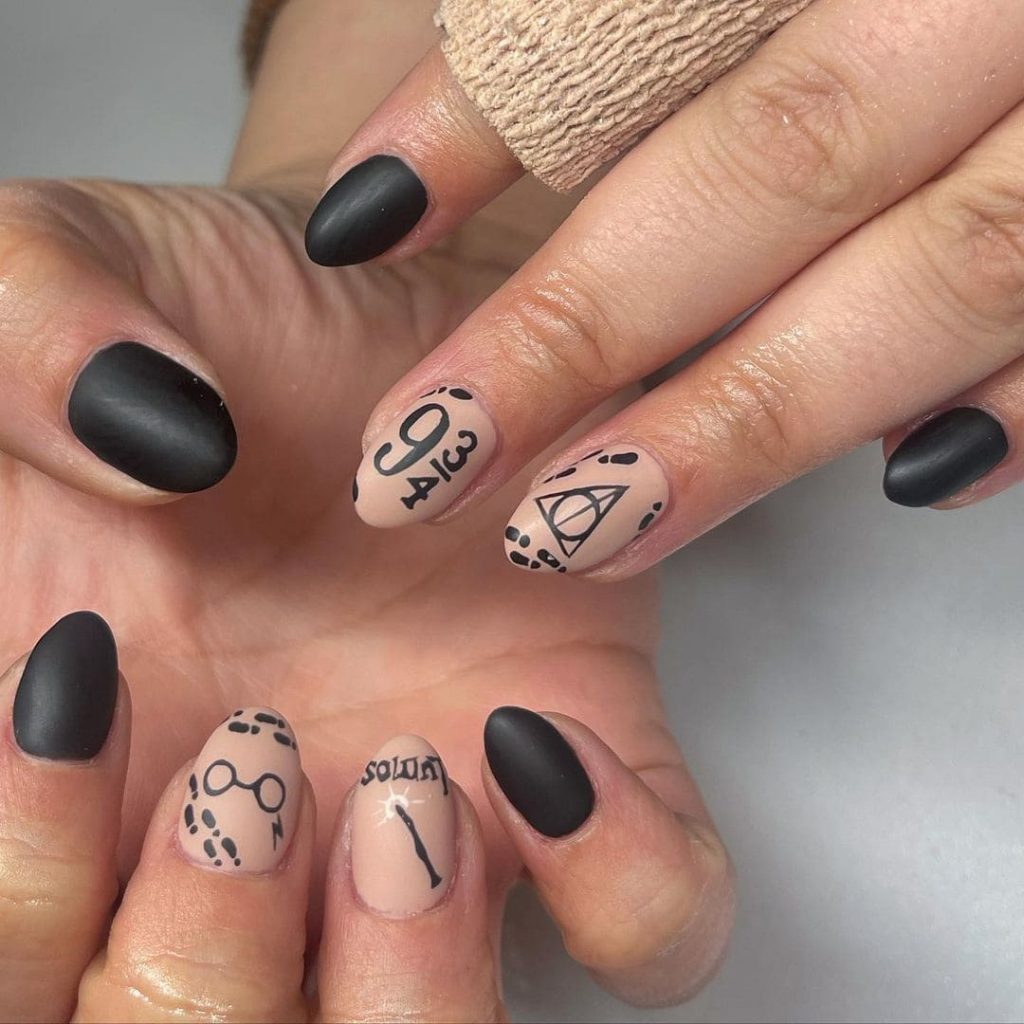 This Christmas, don't hesitate to use this unique black nail polish for an outstanding entrance for the candy cane theme.
---
18. The white stripes make this design so admirable and Christmas-themed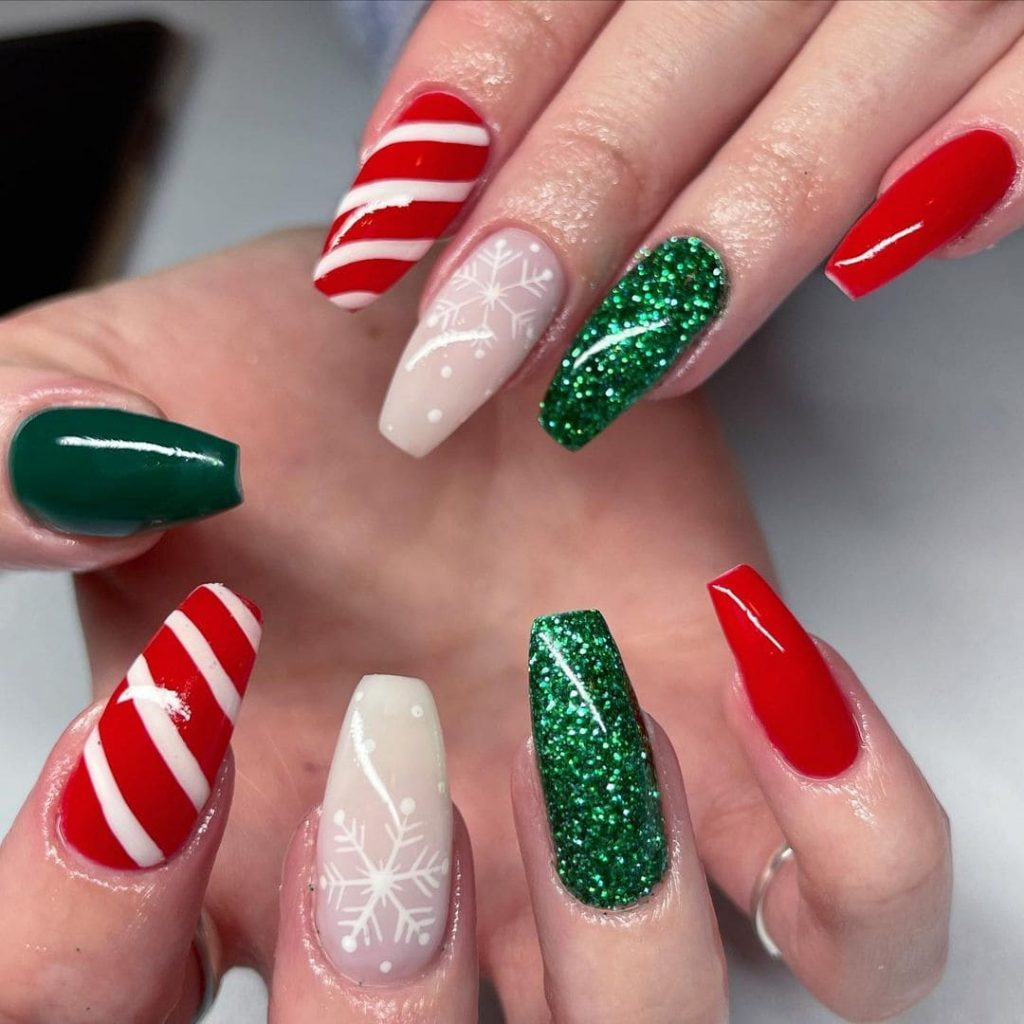 Don't miss out on this look this festive season. The color choice will be so warm for the festive mood.
---
19. The wording will be the perfect way to make a candy cane nail-art design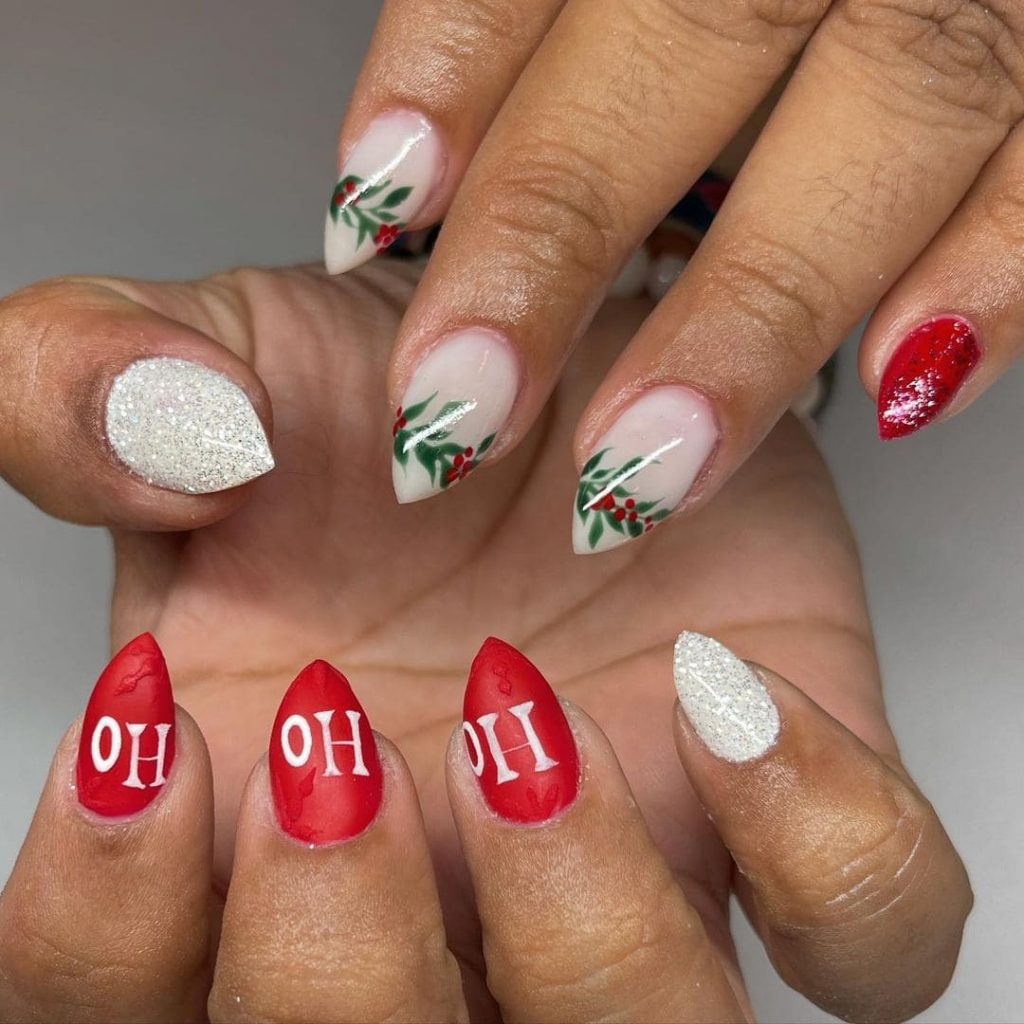 Instead of doing the typical white stripes, doing words on the red background would be better. Other Christmas colors may be a good choice too.
---
20. The green and white stripes make this the ultimate Christmas nail art look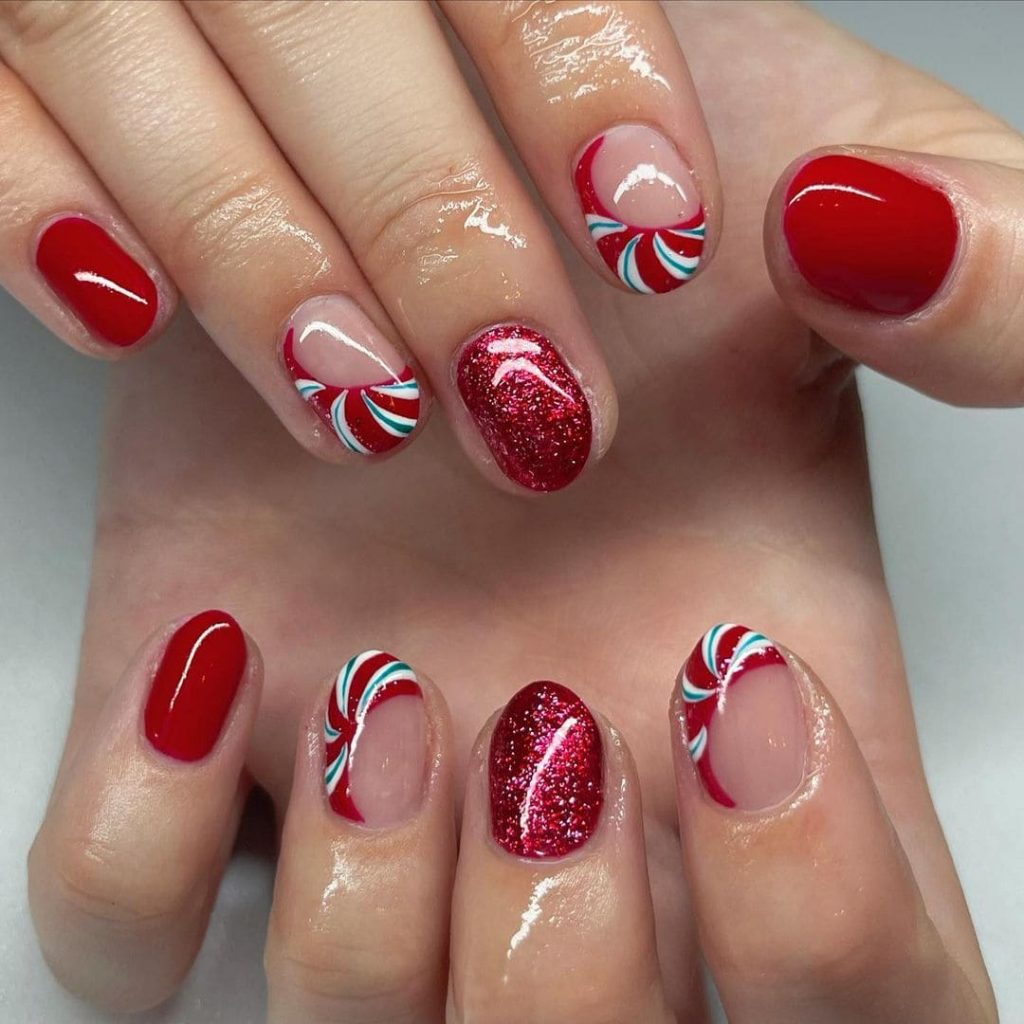 For a unique candy cane nail look, creativity must be top-notch. This color and design choice will be incredible.
---
21. With this look, things keep getting better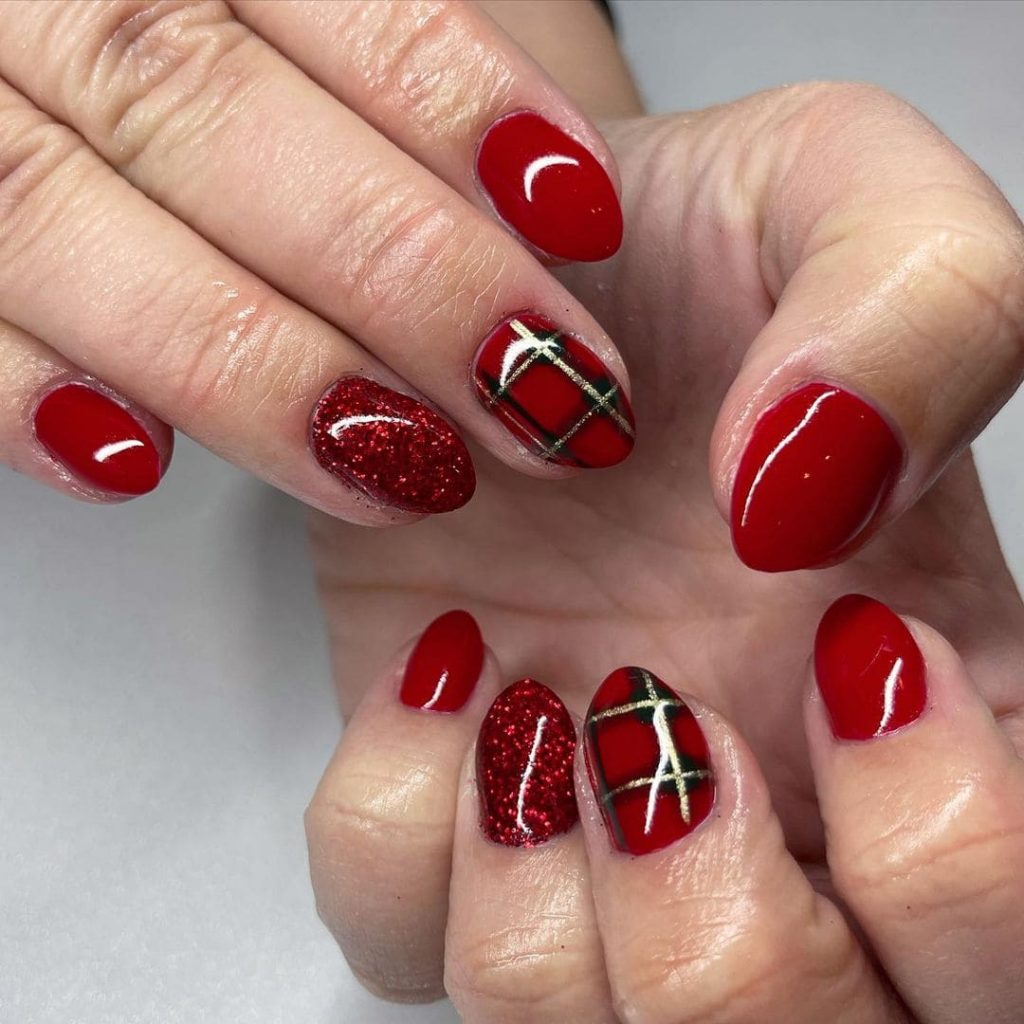 Candy cane nails keep advancing with each new look. This design meets no comparison and will be the best choice this Christmas.
---
22. The decorative nature of this nail art make it a-must-have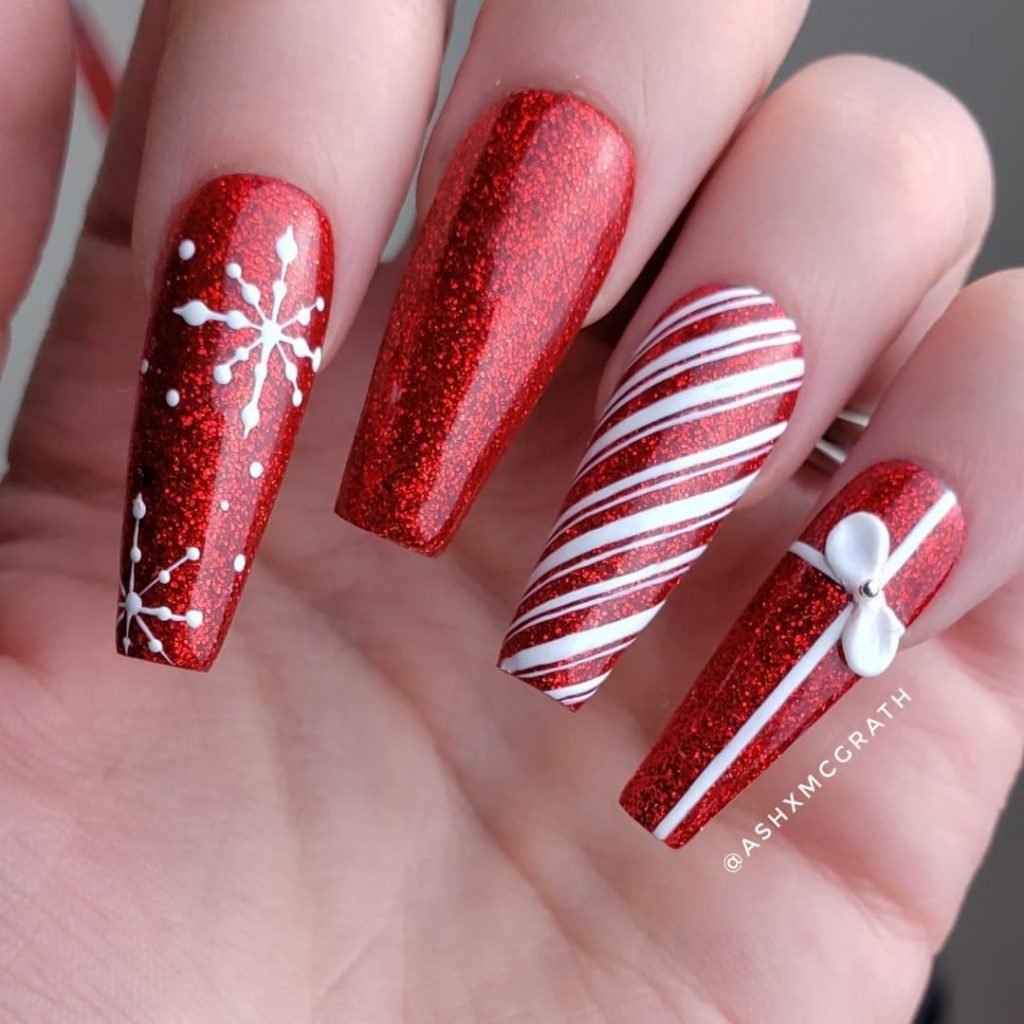 Imagine going for your Christmas dinner parties looking this elegant.
---
23. The floral candy cane pattern makes this design worth trying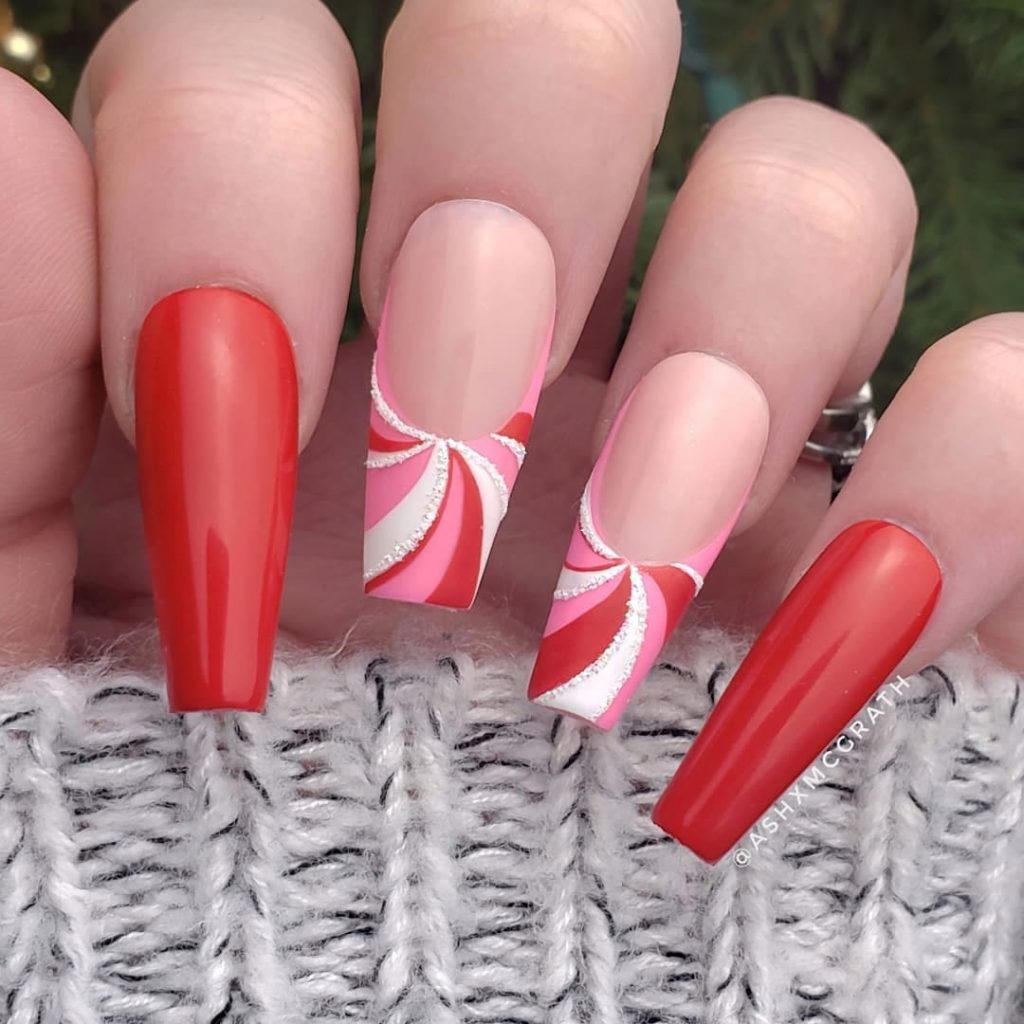 These fingernails will be looking beautiful to embrace any Christmas celebration occasion.
---
24. All the Christmas themes give this design a welcoming feeling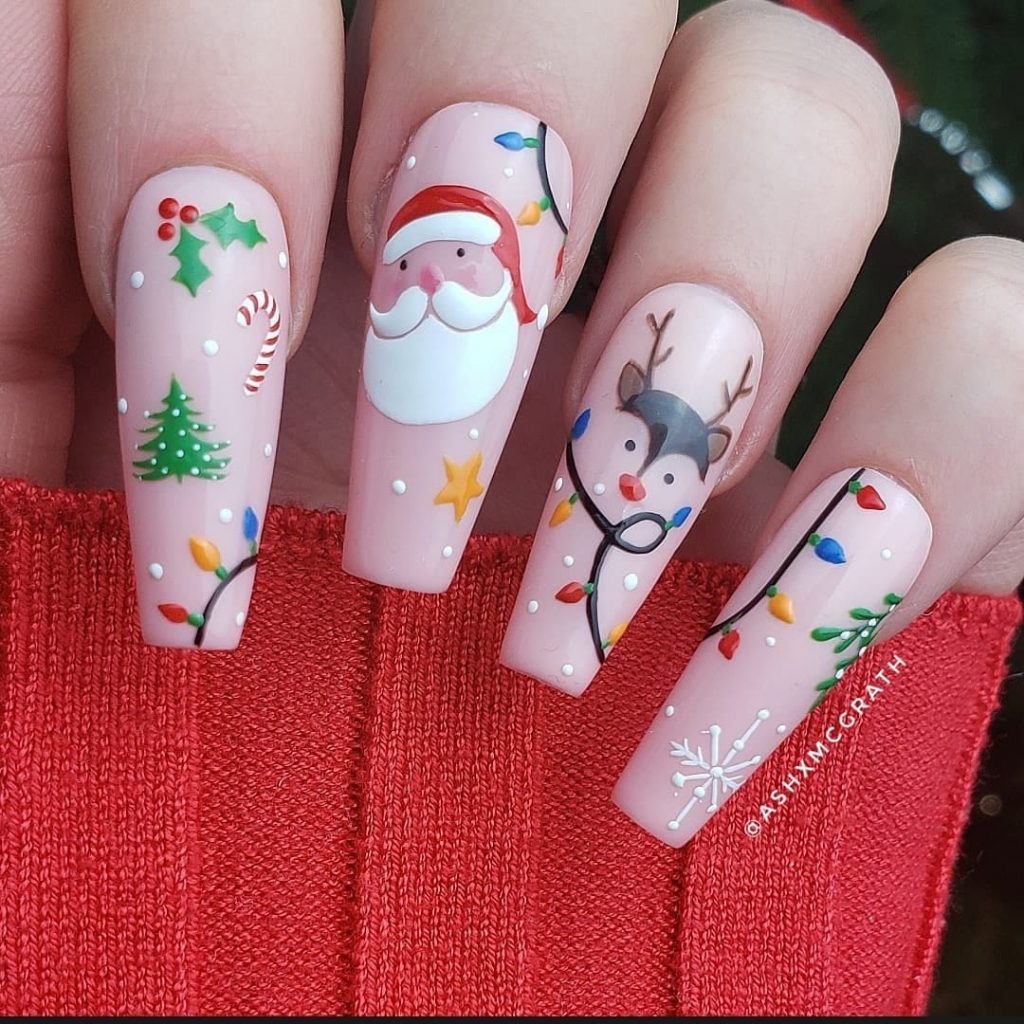 Have you tried making Santa Clause on your candy cane nails yet? Consider it now.
---
25. This design will be perfect for pink lovers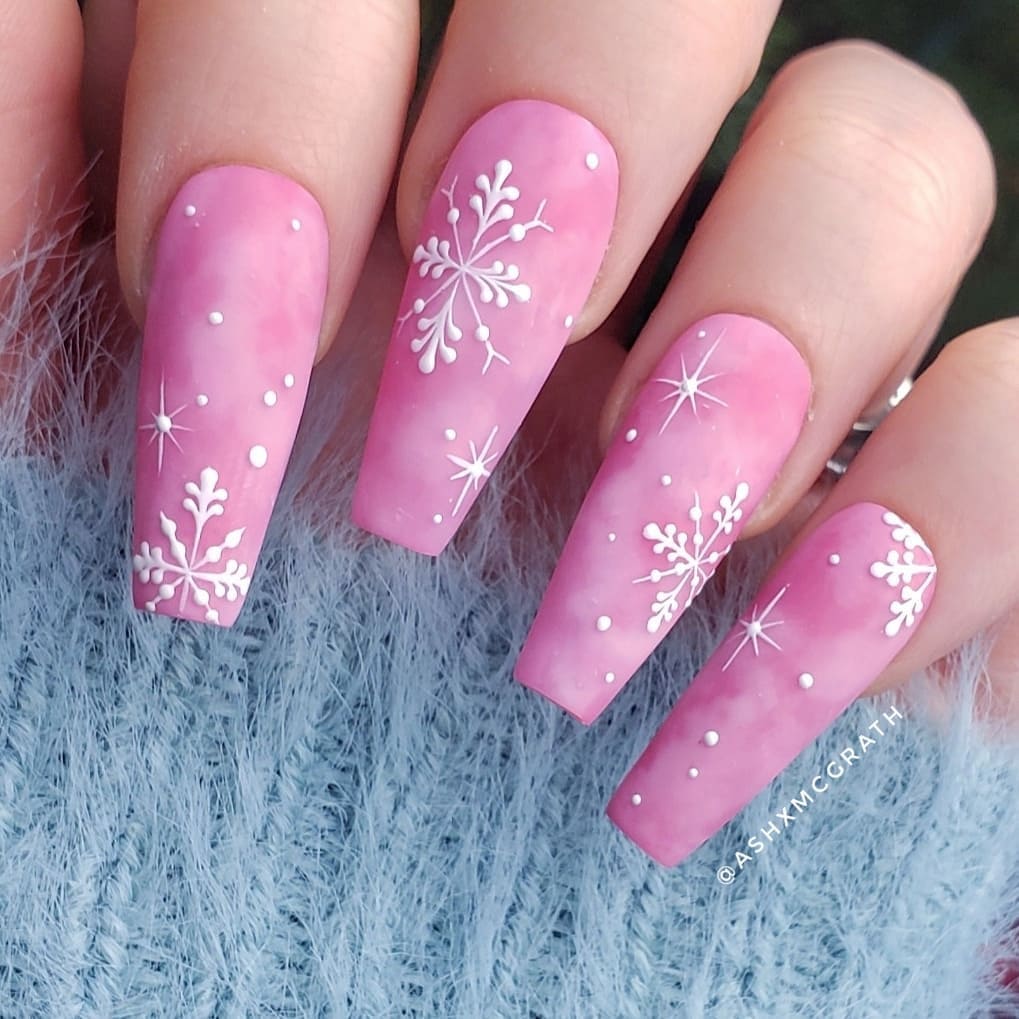 Do you love doing your nails pink? This design will let you have your candy cane nails in pink.
---
26. What if you give your nails the all -Christmas-color look?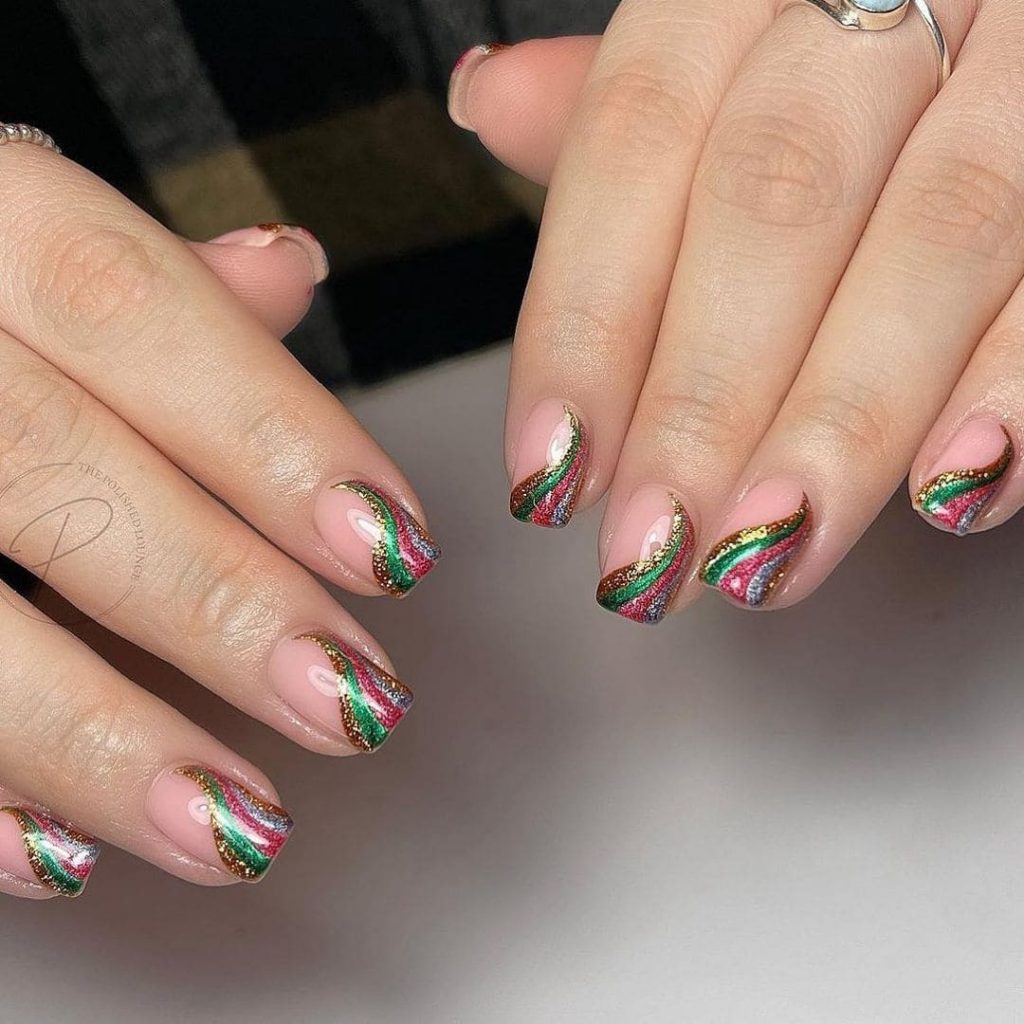 You may combine Christmas colors and make a candy cane nail look for your fingernails.
---
27. This butterfly-like design will amaze you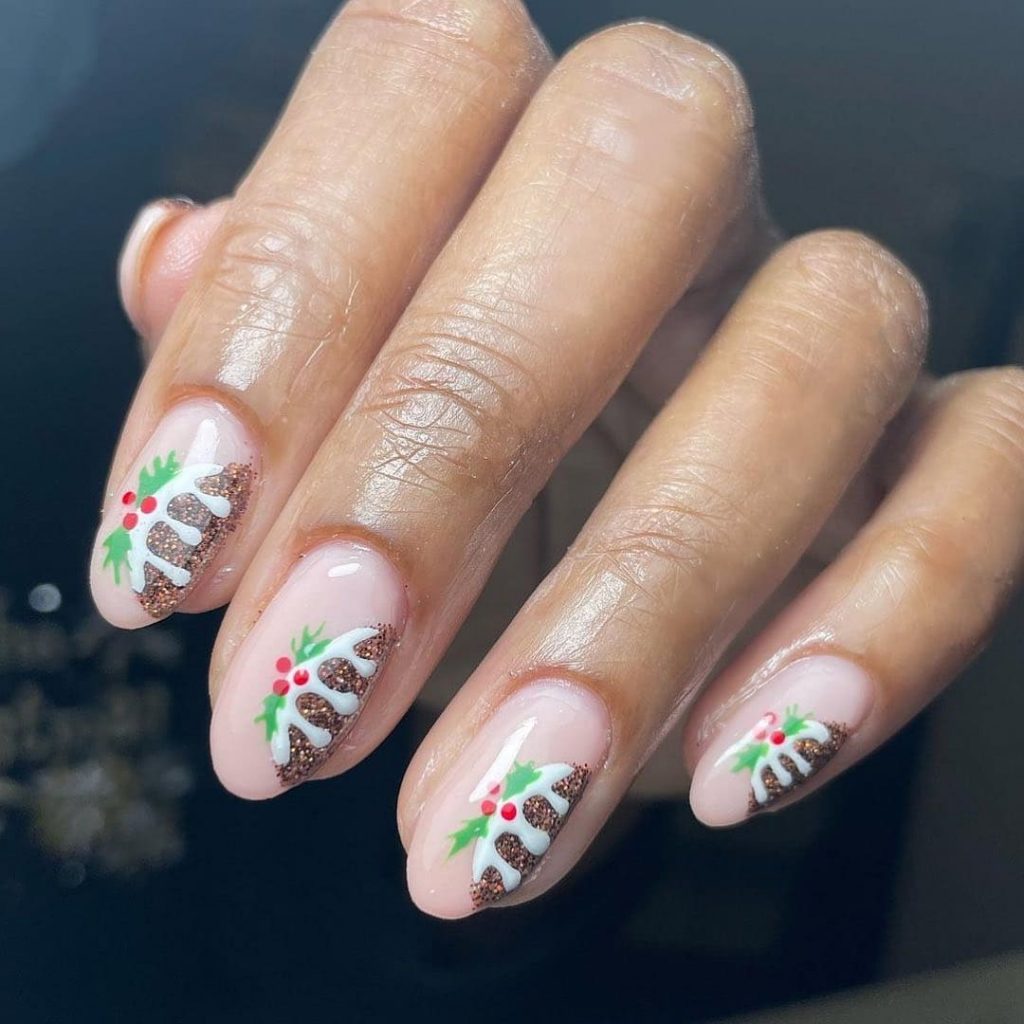 The white color goes into the glittering brown color providing a unique candy cane look.
---
28. How unique do you find this one?
This creative nail art design allows the glittering gold stripe to top the pink polish in a beautiful way beautifully.
---
29. A stylish candy cane nail-art design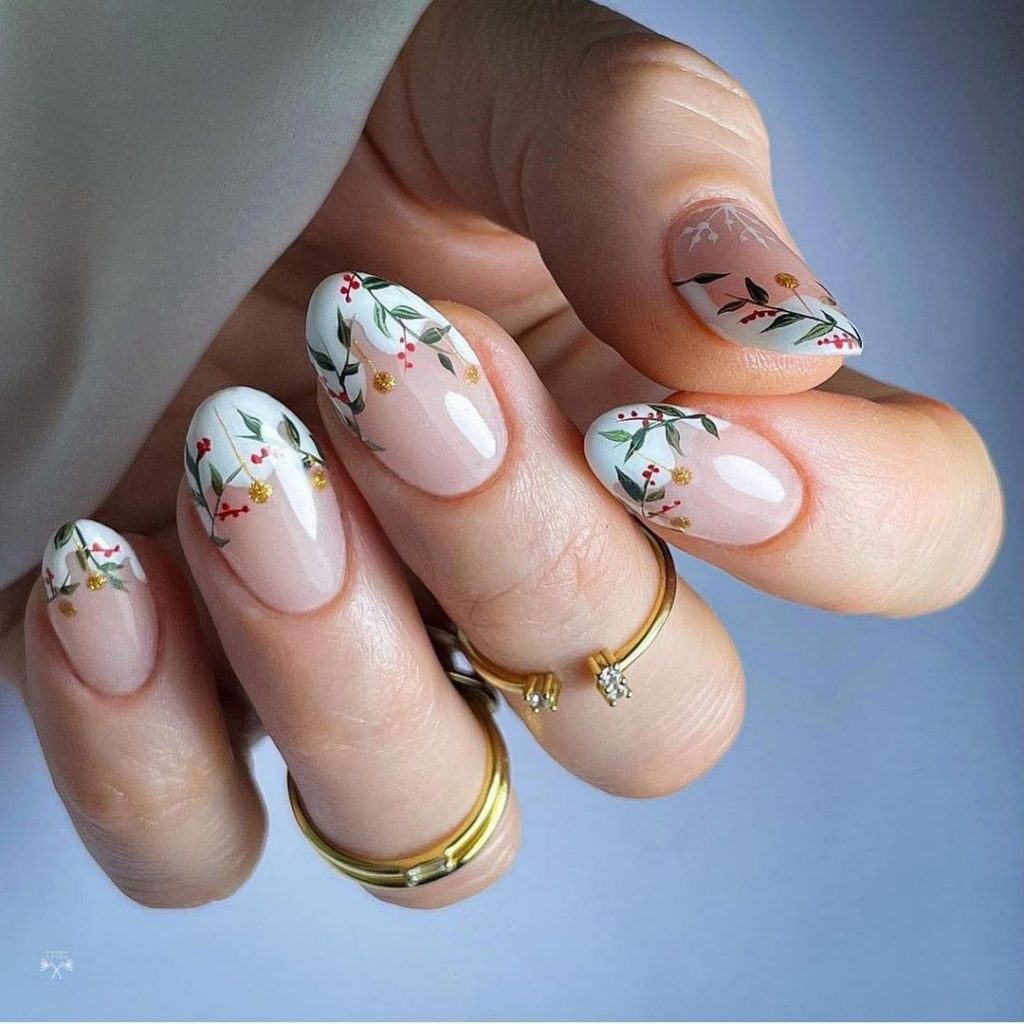 The modern candy cane nail design will be something like this. Don't miss out on this festive season.
---
30. This design will be the best for silver color lovers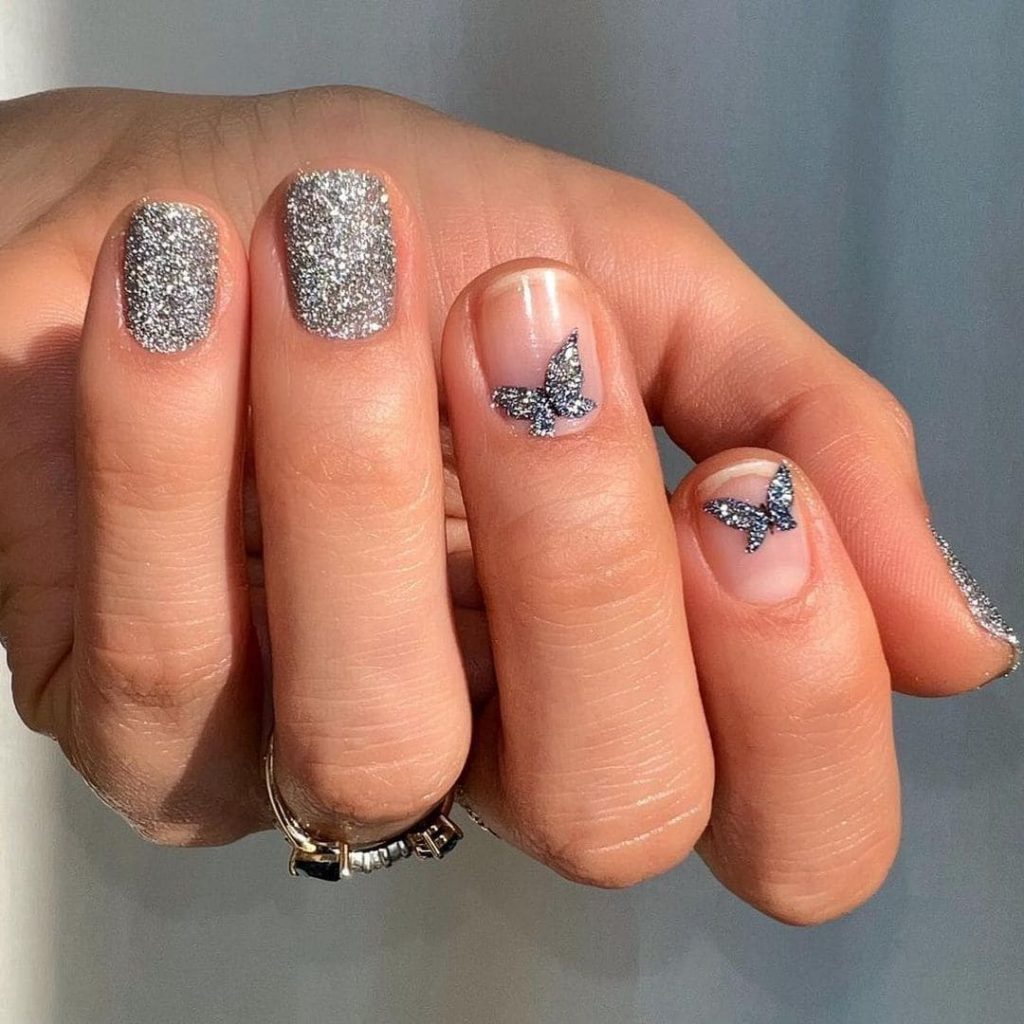 If you love a single silver look, you may use it alongside your nails' natural color to create a candy cane look.